This article is an opinion based on facts and is meant as infotainment. Don't freak out.
Swipe left for slideshow. Article continues below.
There are lots of people who throw the term 'ghetto' around. But which of the largest cities in Nebraska are the most ghetto of all?
How do you decide if a place is ghetto or not? You ask the internet. According to the Urban Dictionary, a ghetto is defined as:
"urban; of or relating to (inner) city life" and "poor; of or relating to the poor life."
Using that criteria, it's not hard to scrape the internet, run some scientific data on where ghettos might exist in a state, and then put out a list.
After analyzing the largest cities here, we came up with this list as the most ghetto places to live in Nebraska:
In case you're wondering, Waverly is the least ghetto city of all we measured.
And before you get all worked up, know that we have nothing against Nebraska. In fact, The Cornhusker State ranked 1st in our analysis of the best states to live in America.
For more Nebraska reading, check out:
What ghetto criteria did we use?
In order to rank the most ghetto places in Nebraska, we had to determine what criteria defines a ghetto city or neighborhood.
Since a ghetto is defined as a poor area, we used income levels, crime and education levels as a guide to determine where the most broke citizens of a state live.
Additionally, the staples of inner city life include cheap and discounted retail outlets.
We started by making a list of every city in Nebraska over 3,000 people based on the 2013 American Community Survey.
We threw a lot of criteria at this one in order to get the best, most complete results possible. Using Yelp and Area Vibes, this is the criteria we used:
Household income levels
High school graduation rates
Number of convenience stores
Number of drug stores
Number of discount stores
Crime
Twitter mentions of #ghetto
Note: For the sake of getting reliable numbers, we counted places within a city's border, as well as within a short driving distance.
All of these results are listed in a per capita basis. Meaning number of stores per person in a state. Additionally, high school graduation rates are determined by looking at the total number of people who live in a city, not the current graduation rate of an area's high schools.
For geo-located Tweets, we measured all mentions coming from a city with #ghetto
1. Scottsbluff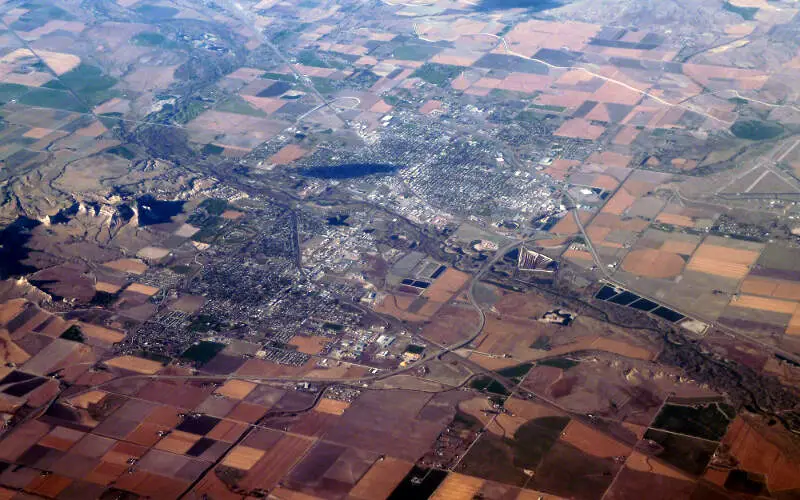 Income: $35,116
Drop out rate: 23%
Crime: 2nd worst
When you look at the data, Scottsbluff is the most ghetto city in the state of Nebraska. Let's see why.
First off, when you're measuring cities with more than 3,000 people, Scottsbluff is the 2nd most dangerous in the state when you measure robberies per person. For Nebraska, having a 1 in 25 chance of being robbed is really, really high.
Part of that can be attributed to the low incomes and high dropout rate. Residents here are the 2nd poorest in the state, and they're the 5th least educated.
For a city of 15,000, there were quite a few Twitter mentions of #ghetto coming from Scottsbluff.
Example: "Scottsbluff is SOOO ghetto though
"
2. Lexington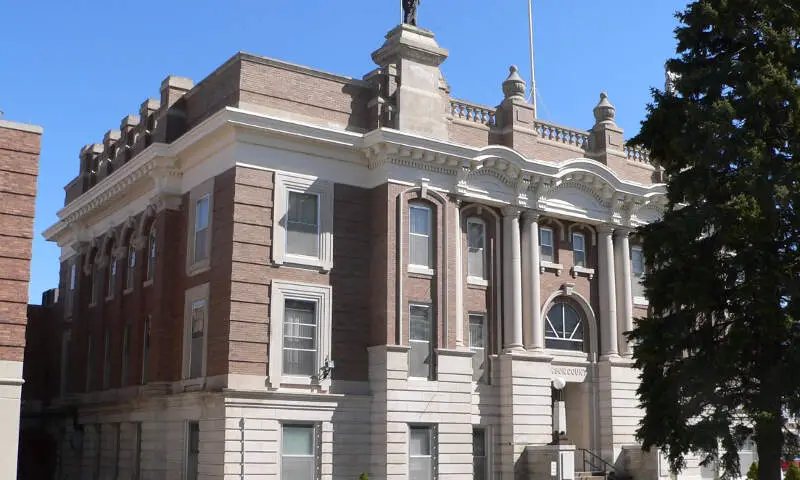 Income: $42,695
Drop out rate: 50%
Crime: 7th highest
Lexington, a medium-sized city along I-80 in central Nebraska, has a huge long-term problem when it comes to its economy. More than half of residents here are without a high school diploma, even by the age of 25.
So, these low incomes and high crime will continue to persist, at least in the short term. For a small city in Nebraska, having about one property crime a day is high.
3. South Sioux City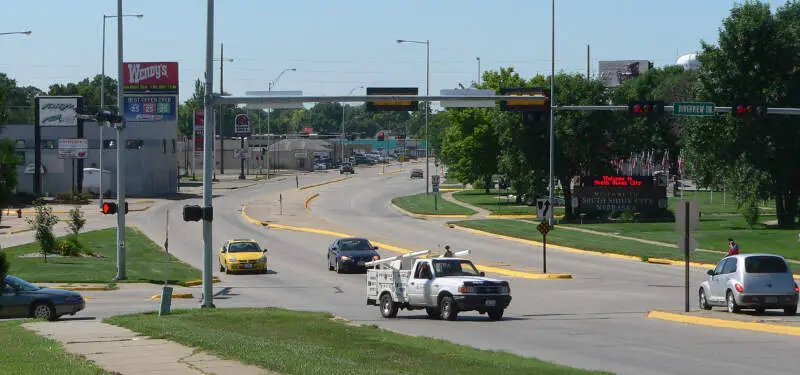 Income: $39,484
Drop out rate: 42%
Crime: 16th worst
South Sioux City, way up near the Iowa/South Dakota border, has one of the highest dropout rates in the state, where more than 4 in 10 residents are without even a basic education.
Crime is higher than average, but not horrible. Like Lexington, there was almost a property crime a day (think robberies, car break ins), which, for Nebraska, is bad.
23% of kids and the elderly live in poverty here.
4. Crete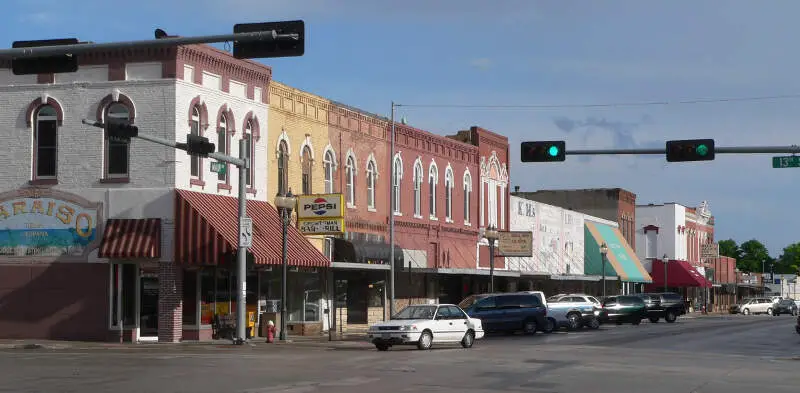 Income: $39,494
Crime: 20th worst
Dropout rate: 28%
Crete is an older city that's slowly being overtaken by an uneducated and poorer number of people. The population here is up by more than 13% over the last 10 years. At least crime hasn't gone up a tremendous amount here.
5. Schuyler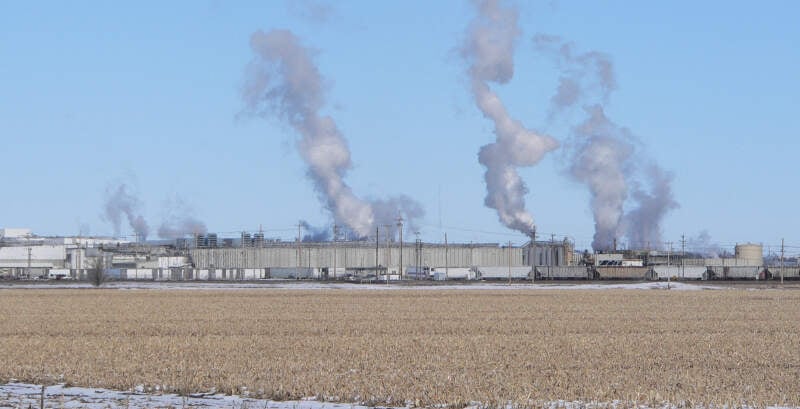 Income: $43,083
Drop out rate: 52%
Crime: 18th worst
Schuyler's biggest employer is Cargill, a beef processing plant. But this small city, isolated way out on Route 30, will continue to struggle economically unless it can attract a wider variety of businesses to help spur their local economy.
A 52% dropout rate is one of the highest in the nation.
6. Chadron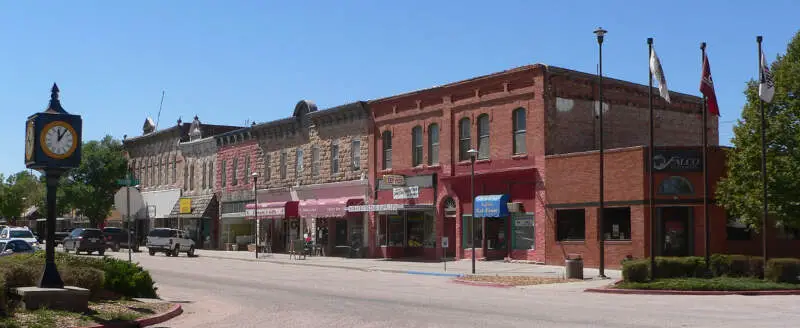 Income: $30,573
Drop out rate: 13%
Crime: 8th worst
Little Chadron has one of the highest concentrations of convenience stores per person in Nebraska. Sociologists have indicated that these types of discount shopping experiences are a staple of inner city type life.
Chadron is a true ghetto when you look at the rest of the data. Its residents are the poorest in the state – and at $30,000 per family, most people barely make ends meet every month. The government has said a family of 4 needs to earn about $25,000 a year to stay above poverty levels.
7. Grand Island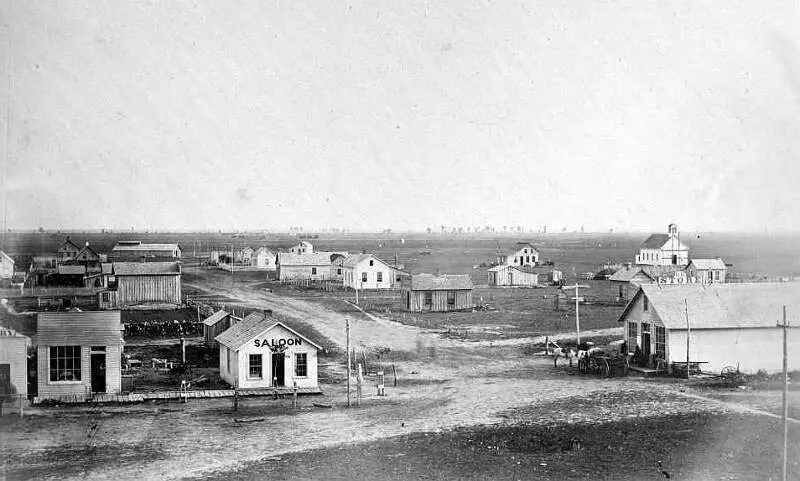 Income: $44,391
Dropout rate: 23%
Crime: 3rd worst
Did you know that Grand Island is a really bad place for crime in Nebraska? It's true. Only in Lincoln and Scottsbluff do you have a higher chance of being the victim of a crime.
You have about a 1 in 21 chance of being victimized if you spend a year here. And, considering that a quarter of kids and the elderly live in poverty, it doesn't look like things are going to improve here in the near term.
Plus, Wikipedia says the ground is contaminated in the general area.
There were lots of ghetto Tweets coming from Grand Island.
8. Norfolk

Income: $39,394
Drop out rate: 16%
Crime: 10th worst
For a city of 25,000 people in Nebraska, having nearly 1,000 crimes in a year's time is quite high. That's the case in Norfolk, an isolated city along Routes 81 and 275 on the eastern side of the state.
There are also lots of low income families who are on welfare in this part of the state. Locals seem to think lots of people in Norfolk suffer from 'self inflicted poverty.'
9. Omaha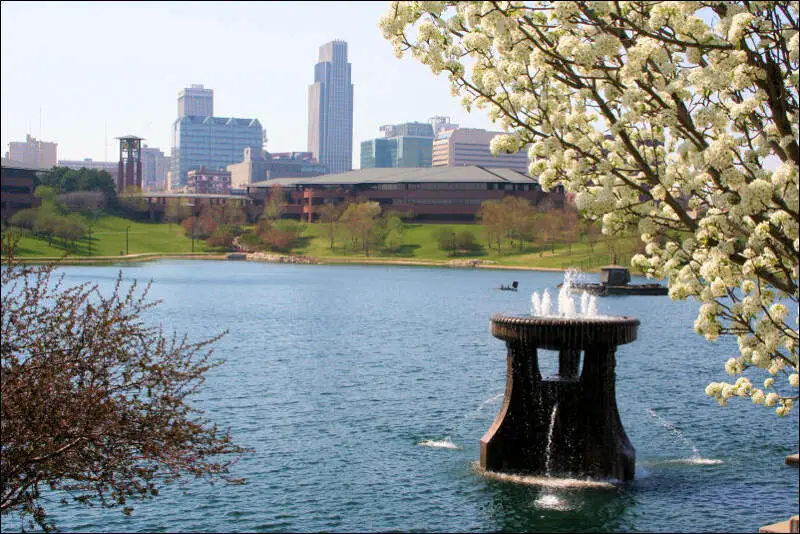 Income: $46,304
Drop out rate: 16%
Crime: 4th worst
Obviously, there are pockets of bad neighborhoods in Omaha which are larger than entire cities elsewhere in the state. So, yes, Twitter, we hear you. However, Omaha isn't nearly as ghetto as people make it seem online.
Crime is very high here – in fact 1 in every 10,000 people was killed here in 2014, which is the last FBI reporting year. Having 20,000 property crimes also doesn't help matters.
But overall, lots of people in Omaha are pulling the weight for those who refuse to cooperate. At least that's what the data indicates.
Said one person on Twitter recently: "Sucks that Omaha is so ghetto and violent that I'm terrified to go back to sleep after my fiancé leaves for work."
10. Alliance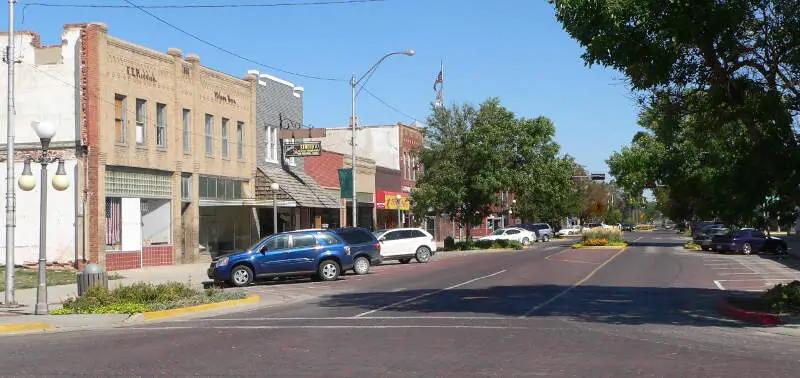 Income: $43,139
Drop out rate: 17%
Crime: 19th worst
Things aren't horrible in Alliance, a small city on the Nebraska panhandle. But overall, most people are pretty poor and uneducated. Crime is a tad bit above average.
About a quarter of kids and seniors live at or below the poverty line.
This is what someone said on City Data: "I lived in Alliance for 6 mos and didnt like it. My husband grew up there and says that it seems to be going down. The population has decreased, I think people just don't want to live there anymore. The cost of living is really cheap though."
There You Have It
If you're measuring the locations in Nebraska where there are a high number of poor and uneducated residents, and where there are a high number of discounted shopping stores, this is an accurate list.
Additionally, here are the least ghetto places in NE: Waverly, Gretna, Aurora, Seward, Chalco.
We also wrote about the 10 Most Redneck Cities in Missouri if you didn't happen to see it.
Desktop users, below is a chart of all the cities, from most ghetto to least: