The state of New York. You can't possibly attempt to summarize the entire state in a couple of paragraphs. Except we can tell you, the people there are fiercely protective of where they live. And, like most other people in the northeast, they'd most likely you stay out. Even when you're on vacation.
If you've ever been to the state of New York (besides NYC), you'd know why it's a gem. If you haven't been, and actually venture out beyond the confines of downtown, you'd see it's one of the most beautiful places in the country.
But is it all good in The Empire State? Of course not. Just like every other state, New York has its least desirable spots. The purpose of this post is to use science and data to determine which cities are the worst you could possibly live in if you make New York your home.
After analyzing 163 of the state's most populous cities (over 5,000 people), we came up with this list as the 10 worst places to live in the state of New York:
The 10 Worst Places To Live In New York For 2023
Where are these places, you wonder? And before you get all riled up and say we're picking on small towns in New York, that's not the case.
We understand there's a lot of good in every place. For example, the best place to live in New York is Malverne.
However, according to data (which doesn't measure things like beauty and 'friendly people'), the state has far better options for making a place home. And the worst place to live in New York? The worst place to live in New York is Monticello.
Read below to see how we crunched the numbers and how your city fared in 2023.
If you're looking for something more national, check out the worst cities in America or the worst states in America.
For more New York reading, check out:
---
Table Of Contents: Top Ten | Methodology | Summary | Table
---
The 10 Worst Places To Live In New York For 2023

The famous Monticello is in Virginia and represents Thomas Jefferson's former home. This Monticello has much less going for it. In fact, it stands as the number 1 worst town in all of New York.
A bad economy explains why Monticello is such a drag for its 7,199 residents. The median income is only $38,885. With so little cash coming in, it's no wonder that the poverty rate sits at 27.0%. Weak schools and safety concerns also present challenges.
Still, there are things to do in this southern New York town. For instance, you can check out harness racing at the Monticello Gaming and Raceway. Or, for more gambling action, head to the nearby casino, Resorts World Catskills.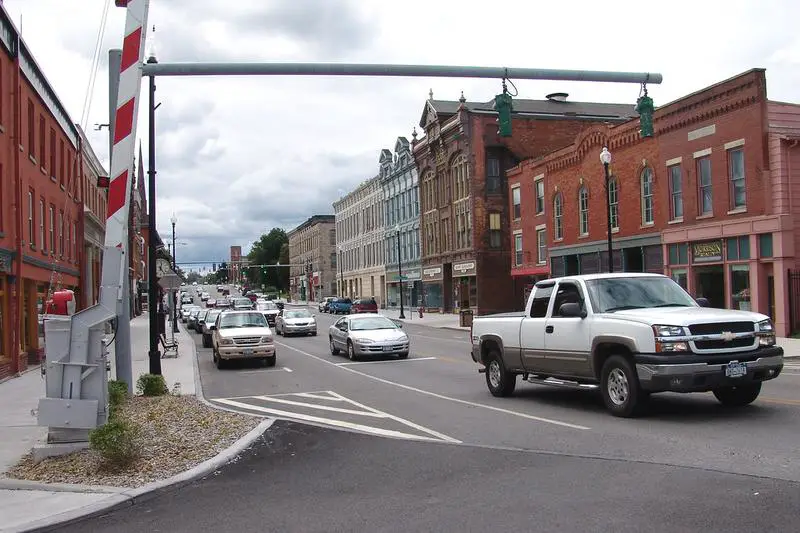 Albion doesn't have it much better, in terms of overall economic outlook. The unemployment rate is at 11.8%, and people average less than $41,708 a year in combined household incomes. Homes stand at $67,700, which is very low, and crime in the worst 10% in New York.
And again, in terms of the overall 'enjoyment' factor, it's a pretty rural place tucked halfway between Niagara Falls and Rochester. For a lot of the year, unless you build snowmen or race sled dogs, you'd have a pretty long drive for something fun on a Friday night that's outside of the norm.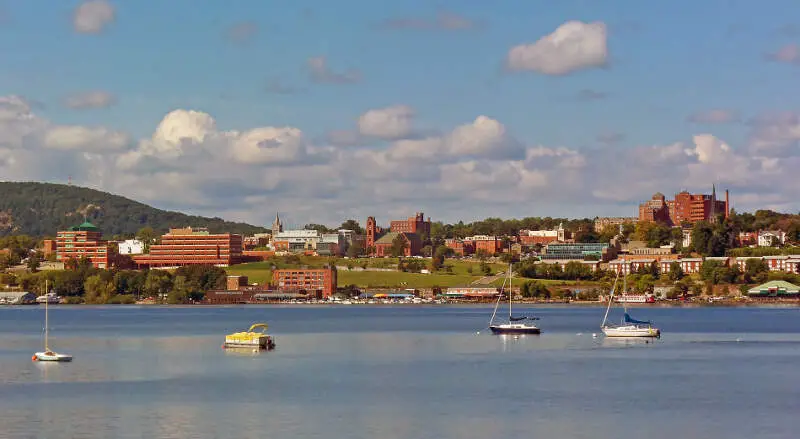 Located along the Hudson river in the southern part of the state, Newburgh has a scenic view and many historical connections. Presidential buffs can visit Washington's Headquarters, among other preserved buildings from the past.
Unfortunately, in the present, life in Newburgh offers many challenges. High crime, an expensive cost of living, and a weak economy make the community one of the most dreadful places in New York.
The crime rate stands nearly 40% above the national average. The mean income reaches $47,952, not enough for the region's high cost of living. As a result, 21.4% of people live below the poverty line. Education is spotty as well, with even the best schools only ranking a 6/10 on Great Schools.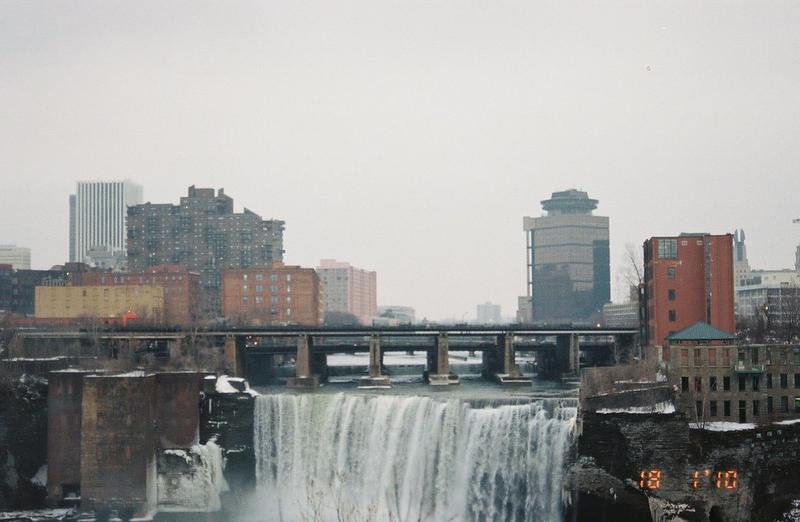 Rochester is home of a culinary delicacy known as a garbage plate. Turns out, that dish provides a good metaphor for the town's economic situation, making it the number 4 least appealing spot in New York.
The 211,100 residents of Rochester struggle with major economic issues. The unemployment rate comes in at 8.9%, with 29.3% of people making due below the poverty line. Safety is a major problem in the area as well, with a crime rate more than 70% above the national average.
The city has some bright spots. It borders Lake Ontario, providing access to beaches. It also contains the George Eastman Museum, one of the great collections of photography in the world.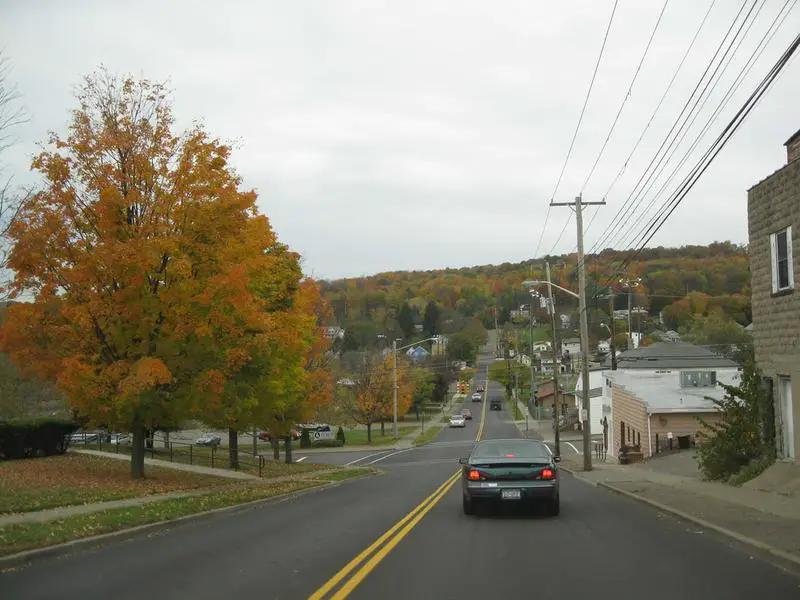 Endicott began life as a company town. It was created for the Endicott Johnson Corporation, a major shoe manufacturer during the early part of the 20th century. Those jobs are long gone at this point. Now, a stagnant economy makes Endicott one of the worst place in New York to put down roots.
Finding a job represents a difficult chore for the 13,588 inhabitants of the area. The unemployment rate sits at a dreary 8.1%. The median income comes in at $42,035.
There is upside to living in Endicott. Built along the Susquehanna River in south-central New York, the community offers plenty of waterside parks. If you want to know more about old-time Endicott, you can head over to the Endicott History and Heritage Center.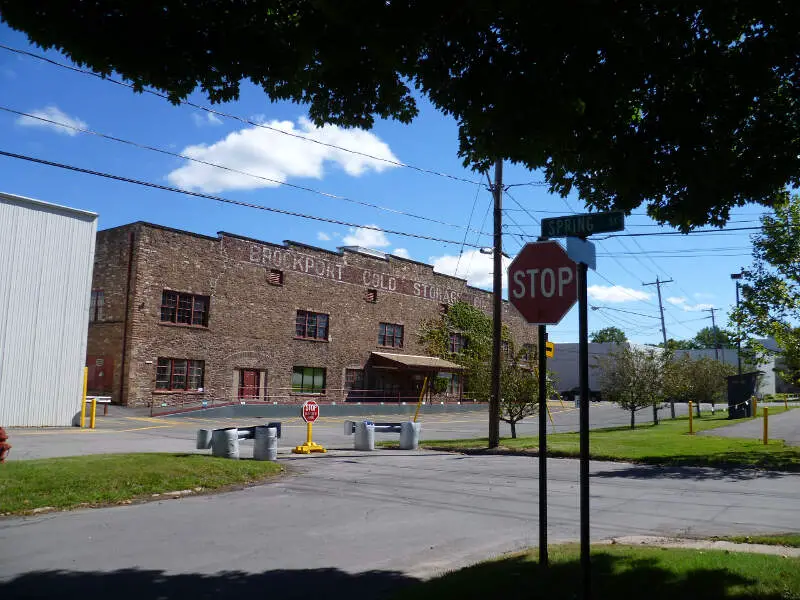 Brockport has an official nickname: "The Victorian Village on the Erie Canal." It gets this title from its proximity to the canal and a beautification process that includes a brick walkway. Too bad the rest of the town isn't quite that nice.
A weak economy makes Brockport one of the least inviting places in New York. The 7,246 residents have to suffer with a 7.0% unemployment rate and a 22.0% poverty rate. The median income comes in at $50,316.
It's a shame because other aspects of the town are quite pleasant. Many of the schools are decent and the cost of living is low. And, of course, you've got those lovely canal walks, plus a short drive to Lake Ontario, about 20 minutes north.

Gloversville is right next door to Johnstown. Both areas are really undesirable, when looking at it from a scientific perspective. However, Gloversville takes the cake as the worst of the worst.
The issue with Gloversville is crime and homes that are some of the least expensive in the state. For an average price of $77,200, you can live in Gloversville. Does that tell you how bad it is here?
Additionally, Gloversville currently has a huge problem with robberies. If you're within Gloversville city limits, you have a 1 in 38.0 chance of being robbed. Perhaps it's the high unemployment rate (7.5%) or the low income levels ($42,363 per household), but you simply can't let your guard down if you live here.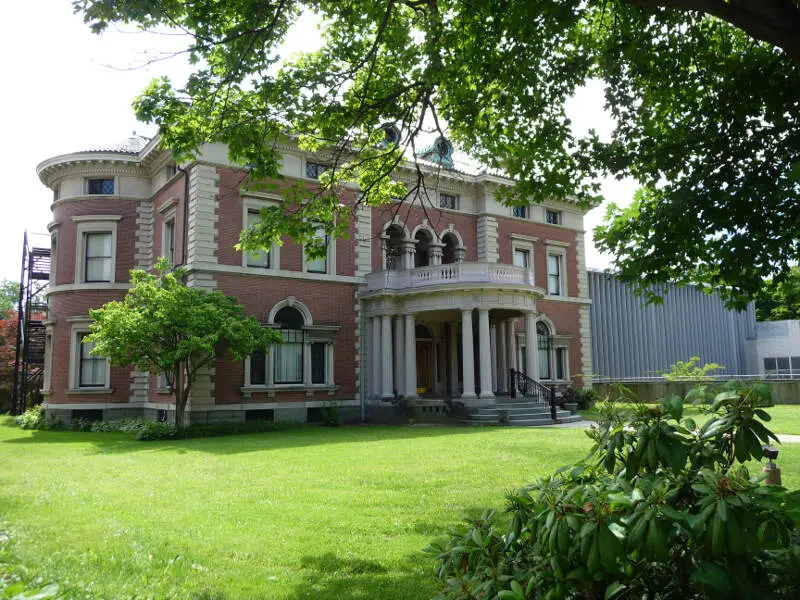 Binghamton used to serve as a crucial hub in the south-central part of New York. It's location at the intersection of the Susquehanna and Chenango rivers, plus the presence of key railroad lines, made it an economic centerpiece. Unfortunately, the world has moved on. These days, Binghamton serves as the number 9 least appealing location in New York.
In the 21st century, the community faces significant economic woes. The unemployment rate sits at a whopping 11.4% and the median income hovers at $39,012. As a result, 32.0% of Binghamton's 47,828 residents need to struggle in poverty. Crime is also a concern in town, with a crime rate more than double the national average.
You can find bright spots in town, of course. Check out the scenic areas near the rivers, or head over to the Bundy Museum of History and Art or the Roberson Museum and Science Center.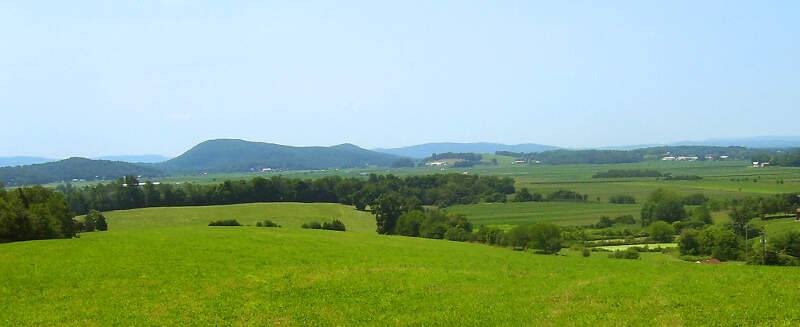 Methodology: How we determined the worst places to live in New York for 2023
To figure out the worst places to live in New York, we only needed to know what kinds of things people like and then decide what cities have the least amount of those things.
We don't think it's a stretch to assume that people like the following things:
Good education
Lots of jobs
Low crime
Low poverty
Nice homes
High incomes
High population density (Lots of things to do)
Short work commutes
Health insurance
The data comes from the Census's most recent American Community Survey and the FBI Uniform Crime Report.
We broke crime down into violent crime and property crime to give violent crime a more significant weight. If you did a simple calculation of all crimes per capita, property crimes are typically 7x more common and bias that ranking.
Furthermore, only cities with at least 5,000 people were considered — leaving 163 cities.
We then ranked each city from 1 to 163 for all the criteria, with a #1 ranking being the worst for the particular criteria.
Next, we averaged the rankings into one "Worst Place To Live Score."
Finally, we ranked every city on the "Worst Place To Live Score," with the lowest score being the worst city in New York — Monticello. Read on for a detailed look at the ten worst cities in New York.
Editor's Note: This article is an opinion based on facts meant as infotainment. We updated this article for 2023. This is our tenth time ranking the worst places to live in New York.
Summary: Wrapping Up The Worst In New York
If you're looking at areas in New York with the worst economic situations, where there's higher than average crime and little to do, this is an accurate list.
And in the end, Monticello ranks as the worst city to live in New York for 2023.
If you're curious enough, here are the best cities to live in New York:
Rockville Centre (Pop. 25,768)
Massapequa Park (Pop. 17,149)
Malverne (Pop. 8,583)
For more New York reading, check out:
Worst Places To Live In New York?
| Rank | City | Population |
| --- | --- | --- |
| 1 | Monticello | 7,199 |
| 2 | Albion | 5,281 |
| 3 | Newburgh | 28,834 |
| 4 | Rochester | 211,100 |
| 5 | Endicott | 13,588 |
| 6 | Brockport | 7,246 |
| 7 | Jamestown | 28,818 |
| 8 | Gloversville | 15,211 |
| 9 | Binghamton | 47,828 |
| 10 | Goshen | 5,705 |
| 11 | Utica | 64,723 |
| 12 | Monroe | 9,392 |
| 13 | Schenectady | 66,809 |
| 14 | Poughkeepsie | 31,475 |
| 15 | Solvay | 6,661 |
| 16 | Washingtonville | 5,782 |
| 17 | Syracuse | 146,781 |
| 18 | Webster | 5,717 |
| 19 | Bath | 5,613 |
| 20 | Buffalo | 276,011 |
| 21 | Niagara Falls | 48,763 |
| 22 | Potsdam | 8,455 |
| 23 | Elmira | 26,737 |
| 24 | Medina | 5,941 |
| 25 | Hudson | 5,964 |
| 26 | Ogdensburg | 10,153 |
| 27 | Troy | 50,717 |
| 28 | Fulton | 11,461 |
| 29 | Kingston | 23,972 |
| 30 | Salamanca | 5,918 |
| 31 | Albany | 99,402 |
| 32 | Olean | 13,941 |
| 33 | New York | 8,736,047 |
| 34 | Sleepy Hollow | 10,176 |
| 35 | Hilton | 6,015 |
| 36 | Haverstraw | 12,292 |
| 37 | Lackawanna | 19,697 |
| 38 | Walden | 6,841 |
| 39 | Oneida | 10,493 |
| 40 | Port Jervis | 8,772 |
| 41 | Lockport | 20,876 |
| 42 | Airmont | 9,964 |
| 43 | Oswego | 17,105 |
| 44 | Massena | 10,377 |
| 45 | Spring Valley | 32,953 |
| 46 | Norwich | 6,982 |
| 47 | Wappingers Falls | 6,074 |
| 48 | Port Chester | 31,317 |
| 49 | Watertown | 25,172 |
| 50 | Warwick | 6,686 |
| 51 | East Rochester | 6,348 |
| 52 | Baldwinsville | 7,739 |
| 53 | West Haverstraw | 10,665 |
| 54 | Amsterdam | 18,218 |
| 55 | Mount Vernon | 72,855 |
| 56 | Hornell | 8,284 |
| 57 | Rome | 32,309 |
| 58 | Mount Kisco | 10,904 |
| 59 | Penn Yan | 5,268 |
| 60 | Rensselaer | 9,330 |
| 61 | Elmsford | 5,176 |
| 62 | Croton-on-Hudson | 8,289 |
| 63 | Ossining | 27,368 |
| 64 | Malone | 5,396 |
| 65 | Kiryas Joel | 32,498 |
| 66 | Chestnut Ridge | 10,211 |
| 67 | Auburn | 26,913 |
| 68 | Newark | 9,049 |
| 69 | Middletown | 30,086 |
| 70 | Yonkers | 209,730 |
| 71 | East Aurora | 6,095 |
| 72 | Harrison | 28,635 |
| 73 | Depew | 15,188 |
| 74 | Batavia | 15,497 |
| 75 | Peekskill | 25,304 |
| 76 | Hempstead | 58,532 |
| 77 | North Syracuse | 6,796 |
| 78 | New Square | 9,433 |
| 79 | Mamaroneck | 19,989 |
| 80 | Geneseo | 8,140 |
| 81 | New Rochelle | 80,685 |
| 82 | White Plains | 59,452 |
| 83 | Rye Brook | 9,909 |
| 84 | Pleasantville | 7,469 |
| 85 | Herkimer | 7,239 |
| 86 | Dunkirk | 12,651 |
| 87 | Kaser | 5,433 |
| 88 | Cortland | 17,577 |
| 89 | Colonie | 7,792 |
| 90 | Ithaca | 31,819 |
| 91 | Fairport | 5,452 |
| 92 | Fredonia | 10,018 |
| 93 | Canton | 6,994 |
| 94 | Canandaigua | 10,563 |
| 95 | Patchogue | 12,341 |
| 96 | Hudson Falls | 7,413 |
| 97 | Saranac Lake | 5,003 |
| 98 | Watervliet | 10,363 |
| 99 | Lake Grove | 11,110 |
| 100 | Suffern | 11,376 |