This article is an opinion based on facts and is meant as infotainment. It is our seventh time ranking the most dangerous places to live in Florida and is updated for 2021.
Florida's beaches can be super hot, Orlando's Disney World can be unbearably steamy, Miami can be pretty swampy, and many of Florida's most dangerous places to live bring some crazy 'heat' as well.
Florida is the third most populous state in the country, so there's bound to be problems with that many people; and sadly, the majority of those problems can be found in the state's most dangerous places. Want to know where you can enjoy all of the amenities that Florida has to offer minus the danger? Lucky for you RoadSnacks has created a list of the most dangerous places in Florida for 2021. And we think that you should definitely take a look at our list below before you make any major life changing decisions.
In order to compile our list, we looked at violent crimes and property crimes in cities with a population of 5,000. That left us with 207 cities. Folks, the cities that made our list have robberies happening in broad daylight, car jackings, and daily shootings. There are neighborhoods in these cities that you shouldn't drive thru, ever, and there are areas that you definitely shouldn't be in after dark.
While a major crime just blocks away from your house can make you feel really uneasy, in the big picture, most likely, where you live is relatively safe. Unless you live in The Sunshine State's most dangerous places. Yes, that's right, Florida is the 17th most dangerous state in the country; and unfortunately, Florida is one of the only states to have eight-yes, eight-of the most dangerous cities in the country.
So, want to know the places in Florida that have more issues than Jacksonville's Florida Times? Keep reading.
The 10 Most Dangerous Places To Live In Florida For 2021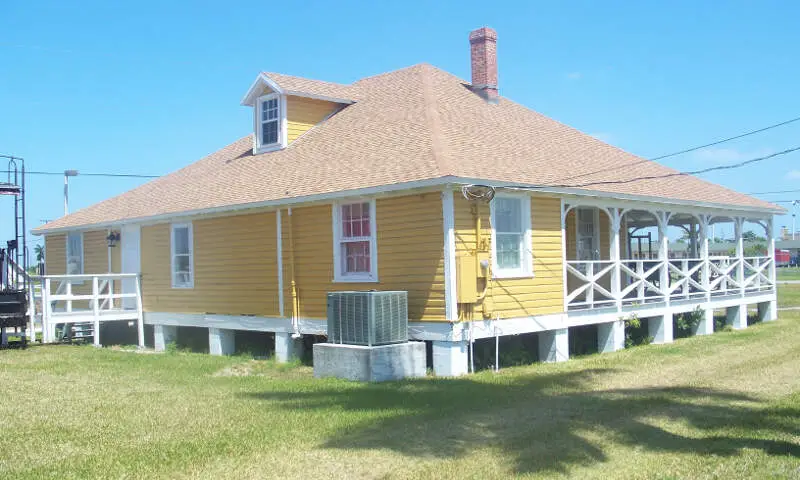 You know those "Florida Man" memes? Chances are at least one of those is straight out of Florida City, Florida's most dangerous city.
With 4 murders happening over a year in a city of just 12,180, Florida City is officially the murder capital of the state. Violent crime as a whole is shockingly common, with residents facing a 1 in 38 chance of being the victim of a violent crime throughout the year. Overall, running into an alligator at Everglades National Park is a whole lot less likely than being attacked in Florida City.
The property crime rate in Florida City is also the third highest statewide, and the overall crime rate is nearly 300% higher than the nationwide average.
Florida City is 45 minutes southwest of Miami.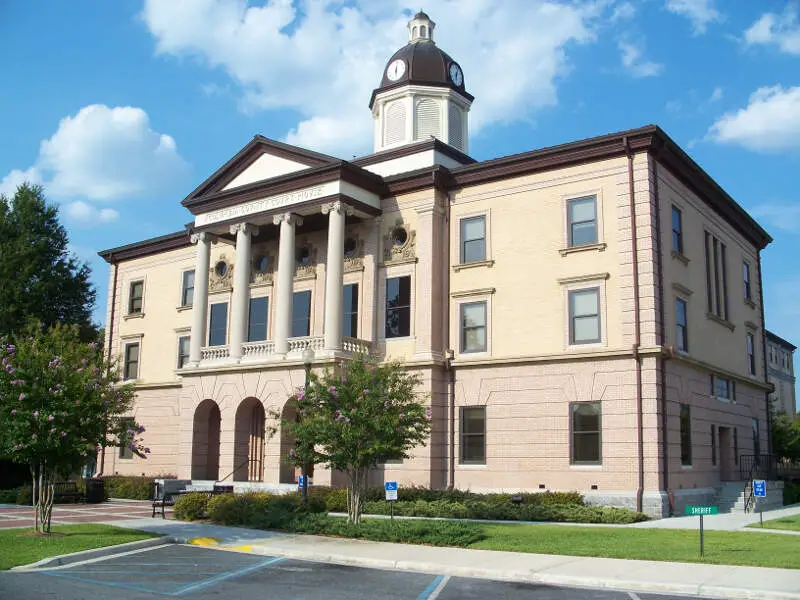 Lake City may be known as the Gateway to Florida, but it's also the gateway to an uncomfortable amount of crime. You don't need to go to the Civil War reenactments at Lake City's annual Olustee Festival to see a battlefield, because the city has the third highest violent crime rate in Florida.
Residents of Lake City also have a 1 in 15 chance of being robbed or having their property damaged over a year, so it's not the sort of place you want to leave your house unlocked either.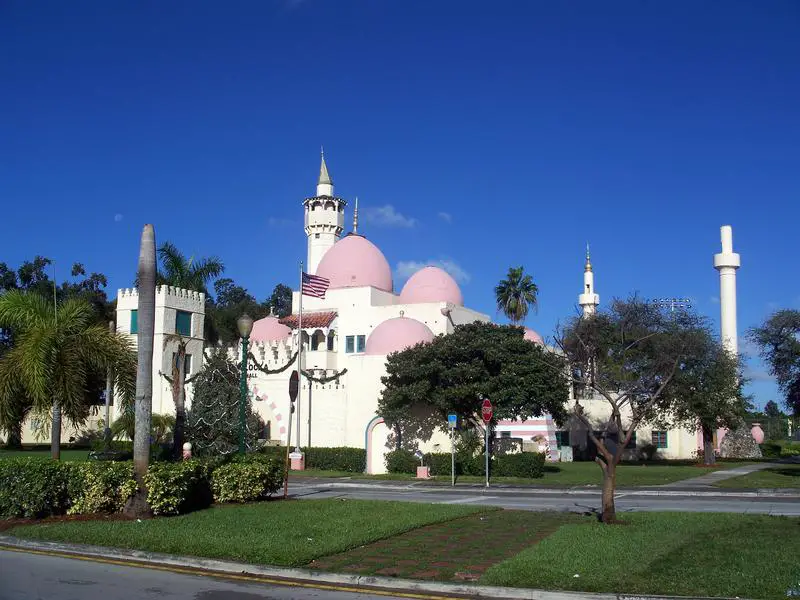 Located just north of Miami, Opa Locka comes in as the third most dangerous place to live in Florida. While that may sound bad, consider the fact that Opa Lock had the highest violent crime rate in the country in 2004.
While improvements have certainly been made since then, we think the residents of Opa Locka would still like to have slightly lower odds than 1 in 51 chance of being the victim of a violent crime over a year, the second highest rate in Florida.
Property crime is also all too common; with about one car theft every three days and a burglary every other day, Opa Locka's property crime rate is the sixth highest statewide.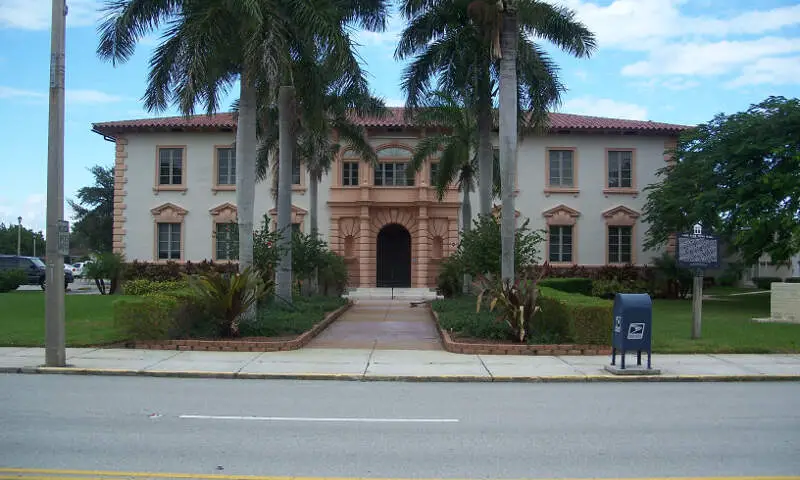 Located 15 minutes north of West Palm Beach, Lake Park comes in as the fourth most dangerous place in Florida for 2021. With an overall crime rate 300% over the national average, there's no place in Florida with more total crimes per capita than Lake Park.
Most of these crimes involve property theft or damage, seeing as Lake Park has the highest rate of property crime statewide. That's a good reason to double-check that you still have all your valuables as you leave John D. Macarthur Beach State Park.
Lake Park's not exactly violence-free, either, considering that the town also had Florida's seventh highest murder rate in 2019 as well.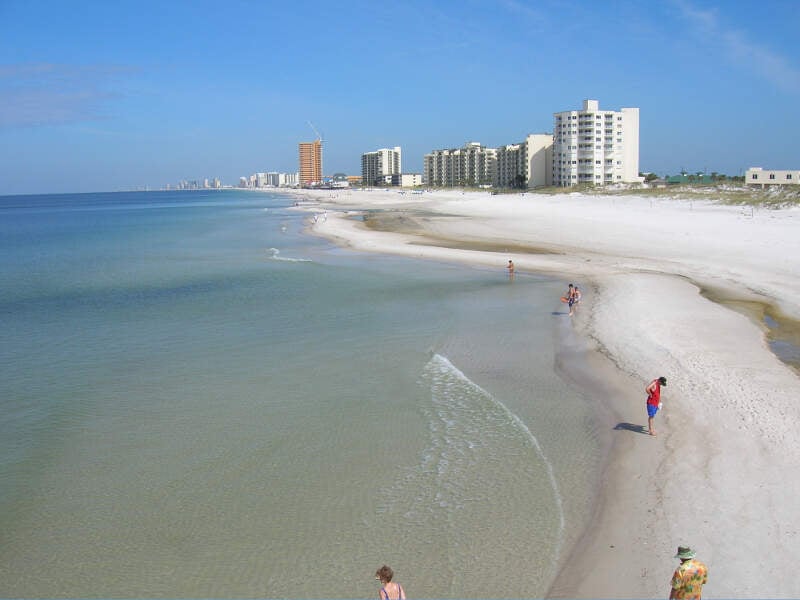 We're taking our first trip to Florida Panhandle to reach the state's fifth most dangerous city, Panama City Beach. Known for its sugar-white sandy beaches and top-notch shopping at Pier Park, Panama City Beach is a big draw for tourists from all over.
However, tourism also contributes to Panama City Beach having the fifth highest rate of property crime in Florida. The city also has the unfortunate distinction of having the highest rate of rape statewide. Panama City Beach has moved up a few spots on our list since last year, so things seem to be getting worse by the year here.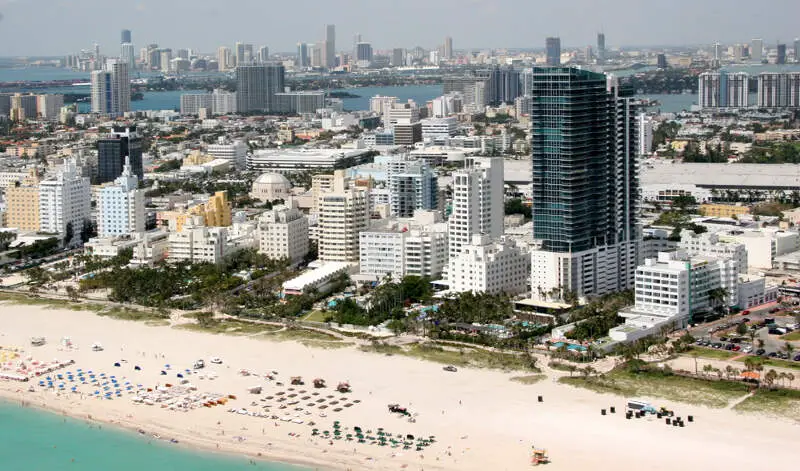 Source: Public domain
There's a lot to love about Miami Beach — from the exceptional nightlife at South Beach, to the daytime fun at the boardwalk, to the historic and picturesque Spanish-inspired Espanola Way, there's a reason tourists flock here.
But while tourism brings a lot of money to the community, it also contributes to Miami Beach's high crime rate. By and large, property crime is the bigger issue in Miami Beach, with a person having a 1 in 6,977 chance of having their property robbed or vandalized. On the bright side, no city on this list has a lower murder rate than Miami Beach.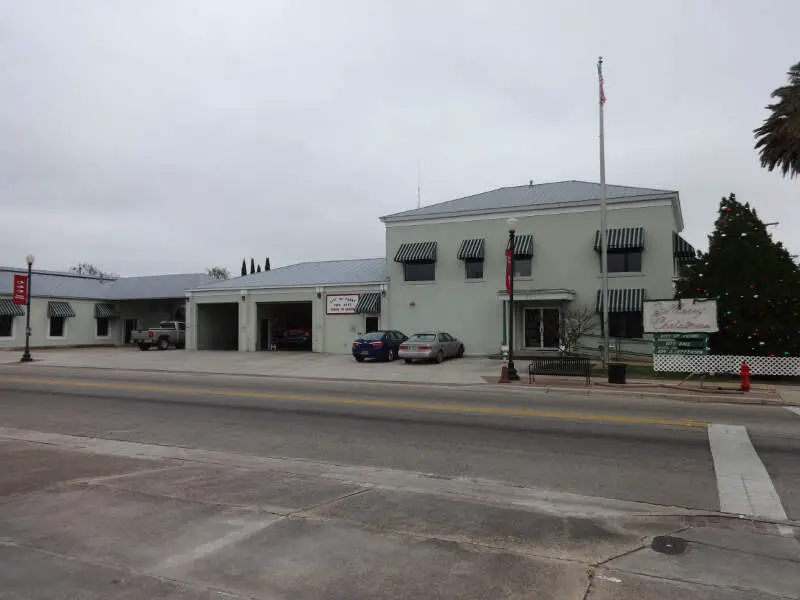 Perry ended up in the #7 spot on this list mostly due to high rates of violent crime. Perry's residents had a 1 in 98 shot of being the victim of an attack in 2019.
Property crime as a whole isn't so bad that you have to worry about thieves stealing your cell phone if you go for a dip in the ocean at Keaton Beach.
But you should definitely lock your doors in Perry, because the city had the third highest burglary rate in Florida, with a staggering 98 cases in a place with only 6,918 people.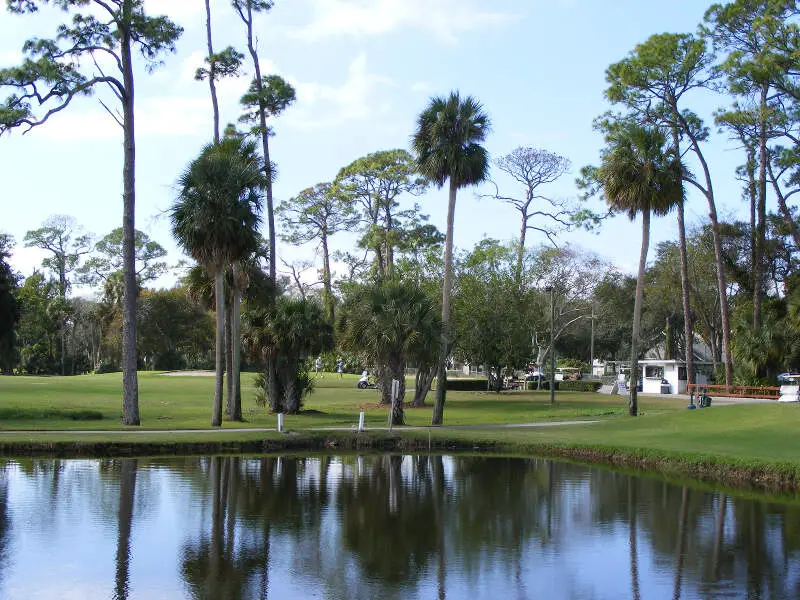 Daytona Beach is famous for its gorgeous beaches, its lively boardwalk, and hosting the Daytona 500. Unfortunately, it's also in the headlines for being one of the least safe places to live in Florida.
Daytona Beach has the fourth highest rate of violent crime in Florida, with residents facing a 1 in 88 chance of being attacked during 2019. That number includes aggravated assaults taking place nearly twice a day and two murders happening every season. At least Daytona Beach isn't in the top ten statewide for property crime.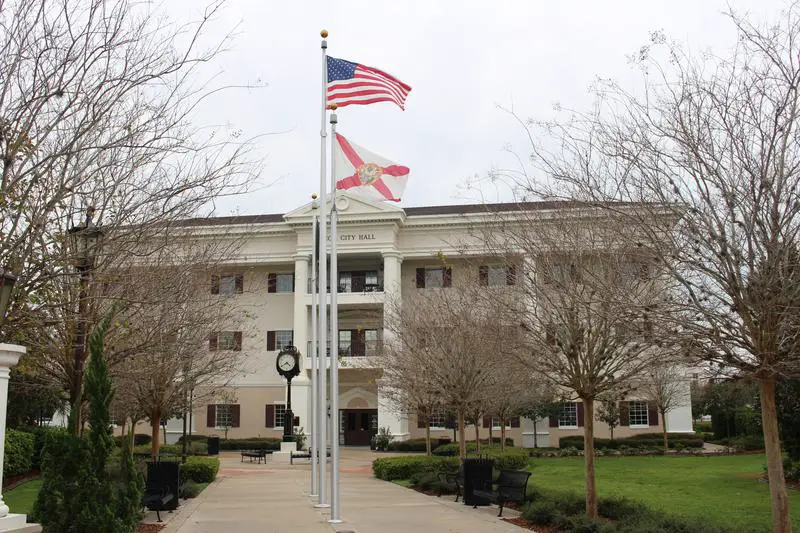 Situated on Florida's east coast between Orlando and Cape Canaveral, the city of Cocoa has seen a moderate rise in crime in the past year.
Cocoa's biggest problem is property crime, which ranks as the tenth highest in Florida. In fact, with so many property crimes, Cocoa's overall crime rate is actually the seventh highest in the state and more than double the national average.
Cocoa is the least violent place on this list, but the city still had 151 cases of violence reported in 2019.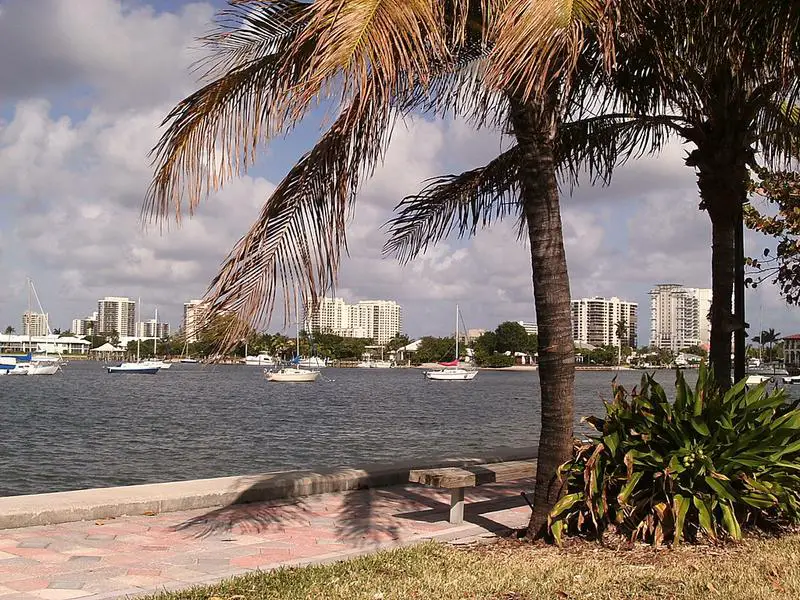 Next up on our list of Florida's most dangerous places to call home is Riviera Beach, a city of 35,130 located just north of West Palm Beach.
Make sure you keep an eye on your valuables when you're at the municipal beach, because there were 1,141 larceny cases recorded in 2019.
On top of that, Riviera Beach had the tenth highest murder rate in Florida and the tenth highest violent crime rate overall.
Graphing The Most Dangerous And Safest Places In Florida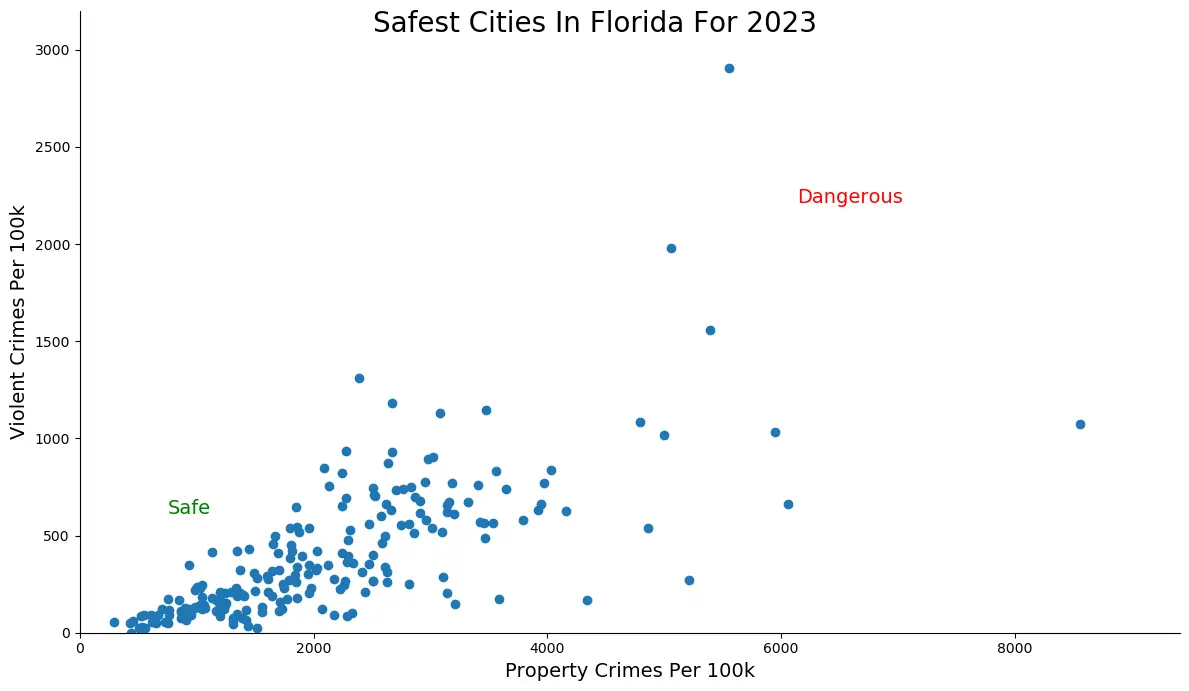 Click To Enlarge
How we determined the most dangerous cities in Florida for 2021?
Every year the FBI release two crime datasets, a preliminary dataset limited to the biggest cities in the country, followed by a more detailed release at the end of the year.
For our analysis, we focused on the JUST released 2019 data, specifically the 2019 Crime In The United States Report. We will update the results when data becomes available in September 2021.
So what criteria did we use? Have a look:
Violent Crimes Per Capita
Property Crimes Per Capita
In order to make the analysis as apples to apples as possible, we only considered Florida cities over 5,000 in population. That left us with 207 cities in Florida.
We then ranked each city from 1 to 207 for the two criteria with a #1 ranking being the most dangerous for the particular criteria.
Next, we averaged the two rankings into one "Dangerous Index".
Finally, we ranked every city on the "Dangerous Index" with the lowest index being the most dangerous in Florida — Florida City. Any ties went to the smaller city. You can download the data here.
Read on for a detailed look at the 10 most dangerous cities in Florida.
Locking It All Up In Florida
So what is the most dangerous city in Florida? After analyzing 207 cities in Florida, Florida City takes the top spot as the most dangerous city in Florida based on the most recently reported FBI data — 2019.
The latest FBI crime data shows that Florida City ranks as the most dangerous city in Florida for 2021.
We want to point out again that there's still safes places in Florida City and that this isn't a comment on the people that live there. So please don't beat us up.
If you aren't from Florida, some of the most dangerous cities may come as a shock. We've all heard of the amazing beaches and nightlife from Miami Beach to Daytona Beach, but who knew they were some of the most dangerous places in Florida, too?
What's the most dangerous city in Florida? The most dangerous city in Florida is Florida City — not a shocker if you've seen the data.
Want to see why each of these cities are so dangerous? Read on to learn more about our methodology and to see how your favorite Florida cities stacked up.
Learn more about the safest places in Florida.
If you're looking for something more national, check out the most dangerous cities in America or the most dangerous states in America.
Here are the safest cities in Florida:
North Palm Beach (Pop. 13,273)
Indian Harbour Beach (Pop. 8,616)
Bay Harbor Islands (Pop. 6,018)
Flagler Beach (Pop. 5,157)
Lake Alfred (Pop. 6,123)
Longboat Key (Pop. 7,379)
Sanibel (Pop. 7,525)
Weston (Pop. 71,946)
Marco Island (Pop. 18,124)
Parkland (Pop. 35,244)
For more Florida reading, check out:
The Most Dangerous Cities In Florida
| Rank | City | Population |
| --- | --- | --- |
| 1 | Florida City | 12,180 |
| 2 | Lake City | 12,141 |
| 3 | Opa Locka | 16,501 |
| 4 | Lake Park | 8,670 |
| 5 | Panama City Beach | 13,266 |
| 6 | Miami Beach | 92,185 |
| 7 | Perry | 6,918 |
| 8 | Daytona Beach | 69,834 |
| 9 | Cocoa | 18,807 |
| 10 | Riviera Beach | 35,130 |
| 11 | Ocala | 60,932 |
| 12 | Quincy | 7,143 |
| 13 | Leesburg | 23,527 |
| 14 | Orlando | 292,120 |
| 15 | Starke | 5,402 |
| 16 | North Miami | 63,547 |
| 17 | Panama City | 37,199 |
| 18 | Lantana | 12,033 |
| 19 | Tallahassee | 195,104 |
| 20 | Sanford | 60,844 |
| 21 | Pompano Beach | 113,536 |
| 22 | Fort Lauderdale | 184,765 |
| 23 | Miami Gardens | 113,786 |
| 24 | West Palm Beach | 112,798 |
| 25 | Lake Worth | 38,703 |
| 26 | Homestead | 71,757 |
| 27 | Brooksville | 8,373 |
| 28 | Oakland Park | 45,857 |
| 29 | Titusville | 46,866 |
| 30 | Palatka | 10,450 |
| 31 | Sebring | 11,008 |
| 32 | Palm Springs | 25,303 |
| 33 | Gainesville | 135,085 |
| 34 | Boynton Beach | 79,360 |
| 35 | Melbourne | 83,668 |
| 36 | Pembroke Park | 6,798 |
| 37 | Wildwood | 7,310 |
| 38 | New Port Richey | 16,703 |
| 39 | Miami | 480,505 |
| 40 | Pensacola | 52,801 |
| 41 | Dade City | 7,337 |
| 42 | Jacksonville | 909,142 |
| 43 | North Miami Beach | 46,307 |
| 44 | Lauderhill | 72,746 |
| 45 | Marianna | 7,034 |
| 46 | Mount Dora | 14,491 |
| 47 | St. Augustine | 14,778 |
| 48 | Belleview | 5,086 |
| 49 | Dania Beach | 32,593 |
| 50 | Lauderdale Lakes | 36,784 |