This article is an opinion based on facts and is meant as infotainment. It is our seventh time ranking the most dangerous places to live in Maryland and is updated for 2021.
You don't have to watch The Wire to know that there's danger lurking in some pretty seedy places in The Old Line State.
Gone are the days that parents can let their children run wild until the street lights come on. Heck, parents shouldn't let their kids out of their sight in RoadSnacks' most dangerous cities in Maryland for 2021.
So, how does one navigate these dangerous cities when trying to make an informed decision on what city you should call home? Take a look below: we did the work for you. In order to compile our list, we consulted the numbers. In total, we analyzed 36 cities. We looked at the FBI's latest crime report for violent crime and property crime statistics for every place with over 5,000 residents. We discovered that Maryland's violent and property crime numbers are even scarier than the most dangerous place in the state.
Folks, the cities that made our list have robberies happening in broad daylight, car jackings, and daily shootings. There are neighborhoods in these cities that you shouldn't drive thru at all and there are areas that you definitely shouldn't be in after dark. The state as a whole recorded 500 violent crimes and close to 2,300 property crimes making it the 18th most dangerous state in the country for 2021.
We're not saying that there aren't little pockets of goodness in these cities. The neighborhoods and shopping centers in these Maryland cities are not ALL bad. But cities like Baltimore and Laurel catch a break; and sadly, their staggering statistics are keeping this Mid-Atlantic state in the headlines for the wrong reasons.
To see where these Maryland cities with all the problems are located, keep reading.
The 10 Most Dangerous Places To Live In Maryland For 2021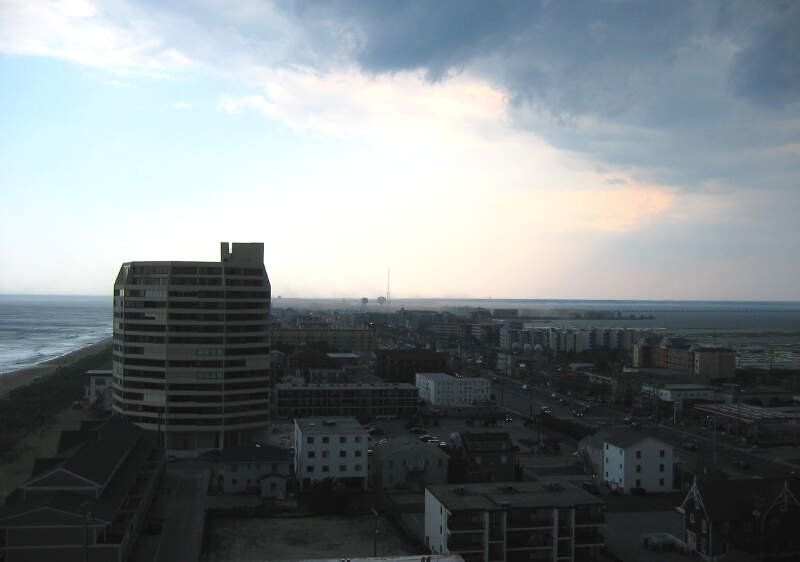 Ocean City coming in as the most dangerous place to live in Maryland for 2021 might surprise tourists who come in droves every summer to enjoy the beach and boardwalk.
In fact, Ocean City can safely blame the eight million vacationers who flock to the town annually for the ridiculously high "crime per capita." Still, Ocean City had the highest property crime rate in Maryland by a substantial margin, with residents facing a 1 in 9 chance of having their stuff stolen or damaged.
Violent crime isn't much better, with 91 cases recorded in 2019. Maybe if Ocean City didn't have such great things to do, criminals activity would fall off.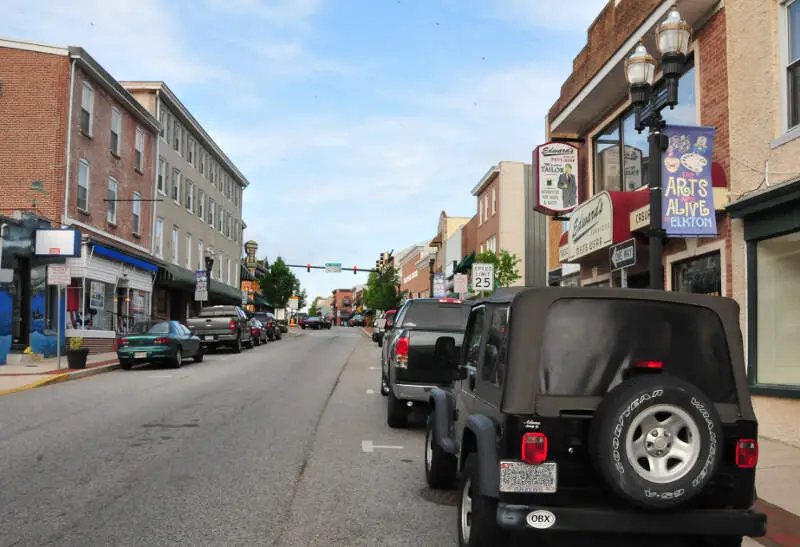 Source: Public domain
Located on the northeastern shore of Maryland, Elkton is known as "The Elopement Capital of the East Coast." It turns out that hasty marriages aren't the only bad decisions going down in Elkton, though, seeing as the town has the second highest crime rate in the state.
You'll want to make sure nobody steals your produce after a trip to the farmer's market, because Elkton experienced 877 larcenies in 2019. Also, lock your car doors here because there was about one car theft per week in Elkton on average.
It's not just property crime in Elkton, either, considering the town also had the fourth highest violent crime rate in Maryland.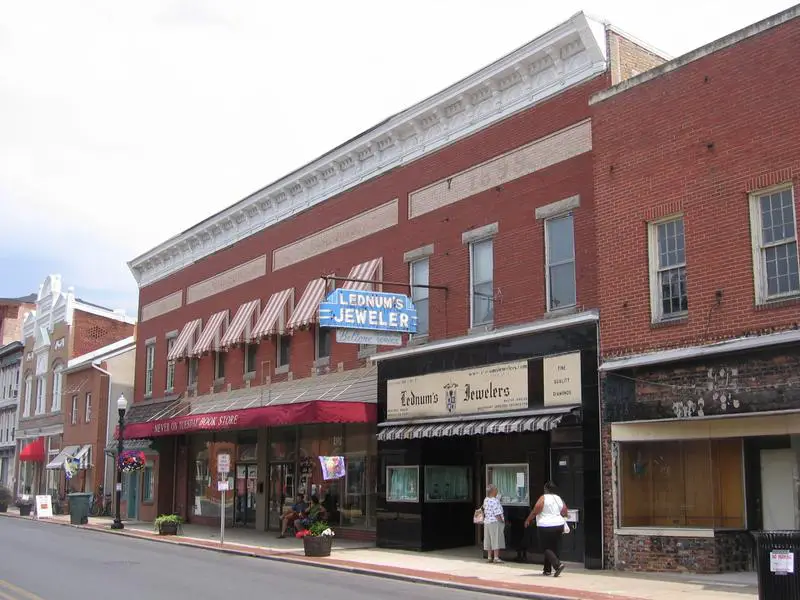 Cambridge is a city of 12,264 on the Chesapeake Bay that ranks as Maryland's third most dangerous city overall.
Cambridge had the highest rate of rape cases in the state in 2019, averaging just under one a month. The city also had 2 murders and the third highest violent crime rate overall.
And while you can enjoy a pleasant stroll down Cambridge's mile-long boardwalk, you'd be well-advised to keep an eye on your wallet, seeing as the city had the fourth highest property crime rate statewide.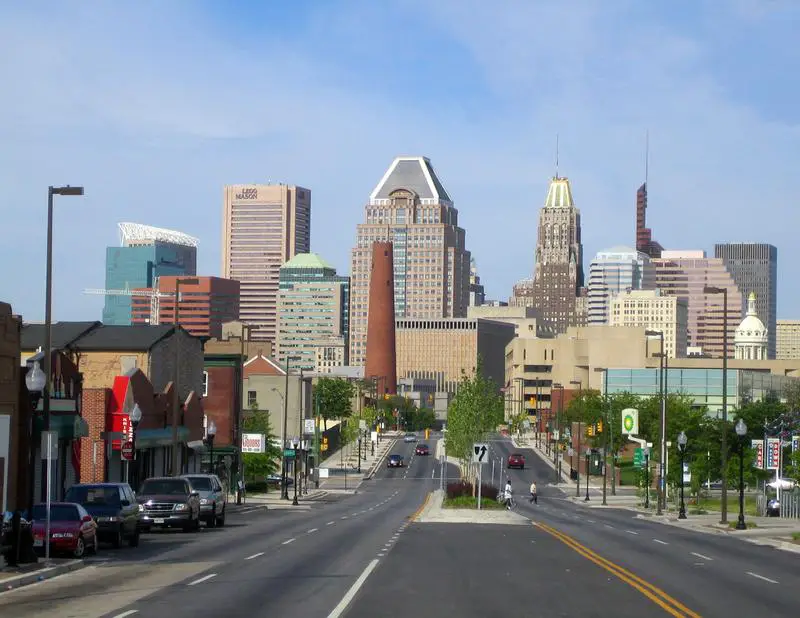 Source: Public domain
Ah, Baltimore, the city you were probably expecting to top this list. Well, in terms of violent crime, you'd be right. After all, you don't earn a nickname like Bodymore, Murderland for nothing.
Baltimore had 348 murders in 2019, giving the city the highest murder rate in Maryland. To be fair, though, Baltimore is a big place with plenty of safe neighborhoods.
But even in a place like the Inner Harbor, you'll want to watch your belongings, seeing as Baltimore had 25,748 property crimes in 2019.
That includes more than ten car thefts per day, on average.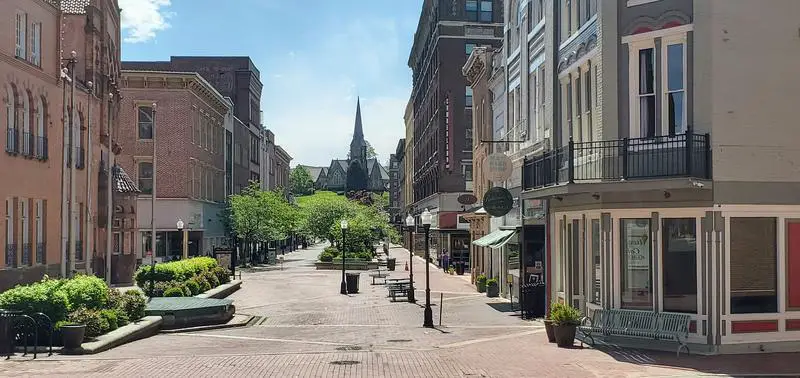 Cumberland is known for being the end point of the Great Allegheny Passage, a 150-mile bike trail that goes all the way to Pittsburgh.
Which means you can easily cycle far away from the high crime rates that plague Cumberland. Residents faced a 1 in 22 chance of being the victim of a property crime in 2019, which includes the third highest burglary rate.
The Cumberland Metro area is among the country's poorest in terms of per capita income, which may explain why locals feel the need to resort to crime.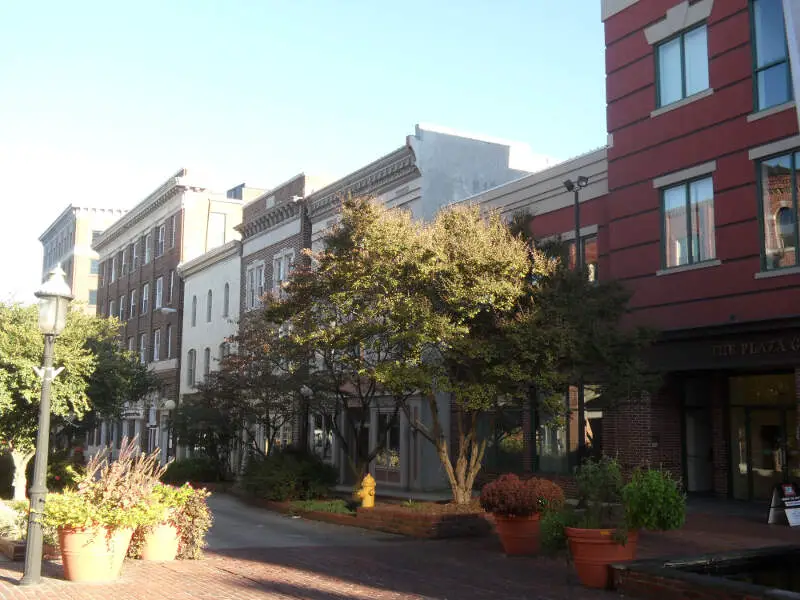 The largest city in Maryland's Eastern Shore region, Salisbury comes in as the state's sixth most dangerous place to call home.
On average, Salisbury had a violent crime six out of seven days of the week over 2019. The city also had the fourth highest rate of rape cases in the state.
There were also 207 burglaries in Salisbury over the year and 1,170 larcenies. That's a lot of homes broken into and pockets picked for a city of just 33,132.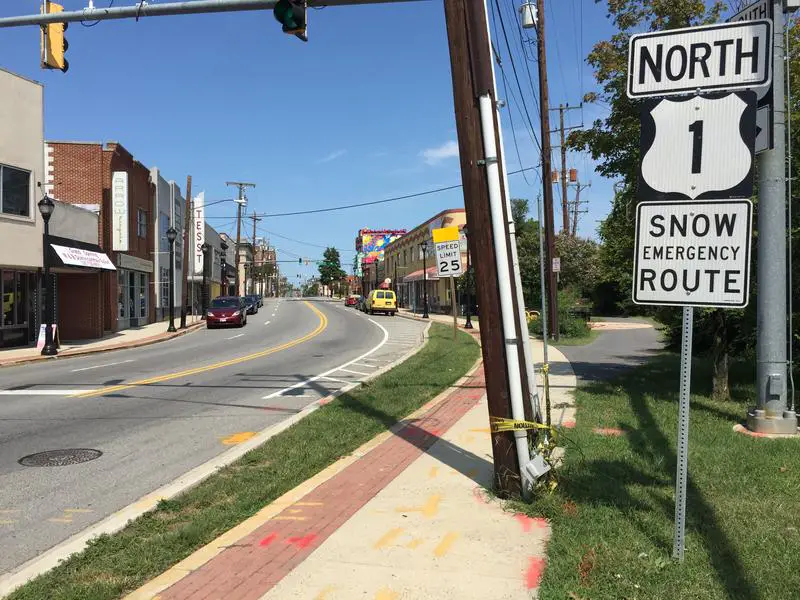 Located just six miles east of Washington DC , Hyattsville is the least violent of the DC suburbs and the least violent place on this list overall.
Don't get us wrong; you still shouldn't stay out late at one of Hyattsville parks all by yourself, considering the city had the third highest murder rate in Maryland.
Not to mention that Hyattsville residents had a 1 in 16 shot of being the victim of a property crime in 2019.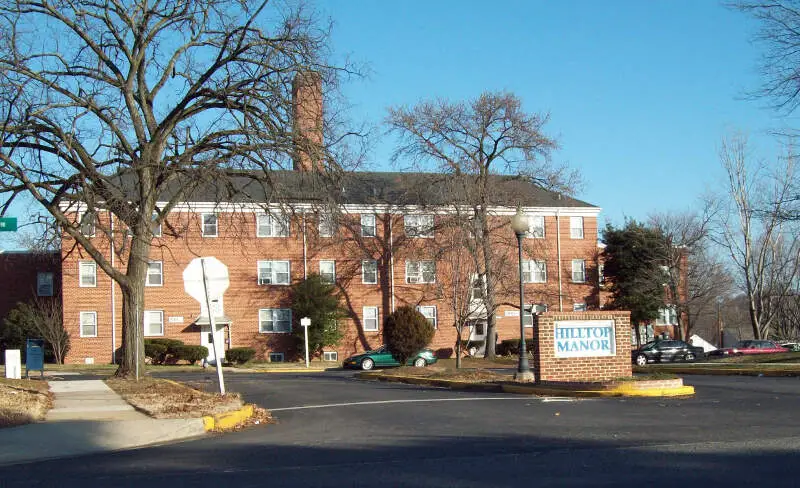 Source: Public domain
Bladensburg is located just south of Hyattsville, and while it's more violent than its northern neighbor, there's less crime here overall. Still, Bladensburg had 3 murders recorded in 2019.
That might not sound like a lot, but for a city of 9,476, that's enough for the second highest murder rate statewide. And good enough reason not to linger at Waterfront Park once the sun goes down.
With residents facing a 1 in 160 chance of being the victim of violence, Bladensburg is one of DC's most violent suburbs.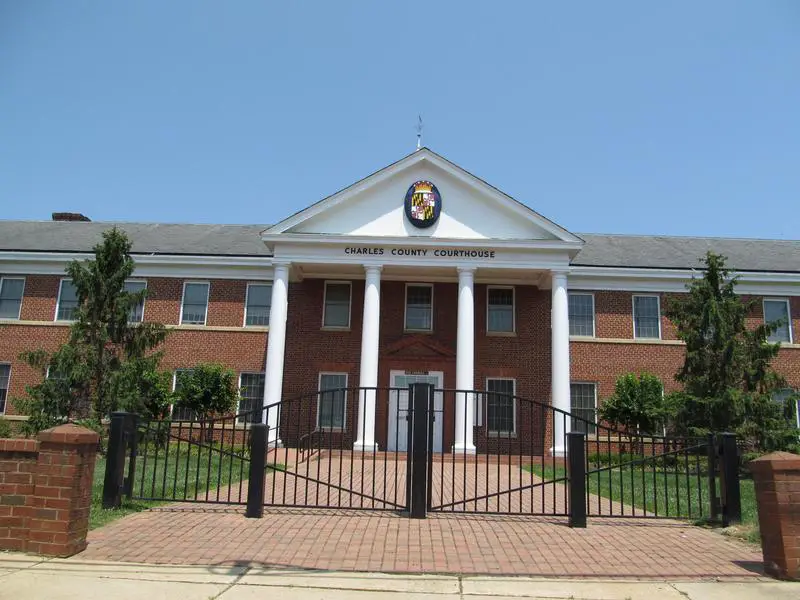 The county seat of Charles County, La Plata is the only place on this list that wasn't on it last year. And there are other encouraging signs, like having no murders or rapes in 2019. Overall, the town averaged just under one violent crime per week.
Still, residents had a 1 in 30 chance of having their stuff stolen or damaged, which isn't great. And if you don't want to join the 285 larceny victims La Plata had in 2019, watch your valuables while you're out at Port Tobacco River Park.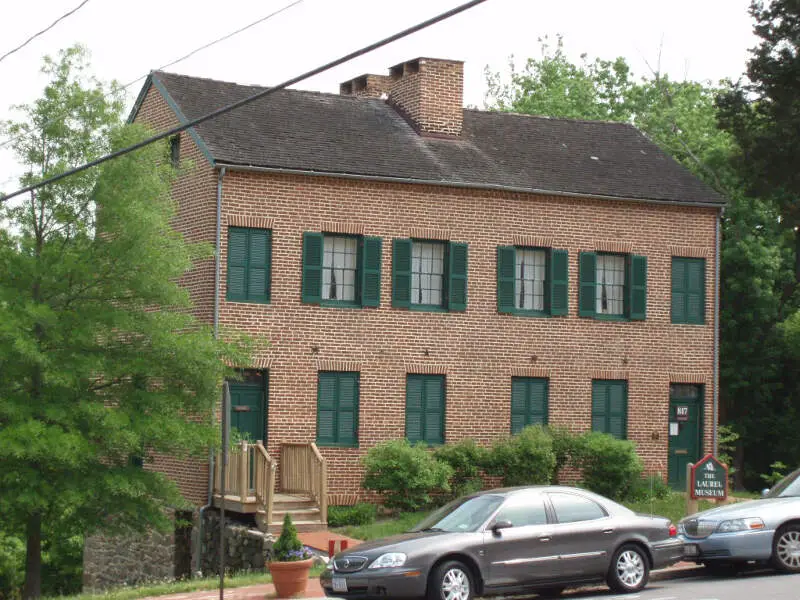 Located midway between Washington and Baltimore, Laurel doesn't have nearly as much crime as the big cities. Still, a 12th highest place ranking in violent crime and ninth highest place ranking in property crime statewide lands it in the #10 position on this list.
The Laurel Police Department has their work cut out for them, what with 123 violent crimes and 887 property crimes committed in 2019.
There were about one robbery and more than one car theft and burglary each week in Laurel, so you've got pretty good odds of having your stuff stolen here, violently or otherwise.
Graphing The Most Dangerous And Safest Places In Maryland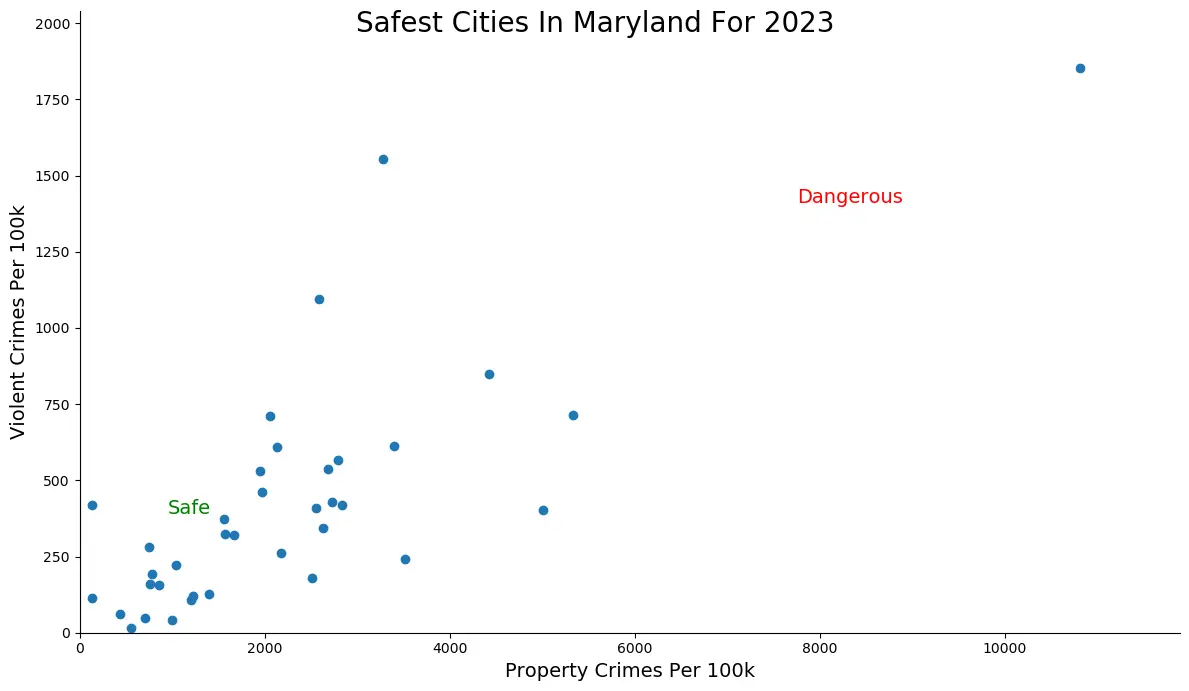 Click To Enlarge
How we determined the most dangerous cities in Maryland for 2021?
Every year the FBI release two crime datasets, a preliminary dataset limited to the biggest cities in the country, followed by a more detailed release at the end of the year.
For our analysis, we focused on the JUST released 2019 data, specifically the 2019 Crime In The United States Report. We will update the results when data becomes available in September 2021.
So what criteria did we use? Have a look:
Violent Crimes Per Capita
Property Crimes Per Capita
In order to make the analysis as apples to apples as possible, we only considered Maryland cities over 5,000 in population. That left us with 36 cities in Maryland.
We then ranked each city from 1 to 36 for the two criteria with a #1 ranking being the most dangerous for the particular criteria.
Next, we averaged the two rankings into one "Dangerous Index".
Finally, we ranked every city on the "Dangerous Index" with the lowest index being the most dangerous in Maryland — Ocean City. Any ties went to the smaller city. You can download the data here.
Read on for a detailed look at the 10 most dangerous cities in Maryland.
Locking It All Up In Maryland
So what is the most dangerous city in Maryland? After analyzing 36 cities in Maryland, Ocean City takes the top spot as the most dangerous city in Maryland based on the most recently reported FBI data — 2019.
The latest FBI crime data shows that Ocean City ranks as the most dangerous city in Maryland for 2021.
We want to point out again that there's still safes places in Ocean City and that this isn't a comment on the people that live there. So please don't beat us up.
What are the circumstances that make these Maryland cities this way? Maybe not enough jobs, low wages, people just don't want to work, prisons, drugs, gangs, close to larger cities that push their problems onto surrounding cities?
We're not entirely sure. But one thing we are sure about is our number one most dangerous city in Maryland is Ocean City.
The Maryland cities on our most dangerous list could definitely use some TLC. If you're looking to be that diamond in the rough, or you're just curious to see if your city made the list, take a look below. And if you don't see your city there, head to the bottom.
Learn more about the safest places in Maryland.
If you're looking for something more national, check out the most dangerous cities in America or the most dangerous states in America.
Here are the safest cities in Maryland:
New Carrollton (Pop. 13,036)
Havre de Grace (Pop. 13,890)
Frostburg (Pop. 8,510)
Bowie (Pop. 59,093)
Taneytown (Pop. 6,824)
Thurmont (Pop. 6,824)
Mount Airy (Pop. 9,472)
Glenarden (Pop. 6,234)
Hampstead (Pop. 6,397)
Ocean Pines (Pop. 12,264)
For more Maryland reading, check out:
The Most Dangerous Cities In Maryland
| Rank | City | Population |
| --- | --- | --- |
| 1 | Ocean City | 6,905 |
| 2 | Elkton | 15,662 |
| 3 | Cambridge | 12,264 |
| 4 | Baltimore | 597,239 |
| 5 | Cumberland | 19,321 |
| 6 | Salisbury | 33,132 |
| 7 | Hyattsville | 18,331 |
| 8 | Bladensburg | 9,476 |
| 9 | La Plata | 9,538 |
| 10 | Laurel | 25,814 |
| 11 | Annapolis | 39,277 |
| 12 | Aberdeen | 16,194 |
| 13 | Greenbelt | 23,417 |
| 14 | Hagerstown | 40,258 |
| 15 | Mount Rainier | 8,143 |
| 16 | Fruitland | 5,346 |
| 17 | Westminster | 18,664 |
| 18 | Takoma Park | 17,893 |
| 19 | Riverdale Park | 7,258 |
| 20 | Frederick | 73,030 |
| 21 | Cheverly | 6,482 |
| 22 | Easton | 16,523 |
| 23 | Brunswick | 6,426 |
| 24 | Chestertown | 5,027 |
| 25 | District Heights | 6,015 |
| 26 | Bel Air | 10,031 |
| 27 | New Carrollton | 13,036 |
| 28 | Havre de Grace | 13,890 |
| 29 | Frostburg | 8,510 |
| 30 | Bowie | 59,093 |
| 31 | Taneytown | 6,824 |
| 32 | Thurmont | 6,824 |
| 33 | Mount Airy | 9,472 |
| 34 | Glenarden | 6,234 |
| 35 | Hampstead | 6,397 |
| 36 | Ocean Pines | 12,264 |