This article is an opinion based on facts and is meant as infotainment. Don't freak out.
Swipe left for slideshow. Article continues below.
There are lots of people who throw the term 'ghetto' around. But which of the largest cities in Ohio are the most ghetto of all?
How do you decide if a place is ghetto or not? You ask the internet. According to the Urban Dictionary, a ghetto is defined as:
"urban; of or relating to (inner) city life" and "poor; of or relating to the poor life."
Using that criteria, it's not hard to scrape the internet, run some scientific data on where ghettos might exist in a state, and then put out a list.
After analyzing the largest cities here, we came up with this list as the most ghetto places to live in Ohio:
In case you're wondering, the little city of Kirtland just east of Cleveland is the least ghetto city of all we measured.
Read on below to see where your hometown ranked and why. Or feel free to check out the great places to live in Ohio.
For more Ohio reading, check out:
What ghetto criteria did we use?
In order to rank the most ghetto places in Ohio, we had to determine what criteria defines a ghetto city or neighborhood.
Since a ghetto is defined as a poor area, we used income levels, crime and education levels as a guide to determine where the most broke citizens of a state live.
Additionally, the staples of inner city life include cheap and discounted retail outlets.
We started by making a list of all cities in Ohio that are listed on the 2014 American Community Survey. That left us with more than 280 cities to rank.
We threw a lot of criteria at this one in order to get the best, most complete results possible. Using Yelp and Area Vibes, this is the criteria we used:
Household income levels
High school graduation rates
Number of convenience stores
Number of drug stores
Number of discount stores
Crime
Note: For the sake of getting reliable numbers, we counted places within a city's border, as well as within a short driving distance.
All of these results are listed in a per capita basis. Meaning number of stores per person in a state. Additionally, high school graduation rates are determined by looking at the total number of people who live in a city, not the current graduation rate of an area's high schools.
1. East Cleveland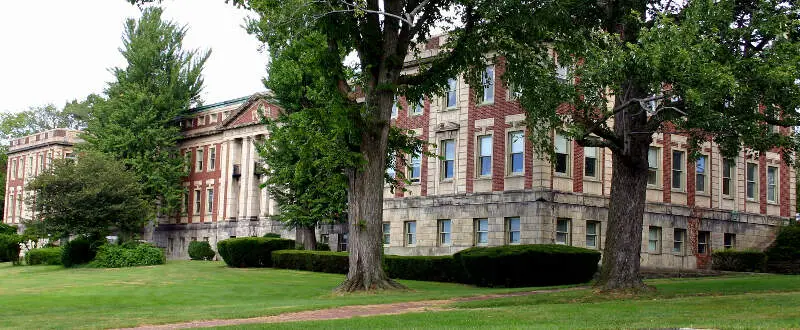 Income: 2nd lowest
Drop out rate: 27%
Crime: 5th worst
When you look at the unbiased data, East Cleveland and Cleveland were by far the most ghetto cities in Ohio. That probably isn't much of a surprise if you live in Ohio.
East Cleveland is the 5th most dangerous place in the state. There were 'only' two murders in this city of 18,000 people, but the real issue here is with robberies. If you lived in East Cleveland for a year, you'd have a 1 in 44 chance of being a victim of a property crime.
There's only one other city with more poor residents in Ohio (Athens). In East Cleveland, families average about $5,000 under the poverty line each year.
There were quite a few #ghetto Tweets coming from East Cleveland. This stood out: "Driving to my dads and I was passing through East Cleveland and saw a sign that said 'DNA Testing' written on cardboard. The ghetto is magic."
2. Cleveland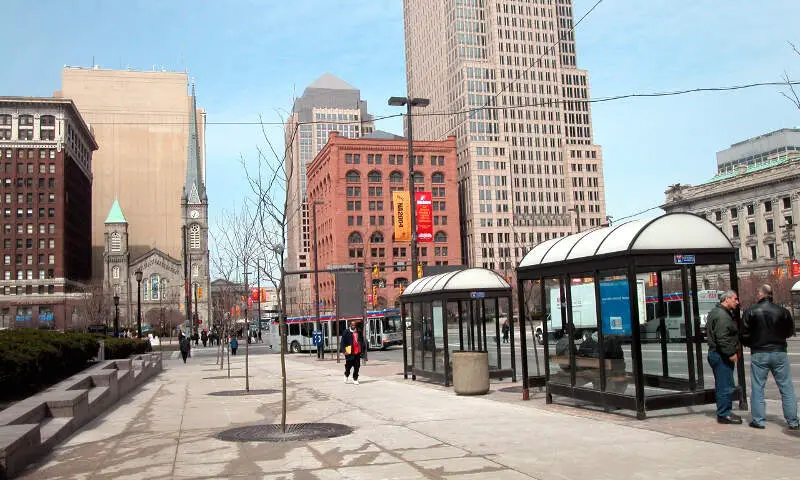 Income: 7th lowest
Drop out rate: 29%
Crime: 7th worst
There are sections of Cleveland that are more ghetto than entire small cities in Ohio. Here, crime is the 7th worst in the state, where there were 63 murders and more than 21,000 property crimes. In 2014 alone.
3 in 10 Cleveland residents never got a GED by the age of 25. Shockingly, that's only the 4th lowest rate in the state. Dayton suburb Park Layne (aka Park Layne Manor) is the dumbest city in Ohio – where 1 in 3 residents never got a diploma.
In any event, this part of the state takes the ghetto honors. There were too many ghetto Tweets to count coming from Cleveland. This one stood out: "Cleveland is too ghetto to even have friendly dodge ball games."
3. Youngstown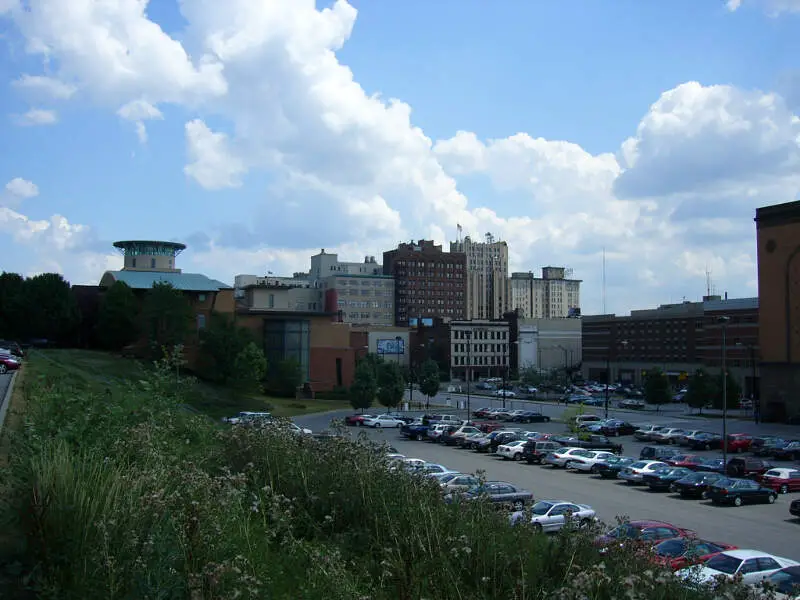 Income:5th lowest
Drop out rate: 26%
Crime: 10th worst
Homes average about $43,000 each in Youngstown, which is a sign that there's absolutely no demand to live here. But when you look at the scientific numbers, you can see why. It's a very poor place with high crime, and a large, uneducated population.
Said Twitter: "So me and my dad were just lost in the ghetto part of Youngstown and I'm pretty sure we just witnessed a crack deal."
4. Dayton

Income: 12th lowest
Drop out rate: 25%
Crime: 12th highest
Unfortunately, Dayton has the distinction of having a pair of 12's on its chest. It's the 12th most dangerous place in Ohio (there were 27 murders here in 2014), and it's the 12th poorest in terms of income levels. 3 in 10 kids below the age of 18 live in poverty.
And, if you met 4 people who live in Dayton, 1 would be a high school dropout.
5. Lima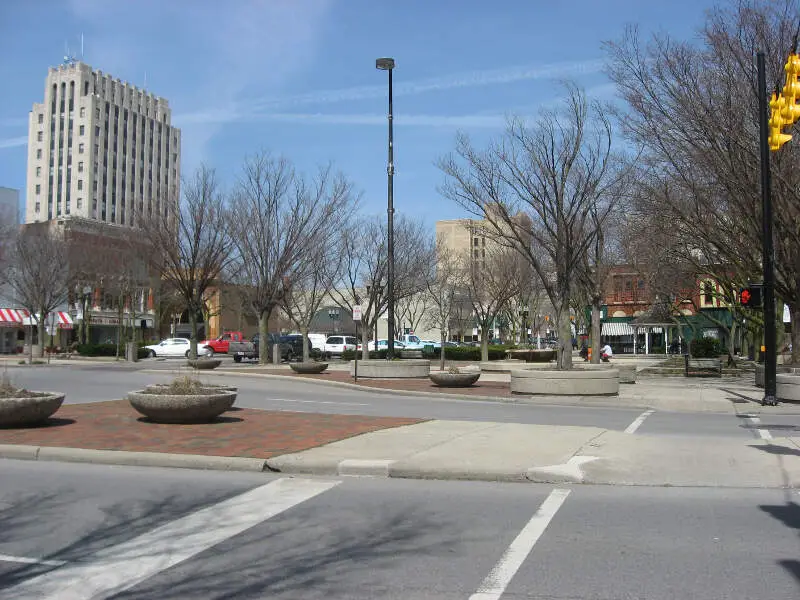 Income: 11th lowest
Drop out rate: 25%
Crime: 15th highest
When someone making minimum wage can afford to buy a house in a city, it means it's a poor place. Welcome to Lima, Ohio, where 1 in 4 residents didn't complete high school, and where crime is just about as bad as it gets, statistically.
You have about a 1 in 21 chance of being the victim of a property crime for each year you are within Lima city limits.
Someone in an internet forum didn't hold back when it came to Lima: " I am hard pressed to think of one redeeming thing about this city. Crappy eateries, violent crime, rampant drug use, high unemployment, low property values, no opportunities, along with God awful weather makes this perhaps one of the most miserable places to live in this entire nation."
6. Whitehall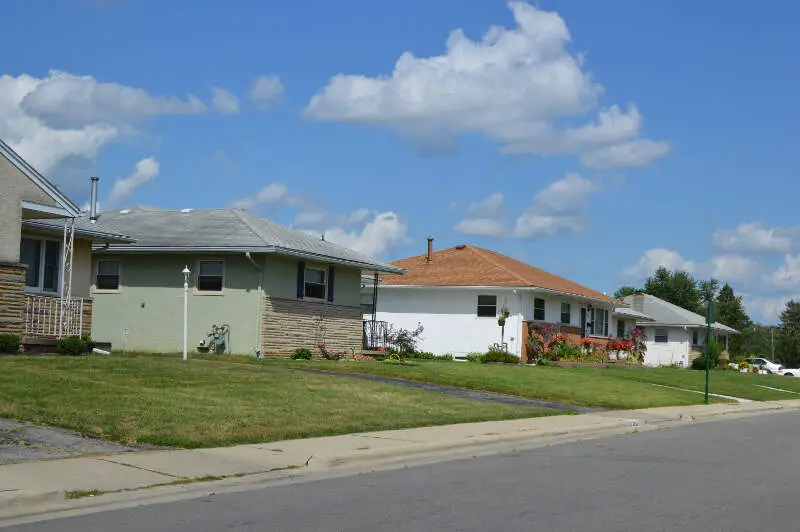 Income: Bottom 15%
Drop out rate: 24%
Crime: 8th worst
Whitehall is an eastern Columbus suburb with a really high crime rate. There was a murder here in 2014, but the property crimes are the real reason you want to stay in after dark. You have a 1 in 15 chance of being a property crime victim each year you live here.
There were lots of Tweets about how ghetto Whitehall is, and apparently, the city's Walmart is pretty…ghetto.
7. Canton

Income: 17th lowest
Drop out rate: 23%
Crime: 20th worst
Things don't look much better in Canton. Part of the reason Canton (and many other cities on this list) are so ghetto is the loss of manufacturing jobs last century. As it stands, 40% of people below the age of 18 and over 65 live below the poverty line, which the government defines as $25,000 for a family of four.
8. Springfield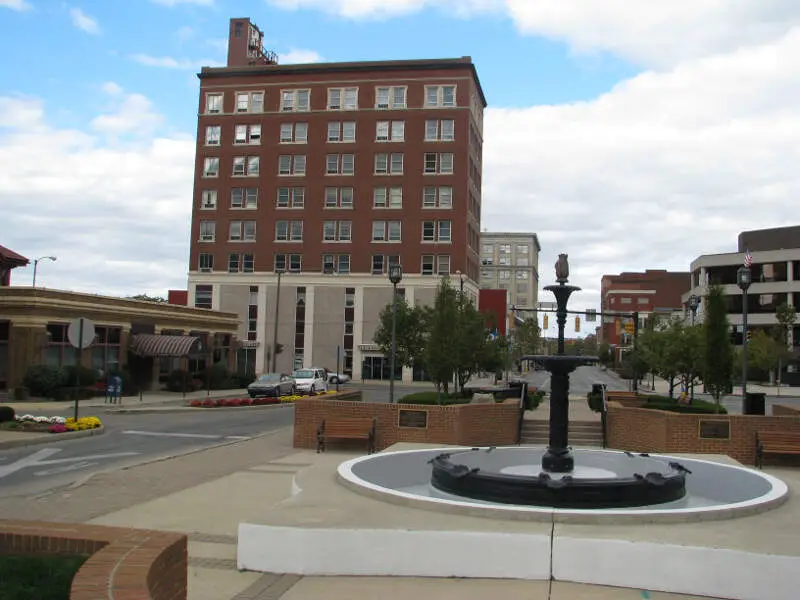 Income: Bottom 15%
Drop out rate: 24%
Crime: 11th highest
This city of 60,000 people is smack dab between Dayton and Columbus along I-70. But you might want to think twice about stopping here for gas, especially at night. Crime is borderline top 10 in Ohio, where there were 7 murders in 2014, according to the FBI.
9. Ashtabula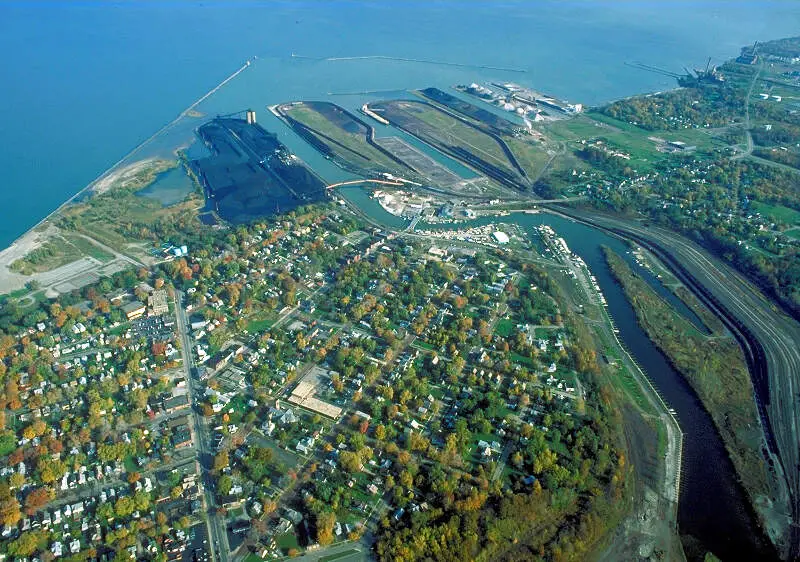 Income:15th lowest
Drop out rate: 25%
Crime: Worst in OH
Statistically, you won't find a more dangerous place than Ashtabula, a city of about 19,000 residents along the lake just before you get to the Pennsylvania state line.
Incomes hover near the poverty line for many families, and homes sell for under $50,000. That might be a result of having a quarter of the population without a GED.
For a small place, there were a handful of ghetto Tweets coming from here. "My friend said Ashtabula is the ghetto. But he lives in Cleveland. So there."
10. Warren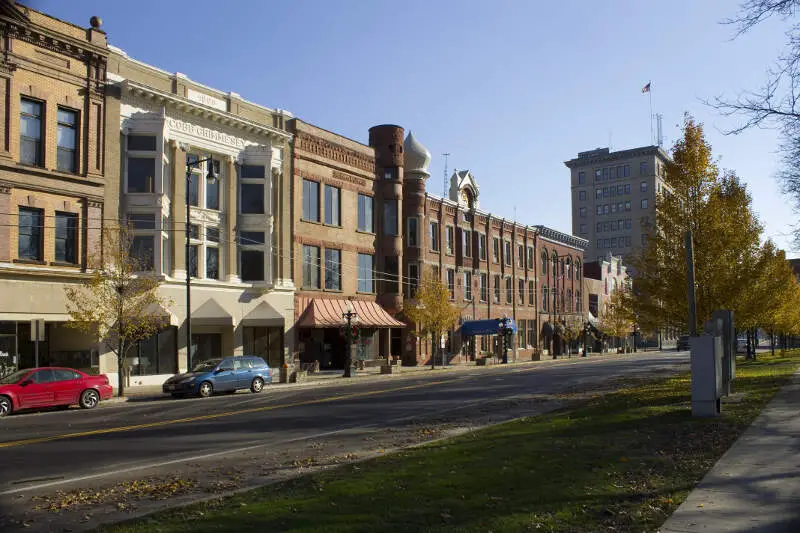 Income: 16th lowest
Drop out rate: 23%
Crime: 26th highest
Such is the sad state of affairs when a 23% dropout rate is only the 36th highest rate in Ohio. But when you factor in relatively high crime and very poor people, what you have is a ghetto place just outside of Youngstown.
Other Highlights From The Study
Not ghetto at all: The following are the least ghetto areas in the Buckeye State: Kirtland, Bay Village, Canfield, Mack, Dry Run. Two are Cleveland suburbs and two are Cincinnati suburbs.
How did Columbus and Cincinnati fare? Columbus is 50th (out of 285), hurt mostly by the 18th highest crime rate in Ohio. Cincinnati just missed the top 10 at number 12. Crime is the 9th highest in Ohio, and 1 in 5 residents never completed high school.
There You Have It
If you're measuring the locations in Ohio where there are a high number of poor and uneducated residents, and where there are a high number of discounted shopping stores, this is an accurate list.
We also wrote about the 10 Drunkest Cities in Ohio if you didn't happen to see it.
The Most Ghetto Cities in Ohio, with detailed information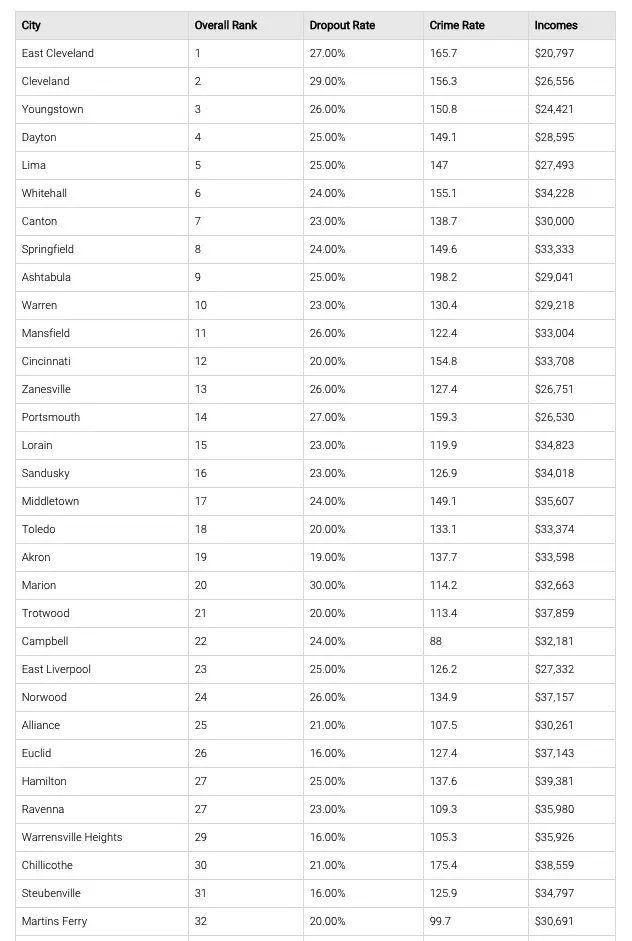 Desktop users, below is a chart of top 50 cities in Ohio, along with their crime numbers.