This article is an opinion based on facts and is meant as infotainment. Don't freak out.
Swipe left for slideshow. Article continues below.
Note: Desktop users: Use your mouse and hover over a state to see the stats in the map below. Mobile users, there's a smaller version a little lower on the page.
Can you afford to shop this holiday season? There's only 10 days left to get everything you need.
According to the U.S. Federal Reserve, Americans are in over their heads in credit card debt now more than ever before. The average U.S. household carries $7,281 in credit card debt alone.
So, we were curious – which states can shop guilt free this holiday season, and who can't afford it? We're about to find out, using science and data.
After analyzing the data, these are the states that are in the best position to splurge this holiday season:
Nebraska
Iowa
Minnesota
South Dakota
Kansas
Kentucky
Indiana
Arkansas
Wisconsin
Pennsylvania
Read on below to see how we crunched the numbers and how your state ranked. If your state isn't on this list, then you might want to back away from the register a little bit this holiday season.
How we crunched the numbers
In order to rank which Americans can afford to shop hard this Christmas, we simply needed to know three things.:
Number of hours residents already shop each week
Income levels
Credit card debt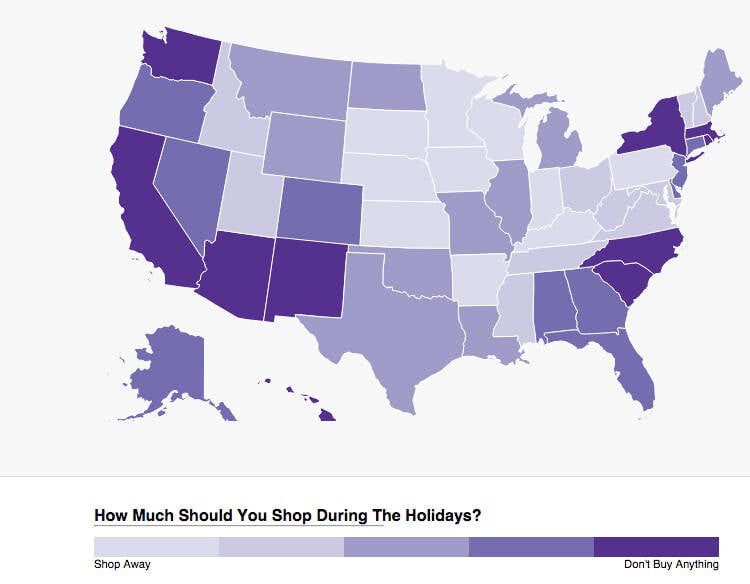 Our argument is states where residents earn higher salaries (adjusted for cost of living), where people don't already shop a lot, and where folks are in less credit card debt can afford to stack the piles high under the tree this year.
1. Nebraska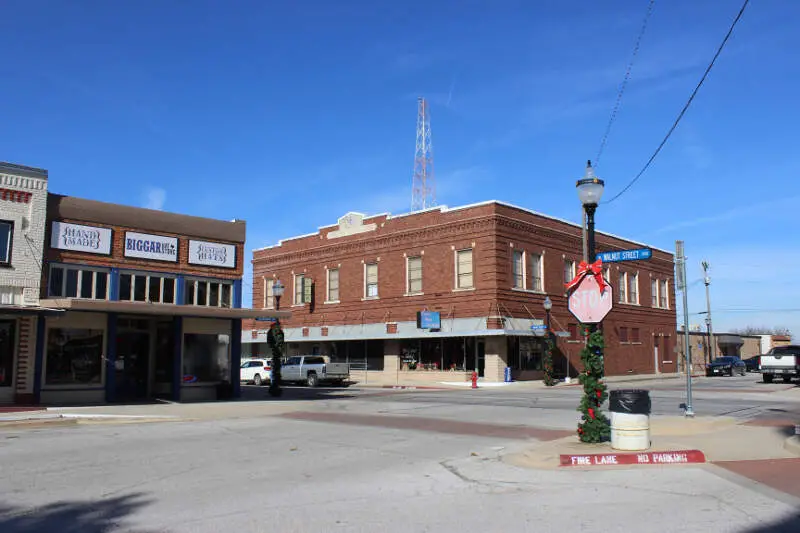 Omaha, NE
Shopping rank: 11th lowest
Income rank: 4th highest
Credit card rank: 3rd lowest
Nebraska residents can afford to shop the most during this Christmas. So get out there and stand in long lines. You've certainly earned it.
Why? First off, Nebraskans only have about $4,298 in credit card debt each. That might sound like a lot, but it's actually the 3rd lowest total in the nation. And, it's obvious that folks here aren't shopping nearly as much as people in other states. They only spend about 25 minutes a day buying things.
Lastly, households average almost $58,000 a year in combined incomes, after cost of living adjustments.
So, if anyone can afford to go all out this holiday season, it is the people in Nebraska.
2. Iowa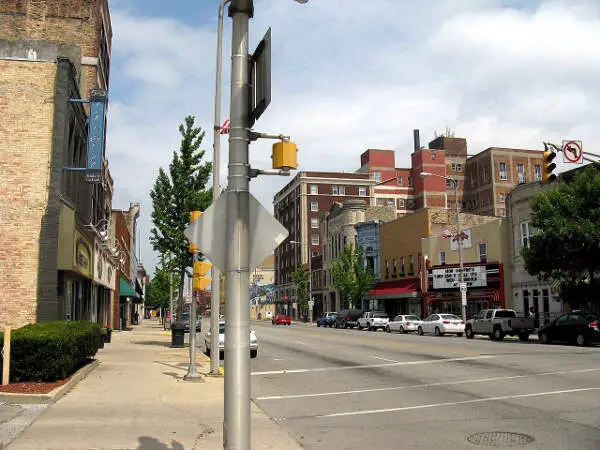 Des Moines, IA. Flickr user Christopher Jones
Shopping rank: 33rd lowest
Income rank: 5th highest
Credit card rank: Lowest
You know who has been keeping their debt in check? Iowans, that's who. There isn't any other group in the nation with lower credit card debt than here. People average an astoundingly low $3,884 each in debt.
The next closest state is North Dakota, where people average a tad over $4,000 each in debt. The problem with North Dakota is they shop too often – for about 36 minutes each day, on average.
In Iowa, people spend only about 24 minutes a day, on average, purchasing things.
So, go ahead and buy the entire family a new set of overalls this year. You've certainly earned it.
3. Minnesota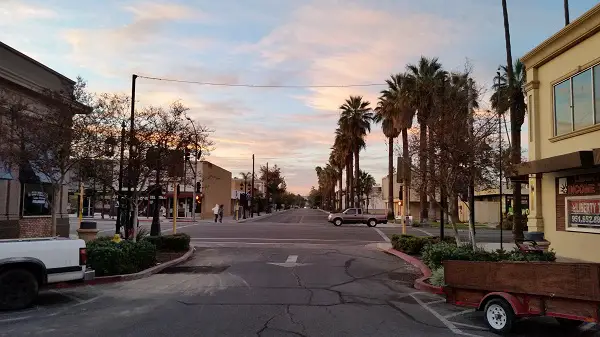 Minnesota's Mall of America. Flickr user Max
Shopping rank: 36th lowest
Income rank: 7th highest
Credit card rank: 9th lowest
We're going to see a lot of states from the midwest on this ranking. When looking at the data, it's the midwest that has the highest incomes and lowest debt.
In Minnesota, families bring in a combined $57,000 a year, and only shop for about 25 minutes a day as it is.
4. South Dakota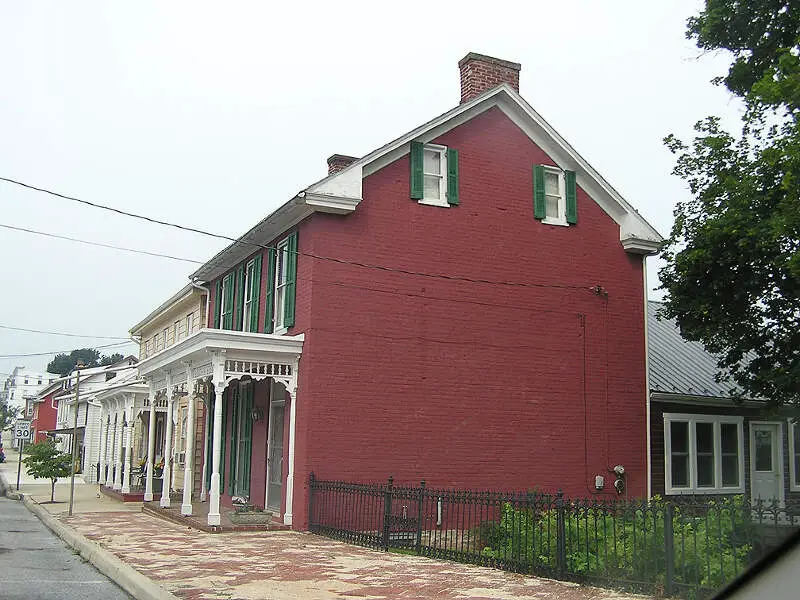 Pierre, SD. Flickr user J. Stephen Conn
Shopping rank: 2nd least
Income rank: 23rd lowest
Credit card rank: 2nd least
South Dakota is an interesting story. They only spend about 20 minutes a day shopping here, which is just about the least you'll find in the country.
And, as you might expect, their credit card debt is really low as a result. South Dakotans only have $4,238 each in debt. The problem? Their incomes are far lower than the other cities on this list.
So while they've been saving up, they don't have a lot of wiggle room here.
The only state that spends less time buying things is Mississippi, which spends money for about 19 minutes a day, on average.
5. Kansas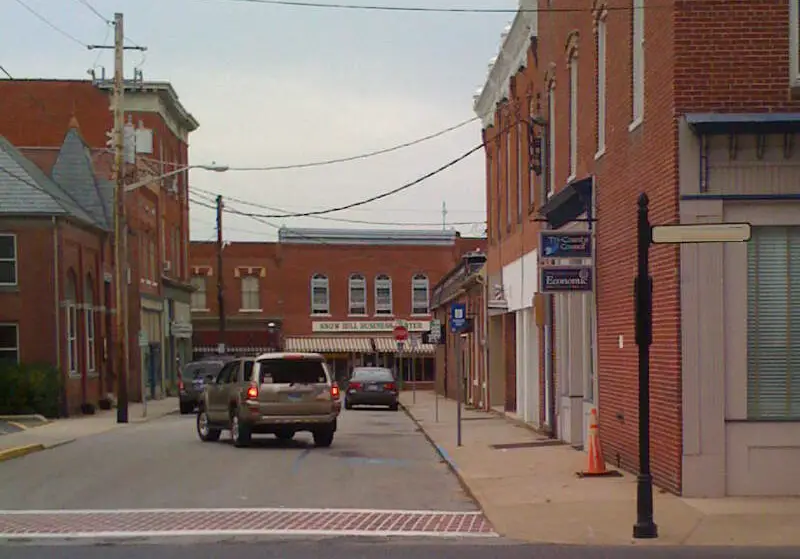 Overland Park, KS.
Shopping rank: 10th lowest
Income rank: 5th highest
Credit card rank: 26th highest
Kansas is in the opposite position. They, too, don't shop nearly as often as most of the country. However, while they are high earners, they're also quite in over their heads in debt.
We're giving Kansas the nod to go ahead and make lots of purchases. However, the amount of debt here means Kansans should pay with cash; families here average $57,610, so they can certainly afford to put down the plastic.
6. Kentucky
Louisville, KY. Flickr user Wade Morgen
Shopping rank: 5th lowest
Income rank: 18th lowest
Credit card rank: 5th lowest
Kentucky is in the same boat as South Dakota. Individuals here have managed their shopping habits (24 minutes a day), and their debt ($4,436). But they are also low earners.
However, the cost of living in Kentucky is far below the national average. So, if anyone in the south can afford to stack up the gifts under the tree this year, it's folks in Kentucky, who have been pretty frugal all year long.
7. Indiana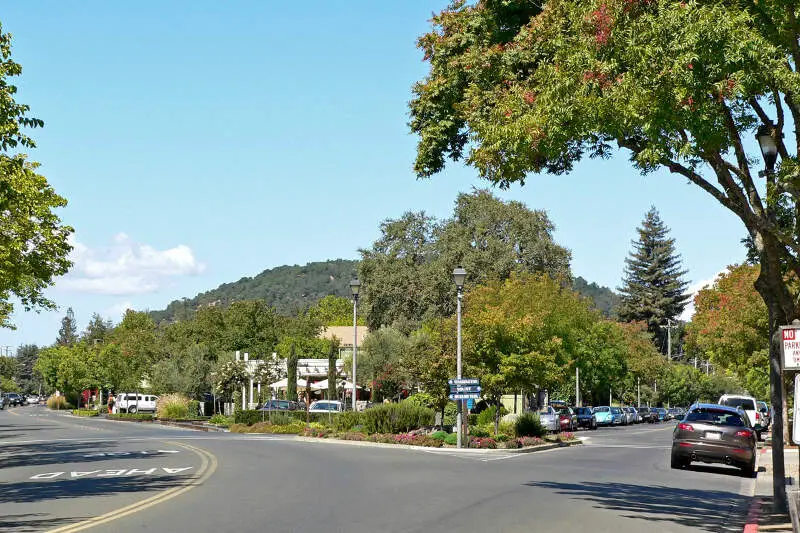 Indianapolis, IN. Flickr user Erik Lykins
Shopping rank: 23rd lowest
Income rank: 10th highest
Credit card rank: 12th lowest
Folks in Indiana have a bit of the shopping bug, but it looks like they're managing their spending wisely. While they take about three hours each week to shop, their debt is far below what most other states have accumulated.
And being relatively high earners means if they are using plastic for purchases, they can likely afford to keep up with the payments.
So we say, Santa Claus should definitely spend more than a fair amount of time in Indiana living rooms this year.
8. Arkansas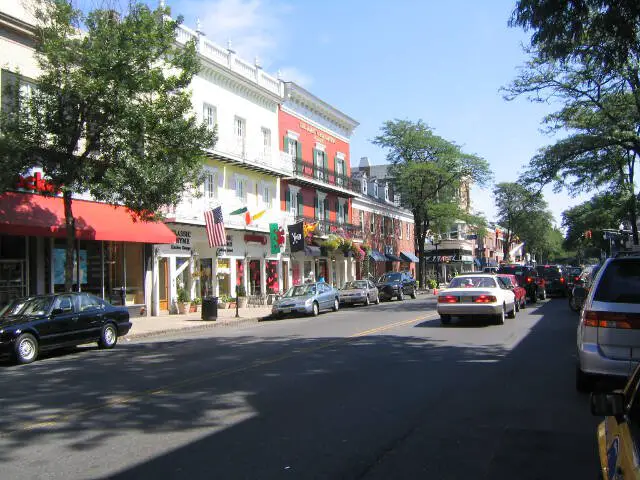 Little Rock, AR. Flickr user Rex Lisman
Shopping rank: 5th lowest
Income rank: 17th lowest
Credit card rank: 7th lowest
Good news, Arkansas! You're in the same boat as Kentucky. As families, you don't bring in huge salaries, but you're also not in over your heads at this point in the year.
We say you can shop guilt free down there in the Natural State this Christmas.
9. Wisconsin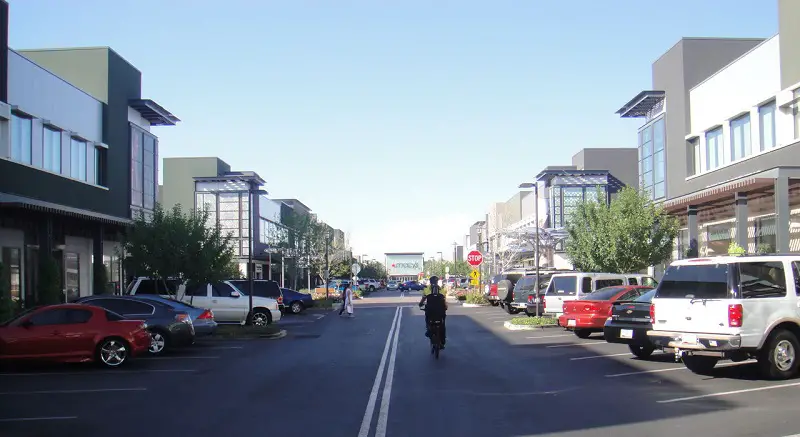 Southridge Mall, Milwaukee, WI
Shopping rank: 23rd lowest
Income rank: 19th highest
Credit card rank: 4th lowest
Families in Wisconsin only average about $8,600 each in credit card debt. That sounds high, but for a husband and wife, that's actually one of the lowest you'll find in America. A majority of the population in Wisconsin earns pretty decent salaries, too.
We noticed Wisconsin already has a big of the shopping bug as it is (27 minutes a day, on average.) So, they're used to managing their money effectively.
10. Pennsylvania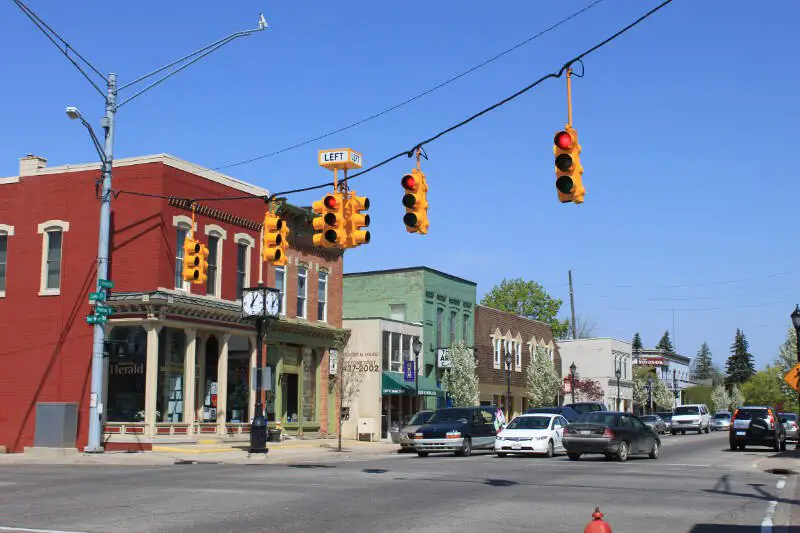 SouthSide Works, Pittsburgh, PA. Flickr user Jennifer Yang
Shopping rank: 14th lowest
Income rank: 18th highest
Credit card rank: 14th lowest
Pennsylvania is the only east coast state to make this list. While this state doesn't rank high in any one particular category, across the board, it's safe to assume that families here can afford to make those extra holiday purchases this year.
It that good news? We wonder how many PA wives are going to share this with their husbands today.
Here's a link to the data for all 50 states.
Here are the rest of the states in order. From New Hampshire (it's okay to shop) to Rhode Island (don't shop.)
New Hampshire
Idaho
West Virginia
Tennessee
Utah
Mississippi
Virginia
Vermont
Ohio
Maryland
Maine
Michigan
Louisiana
Texas
Illinois
Montana
Wyoming
Oklahoma
North Dakota
Missouri
New Jersey
Alaska
Alabama
Connecticut
Oregon
Nevada
Georgia
Washington, DC
Colorado
Delaware
Florida
Arizona
North Carolina
New York
Washington
California
South Carolina
New Mexico
Massachusetts
Hawaii
Rhode Island