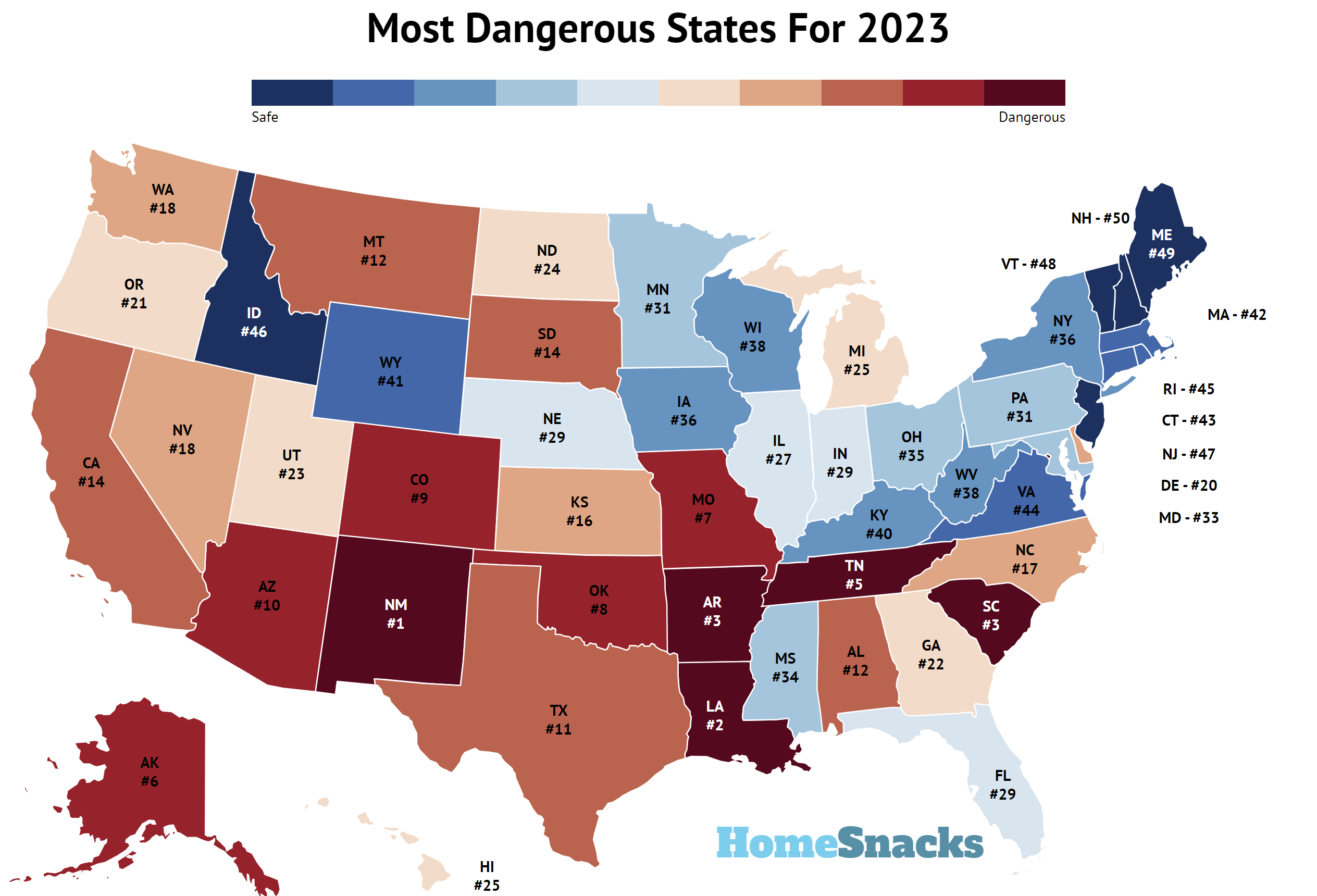 Do you live in one of the most dangerous states in the United States?
We all watch the news with horror when we hear about a crime that happens not that far away from us. While major crime blocks or towns away from your house would make anyone uneasy, where you live is relatively safe in the long run.
Instead of relying on public opinion and speculation, we wanted to get the facts straight and dug into the FBI crime data to identify the most dangerous states in the U.S. If you're in one of the places we're about to highlight, odds are you know things aren't a place that you can let your guard down too often.
This study uses facts to determine which of our great American states have the highest instances of crime. This research considers the amount of violent and property crime per capita for each state from the FBI Crime Report. Therefore, while you may have strong opinions about which states are the safest or most dangerous, you can't argue against the methodology. According to this methodology, New Mexico is the most dangerous state in the United States. The safest state in the United States? You might not be too surprised that New Hampshire takes the cake.
After analyzing all 50 U.S. states, we came up with this list of the ten most dangerous states in America for 2023:
The 10 Most Dangerous States In The United States For 2023
What's the most dangerous state in America? According to the most recent FBI data, New Mexico is the most dangerous state in America if you look at violent and property crimes per capita.
Additionally, the South isn't a place you want to go if you want to live without looking over your shoulder. At least not generally.
And if this has you down, feel free to check out the best states in the country.
For more reading, check out:
---
Table Of Contents: Top Ten | Methodology | Table | Summary
---
The 10 Most Dangerous States To Live In America For 2023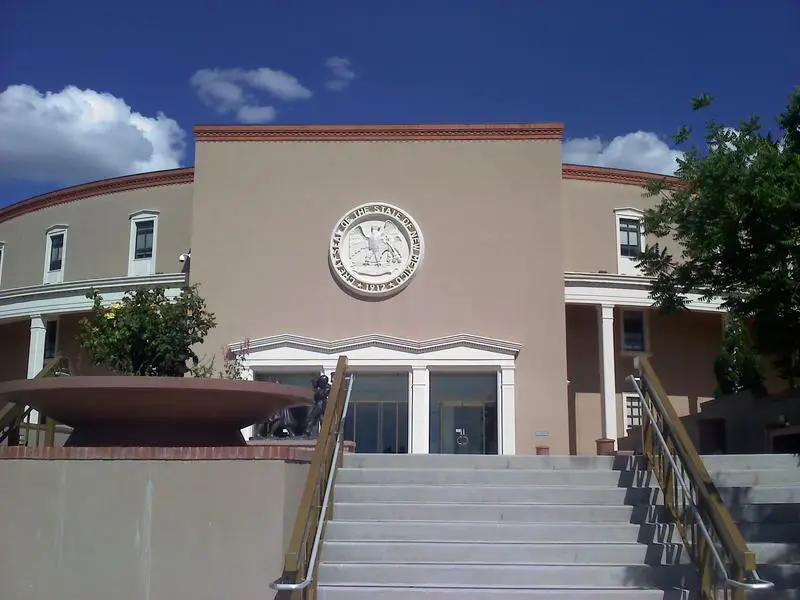 Source: Public domain
Population: 2,106,319
Rank Last Year: 1 (No Change)
Violent Crime Per Capita: $778 (Second worst)
Property Crime Per Capita: $2,841 (Second worst)
Where's the most dangerous state in all the land? How does New Mexico sound?
New Mexico has all the issues we described above wrapped into one. A native american population that's poor and violent. A poor, relatively uneducated population that's lacking jobs and a bright future. It's a border town, so there are issues with crime and vagrants sneaking into the country.
The number of violent crimes per person is the second highest and the number of property crimes is the highest you'll find in America by a long shot. That means there are more robberies, thefts and break ins here in New Mexico than any other place in America.
Substance abuse, socioeconomic issues, and even the fact that the state is crossed by major interstates leading to the West Coast and to Mexico are issues. Half the crime reported in the state are in one place – Albuquerque, where car thefts are at an all time high.
People talk about Florida man being dangerous and sketchy and unhinged. What about New Mexico man? If you live in New Mexico, you're likely bored to death, AND you have to worry about crime all the time. But hey, at least the sunsets are pretty.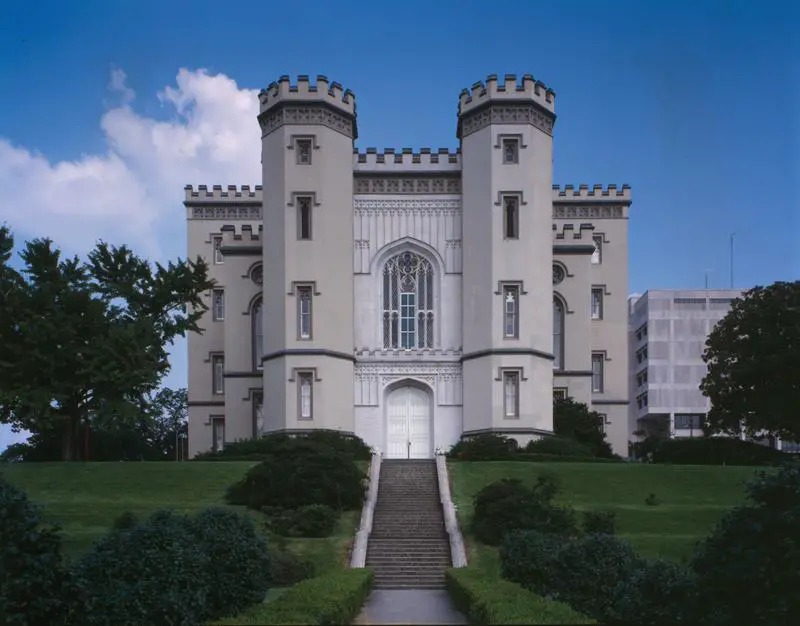 Source: Public domain
Population: 4,645,318
Rank Last Year: 2 (No Change)
Violent Crime Per Capita: $639 (Fifth worst)
Property Crime Per Capita: $2,884 (First worst)
We don't have to travel too far away to get to our next most dangerous state in the union, Louisiana.
Does poverty correlate with crime? Yes. Louisiana is very poor, and the number of thefts and attacks here is through the roof. Five cities in the Bayou State make the list of danger hot beds in this part of the country: Monroe, Shreveport, Baton Rouge, New Orleans and Alexandria are all places where you want to remain vigilant when you're out and about after dark. And don't even think about heading out into the swampy areas after the sun sets either.
All told, Louisiana ranks in the top 5 for both violent AND property crimes. The Bayou State had nearly 11 murders and nonnegligent manslaughters per 100,000 people not too long ago. The next-highest state was Mississippi with 7. The lowest was New Hampshire with 1 per 100,000 people. That means Louisiana has a murder rate 10 times higher than New Hampshire.
It may be no coincidence that the Bayou State is also the prison capital of America. Louisiana locks up more citizens per capita than any other state.
The people here are some of the friendliest in the south, and you talk about culture. Wow. It's just that poverty, hot weather and lax gun laws make this the wild wild south.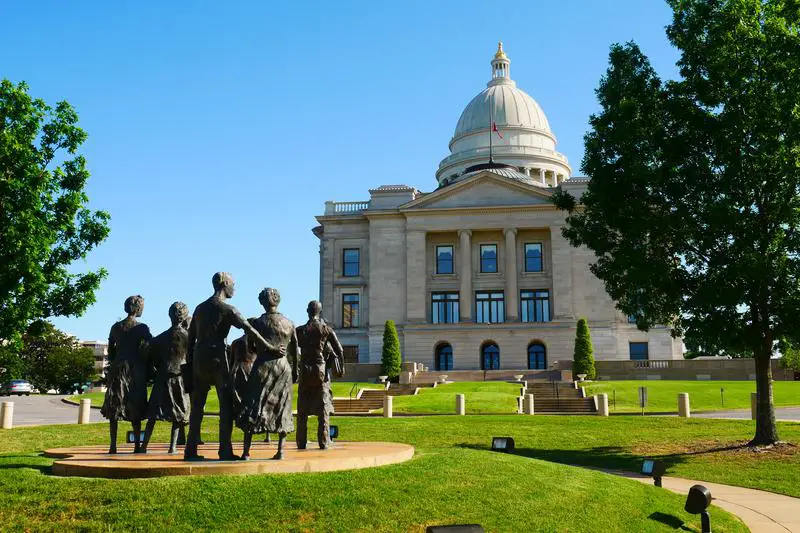 Population: 3,030,522
Rank Last Year: 4 (Up 1)
Violent Crime Per Capita: $671 (Fourth worst)
Property Crime Per Capita: $2,613 (Eighth worst)
Remaining in the south, our next dangerous pit stop in America is Arkansas. Arkansas is another poor state in the south with a far-higher than average number of murders, rapes, assaults and robberies per capita.
If you live in the Natural State, don't leave your car doors unlocked; there were more than 7,933 vehicles stolen in the state of Arkansas in 2021 reporting year.
Holy cow if you've never been to Little Rock – we're not tryin' to diss anyone really hard but man that place is rough. It's always on some list of most dangerous places in the US for one year or another. For a city its size, 50 murders a year is sky high. It's not Memphis rough, but in a lot of places, it's straight ghet-toe. Pine Bluff is also pretty bad. But at least if you're not a gangster, you'll probably stay out of trouble.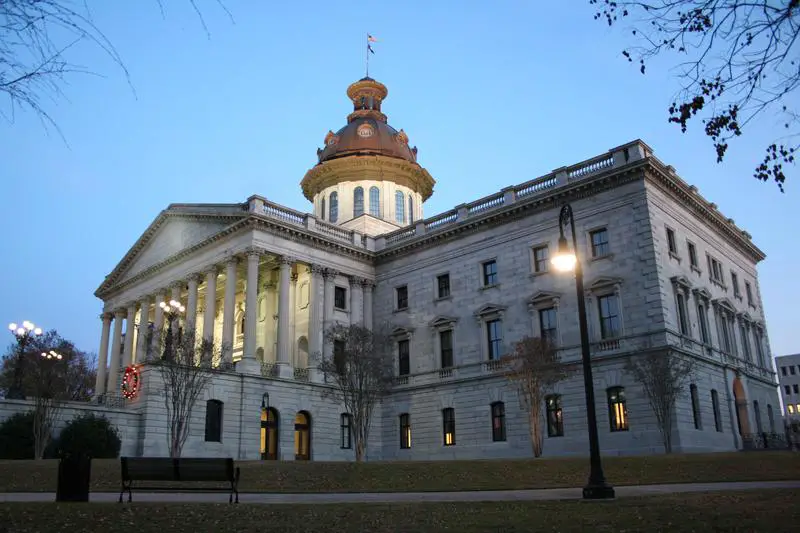 Source: Public domain
Population: 5,218,040
Rank Last Year: 3 (No Change)
Violent Crime Per Capita: $530 (Seventh worst)
Property Crime Per Capita: $2,721 (Fifth worst)
Where's the third most dangerous state in America? That would be South Carolina.
South Carolina is notorious for property crimes, where residents have the fifth highest chance in the country for being the victim of a car theft, robbery or home invasion. You could probably take all of the crime that happens in Myrtle Beach away, and South Carolina would drop ten places.
Myrtle Beach used to be an amazing place for vacations and for the kids. No longer. If you've been to Myrtle Beach in the last 10 years, you'd see lots of trash, break ins, criminal activity and hear gun shots at night when you're trying to sleep in your beachside hotel room. It's especially bad here during bike week, 4th of July, Spring break, and any other warm weather related holiday.
Myrtle Beach, we're so disappointed in you!
Much of South Carolina is relatively poor, which is part of the problem with property crimes. In many areas, Unemployment is high, drug use is rampant, and education is under valued. South Carolina received an "F" for home and community safety and ranked second to last in the nation by the National Safety Council. For road safety, the state received a "D," just missing the bottom 10.
Residential fires, drownings, firearms and safety for vulnerable road users are areas where South Carolina is off track, too. Is this a pretty state? In many parts along the coast, some say it's the prettiest in America. But it's a place where you can't leave your keys in your Hyundai Elantra and expect it to be there when you come back.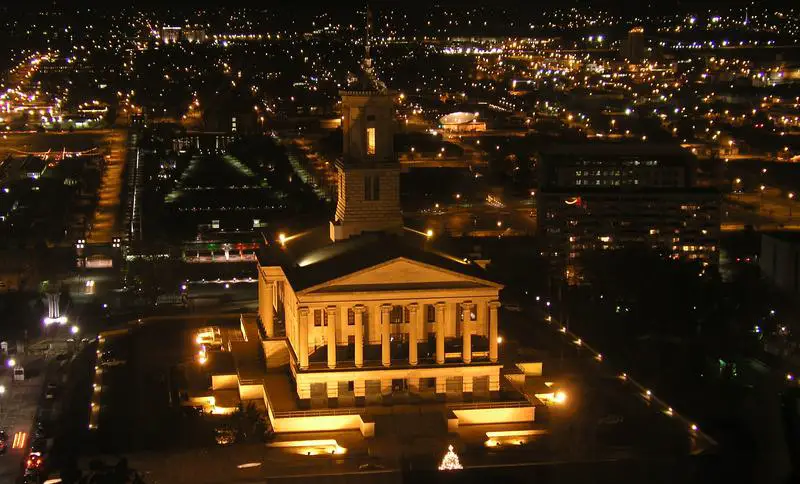 Population: 6,886,834
Rank Last Year: 5 (No Change)
Violent Crime Per Capita: $672 (Third worst)
Property Crime Per Capita: $2,492 (Tenth worst)
Would you have guessed that Tennessee is the fifth most dangerous state in America?
If you're from Memphis, you'd probably agree. Memphis may just be the worst city in America in many categories. Residents faced a 1 in 49 chance of being raped, assaulted, or murdered last year which is a 5% higher rate than the previous reporting year. There are perhaps 10,000 gang members in Shelby County.
Why is Tennessee so violent? Like many of the states we've discussed earlier, poverty, high drug use and a lack of solid jobs are all contributing factors. A lot of property crime from druggies and other low lifes breaking into property, looking for drugs or money for drugs. Seems like they can't find enough cops to deal with the crappy people who make such a great state a dangerous one.
Overall, Tennessee is the third worst in America when it comes to violent crimes. Anyone want to volunteer to walk around Newport or Sweetwater alone at night Anyone? No? Didn't think so.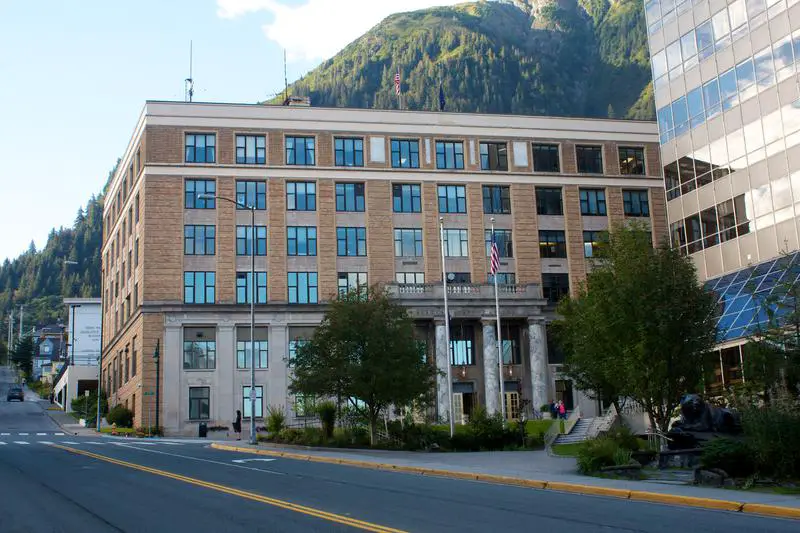 Population: 731,158
Rank Last Year: 6 (No Change)
Violent Crime Per Capita: $837 (First worst)
Property Crime Per Capita: $2,260 (13th worst)
Wanna get away? How about Alaska? It's pretty darn dangerous in these parts.
So here's the deal with Alaska. Yes, it's THE MOST VIOLENT place you can live in the nation. Sure, there are hardly any places in Alaska where people actually live, but in the large clusters of cities that do exist, the odds are higher here than anywhere else that a rape, assault or murder will occur. That's some scary stuff.
And it's 13th in the nation for number of property crimes as well.
For many remote Alaskan communities only accessible by plane, the biggest danger isn't bear attacks. Rather, it's the villagers themselves and the unavailability of any law enforcement to protect victims. There are at least 75 Native American Alaskan villages that don't have any law enforcement, reports the Washington Post. Isolated by long distances and difficult terrain, those residents must report crimes and wait for Alaska State Troopers to arrive in the village after hours of traveling.
Unfortunately, there are places in rural Alaska that if a woman is raped or a child is beaten, that victim might not get any help whatsoever. It can take a day and a half before responders show up to the scene of a crime or to a call for help. Imagine if you were a victim of violence and you can't get help because weather conditions don't allow you to get out of your village. Where are you supposed to go? You have nowhere to go.
In any event, if you go to Alaska, you'd better watch your back – whether it's a bear or a crazy drunk local – things can get dicey pretty quickly out here in no man's land.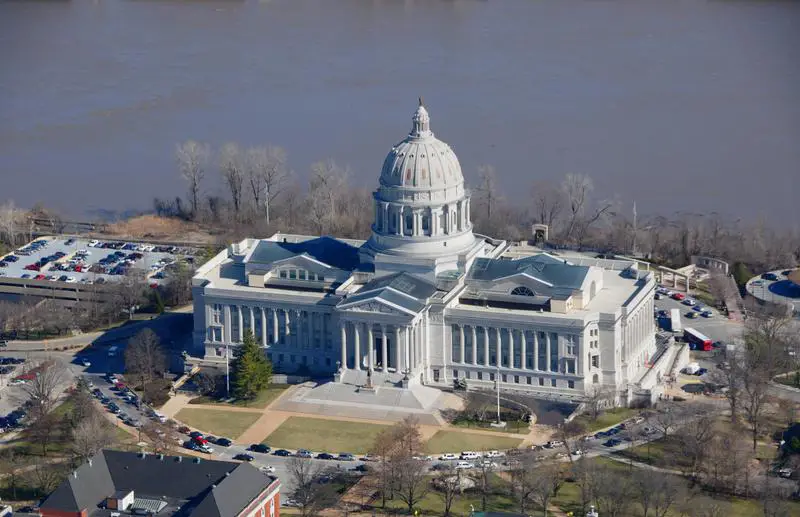 Source: Public domain
Population: 6,151,548
Rank Last Year: 7 (No Change)
Violent Crime Per Capita: $542 (Sixth worst)
Property Crime Per Capita: $2,531 (Ninth worst)
Our seventh stop on our danger tour of America starts in Missouri. Most Americans might think of Missouri of a bunch of redneck farmers, and for the most part, they'd be right. But if you haven't stepped foot in St. Louis before, here's what you're missing:
In 2021, St. Louis had the 49th most murders per capita in the entire country. Sure, most of the crimes that happen here are between rival gangs, and within certain neighborhoods. But that doesn't mean the violence doesn't spill into other parts of St. Louis.
So, while the majority of Missouri is completely safe, and many Missouri residents work hard, go to church, and care about their communities, the real jerks in the Show Me State make things bad for everyone else.
In terms of property crimes, Missouri ranks as the ninth worst. That takes into account stolen cars, cell phones and even toys.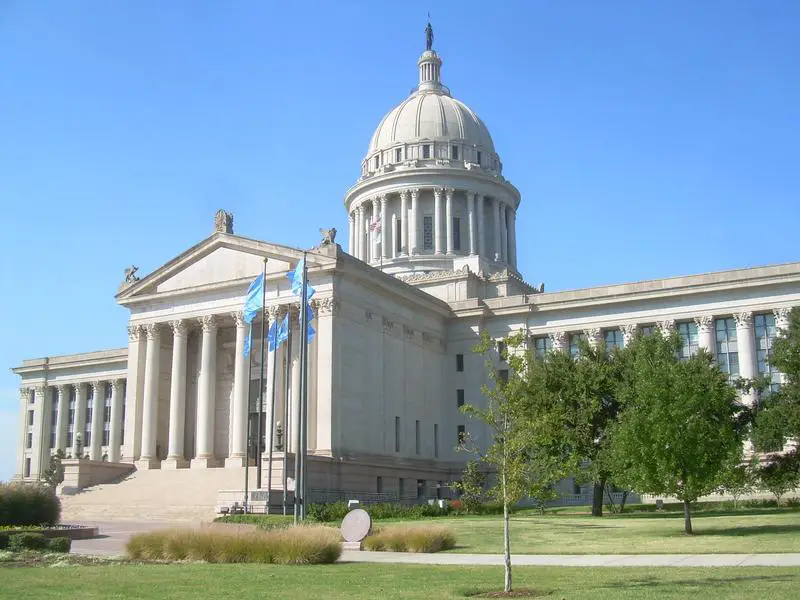 Population: 3,980,783
Rank Last Year: 8 (No Change)
Violent Crime Per Capita: $458 (13th worst)
Property Crime Per Capita: $2,705 (Sixth worst)
We don't go very far on our next stop in our danger tour of the United States. Oklahoma ranks eighth on our list.
Now, in Oklahoma, property and violent crimes aren't in the top 10 in either category, but when you add up the number of crimes per resident, this state has some serious issues. Many of them are poverty related.
Tulsa, in particular is a really bad place to live. Violent crime here has actually gone down by 4% over the last several years, and property crime by 5%.
Still, residents had around a 1% chance of being the victim of violence and about a 5% chance of being the victim of theft or arson in 2021 reporting year. In fact according to the statistics, you'd have a 1 in 100 chance of being a victim of a violent crime every year. And that doesn't even take into consideration this state's tornado danger or native stinging caterpillars.
Some people say Oklahoma's issues are with state funding, which builds jails instead of schools, and health care problem that leaves many people in the dark here. Is Oklahoma a great state to live? Sure it is. But are some parts really dangerous? You betcha.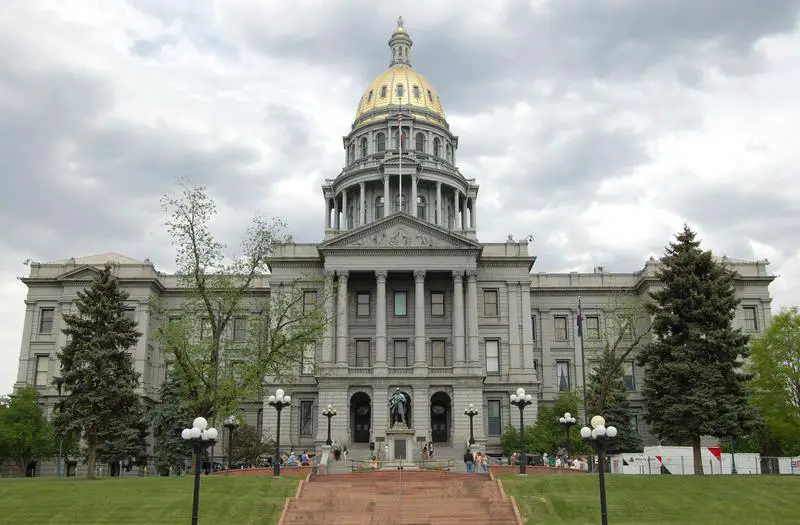 Population: 5,807,719
Rank Last Year: 9 (No Change)
Violent Crime Per Capita: $423 (20th worst)
Property Crime Per Capita: $2,833 (Third worst)
Wow, didn't expect to see Colorado on this list. The big jump for Colorado to be the ninth most dangerous state in the US for 2023 was due to property crime. The property crime rate in Colorado was third worst in the country. Pretty crazy compared to several years ago.
Colorado saw 294 murders last year. Additionally, you have about a 1 in 250 chance of being the victim of a violent crime every year in the state.
Some of the most dangerous areas in the state include Glendale, Sheridan, and Alamosa.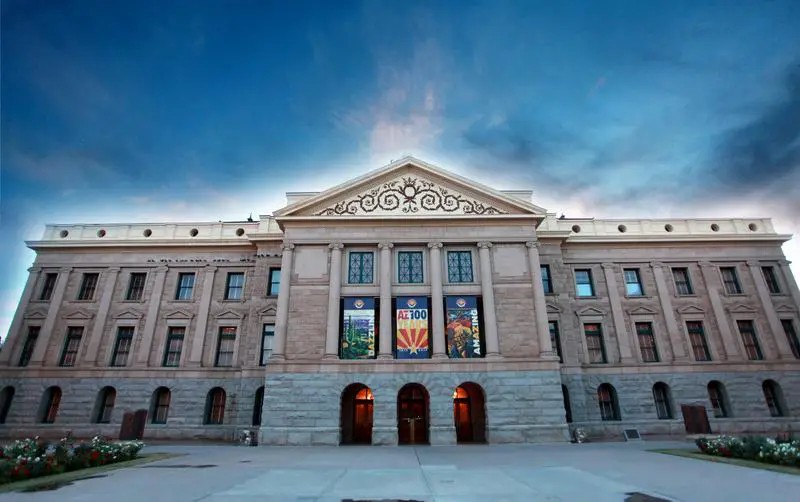 Population: 7,421,401
Rank Last Year: 10 (No Change)
Violent Crime Per Capita: $484 (Ninth worst)
Property Crime Per Capita: $2,227 (15th worst)
Arizona comes in as our tenth most dangerous state to live in America. And we're not talking about the weather, people.
Arizona is one of two states out west to make the list. There are really two main issues with crime in Arizona – robberies and the US Mexico border. Arizona saw 17,937 cars stolen last year, and there were nearly 24,488 home invasion robberies in the state too. How would you feel to come home to a home that's been pillaged? Well, Arizona people know.
Better lock up that cactus.
The border is an issue here. Every day, people complain of burglars, people breaking into their homes, smugglers coming through their properties and damaging their properties, and of immigrant related assaults. Arizona is also 3rd worst in America for healthcare for its residents, and has the 3rd highest rate of people getting hit by cars. At least you can carry a gun here without a permit, so that might make you feel safer.
In terms of Phoenix, it's really ghetto in some areas, but downtown Phoenix is so boring, even the criminals don't want to hang out there.
Methodology: How we used FBI data to determine the most dangerous states
To rank the dangerous states in America, we had to determine what makes a state dangerous. It isn't a stretch to assume that states where people are being killed and beaten up every week are more dangerous than other states.
So we used the FBI's 2021 Crime Report for those criteria per capita:
Violent Crimes Per Capita
Property Crimes Per Capita
We then ranked each state from 1 to 50 for the two criteria, with a #1 ranking being more dangerous for the particular criteria.
Next, we averaged the two rankings into a "Danger Index."
Finally, we ranked every state on the "Danger Index," with the lowest index being the most dangerous in America for 2023, New Mexico.
Here's a visualization of the criteria: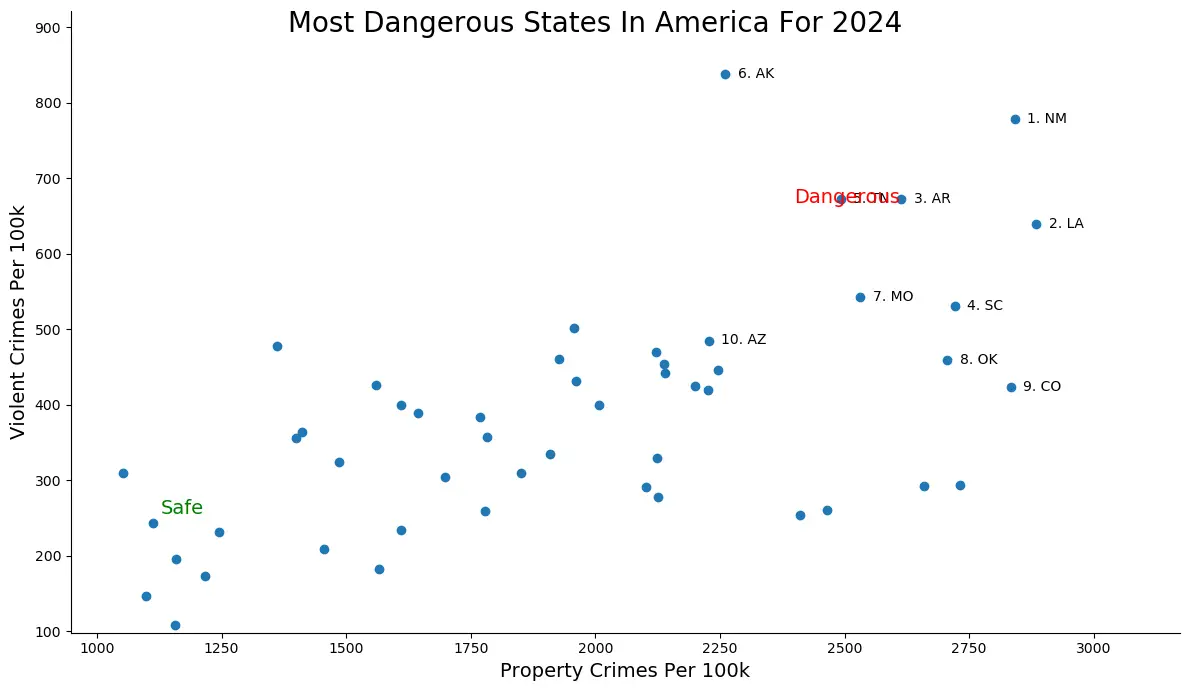 Note: We get the crime numbers from the FBI, which gets its crime numbers from the states themselves. This list is based on data. It's also not a testament to the effectiveness of local law enforcement. This article is an opinion based on facts and is meant as infotainment. We updated this article for 2023. This is our tenth time ranking the most dangerous states in America.
Summary: The Most Dangerous States In The Country
When you're looking at American states that have really high property and violent crime numbers, according to FBI reporting, this is an accurate list.
If you're curious enough, here are the safest states in the USA, according to science:
New Hampshire
Maine
Vermont
For more reading, check out:
Crime Data By State In The United States For 2023?
| Rank | State | Population |
| --- | --- | --- |
| 1 | New Mexico | 2,106,319 |
| 2 | Louisiana | 4,645,318 |
| 3 | Arkansas | 3,030,522 |
| 4 | South Carolina | 5,218,040 |
| 5 | Tennessee | 6,886,834 |
| 6 | Alaska | 731,158 |
| 7 | Missouri | 6,151,548 |
| 8 | Oklahoma | 3,980,783 |
| 9 | Colorado | 5,807,719 |
| 10 | Arizona | 7,421,401 |
| 11 | Texas | 29,360,759 |
| 12 | Montana | 1,080,577 |
| 13 | Alabama | 4,921,532 |
| 14 | California | 39,368,078 |
| 15 | South Dakota | 892,717 |
| 16 | Kansas | 2,913,805 |
| 17 | North Carolina | 10,600,823 |
| 18 | Washington | 7,693,612 |
| 19 | Nevada | 3,138,259 |
| 20 | Delaware | 986,809 |
| 21 | Oregon | 4,241,507 |
| 22 | Georgia | 10,710,017 |
| 23 | Utah | 3,249,879 |
| 24 | North Dakota | 765,309 |
| 25 | Michigan | 9,966,555 |
| 26 | Hawaii | 1,407,006 |
| 27 | Illinois | 12,587,530 |
| 28 | Florida | 21,733,312 |
| 29 | Indiana | 6,754,953 |
| 30 | Nebraska | 1,937,552 |
| 31 | Pennsylvania | 12,783,254 |
| 32 | Minnesota | 5,657,342 |
| 33 | Maryland | 6,055,802 |
| 34 | Mississippi | 2,966,786 |
| 35 | Ohio | 11,693,217 |
| 36 | New York | 19,336,776 |
| 37 | Iowa | 3,163,561 |
| 38 | Wisconsin | 5,832,655 |
| 39 | West Virginia | 1,784,787 |
| 40 | Kentucky | 4,477,251 |
| 41 | Wyoming | 582,328 |
| 42 | Massachusetts | 6,893,574 |
| 43 | Connecticut | 3,557,006 |
| 44 | Virginia | 8,590,563 |
| 45 | Rhode Island | 1,057,125 |
| 46 | Idaho | 1,826,913 |
| 47 | New Jersey | 8,882,371 |
| 48 | Vermont | 623,347 |
| 49 | Maine | 1,350,141 |
| 50 | New Hampshire | 1,366,275 |
Dangerous Places By State