This article is an opinion based on facts and is meant as infotainment. Don't freak out.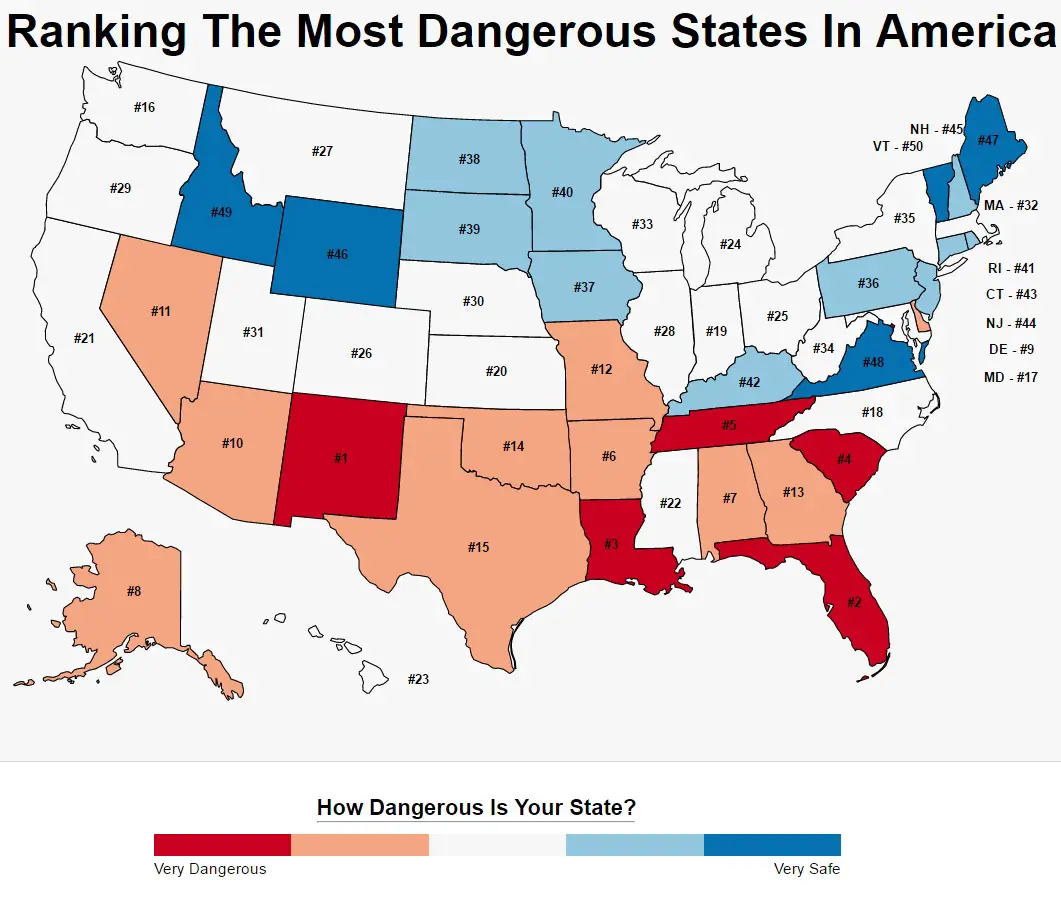 Click to enlarge.
Advertisement. Article Continues Below.
Do you live in one of the most dangerous states in America?
We all watch the news with horror when we hear about a crime that happens not that far away from us. While a major crime just blocks or towns away from your house would make anyone uneasy, in the long run, most likely, where you live is relatively safe.
Instead of relying on public opinion and speculation, we wanted to get the facts straight and dug into the FBI crime data in order to identify the most dangerous states in the U.S.
If you're in one of the places we're about to highlight, odds are you know things aren't a place that you can let your guard down too often.
The purpose of this study is to use facts to determine which of our great American states have the highest instances of crime. While unbiased, this research does take into account factors that almost all Americans would agree are undesirable. Therefore, while you may have strong opinions either way, you can't argue against the methodology.
Turns out New Mexico is the most dangerous state you can live in this country. The safest? You might not be too surprised that Vermont takes the cake.
Here are the most dangerous states in America:
New Mexico
Florida
Louisiana
South Carolina
Tennessee
Arkansas
Alabama
Alaska
Delaware
Arizona
(Scroll down to read the entire report about each state).
So basically, the south isn't a place you want to go if you want to live a life without looking over your shoulder. At least not generally.
And if this has you down, feel free to check out the best states in the country. Or, if you're into negative (and humorous), you can check out our report on the 10 Worst States to Live in America.
Swipe left for slideshow. Article continues below.
Advertisement. Article Continues Below.
How do you decide if a place is dangerous or not?
While there are surveys and public polls on what cities in a state are the most dangerous, we didn't want to rely on speculation and opinion. Instead, we looked at the hard numbers from the FBI's reporting period for 2015. Specifically, we analyzed the FBI's Uniform Crime Report which summarizes the number of property crimes and violent crimes in each city per year.
Violent crimes are defined as rapes, murders, robberies and aggravated assaults.
We must note that this report is not an analysis of the effectiveness of local police departments. It simply states where crimes occurred most frequently.
Advertisement. Article Continues Below.
1. New Mexico
Population: 2,085,572
Violent crime rank: 4th
Property crime rank: 2nd
Believe it or not, but little New Mexico, one of the least densely populated places in the country, has the highest crime rate in the nation. Why? The number of violent crimes per person is the 4th highest and the number of property crimes is the 2nd highest.
The only state where robberies occur most often, per capita, is Washington state, which is one of the lesser violent places to live.
2. Florida
Population: 19,938,933
Violent crime rank: 5th
Property crime rank: 5th
Florida is constantly in the news for the number of crimes, and is always the butt of jokes on the news for 'Only in Florida' moments. As it turns out, one of the most populated places in the nation is one of the most dangerous.
Example: There were a more than 100,000 violent crimes in the state of Florida in the last reporting year (2015). That's just insane. In California, there were more than 150,000.
3. Louisiana
Population: 4,649,303
Violent crime rank: 6th
Property crime rank: 4th
Continuing the trend of southern states, we come to Louisiana, one of the poorest states in the union. Is there a correlation between poverty and crime? Yes there is. And in Louisiana, a large percentage of the population lives below their means.
4. South Carolina
Population: 4,827,293
Violent crime rank: 6th
Property crime rank: 4th
South Carolina is notoriously bad for property crimes, especially in places like Myrtle Beach, which is a major tourist draw. Yes, we're aware that many of the crimes committed in Myrtle Beach are from visitors, and related to the huge summer influx, but the fact remains: Lots and lots of property crimes happen within South Carolina's borders every year.
5. Tennessee
Population: 6,549,393
Violent crime rank: 3rd
Property crime rank: 10th
It might be surprising to hear that Tennessee is the 3rd most violent place in the nation, but with places like Memphis making national headlines for murders every year, you can understand why. There were also 1,800 reported rapes in Tennessee in 2015, which is about 6 a day.
6. Arkansas
Population: 2,966,393
Violent crime rank: 9th
Property crime rank: 6th
Arkansas is another poor state in the south with a far-higher than average number of murders, rapes, assaults and robberies per capita. If you live in the Natural State, don't leave your car doors unlocked; there were more than 5,600 vehicles stolen in the state of Arkansas in 2014.
7. Alabama
Population: 4,830,393
Violent crime rank: 12th
Property crime rank: 9th
Alabama saw 276 murders last year, which is almost one per day. Additionally, you have a 1 in 230 chance of being the victim of a violent crime every year in the Yellowhammer State.
8. Alaska
Population: 736,204
Violent crime rank: 1st
Property crime rank: 21st
So here's the deal with Alaska. Yes, it's the most violent place you can live in the nation. Sure, there are hardly any places in Alaska where people actually live, but in the large clusters of cities that do exist, the odds are higher here than anywhere else that a rape, assault or murder will occur. That's some scary stuff.
9. Delaware
Population: 935,203
Violent crime rank: 8th
Property crime rank: 14th
Say it ain't so! One of the smaller jurisdictions in America is a pretty dangerous place, statistically. Here in Delaware, there were 54 murders, and for a population under a million, that's really high.
For perspective, in Vermont, there were only 10, and Vermont is only about 25% smaller.
10. Arizona
Population: 6,731,203
Violent crime rank: 16th
Property crime rank: 8th
The only west coast state to make the list, Arizona is notoriously a pretty dangerous place, especially for robberies. For example, there were nearly 18,000 cars stolen here in 2015, and more than 43,000 home robberies.
Better lock up the cactus.
There You Have It
When you're looking at American states that have really high property and violent crime numbers according to FBI reporting, this is an accurate list.
Now that you're done reading this, you will LOVE our report on the 10 Worst States to Live in America. Click here to see that report and video.
Detailed List Of The Most Dangerous States In America
| | | |
| --- | --- | --- |
| New Mexico | 1 | 2,085,572 |
| Florida | 2 | 19,893,297 |
| Louisiana | 3 | 4,649,676 |
| South Carolina | 4 | 4,832,482 |
| Tennessee | 5 | 6,549,352 |
| Arkansas | 6 | 2,966,369 |
| Alabama | 7 | 4,849,377 |
| Alaska | 8 | 736,732 |
| Delaware | 9 | 935,614 |
| Arizona | 10 | 6,731,484 |
| Nevada | 11 | 2,839,099 |
| Missouri | 12 | 6,063,589 |
| Georgia | 13 | 10,097,343 |
| Oklahoma | 14 | 3,878,051 |
| Texas | 15 | 26,956,958 |
| Washington | 16 | 7,061,530 |
| Maryland | 17 | 5,976,407 |
| North Carolina | 18 | 9,943,964 |
| Indiana | 19 | 6,596,855 |
| Kansas | 20 | 2,904,021 |
| California | 21 | 38,802,500 |
| Mississippi | 22 | 2,994,079 |
| Hawaii | 23 | 1,419,561 |
| Michigan | 24 | 9,909,877 |
| Ohio | 25 | 11,594,163 |
| Colorado | 26 | 5,355,866 |
| Montana | 27 | 1,023,579 |
| Illinois | 28 | 12,880,580 |
| Oregon | 29 | 3,970,239 |
| Nebraksa | 30 | 1,881,503 |
| Utah | 31 | 2,942,902 |
| Massachusetts | 32 | 6,745,408 |
| Wisconsin | 33 | 5,757,564 |
| West Virginia | 34 | 1,850,326 |
| New York | 35 | 19,746,227 |
| Pennsylvania | 36 | 12,787,209 |
| Iowa | 37 | 3,107,126 |
| North Dakota | 38 | 739,482 |
| South Dakota | 39 | 853,175 |
| Minnesota | 40 | 5,457,173 |
| Rhode Island | 41 | 1,055,173 |
| Kentucky | 42 | 4,413,457 |
| Connecticut | 43 | 3,596,677 |
| New Jersey | 44 | 8,938,175 |
| New Hampshire | 45 | 1,326,813 |
| Wyoming | 46 | 584,153 |
| Maine | 47 | 1,330,089 |
| Virginia | 48 | 8,326,289 |
| Idaho | 49 | 1,634,464 |
| Vermont | 50 | 626,562 |