This article is an opinion based on facts and is meant as infotainment. It is our seventh time ranking the most dangerous places to live in New Jersey and is updated for 2021.
It appears that there are some things more dangerous in New Jersey than a drunk Snookie and a slow driver on the Garden State Parkway. New Jersey has its fair share of dangerous cities, too.
Lucky for you, we have the top ten most dangerous cities in New Jersey for 2021 broken down below. Why did we produce this list? Well, one goal is to definitely help people navigate these dangerous cities when trying to make an informed decision on what city they should call home. Let's be real, we're not talking about accidentally eating a moldy Jersey bagel kind of danger. The type of danger we're talking about gets people on News 12.
To compile our list, we looked at violent crimes and property crimes in cities with a population of 5,000. That left us with 330, said, Jersey cities. Folks, the cities that made our list have robberies happening in broad daylight, car jackings, and daily shootings. There are neighborhoods in these cities that you shouldn't drive thru, ever, and there are areas that you definitely shouldn't be in after dark. We're not saying that there aren't little pockets of goodness in these Jersey cities like Newark and Jersey City. There are neighborhoods and shopping centers in these cities that are not ALL bad. We do, however, recommend that you spend some time studying them before you make a move.
It's not entirely New Jersey's fault. They have the highest population per capita. As with most situations, there's bound to be problems with that many people: especially that many New Jerseyites in one area. To see where these New Jersey cities with more issues than the people on the Sopranos are located, take a look below.
The 10 Most Dangerous Places To Live In New Jersey For 2021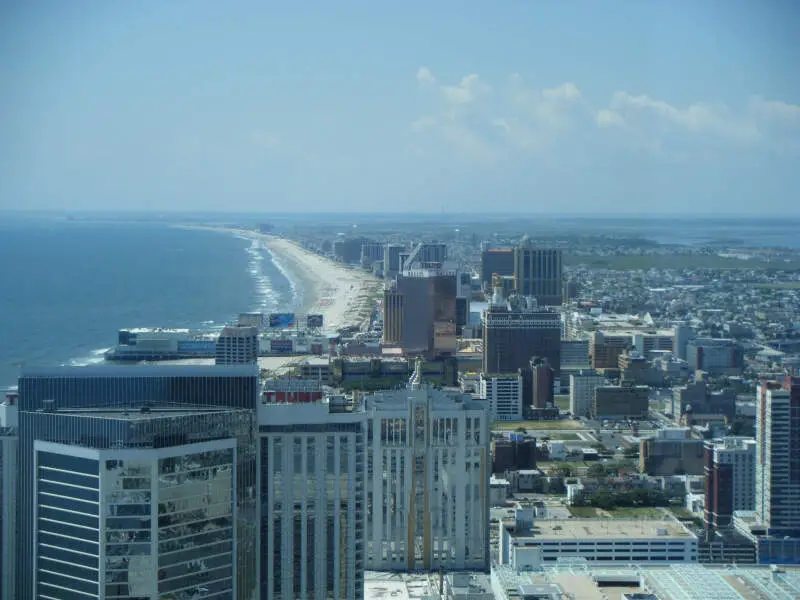 Source: Public domain
A resort city known for its casinos, beaches, and boardwalk, as well as inspiring the board of Monopoly, Atlantic City is also New Jersey's most dangerous city.
If you watched Boardwalk Empire, you know that the Atlantic City we know today was founded on crime, and today it still has the highest overall crime rate in New Jersey.
People in Atlantic City had a 1 in 21 of being the victim of a property crime in 2019. And it isn't all stolen poker winnings, either; the city also had the fourth highest murder rate in New Jersey.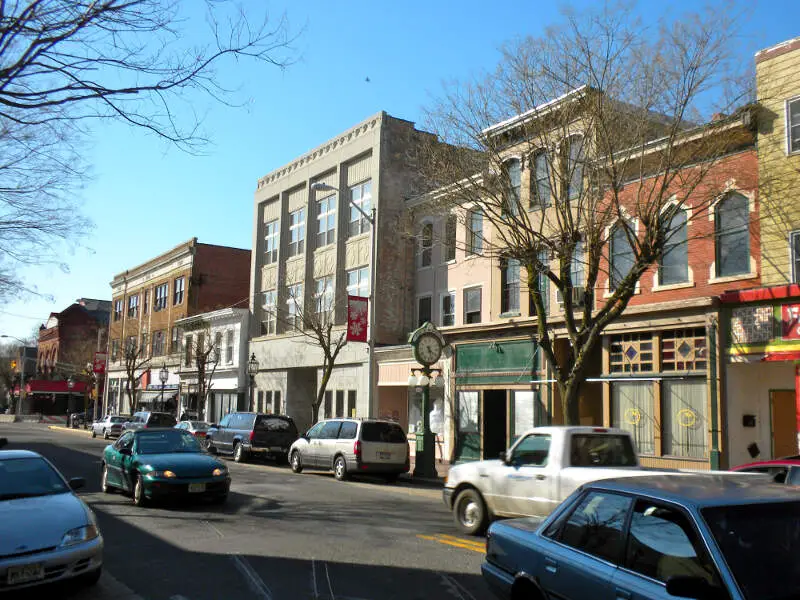 Source: Public domain
Located an hour south of Philadelphia, Bridgeton takes the second place position on our list of New Jersey's most dangerous places.
While there might be bears and tigers at Bridgeton's local zoo, but the real scary stuff is going down on Bridgeton's streets, where violent crimes are the fourth most common statewide.
It's also probably a good idea to lock all your doors and Bridgeton because the city had the highest burglary rate in New Jersey for 2019.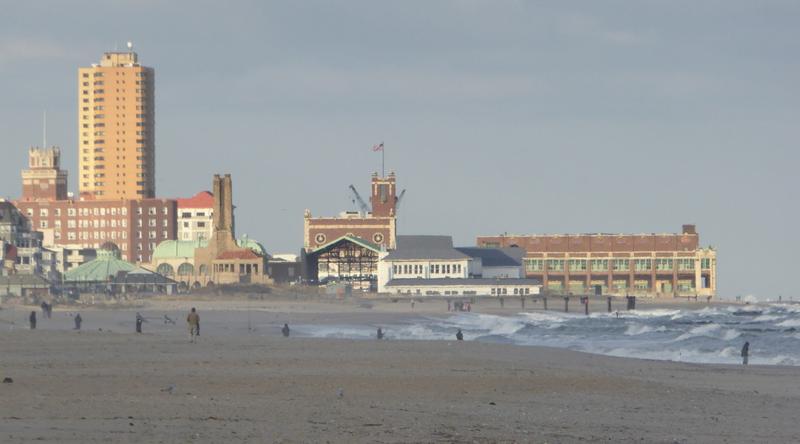 Located on the Jersey Shore and part of the New York City metro area, Asbury Park raks as New Jersey's third most dangerous place.
The overall crime rate in Asbury Park is more than three times as high as the statewide average and it's telling that most of that comes from violent crime.
Residents had a 1 in 86 chance of being attacked, killed, or raped in 2019, so don't let your guard down at the the boardwalk.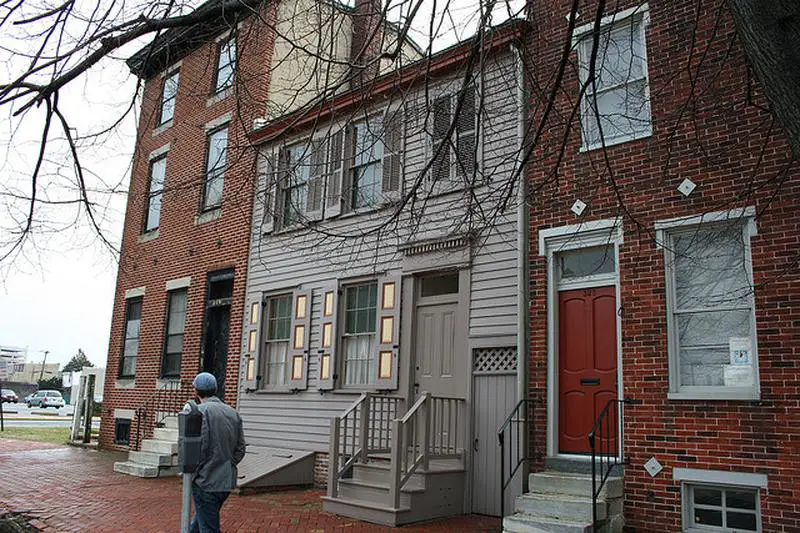 Let's be frank — Camden has a national reputation for violent crime and the numbers back up the stereotype in this case. Camden had the most violent crime of anywhere in New Jersey for 2019 and the highest murder rate.
To balance out this narrative a little, we should mention that Camden had 67 murders in 2012 and only 25 in 2019, so things are improving here.
Other types of crime are down in recent years as well and many look to Camden as a model for model for police reform.
To quote the Camden County Police Department Chief of Police, "I would qualify the statistics as progress and not success."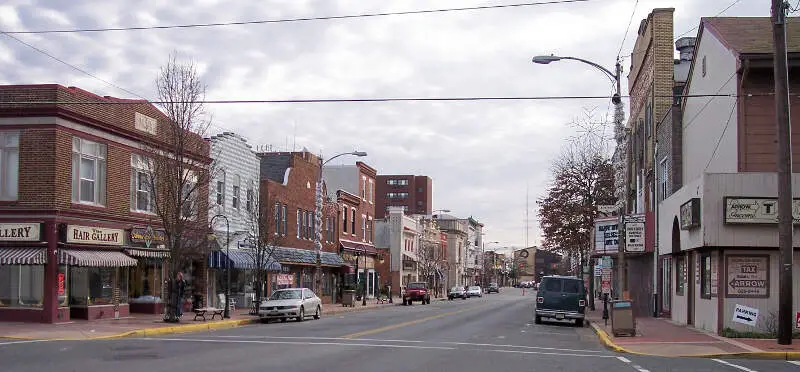 Millville is nowhere near as violent as Camden, but with a property crime rate that ranks as the fourth highest in the state, the smaller city actually has a higher total crime rate.
Make sure you've still got all your valuables spending time at one of Millville's parks and make sure you keep your doors locked, or you'll join the 1 in 24 residents who had their property stolen or damaged in 2019.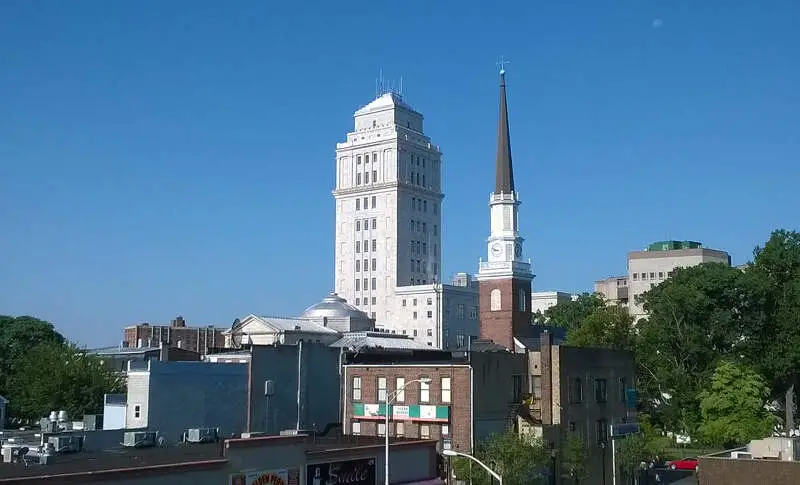 New Jersey's 4th most populous city, Elizabeth, also has the sixth highest crime rate in the state for 2021.
Violent crime is especially bad in Elizabeth, but the majority of the 926 crimes committed in 2019 were robberies or assaults.
Elizabeth has been inching its way up this list for the past couple of years while its northern neighbor Newark has been slowly achieving better and better crime numbers.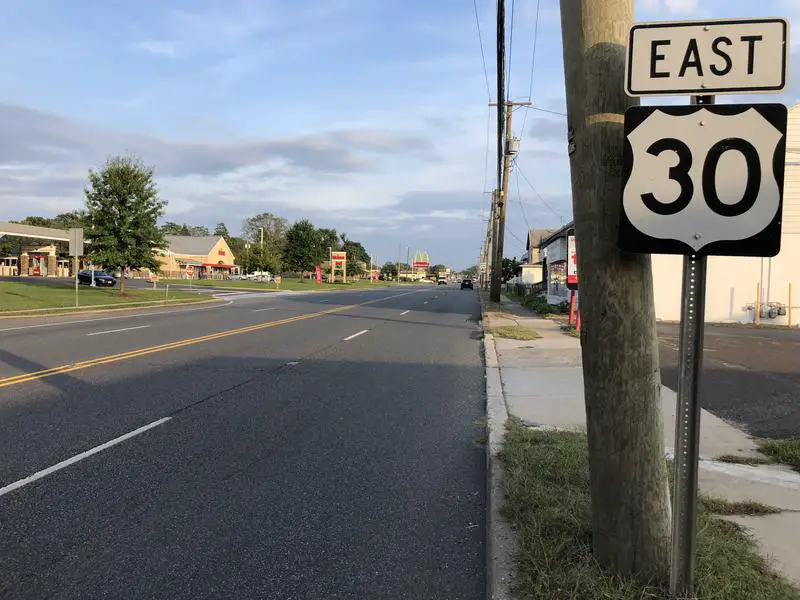 Located a half-hour drive southeast of Camden, Lindenwold comes in as New Jersey's seventh most dangerous city for 2021. Lindenwold had the fourth highest rate of rape cases of anywhere in New Jersey and residents had a 1 in 139 of being attacked in some way over the year.
What's more, you can't even trust people not to break into your home in Lindenwold, which had the third highest burglary rate statewide. It's getting easier and easier to see why Lindenwold is also one of the worst places in New Jersey.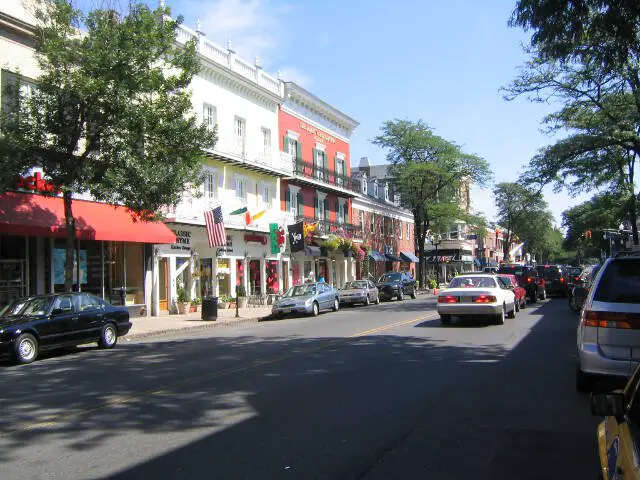 Source: Public Domain
Known as "The Crossroads of the Jersey Shore," Neptune Township does not rep the region well, in terms of crime. On the bright side, Neptune Township does have the lowest violent crime rate on this list.
But with residents facing a 1 in 31 chance of being the victim of a property crime, it's fair to say Neptune Township still has some work to do. We just hope nobody steals an antique pinball machine in the meantime.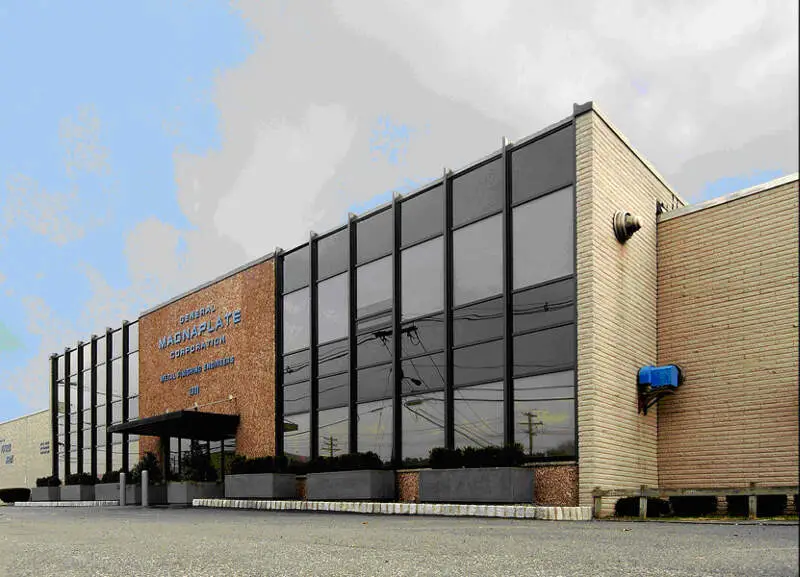 A southern neighbor of Elizabeth and Newark, Linden ranks as New Jersey's ninth most dangerous city.
Linden ranked in the top twenty for both violent crime and property crime, but there are no standout statistics that make things look too bad. The vast majority of the crimes committed here are larcenies, so all we can do is recommend investing in a good lock for your bicycle.
And maybe don't stay out too late at Wheeler Park.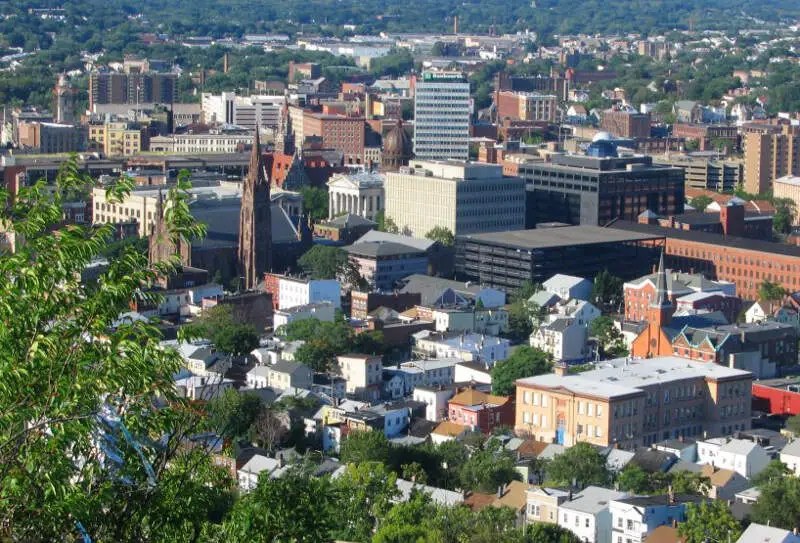 We're going north of Newark to reach New Jersey's tenth most dangerous place, Paterson, a city of 144,866 known for it's Great Falls.
If someone tells you to lock your doors in Paterson, listen to them — the city had the fifth highest burglary rate in New Jersey for 2019.
And property crime isn't even the biggest issue in Paterson — residents had a 1 in 118 chance of being the victim of an attack, rape, or murder in 2019, representing the sixth highest violent crime rate in New Jersey.
Graphing The Most Dangerous And Safest Places In New Jersey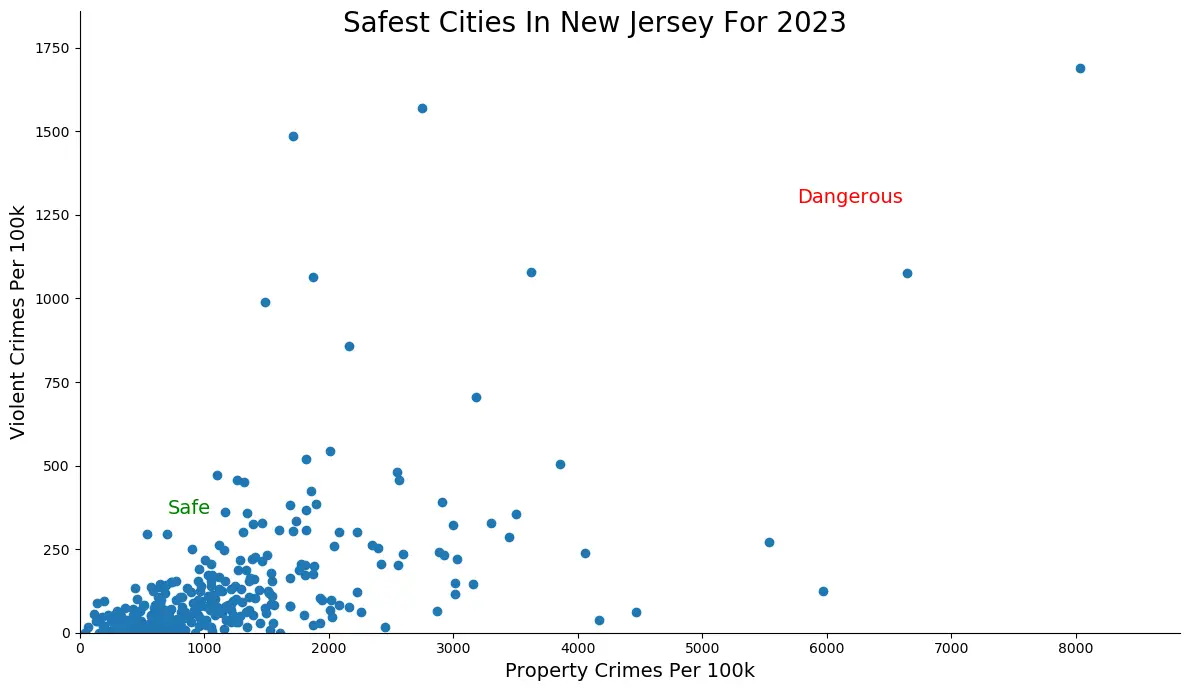 Click To Enlarge
How we determined the most dangerous cities in New Jersey for 2021?
Every year the FBI release two crime datasets, a preliminary dataset limited to the biggest cities in the country, followed by a more detailed release at the end of the year.
For our analysis, we focused on the JUST released 2019 data, specifically the 2019 Crime In The United States Report. We will update the results when data becomes available in September 2021.
So what criteria did we use? Have a look:
Violent Crimes Per Capita
Property Crimes Per Capita
In order to make the analysis as apples to apples as possible, we only considered New Jersey cities over 5,000 in population. That left us with 330 cities in New Jersey.
We then ranked each city from 1 to 330 for the two criteria with a #1 ranking being the most dangerous for the particular criteria.
Next, we averaged the two rankings into one "Dangerous Index".
Finally, we ranked every city on the "Dangerous Index" with the lowest index being the most dangerous in New Jersey — Atlantic City. Any ties went to the smaller city. You can download the data here.
Read on for a detailed look at the 10 most dangerous cities in New Jersey.
Locking It All Up In New Jersey
So what is the most dangerous city in New Jersey? After analyzing 330 cities in New Jersey, Atlantic City takes the top spot as the most dangerous city in New Jersey based on the most recently reported FBI data — 2019.
The latest FBI crime data shows that Atlantic City ranks as the most dangerous city in New Jersey for 2021.
We want to point out again that there's still safes places in Atlantic City and that this isn't a comment on the people that live there. So please don't beat us up.
What are the circumstances that make these New Jersey cities this way? Maybe not enough jobs, low wages, drugs, gangs; and in New Jersey's case, angry citizens after a Boston "any team' win?
We're not entirely sure. But one thing we are sure about is that our number one most dangerous city in New Jersey is Atlantic City.
The New Jersey cities on our most dangerous list could definitely use a hug. So, if you're into the whole hugging thing, or you're just curious to see if your city made the list, take a look at our list below. And if you don't see your city there, head to the bottom.
Learn more about the safest places in New Jersey.
If you're looking for something more national, check out the most dangerous cities in America or the most dangerous states in America.
Here are the safest cities in New Jersey:
Bernards (Pop. 27,228)
Kinnelon (Pop. 9,984)
Andover (Pop. 5,870)
Park Ridge (Pop. 8,761)
New Hanover (Pop. 8,123)
Warren (Pop. 15,772)
New Providence (Pop. 13,592)
Old Tappan (Pop. 5,944)
River Vale (Pop. 10,063)
Matawan (Pop. 8,716)
For more New Jersey reading, check out:
The Most Dangerous Cities In New Jersey
| Rank | City | Population |
| --- | --- | --- |
| 1 | Atlantic City | 37,593 |
| 2 | Bridgeton | 24,331 |
| 3 | Asbury Park | 15,437 |
| 4 | Camden | 73,270 |
| 5 | Millville | 27,528 |
| 6 | Elizabeth | 128,753 |
| 7 | Lindenwold | 17,197 |
| 8 | Neptune City | 27,549 |
| 9 | Linden | 42,592 |
| 10 | Paterson | 144,866 |
| 11 | Vineland | 59,860 |
| 12 | Trenton | 83,457 |
| 13 | Woodbury | 9,768 |
| 14 | Orange City | 30,558 |
| 15 | Somerdale | 5,492 |
| 16 | Pennsauken | 35,506 |
| 17 | Hillside | 22,024 |
| 18 | Jersey City | 266,508 |
| 19 | New Brunswick | 55,995 |
| 20 | Long Branch | 30,352 |
| 21 | Irvington | 54,034 |
| 22 | Eatontown | 12,215 |
| 23 | Passaic | 69,639 |
| 24 | Westampton | 8,666 |
| 25 | Newark | 281,422 |
| 26 | Mount Holly | 9,568 |
| 27 | Haledon | 8,277 |
| 28 | Maple Shade | 18,451 |
| 29 | Secaucus | 21,217 |
| 30 | Paramus | 26,460 |
| 31 | Paulsboro | 5,828 |
| 32 | Haddon | 14,489 |
| 33 | Ventnor City | 9,966 |
| 34 | Harrison | 18,374 |
| 35 | Phillipsburg | 14,228 |
| 36 | Plainfield | 50,576 |
| 37 | Gloucester City | 11,168 |
| 38 | Burlington City | 9,877 |
| 39 | Keansburg | 9,674 |
| 40 | Roselle | 21,903 |
| 41 | Pemberton | 26,966 |
| 42 | Union City | 68,459 |
| 43 | Deptford | 30,258 |
| 44 | East Orange | 64,200 |
| 45 | Dunellen | 7,244 |
| 46 | Garfield | 31,888 |
| 47 | Middle | 18,225 |
| 48 | Pine Hill | 10,419 |
| 49 | Collingswood | 13,850 |
| 50 | Pleasantville | 20,388 |