This article is an opinion based on facts and is meant as infotainment. It is our seventh time ranking the most dangerous places to live in Alabama and is updated for 2021.
Do we think a state's most dangerous places are directly related to lack of jobs, poor wages, and a large number of unemployed residents? Absolutely.
And this is exactly what is happening in Alabama's most dangerous places. The Yellowhammer State is, after all, the seventh most dangerous states in the country, so no one should really be too surprised. And because RoadSnacks thinks it's important to provide important information to the public, we created a list of the most dangerous places in Alabama for 2021.
How'd we determine the most dangerous places in Alabama? We consulted the numbers. In total, we analyzed 76 cities. We looked at the FBI's latest crime report for violent crime and property crime statistics for every place with over 5,000 residents.
Folks, the places are on our most dangerous list could definitely use a hug. We know it's not entirely Alabama's fault, however. They are the 24th largest state in terms of population and one of the most humid. With numbers like these, there's bound to be cities filled with grumpy, overheated, entitled people constantly popping off. We're pretty sure they're usually harmless, but there are Alabama cities where people are NOT. As a result, the state's violent crime and property crime numbers are above the national average and climbing.
We're not talking fans getting into a fight at a University of Alabama versus Auburn sporting event dangerous or someone boating without a life jacket dangerous, we're talking about the crimes that will get your mugshot on the internet.
Want to know the Alabama places where jobs are scarce, wages are low, and crime is high? Keep reading.
The 10 Most Dangerous Places To Live In Alabama For 2021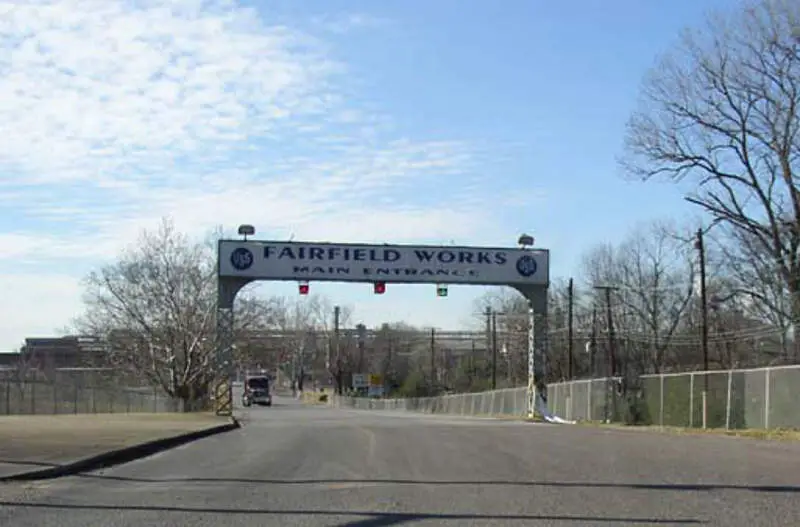 Welcome to Fairfield, Alabama's most dangerous city. Fairfield residents had a whopping 1 in 47 shot of being the victim of a murder, rape, robbery, or aggravated assault in 2021, enough to give the city the third highest violent crime rate in Alabama.
That includes having the highest murder rate statewide, with 8 murders recorded over the year. On top of that, Fairfield had the highest property crime rate in Alabama, with over two such crimes going down each day and five burglaries a week.
Looks like the Fairfield Police Department has a full plate when it comes to tackling crime. If you're trying to move to the Birmingham area, steer clear of Fairfield because its high rates of crime landed it on our list of Birmingham's worst suburbs.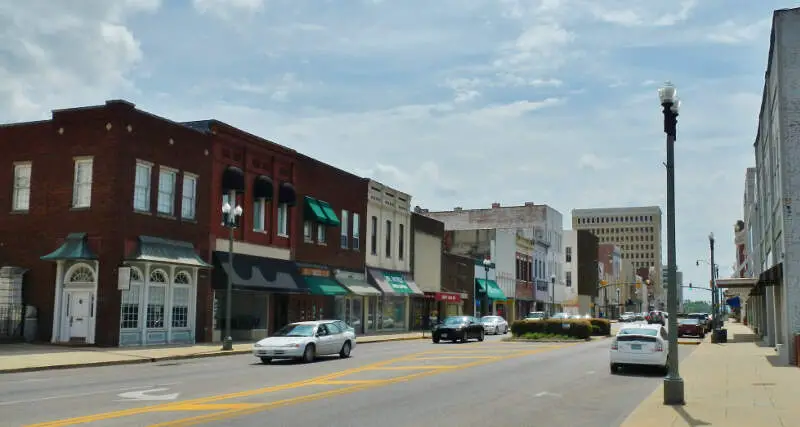 Anniston may occupy the #2 position on this list, but it actually has the highest overall crime rate in Alabama, outstripping the national average by over 300%.
Part of that is down to having the second highest burglary rate statewide. We just hope nobody's planning a heist of one of Anniston's museums.
The real issue in Anniston is violent crime, which ranks as the highest worst in Alabama. That includes the second highest rate of rape cases and third highest murder rate. Overall, residents faced a 1 in 33 chance of being the victim of a violent crime in 2021.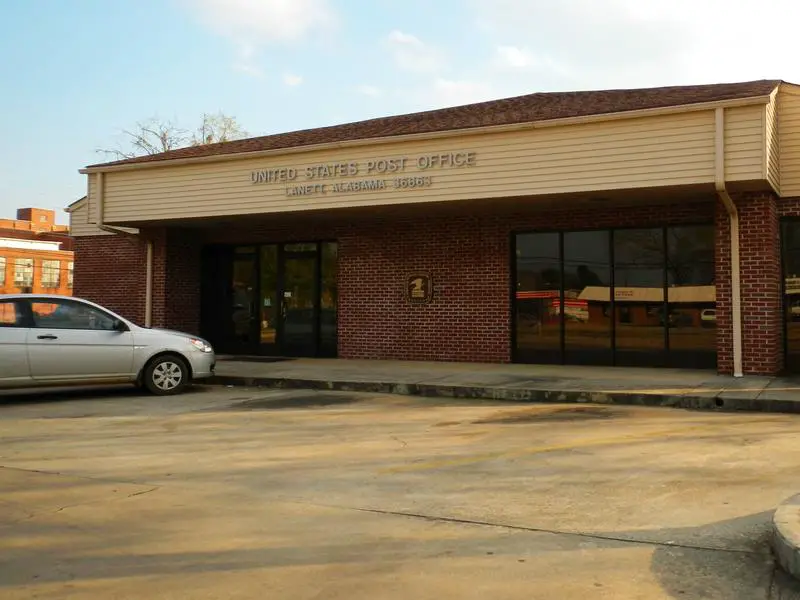 Located in east-central Alabama, Lanett has experienced a population nosedive in recent years, and it's not hard to see why. The small city averaged just under one larceny case a day, so keep a close eye on your catch after a day fishing at West Point Lake.
Lanett also averaged about one rape case per month over 2019, giving it the highest rate of rape cases in Alabama. Lanett is only slightly redeemed by being one of the few places listed here without a single murder.
If you do have to move to Lanett, steer clear of the city's east side, where most of the crime goes down.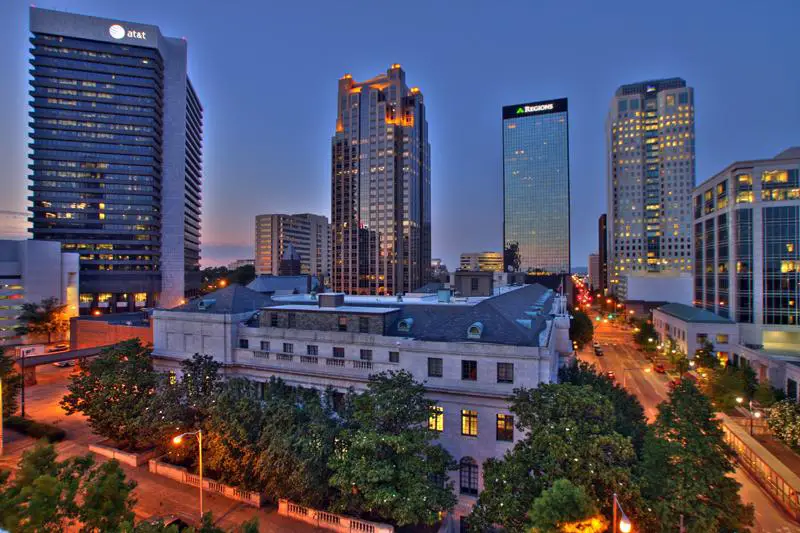 You didn't think we forgot about Birmingham, did you? Alabama's 2nd biggest city is also its fourth most dangerous.
Folks in Birmingham had a 1 in 52 chance of being the victim of an aggravated assault, rape, murder, or robbery in 2019, enough to give the city the fourth highest violent crime rate statewide. Including a shocking 88 murders.
Property crime is also all too common here, with 1,752 stolen cars reported in 2021. We just hope nobody steals a racecar from the Barber Vintage Motorsports Museum, or the police may have a tough time catching the guy.
All that being said, this is a big city, so if you stay away from Birmingham's worst neighborhoods, you should be relatively safe.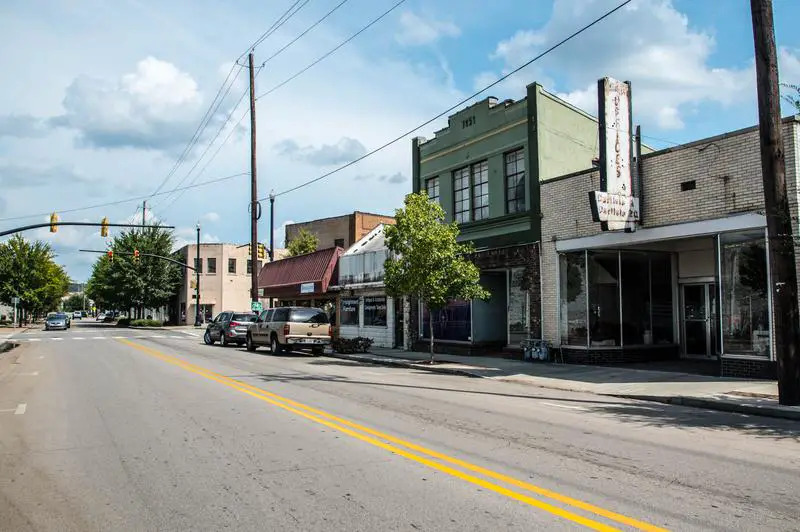 We're heading just ten minutes north of Birmingham to reach Alabama's fifth most dangerous place to call home, Tarrant.
You might want to padlock your picnic basket if you're going for a day out at Greenwood Park because the city had the eighth highest property crime rate statewide.
That includes the fifth highest burglary rate in Alabama. All of which makes it easy to see why Tarrant featured on our list of Alabama's worst cities.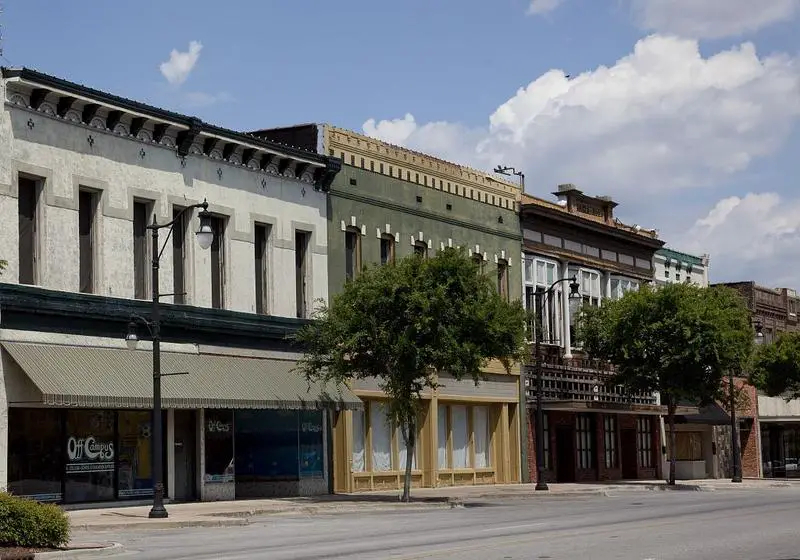 Source: Public domain
At 35,204 people, Gadsden is the second biggest city on this list. That means there are safer areas and not-so-safe areas.
Still, we don't hand out 1/10 SnackAbility scores for no reason. Once an All-American city, today 1 in 5 homes in Gadsden is vacant. And the homes that still have people in them have to contend with high rates of burglary.
Overall, folks had a 1 in 14 chance of being the victim of larceny, car theft, burglary, or arson in 2019. At least you can book a campground at Noccalula Falls Park and take your mind off all Gadsden's crime for a little while.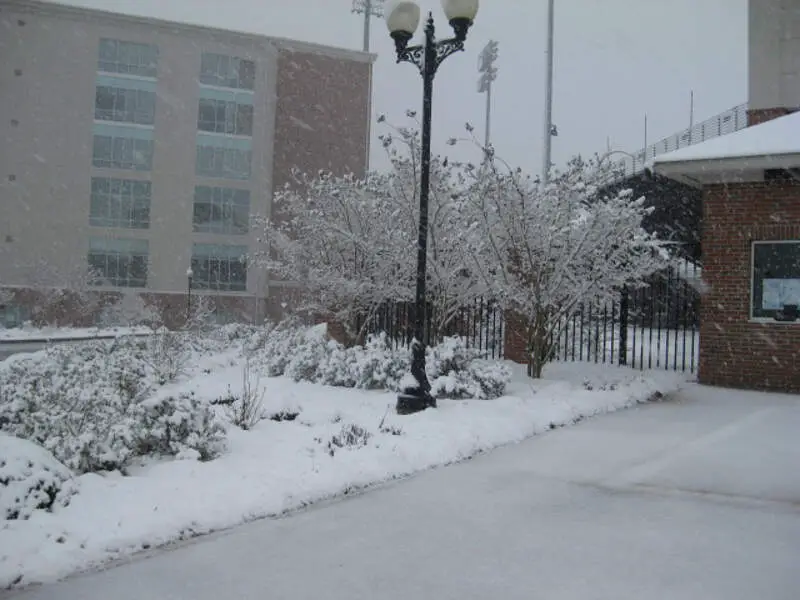 Source: Public domain
Located an hour south of Montgomery, Troy ranks as Alabama's seventh least safe city.
Troy's motto is "A Wonderful Place to Live," but we think residents facing 1 in 63 chance of being the victim of a violent crime is anything but "wonderful."
Troy had the fifth highest murder rate in Alabama and averaged five aggravated assaults per week over 2019. In other words, buddy up if you're going to one of Troy's parks, and get home before dark.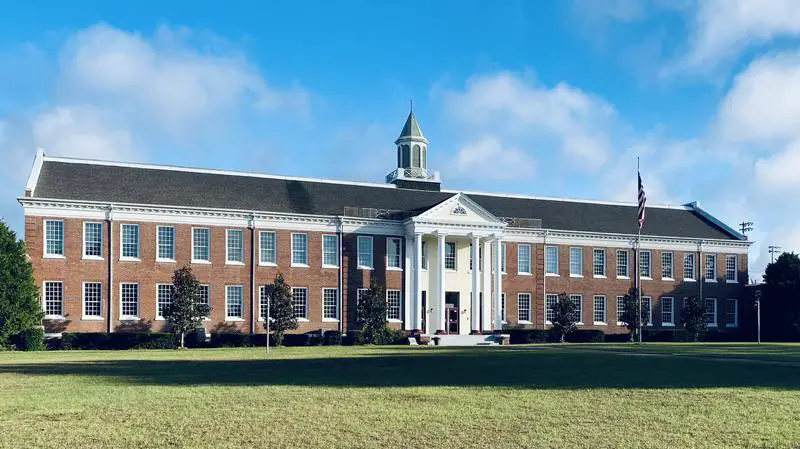 Andalusia is the eighth most dangerous place to call home in Alabama for 2021. On average, Andalusia experienced one larceny case each day over 2019. Overall, Andalusia had the tenth highest property crime rate statewide.
So keep an eye on the fish you catch at Open Pond Recreation Area, or your day's haul might get snatched.
On the bright side, Andalusia is the least violent place listed here.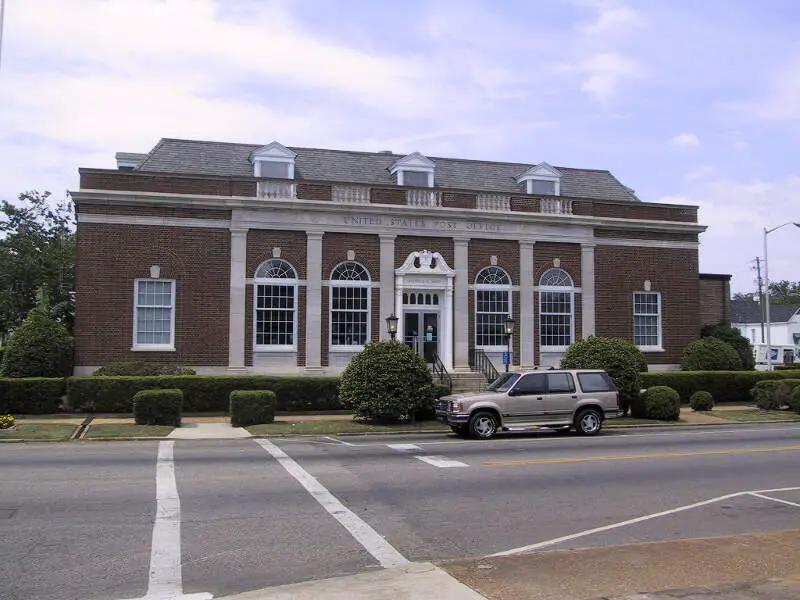 Located about 45 miles south of Montgomery, Greenville moved up 4 spots on this list from last year. Hank Williams grew up in the Greenville area, but we think he'd be disappointed with the crime numbers these days.
Greenville's residents had a 1 in 69 chance of being the victim of a violent crime in 2019. About 95% of those were "just" aggravated assaults, although we're pretty sure that won't do anything to make the victims feel better.
At least the property crime rate in Greenville is the lowest of cities listed here.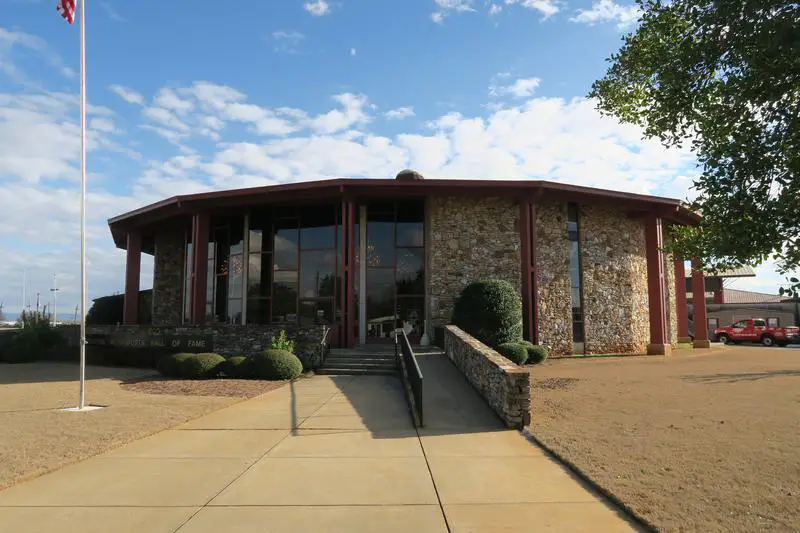 Lincoln is home to the Talladega Super Speedway and International Motorsports Hall of Fame, so it's fair to say that tourists play a role in inflating the city's crime numbers.
Lincoln averaged just under one property crime per day in 2019, so it might be one of the few places where wearing a wallet chain is recommended. And there was about one burglary per week in Lincoln, which definitely means residents rather than tourists were affected.
While violent crime in Lincoln is relatively low, folks still had a 1 in 94 chance of being violently attacked in 2019.
Graphing The Most Dangerous And Safest Places In Alabama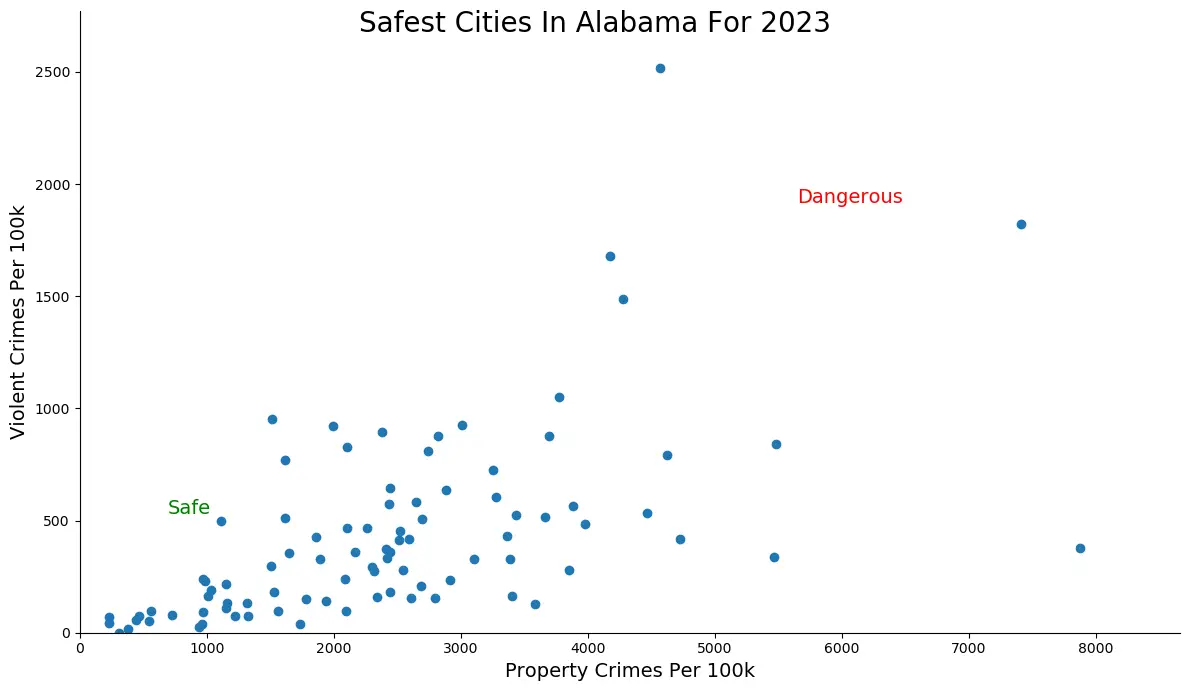 Click To Enlarge
How we determined the most dangerous cities in Alabama for 2021?
Every year the FBI release two crime datasets, a preliminary dataset limited to the biggest cities in the country, followed by a more detailed release at the end of the year.
For our analysis, we focused on the JUST released 2019 data, specifically the 2019 Crime In The United States Report. We will update the results when data becomes available in September 2021.
So what criteria did we use? Have a look:
Violent Crimes Per Capita
Property Crimes Per Capita
In order to make the analysis as apples to apples as possible, we only considered Alabama cities over 5,000 in population. That left us with 76 cities in Alabama.
We then ranked each city from 1 to 76 for the two criteria with a #1 ranking being the most dangerous for the particular criteria.
Next, we averaged the two rankings into one "Dangerous Index".
Finally, we ranked every city on the "Dangerous Index" with the lowest index being the most dangerous in Alabama — Fairfield. Any ties went to the smaller city. You can download the data here.
Read on for a detailed look at the 10 most dangerous cities in Alabama.
Locking It All Up In Alabama
So what is the most dangerous city in Alabama? After analyzing 76 cities in Alabama, Fairfield takes the top spot as the most dangerous city in Alabama based on the most recently reported FBI data — 2019.
The latest FBI crime data shows that Fairfield ranks as the most dangerous city in Alabama for 2021.
We want to point out again that there's still safes places in Fairfield and that this isn't a comment on the people that live there. So please don't beat us up.
It's definitely not lost on us that some of Alabama's most dangerous places are some of the states cheapest places to live. Like we mentioned earlier, they kind of go hand-in-hand. And cheaper cities like Tuscumbia and Hamilton are starting to feel the effects; but the place that's getting hit the worst, is Alabama's most dangerous place, Fairfield.
So, if you want to know where the most dangerous places in Alabama are located, take a look at the list below. And if you don't find what you're looking for there, head to the bottom.
Learn more about the safest places in Alabama.
If you're looking for something more national, check out the most dangerous cities in America or the most dangerous states in America.
Here are the safest cities in Alabama:
Satsuma (Pop. 6,153)
Daphne (Pop. 26,618)
Glencoe (Pop. 5,151)
Pelham (Pop. 23,785)
Pleasant Grove (Pop. 10,105)
Southside (Pop. 8,774)
Daleville (Pop. 5,096)
Vestavia Hills (Pop. 34,368)
Mountain Brook (Pop. 20,373)
Rainbow City (Pop. 9,546)
For more Alabama reading, check out:
The Most Dangerous Cities In Alabama
| Rank | City | Population |
| --- | --- | --- |
| 1 | Fairfield | 10,625 |
| 2 | Anniston | 21,592 |
| 3 | Lanett | 6,245 |
| 4 | Birmingham | 210,564 |
| 5 | Tarrant | 6,175 |
| 6 | Gadsden | 35,204 |
| 7 | Troy | 19,159 |
| 8 | Andalusia | 8,753 |
| 9 | Greenville | 7,564 |
| 10 | Lincoln | 6,725 |
| 11 | Scottsboro | 14,443 |
| 12 | Talladega | 15,341 |
| 13 | Alexander City | 14,548 |
| 14 | Sheffield | 8,914 |
| 15 | Guntersville | 8,462 |
| 16 | Prichard | 21,615 |
| 17 | Ozark | 14,358 |
| 18 | Jasper | 13,512 |
| 19 | Sylacauga | 12,186 |
| 20 | Muscle Shoals | 14,143 |
| 21 | Mobile | 245,475 |
| 22 | Valley | 9,230 |
| 23 | Dothan | 68,530 |
| 24 | Calera | 14,334 |
| 25 | Montgomery | 198,662 |
| 26 | Boaz | 9,678 |
| 27 | Eufaula | 11,905 |
| 28 | Tuscaloosa | 101,764 |
| 29 | Demopolis | 6,770 |
| 30 | Florence | 39,925 |
| 31 | Jacksonville | 12,534 |
| 32 | Phenix City | 36,668 |
| 33 | Opelika | 30,822 |
| 34 | Decatur | 54,207 |
| 35 | Wetumpka | 8,377 |
| 36 | Oxford | 21,149 |
| 37 | Millbrook | 15,410 |
| 38 | Fultondale | 9,312 |
| 39 | Bay Minette | 9,304 |
| 40 | Brewton | 5,212 |
| 41 | Gardendale | 13,907 |
| 42 | Roanoke | 5,914 |
| 43 | Hueytown | 15,367 |
| 44 | Irondale | 12,486 |
| 45 | Trussville | 22,096 |
| 46 | Foley | 18,740 |
| 47 | Homewood | 25,523 |
| 48 | Gulf Shores | 12,014 |
| 49 | Cullman | 15,470 |
| 50 | Enterprise | 28,464 |