This article is an opinion based on facts and is meant as infotainment. It is our seventh time ranking the most dangerous places to live in Kentucky and is updated for 2021.
If you're from Kentucky then you know that you have to watch out for more than just crazy Wildcat fans in Lexington and busted, angry moonshiners in Louisville: The Bluegrass State has some pretty dangerous places, too.
It's not all bougie Kentucky Derby fans, either. This flyover state has some pretty scary criminals, and they can be found in Kentucky's most dangerous cities. Lucky for you, RoadSnacks has created a list of the most dangerous places in Kentucky for 2021 and we think that you should definitely check it out before you make any major moves.
How'd we determine the most dangerous places in horse country? We consulted the numbers. In total, we analyzed 75 cities. We looked at the FBI's latest crime report for violent crime and property crime statistics for every place with over 5,000 residents. We discovered that there has been an uptick in both violent and property crimes compared to the national average over the last four years and that the most violent place in Kentucky is Louisville. The 'Ville just can't catch a break: this city also made it on the list of most dangerous cities in the country. And, surprisingly, it's not the most dangerous place in this Midwest state.
If you already live in Kentucky's safest city, consider yourself lucky. But if you don't, and you're looking to move, we suggest crank some Bluegrass and check out our list below before you head out: we wouldn't want you to get caught in any crossfire.
The 10 Most Dangerous Places To Live In Kentucky For 2021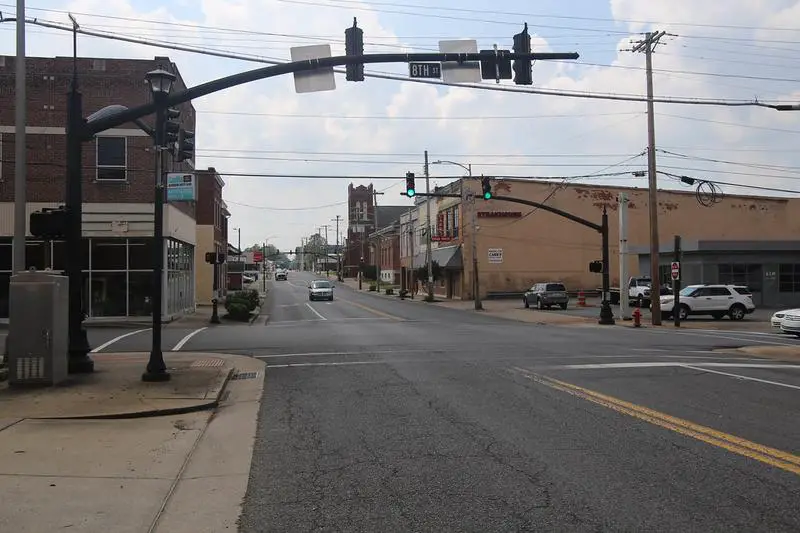 For 2021, Mayfield ranks as the most dangerous city in Kentucky — let's see why.
Though Mayfield is home to Cartwright Grove, a re-creation of an old west town in the 1880s, you might feel like you really are in the Wild West while in this city. A community of 9,851, Mayfield is certainly rough around the edges.
You do not want to mess with the outlaws here, and we are not talking about the ones in Cartwright Grove. The area ranks third highest in the state for murder and second highest for rape.
As shocking as those standings are, it is easy to see why some people in Mayfield are driven to other types of criminal activity. Not only is the city considered one of the worst places to live in Kentucky, a sizable portion of people there live in poverty.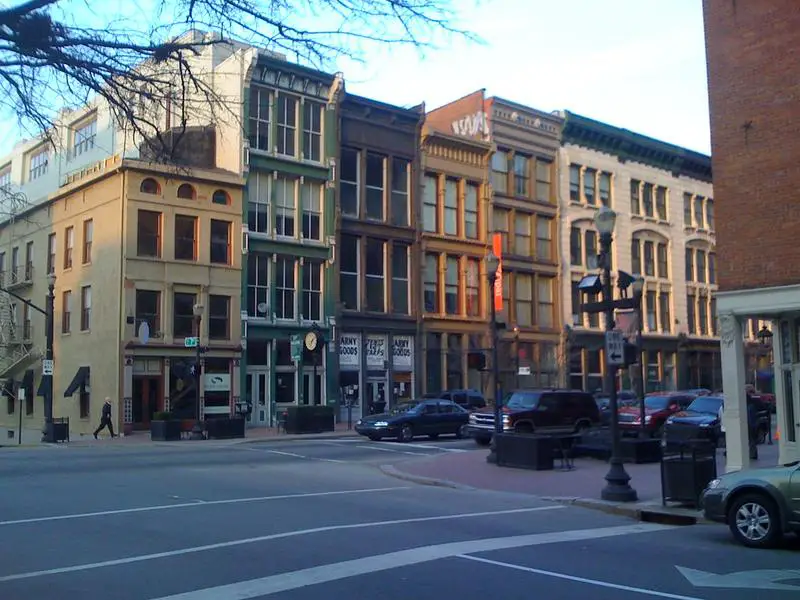 Louisville is not only the most populous in Kentucky, it is also number 1 in the state for violent crime. Whether you call this city home or are just stopping by, it is a good idea to have one of the area's legendary Louisville Slugger baseball bats handy.
That accomplishment is probably not one you will see touted alongside Louisville's other claims to fame, like hosting the Kentucky Derby, being the birthplace of Muhammad Ali, and more. But with 3,337 aggravated assaults, 1,008 robberies, 201 rapes, and 94 murders, it makes sense that the rank distinction goes to this city.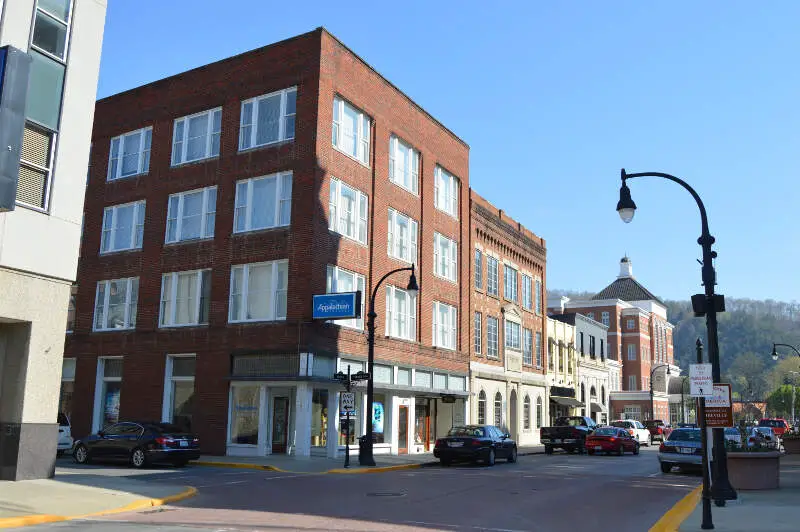 Source: Public domain
Apparently, Pikeville had a lot of people who were up to no good in 2019. Criminals here were busy that year and their lawlessness led to the city ranking highest for property crime. In fact, you have a one in 18 chance of being the victim of burglary, larceny, car theft or arson here.
Though you want to keep an eye on your possessions in this Appalachian Region community, loss of or damage to them may turn out to be the least of your concerns. What is even scarier is that Pikeville is also highest in Kentucky for rape. Yikes.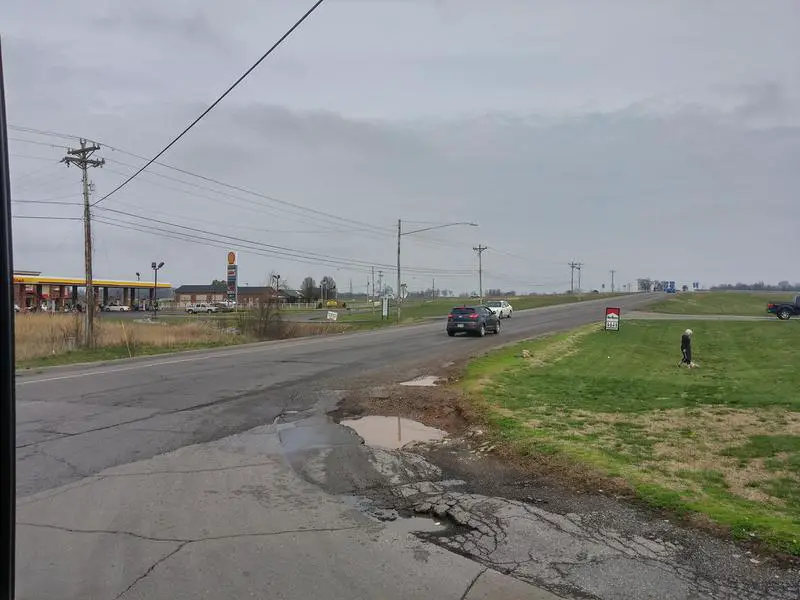 You would think life in a city of 7,359 would be relatively safe and easy going. Not in Oak Grove. The crime numbers here may be smaller than those of other areas in the state but that does not make them insignificant. Members of the Oak Grove Police Department still have their work cut out for them.
Holding criminals accountable for making off with items that belong to others seems to be where most of their attention went in 2019. People in Oak Grove reported 246 larcenies, 40 burglaries, and 26 stolen cars that year.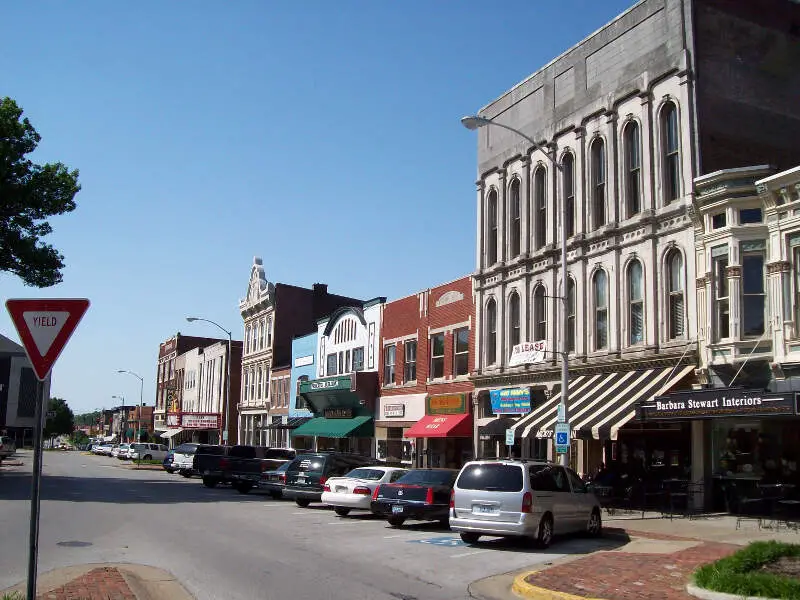 The numbers do not lie when it comes to the dangers of Bowling Green — it's the fifth most dangerous city in Kentucky for 2021. You need to be careful in this southern Kentucky city or you could wind up like one of the victims of the 203 violent crimes that occurred in 2019. Physical safety is not all you have to worry about. Of those incidents, 55 were robberies. So, your valuables are at risk here too.
And while the city is known for producing Corvettes, criminals here are happy to get their hands on any set of wheels — including yours. The people who reported the 254 car thefts in Bowling Green in 2019, learned that lesson the hard way.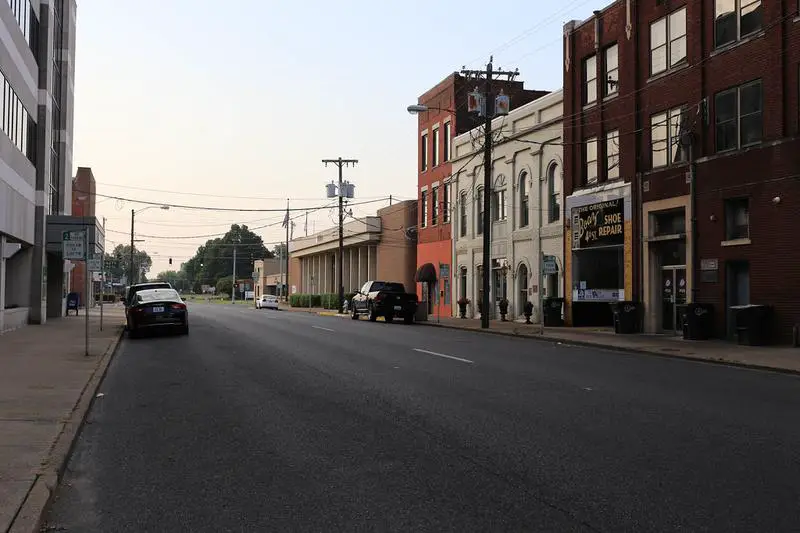 When William Clark, of Lewis and Clark, founded Paducah in 1827, it is safe to assume he had grand plans for it. The area being named one of the most dangerous cities in Kentucky, was not likely one of them.
The people of Paducah can thank their community's modern-day criminals for that. In fact, contempt for the law is so bad here compared to the rest of the state that the city ranks second highest for total crime. A status the 1,305 property crimes that took place in 2019 certainly had a role in achieving.

Source: Public domain
You will find Ashland alongside the Ohio River. If you are a penny-pincher who does not mind a little danger, this city might be the perfect place for you. The area happens to be one of Kentucky's cheapest places to live, but there are some serious downsides.
The appeal of an affordable cost of living might quickly wear off once you realize how prevalent theft is here. The 608 larcenies that were reported in 2019 put the city's low price tag into perspective. Not to mention, you have a one in 27 chance of becoming a victim of a property crime here.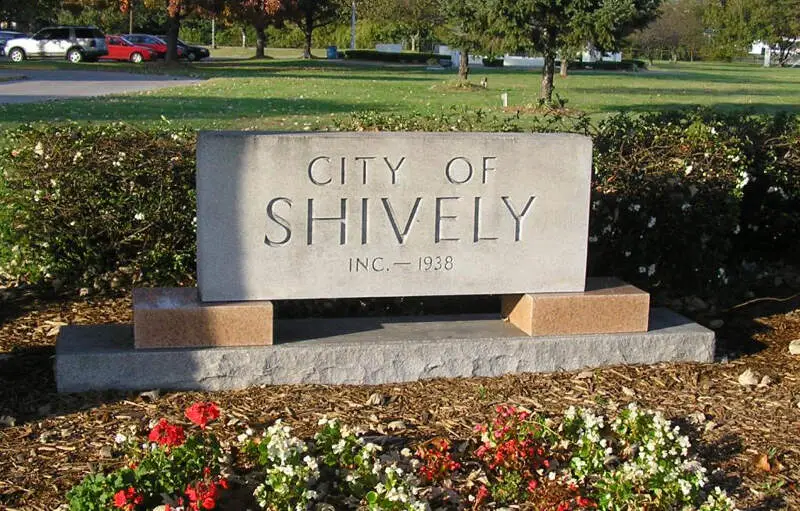 It is a good thing that a stop along the Kentucky Bourbon Trail is in Shively. Residents here might want a cocktail or two with booze from the Stitzel-Weller Distillery to help them forget that their city is highest in the state for murder.
The 19 aggravated assaults, 21 robberies, and 9 rapes reported in 2019 probably do not make anyone here feel much better about their personal safety either. Let's just hope no one drowns their sorrows too much. You need to stay alert if you are going to thrive in this town.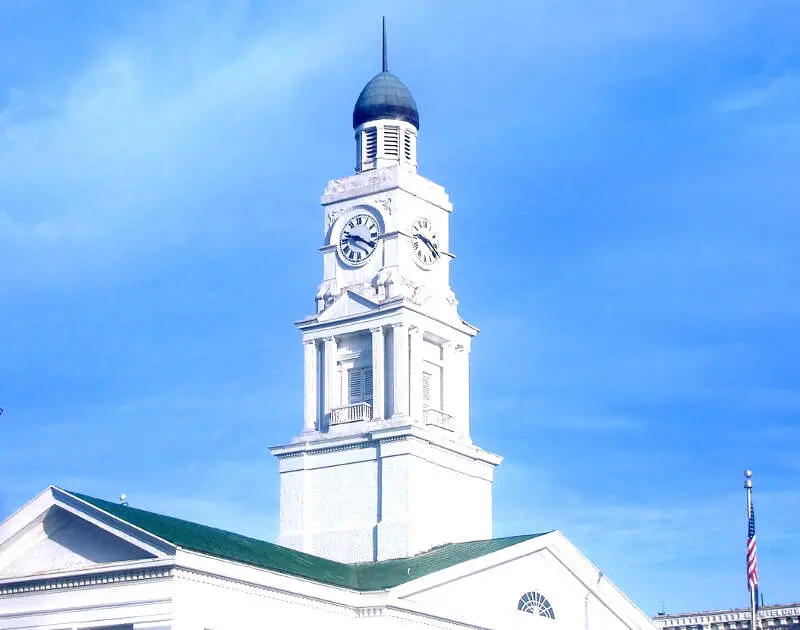 Source: Public domain
A few miles east of Lexington, sits Winchester. Before you hit the hay in this city, you better hide your jewelry, cash, and any other hot-ticket goods you have around the house. Crooks here had a knack for breaking and entering in 2019, committing 119 burglaries that year.
Do not assume your personal belongings are any safer by your side either. The area's residents and visitors faced 13 incidents of robbery as well. That may not seem like a lot, but we bet you would not want to be in the shoes of those victims.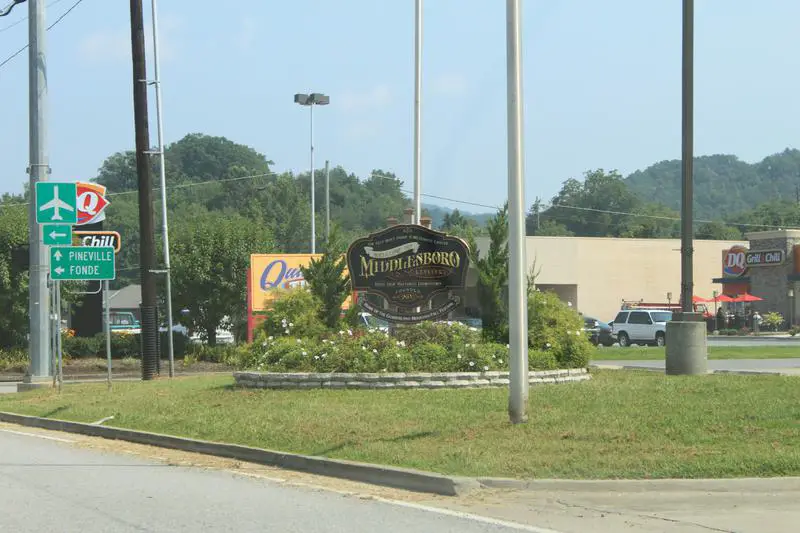 Welcome to Middlesboro, one of the most dangerous places to live in Kentucky. Middlesboro is the kind of place people have been desperate to get away from for decades. And when your city makes this list, that is just one more reason to pack up your bags and move on to one of the state's more promising areas.
Residents who noticed the criminal activity occurring in 2019 may not be surprised by the city's ranking. While violence was not a major issue, the community was not immune to it either. Reports of 17 aggravated assaults and 4 rapes contributed to the area's 24 violent crimes. People here might take that as a sign that it is better to ditch Middlesboro sooner rather than later.
Graphing The Most Dangerous And Safest Places In Kentucky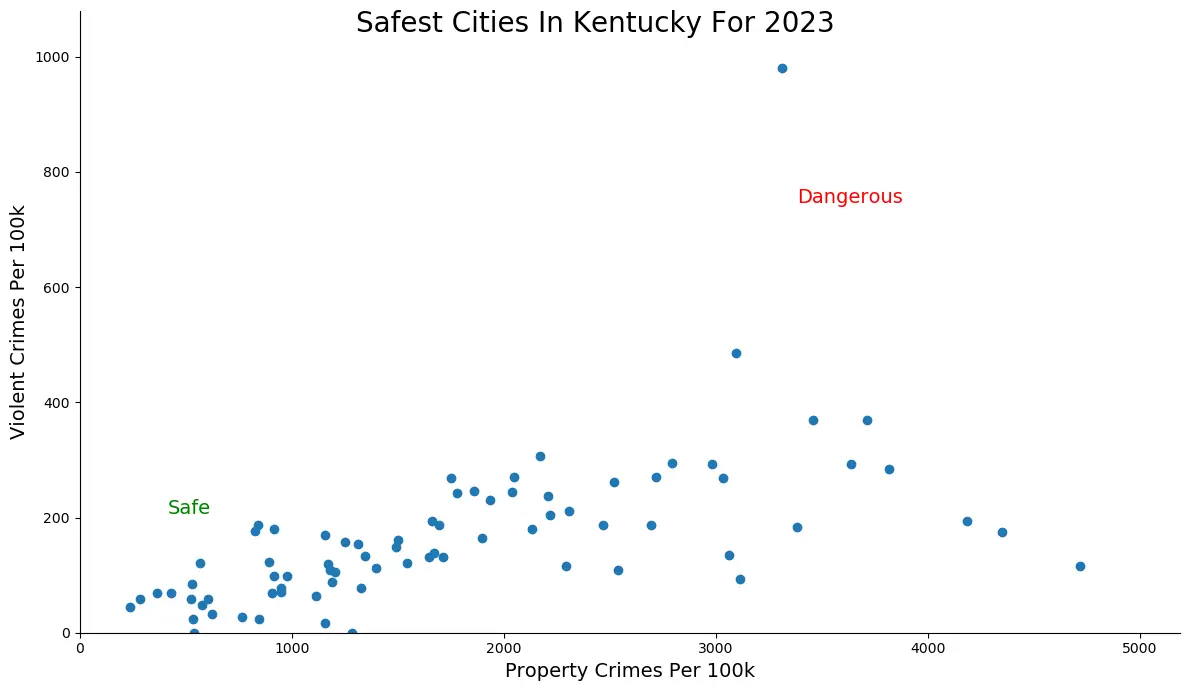 Click To Enlarge
How we determined the most dangerous cities in Kentucky for 2021?
Every year the FBI release two crime datasets, a preliminary dataset limited to the biggest cities in the country, followed by a more detailed release at the end of the year.
For our analysis, we focused on the JUST released 2019 data, specifically the 2019 Crime In The United States Report. We will update the results when data becomes available in September 2021.
So what criteria did we use? Have a look:
Violent Crimes Per Capita
Property Crimes Per Capita
In order to make the analysis as apples to apples as possible, we only considered Kentucky cities over 5,000 in population. That left us with 75 cities in Kentucky.
We then ranked each city from 1 to 75 for the two criteria with a #1 ranking being the most dangerous for the particular criteria.
Next, we averaged the two rankings into one "Dangerous Index".
Finally, we ranked every city on the "Dangerous Index" with the lowest index being the most dangerous in Kentucky — Mayfield. Any ties went to the smaller city. You can download the data here.
Read on for a detailed look at the 10 most dangerous cities in Kentucky.
Locking It All Up In Kentucky
So what is the most dangerous city in Kentucky? After analyzing 75 cities in Kentucky, Mayfield takes the top spot as the most dangerous city in Kentucky based on the most recently reported FBI data — 2019.
The latest FBI crime data shows that Mayfield ranks as the most dangerous city in Kentucky for 2021.
We want to point out again that there's still safes places in Mayfield and that this isn't a comment on the people that live there. So please don't beat us up.
If you guessed that most of Kentucky's problems are centered around many of the state's biggest cities, you guessed right. Cheaper rent and the promise of better jobs with higher wages is usually the draw, but not always the outcome. Surprisingly, however, the state's most dangerous city is not one of the state's most populated.
What's the most dangerous place in Kentucky? That would be, Mayfield.
If you want to know where the rest of Kentucky's most dangerous cities are located, take a look below. And if you don't find what you're looking for there, head to the bottom.
Learn more about the safest places in Kentucky.
If you're looking for something more national, check out the most dangerous cities in America or the most dangerous states in America.
Here are the safest cities in Kentucky:
Lawrenceburg (Pop. 11,538)
Mount Washington (Pop. 14,855)
Erlanger (Pop. 23,116)
Vine Grove (Pop. 6,468)
Wilmore (Pop. 6,489)
Edgewood (Pop. 8,749)
Independence (Pop. 28,541)
Taylor Mill (Pop. 6,810)
Fort Thomas (Pop. 16,386)
Flatwoods (Pop. 7,041)
For more Kentucky reading, check out:
The Most Dangerous Cities In Kentucky
| Rank | City | Population |
| --- | --- | --- |
| 1 | Mayfield | 9,851 |
| 2 | Louisville | 675,501 |
| 3 | Pikeville | 6,592 |
| 4 | Oak Grove | 7,359 |
| 5 | Bowling Green | 69,627 |
| 6 | Paducah | 24,832 |
| 7 | Ashland | 20,222 |
| 8 | Shively | 15,845 |
| 9 | Winchester | 18,605 |
| 10 | Middlesboro | 9,223 |
| 11 | Frankfort | 27,723 |
| 12 | Covington | 40,350 |
| 13 | Hopkinsville | 30,895 |
| 14 | Lexington | 326,070 |
| 15 | Campbellsville | 11,488 |
| 16 | Owensboro | 60,107 |
| 17 | Newport | 14,965 |
| 18 | Radcliff | 22,998 |
| 19 | Mount Sterling | 7,326 |
| 20 | Florence | 32,848 |
| 21 | Somerset | 11,519 |
| 22 | St. Matthews | 18,275 |
| 23 | Russellville | 7,068 |
| 24 | Maysville | 8,750 |
| 25 | Franklin | 9,036 |
| 26 | Glasgow | 14,475 |
| 27 | Henderson | 28,368 |
| 28 | Leitchfield | 6,852 |
| 29 | Richmond | 36,458 |
| 30 | Shepherdsville | 12,515 |
| 31 | Princeton | 6,105 |
| 32 | London | 8,050 |
| 33 | Nicholasville | 31,188 |
| 34 | Georgetown | 35,106 |
| 35 | Lebanon | 5,716 |
| 36 | Paris | 9,879 |
| 37 | Bardstown | 13,239 |
| 38 | Monticello | 6,015 |
| 39 | Danville | 16,873 |
| 40 | Central City | 5,726 |
| 41 | Corbin | 7,255 |
| 42 | Shelbyville | 16,531 |
| 43 | Elizabethtown | 30,383 |
| 44 | Jeffersontown | 28,015 |
| 45 | Morehead | 7,736 |
| 46 | La Grange | 9,080 |
| 47 | Murray | 19,545 |
| 48 | Williamsburg | 5,298 |
| 49 | Berea | 16,074 |
| 50 | Cynthiana | 6,354 |