This article is an opinion based on facts and is meant as infotainment. It is our seventh time ranking the most dangerous places to live in Louisiana and is updated for 2021.
Louisianans would like to think that the only danger lurking in their state is the defensive line on the New Orleans Saints and running out of gas while hunting alligators in Shreveport; but sadly, that's not the case.
Unfortunately, there is danger lurking in every corner of the places that made HomeSnacks' list of the top ten most dangerous cities in the Bayou State for 2021. We're pretty sure this came as no surprise as Louisiana is the third most dangerous state in the country.
How'd we determine the most dangerous places in Louisiana? We consulted the numbers. In total, we analyzed 44 cities. We looked at the FBI's latest crime report for violent crime and property crime statistics for every place with over 5,000 residents.
Let's be real, we're not talking about driving five mph over the speed limit kind of danger. The type of danger we're talking about gets people on Alexandria's KALB at six. Folks, the cities that made our list have robberies happening in broad daylight, car jackings, and daily shootings. There are neighborhoods in these cities that you shouldn't drive thru, ever.
To see where these Louisiana cities with more issues than Monroe's newspaper are located, take a look below.
The 10 Most Dangerous Places To Live In Louisiana For 2021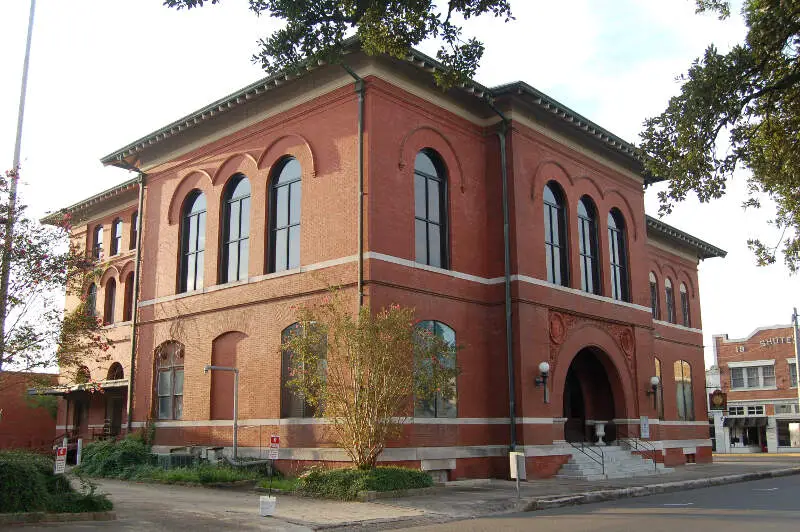 The data is in, and Opelousas turned out to be the most dangerous city in Louisiana for 2021. Once a haven of gambling and prostitution, Opelousas has had a tough time moving away from those sorts of criminal activities. You can still gamble at Evangeline Downs, but you shouldn't brag about your winnings too much.
That's because Opelousas is the most violent place in Louisiana, with residents facing a 1 in 40 shout of being assaulted, robbed, raped, or outright killed.That includes the third highest rape and highest murder rate statewide.
Opelousas didn't fare much better in the property crime, considering the city also had the second highest burglary rate in Louisiana. Opelousas is located about 25 miles north of Lafayette.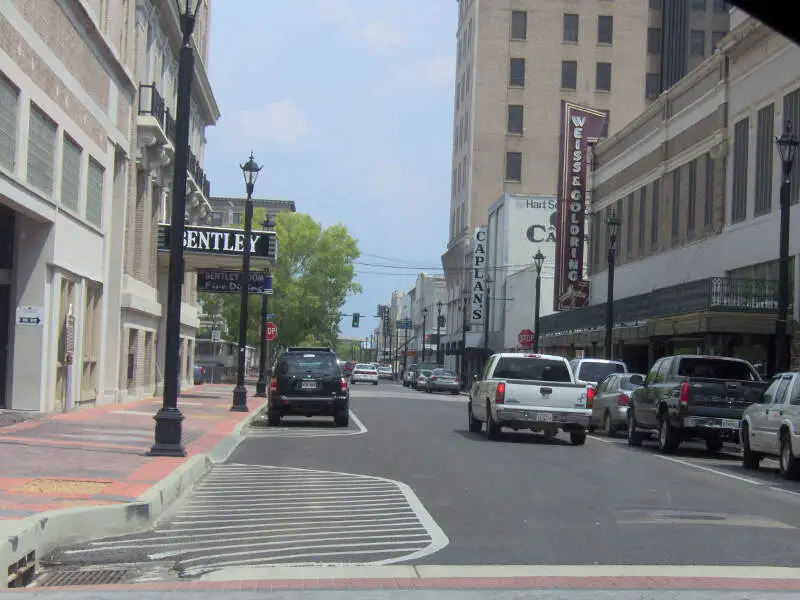 Source: Public domain
Folks in Alexandria already know to avoid the city's northeast side, the hotbed of its criminal activity. But they may not know that two violent crimes go down in Alexandria each day. So while there are lions and tigers and bears at The Alexandria Zoo, the really scary stuff is happening on the city's streets.
While Alexandria doesn't top this list, it did have the highest overall crime rate, which is nearly quadruple the national average.
That's because Alexandria had the highest rate of property crime in Louisiana, with residents facing a 1 in 11 chance of having their stuff stolen or damaged in 2019.
If you thought living in a small city would automatically protect you from crime, consider Marksville, a city of 5,369 and the smallest spot on this list. Marksville's motto is "where everybody is somebody," but far too many somebodies are also criminals here.
Marksville ranked as the third most violent place in Louisiana, so while the animals are safe at Grand Cote Wildlife Refuge, the human population is on their own for finding sanctuary.
Marksville residents had a 1 in 45 chance of being violently attacked over 2019. The only "good" news for Marksville is that most of its violent crime is "just" aggravated assaults, but we're pretty sure that won't bring the victims any solace.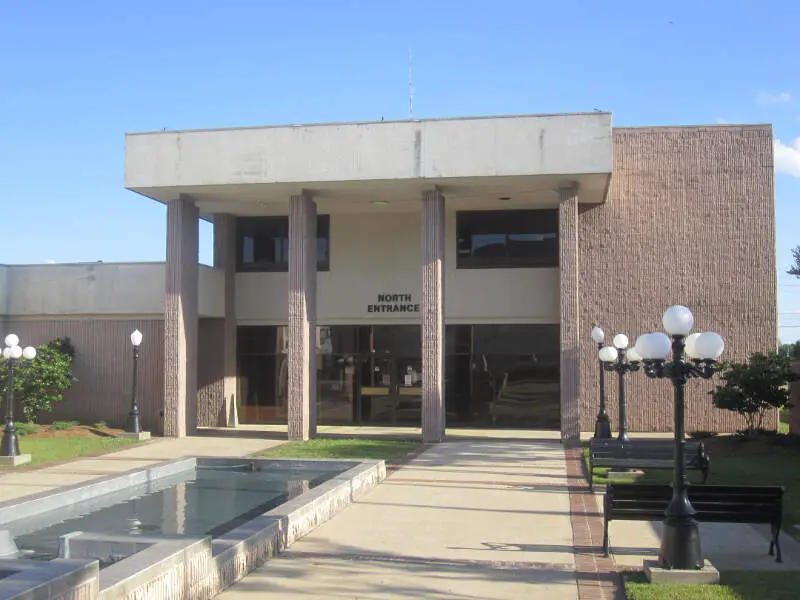 Bastrop has consistently improved its crime numbers in recent years, but it still hasn't quite figured things out. Still, a drop in violent crime and a drop in property crime are encouraging signs.
However, residents of Bastrop had a 1 in 12 chance of having their belongings stolen or vandalized over 2019. In other words, you might want to padlock your picnic basket before a day out at Chemin-A-Haut State Park.
Additionally, Bastrop had the highest burglary rate in Louisiana, with 302 such cases recorded over the year.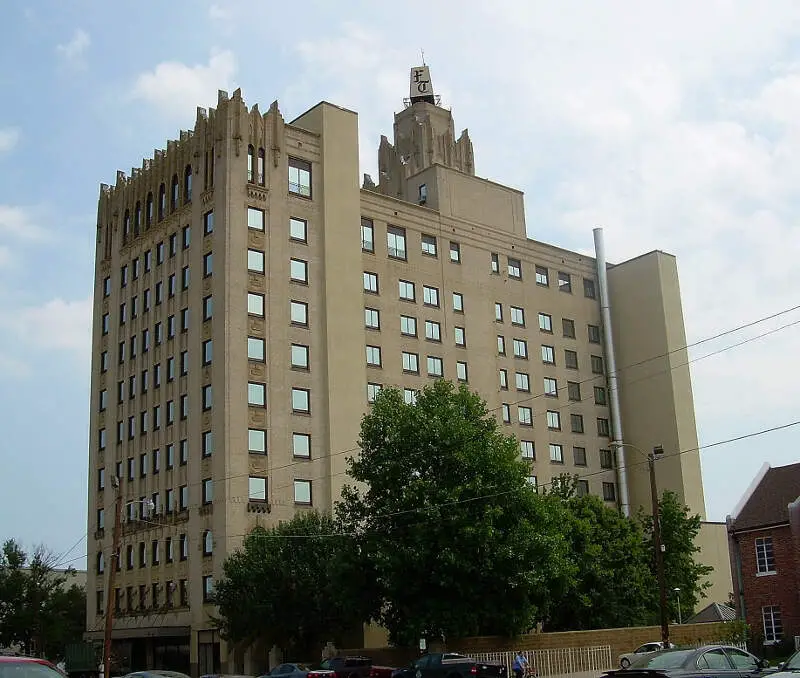 Monroe ranks as Louisiana's fifth most dangerous city, mostly thanks to all the violence that goes down there. Monroe had the fifth highest rape and ninth highest murder rates in Louisiana.
Overall, residents had a 1 in 56 shot of being the victim of violence over 2019. That gives Monroe the third highest violent crime rate in all of Louisiana.
Monroe also experienced 623 burglaries over the year; we just hope nobody's planning to heist the local Biedenharn Museum.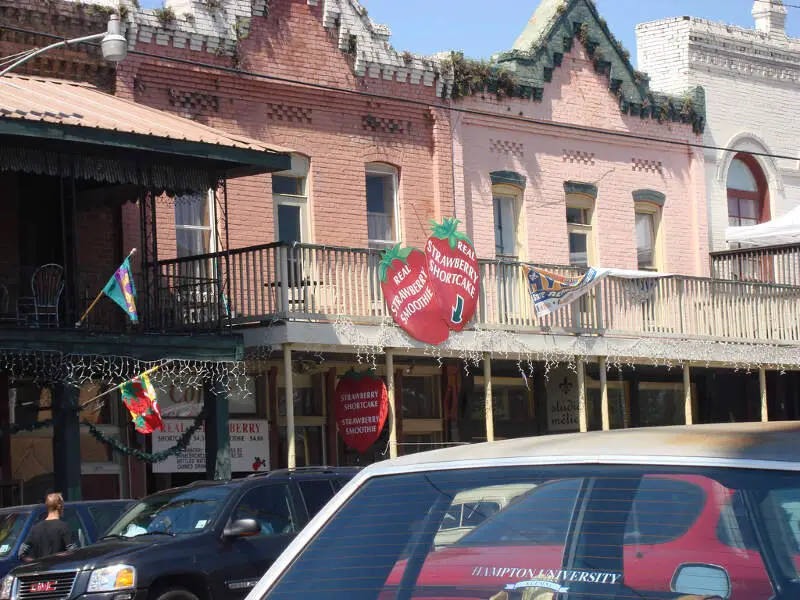 Located between New Orleans and Baton Rouge, Ponchatoula is much more dangerous than either of the big cities.
If you happened to stop by Ponchaoula's annual strawberry festival, you might think its a quaint little city. But both property and violent crime rank in the top ten statewide.
There was about one theft a day and two burglaries a week in Ponchatoula, so it's not the sort of place you want to flash your wallet around or leave your doors unlocked.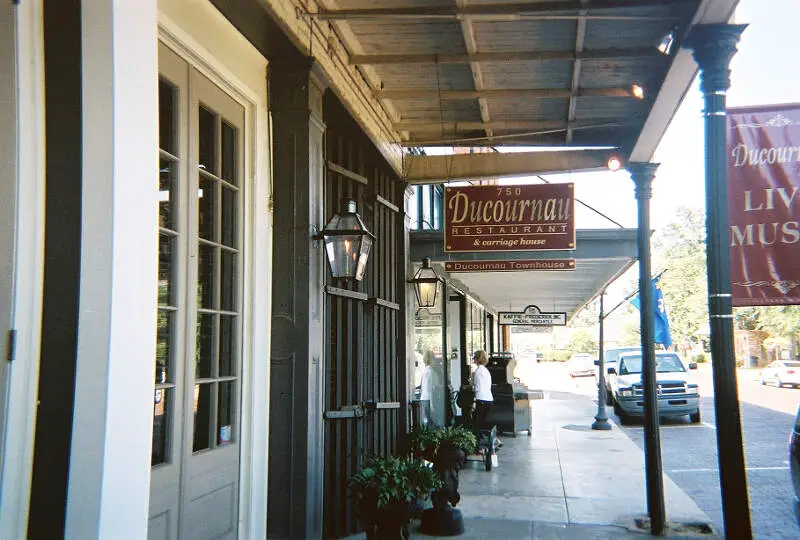 Source: Public domain
As one of Louisana's oldest cities, you'd think Natchitoches would have gotten its act together by now. Unfortunately, it's also one of the poorest places in Louisiana, with about a third of the population living below the poverty line.
It makes you wonder how many residents can actually enjoy everything on display in the historic shopping district. Apparently not many, since Natchitoches had the third highest burglary rate statewide.
Not to mention the 4 murders in 2019; enough to give Natchitoches the sixth highest murder rate in Louisiana.
West Monroe might not be as crime-ridden as its eastern neighbor, but it's still far from safe. Property crime here ranked as the sixth highest in Louisiana, with folks facing a 1 in 13 chance of having something stolen or damaged over 2019.
There was also an average of two violent crimes here each week. So if you're going out for a walk at Kiroli Park, bring a buddy and get home before the sun sets.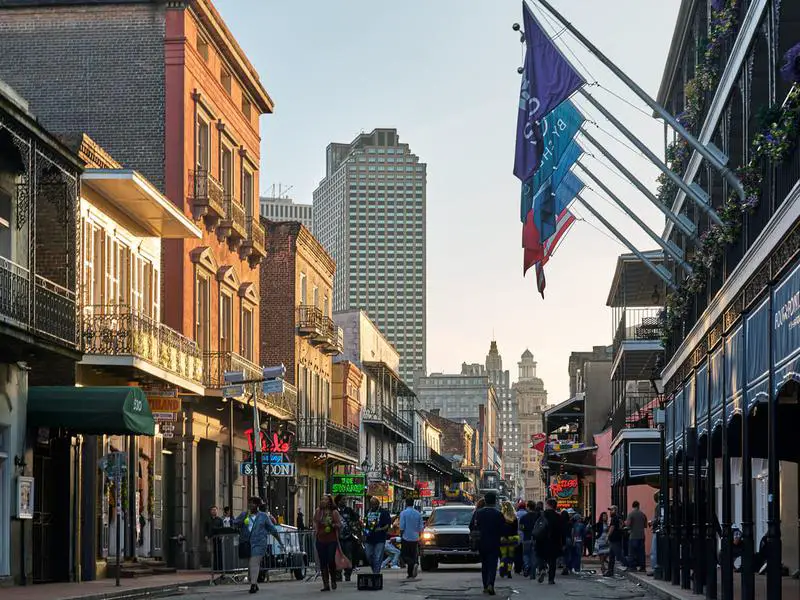 You may have expected to see New Orleans higher up on this list, but it's relatively safe as far as big cities go. Everyone knows folks in New Orleans love to have fun, what with the world-famous Mardi Gras celebrations and the eye-catching French Quarter.
But there are some troubling crime numbers here, especially when it comes to violent crime. New Orleans recorded the second highest rape and fourth highest murder rate in Louisiana.
You'll also want to make sure that you park your car in one of New Orleans' safest neighborhoods, or you might join the 2,951 people who had their cars stolen here in 2019.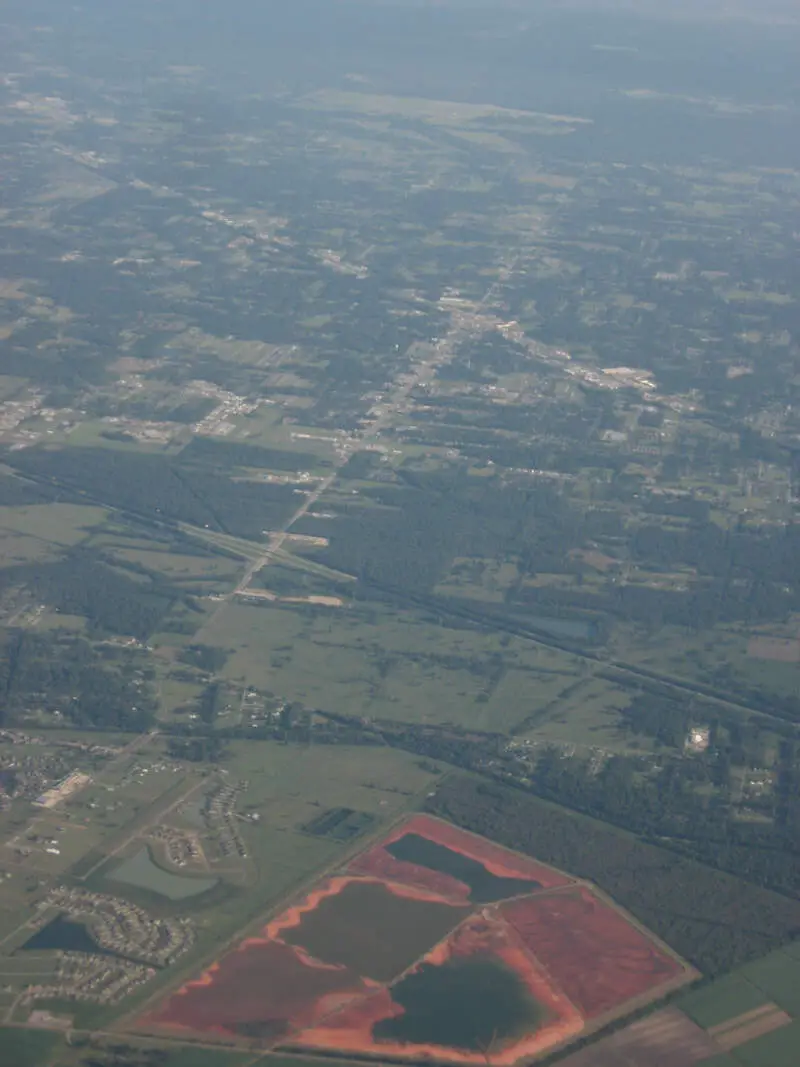 Located about a half-hour southeast of Baton Rouge, Gonzales ranks as Louisiana's tenth most dangerous place to call home. On the bright side, the violent crime rate in Gonzales is much lower than anywhere else on this list.
On the other hand, Gonzales recorded the second highest property crime rate statewide. However, Gonzales is home to some great outlet stores, and 90% of the property crimes committed here were larcenies.
So don't worry too much in Gonzales — if you're not a retailer dealing with shoplifting teenagers, things should be pretty safe.
Graphing The Most Dangerous And Safest Places In Louisiana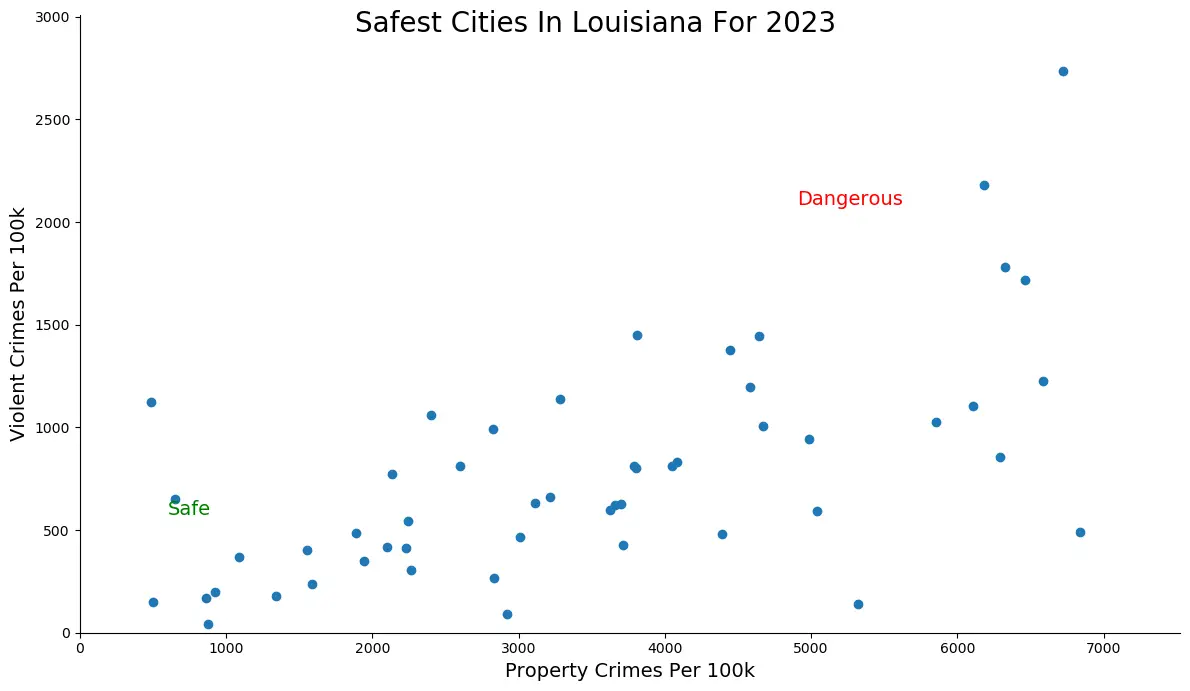 Click To Enlarge
How we determined the most dangerous cities in Louisiana for 2021?
Every year the FBI release two crime datasets, a preliminary dataset limited to the biggest cities in the country, followed by a more detailed release at the end of the year.
For our analysis, we focused on the JUST released 2019 data, specifically the 2019 Crime In The United States Report. We will update the results when data becomes available in September 2021.
So what criteria did we use? Have a look:
Violent Crimes Per Capita
Property Crimes Per Capita
In order to make the analysis as apples to apples as possible, we only considered Louisiana cities over 5,000 in population. That left us with 44 cities in Louisiana.
We then ranked each city from 1 to 44 for the two criteria with a #1 ranking being the most dangerous for the particular criteria.
Next, we averaged the two rankings into one "Dangerous Index".
Finally, we ranked every city on the "Dangerous Index" with the lowest index being the most dangerous in Louisiana — Opelousas. Any ties went to the smaller city. You can download the data here.
Read on for a detailed look at the 10 most dangerous cities in Louisiana.
Locking It All Up In Louisiana
So what is the most dangerous city in Louisiana? After analyzing 44 cities in Louisiana, Opelousas takes the top spot as the most dangerous city in Louisiana based on the most recently reported FBI data — 2019.
The latest FBI crime data shows that Opelousas ranks as the most dangerous city in Louisiana for 2021.
We want to point out again that there's still safes places in Opelousas and that this isn't a comment on the people that live there. So please don't beat us up.
It's not entirely Louisiana's fault. There are close to 4.7 million people inside the Louisiana boot; and in our experience, there's bound to be problems with that many people.
But, what are the circumstances that make these Louisiana cities this way? Maybe not enough jobs, low wages, drugs, gangs, close to larger cities that push their problems onto surrounding cities; we're not entirely sure. But one thing we are sure about is our number one most dangerous city in Louisiana is Opelousas.
The Louisiana places on our most dangerous list could definitely use some TLC. If you're looking to be that diamond in the ruff, or you're just curious to see if your city made the list, take a look at our list below. And if you don't see your city there, head to the bottom.
Learn more about the safest places in Louisiana.
If you're looking for something more national, check out the most dangerous cities in America or the most dangerous states in America.
Here are the safest cities in Louisiana:
Tallulah (Pop. 6,701)
Carencro (Pop. 9,387)
Kenner (Pop. 66,653)
Rayne (Pop. 8,088)
Scott (Pop. 8,725)
Westwego (Pop. 8,415)
Mandeville (Pop. 12,331)
Addis (Pop. 5,747)
Harahan (Pop. 9,298)
Youngsville (Pop. 15,020)
For more Louisiana reading, check out:
The Most Dangerous Cities In Louisiana
| Rank | City | Population |
| --- | --- | --- |
| 1 | Opelousas | 16,049 |
| 2 | Alexandria | 46,630 |
| 3 | Marksville | 5,369 |
| 4 | Bastrop | 10,156 |
| 5 | Monroe | 47,746 |
| 6 | Ponchatoula | 7,478 |
| 7 | Natchitoches | 17,747 |
| 8 | West Monroe | 12,350 |
| 9 | New Orleans | 394,498 |
| 10 | Gonzales | 10,940 |
| 11 | Bogalusa | 11,681 |
| 12 | Baton Rouge | 220,648 |
| 13 | Crowley | 12,621 |
| 14 | Pineville | 14,261 |
| 15 | Leesville | 5,617 |
| 16 | Breaux Bridge | 8,237 |
| 17 | Bossier City | 69,044 |
| 18 | Shreveport | 187,556 |
| 19 | Walker | 6,296 |
| 20 | Eunice | 9,939 |
| 21 | Houma | 32,771 |
| 22 | Minden | 11,984 |
| 23 | Gretna | 17,729 |
| 24 | Lafayette | 126,694 |
| 25 | Thibodaux | 14,587 |
| 26 | Lake Charles | 78,733 |
| 27 | Abbeville | 12,142 |
| 28 | Ville Platte | 7,029 |
| 29 | Sulphur | 20,200 |
| 30 | Zachary | 18,009 |
| 31 | Ruston | 22,148 |
| 32 | Broussard | 12,985 |
| 33 | Baker | 13,240 |
| 34 | Slidell | 27,768 |
| 35 | Tallulah | 6,701 |
| 36 | Carencro | 9,387 |
| 37 | Kenner | 66,653 |
| 38 | Rayne | 8,088 |
| 39 | Scott | 8,725 |
| 40 | Westwego | 8,415 |
| 41 | Mandeville | 12,331 |
| 42 | Addis | 5,747 |
| 43 | Harahan | 9,298 |
| 44 | Youngsville | 15,020 |