People who live in Louisiana are darn proud of it. There's a certain grit that comes with living in the Bayou State. A little bit of toughness and ruggedness mixed in with a lot of culture. More culture than most Americans have seen, actually.
But, just like every other state in the U.S., Louisiana comes with some baggage. There are some pretty rough spots there, and the purpose of this post is to identify exactly which places stand out as being the least desirable, at least according to science.
After analyzing all 58 cities with a population of 5,100 or more, we came up with this list as the 10 worst places in Louisiana:
The 10 Worst Places To Live In Louisiana For 2023
Where are these places, you wonder? And before you get all riled up and say we're picking on small towns in Louisiana, that's not the case.
We understand there's a lot of good in every place. For example, the best place to live in Louisiana is Harahan.
However, according to data (which doesn't measure things like beauty and 'friendly people'), the state has far better options for making a place home. And the worst place to live in Louisiana? The worst place to live in Louisiana is Marksville.
Read below to see how we crunched the numbers and how your city fared in 2023.
If you're looking for something more national, check out the worst cities in America or the worst states in America.
For more Louisiana reading, check out:
---
Table Of Contents: Top Ten | Methodology | Summary | Table
---
The 10 Worst Places To Live In Louisiana For 2023
Marksville is located about a half mile down a country round, south of Alexandria. There's not a lot to do here, and when you factor in some of the lowest student support in the state and some of the worst weather, it's not a place you might want to move to.
And the crime in Marksville is the 11th highest in the state, where 1 in 18.6 people have a chance of being the victim of a property crime, according to the latest FBI numbers.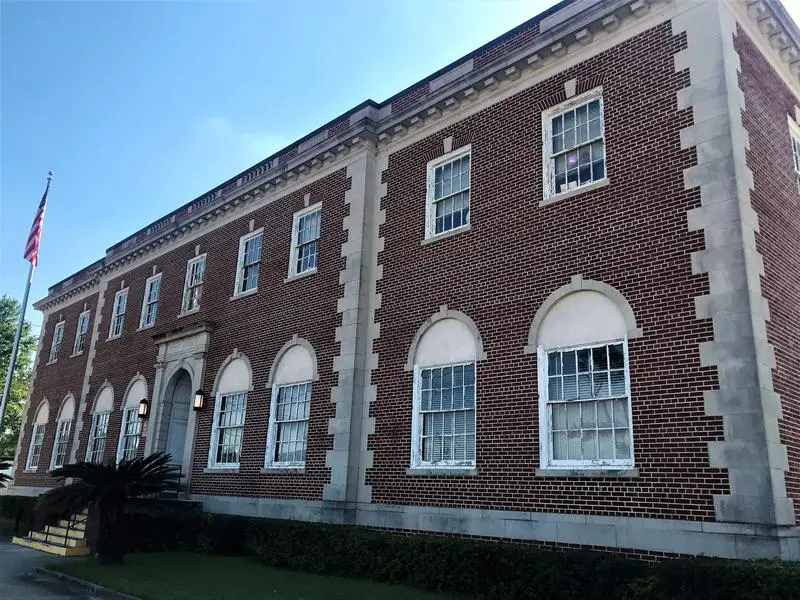 Bogalusa began life as a lumber town. Businessmen from the north established the community in the early 20th century around a sawmill. Unfortunately, this economic base has eroded by the early 21st century. Now, a lack of jobs leaves the town as the number 2 worst place to live in Louisiana.
Almost a third of residents live below the poverty line. That state of affairs comes about because of an eye-popping 12.1% unemployment rate. The median income is disappointing as well, reaching just $32,613. Given this financial situation, it's not surprising that the area also has problems with housing, crime, and education.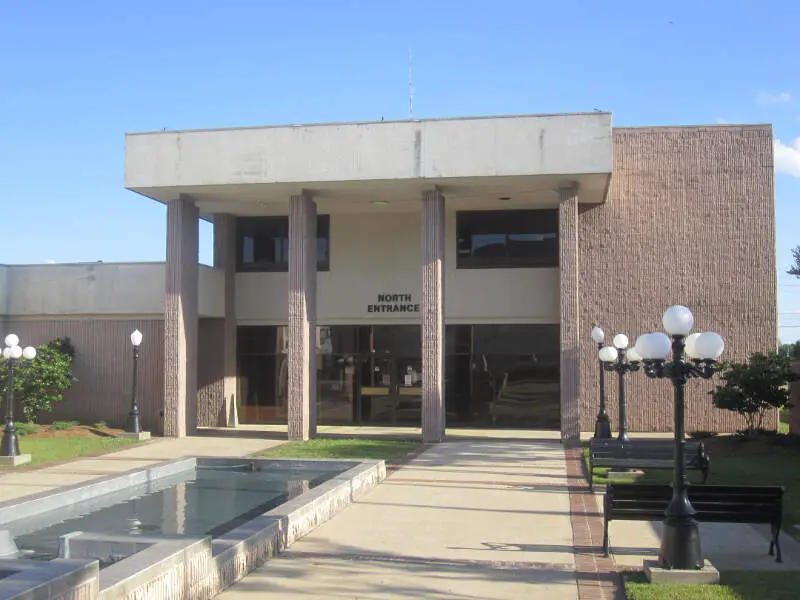 This community in northern Louisiana was founded by a scam artist. The Baron de Bastrop (not a real baron, as it turns out) had traveled to the region to avoid embezzlement charges. With this as the town's namesake, what could go wrong?
Plenty, as it turns out. Maybe Bastrop's financial woes put a curse on the area. With a median income of just $23,955 almost half of the town's residents scrape by on the wrong side of the poverty line.
As a result, Bastrop faces a crime rate more than 250% above the national average. Schools and housing are substandard as well.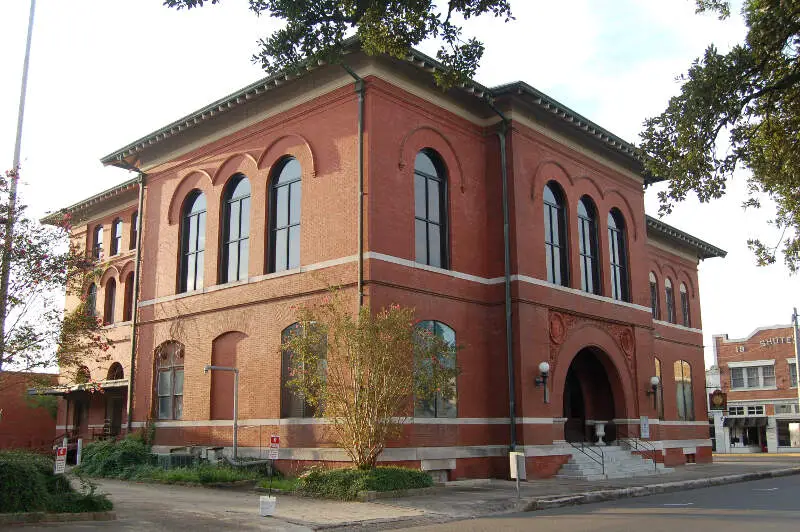 Opelousas is known for its music. If you like zydeco, plan to take your vacation here. You can learn all about it at the town's Creole Heritage Folklife Center. You'll also enjoy some great Cajun cooking in "the spice capital of the world."
With all this going for it, how did Opelousas end up on this list? Well, besides the great music and the great food, the community doesn't have much of an economic base. Like most of the towns we talk about here, poverty poses a massive problem. In this case, the poverty rate hovers at 37.2%.
Meanwhile, the crime rate runs more than 300% above the national average. Local schools and housing also fall below expectations.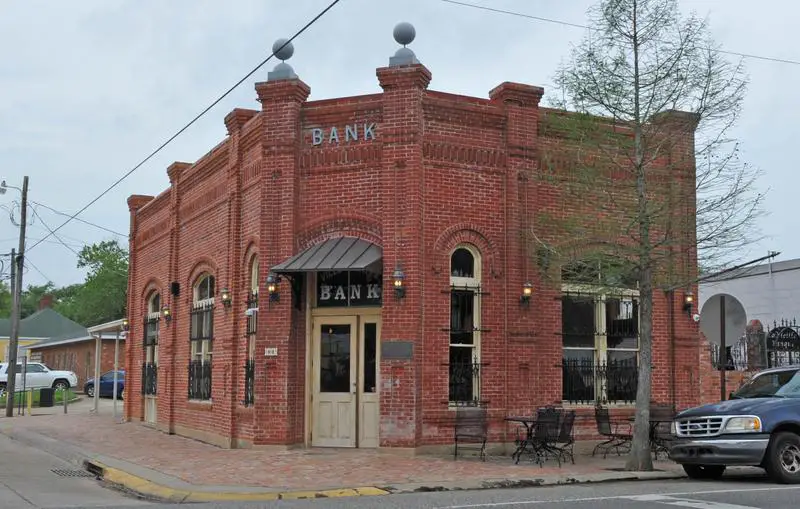 Ville Platte roughly means "flat city." That may make the town seem like a boring kind of place. Better to focus on the community's other title: "Smoked Meat Capital of the World." Now, we've got your attention, right? Well, how about this other distinction the town has earned: "Swamp Pop Capital of the World."
That seems like a fun place, a far cry from a flat city. Unfortunately, smoked meat and swamp music aren't enough to fuel a sustained economy. Instead, the town struggles with an unemployment rate of 27.2% and a poverty rate of 41.5%.
In addition, the area's crime rate more than doubles the U.S. norm and most of its schools score no better than a 5/10 on Great Schools.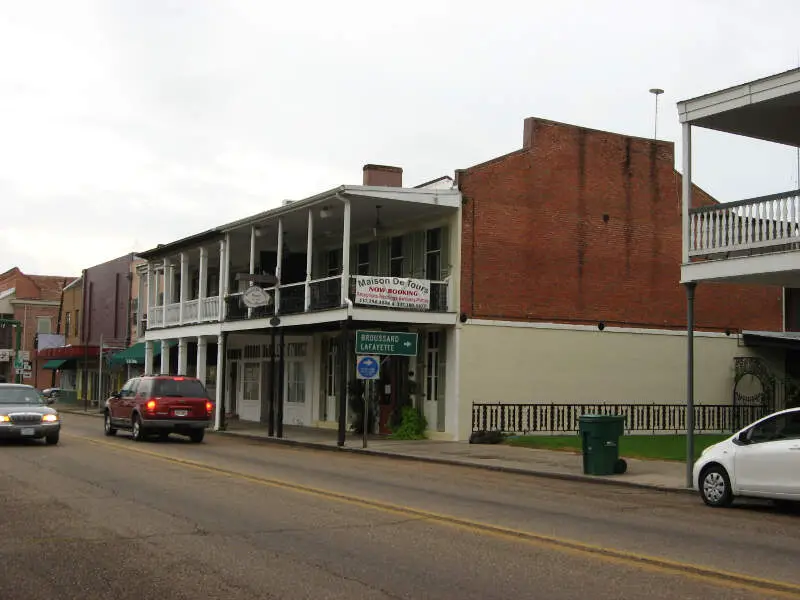 One of the oldest communities in Louisiana, St. Martinville has a rich cultural history. Considered a centerpiece of Cajun culture, the town also features several examples of historic architecture and appears in multiple famous works of fiction, from Henry Wadsworth Longfellow's "Evangeline" to the movie Christmas on the Bayou.
Sounds like living in postcard, right? Not quite. The daily grind in St. Martinville is, well…pretty grinding.
The unemployment rate hangs at 13.2% and the median income only reaches $30,565. As a result, the town, built along the Bayou Teche waterway in the southern part of the state, suffers a poverty rate of 24.5%.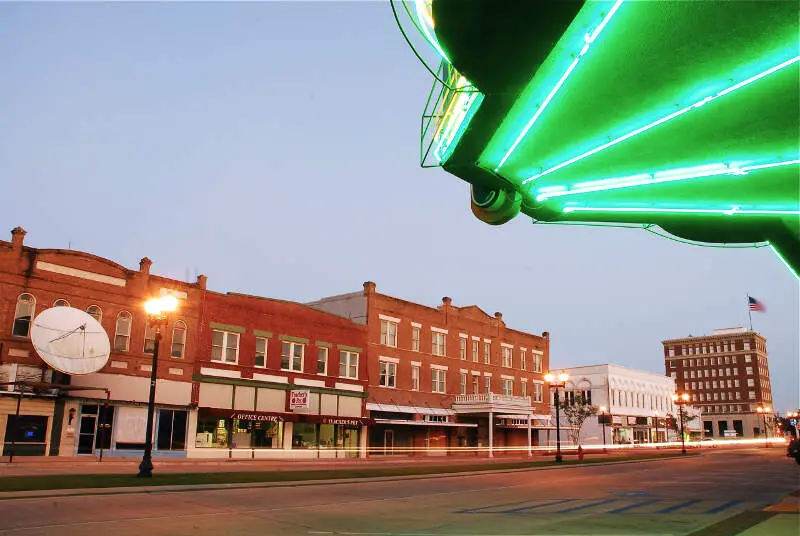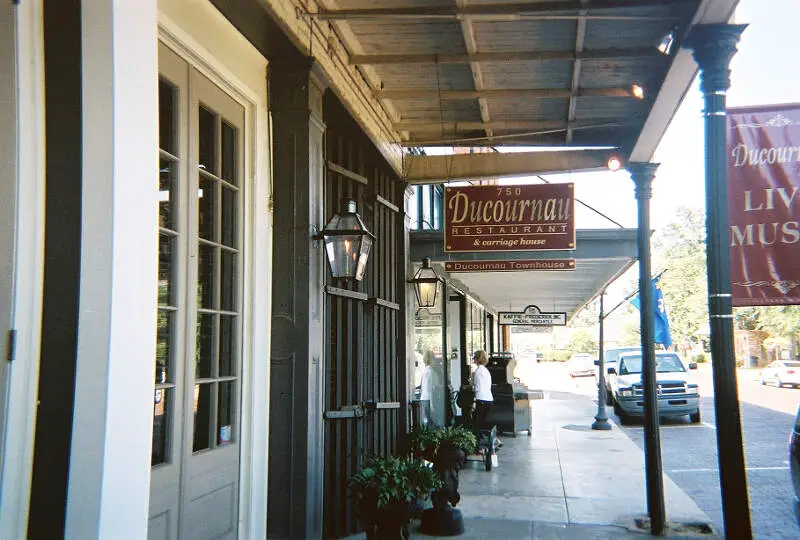 Source: Public domain
People love the architecture of Natchitoches. Built in a quaint European style and including the occasional brick street, the Natchitoches Historic District provides an excellent place to stroll during a lazy afternoon.
The economy does its best to make these walks possible. With an unemployment rate of 17.7%, a good chunk of the town's 18,105 residents have their afternoons free. Even the folks who find jobs can only expect a median income of $28,401. As a result, the poverty rate in town runs a freighening 37.4%.
Compounding these woes, the community faces a crime rate more than triple the national average.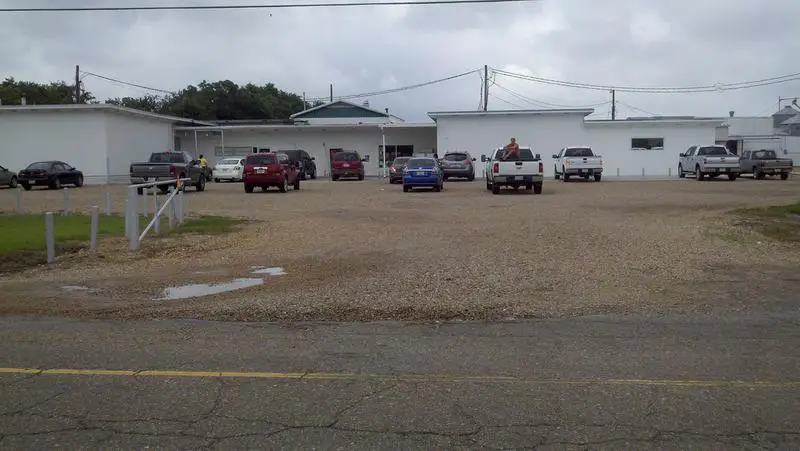 Eunice is home to the Cajun Music Hall of Fame. That sounds like enough for any town. However, day-to-day life for the community's 9,589 inhabitants is far from a song. The blues, maybe…but not a jaunty Cajun number.
Located in the southern part of the state, about 45 minutes northwest of Lafayette, good-paying jobs are scarce in town. The unemployment rate runs 12.7%, leaving nearly 30% of the community below the poverty line.
As you've probably guessed, this leads to other social problems. The crime rate comes in at more than 140% above the national average. Housing and education are also sources of disappointment.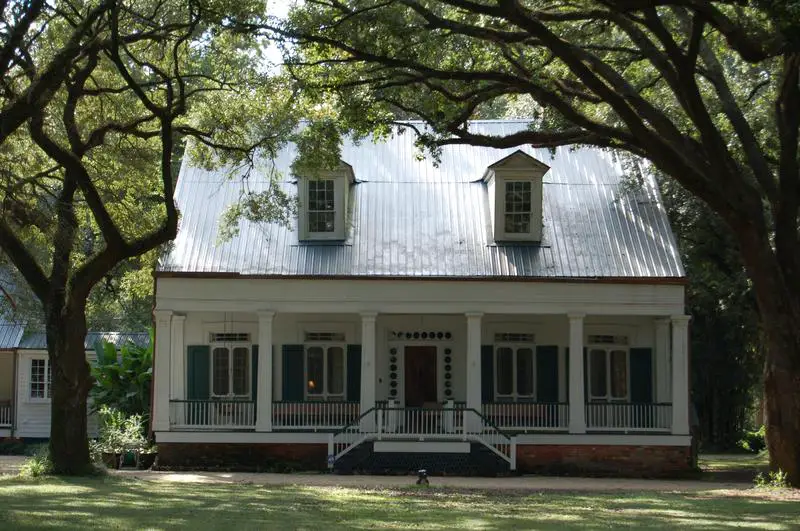 Here's another town on this list with a rich history and not much of a present. Located along the Mississippi River, Donaldsonville became the site of what became known as Fort Butler, a haven for runaway slaves during the Civil War. The community commemorates this history at educational attractions, like the Fort Butler Historic Site and the River Road African American Museum.
So that's a sample of the rich past. Now to the stagnant present. The current population of 6,834 residents face a lot of daily struggles, including a 15.4% unemployment rate and a $20,052 median income. Those conditions lead to a 46.9% poverty rate. And, as usually happens, the economic issues contribute to problems related to housing and schools.
Methodology: How we determined the worst places to live in Louisiana for 2023
To figure out the worst places to live in Louisiana, we only needed to know what kinds of things people like and then decide what cities have the least amount of those things.
We don't think it's a stretch to assume that people like the following things:
Good education
Lots of jobs
Low crime
Low poverty
Nice homes
High incomes
High population density (Lots of things to do)
Short work commutes
Health insurance
The data comes from the Census's most recent American Community Survey and the FBI Uniform Crime Report.
We broke crime down into violent crime and property crime to give violent crime a more significant weight. If you did a simple calculation of all crimes per capita, property crimes are typically 7x more common and bias that ranking.
Furthermore, only cities with at least 5,000 people were considered — leaving 58 cities.
We then ranked each city from 1 to 58 for all the criteria, with a #1 ranking being the worst for the particular criteria.
Next, we averaged the rankings into one "Worst Place To Live Score."
Finally, we ranked every city on the "Worst Place To Live Score," with the lowest score being the worst city in Louisiana — Marksville. Read on for a detailed look at the ten worst cities in Louisiana.
Editor's Note: This article is an opinion based on facts meant as infotainment. We updated this article for 2023. This is our tenth time ranking the worst places to live in Louisiana.
Summary: Wrapping Up The Worst In Louisiana
If you're looking at areas in Louisiana with the worst economic situations, where there's higher than average crime and little to do, this is an accurate list.
And in the end, Marksville ranks as the worst city to live in Louisiana for 2023.
If you're curious enough, here are the best cities to live in Louisiana:
Addis (Pop. 6,503)
Mandeville (Pop. 12,985)
Harahan (Pop. 9,137)
For more Louisiana reading, check out:
Worst Places To Live In Louisiana?
| Rank | City | Population |
| --- | --- | --- |
| 1 | Marksville | 5,118 |
| 2 | Bogalusa | 10,921 |
| 3 | Bastrop | 9,879 |
| 4 | Opelousas | 15,884 |
| 5 | Ville Platte | 6,488 |
| 6 | St. Martinville | 5,602 |
| 7 | Crowley | 11,916 |
| 8 | Natchitoches | 18,105 |
| 9 | Eunice | 9,589 |
| 10 | Donaldsonville | 6,834 |
| 11 | Leesville | 5,666 |
| 12 | Alexandria | 45,736 |
| 13 | Hammond | 19,374 |
| 14 | Breaux Bridge | 7,711 |
| 15 | Gonzales | 12,080 |
| 16 | Monroe | 48,105 |
| 17 | Abbeville | 11,313 |
| 18 | West Monroe | 13,103 |
| 19 | Franklin | 6,811 |
| 20 | Oakdale | 7,092 |
| 21 | Gretna | 17,836 |
| 22 | DeRidder | 10,060 |
| 23 | New Orleans | 383,974 |
| 24 | New Iberia | 28,844 |
| 25 | St. Gabriel | 7,046 |
| 26 | Ponchatoula | 7,729 |
| 27 | Minden | 12,145 |
| 28 | Baton Rouge | 225,539 |
| 29 | Shreveport | 189,374 |
| 30 | Scott | 8,200 |
| 31 | Westwego | 8,538 |
| 32 | Denham Springs | 9,389 |
| 33 | Walker | 6,322 |
| 34 | Central | 29,746 |
| 35 | Tallulah | 6,357 |
| 36 | Grambling | 5,127 |
| 37 | Pineville | 14,653 |
| 38 | Jennings | 9,836 |
| 39 | Baker | 12,736 |
| 40 | Rayne | 7,332 |
| 41 | Covington | 11,155 |
| 42 | Zachary | 19,278 |
| 43 | Kenner | 66,411 |
| 44 | Patterson | 5,928 |
| 45 | Houma | 33,461 |
| 46 | Broussard | 12,960 |
| 47 | Ruston | 22,286 |
| 48 | Carencro | 9,531 |
| 49 | Slidell | 28,537 |
| 50 | Plaquemine | 6,187 |
| 51 | Lafayette | 122,469 |
| 52 | Thibodaux | 15,242 |
| 53 | Lake Charles | 83,444 |
| 54 | Sulphur | 21,490 |
| 55 | Youngsville | 15,167 |
| 56 | Addis | 6,503 |
| 57 | Mandeville | 12,985 |
| 58 | Harahan | 9,137 |