This article is an opinion based on facts and is meant as infotainment. It is our seventh time ranking the most dangerous places to live in Georgia and is updated for 2021.
When you go to sleep at night, you want to feel secure that you are falling asleep in a safe space. You don't want to have to constantly worry about whether or not you locked all four locks on your door and that your wooden window jam is securely in place.
However, how do you know if where you are moving to is safe or not? If you are moving to Georgia, then there are definitely some safe places and there are definitely some areas that are not as safe. Georgia is full of beautiful landscapes, gorgeous beaches, and historical towns. But it also has a few cities that have areas that may not be as beautiful at night. Those would be the most dangerous places in live in Georgia.
And that's what we've done here — identify the most dangerous cities in Georgia for 2021 based on FBI data. Specifically, we looked at violent and property crimes per capita for the 39 cities over 5,000 people. The idea being that you want to know where crime occurs so that you can make an informed decision. However, we are not saying anything about the efficacy of local law enforcement and there are definitely safe areas in every city we talk about.
With all that in mind, Georgia as a whole is actually on the dangerous side of American states, ranking in the top third. So these cities contribute to an overall sense of danger in Georgia.
So grab some chicken and dumplings, you favorite local craft brew, and read on.
The 10 Most Dangerous Places To Live In Georgia For 2021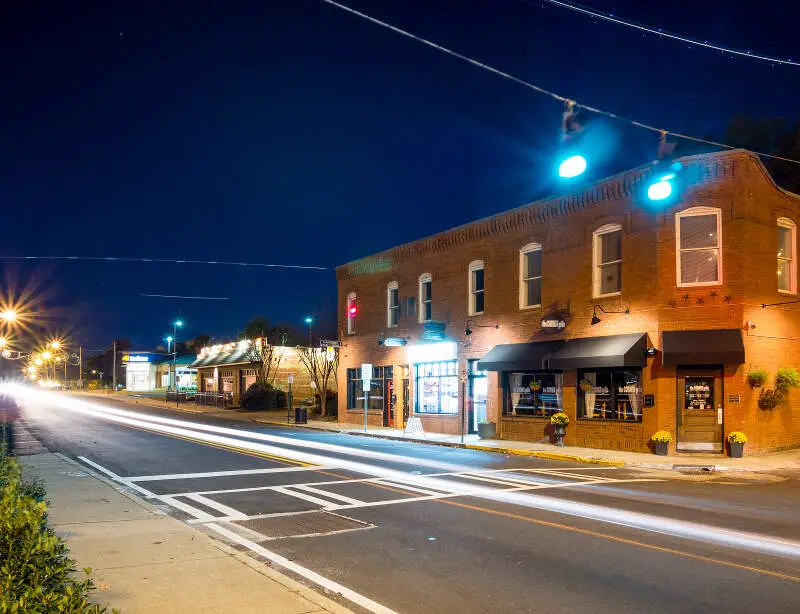 Located on the south side of Atlanta, College Park once again features at the top of Georgia's most dangerous cities. It might be home to the world's busiest airport, but College Park is also home to a whole lot of crime.
College Park is the most violent place in Georgia, with the fourth highest rate of rape cases and the second highest murder rate. Property crime isn't much better, considering that 212 of College Park's residents had their cars stolen in 2019.
To be fair, It's important to remember that the FBI bases its crime data on where the crimes occurred and the police department for College Park covers places Clayton and Fulton County associated with the city and not just the city proper.
That being said, Ludacris, 2 Chainz, and Jung Joc all came from College Park and they don't sing about rainbows and butterflies.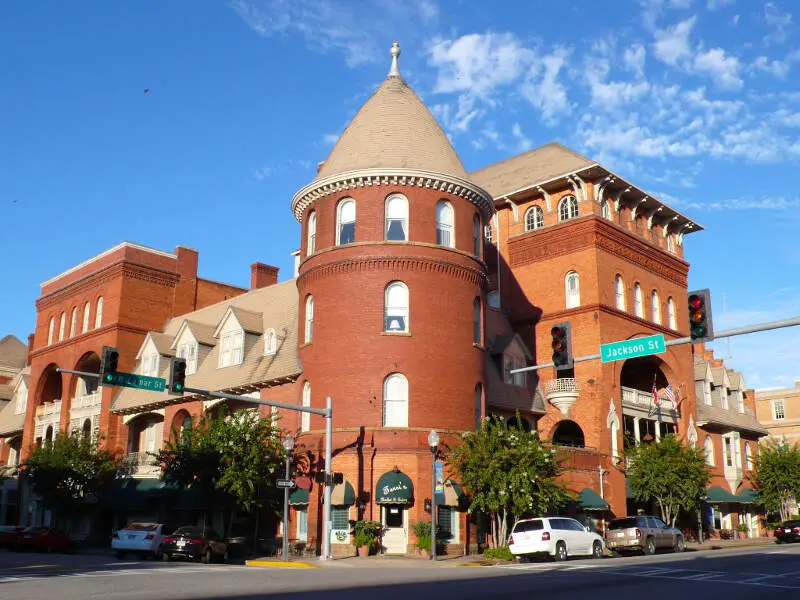 Source: Public domain
Earning the second place medal for Georgia's most dangerous places is Americus, a city of 15,110 in Sumter County. Americus had the highest rate of rape cases in the state and 127 total violent crimes reported in 2019.
Murder and burglary rates in Americus are also the fourth highest and third highest statewide as well, so make sure you keep your guard up and your doors locked here.
Americus is the home of the Habitat for Humanity international headquarters, so if they could steer some charitable energy towards reducing local crime rates, we're sure the city can get itself off this list in no time.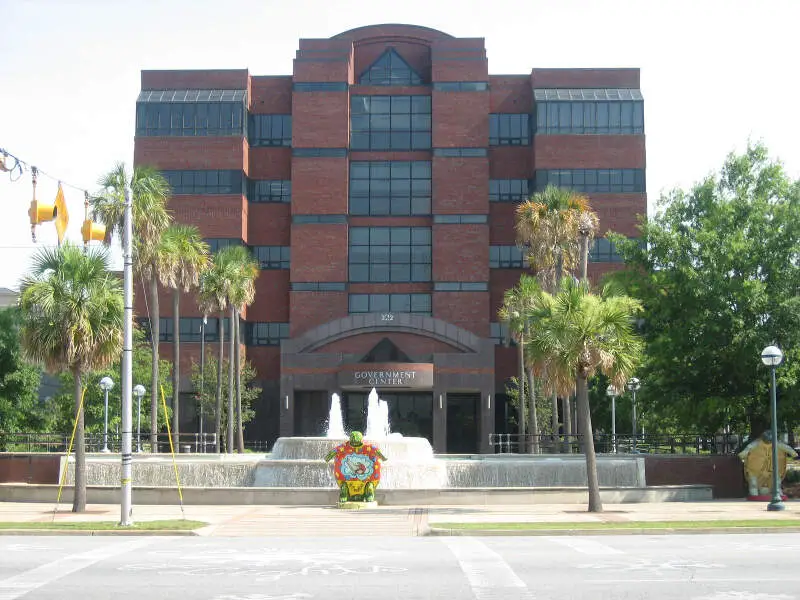 Source: Public domain
Georgia's 3rd biggest city, Albany, ranks as the third most dangerous place to call home in the Peach State. Residents faced a 1 in 94 chance of being the victim of a violent crime in 2019 — yikes. For the record, that's the second highest violent crime rate in Georgia.
And being attacked isn't the only thing to be worried about in Albany. The city also has the highest burglary rate in Georgia, with about two burglaries happening each day, on average.
So while Chehaw Park & Zoo might have loads of scary carnivores, there's a lot more terrifying stuff going down on the streets of Albany.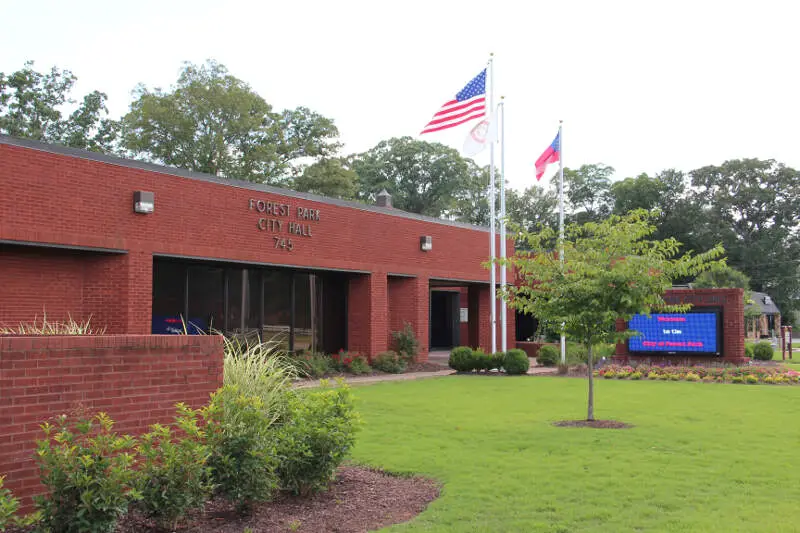 Source: Public domain
Located just south of Atlanta, Forest Park is a place with a whole lot of crime. There were 118 car thefts in Forest Park in 2019, quite high for a city with a population of 20,273.
There were also 654 larceny cases, so make sure nobody pilfers your produce after a day out at the farmer's market.
Violent crime rates in Forest Park are also quite high, as Forest Park ranks in the top ten statewide for both rape and murder rates.
Forest Park wasn't on this list last year, so hopefully, they can turn things around and get off this list by next year.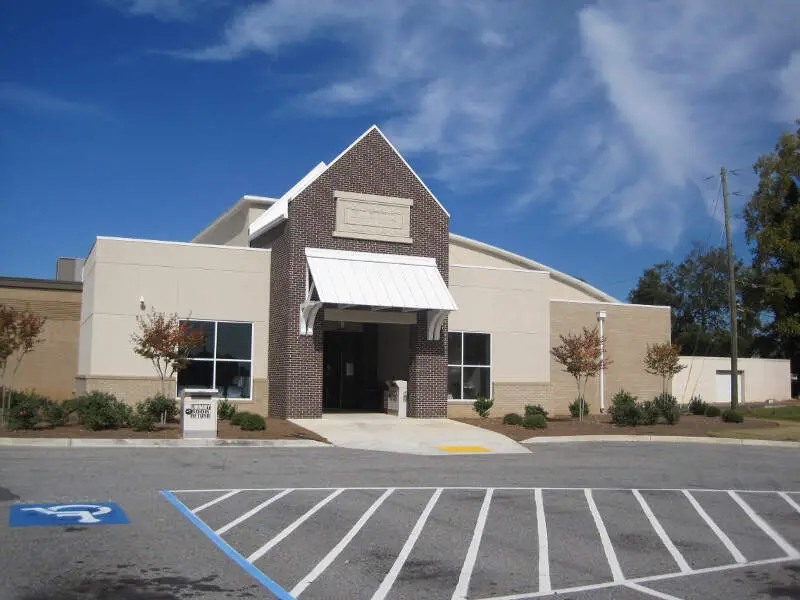 Georgia's 2nd biggest city, Warner Robins, is also its fifth most dangerous. Warner Robins had the third highest rate of rape cases in the state in 2019 and violent crime as a whole ranks as the seventh highest statewide.
Burglary rates are also incredibly high, with 626 recorded in 2019. With such high crime rates, you'd be well advised to bring a buddy with you if you go for a walk on Wellston Trail.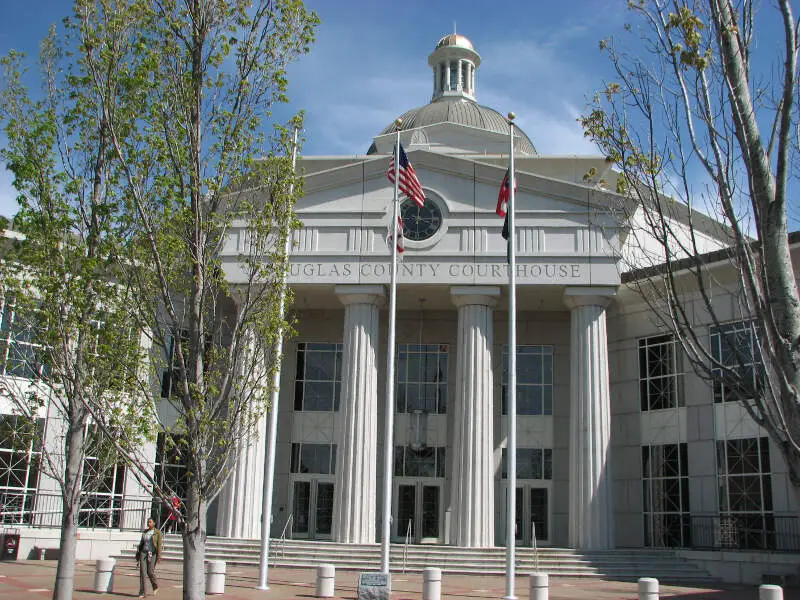 Up next on our list of incredibly dangerous places to call home in Georgia is Douglasville, a city of 34,609 located about a half-hour west of Atlanta.
Property crime is primarily what lands Douglasville on this list, considering that the city experienced between five and six property crimes a day in 2019, on average. We just hope nobody robs the local art museum.
Additionally, there are some troubling violent crime numbers in Douglasville, especially when it comes to rape and aggravated assault.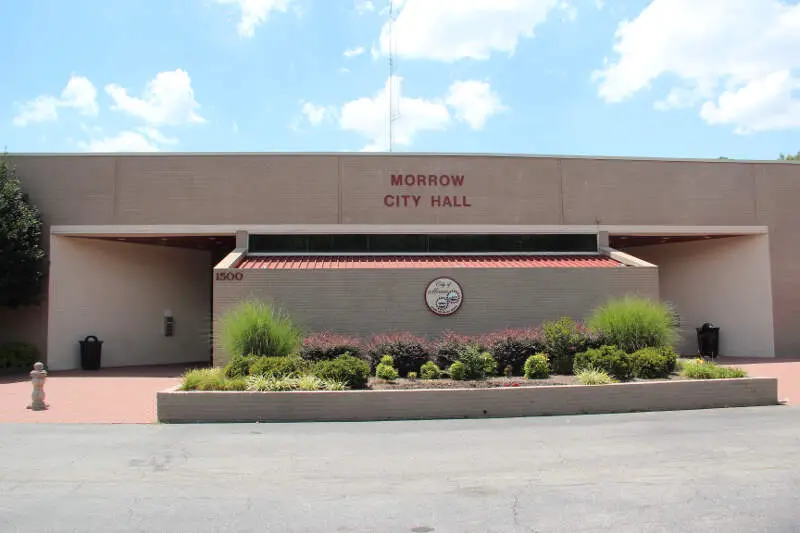 Source: Public domain
Another city to the south of Atlanta, Morrow comes in as the seventh least safe place in Georgia. Morrow is actually the least violent place to feature on our list, but it still had the second highest rate of rape cases in Georgia.
Morrow also had the highest property crime rate, with residents facing a 1 in 11 of having their stuff stolen or damaged over 2019. That ridiculously high rate means that Morrow also has the highest overall crime rate in Georgia, outstripping the national average by 300%.
At least you can get away from all the crime by visiting Reynolds Nature Preserve — just get home before dark!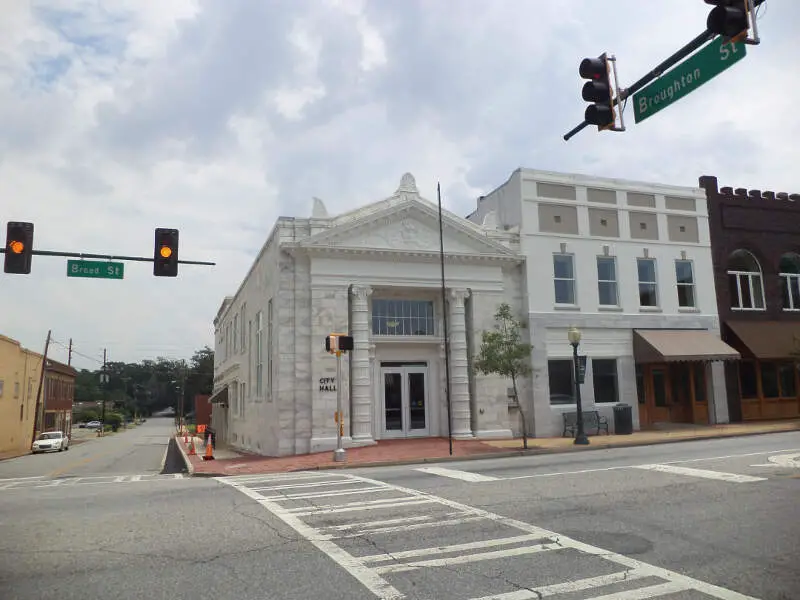 The county seat of Decatur County in southwestern Georgia, Bainbridge ranks as the eighth most dangerous spot in the state.
Bainbridge had the second highest burglary rate in Georgia, with 100 cases reported in 2019; quite high for a city of just 11,986. There was also an average of one larceny case a day in Bainbridge, so make sure nobody swipes your catch after a day fishing at Silver Lake.
Violent crime was even worse in Bainbridge, with residents facing a 1 in 81 chance of being the victim of an attack.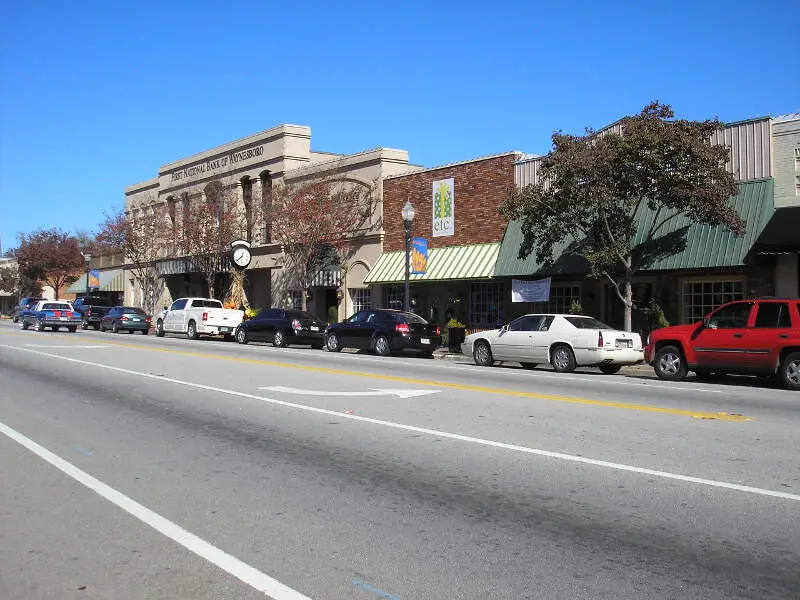 Don't let Waynesboro small size lull you into a false sense of security — this city of just 5,387 had 3 murders in 2019, giving it the highest murder rate in Georgia.
The burglary rate in Waynesboro is also the sixth highest in the state, so we hope there's enough security at the local history museum to prevent a heist.
Waynesboro is located about 30 miles south of Augusta.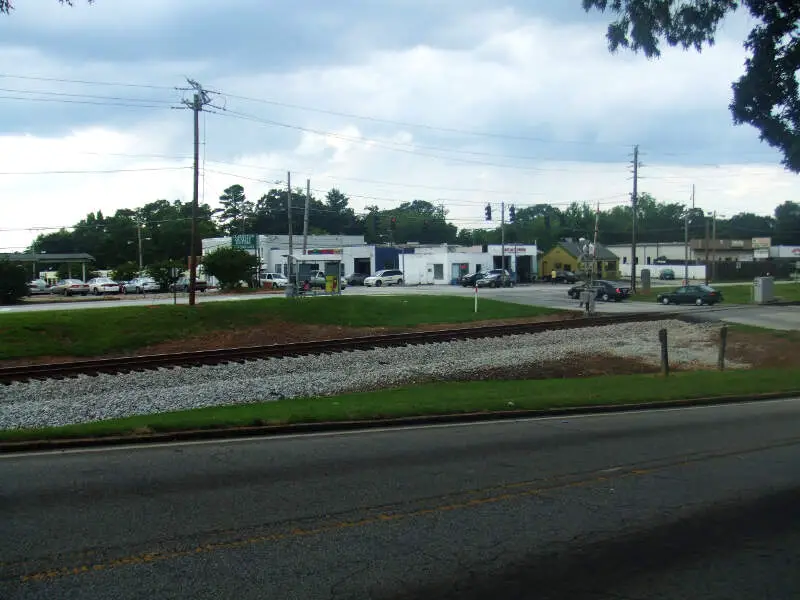 Source: Public domain
Clarkston is one of Georgia's fastest-growing cities, but it's also one of the most dangerous places.
Clarkston had the third highest murder rate in Georgia for 2019 and the sixth highest violent crime rate overall.
Property crime rates in Clarkston are the lowest on this list, so if the city can get its violent crime rate down as well, it'll be back off this list in no time. Which is what you want to see in America's most diverse square mile.
Graphing The Most Dangerous And Safest Places In Georgia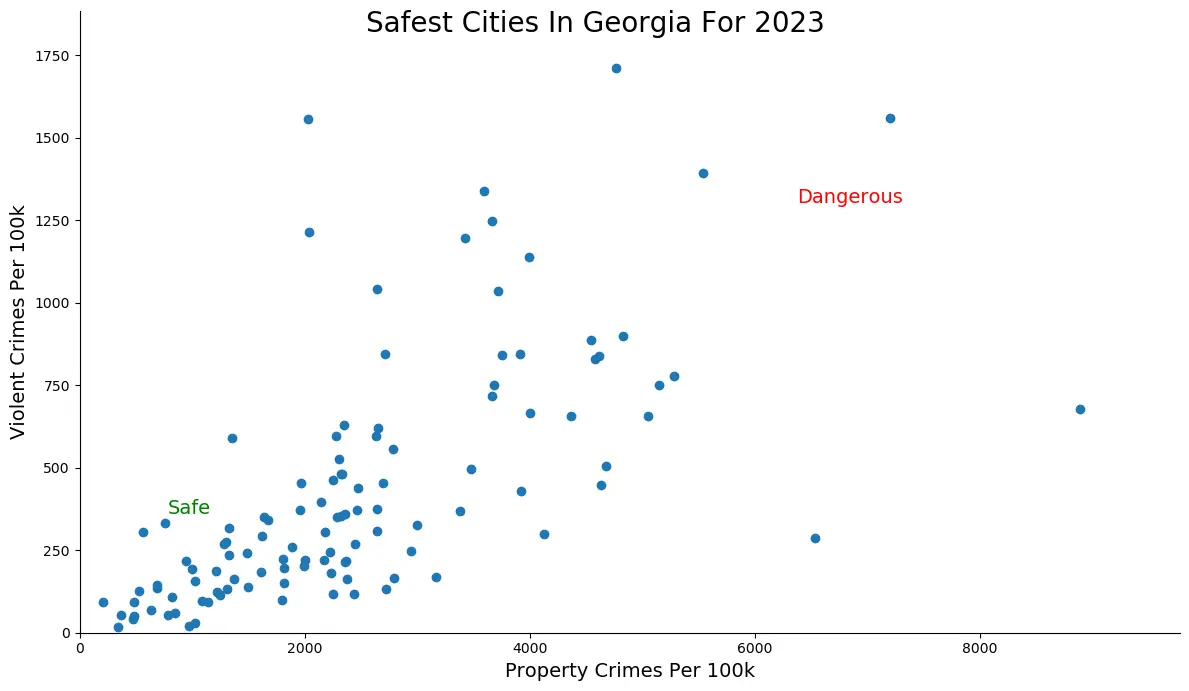 Click To Enlarge
How we determined the most dangerous cities in Georgia for 2021?
Every year the FBI release two crime datasets, a preliminary dataset limited to the biggest cities in the country, followed by a more detailed release at the end of the year.
For our analysis, we focused on the JUST released 2019 data, specifically the 2019 Crime In The United States Report. We will update the results when data becomes available in September 2021.
So what criteria did we use? Have a look:
Violent Crimes Per Capita
Property Crimes Per Capita
In order to make the analysis as apples to apples as possible, we only considered Georgia cities over 5,000 in population. That left us with 39 cities in Georgia.
We then ranked each city from 1 to 39 for the two criteria with a #1 ranking being the most dangerous for the particular criteria.
Next, we averaged the two rankings into one "Dangerous Index".
Finally, we ranked every city on the "Dangerous Index" with the lowest index being the most dangerous in Georgia — College Park. Any ties went to the smaller city. You can download the data here.
Read on for a detailed look at the 10 most dangerous cities in Georgia.
Locking It All Up In Georgia
So what is the most dangerous city in Georgia? After analyzing 39 cities in Georgia, College Park takes the top spot as the most dangerous city in Georgia based on the most recently reported FBI data — 2019.
The latest FBI crime data shows that College Park ranks as the most dangerous city in Georgia for 2021.
We want to point out again that there's still safes places in College Park and that this isn't a comment on the people that live there. So please don't beat us up.
We analyzed 39 cities in Georgia using the most recent FBI crime data to determine which cities are the most dangerous in the state.
The most dangerous city in Georgia? College Park ranks as the most dangerous city in Georgia for 2021 based on the most recent FBI data.
Located on the southside of Atlanta, College Park is a city you may want to avoid if you are new to Georgia. In fact, the southside of Atlanta is home to several of the most dangerous cities on our list. East Point, Union City, and College Park, the top three most dangerous cities in Atlanta, are all located just south of Atlanta.
Interested to see how your favorite city in Georgia stacked up? Read on for more information about our methodology and to learn more about why these cities made the top 10.
Learn more about the safest places in Georgia.
If you're looking for something more national, check out the most dangerous cities in America or the most dangerous states in America.
Here are the safest cities in Georgia:
Kennesaw (Pop. 34,641)
Grovetown (Pop. 14,918)
Acworth (Pop. 22,921)
Alpharetta (Pop. 67,411)
Glennville (Pop. 5,084)
Woodstock (Pop. 33,470)
Hampton (Pop. 8,044)
Tyrone (Pop. 7,451)
Braselton (Pop. 12,297)
Milton (Pop. 40,067)
For more Georgia reading, check out:
The Most Dangerous Cities In Georgia
| Rank | City | Population |
| --- | --- | --- |
| 1 | College Park | 15,278 |
| 2 | Americus | 15,110 |
| 3 | Albany | 74,989 |
| 4 | Forest Park | 20,273 |
| 5 | Warner Robins | 76,623 |
| 6 | Douglasville | 34,609 |
| 7 | Morrow | 7,636 |
| 8 | Bainbridge | 11,986 |
| 9 | Waynesboro | 5,387 |
| 10 | Clarkston | 12,840 |
| 11 | Fairburn | 16,264 |
| 12 | Thomasville | 18,533 |
| 13 | Marietta | 61,324 |
| 14 | Sandersville | 5,420 |
| 15 | Newnan | 40,720 |
| 16 | Monroe | 13,662 |
| 17 | Snellville | 20,113 |
| 18 | McDonough | 26,277 |
| 19 | Brookhaven | 54,734 |
| 20 | Centerville | 7,854 |
| 21 | Calhoun | 17,069 |
| 22 | Dunwoody | 49,868 |
| 23 | Lilburn | 12,769 |
| 24 | Pooler | 24,917 |
| 25 | Eatonton | 6,625 |
| 26 | Barnesville | 6,714 |
| 27 | Suwanee | 21,331 |
| 28 | Rincon | 10,260 |
| 29 | Sandy Springs | 110,760 |
| 30 | Kennesaw | 34,641 |
| 31 | Grovetown | 14,918 |
| 32 | Acworth | 22,921 |
| 33 | Alpharetta | 67,411 |
| 34 | Glennville | 5,084 |
| 35 | Woodstock | 33,470 |
| 36 | Hampton | 8,044 |
| 37 | Tyrone | 7,451 |
| 38 | Braselton | 12,297 |
| 39 | Milton | 40,067 |