Editor's Note: This article is an opinion based on facts and is meant as infotainment. Don't freak out we updated this article for 2021. This is our seventh time ranking the worst places to live in Georgia.
Article Table Of Contents   
(Skip to section)
The last time we visited Georgia, we did a comprehensive look at which cities in the Peach State are the cream of the crop. And, since Georgia is widely considered as the finest state in the south, the best in Georgia is certainly quite a distinction.
But today, we're not going in that direction. We're going in the opposite direction, in fact. The purpose of this post is to figure out which of Georgia's cities are the worst.
So, where are the worst places? Where would the least amount of people want to call home, if they looked at all of the factors that we all agree are important?
After analyzing all 123 cities with a population over 5,100, we came up with this list as the 10 worst places in Georgia:
The 10 Worst Places To Live In Georgia For 2021
What? Where are these places you wonder? And before you get all riled up and say we're picking on small town America, that's not the case.
We understand there's a lot of good in every place.
However, according to data (which doesn't measure things like beauty and 'friendly people'), there are far better options in the state for making a place home. And the worst place to live in Georgia? That would be Camilla.
Read on below to see how we crunched the numbers and see how your city fared in 2021.
If you're looking for something more national, check out the worst cities in America or the worst states in America.
For more Georgia reading, check out:
The 10 Worst Places To Live In Georgia For 2021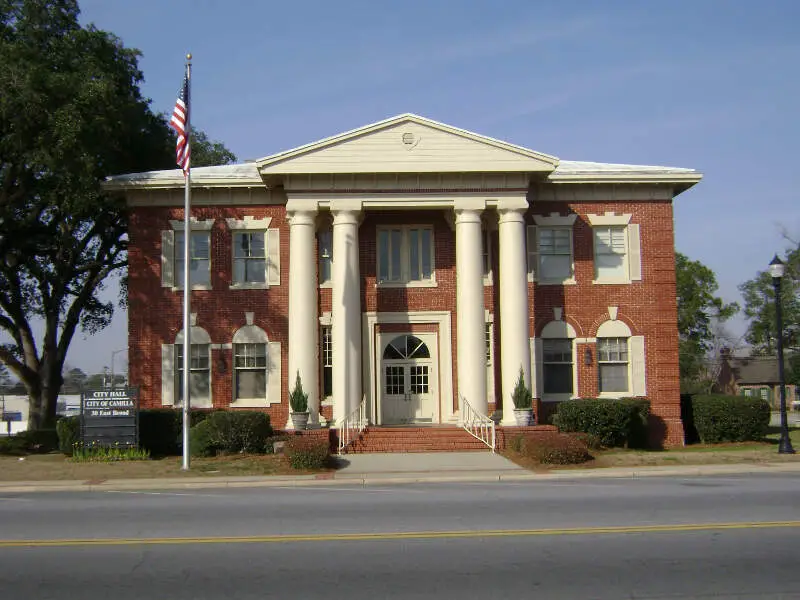 We have to travel about 200 miles south to get to our next stop - Camilla, Georgia - coming in at number 1. This teensy tiny city only has a population of about 5,000 people. But, don't let this give you a false sense of safety. The crime here is actually the 13th highest in the state per capita. What does that mean exactly? Well, if you live here, I hope you're not too attached to your belongings because you have a 1 in 24 chance of having them taken from ya
And, crime isn't the only downfall in Camilla. The city has a very high unemployment rate and those residents who actually found jobs are making an average of $34,143 per year.
It's clear no one wants to live here. In just the past 10 years, the population has gone down by about 8 percent. It's not hard to understand, when one of the most popular events of the year is the "Gnat Days Festival." Whatever that is.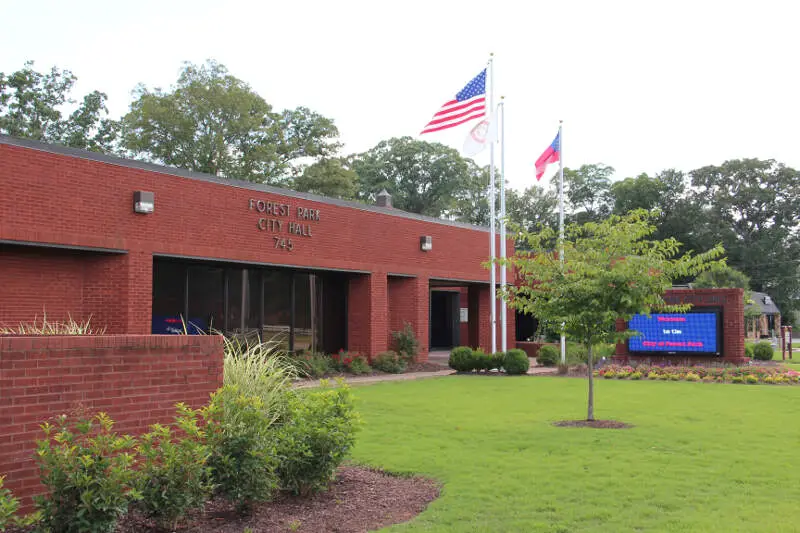 Source: Public domain
Next stop on our tour of the worst places in Georgia takes us to Forest Park, a little city with a population of 19,723 people that's located about nine miles south of Atlanta. So why did it make the list? Forest Park crime rates are soaring and violent crimes are 90% higher than the national average. Get this -- you actually have a 1 in 20 chance of becoming a victim of crime if you live here. Pretty scary, right?
And, it's not only crime that's a problem. The city has the 33rd lowest income. But don't worry, you don't need much money to live here - that's because Forest Park ranks worst when it comes to home values. Plus, there really aren't too many places to spend your money - unless you count the three Family Dollar stores all within a four mile radius and that's not much fun.
The schools are surprisingly decent, but that's just about the only bright spot for this little suburb.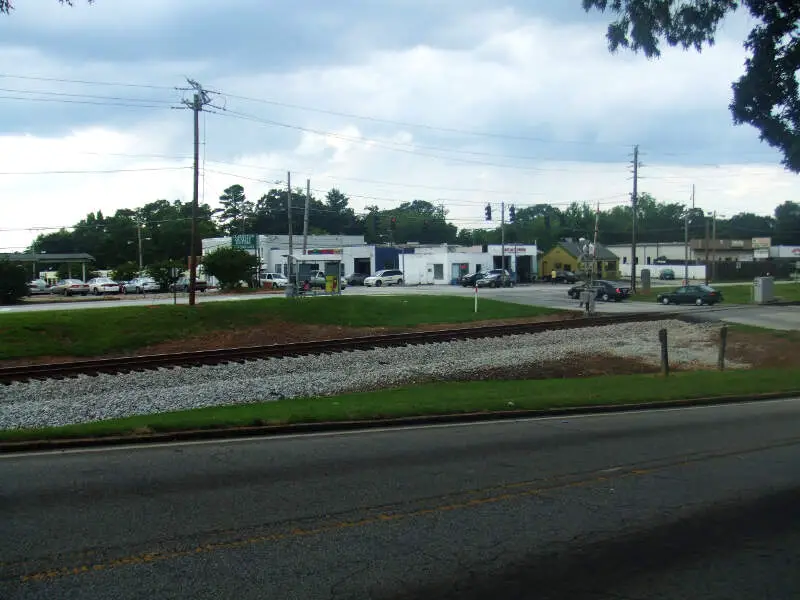 Source: Public domain
The story is pretty similar at our next stop. Welcome to Clarkston, Georgia. Population: 12,750 people. This small city is located about 20 miles east of Atlanta and though it may be small - seriously, it only has a total area of 1.1 square miles - it is mighty. A mighty bad place to live. Sorry Clarkston.
But let's back up a couple decades. In the 90s, Clarkston seemed like a great option for those looking to live outside of Atlanta, but still work in the capital city. There was convenient access to both public transportation and major highways. And can you say diversity? The City of Clarkston is noted for it. In the 90s, refugee Asylum programs in the U.S. identified Clarkston as a good fit for displaced persons of many different backgrounds. In fact, by the year 2000, the local high school had students from more than 50 countries!
But let's fast forward to today - the unemployment rate is 10.2%, the schools are underfunded and property values are well below the state average. You're just 20 miles outside of Atlanta and a home costs just $122,900 - that's saying something.
Not to mention, crime is also an issue here. In fact, you have about a 1 in 34 chance of being the victim of some type of property crime here every year. No thanks.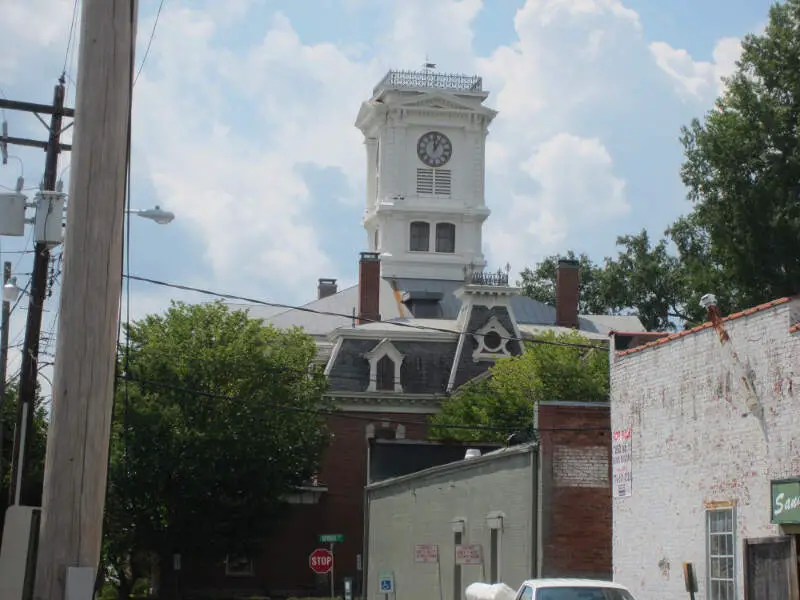 Our next worst place to live in Georgia is the small city of Monroe, where the population is just above 13,000 people. Monroe is located one hour east of Atlanta and was known for being the premier cotton producer back in the 1900s. But, it's been all downhill since then. The city went from booming economically, to now having one of the lowest median household incomes in the state. And those making good money seem to be lucky ones - the unemployment rate is high - at 11.5% percent.
Money isn't the only problem - crime in Monroe is fairly high, where 1 in 38 people have a chance of being the victim of a property crime. And the schools are sub-par.
If you need any further reasons why Monroe made the list, keep any eye to the sky. The city has some of the worst weather in the state. In 2020, an EF-3 tornado, with winds up to 140 miles per hour moved through the area causing extensive damage.
Overall, there's not much to do here, there aren't many jobs to be had, the weather is often crummy and you have a decent chance of having your car stolen or broken into.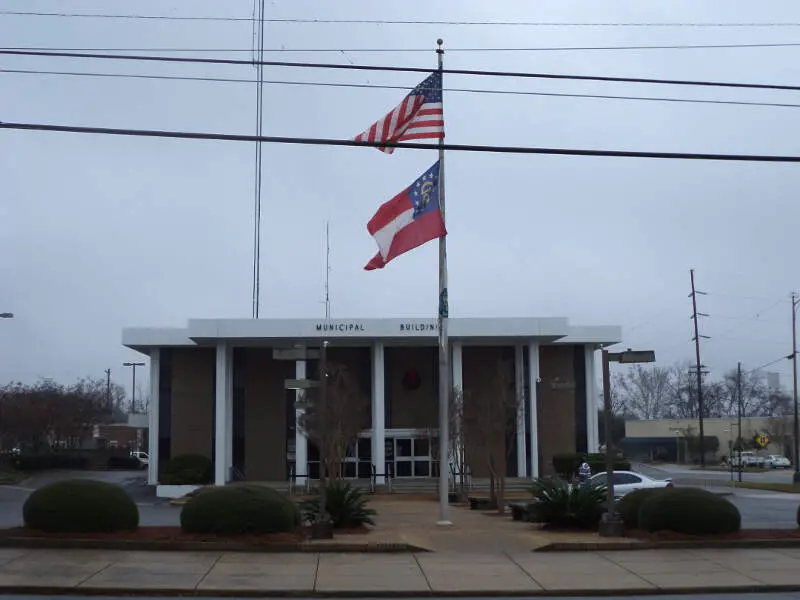 Let's move on up to the next stop in the state where we'll find Moultrie, Georgia's 5th worst place right now. Moultrie is home to about 14,069 people. It's would be hard to find a lot to love about Moultrie right now, sadly. Its home values are some of the lowest - not only in the state - but in the entire country and the median income is $27,129. The people who live here are just plain broke.
Those are the least of Moultrie's problems though. The city has a crime issue. It's ranked 50th in the state for violent crimes and 66th for property crimes. It's seriously dangerous.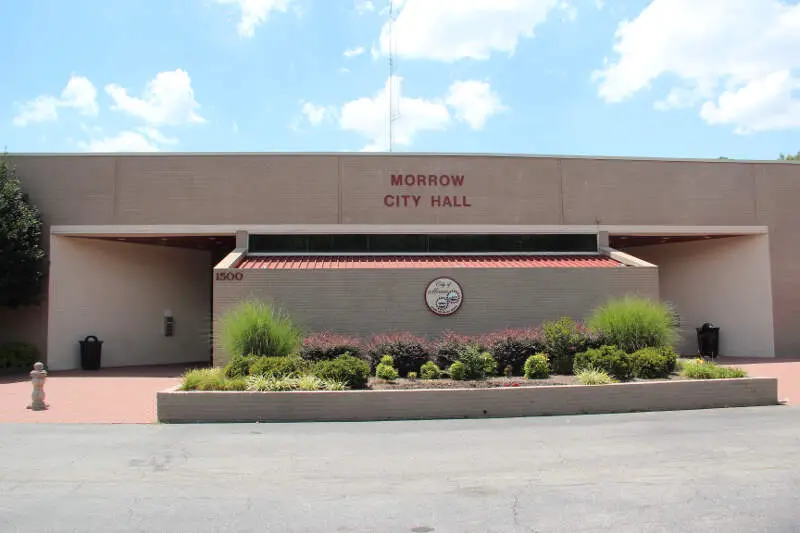 Source: Public domain
At number 6 -- Morrow. The city is located just southeast of Atlanta and has a population of about 6,965 people. The city's violent crime rate is higher than the statewide rate. And while violent crimes are more common in Morrow than almost any other city in the state, the city's property crime rate is even more discouraging.
And what usually goes hand-in-hand with crime? That's right, poverty. Nearly 8.9% of the city's residents are below the poverty line and 9.2% don't have jobs.
To sum it up, this is not a place you'd want to find yourself after dark - unless it's because you're watching Stranger Things on Netflix with the lights off.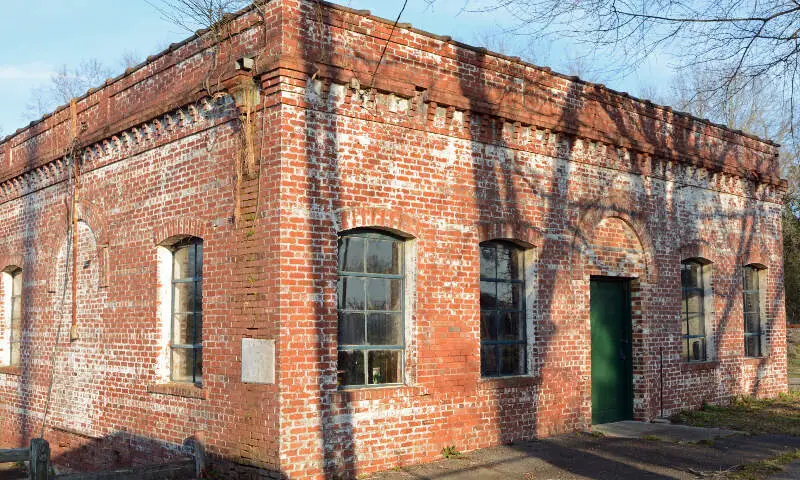 Next stop - at number 7 on our worst places to live list - is Swainsboro, located toward the south eastern part of the state. The small city finds itself at the intersection of two major national highways - U.S. 1 and U.S. 80, hence why the city motto is the "Crossroads of the Great South." But that might be the only "great" thing about Swainsboro.
Folks living in Swainsboro are unemployed at a very high rate of 9.1% - that's tied for the 26th highest in the state and three full percentage points above the national average. The city is poverty-stricken, with residents who have jobs earning only about $26,975 a year. If you think that's bad, buckle up.
Swainsboro has the 64th highest crime rate in Georgia. Residents have a 1 in 167 chance of being the victim of a violent crime here. That's pretty scary when you consider it's a small town with just over 7,000 residents.
And seriously, it's in the middle of nowhere.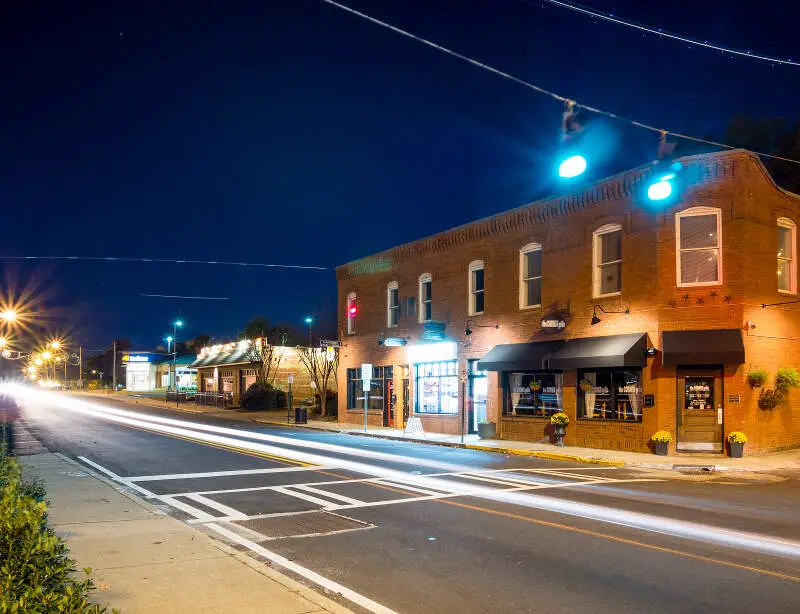 At number 8 - another one of the tri-cities: College Park. This city, located just 8 miles southwest of downtown Atlanta, is home to the busiest airport in the world and Chick-Fil-A headquarters. There's a good chance you've passed through this city on a layover - but never knew it.
If you're not from Georgia, you've probably heard of College Park if you listen to rap. A number of rappers are from this small city of 14,501 and there are several shout outs to College Park in their lyrics.
So, you might be questioning why this wouldn't be a great place to live - with access to a major airport, the chicken sandwich headquarters and just a short train ride from Atlanta?
For starters, College Park is also one of the poorest cities in the state. Nearly 6.9% of its residents are unemployed and those who have jobs earn $35,470 a year.
And the major reason College Park is on our list is crime. College Park is one of the most dangerous places to live in Georgia. It has the 4th highest crime rate and is known for street criminal activity and gangs. This is not the place you want to forget to lock your car doors...or your front door for that matter.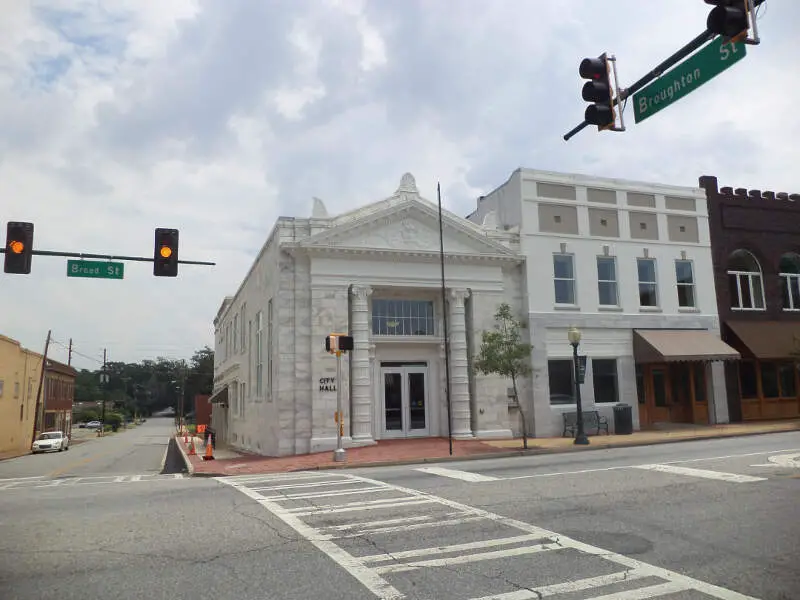 Bainbridge ranks the 9th worst place to live in Georgia for 2021 thanks in most part to a poverty level around 27.4% and an unemployment rate of 7.6%.
While the cost of living is manageable, the reasons for the low cost of living are crime rates nearly twice as bad as the national average and home prices that only clock in at $99,900. If you consider home prices to be the best proxy for demand, then there's not a ton of demand to live in Bainbridge.
And while we are focusing on the negatives, Bainbridge isn't all bad. It's a rural town at the crossroads of several major highways and there's plenty of natural beauty in the surrounding area.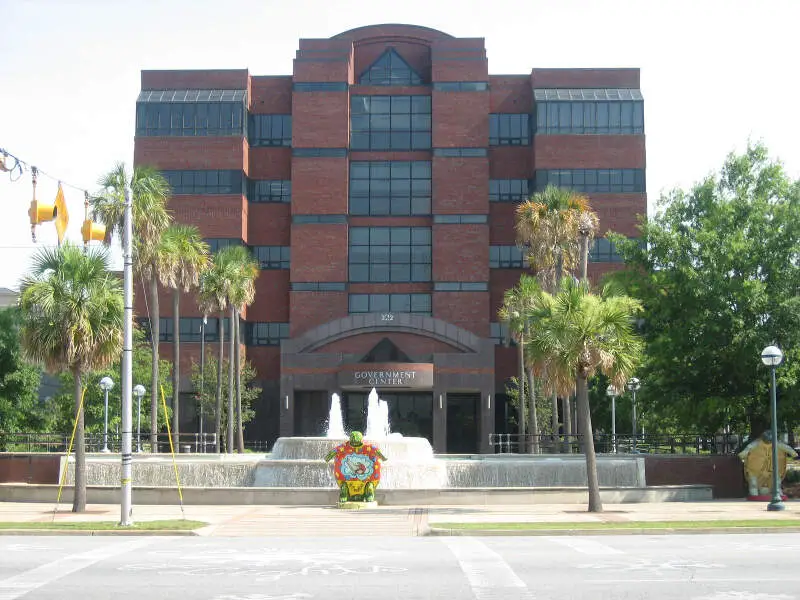 Source: Public domain
At number 10 on our list - Albany, located in southwest Georgia has a population of just over 73,478 people, but it's declining quickly. People are leaving this city left and right for a number of reasons.
For starters, people are jobless. Albany has the 5th worst unemployment rate at nearly 30.8% and has more than double the state and country's poverty rate. Education could be to blame, only about 20 percent of adults living in Albany hold a bachelor's degree compared to 31 percent of adults nationwide. Houses here are also dirt cheap - the city has the 2worst median home value in the state.
And this should come as no surprise...crime is also a major issue here. Albany ranks in the bottom third for crime. If you live here, you have a 1 in 13 chance of being a victim of crime.
To sum it up, Albany has all of the problems of a very small town - lack of good restaurants, cultural activities and museums, and none of the benefits - pride in the city, good schools or a neighborly feel. Meanwhile, it has all of the problems of a big city - high crime, traffic, corruption, poor schools - and none of the good - fine restaurants, good shopping, art shows and musical events.
Let's just say, people who grew up here and left say "Albany is a great place to be FROM."
How we determined the worst places to live in Georgia for 2021
To figure out how bad a place is to live in, we only needed to know what kinds of things people like and then decide what cities have the least amount of those things.
We don't think it's a stretch to assume that people like the following things:
Good education
Lots of jobs
Low crime
Low poverty
Nice homes
High incomes
High population density (Lots of things to do)
Short work commutes
Health insurance
The data comes from the Census's most recent American Community Survey and from the FBI Uniform Crime Report.
We broke crime down into violent crime and property crime to give violent crime a larger weight -- if you did a simple calculation of all crimes per capita, property crimes are normally 7x more common and really bias that ranking.
Furthermore, only cities with at least 5,000 people were considered -- leaving 123 cities.
We then ranked each city from 1 to 123 for all the criteria with a #1 ranking being the worst for the particular criteria.
Next, we averaged the rankings into one "Worst Place To Live Score".
Finally, we ranked every city on the "Worst Place To Live Score" with the lowest score being the worst city in Georgia -- Camilla. Read on for a detailed look at the 10 worst cities in Georgia. You can download the data here.
This list is a scientific analysis based on real data and is completely unbiased.
Wrapping Up The Worst In Georgia
If you're looking at areas in Georgia with the worst economic situations, where there's higher than average crime, and not a lot to do, this is an accurate list.
And in the end, Camilla ranks as the worst city to live in Georgia for 2021.
If you're curious enough, here are the best cities to live in Georgia:
Milton (Pop. 38,759)
Sandy Springs (Pop. 107,072)
Alpharetta (Pop. 65,590)
For more Georgia reading, check out:
Where Are The Worst Places To Live In Georgia?
| Rank | City | Population |
| --- | --- | --- |
| 1 | Camilla | 5,126 |
| 2 | Forest Park | 19,723 |
| 3 | Clarkston | 12,750 |
| 4 | Monroe | 13,418 |
| 5 | Moultrie | 14,069 |
| 6 | Morrow | 6,965 |
| 7 | Swainsboro | 7,396 |
| 8 | College Park | 14,501 |
| 9 | Bainbridge | 12,199 |
| 10 | Albany | 73,478 |