This article is an opinion based on facts and is meant as infotainment. It is our seventh time ranking the most dangerous places to live in California and is updated for 2021.
What do Biggie, Tupac, and Snoop Dogg have in common? They've all written songs about some of the most dangerous places in California.
That's right, from Stockton to Compton, The Golden State has some pretty sketchy places and RoadSnacks is here to tell you just where those places are located. Yes, we've done the unthinkable and created a list of the top ten most dangerous places in California for 2021.
In order to compile our list, we looked at FBI data for violent crimes and property crimes in California cities with a population of 5,000. That left us with 415 cities. We discovered that the cities that made our list have robberies happening in broad daylight, car jackings, and daily shootings. There are neighborhoods in these cities that you shouldn't drive thru, ever, and there are areas that you definitely shouldn't be in after dark.
Why'd we make this list? We did this for the people who don't necessarily want to travel to these places, but want to know the facts. And the facts are as follows: one, the state's violent and property crime is up above the national average and still climbing; and two, the effects of these numbers are continuing to claim many of California's biggest cities. Cities like Oakland and San Bernardino just can't catch a break.
California's crime numbers have also catapulted the state into the top 20 most dangerous states in America; and sadly, the home to Hollywood currently has nine-yes, nine- of the most dangerous cities in the country.
Want to learn more about our methodology and where California's most dangerous places are located? Keep reading, there may be some that surprise you.
The 10 Most Dangerous Places To Live In California For 2021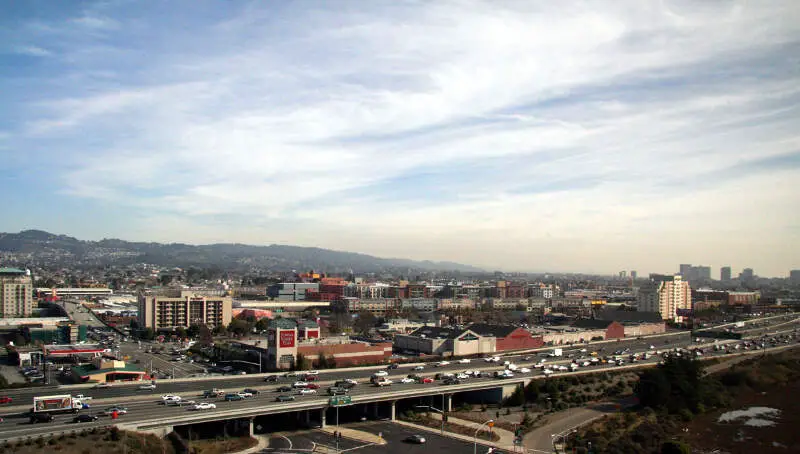 Four years running, and Emeryville still tops our list of the most dangerous places to live in California; not exactly a title they're keen to hold onto, I'm sure. Located north of Oakland and east of San Francisco, Emeryville is also home to the Pixar Studios.
Those cute Pixar characters would be way out of their element if they landed in Emeryville, though, where they'd have a 1 in 74 chance of being the victim of a violent crime and a shocking 1 in 4 chance of being at the receiving end of a property crime.
So if you're out for a shopping spree on Bay Street, be sure to get out quick, or your day's haul could easily get snatched. The good news? Emeryville didn't have a single murder last year, so that's something.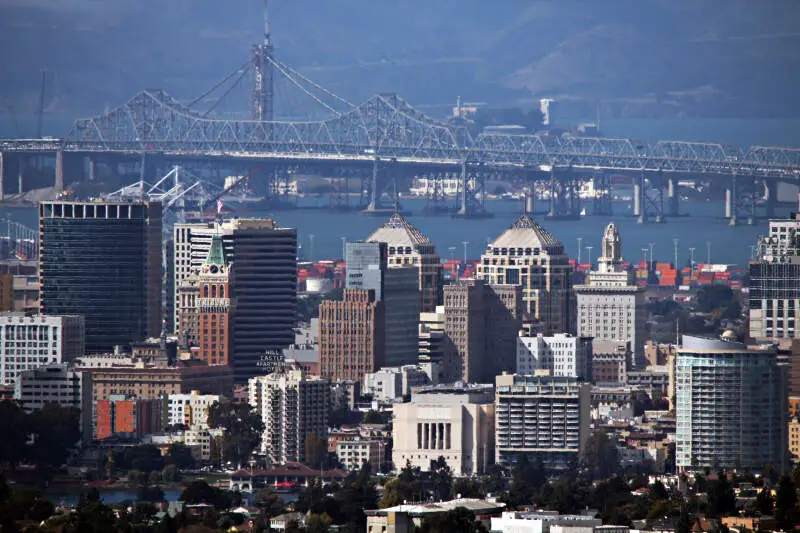 Oakland gets a bad wrap for being hella dangerous, but, in this case, the stereotype is all too true. With an overall crime rate 150% higher than the national average, a murder happening every five days on average, and the third highest rate of property crime in California, the statistics lead to the inescapable conclusion that Bump City is far from safe.
On the plus side, Oakland still has plenty of family-friendly spots where you don't have to be looking over your shoulder constantly, like the entertainment and business destination, Jack London Square on the city's waterfront, and the Oakland Zoo in Grass Valley.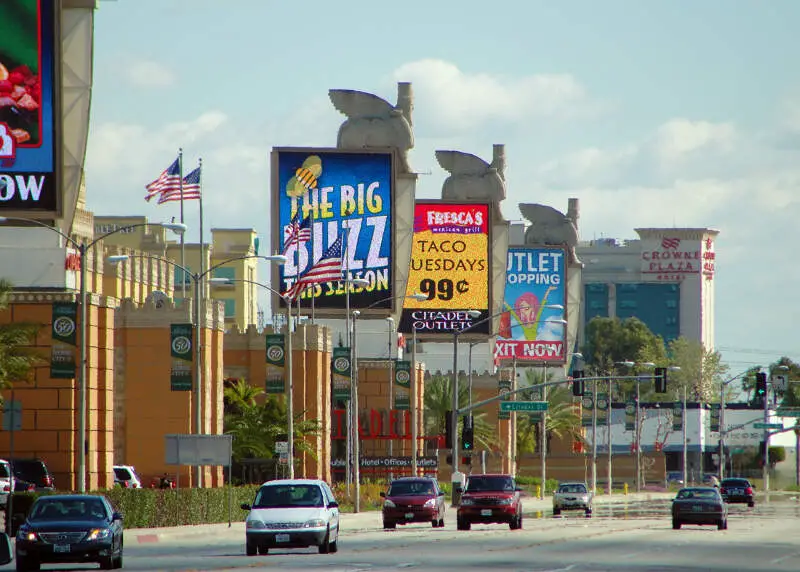 Located just southeast of Los Angeles, Commerce is nicknamed "The Model City," but it has a long way to go before it can be truly described as a model for crime rates. Over the course of a year, any given resident has a 1 in 12 chance of being the victim of a property crime, the second highest rate in California.
Commerce's violent crime, on the other hand, has been dropping at a steady rate in recent years, but it's still prevalent enough to rank as the 12th most violent place in California for 2019. At least nobody has to resort to pickpocketing for bus fare, because Commerce is one of the few cities in California to offer free bus service.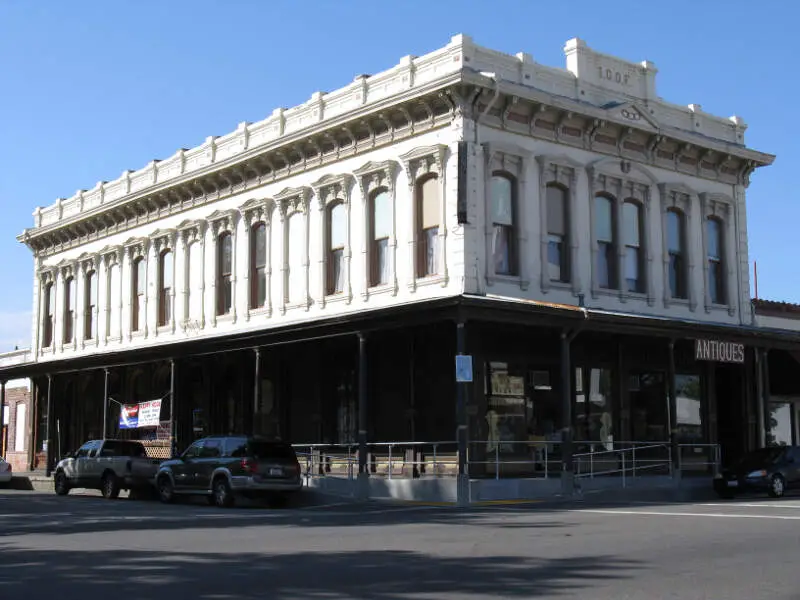 Located on the northern edge of the Sacramento Valley, Red Bluff comes in as the fifth most dangerous place in California. While it may not be a major city, or near a major city, Red Bluff experienced a shocking rate of violent crime in 2019, the 14th highest statewide. So if you're out for a day at the Sacramento River Bend, your reasons for bringing along some bear mace are twofold.
Property crime is slightly less of a problem in Red Bluff, but a 1 in 18 chance of being robbed or having your property damaged is certainly less than ideal. Unfortunately, Red Bluff also had the third highest rate of rape cases in California recorded in 2019.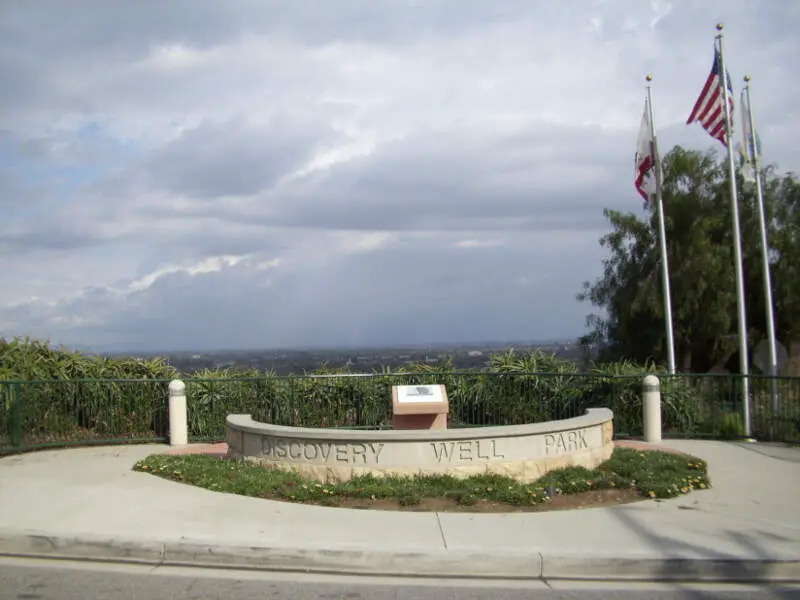 An enclave surrounded entirely by Long Beach, Signal Hill comes in as the fifth most dangerous place to call home in California.
It's honestly hard to believe you're less than 15 minutes from the ritzy Naples neighborhood of Long Beach in Signal Hill. Residents have a 1 in 17 chance of being the victim of a property crime, the fourth highest rate in California.
On the bright side, Signal Hill's violent crime rate is better than most cities on this list. The bad news? Signal Hill wasn't even in the top 20 most dangerous places last year, so things are becoming markedly less safe here.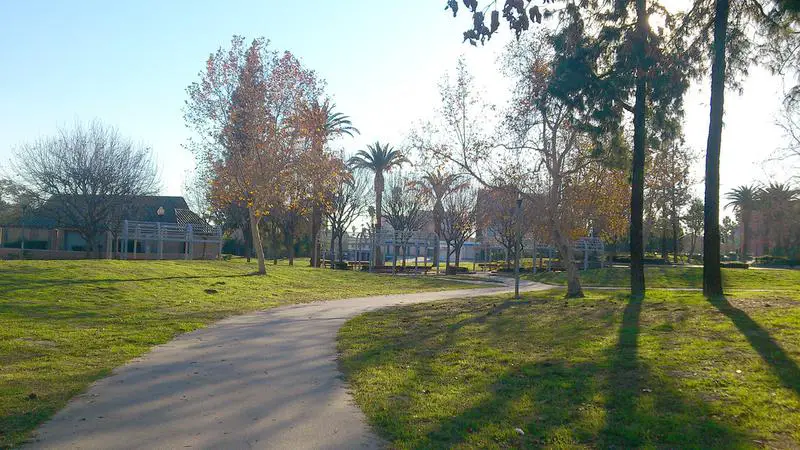 San Bernardino made headlines in 2015 for being the site of one of the worst domestic terrorist attacks in the country's history. While this was obviously a shocking one-off event, San Bernardino remains one of the most violent places in California. With 46 murders in 2019, San Bernardino had the third highest murder rate in the state for 2019.
While we think having your car robbed is a lot less tragic than being physically assaulted, San Bernardin's saving grace is that it has the lowest property crime rate of cities listed here. So you don't have to worry too much about the Hamburglar coming by to snatch your lunch when you go visit the site of the original McDonald's restaurant.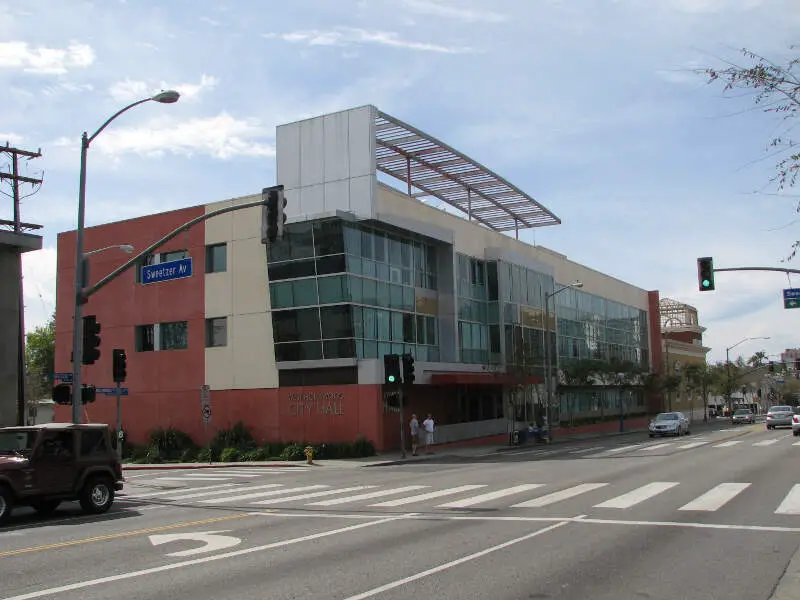 Hollywood is famous for producing films that showcase ungodly amounts of violence and property damage, but the real West Hollywood is a hub of such acts in its own right. West Hollywood's property crime rate is the ninth highest in the state, and rape cases are the 39th highest.
West Hollywood somewhat makes up for these disappointing numbers by having one of the lowest rates of violent crime on this list, as well as an 8/10 overall SnackAbility score. Plus, it's home to one of the largest LGBTQ communities in the nation, and the Sunset Strip is an excellent place to spend the day.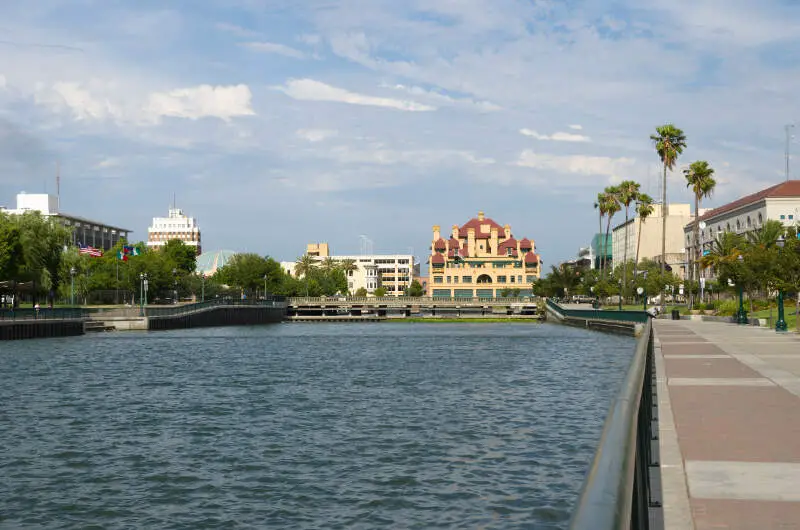 Source: Public domain
Some might be surprised to see Stockton so low on this list, but FBI data speaks louder than stereotypes. On the other hand, the stereotypes about Stockton to have some factual basis in reality.
The city had the third highest violent crime rate in California, with 34 murders, 181 rapes, and 3,007 aggravated assaults.
Property crime is Stockton's saving grace, seeing as the city has the lowest rates of theft and property damage on this list. Still, watch your pockets if you're out at one Stockton's annual events, or you'll join the 8,480 larceny victims Stockton had in 2019.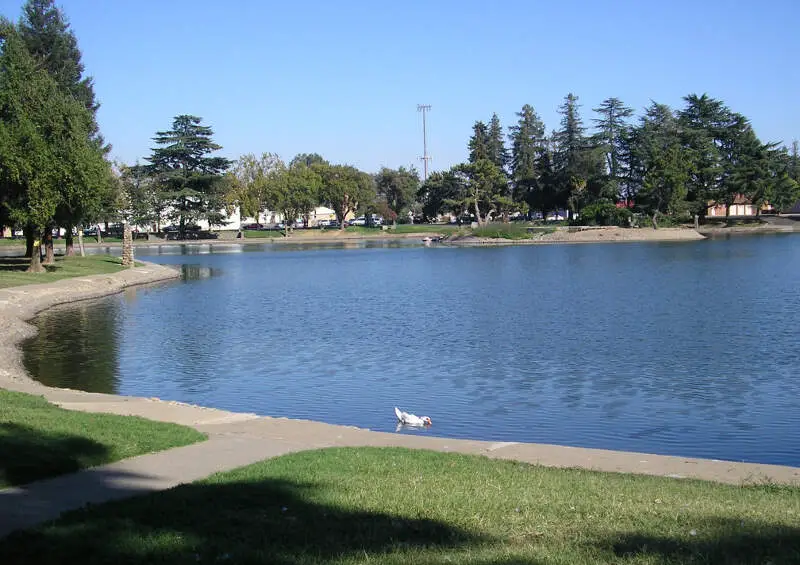 Source: Public domain
Located about 40 miles north of Sacramento, Marysville comes in as California's ninth most dangerous city.
It might surprise you to hear that Marysville actually had about twice as many car thefts per capita as Stockton, so be sure to lock your car doors here.
Marysville also had the fourth highest rate of rape cases in the state, recording 20 in 2019. The city also had 2 murders, which is quite high for a place with only 12,572 people.
So if you're going out toEllis Lake, bring a buddy and get home before dark.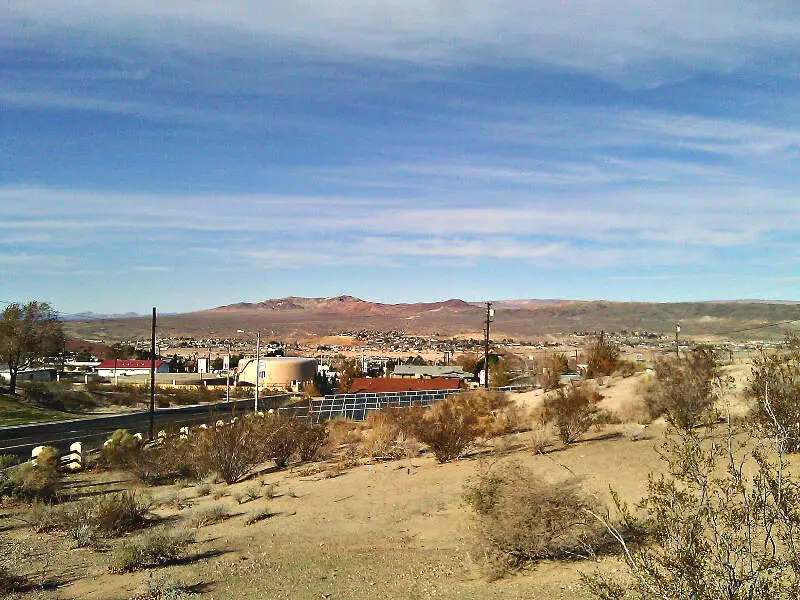 Situated between Los Angeles and Las Vegas, Barstow is far more dangerous than either of the two world-famous cities. Not to mention that Barstow has only gotten more unsafe since the last year of available data.
Burglary is especially prevalent in Barstow and ranks as the fourth highest rate in California. Barstow's violent crime rate as a whole is also in the top ten statewide. At least residents have the majestic Rainbow Basin to visit whenever the anxiety over high crime rates becomes too much.
Graphing The Most Dangerous And Safest Places In California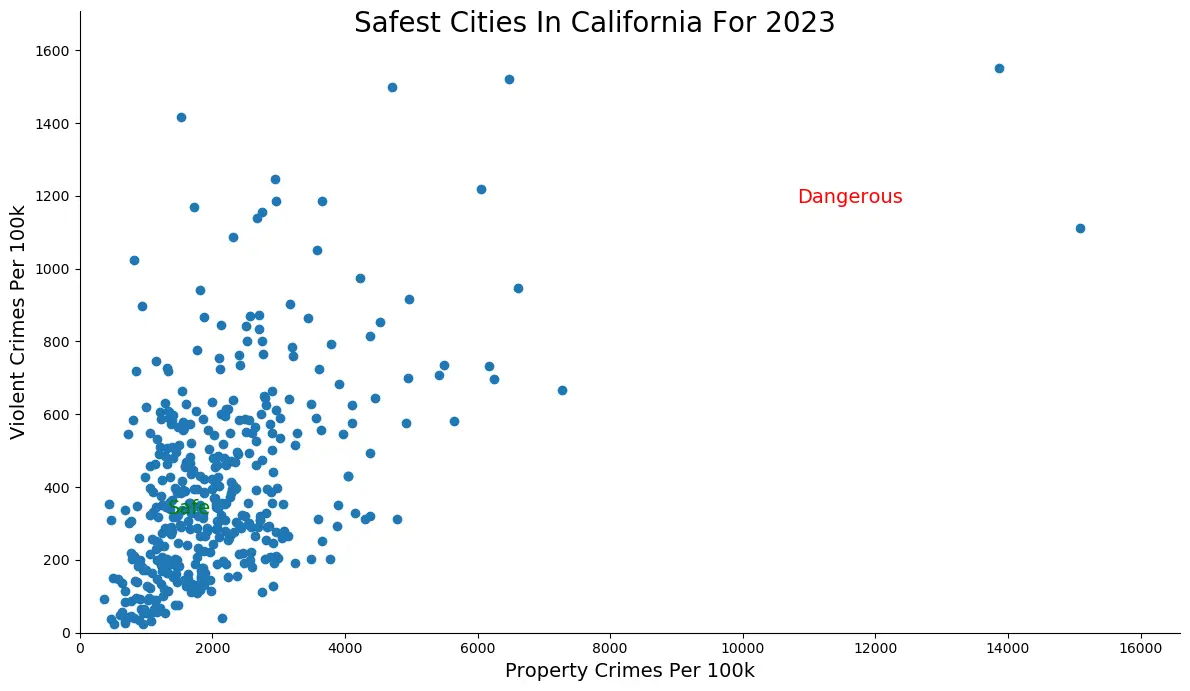 Click To Enlarge
How we determined the most dangerous cities in California for 2021?
Every year the FBI release two crime datasets, a preliminary dataset limited to the biggest cities in the country, followed by a more detailed release at the end of the year.
For our analysis, we focused on the JUST released 2019 data, specifically the 2019 Crime In The United States Report. We will update the results when data becomes available in September 2021.
So what criteria did we use? Have a look:
Violent Crimes Per Capita
Property Crimes Per Capita
In order to make the analysis as apples to apples as possible, we only considered California cities over 5,000 in population. That left us with 415 cities in California.
We then ranked each city from 1 to 415 for the two criteria with a #1 ranking being the most dangerous for the particular criteria.
Next, we averaged the two rankings into one "Dangerous Index".
Finally, we ranked every city on the "Dangerous Index" with the lowest index being the most dangerous in California — Emeryville. Any ties went to the smaller city. You can download the data here.
Read on for a detailed look at the 10 most dangerous cities in California.
Locking It All Up In California
So what is the most dangerous city in California? After analyzing 415 cities in California, Emeryville takes the top spot as the most dangerous city in California based on the most recently reported FBI data — 2019.
The latest FBI crime data shows that Emeryville ranks as the most dangerous city in California for 2021.
We want to point out again that there's still safes places in Emeryville and that this isn't a comment on the people that live there. So please don't beat us up.
Do we think the problems in California's most dangerous places are directly related to high umeployment, poor wages, and a lack of rehabilitation programs? Absolutely. Not to mention, rent in most of California's safest places and best places to live is out of reach for most people, making it difficult for people to make a move. This keeps the people in these places feeling angry, defeated, and more likely to commit a crime.
So, what is the most dangerous place in California? That would be, Emeryville.
To see how the rest of your favorite places in California faired, take a look below; and if you don't find your favorite there, head to the bottom.
Learn more about the safest places in California.
If you're looking for something more national, check out the most dangerous cities in America or the most dangerous states in America.
Here are the safest cities in California:
Hillsborough (Pop. 11,521)
Moorpark (Pop. 36,826)
Tiburon (Pop. 9,135)
Laguna Woods (Pop. 16,043)
Los Altos Hills (Pop. 8,622)
Hughson (Pop. 7,671)
Rancho Santa Margarita (Pop. 48,377)
Danville (Pop. 44,997)
Palos Verdes Estates (Pop. 13,400)
Imperial (Pop. 18,090)
For more California reading, check out:
The Most Dangerous Cities In California
| Rank | City | Population |
| --- | --- | --- |
| 1 | Emeryville | 12,380 |
| 2 | Oakland | 434,036 |
| 3 | Commerce | 12,804 |
| 4 | Red Bluff | 14,308 |
| 5 | Signal Hill | 11,624 |
| 6 | San Bernardino | 216,715 |
| 7 | West Hollywood | 37,173 |
| 8 | Stockton | 313,604 |
| 9 | Marysville | 12,572 |
| 10 | Barstow | 24,121 |
| 11 | San Francisco | 886,007 |
| 12 | Needles | 5,001 |
| 13 | Eureka | 26,973 |
| 14 | Richmond | 110,988 |
| 15 | Vallejo | 122,657 |
| 16 | Santa Monica | 91,621 |
| 17 | Santa Fe Springs | 18,041 |
| 18 | Oroville | 19,268 |
| 19 | El Cerrito | 25,857 |
| 20 | Santa Cruz | 65,263 |
| 21 | Modesto | 216,542 |
| 22 | Atwater | 29,632 |
| 23 | Dos Palos | 5,594 |
| 24 | Berkeley | 122,788 |
| 25 | Montclair | 39,787 |
| 26 | San Leandro | 90,297 |
| 27 | Clearlake | 15,400 |
| 28 | Palm Springs | 48,846 |
| 29 | Big Bear | 5,311 |
| 30 | Anderson | 10,545 |
| 31 | Grass Valley | 12,919 |
| 32 | San Pablo | 31,336 |
| 33 | Sacramento | 513,934 |
| 34 | Huntington Park | 58,181 |
| 35 | South Gate | 94,445 |
| 36 | Culver City | 39,252 |
| 37 | El Segundo | 16,727 |
| 38 | Bakersfield | 388,080 |
| 39 | Fort Bragg | 7,366 |
| 40 | Turlock | 74,120 |
| 41 | Merced | 83,854 |
| 42 | Compton | 96,638 |
| 43 | Taft | 9,413 |
| 44 | Rialto | 103,965 |
| 45 | Pomona | 152,776 |
| 46 | Antioch | 112,641 |
| 47 | Lompoc | 42,818 |
| 48 | Desert Hot Springs | 29,107 |
| 49 | Blythe | 19,889 |
| 50 | Riverside | 333,260 |