This article is an opinion based on facts and is meant as infotainment. It is our seventh time ranking the most dangerous places to live in Arizona and is updated for 2021.
You not only have to worry about killer snakes, killer cacti, and killer heat in Arizona, you now have to worry about its dangerous cities.
Lucky for you, we have the top ten most dangerous cities in Arizona broken down for you. Why did we produce this list? Well, we're trying to help one navigate these dangerous cities when trying to make an informed decision on what city they should call home. To compile our list, we looked at violent crimes and property crimes in cities with a population of 5,000. That left us with 48 cities.
Let's be real, we're not talking about snowbird drivers driving too slow kind of danger. The type of danger we're talking about gets people on the news. Folks, the cities that made our list have robberies happening in broad daylight, car jackings, and daily shootings. There are neighborhoods in these cities that you shouldn't drive thru, ever, and there are areas that you definitely shouldn't be in after dark. We're not saying that there aren't little pockets of goodness in these cities. There are neighborhoods and shopping centers in these Arizona cities like Phoenix and Mesa that are not ALL bad. We do, however, recommend that you spend some time studying them before you make a move.
It's not entirely Arizona's fault. They are the 14th largest state in terms of population. As with most situations, there's bound to be problems with that many people. And it wouldn't be fair if we didn't mention that there are good people and organizations in these cities trying to make a difference. To see where these Arizona cities with more issues than a magazine are located, take a look below at our most dangerous cities in The Grand Canyon State for 2021.
The 10 Most Dangerous Places To Live In Arizona For 2021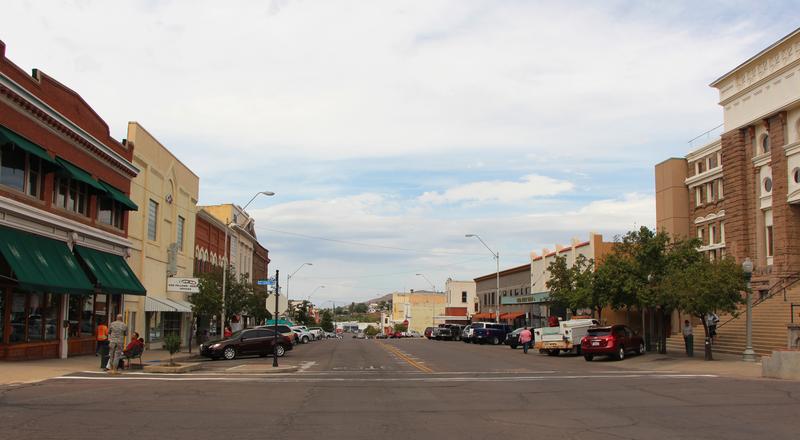 Globe retains its top spot on our list of Arizona's most dangerous places for the second year running, thanks to high rates of both violent and property crime.
Folks in Globe had a 1 in 54 chance of being the victim of a violent crime in 2019, with a whopping 130 aggravated assaults reported.
Property crime also ranked as the second highest in Arizona, with 424 larcenies recorded over the year. Besides protecting your pockets and purses, you should also keep your doors locked here, because Globe also had the fourth highest burglary rate in Arizona.
If you want to drive as far away from Globe's crime as possible, you're in luck, because the Salt River Canyon Scenic Drive starts here.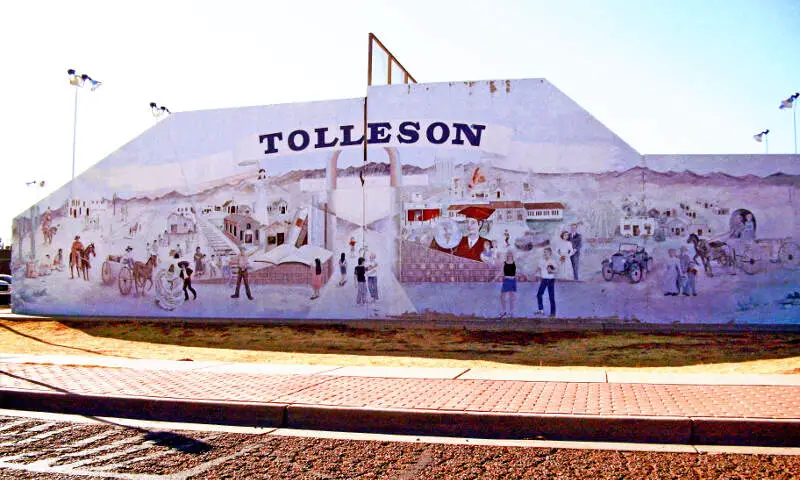 Located on the west side of the Phoenix metro area, Tolleson is far from safe.
In fact, the total crime rate in Tolleson is the highest in Arizona, about four times higher than the national average.
That's mostly because Tolleson's residents had a 1 in 11 chance of being the victim of a property crime in 2019 — a crazy high rate. In other words, check to make sure you still have all your valuables after a hike at Monument Hill.
Violent crime is also a pretty big problem in Tolleson, considering the small city of 7,399 had 20 robberies and 44 aggravated assaults over the year.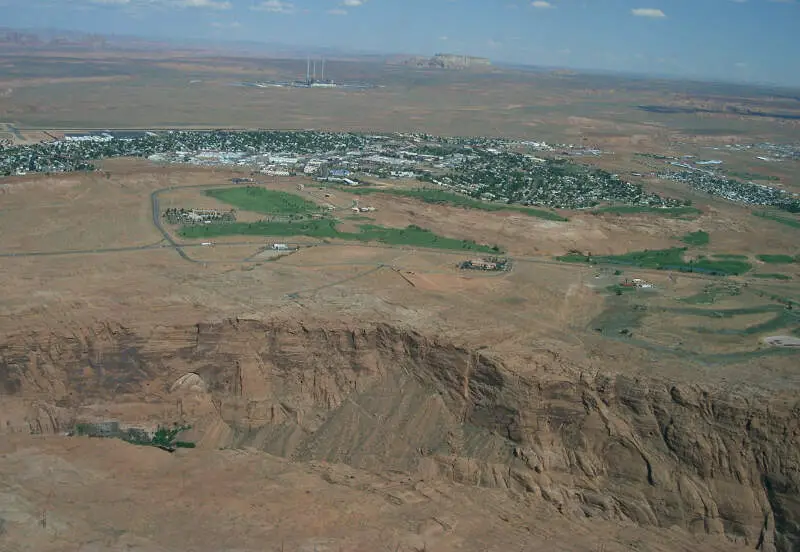 Page is a popular tourist spot thanks to all the great outdoors opportunities that surround it, but having random people come and go has contributed to the city's high crime rate.
Certainly, a lot of that crime is stolen phones and wallets, given Page's status as the place with the third highest rate of property crime in Arizona.
But there's even more sinister stuff going down in Page. The city had the highest rate of rape cases and the third highest murder rate in Arizona. Overall, folks had a 1 in 60 chance of being violently attacked in Page in 2019.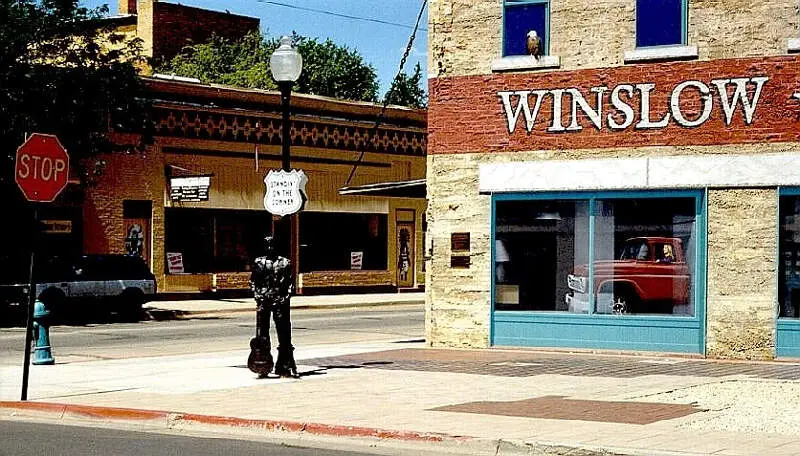 Source: Public domain
The Eagles put Winslow on the map with their hit song "Take it Easy," but folks in Winslow must have a tough time taking it easy with such high crime rates.
The violent crime rate in Winslow is more than twice as high as the national average, with 126 cases recorded in 2019. That's super high for a city of just 9,393.
And it's not like property crime in Winslow is much better; the city averaged more than one property crime per day over the year.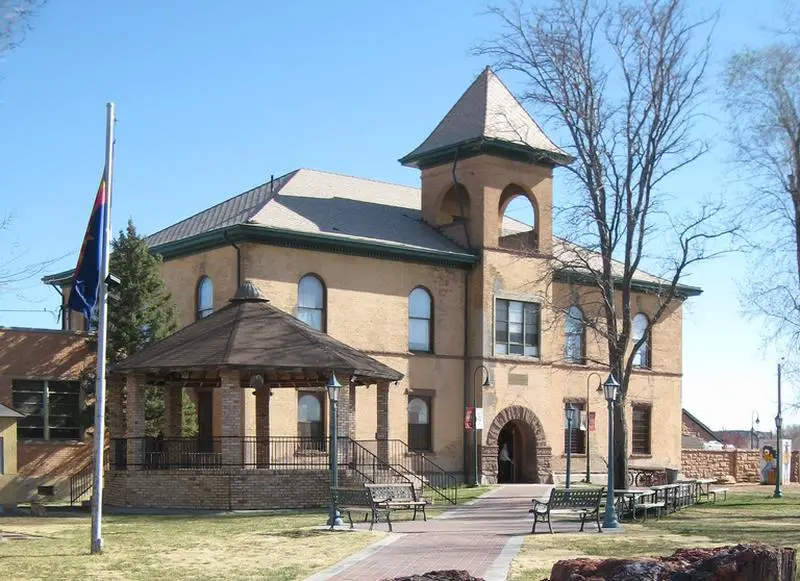 Yet another city in Navajo County, Holbrook ranks as Arizona's fifth most dangerous place. Holbrook is home to the Petrified Forest National Park, but the trees aren't the only things that are petrified here.
Holbrook's residents have good reason to be petrified, given that the city had the second highest burglary rate in Arizona, with 86 such cases reported in 2019.
On top of that, folks in Holbrook had a 1 in 130 shot of being the victim of an attack, so it's not the type of place you want to let your guard down.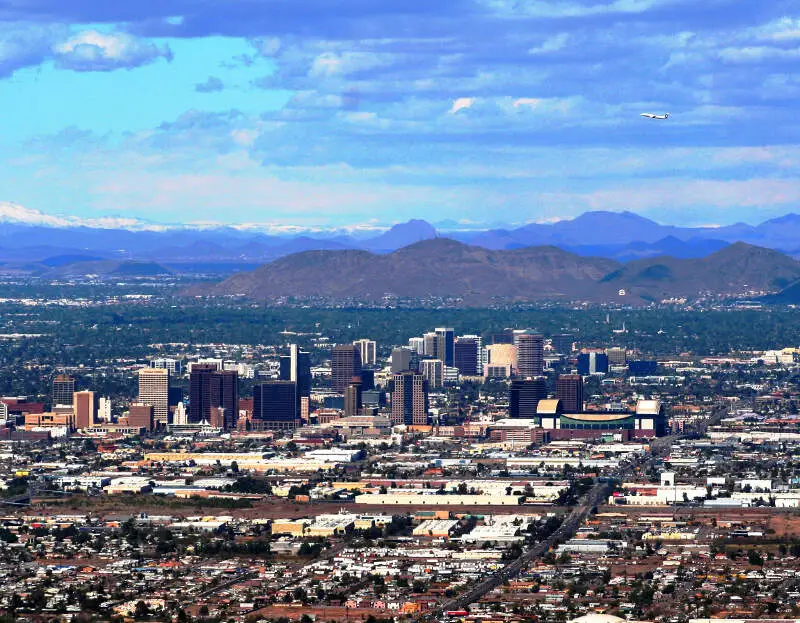 Source: Public domain
From the top of Camelback Mountain , Phoenix looks peaceful, but it's actually the sixth most dangerous place in Arizona.
Phoenix had the fourth highest rate of rape cases and sixth highest murder rate in Arizona. And those cases only make up a small proportion of the 11,803 violent crimes committed in Phoenix in 2019.
On top of that, residents of Phoenix faced a whopping 1 in 30 chance of having their stuff stolen or damaged, with a staggeringly high 9,471 burglaries and 7,076 car thefts.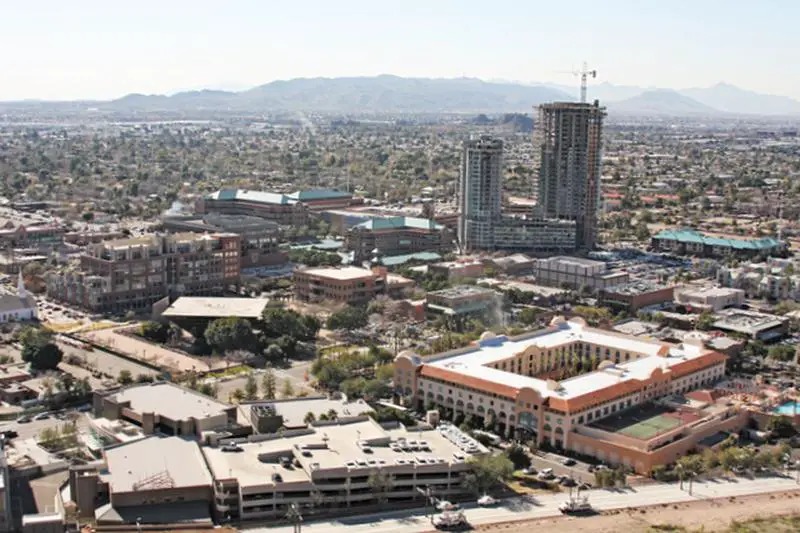 A city of 196,499 located in Phoenix's East Valley section, Tempe comes in as Arizona's seventh most dangerous place to call home.
Tempe is home to Arizona State University, and while we're not exactly blaming college students for the high crime rates, it can't help having the population swell by up to 50,000 for the academic year.
Tempe had the third highest rate of rape cases in Arizona for 2019, but other violent crime stats here are actually not so bad.
The property crime rate, on the other hand, ranks as the seventh highest statewide.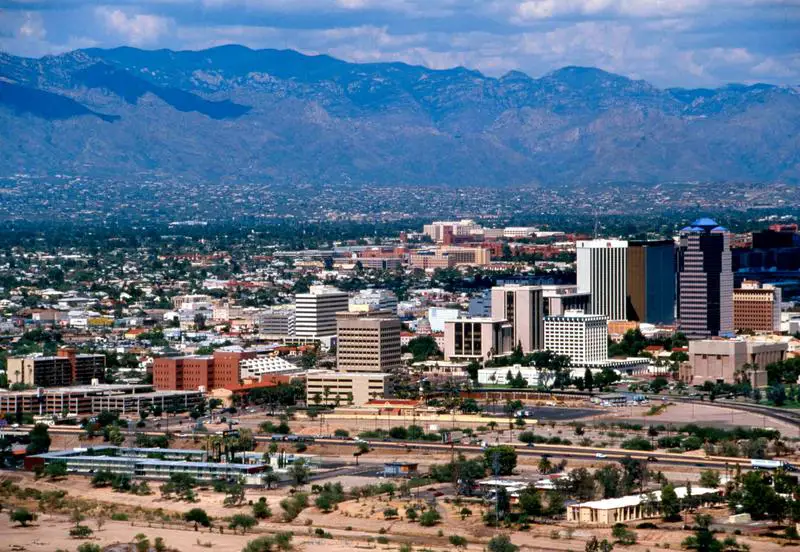 Source: Public domain
Tucson bills itself as "America's biggest small town," but if small-town values imply low crime rates, then we're calling shenanigans on that title.
Tucson residents have more to fear from criminals than any wildlife they might run into at Sabino Canyon, considering the city had the seventh highest violent crime rate in the state.
That includes the second highest rape rate and seventh highest murder rate in Arizona.
You also have to worry about your house or car getting broken into in Tucson, which recorded 2,497 burglaries and 2,250 car thefts in 2019.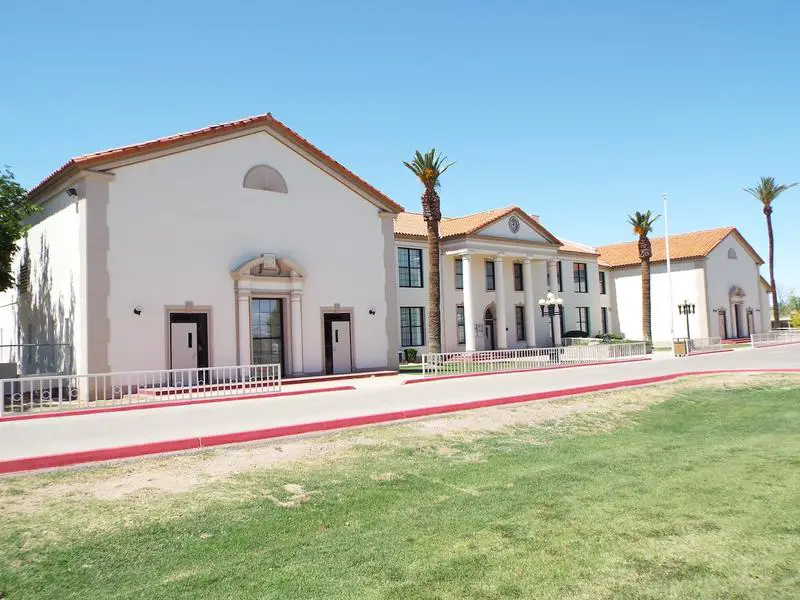 We already put Coolidge on our list of the worst places to live in Arizona thanks to its crazy high unemployment rate and low home values.
And that was before Coolidge jumped up 9 spots on the crime rate list since last year.
Violent crime is especially prevalent in Coolidge, which had the second highest murder rate in Arizona for 2019. So make sure to buddy up if you're going for a check out Casa Grande Ruins after dark.
Coolidge is located halfway between Phoenix and Tucson.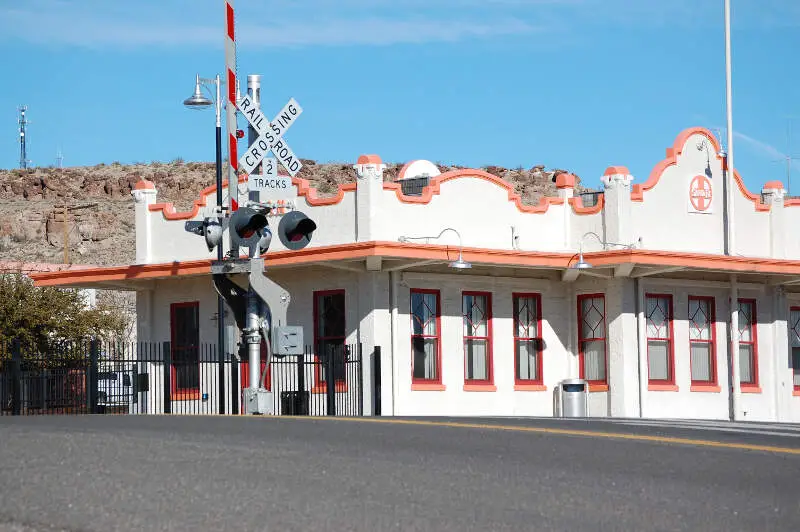 The county seat of Mohave County in western Arizona, Kingman rounds out our list of Arizona's most dangerous cities. Known as "The Heart of Historic Route 66," Kingman is also home to plenty of property crime.
In fact, even though Kingman is at the bottom of this list, it had the sixth highest total crime rate in Arizona, thanks to especially high rates of property crime.
Folks in Kingman had a 1 in 22 shot of being the victim of a property crime in 2019, so keeping an eye on your valuables is just good protocol here.
Graphing The Most Dangerous And Safest Places In Arizona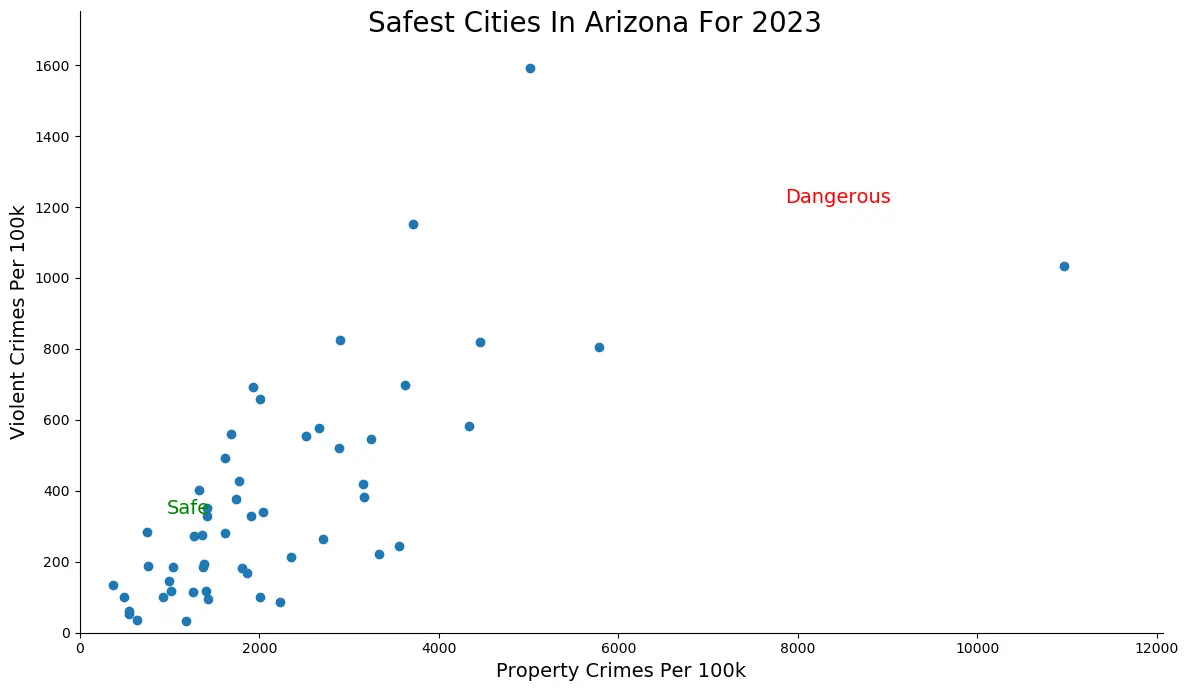 Click To Enlarge
How we determined the most dangerous cities in Arizona for 2021?
Every year the FBI release two crime datasets, a preliminary dataset limited to the biggest cities in the country, followed by a more detailed release at the end of the year.
For our analysis, we focused on the JUST released 2019 data, specifically the 2019 Crime In The United States Report. We will update the results when data becomes available in September 2021.
So what criteria did we use? Have a look:
Violent Crimes Per Capita
Property Crimes Per Capita
In order to make the analysis as apples to apples as possible, we only considered Arizona cities over 5,000 in population. That left us with 48 cities in Arizona.
We then ranked each city from 1 to 48 for the two criteria with a #1 ranking being the most dangerous for the particular criteria.
Next, we averaged the two rankings into one "Dangerous Index".
Finally, we ranked every city on the "Dangerous Index" with the lowest index being the most dangerous in Arizona — Globe. Any ties went to the smaller city. You can download the data here.
Read on for a detailed look at the 10 most dangerous cities in Arizona.
Locking It All Up In Arizona
So what is the most dangerous city in Arizona? After analyzing 48 cities in Arizona, Globe takes the top spot as the most dangerous city in Arizona based on the most recently reported FBI data — 2019.
The latest FBI crime data shows that Globe ranks as the most dangerous city in Arizona for 2021.
We want to point out again that there's still safes places in Globe and that this isn't a comment on the people that live there. So please don't beat us up.
What are the circumstances that make these Arizona cities this way? Maybe not enough jobs, low wages, drugs, gangs; and in Arizona's case, higher than normal temps making people act crazy?
We're not entirely sure. But one thing we are sure about is the number one most dangerous city in Arizona for 2021 is Globe.
The Arizona cities on our most dangerous list could definitely use some some good luck. So, if you're looking to take a gamble, or you're just curious to see if your city made the list, take a look at our list below. And if you don't see your city there, head to the bottom.
Learn more about the safest places in Arizona.
If you're looking for something more national, check out the most dangerous cities in America or the most dangerous states in America.
Here are the safest cities in Arizona:
Maricopa (Pop. 50,881)
Surprise (Pop. 140,962)
Lake Havasu City (Pop. 55,413)
Prescott Valley (Pop. 46,700)
Sahuarita (Pop. 30,928)
San Luis (Pop. 34,192)
Florence (Pop. 26,385)
Gilbert (Pop. 253,619)
Oro Valley (Pop. 45,970)
Paradise Valley (Pop. 14,733)
For more Arizona reading, check out:
The Most Dangerous Cities In Arizona
| Rank | City | Population |
| --- | --- | --- |
| 1 | Globe | 7,323 |
| 2 | Tolleson | 7,399 |
| 3 | Page | 7,588 |
| 4 | Winslow | 9,393 |
| 5 | Holbrook | 5,098 |
| 6 | Phoenix | 1,688,722 |
| 7 | Tempe | 196,499 |
| 8 | Tucson | 548,374 |
| 9 | Coolidge | 13,138 |
| 10 | Kingman | 30,600 |
| 11 | Flagstaff | 75,013 |
| 12 | Show Low | 11,401 |
| 13 | Cottonwood | 12,331 |
| 14 | Bullhead City | 40,532 |
| 15 | Avondale | 87,117 |
| 16 | Glendale | 253,951 |
| 17 | Camp Verde | 11,286 |
| 18 | Casa Grande | 58,366 |
| 19 | Yuma | 98,769 |
| 20 | Safford | 9,916 |
| 21 | Snowflake-Taylor | 10,173 |
| 22 | Prescott | 43,781 |
| 23 | El Mirage | 36,185 |
| 24 | Nogales | 20,112 |
| 25 | Mesa | 518,160 |
| 26 | Payson | 15,760 |
| 27 | Sierra Vista | 44,310 |
| 28 | Wickenburg | 7,054 |
| 29 | Douglas | 15,786 |
| 30 | Goodyear | 85,305 |
| 31 | Peoria | 174,571 |
| 32 | Chandler | 259,881 |
| 33 | Chino Valley | 12,162 |
| 34 | Scottsdale | 260,464 |
| 35 | Marana | 48,816 |
| 36 | Thatcher | 5,177 |
| 37 | Buckeye | 77,904 |
| 38 | Somerton | 16,771 |
| 39 | Maricopa | 50,881 |
| 40 | Surprise | 140,962 |
| 41 | Lake Havasu City | 55,413 |
| 42 | Prescott Valley | 46,700 |
| 43 | Sahuarita | 30,928 |
| 44 | San Luis | 34,192 |
| 45 | Florence | 26,385 |
| 46 | Gilbert | 253,619 |
| 47 | Oro Valley | 45,970 |
| 48 | Paradise Valley | 14,733 |