If you've ever been to Arizona, you know it's a beautiful place. The desert landscapes are some of the prettiest places in the country, and the mountain areas have some of the best outdoor activities in the entire southwest.
But is it all great in the Copper State? Of course not. Just like every other state, Arizona has its trouble spots. The purpose of this post is to use science and data to determine which cities in Arizona are the least desirable to live in.
Of course, you'll most likely disagree if you see your town atop this list. But nonetheless, according to science, these cities are the worst places you could possibly live if you make Arizona your home. These places need a big hug right about now.
After analyzing 54 of the state's most populous cities (over 5,000 people), we came up with this list as the 10 worst places to live in Arizona:
The 10 Worst Places To Live In Arizona For 2021
What? Where are these places you wonder? And before you get all riled up and say we're picking on small town America, that's not the case.
We understand there's a lot of good in every place.
However, according to data (which doesn't measure things like beauty and 'friendly people'), there are far better options in the state for making a place home. And the worst place to live in Arizona? That would be Guadalupe.
Read on below to see how we crunched the numbers and see how your city fared in 2021.
If you're looking for something more national, check out the worst cities in America or the worst states in America.
For more Arizona reading, check out:
The 10 Worst Places To Live In Arizona For 2021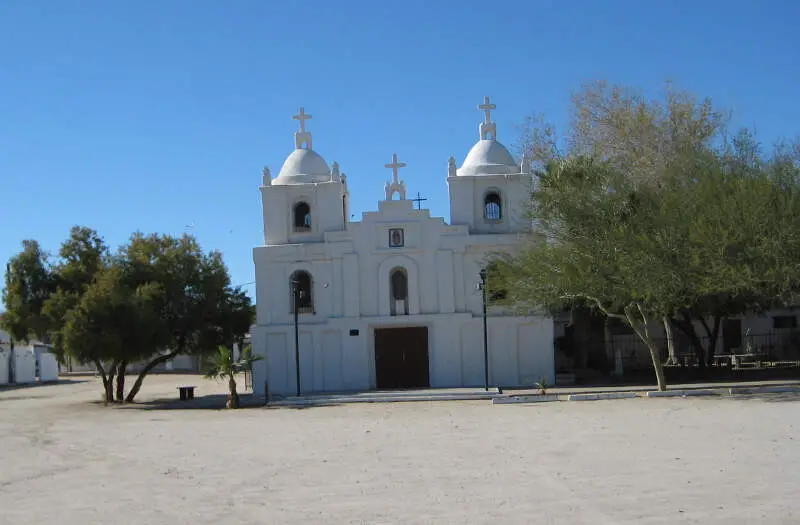 Guadalupe sits just outside of Phoenix, about 20 minutes from the center of the state's biggest population center. Meanwhile, it's also on the edge of the South Mountain Park and Reserve, providing access to abundant outdoor activities. Unfortunately, this great location comes with problems. Guadalupe also serves as the number 1 least appealing town in Arizona.
The economy is the main challenge for the 6,482 residents of Guadalupe. About 35.3% of them live below the poverty line. The median income sits at $38,125 and the unemployment rate hovers at 9.0%.
With such a limited tax base, Guadalupe also suffers from bad schools. They rank a score of 4/10 on Great Schools.
Eloy, along I-10 south of Chandler, is also a hot mess right now. There are some big economic problems here AND crime is really high. In fact, Eloy is the 24th most dangerous place you can live in Arizona.
Residents in Eloy have a 1 in 32.3 chance of being the victim of a property crime. That's a lot of stolen laptops, cell phones and sunglasses.
When you're considering home prices, you can't do much lower than in Eloy, where average homes are valued at only $100,100. That's the 4th-lowest in the state. But residents earn far less than in other cities, so their mortgage payments might still seem overwhelming.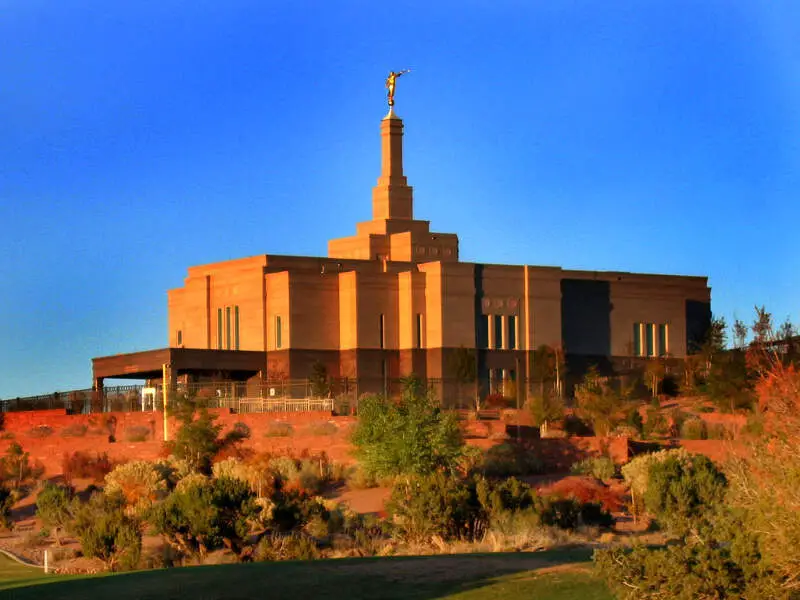 Snowflake has an ironic name. Typically, the average temperature in the area never drops below the high 40s. So, as you might guess, snowflakes are rare in Snowflake. That's not all the community is missing. The town counts as the number 3 place you'd most want to avoid in Arizona.
Unfortunately, poverty is a major problem in the area. About 20.3% of the town's 5,811 people live below the poverty line. Meanwhile, unemployment sits at 10.8% and the median income hovers at $47,206.
Snowflake sits in a rural part of the state, about three hours from Phoenix. It's close to a few reservations, lying between the Fort Apache Reservation and the Hopi Reservation.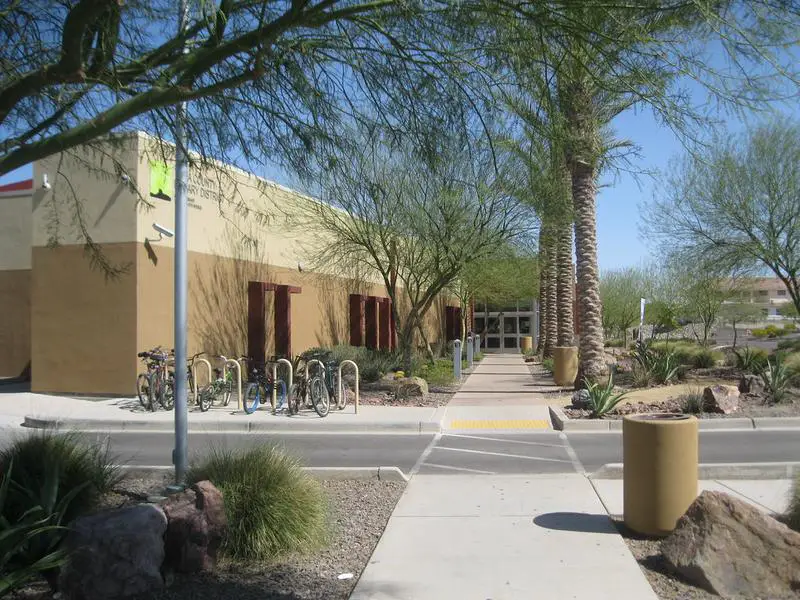 There are some bad places to live and some really, really bad places to live. According to the data, San Luis is one of the worst places you can live in Arizona. And quite possibly, one of the worst places you can live in, period. Let's see why.
We're not economists, but when you have a 14.2% unemployment rate for a city of 32,985 people, that's a sign that things aren't just bad. They are downright depressing. That's one the highest unemployment rate of any city we've analyzed.
Not only that, but the public school system is completely underfunded in San Luis. The students get the least amount of spending in the entire state, and at $7,000 each per year, that's about half the national average.
The city has a prison in town, and it sits right next to the Mexican border. Crime is above average here, and perhaps the only reason crime isn't higher is that there are most likely lots of border patrol agents in the area.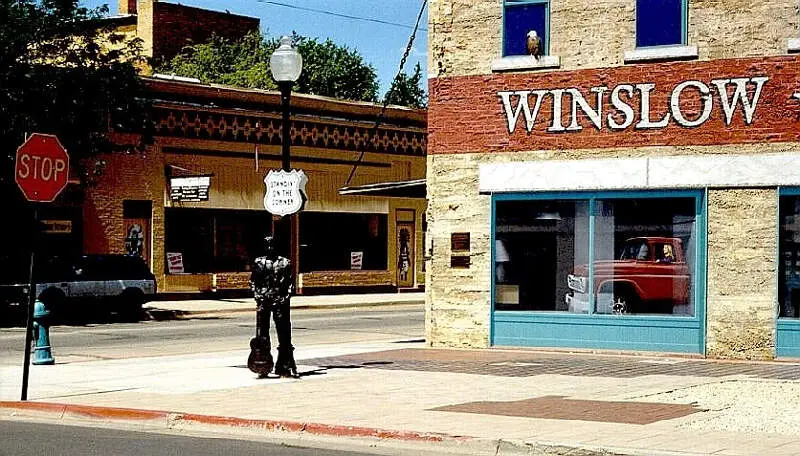 Source: Public domain
If you're a classic rock fan, you probably know Winslow from the Eagles song "Take It Easy." In fact, the town has a statue commemorating the lyric: "Standing on the corner in Winslow, Arizona/And such a fine sight to see." Unfortunately, reality doesn't live up to the legend. Winslow stands as the number 5 worst location in Arizona.
The economy is the main problem in the area. The median income stands at $37,756. However, 23.1% of the town's 9,476 residents live below the poverty level. 14.0% of them receive food stamps.
These financial hardships lead to other problems. The schools rate a score of 4/10 on Great Schools. The crime rate is more than 140% above the national average.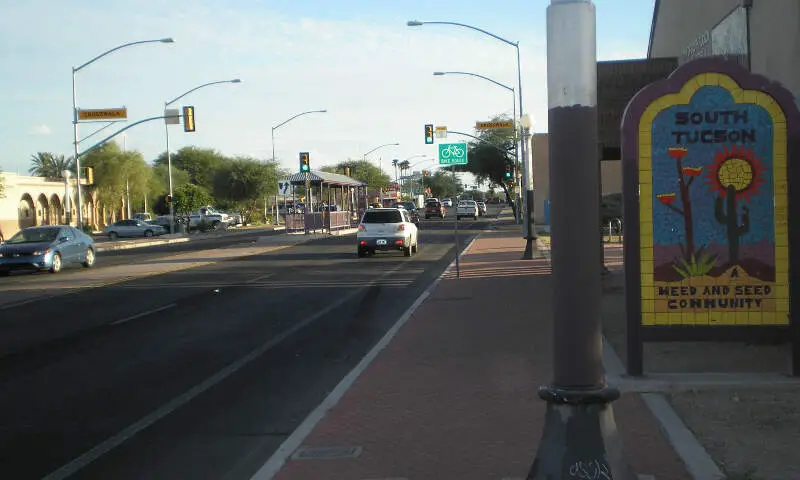 Source: Public domain
Can you guess where South Tucson is located? That's right, south of Tucson. However, this suburb isn't an idyllic land of green lawns and well-groomed McMansions. Instead, it stands as the number 6 most pitiful place to live in Arizona.
Just look at the economic numbers. The unemployment rate sits at 14.0%. A whopping 43.7% of the population live below the poverty line, with 12.2% receiving food stamps. The median income stands at $24,967.
Those figures paint a stark picture: it's tough to find a job, and the work available doesn't pay the bills. Obviously, it's difficult to make ends meet in this community of 5,667 people.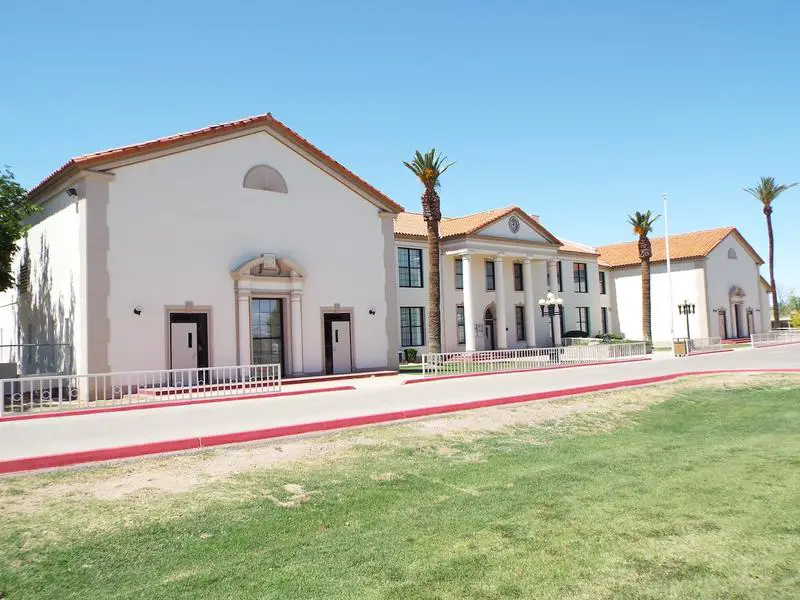 Coolidge is only a half hour drive south of the outskirts of Chandler and ranks as the 7th worst city on this list. However, there are some major differences in the quality of life between the two.
Coolidge has the 24th highest crime rate in Arizona, where residents have a 1 in 32.3 chance of being robbed every year. Homes are the 8th cheapest in the state ($113,100), and the uninsured rate here is far below average as well.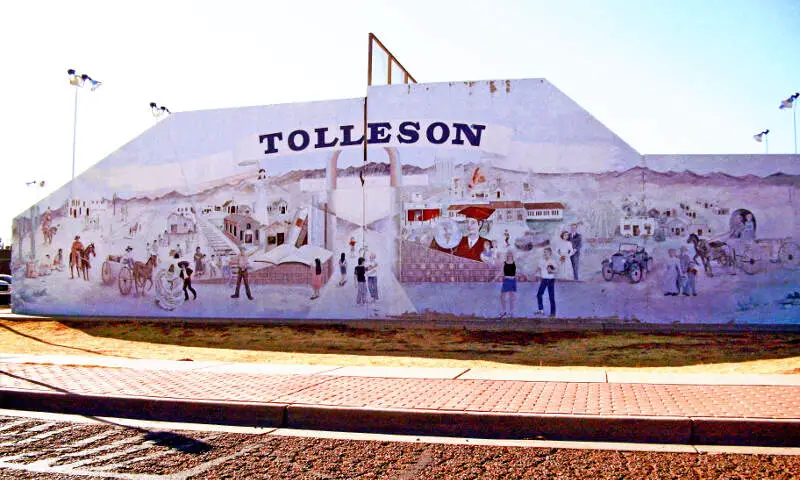 Tolleson is part of the suburban sprawl surrounding Phoenix. It sits just of I-10, about 20 minutes west of the city's heart. This prime location, close to the state's biggest urban center, hasn't given Tolleson a boost. In fact, it exists as the number 8 least appealing place to put down roots in Arizona.
Wages in the area just aren't enough to provide a stable standard of living. The medium income sits at $45,952, with 18.0% of the people struggling below the poverty line.
There are other problems as well. Crime in the area is about 300% above the U.S. standard. Also, with rare exceptions, the schools in the area mostly below average.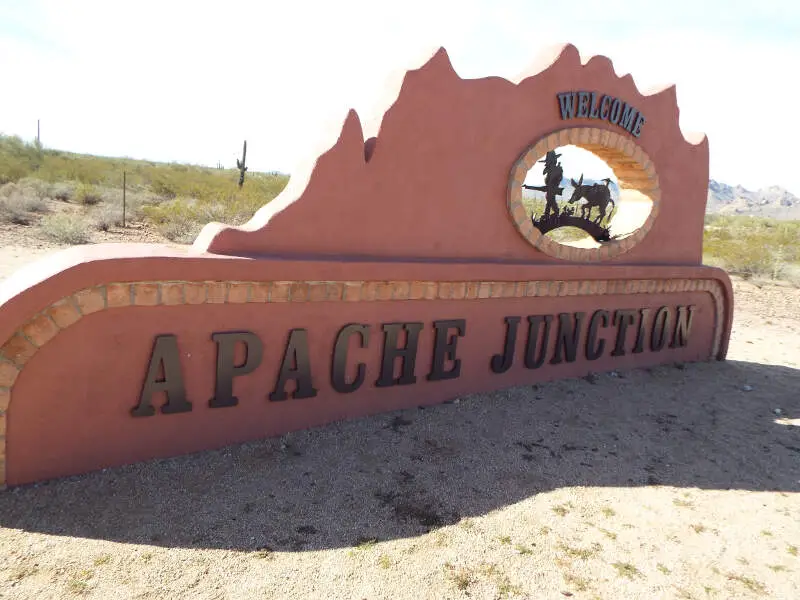 Apache Junction stands on the eastern edge of Phoenix's metropolitan area, leading into some of Arizona's famous desert mountains. Theoretically, this puts it in a great location: 45 minutes from the center of the state's biggest city and a relatively short drive to some of the area's most beautiful landscapes. But, in practice, Apache Junction isn't an ideal spot. In actuality, it's the number 9 worst place to live in Arizona.
Jobs are hard to come by in this community of 40,592 people. The unemployment rate stands at 8.4%. Meanwhile, 13.9% of the town scrapes by on the wrong side of the poverty line.
Apache Junction suffers other challenges as well. For instance, the schools in Apache Junction are mediocre at best, topping out at 6/10 on Great Schools.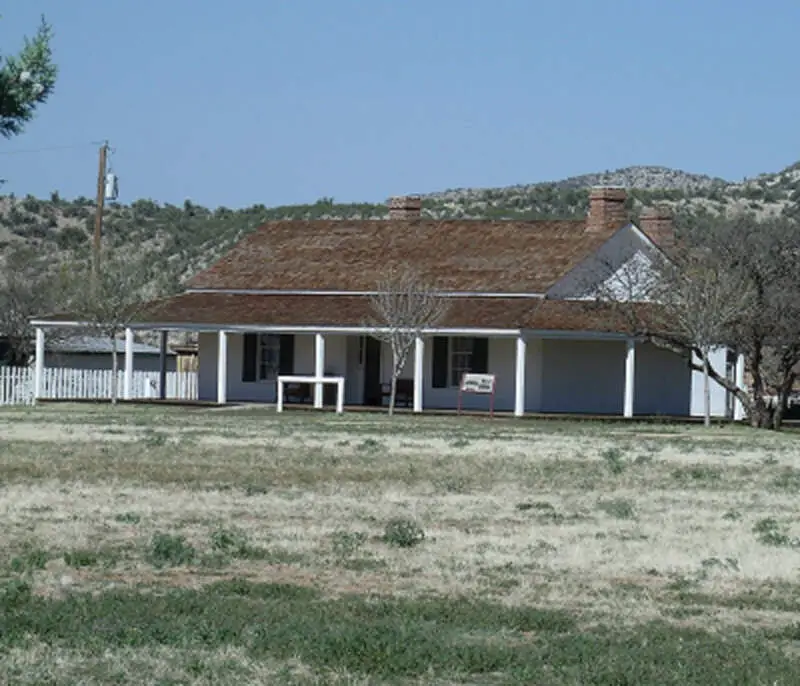 Camp Verde hosts a lot of festivals. In the fall, you can check out Fort Verde Days. In the summer, you can enjoy the Crawdad Festival. But between these special events, life in the area is no picnic. Camp Verde stands at number 10 on the list of worst spots in all of Arizona.
A good chunk of Camp Verde's 11,196 inhabitants struggle below the poverty line. In fact, 25.1% fall into that unfortunate category. The unemployment rate sits at 5.6% and the median income hovers at $39,681%.
Looking at some other challenges for the community, the crime rate sits about 10% above the national average. The educational system is weak as well. Camp Verde's schools rate a 4/10 score on Great Schools.
How we determined the worst places to live in Arizona for 2021
To figure out how bad a place is to live in, we only needed to know what kinds of things people like and then decide what cities have the least amount of those things.
We don't think it's a stretch to assume that people like the following things:
Good education
Lots of jobs
Low crime
Low poverty
Nice homes
High incomes
High population density (Lots of things to do)
Short work commutes
Health insurance
The data comes from the Census's most recent American Community Survey and from the FBI Uniform Crime Report.
We broke crime down into violent crime and property crime to give violent crime a larger weight — if you did a simple calculation of all crimes per capita, property crimes are normally 7x more common and really bias that ranking.
Furthermore, only cities with at least 5,000 people were considered — leaving 54 cities.
We then ranked each city from 1 to 54 for all the criteria with a #1 ranking being the worst for the particular criteria.
Next, we averaged the rankings into one "Worst Place To Live Score".
Finally, we ranked every city on the "Worst Place To Live Score" with the lowest score being the worst city in Arizona — Guadalupe. Read on for a detailed look at the 10 worst cities in Arizona. You can download the data here.
This list is a scientific analysis based on real data and is completely unbiased.
Wrapping Up The Worst In Arizona
If you're looking at areas in Arizona with the worst economic situations, where there's higher than average crime, and not a lot to do, this is an accurate list.
And in the end, Guadalupe ranks as the worst city to live in Arizona for 2021.
If you're curious enough, here are the best cities to live in Arizona:
Gilbert (Pop. 243,254)
Scottsdale (Pop. 250,602)
Paradise Valley (Pop. 14,362)
For more Arizona reading, check out:
Where Are The Worst Places To Live In Arizona?
| Rank | City | Population |
| --- | --- | --- |
| 1 | Guadalupe | 6,482 |
| 2 | Eloy | 18,666 |
| 3 | Snowflake | 5,811 |
| 4 | San Luis | 32,985 |
| 5 | Winslow | 9,476 |
| 6 | South Tucson | 5,667 |
| 7 | Coolidge | 12,685 |
| 8 | Tolleson | 7,246 |
| 9 | Apache Junction | 40,592 |
| 10 | Camp Verde | 11,196 |
| 11 | Nogales | 20,201 |
| 12 | Tucson | 541,482 |
| 13 | Globe | 7,348 |
| 14 | Phoenix | 1,633,017 |
| 15 | Show Low | 11,130 |
| 16 | Cave Creek | 5,670 |
| 17 | Yuma | 96,349 |
| 18 | Casa Grande | 55,653 |
| 19 | Somerton | 16,146 |
| 20 | Chino Valley | 11,670 |
| 21 | Holbrook | 5,037 |
| 22 | Avondale | 84,736 |
| 23 | Glendale | 247,813 |
| 24 | Cottonwood | 11,959 |
| 25 | Florence | 26,420 |
| 26 | Douglas | 16,307 |
| 27 | Kingman | 29,726 |
| 28 | El Mirage | 35,333 |
| 29 | Sedona | 10,322 |
| 30 | Bisbee | 5,203 |
| 31 | Queen Creek | 43,129 |
| 32 | Wickenburg | 7,495 |
| 33 | Litchfield Park | 6,073 |
| 34 | Mesa | 499,720 |
| 35 | Payson | 15,545 |
| 36 | Flagstaff | 72,402 |
| 37 | Goodyear | 80,371 |
| 38 | Peoria | 168,196 |
| 39 | Sierra Vista | 43,398 |
| 40 | Tempe | 187,454 |
| 41 | Prescott Valley | 44,311 |
| 42 | Fountain Hills | 24,729 |
| 43 | Prescott | 42,785 |
| 44 | Maricopa | 48,629 |
| 45 | Safford | 9,749 |
| 46 | Surprise | 135,450 |
| 47 | Marana | 45,279 |
| 48 | Thatcher | 5,047 |
| 49 | Chandler | 252,692 |
| 50 | Sahuarita | 29,905 |
| 51 | Oro Valley | 44,630 |
| 52 | Gilbert | 243,254 |
| 53 | Scottsdale | 250,602 |
| 54 | Paradise Valley | 14,362 |
Editor's Note: This article is an opinion based on facts and is meant as infotainment. Don't freak out we updated this article for 2021. This is our seventh time ranking the worst places to live in Arizona.