This article is an opinion based on facts and is meant as infotainment. It is our seventh time ranking the most dangerous places to live in Alaska and is updated for 2021.
Grizzly bears, crazy hunters, and boatloads of snow and ice are just a few of the dangerous things that Alaskans have to deal with on a regular basis; unfortunately, however, not the most dangerous.
That's right folks, the people who live in Alaska's most dangerous places know danger. They are after all the second most dangerous state in the country. So, RoadSnacks thought it would be a good idea to produce a list of the most dangerous places in Alaska for 2021 so people are well informed before making any life changing decisions.
How'd we do it? We consulted the numbers. In total, we analyzed 24 cities. We looked at important factors like violent crime and property crime for every place with over 2,000 residents.
We discovered that although the state has 50 law enforcement agencies employing close to 1,300 police officers, they just can't be everywhere. So, bigger cities like Anchorage and Juneau are starting to feel the effects.
We're not talking riding your snowmobile illegally through Badger or camping out of bounds in Tanaina people, we're talking about the stuff that gets you put in jail. So, whether you're looking to move to Alaska or already live in Alaska and just need a new change of pace, we suggest you take a look at this list. There may be some that surprise you.
Want to know what places in The Last Frontier made Santa's naughty list? Read on.
The 10 Most Dangerous Places To Live In Alaska For 2021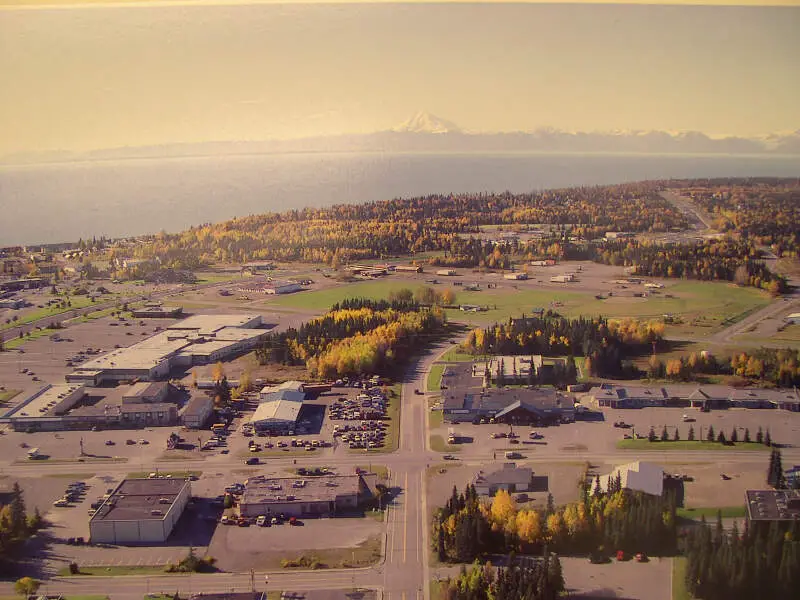 Located along the mouth of a Kenai River, Kenai, Alaska is a small town that holds the title of the most dangerous place to live in the state for 2021. With a population of just 7,862 residents, its total crime per capita is 6,626/100k people. It leads the state in total crimes, property crimes, and murder.
Compared to the other cities and towns in Alaska, Kenai ranks 2nd in murders and highest for property crimes based on the 2019 data year. Considering its very small population when compared to other cities in Alaska, the 446 property crimes and 353 larceny cases reported in 2019 is a lot for residents to worry about.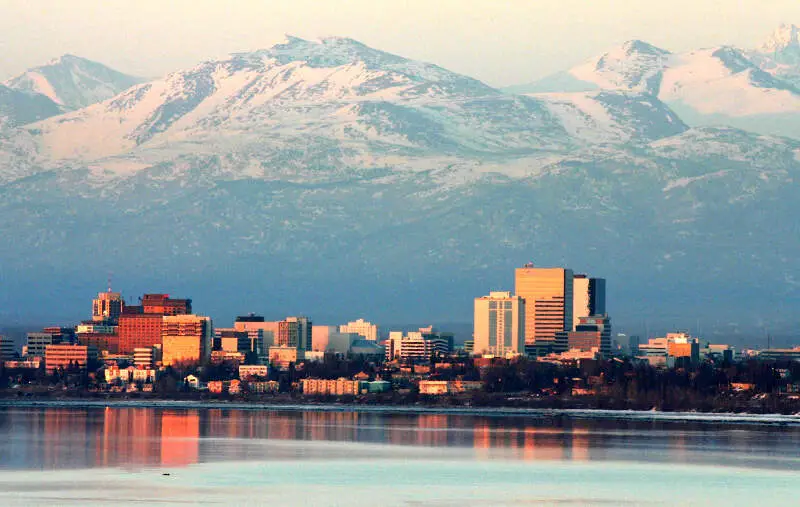 As one of the largest cities in Alaska featured on our list of the most dangerous places, Anchorage has a population of more than 287,731, which puts it in 1st in terms of size. It is second in terms of dangerous cities in the state.
Specifically, Anchorage is known for its high levels of violent crimes, aggravated assaults, and property crimes. In 2019, there were 3,581 violent crimes, 2,388 aggravated assaults, and 12,261 property crimes reports in the city. Anchorage also ranks 3rd for the number of burglaries it reported in the same year.
Anchorage is known for its stunning glaciers and wildlife, as well as its residential community of artists and musicians.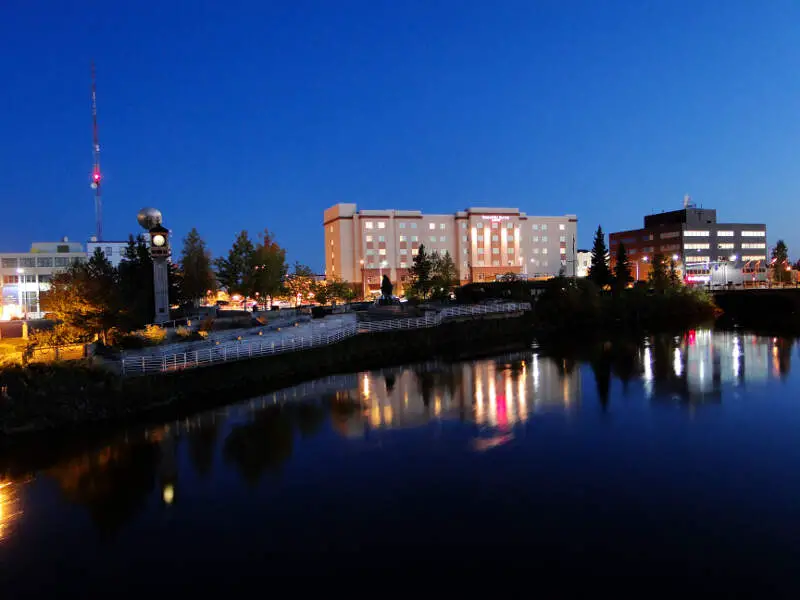 While Fairbanks, Alaska might rank 3rd in population, it ranks fifth highest in total crime for 2021. Its thriving downtown community with lots of entertainment cannot make up for the fact that Fairbanks ranks fourth highest in Alaska for property crime.
Unlike other more remote cities in Alaska, Fairbanks receives a large amount of tourism throughout the year. It is one of the best places to watch the northern lights during the Aurora season and has the summer sun 24 hours a day throughout the summer. It is also home to the University of Alaska Fairbanks, which houses a large number of college students. These factors contribute to the large amount of property crime the area experiences given its year round population.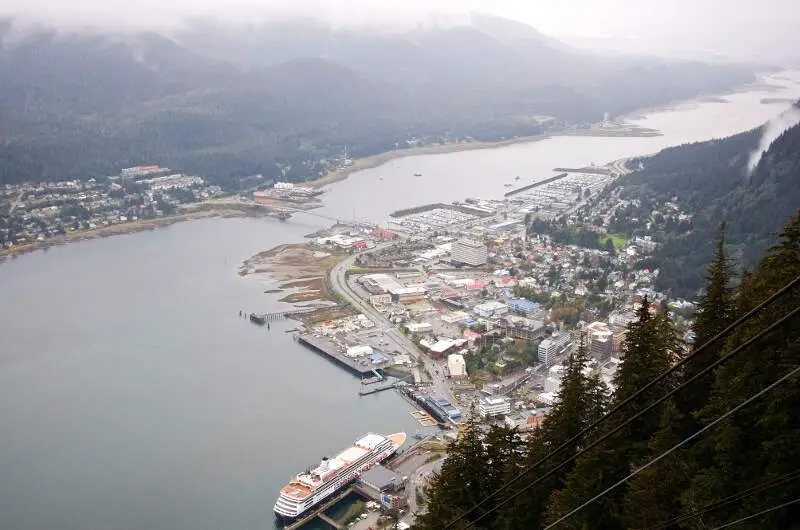 Juneau, the state capital, is also one of the most dangers in Alaska based on the most recently release of FBI crime data. Unfortunately, this is not the first time this city has appeared on our list — it has made it every year since we started ranking cities in 2015.
While it's very hard to exit or enter the city, the people that do live there seem to steal and cheat each other a little more than you'd like in the Last Frontier state. Burglary is the main problem as the city ranks fourth highest for burglaries this year.
And while Juneau is relatively dangerous for the state, you should worry more about being safe on the gorgeous glacier adventures you can experience around the city.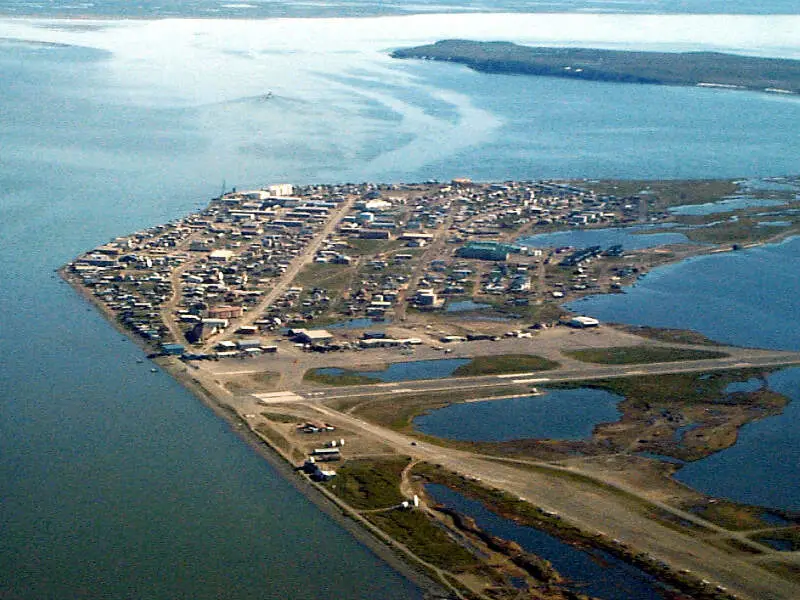 Source: Public domain
Kotzebue, Alaska is a community located just north of the Arctic Circle, with a very large population of Inupiat people. The village was once a trading center for indigenous groups. Today, the small community of 3,272 people has a problem with dangerous crime levels.
For 2021, Kotzebue ranks 3rd for rape and second highest violent crimes, which equates to 22 rapes and 77 reported in the 2019 reporting year. This is a very large amount for a population that is so small.
The city, located in the Northwest Arctic Borough on the Baldwin Peninsula, is fairly close in proximity to Russia. It does not have a large tourism industry.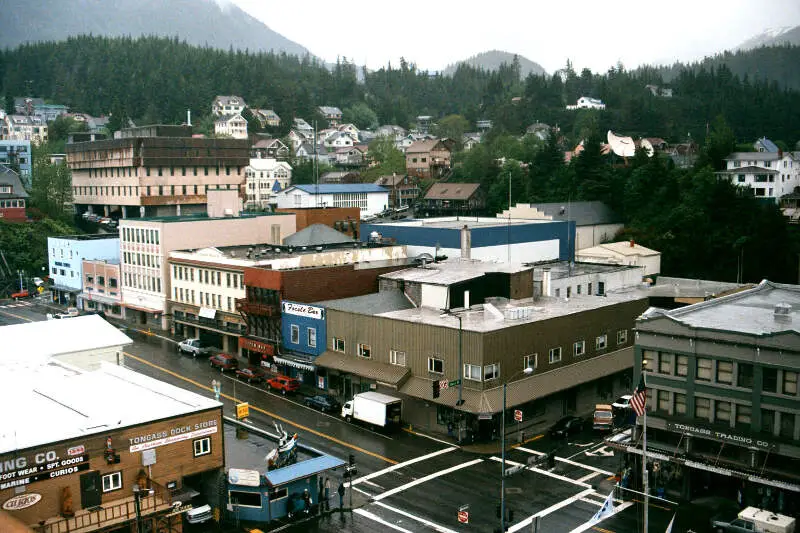 Ketchikan, Alaska is sometimes referred to the Salmon Capital of the World. With 8,316 residents, it is one of the more populous cities in the state. While Ketchikan might be relatively safe from violent crimes, the same cannot be written about its rates of property crimes.
Ketchikan ranks third highest for property crimes and third highest in overall crime. There is a 5,543/100k people rate for per capita crime in the city, as measured in 2019. This means that you are relatively likely to experience a property crime if you live here, compared to living in other communities in Alaska.
It is located on the west coast of Revillagigedo Island. It is historically a large fishing community.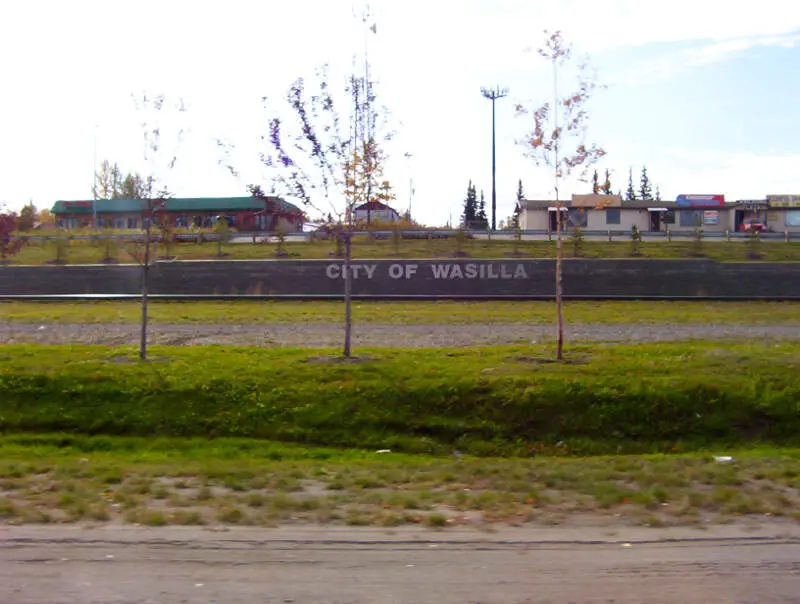 Located on the northern part of Cook Inlet, Wasilla is one of the largest cities in the state of Alaska. It ranks 4th in population with 10,915 residents. It is easily one of the more dangerous cities in Alaska.
Specifically, Wasilla has a problem with property crimes and burglaries. It ranks 1st for burglaries and second highest in property crimes in 2019. It might not be the best place to move your family to.
Unrelated to its status as a dangerous city, Wasilla is the headquartered for the famous Iditarod Trail Sled Dog Race. It is also known for being the home of Sarah Palin.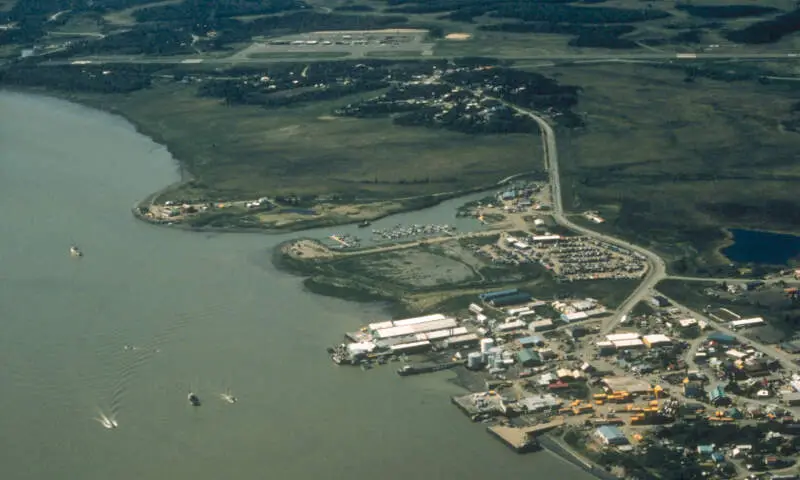 Source: Public domain
Dillingham is also known as Curyung. It is located in southwestern Alaska near the Nushagak Bay. It remains near the largest salmon fishery in the world.
Despite its remote location that you can only reach by air or boat, Dillingham faces its fair share of challenges with local crime rates. In 2019, it ranks 1st in murder. If that wasn't enough, the city ranked third highest for violent crimes.
Many of the city's residents live near each other along the main Aleknagik Lake Road that goes to the business district, where jobs are more plentiful. It is not connected to other cities by a statewide road system.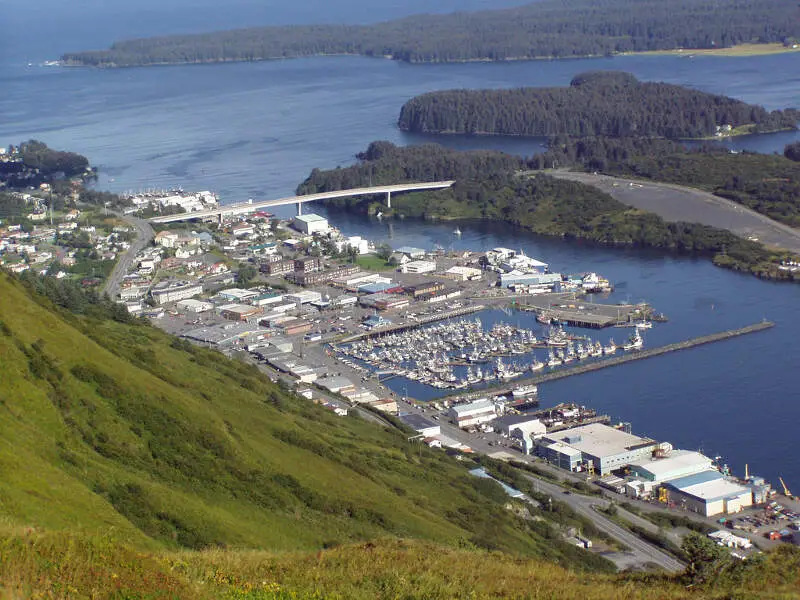 Kodiak is one of the most recognizable cities in Alaska. It is a very popular tourist spot for watching native wildlife and attractions, such as the Pacific Spaceport Complex. There is also a very active commercial fishing industry in the area, bringing many business visitors into the area each year.
Kodiak ranks ninth on our 2021 list of the most dangerous cities in Alaska. Kodiak ranks 2nd in burglaries for the state.
If you can overlook your burglary risk, many residents consider Kodiak a beautiful place to live with stunning views,hiking trails, and hunting spots. The city gets a lot of rain relative to other parts of Alaska.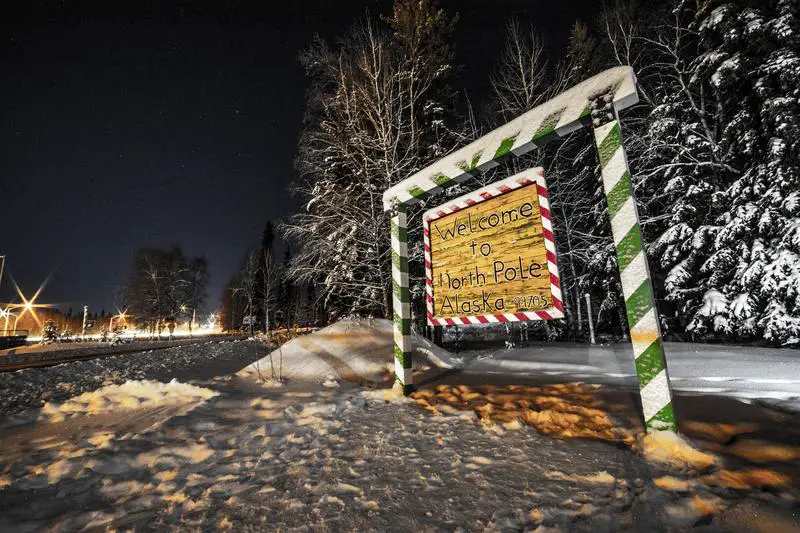 The North Pole has a bit of a reputation for being the reputed home of Santa Claus. However, North Pole, Alaska actually does not have much to do with the mythical place or the city in the center of the Arctic Circle. Rather, it is a town of 2,111 people living in central Alaska.
North Pole, Alaska is more dangerous for your stuff than it is for your physical body. For 2021, it ranks 7th for burglary and eighth highest for property crimes.
It is located just outside of Fairbanks, Alaska, another one of the cities recognized in this year's list of the most dangerous cities in Alaska.
Graphing The Most Dangerous And Safest Places In Alaska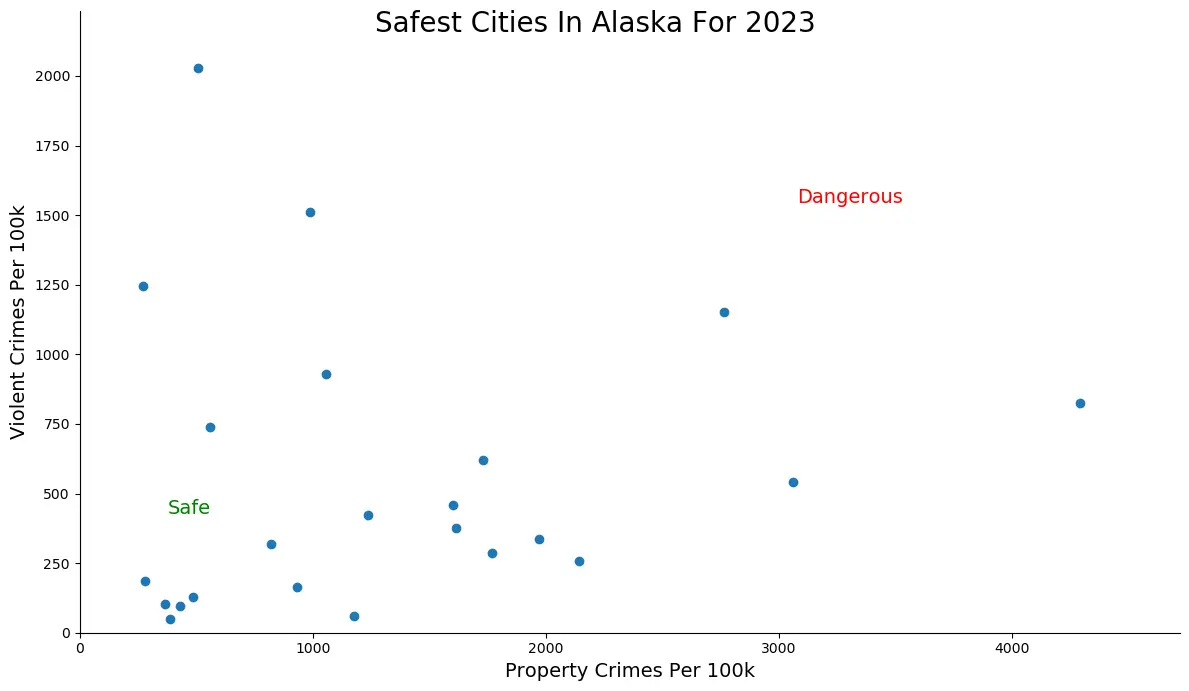 Click To Enlarge
How we determined the most dangerous cities in Alaska for 2021?
Every year the FBI release two crime datasets, a preliminary dataset limited to the biggest cities in the country, followed by a more detailed release at the end of the year.
For our analysis, we focused on the JUST released 2019 data, specifically the 2019 Crime In The United States Report. We will update the results when data becomes available in September 2021.
So what criteria did we use? Have a look:
Violent Crimes Per Capita
Property Crimes Per Capita
In order to make the analysis as apples to apples as possible, we only considered Alaska cities over 2,000 in population. That left us with 24 cities in Alaska.
We then ranked each city from 1 to 24 for the two criteria with a #1 ranking being the most dangerous for the particular criteria.
Next, we averaged the two rankings into one "Dangerous Index".
Finally, we ranked every city on the "Dangerous Index" with the lowest index being the most dangerous in Alaska — Kenai. Any ties went to the smaller city. You can download the data here.
Read on for a detailed look at the 10 most dangerous cities in Alaska.
Locking It All Up In Alaska
So what is the most dangerous city in Alaska? After analyzing 24 cities in Alaska, Kenai takes the top spot as the most dangerous city in Alaska based on the most recently reported FBI data — 2019.
The latest FBI crime data shows that Kenai ranks as the most dangerous city in Alaska for 2021.
We want to point out again that there's still safes places in Kenai and that this isn't a comment on the people that live there. So please don't beat us up.
Sadly, this is not a list that any city in any state wants to make. You probably won't see a sign entering the most dangerous place in a state that reads "Number one Most Dangerous City in Alaska": it's not something to brag about, but it's something that people need to know.
So, what's the most dangerous city in Alaska for 2021? That would be, Kenai.
Take a look at the list below to see the rest of Alaska's most dangerous places.
Learn more about the safest places in Alaska.
If you're looking for something more national, check out the most dangerous cities in America or the most dangerous states in America.
Here are the safest cities in Alaska:
Petersburg (Pop. 3,181)
Soldotna (Pop. 4,756)
Palmer (Pop. 7,490)
Homer (Pop. 5,913)
Haines (Pop. 2,441)
Sitka (Pop. 8,512)
Valdez (Pop. 3,816)
Unalaska (Pop. 4,513)
Wrangell (Pop. 2,489)
Cordova (Pop. 2,150)
For more Alaska reading, check out:
The Most Dangerous Cities In Alaska
| Rank | City | Population |
| --- | --- | --- |
| 1 | Kenai | 7,862 |
| 2 | Anchorage | 287,731 |
| 3 | Fairbanks | 31,493 |
| 4 | Juneau | 31,810 |
| 5 | Kotzebue | 3,272 |
| 6 | Ketchikan | 8,316 |
| 7 | Wasilla | 10,915 |
| 8 | Dillingham | 2,405 |
| 9 | Kodiak | 5,947 |
| 10 | North Pole | 2,111 |
| 11 | Nome | 3,899 |
| 12 | Bethel | 6,544 |
| 13 | Seward | 2,732 |
| 14 | North Slope Borough | 9,801 |
| 15 | Petersburg | 3,181 |
| 16 | Soldotna | 4,756 |
| 17 | Palmer | 7,490 |
| 18 | Homer | 5,913 |
| 19 | Haines | 2,441 |
| 20 | Sitka | 8,512 |
| 21 | Valdez | 3,816 |
| 22 | Unalaska | 4,513 |
| 23 | Wrangell | 2,489 |
| 24 | Cordova | 2,150 |