This article is an opinion based on facts and is meant as infotainment. It is our seventh time ranking the most dangerous places to live in Ohio and is updated for 2021.
Where are you moving to next? If it happens to be Ohio, then this is the article for you. Ohio is a state filled with many exciting cities, but the state does have a relatively dangerous city or two.
If you enjoy beautiful state parks, walking through large cities, and fields upon fields of corn, then Ohio is a great choice. But there are the dangerous places to avoid living as a newcomer. Luckily for you, RoadSnacks has figured out that answer for you. We used the most recent FBI crime data on property and violent crimes per capita to determine which cities in Ohio stick out like a sore thumb when it comes to danger. And while these places might be dangerous as a whole, there are always better and worse places even at the city level.
And it's hard to fault the people living in these cities for the crime that occurs there. Ohio has seen a decrease in the relevance of its most prominent industries over the past several decades. People have been leaving cities like Cleveland and Columbus for coastal cities or Chicago with higher tech job prospects. Not to mention the Opioid Epidemic that finds its ground zero almost directly in the center of Ohio.
So with that in mind, grab some Skyline Chili with a side of Buckeyes for dessert as we walk you through our analysis of dangerous cities in Ohio.
The 10 Most Dangerous Places To Live In Ohio For 2021

We're kicking our list up a notch with the most dangerous places to live in Ohio for 2021 — Canton, a city of 70,139 located approximately 20 miles south of Akron.
We hope they have enough security guarding the memorabilia on display at the Pro Football Hall of Fame in Canton because the city had the highest burglary rate in all of Ohio. Overall, residents faced a 1 in 18 chance of being the victim of a property crime in 2019.
And the bad news just keeps on coming for Canton. The city experienced the highest rate of rape cases in the whole state, and the overall violent crime rate is the second highest.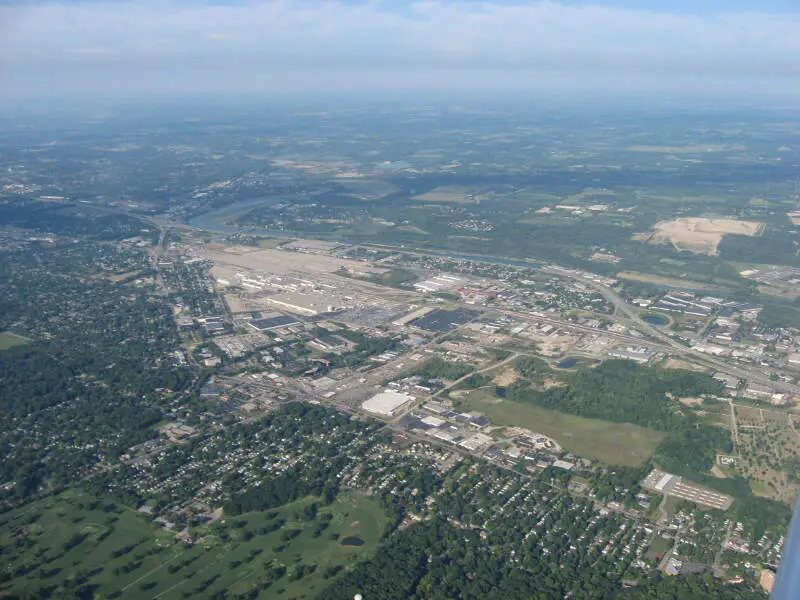 Source: Public domain
A part of the Dayton Metro Area, Moraine is a small city of just 6,455 and the second most dangerous place to live in Ohio.
In actuality, Moraine has the highest overall crime rate in Ohio for 2019, but most of that comes from having the highest rate of property crime in the state.
Unfortunately, the crime problem doesn't end with property in Moraine. The city also had the highest murder rate in Ohio for 2019.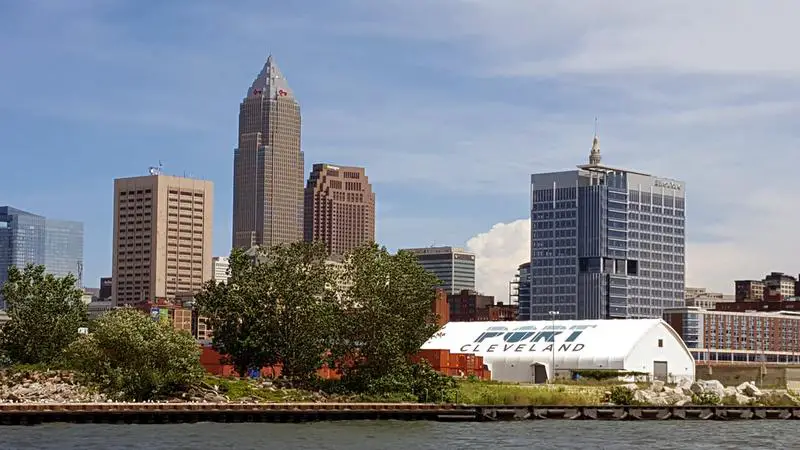 Ohio's 2nd most populous city and the home to the Rock & Roll Hall of Fame is also one of the most dangerous places to live in the state.
Once again, Cleveland had the highest violent crime rate in Ohio, with residents facing a 1 in 65 chance of being attacked in 2019. That includes the fourth highest murder rate and seventh highest rate of rape cases statewide.
Additionally, Cleveland ranked worse for property crime this year than last year. But don't rule the whole city out because of this result; there are still plenty of safe neighborhoods in Cleveland to choose from.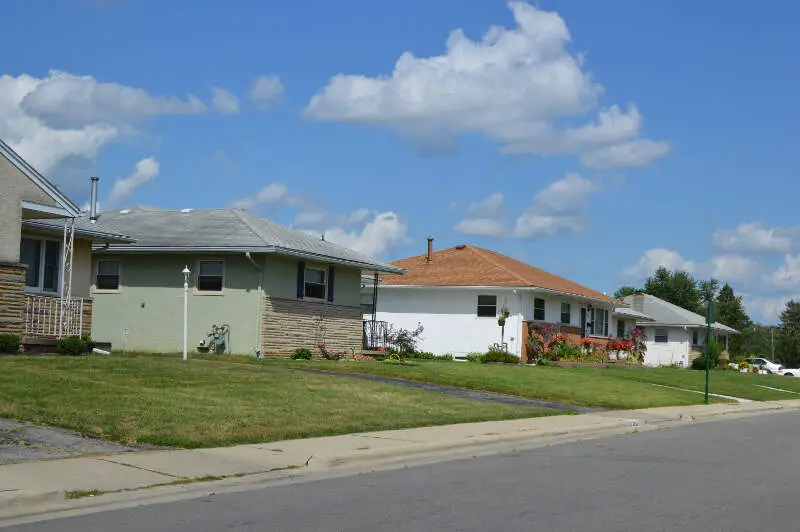 Source: Public domain
Next up on our list of Ohio's most dangerous cities is Whitehall, a suburb of Columbus. Whitehall has some of the highest violent crime numbers in the state, including the third highest murder rate. That's a murder every other month, which is quite high for a city of just 19,121.
Property crime also ranks as the fourth highest statewide, with about three cases occurring each day on average.
At least you can get away from all this crime by spending a relaxing day looking at flowers at the Franklin Park Conservatory nearby.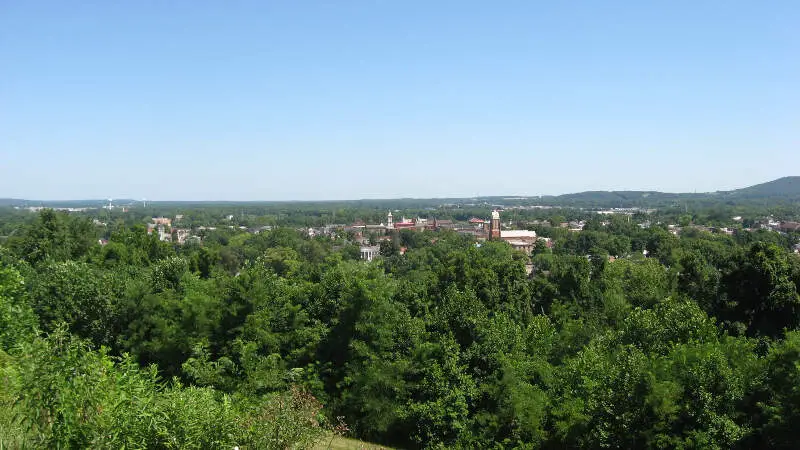 Source: Public domain
Located about an hour south of Columbus, Chillicothe comes in as the fifth least safe place to live in Ohio. While Chillicothe doesn't have a whole lot of violent crime, it does have heaps of property crime.
Chillicothe residents had a 1 in 13 chance of having their belongings stolen or damaged in 2019 — yikes. That includes a burglary every other day and a cart theft once a week, on average.
In fact, the property crime rate in Chillicothe is so high that the city's total crime rate ranks as the second highest in the state and is more than three times higher than the national average.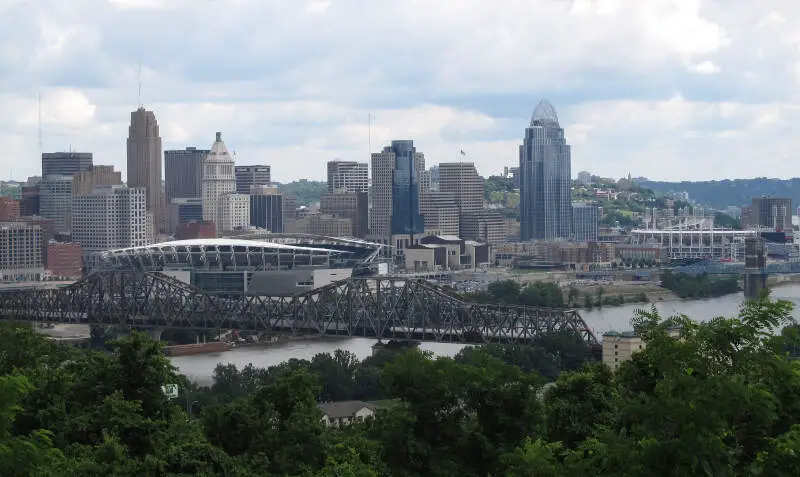 There might be lions and tigers and bears at the Cincinnati Zoo, but it turns out that the city's streets are the really dangerous place.
Cincinnati has the fifth highest murder rate in Ohio, with more than one murder per week, on average, in 2019. Overall, Cincinnati's residents had a 1 in 118 chance of being attacked over the year.
Not to mention that 1,351 cars got stolen and 2,765 burglaries went down. A good chunk of this crime comes from Cincinatti's worst neighborhoods, so if you steer clear of those, you should be all right.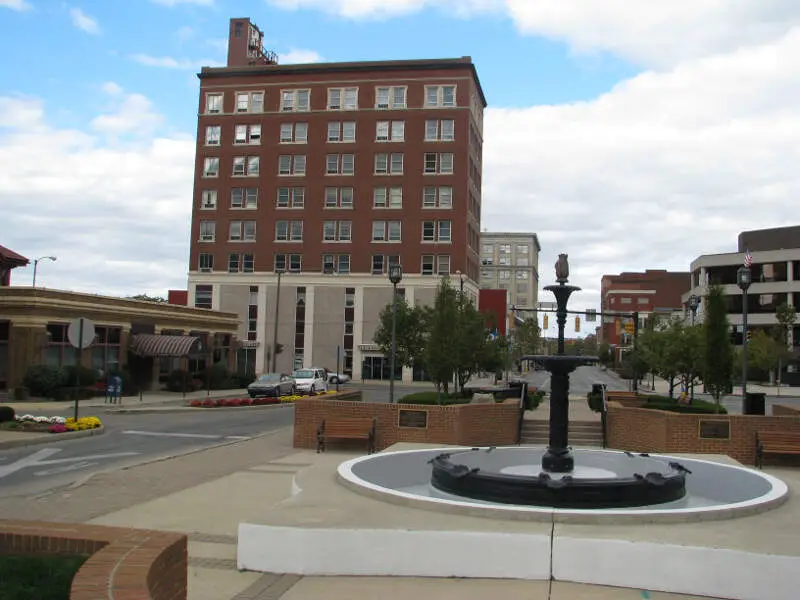 Source: Public domain
Located a half-hour northeast of Dayton, Springfield is Ohio's seventh most dangerous city. Springfield experienced about two burglaries a day on average in 2019 — that's enough to give it the second highest burglary rate statewide.
Overall, people in Springfield had a 1 in 19 chance of having their stuff stolen or damaged.
At least you can get away from the crime-filled streets of Springfield at Buck Creek State Park… just bring a buddy and get home before dark.

Up next on our list is Dayton, Ohio's 6th biggest city. Dayton had the fifth highest burglary rate statewide in 2019 and averaged about two car thefts a day.
We just hope no one pulls a Grand Theft Auto move and steals a plane from the Air Force Museum or a classic car from the Packard Museum.
Violent crime is even worse in Dayton — the city had the second highest murder rate in Ohio, with about one murder each week, on average. Dayton also had the fifth highest rate of rape cases statewide and the third highest violent crime rate overall.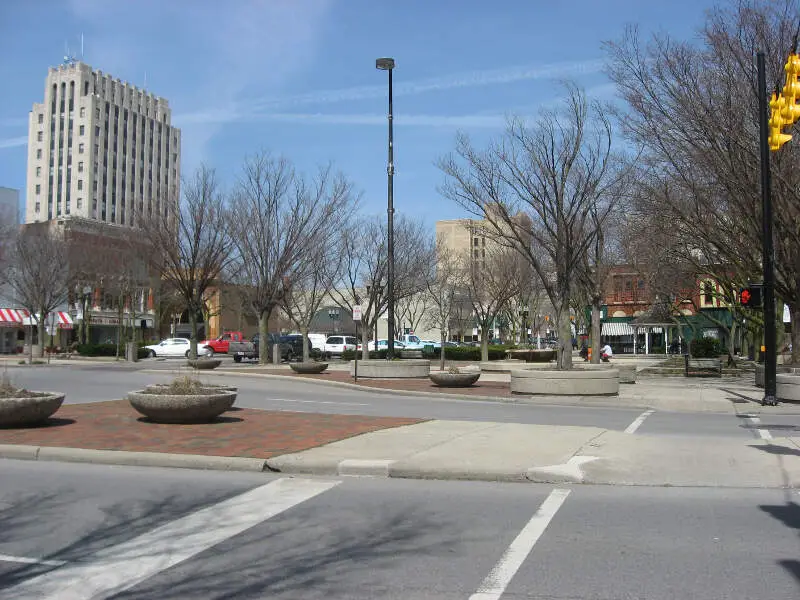 Source: Public domain
The county seat of Allen County in northwestern Ohio, Lima is Ohio's ninth most dangerous city for 2021. Lima averaged about one rape case per week, giving it the second highest rate of rape cases in the whole state.
Additionally, the Lima Fire Department had a lot of extra work on their hands in 2019, seeing as their were 71 cases of arson.
To give you an idea of how high that is, consider that Cleveland, ten times as populous as Lima, had only twice as many arson cases.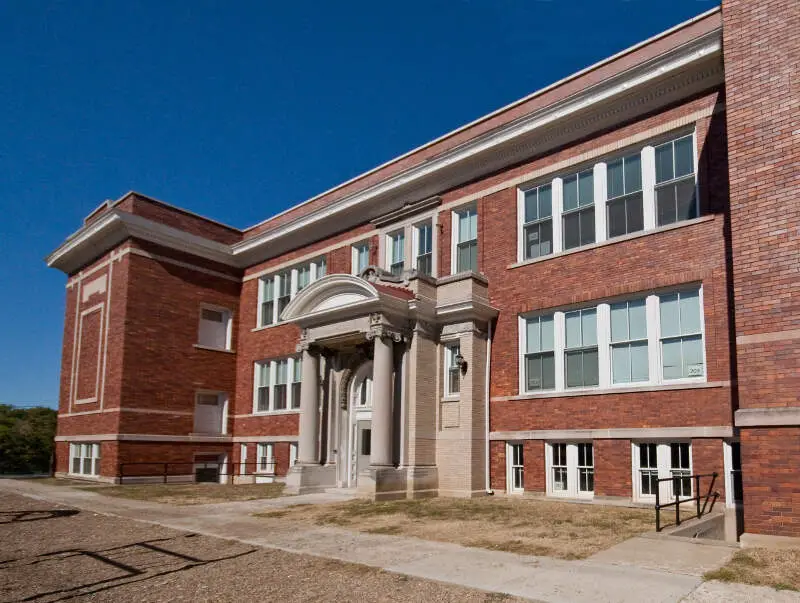 Mount Healthy is a suburb of Cincy, but its high crime rate keeps it from being one of Cincinnati's best suburbs.
Mount Healthy sounds like a great place to stay fit, and there are plenty of great parks hero, but you'd be well-advised to not linger alone after dark.
The biggest danger in Mount Healthy, though, is property crime, which ranks as the eighth highest in Ohio. In fact, residents had a 1 in 19 shot of having their belongings stolen or damaged in 2019.
Graphing The Most Dangerous And Safest Places In Ohio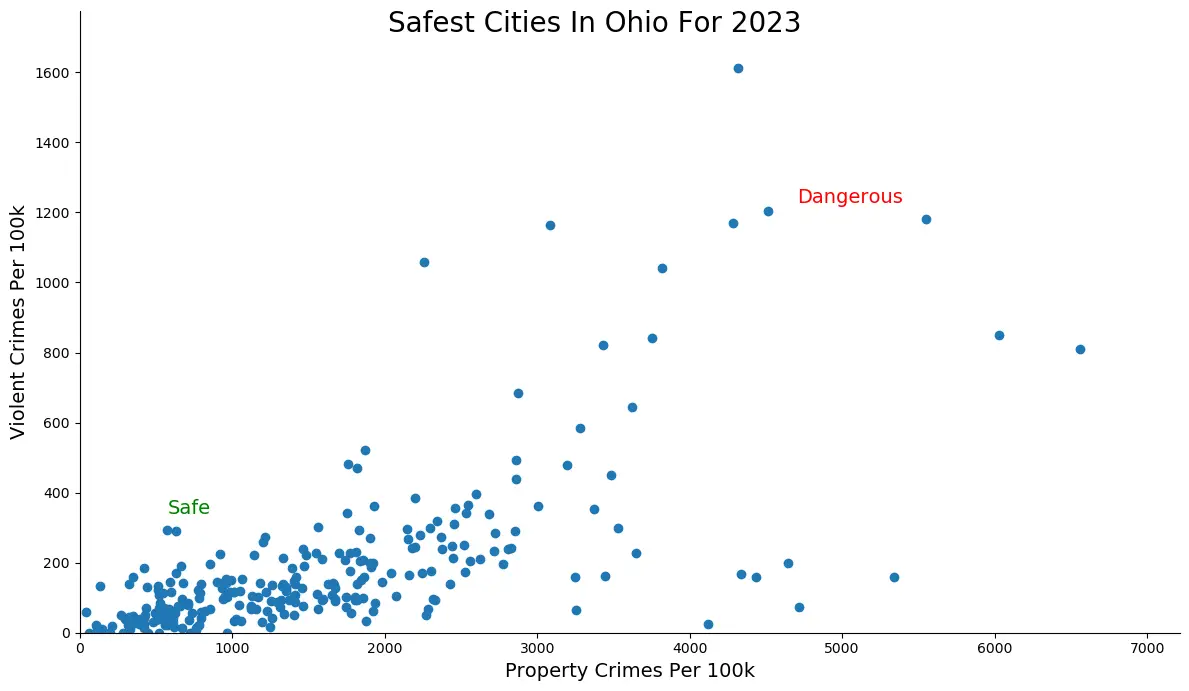 Click To Enlarge
How we determined the most dangerous cities in Ohio for 2021?
Every year the FBI release two crime datasets, a preliminary dataset limited to the biggest cities in the country, followed by a more detailed release at the end of the year.
For our analysis, we focused on the JUST released 2019 data, specifically the 2019 Crime In The United States Report. We will update the results when data becomes available in September 2021.
So what criteria did we use? Have a look:
Violent Crimes Per Capita
Property Crimes Per Capita
In order to make the analysis as apples to apples as possible, we only considered Ohio cities over 5,000 in population. That left us with 232 cities in Ohio.
We then ranked each city from 1 to 232 for the two criteria with a #1 ranking being the most dangerous for the particular criteria.
Next, we averaged the two rankings into one "Dangerous Index".
Finally, we ranked every city on the "Dangerous Index" with the lowest index being the most dangerous in Ohio — Canton. Any ties went to the smaller city. You can download the data here.
Read on for a detailed look at the 10 most dangerous cities in Ohio.
Locking It All Up In Ohio
So what is the most dangerous city in Ohio? After analyzing 232 cities in Ohio, Canton takes the top spot as the most dangerous city in Ohio based on the most recently reported FBI data — 2019.
The latest FBI crime data shows that Canton ranks as the most dangerous city in Ohio for 2021.
We want to point out again that there's still safes places in Canton and that this isn't a comment on the people that live there. So please don't beat us up.
We analyzed 232 cities in Ohio using the latest FBI crime data to determine which cities in Ohio were the most likely to make you double check your doors are locked.
The winner of the most dangerous place in Ohio for 2021? Canton, Ohio is the most dangerous city in Ohio.
The larger cities didn't fare much better. Cleveland, Dayton, and Cincinnati all ranked in our top ten most dangerous cities list.
Interested to see how your favorite cities stacked up? Read on to learn more about our methodology and to see what makes each of these cities so dangerous.
Learn more about the safest places in Ohio.
If you're looking for something more national, check out the most dangerous cities in America or the most dangerous states in America.
Here are the safest cities in Ohio:
Johnstown (Pop. 5,119)
Bellbrook (Pop. 7,326)
Munroe Falls (Pop. 5,080)
Russell Township (Pop. 5,219)
Springboro (Pop. 18,975)
Indian Hill (Pop. 5,897)
Clearcreek Township (Pop. 16,070)
Olmsted Township (Pop. 13,432)
Sagamore Hills (Pop. 10,934)
Chester Township (Pop. 10,322)
For more Ohio reading, check out:
The Most Dangerous Cities In Ohio
| Rank | City | Population |
| --- | --- | --- |
| 1 | Canton | 70,139 |
| 2 | Moraine | 6,455 |
| 3 | Cleveland | 381,829 |
| 4 | Whitehall | 19,121 |
| 5 | Chillicothe | 21,670 |
| 6 | Cincinnati | 303,335 |
| 7 | Springfield | 59,128 |
| 8 | Dayton | 140,427 |
| 9 | Lima | 36,653 |
| 10 | Mount Healthy | 6,052 |
| 11 | Logan | 7,039 |
| 12 | Warren | 38,012 |
| 13 | Toledo | 273,505 |
| 14 | Mansfield | 46,418 |
| 15 | Akron | 197,882 |
| 16 | Circleville | 14,025 |
| 17 | Butler Township | 7,819 |
| 18 | Zanesville | 25,346 |
| 19 | Hamilton | 62,155 |
| 20 | Columbus | 906,120 |
| 21 | Franklin | 11,675 |
| 22 | Sandusky | 24,572 |
| 23 | Euclid | 46,659 |
| 24 | Middletown | 48,878 |
| 25 | Springfield Township, Summit County | 14,555 |
| 26 | Trotwood | 24,435 |
| 27 | Lancaster | 40,622 |
| 28 | Newark | 50,340 |
| 29 | Washington Court House | 14,150 |
| 30 | Wooster | 26,615 |
| 31 | Wilmington | 12,391 |
| 32 | Heath | 10,933 |
| 33 | Kenton | 8,198 |
| 34 | North College Hill | 9,271 |
| 35 | Wellston | 5,488 |
| 36 | Steubenville | 17,768 |
| 37 | Niles | 18,222 |
| 38 | East Cleveland | 17,001 |
| 39 | Cheviot | 8,269 |
| 40 | Oregon | 19,868 |
| 41 | Lorain | 64,022 |
| 42 | Barberton | 26,015 |
| 43 | Van Wert | 10,662 |
| 44 | Xenia | 26,926 |
| 45 | Miami Township, Montgomery County | 29,188 |
| 46 | Napoleon | 8,188 |
| 47 | Sidney | 20,437 |
| 48 | Nelsonville | 5,158 |
| 49 | Salem | 11,644 |
| 50 | Findlay | 41,350 |