Editor's Note: This article is an opinion based on facts and is meant as infotainment. Don't freak out we updated this article for 2021. This is our seventh time ranking the worst places to live in Ohio.
Article Table Of Contents   
(Skip to section)
O-H-I-Oh no!
The last time we talked about the state of Ohio, it was a happier time. We went over all of the Buckeye State's charms. We talked about the grittiness of the folks in the bigger cities and the warm, friendly people in Ohio's smaller towns.
But today, we're going in the opposite direction. Because, like in any other state in America, there are bad places just like there are good places. And today, we're going to address the worst of Ohio's cities and towns.
So, Who Dey?
After analyzing all 248 cities with a population over 5,000, we came up with this list as the 10 worst places in Ohio:
The 10 Worst Places To Live In Ohio For 2021
What? Where are these places you wonder? And before you get all riled up and say we're picking on small town America, that's not the case.
We understand there's a lot of good in every place.
However, according to data (which doesn't measure things like beauty and 'friendly people'), there are far better options in the state for making a place home. And the worst place to live in Ohio? That would be Trotwood.
Read on below to see how we crunched the numbers and see how your city fared in 2021.
If you're looking for something more national, check out the worst cities in America or the worst states in America.
For more Ohio reading, check out:
The 10 Worst Places To Live In Ohio For 2021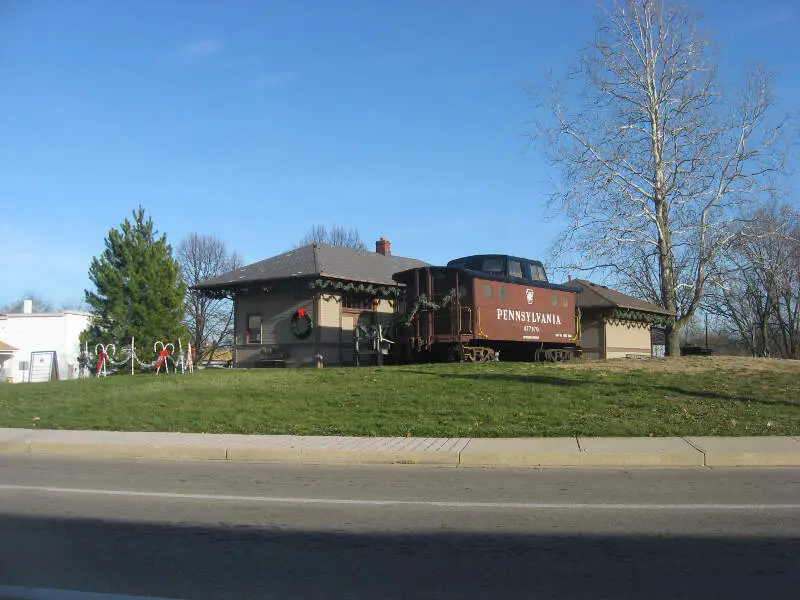 Source: Public domain
Trotwood is located in southwest Ohio, just outside of Dayton. The community faces a host of problems, starting with an anemic economy. This fuels challenges related to education and crime, making this the number 1 worst place to live in Ohio.
The sluggish economy can be seen in figures like a 9.8% unemployment rate and a median income of $36,778. The 24,375 residents of Trotwood also have to worry about safety. The crime rate in the area is about 30% above the national average. The schools are lackluster as well, reaching only a 5/10 on Great Schools.
The people of Trotwood have ways to forget their troubles. For instance, they can head to the beautiful Madison Lakes Park in the southern part of town.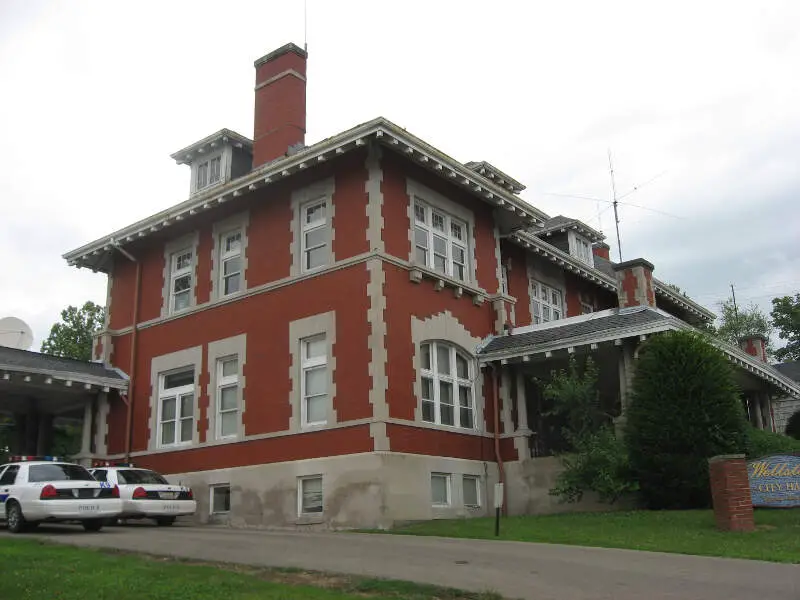 Source: Public domain
Wellston sits in the southeast part of Ohio, in a less densely populated part of the state. It's about an hour and a half outside of Columbus and two hours away from Cincinnati. But getting away from big cities doesn't guarantee an idyllic rural setting. Wellston ranks as the number 2 least attractive location in Ohio.
The listless job market in the area keeps residents from reaching their full potential. The unemployment rate stands at 10.1%, while median incomes hover at $39,318. These financial problems trickle down to other aspects of life. Bad schools and high crime are other major issues for the community.
Still, the folks in Wellston get some value from their rural setting. They can enjoy a host of outdoor activities, with Lake Alma State Park just outside of town.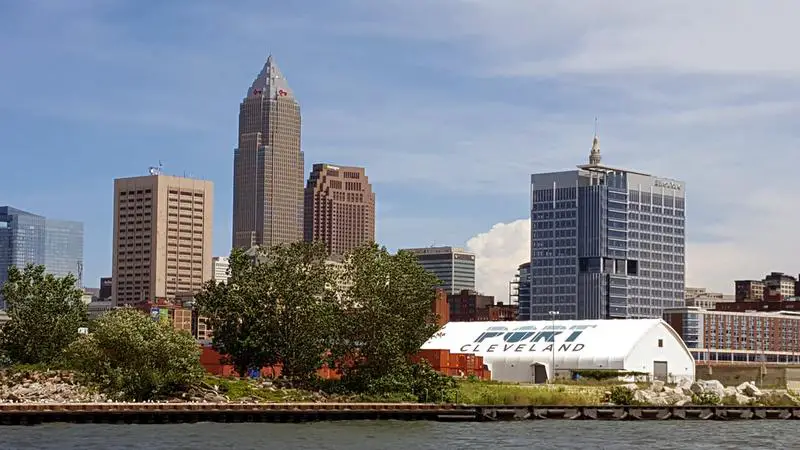 Cleveland is one of the biggest cities in Ohio, with a population of 385,282 people. Unfortunately, those folks could probably do better somewhere else. Cleveland stands as the number 3 most unappealing location in the state.
Like many large industrial cities in the Midwest,r Cleveland has suffered from economic upheavals of the last several decades. This has led to an unemployment rate of 13.2% and a whopping 32.7% poverty rate.
Along with these financial troubles, locals face a crime rate that is 140% above the U.S. average. Schools and housing are other challenges.
Of course, a city this size has its attractions. Besides its multiple pro sports teams, you can also check out the Rock and Roll Hall of Fame.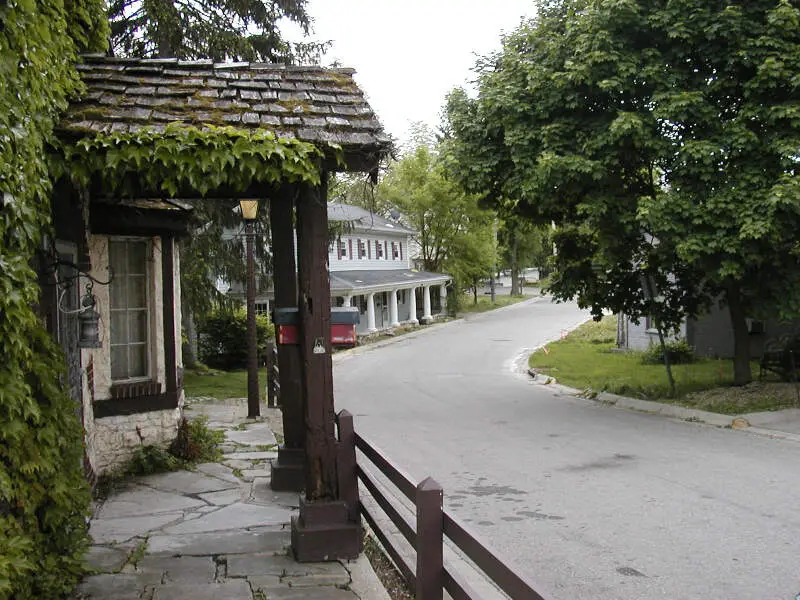 Located in southwest Ohio, about 25 minutes outside of Dayton, New Carlisle is the site of a famous crime. Bank robber John Dillinger robbed one of the town's institutions in 1933. That may have set a tone for town, which is today the number 4 worst location in Ohio.
Jobs are the main problem for New Carlisle's 5,584 inhabitants. To be specific: there aren't enough of them. The unemployment rate stands at 6.8%. Along with this, the town has a lackluster educational system, with its best school getting just a 6/10 on Great Schools.
It isn't all gloom and doom in town, however. Residents can enjoy their weekends at the New Carlisle Pool or at the Sugar Isle Golf Course.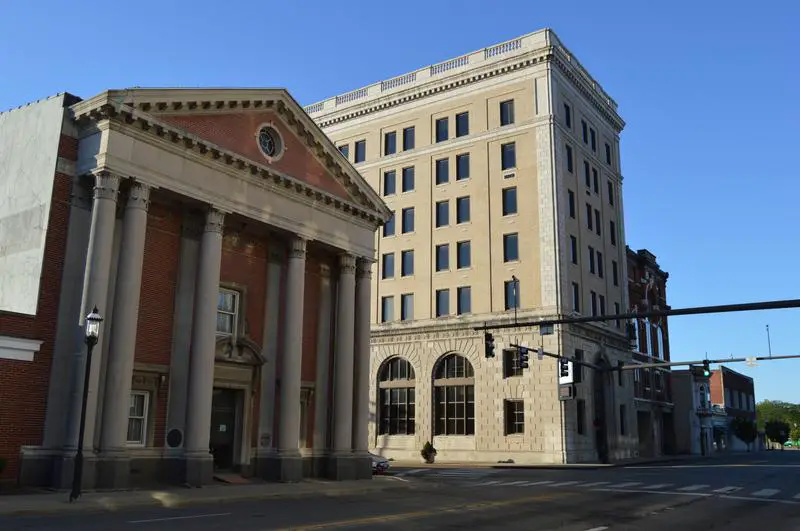 Source: Public domain
Our next stop is Middletown. Now, Middletown USED to be a nice place to live and grow up until around the 80s, and then things started going downhill. Good paying jobs left or shut down. Armco Steel sold out to Japan and became AK Steel and then Cleveland Cliffs took over. A lot of funding has been cut and then Section 8 housing started to infiltrate Middletown. Drugs are out of control. They closed down their public pools, and stopped doing a lot of community things like the 4th of July festival with fireworks.
Today, they're tearing down historical buildings at an alarming rate taking away what many people remember about Middletown growing up. It's like they are erasing what many consider the pride of Middletown. This city lost its identity, and is definitely not the place it used to be by a long shot!
Crime wise, it's not the WORST place you could live, it ranks outside the top 10 worst in the state, so it could be worse. But drugs and shootings continue to make this a place that needs some TLC.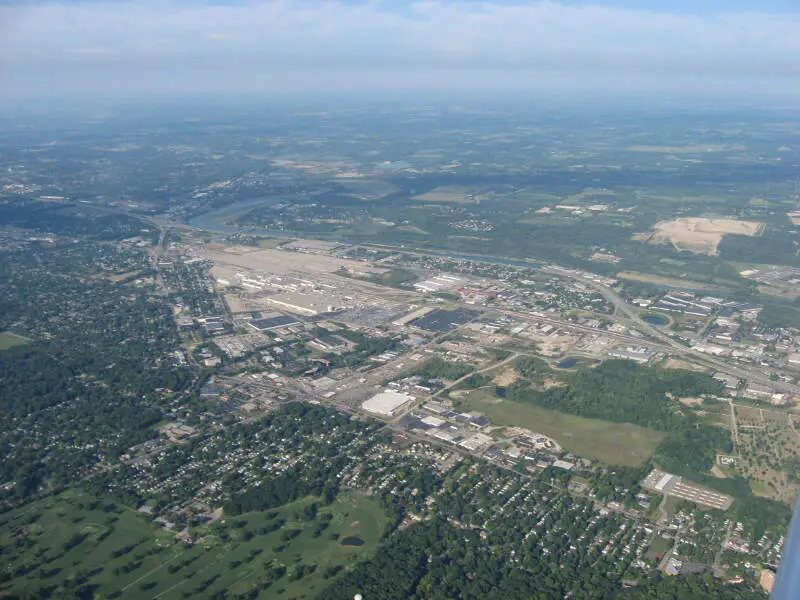 Source: Public domain
Moraine has a long history as a manufacturing center, mostly related to the auto industry. Unfortunately, that economic stability has eroded in recent decades. The town of 6,486 residents now stands as the one of the worst places to live in Ohio.
A lack of jobs holds the area back. The unemployment rate sits at 6.7%. As a result, 16.0% of the town suffers below the poverty line. Moraine also has issues related to crime and education.
Moraine is built along the Great Miami River, just to the south of Dayton. The river provides a scenic centerpiece for the town. Despite its economic problems, the community enjoys a number of beautiful parks, including Deer Meadow Park.

Dayton is the 7th worst place you can live in the state of Ohio. This is the 18th most violent place in the state, and the place with one of the highest number of murders. Dayton also ranks high for burglaries and rapes. Two cars are stolen here every single day. For a city of 140,569 people, that's a LOT.
This wasn't always a bad place. There were big companies here to make good money with - like NCR, General Motors, Standard Register, Mead, Frigidaire, Panasonic, and even the railroads. But today, so many houses are boarded up and buildings have been knocked down. Once the jobs are gone, the city starts to die. Most of the burglaries and prostitution and cat thefts are all directly tied to the heroin / fentanyl problem. Although apparently, the city has improved its drug treatment program.
On a good note, when a tornado passed through town in 2019, the community got Dayton Strong about it. They came together and helped pitch in.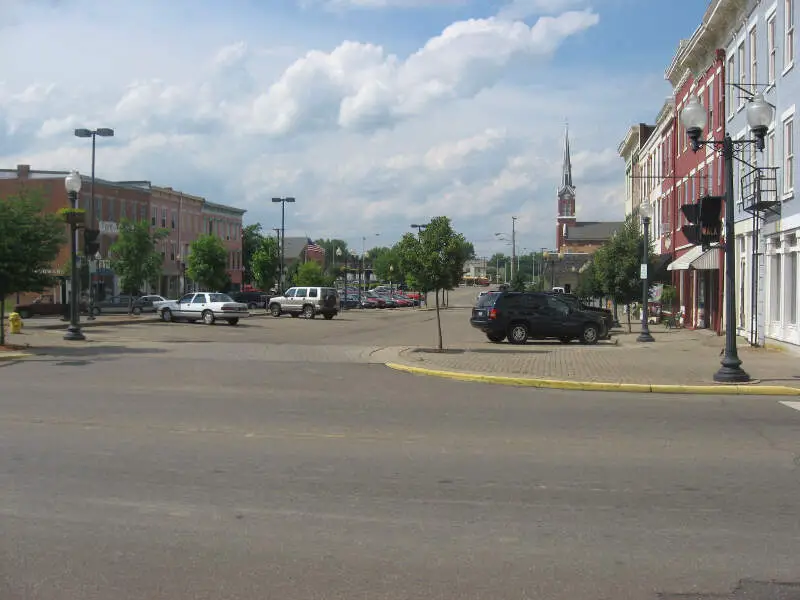 Situated along the Ohio river in central Ohio, Portsmouth residents don't have it much better than in Youngstown. The unemployment rate is the 5th-highest here than anywhere else in Ohio. Plus, the crime is almost as high as you get in the state, and people who live here earn the 3rd-lowest salaries of all Buckeye State residents.
Plus, it's out in the middle of nowhere, so unless you want to cross over the Ohio River and go to...Olive Hill, Kentucky, you're gonna be bored living here.
They used to have all sorts of manufacturing jobs here, but of course, that's no longer. But it's like that nationwide. 85 of top 100 auto suppliers are in foreign lands. While some of the nuts and bolt manufacturers have remained, a lot of the advanced technology is being developed overseas. And in case you haven't noticed, cars are relying on technology more and more. There is talk from major auto manufacturers who have promised to open up battery factories and electric car plants throughout Ohio. Companies like GM and Lordstown Motors. Hopefully the unions here can keep folks employed here for a long time.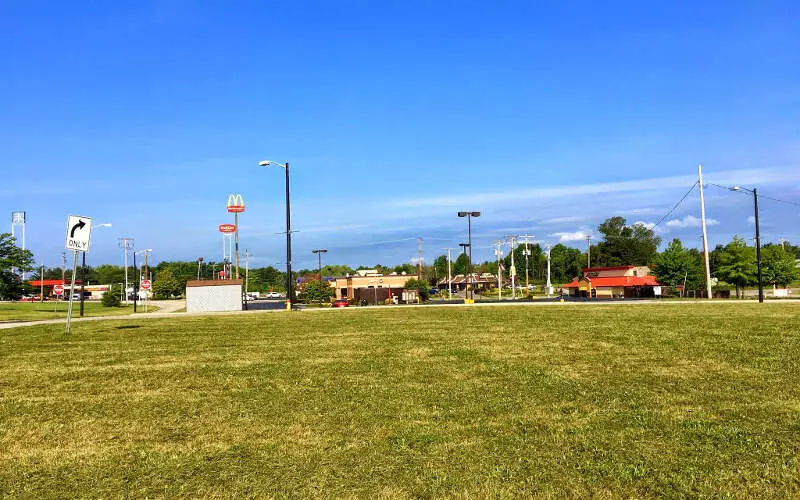 Geneva is located in northeast Ohio, about halfway between Cleveland and Erie, Pennsylvania. It also sits about 10 minutes from Lake Erie, where residents can enjoy beautiful scenery and water fun at Geneva State Park.
Still, even with these advantages, Geneva ranks and the number 9 least appealing spot in the state. An anemic economy, soft schools and an unimpressive housing market cause headaches for the town's 5,978 inhabitants.
Locals have to endure a 9.1% unemployment rate and make due with a median income of $36,000. The education system is lackluster as well. Even the best school in the area scores just a 6/10 on Great Schools.

Canton knows something about commemorating great achievements. Located in central Ohio, about an hour south of Cleveland, is home to both the Pro Football Hall of Fame and the William McKinley Presidential Library and Museum.
Unfortunately, the town itself has gotten famous for the wrong reasons. It stands as the number 10 most terrible place to put down roots in Ohio.
Jobs, housing, and safety present major problems for the 71,243 people of Canton. The unemployment rate stands at 11.1%, while the median income hovers at $32,287. The weak economy contributes to a high crime rate, which runs about 170% above the national average.
How we determined the worst places to live in Ohio for 2021
To figure out how bad a place is to live in, we only needed to know what kinds of things people like and then decide what cities have the least amount of those things.
We don't think it's a stretch to assume that people like the following things:
Good education
Lots of jobs
Low crime
Low poverty
Nice homes
High incomes
High population density (Lots of things to do)
Short work commutes
Health insurance
The data comes from the Census's most recent American Community Survey and from the FBI Uniform Crime Report.
We broke crime down into violent crime and property crime to give violent crime a larger weight -- if you did a simple calculation of all crimes per capita, property crimes are normally 7x more common and really bias that ranking.
Furthermore, only cities with at least 5,000 people were considered -- leaving 248 cities.
We then ranked each city from 1 to 248 for all the criteria with a #1 ranking being the worst for the particular criteria.
Next, we averaged the rankings into one "Worst Place To Live Score".
Finally, we ranked every city on the "Worst Place To Live Score" with the lowest score being the worst city in Ohio -- Trotwood. Read on for a detailed look at the 10 worst cities in Ohio. You can download the data here.
This list is a scientific analysis based on real data and is completely unbiased.
Wrapping Up The Worst In Ohio
If you're looking at areas in Ohio with the worst economic situations, where there's higher than average crime, and not a lot to do, this is an accurate list.
And in the end, Trotwood ranks as the worst city to live in Ohio for 2021.
If you're curious enough, here are the best cities to live in Ohio:
Montgomery (Pop. 10,782)
Bellbrook (Pop. 7,212)
Upper Arlington (Pop. 35,299)
For more Ohio reading, check out:
Where Are The Worst Places To Live In Ohio?
| Rank | City | Population |
| --- | --- | --- |
| 1 | Trotwood | 24,375 |
| 2 | Wellston | 5,520 |
| 3 | Cleveland | 385,282 |
| 4 | New Carlisle | 5,584 |
| 5 | Middletown | 48,621 |
| 6 | Moraine | 6,486 |
| 7 | Dayton | 140,569 |
| 8 | Portsmouth | 20,311 |
| 9 | Geneva | 5,978 |
| 10 | Canton | 71,243 |