This article is an opinion based on facts and is meant as infotainment. It is our seventh time ranking the most dangerous places to live in South Dakota and is updated for 2021.
If you've ever read Pierre's Capital Journal Crime and Courts page, then you know what many South Dakotans already know: this Midwest state has some pretty dangerous places, too.
Do we think it's because the flatlanders are bored? Jobs are scarce? Low wages? Yes, all three and then some. So, it would be in your best interest to take a look below at RoadSnacks' list of the most dangerous places in South Dakota for 2021 before you make any life changing decisions.
How'd we determine the most dangerous places in The Mount Rushmore State? We consulted the numbers. In total, we analyzed 27 cities. We looked at the FBI's latest crime report for violent crime and property crime statistics for every place with over 2,000 residents. We discovered that South Dakota has some pretty interesting statistics when it comes to violent and property crime compared to the national average. South Dakota is winning the arson game, but losing in murder and aggravated assault. And, shockingly, the city with the most assaults and murders in the state has less than 3,000 residents.
While South Dakota was not in the top ten most dangerous states in America, it does have plenty of cities that should have made the most dangerous cities in the country's list. Maybe these cities need more police presence? We're not entirely sure. But one thing we do know is that you should check out South Dakota's most dangerous places below: there may be some surprises.
The 10 Most Dangerous Places To Live In South Dakota For 2021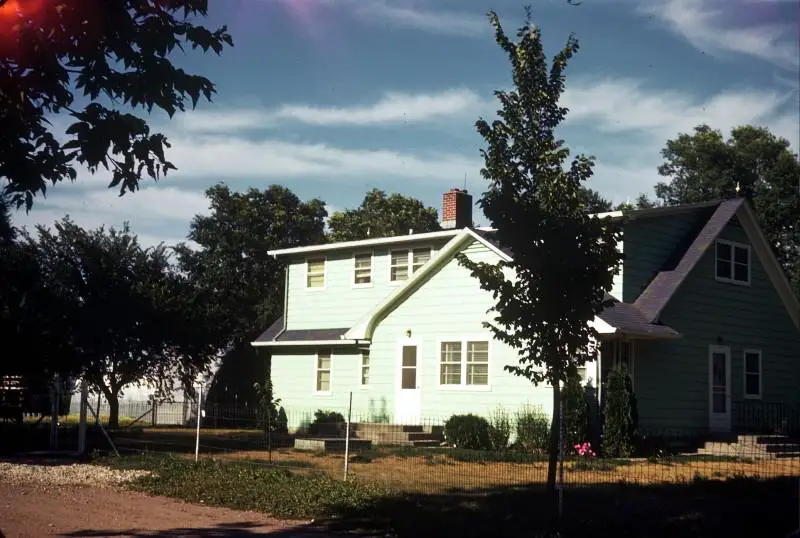 Tiny Flandreau, South Dakota, might not seem like an imposing community. After all, the town, located near the easternmost border of the state, has just 2,323 inhabitants. But you might not want to get caught walking the streets of Flandreau late at night. The area happens to be the number 1 most dangerous spot in South Dakota for 2021.
How does this happen? Well, the town reported 18 violent crimes and 78 property crimes during a year. Not exactly eye-popping numbers. But put those in context. Given the area's puny population, those figures equate to a per-capita rate of 774/100k people for violent crimes and a pace of 3,357/100k people for property crimes.
That means Flandreau has the highest pace of violent crimes and the second highest rate of property crimes in South Dakota.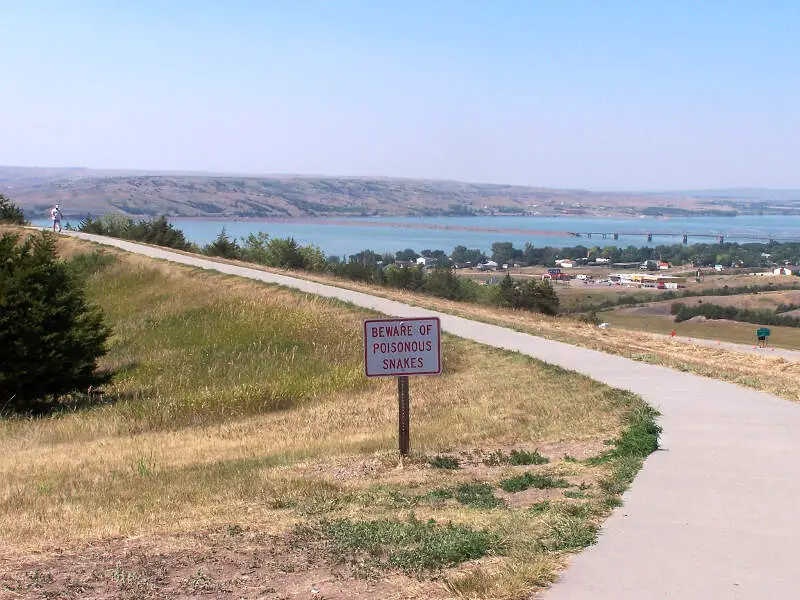 Chamberlain, South Dakota, is a small community with a big history. It hosts the South Dakota Hall of Fame. But the small town has also attracted a darker kind of fame: it ranks as the number 2 most dangerous place in the state.
Over the course of the reporting year 2019, Chamberlain suffered 16 violent crimes. This included 3 rapes. Compared to its population of just 2,345, this equals a per-capita violent-crime rate of 682/100k people. That ranks it third highest in the state for that category.
Property crime is also a problem. The 77 such violations during the year gives it the third highest pace in South Dakota.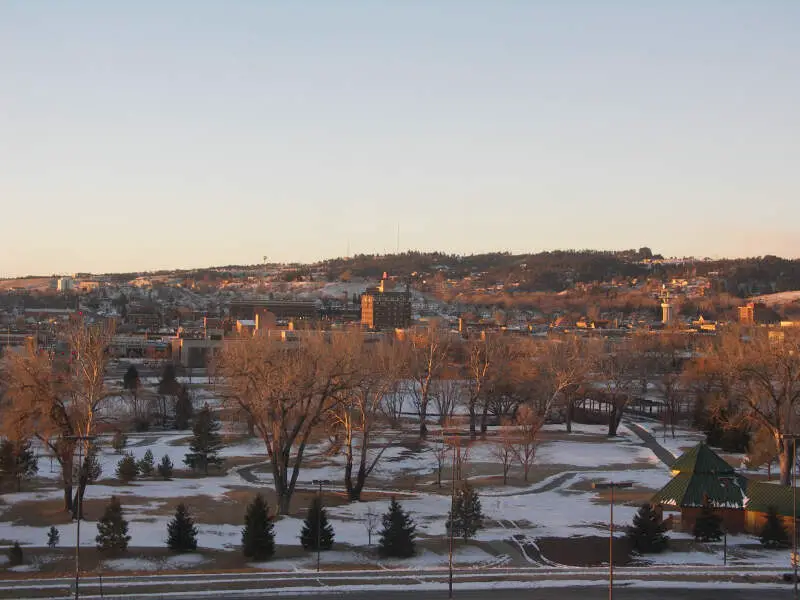 Rapid City represents one of the population centers in South Dakota. With 76,343 inhabitants, it comes in at number 2.0 in terms of most people in the state. Moreover, Rapid City is well situated as a home base for some of the area's biggest attractions, with places likeMount Rushmore and Deadwood located relatively nearby.
While it might serve as a tourist spot, travelers to Rapid City should stay cautious during their trip. The city ranks as the third most dangerous place to live in the state. It reported 540 violent crimes during a year, including 114 rapes and 4 murders. Put into context, that gives Rapid City the second highest violent crime rate for South Dakota.
The community also saw a significant number of non-violent crimes. With 2,454 property crimes, Rapid City had South Dakota'sfourth highest pace in that category. This included 488 burglaries and 320 cars stolen.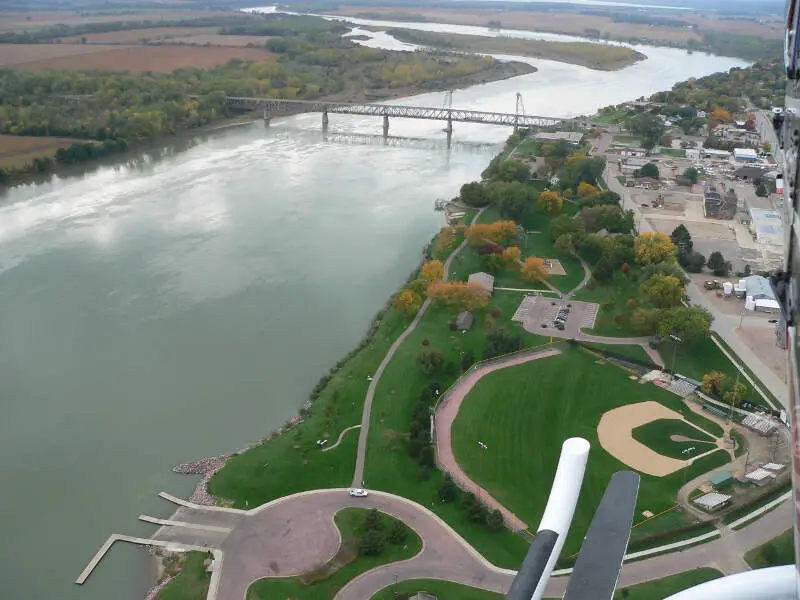 Source: Public domain
Yankton has great historical significance for South Dakota. Located along the Missouri River, in the southeastern part of the state, it represented an early jumping-off point for settlement of the region.
In modern times, Yankton sports a population of 14,730, putting it number 7.0 in the state. With this figure comes a noticeable crime problem, with the community suffering the seventh highest crime rate in South Dakota.
That unfortunate ranking comes about in large part as a result of the 86 violent crimes reported during 2019 — the reporting year. That includes 20 rapes. In addition, Yankton had 375 property crimes over a 12-month period. Putting those figures in terms of population, the city had the fourth highest pace of violent crimes and the seventh highest rate of property violations.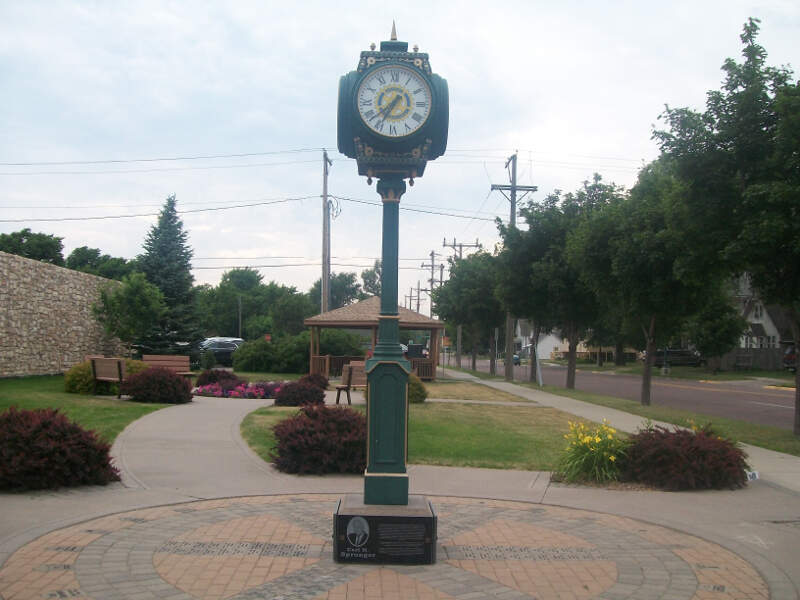 Mitchell is one of the most well-known spots in South Dakota. The town acts as a secondary tourist destination for the state. It might not live up to the level of top attractions, like Mount Rushmore, but the Corn Palace brings in its share of curious guests.
The influx of visitors creates an unfortunate temptation for thieves, however. Mitchell ranks highest in the state for property crime. It had 538 such violations in a year, with 437 larcenies and 40 car thefts.
For violent crime, Mitchell is better off. In a city of 15,733 people, it reported 59 violent crimes. That puts it tenth highest in South Dakota in that category.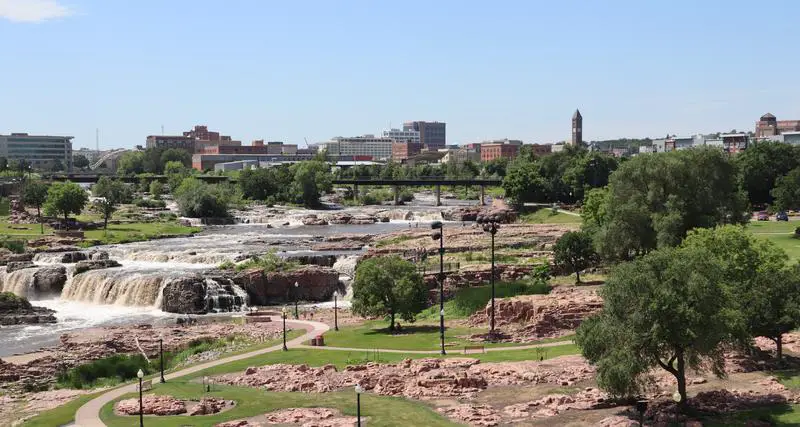 Sioux Falls stands as the number 1.0 most populous city in South Dakota. With 185,628 inhabitants, the city might seem miniscule compared to places like Los Angeles, Houston, or New York City. But the area still counts as a massive metropolis for South Dakota.
As with any large city, Sioux Falls has its share of crime. It suffered 897 violent crimes during a year, including 4 murders and 116 rapes. In terms of raw numbers, those are high for South Dakota. But on a per-capita basis, Sioux Falls only ranks as the sixth most violent spot in the state.
For property crime, Sioux Falls sees the fifth highest rate in South Dakota. This comes with 4,300 larcenies, 695 burglaries, and 658 stolen cars reported in 2019.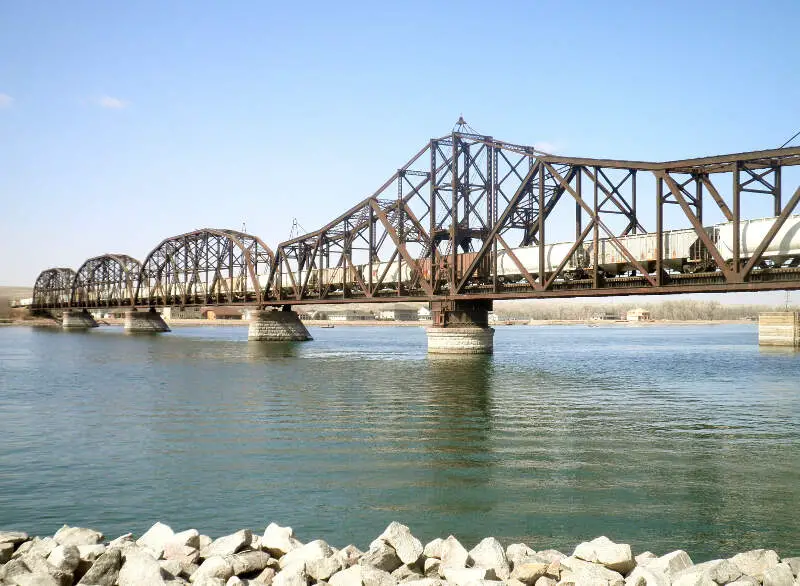 Ask your average fifth grader to name a city in South Dakota. If they come up with anything, they'll probably say Pierre. That's because the city serves as the state's capital, making it one of South Dakota's most high-profile communities.
With a population of 14,018, Pierre ranks as one of the smallest centers of government in the U.S. Even with its tiny size, Pierre has its share of crime. The city had 383 property crimes and 65 violent crimes during the year.
In terms of crime rate, Pierre had the sixth highest pace of property crime in South Dakota. Meanwhile, for violent crime, the city's rate ranked seventh highest.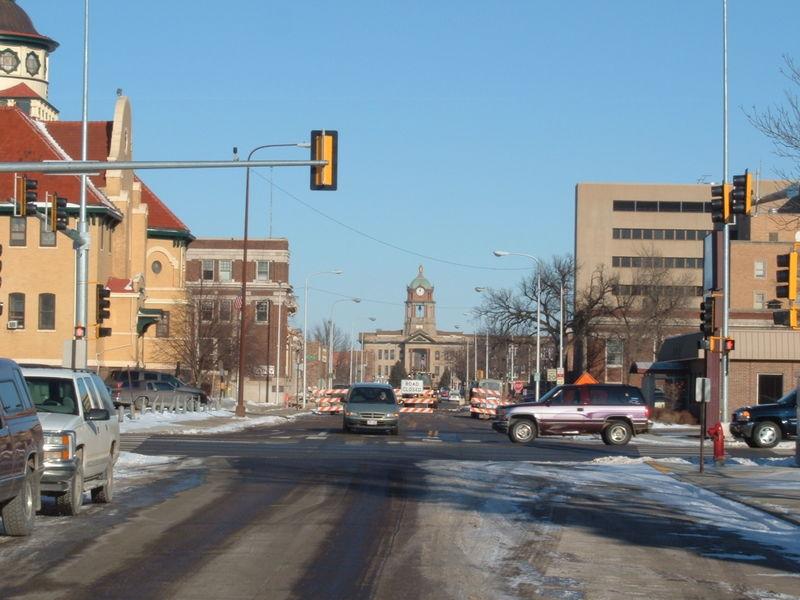 Source: Public domain
With a population of 28,870 inhabitants, Aberdeen would count as a small community in many states. However, in South Dakota, it ranks as the number 3.0 most populous cities. Originally built as a railroad stop, Aberdeen has a rich business history. For example, it served as the founding location for the Super 8 chain of motels.
Unfortunately, the city is home to some more illicit business as well. Aberdeen ranks as the fifth most violent spot in South Dakota. That comes as a result of 115 aggravated assaults and 41 rapes in a year. That gives it a per-capita violent-crime rate of 554/100k people.
Looking at property crimes, Aberdeen seems a little safer. Despite being the 3rd biggest city in South Dakota, it has only the tenth highest pace of property crimes.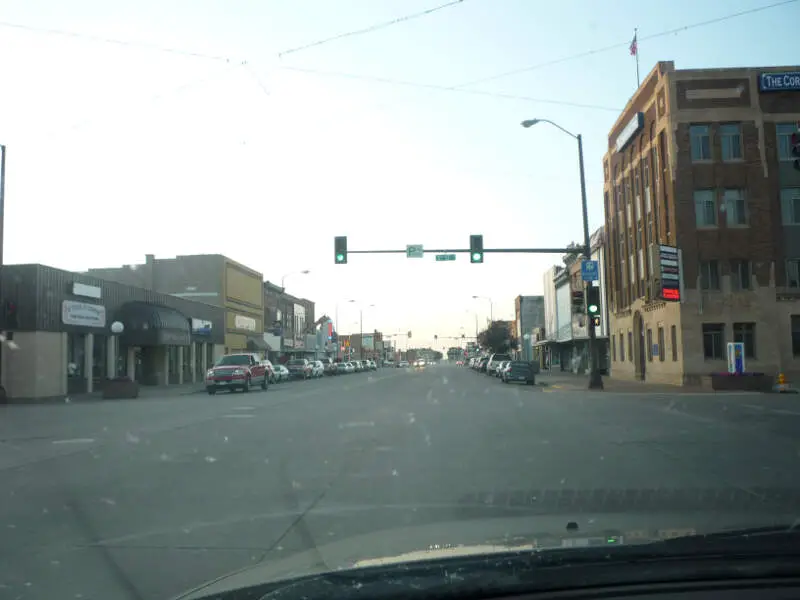 Source: Public domain
Centrally located in South Dakota, Huron once vied for the position of state's capital and currently hosts the South Dakota State Fair. It also boasts "The World's Largest Pheasant" – a 28-foot-tall statue along Highway 14, meant to advertise the area's ample pheasant hunting.
Gamebirds aren't the only thing in danger in the area, however. For a relatively small town, Huron has its share of crime trouble. The community suffered 58 violent crimes during a year, including 11 rapes. That puts the city eighth highest in the state in terms of highest violent crime rate.
Property crime is an issue as well. Huron had 311 larcenies and 29 burglaries during the year. That gives the town the eighth highest pace of property crime in South Dakota.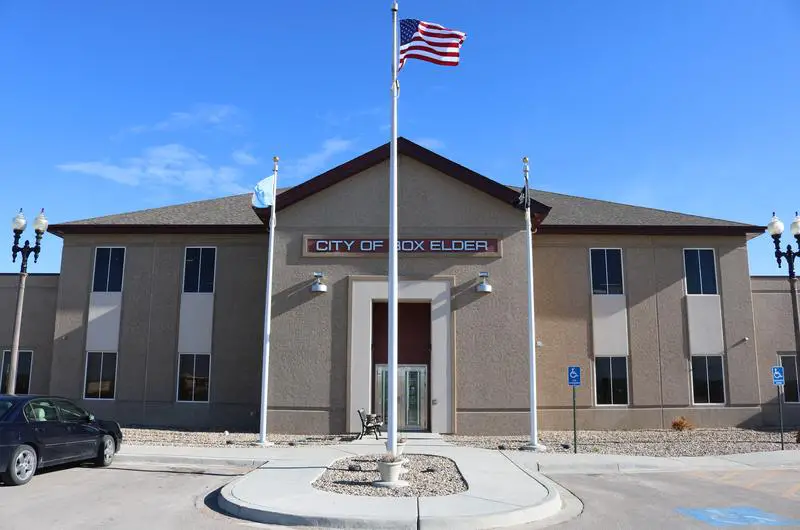 Located near the western border of South Dakota, Box Elder is home to the Ellsworth Air Force Base. Maybe the presence of all those airmen and airwomen provide a tempting target for criminals. Whatever the reason, the relatively low-population community counts as the number 10 most dangerous spots in the state.
Box Elder reported 42 violent crimes during a year, with 36 aggravated assaults. Those numbers might seem pretty small. But put them in terms of population and the community has ninth highest rate of violent crimes in the state.
The town also reported 216 property crimes during the year. This gave Box Elder South Dakota's 12th highest pace for the category.
Graphing The Most Dangerous And Safest Places In South Dakota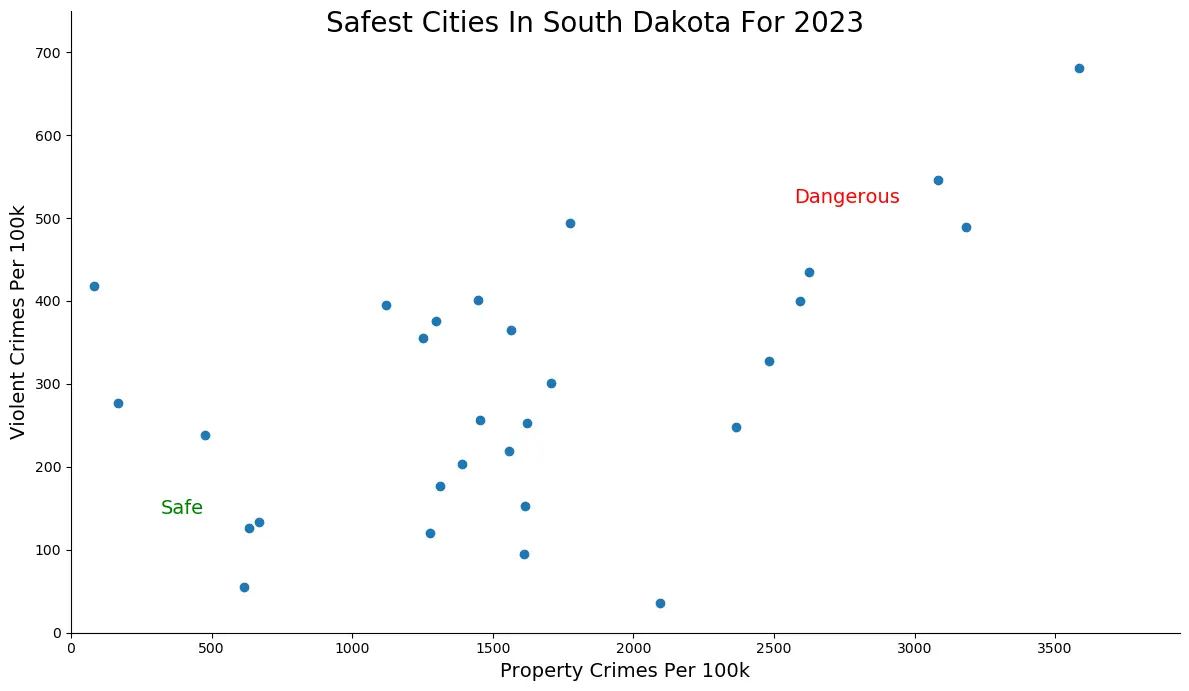 Click To Enlarge
How we determined the most dangerous cities in South Dakota for 2021?
Every year the FBI release two crime datasets, a preliminary dataset limited to the biggest cities in the country, followed by a more detailed release at the end of the year.
For our analysis, we focused on the JUST released 2019 data, specifically the 2019 Crime In The United States Report. We will update the results when data becomes available in September 2021.
So what criteria did we use? Have a look:
Violent Crimes Per Capita
Property Crimes Per Capita
In order to make the analysis as apples to apples as possible, we only considered South Dakota cities over 2,000 in population. That left us with 27 cities in South Dakota.
We then ranked each city from 1 to 27 for the two criteria with a #1 ranking being the most dangerous for the particular criteria.
Next, we averaged the two rankings into one "Dangerous Index".
Finally, we ranked every city on the "Dangerous Index" with the lowest index being the most dangerous in South Dakota — Flandreau. Any ties went to the smaller city. You can download the data here.
Read on for a detailed look at the 10 most dangerous cities in South Dakota.
Locking It All Up In South Dakota
So what is the most dangerous city in South Dakota? After analyzing 27 cities in South Dakota, Flandreau takes the top spot as the most dangerous city in South Dakota based on the most recently reported FBI data — 2019.
The latest FBI crime data shows that Flandreau ranks as the most dangerous city in South Dakota for 2021.
We want to point out again that there's still safes places in Flandreau and that this isn't a comment on the people that live there. So please don't beat us up.
It's not lost on us that many of South Dakota's cheapest places are also the state's most dangerous–this is usually how it works. And this is definitely what is happening in South Dakota's number one most dangerous city: rent is cheap, jobs are scarce, and crime is high.
So, where is the most dangerous place in South Dakota for 2021? That would be, Flandreau.
If you want to know where the rest of the most dangerous places in South Dakota are located, take a look at the list below; and if you don't find what you're looking for there, head to the bottom.
Learn more about the safest places in South Dakota.
If you're looking for something more national, check out the most dangerous cities in America or the most dangerous states in America.
Here are the safest cities in South Dakota:
Summerset (Pop. 2,796)
Madison (Pop. 7,558)
Vermillion (Pop. 10,833)
Brookings (Pop. 24,823)
Belle Fourche (Pop. 5,600)
Tea (Pop. 5,898)
Lennox (Pop. 2,476)
Sisseton (Pop. 2,423)
Lead (Pop. 2,958)
Brandon (Pop. 10,244)
For more South Dakota reading, check out:
The Most Dangerous Cities In South Dakota
| Rank | City | Population |
| --- | --- | --- |
| 1 | Flandreau | 2,323 |
| 2 | Chamberlain | 2,345 |
| 3 | Rapid City | 76,343 |
| 4 | Yankton | 14,730 |
| 5 | Mitchell | 15,733 |
| 6 | Sioux Falls | 185,628 |
| 7 | Pierre | 14,018 |
| 8 | Aberdeen | 28,870 |
| 9 | Huron | 13,840 |
| 10 | Box Elder | 10,077 |
| 11 | Canton | 3,521 |
| 12 | Sturgis | 6,983 |
| 13 | Spearfish | 11,842 |
| 14 | Watertown | 22,233 |
| 15 | North Sioux City | 2,932 |
| 16 | Mobridge | 3,550 |
| 17 | Hot Springs | 3,485 |
| 18 | Summerset | 2,796 |
| 19 | Madison | 7,558 |
| 20 | Vermillion | 10,833 |
| 21 | Brookings | 24,823 |
| 22 | Belle Fourche | 5,600 |
| 23 | Tea | 5,898 |
| 24 | Lennox | 2,476 |
| 25 | Sisseton | 2,423 |
| 26 | Lead | 2,958 |
| 27 | Brandon | 10,244 |