Editor's Note: This article is an opinion based on facts and is meant as infotainment. Don't freak out we updated this article for 2021. This is our seventh time ranking the worst places to live in South Dakota.
Article Table Of Contents
(Skip to section)
You people up there in South Dakota are a tough bunch. You know how to live off the land, many of you hunt, and most of you have a gun. You have beautiful landscapes and, of course, one of the coolest national monuments in the nation.
Plus, you're way better than North Dakota.
Is it all rosy in SoDak? Of course not. Just like every other state, South Dakota has its least desirable spots. The purpose of this post is to use science and data to determine which places are the worst you could possibly live in if you make South Dakota your home.
After analyzing 36 of the state's most populous cities (over 2,100 people), we came up with this list as the 10 worst places to live in the state of South Dakota:
The 10 Worst Places To Live In South Dakota For 2021
What? Where are these places you wonder? And before you get all riled up and say we're picking on small town America, that's not the case.
We understand there's a lot of good in every place.
However, according to data (which doesn't measure things like beauty and 'friendly people'), there are far better options in the state for making a place home. And the worst place to live in South Dakota? That would be Flandreau.
Read on below to see how we crunched the numbers and see how your city fared in 2021.
If you're looking for something more national, check out the worst cities in America or the worst states in America.
For more South Dakota reading, check out:
The 10 Worst Places To Live In South Dakota For 2021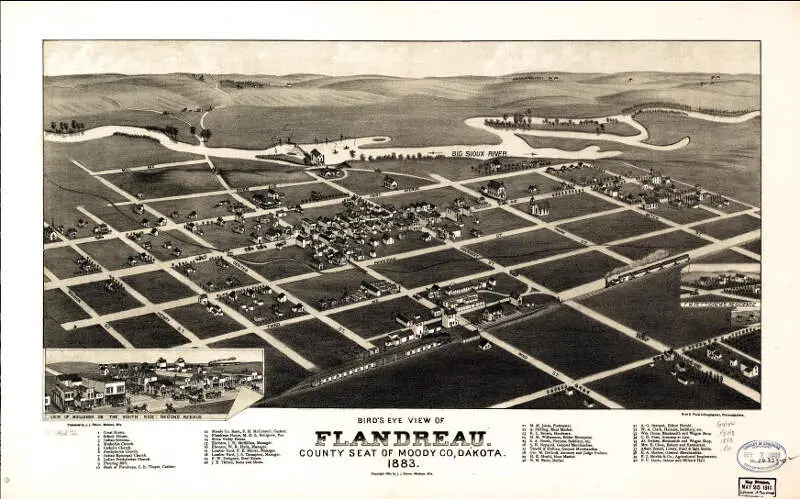 Source: Public domain
Crime is a factor in Flandreau's ranking. Among cities over 2,000 (and excluding towns on Native American land), Flandreau has the highest crime rate in South Dakota. Considering that it's just outside of (but not within) an Indian Reservation, you can understand why crime might be so high here.
People in South Dakota are used to not locking their doors. Not here.
The unemployment rate (5.4%) and home prices ($100,800) are also far below the state average.
Flandreau is located north of Sioux Falls.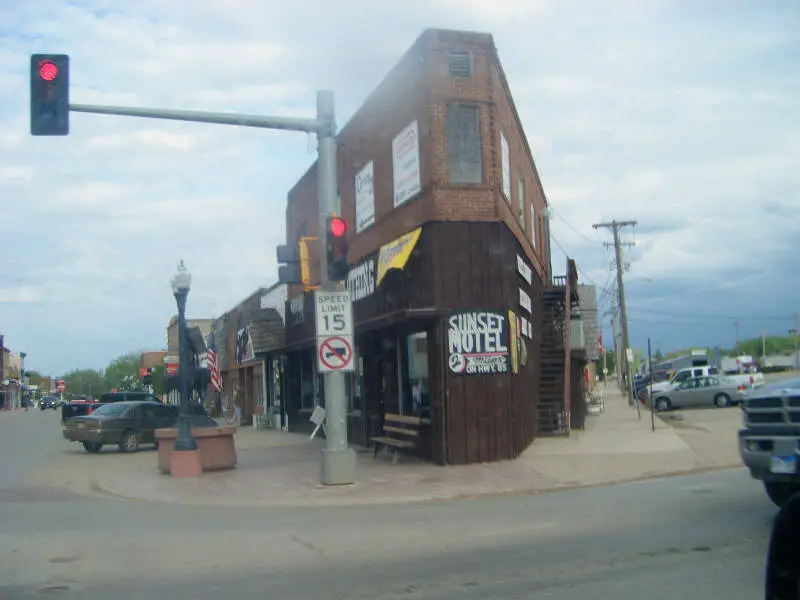 You can't blame them for living in Belle Fourche since it's really beautiful, but there are sacrifices you make to live in the boonies. One of them is income.
Not only is the unemployment rate the highest in the state here (7.2%), the residents in Belle Fourche earn the smallest household income in the state of South Dakota. At a combined income of $46,463, families of four are barely above the poverty line.
In addition, the crime here is really high for a small city in South Dakota. Belle Fourche has the 23rd highest crime rate in the state.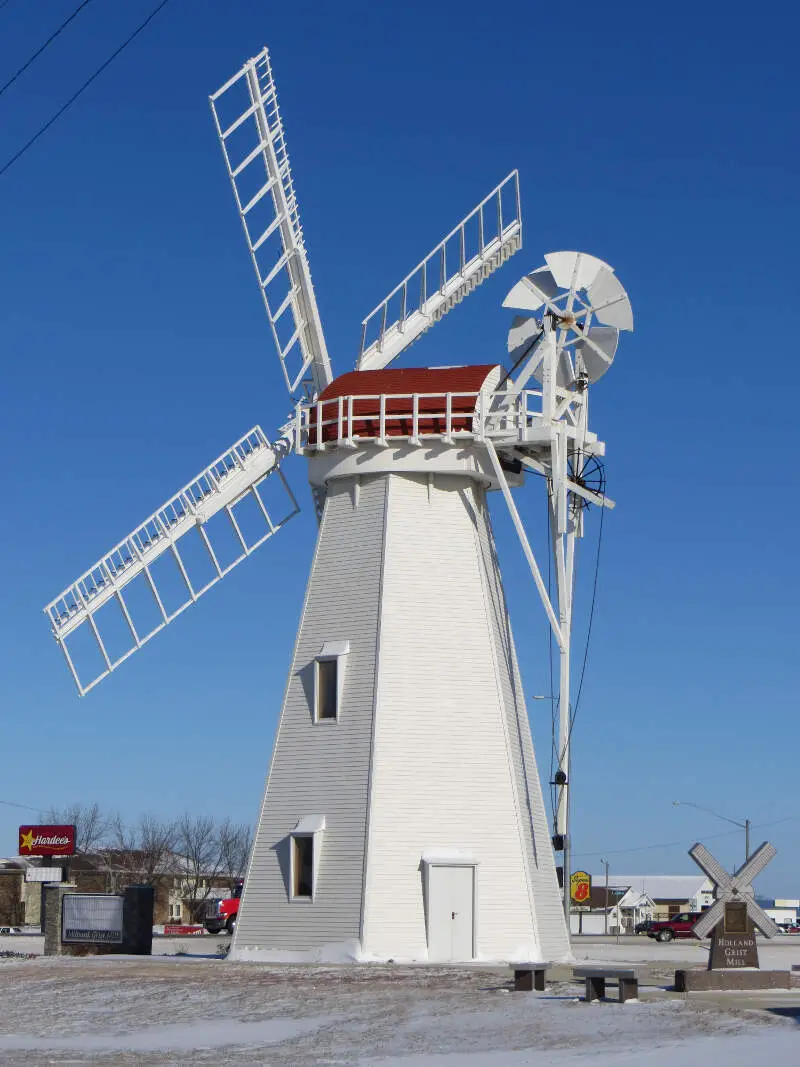 Milbank is on Route 12 north of Watertown near the Minnesota state line. Here, it's really hard to find jobs, as a 4.4% unemployment rate is the 2nd highest in South Dakota. Residents here earn far less than their South Dakota peers when it comes to annual income levels.
Plus, homes are valued at $98,000, which is the 9th lowest valuation in the state. Maybe that's a reason Milbank's population has shrunk nearly 9% in the last 10 years.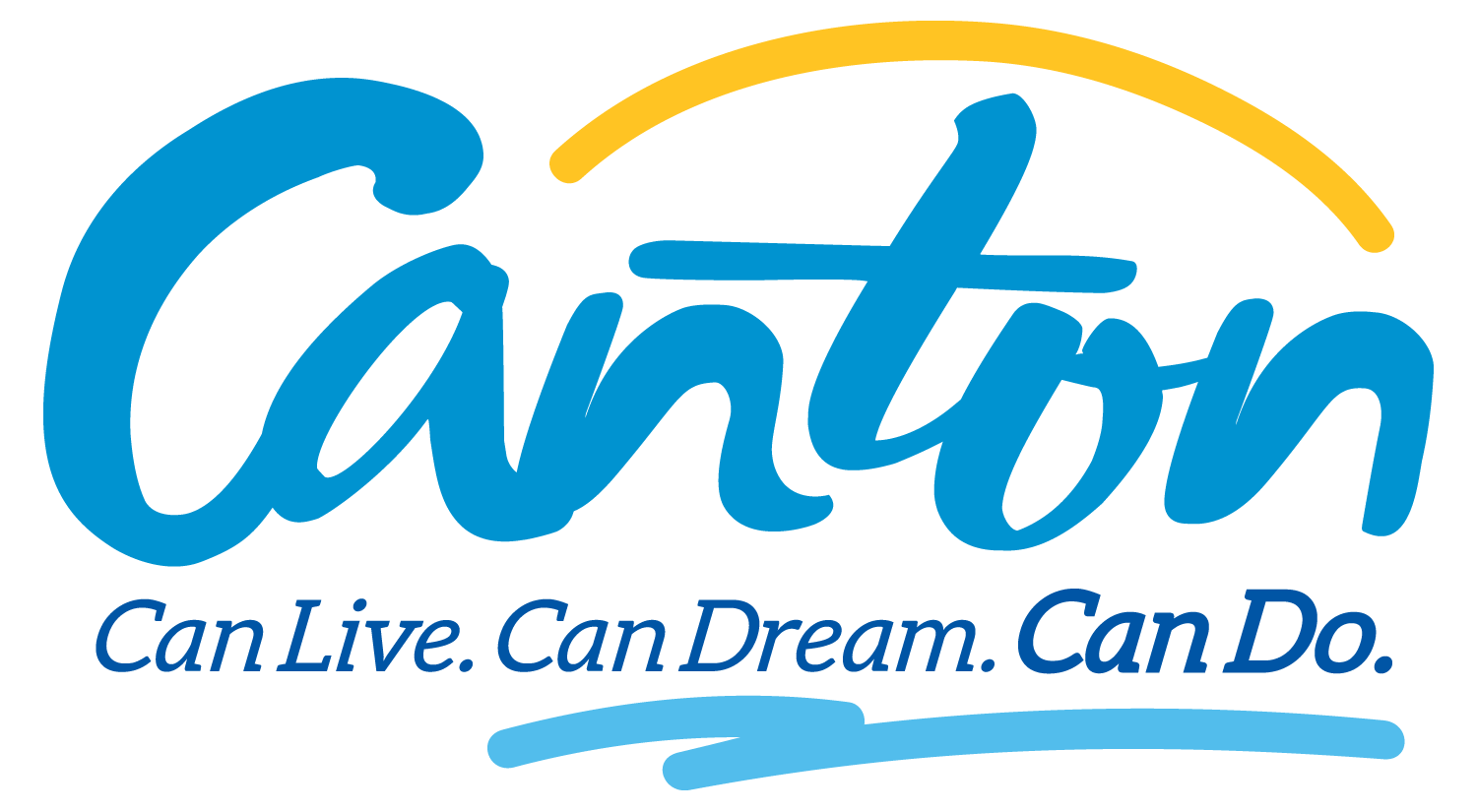 We're seeing a pattern here. A small, isolated city with a bad economy. Canton is located in Lincoln County.
Here, the schools are way underfunded, when you compare them to the rest of South Dakota. Families can barely make ends meet, and the unemployment rate (3.4%) is the 11th highest in the state. A home here sells for $129,300, on average. That signals it's not a desirable place to live.
Plus, crime is in the top 10%.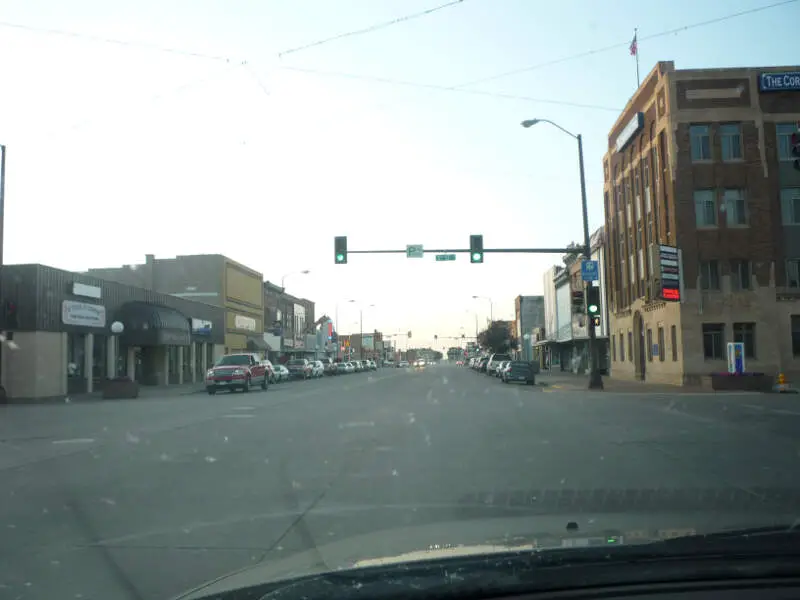 Source: Public domain
Huron has the 5th lowest home values in the state ($91,900), which indicates little demand to live here. Additionally, the student spending levels are some of the lowest you'll find in South Dakota. Crime is above average.
And, unless you enjoy shopping at Walmart, you have quite a drive into Sioux Falls for a little fun.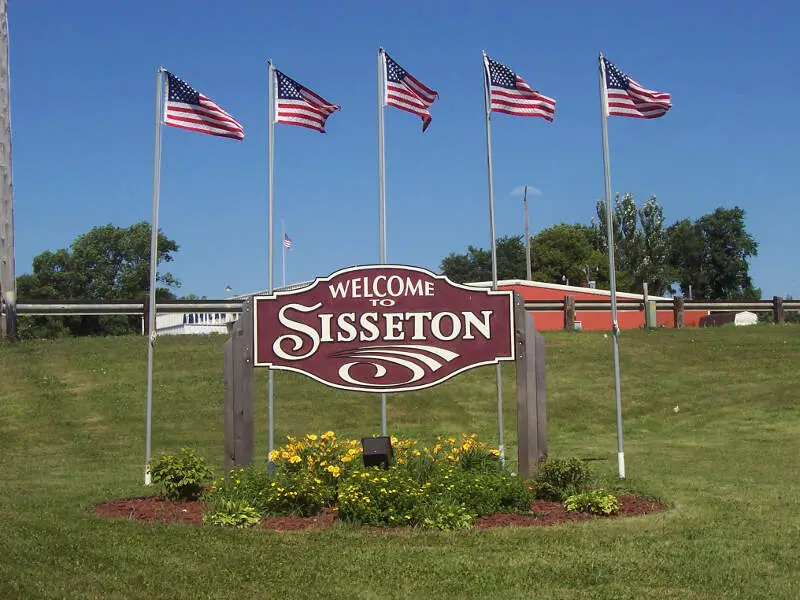 Things are starting to get progressively more 'modern' and in line with what you expect in a great state such as South Dakota when we get to Sisseton. Sure, the unemployment rate is at 7.1% (which is really high), and the median income is $38,679. But the homes are at least above the $100,000 mark, and the schools aren't a complete mess.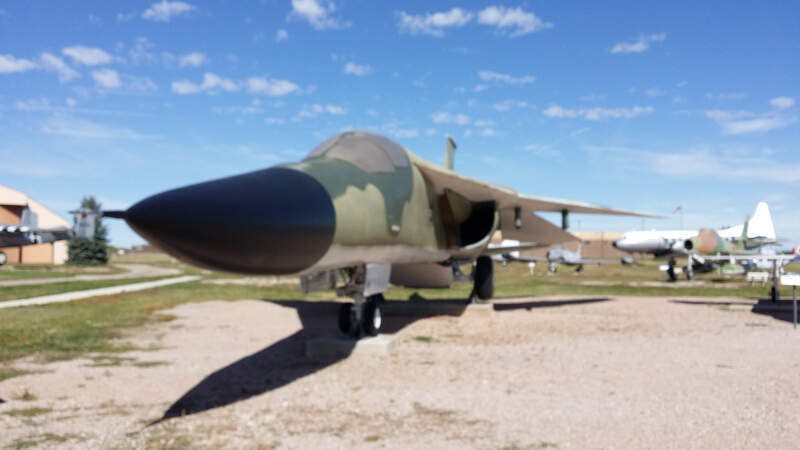 Box Elder ranks as the 7th worst city in South Dakota. Located in Meade County, Box Elder has the 20th lowest income levels in the state of South Dakota ($53,382), and some of the lowest number of doctors in the state. Crime is above average, and the unemployment rate is 2.7%.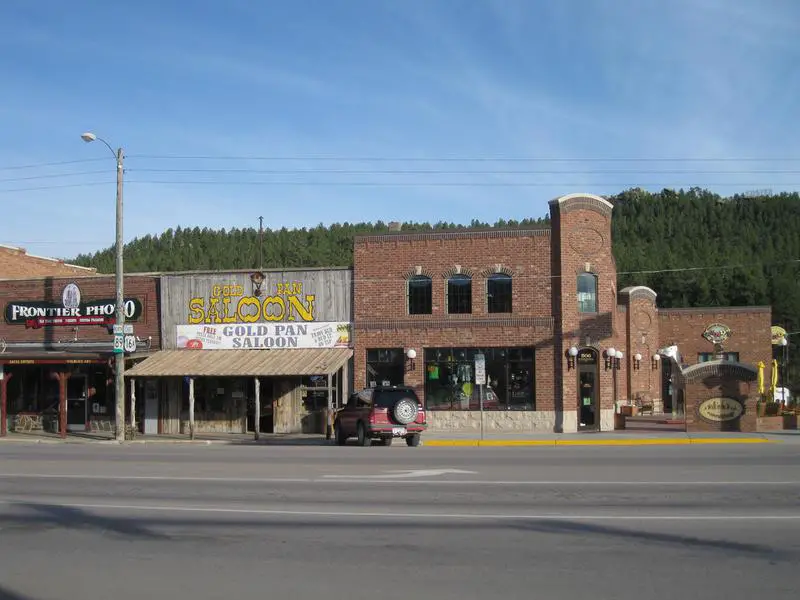 Sure, Custer is a pretty place. Tucked in the middle of the Black Hills Mountains south of Rapid City, the folks who live there would probably defend it to their deaths. But science says it's not very desirable, based on what people say they 'want' in a community.
Custer residents earn the 4th lowest salaries and are the 4th least employed in South Dakota. Crime is above average and home prices are below average. The schools are rated great, though.
So if you like living in the outdoors, and want smart kids, but can handle the fact that you won't earn a decent living and have to put up with more robberies than most of your SoDak peers, this might be the place for you.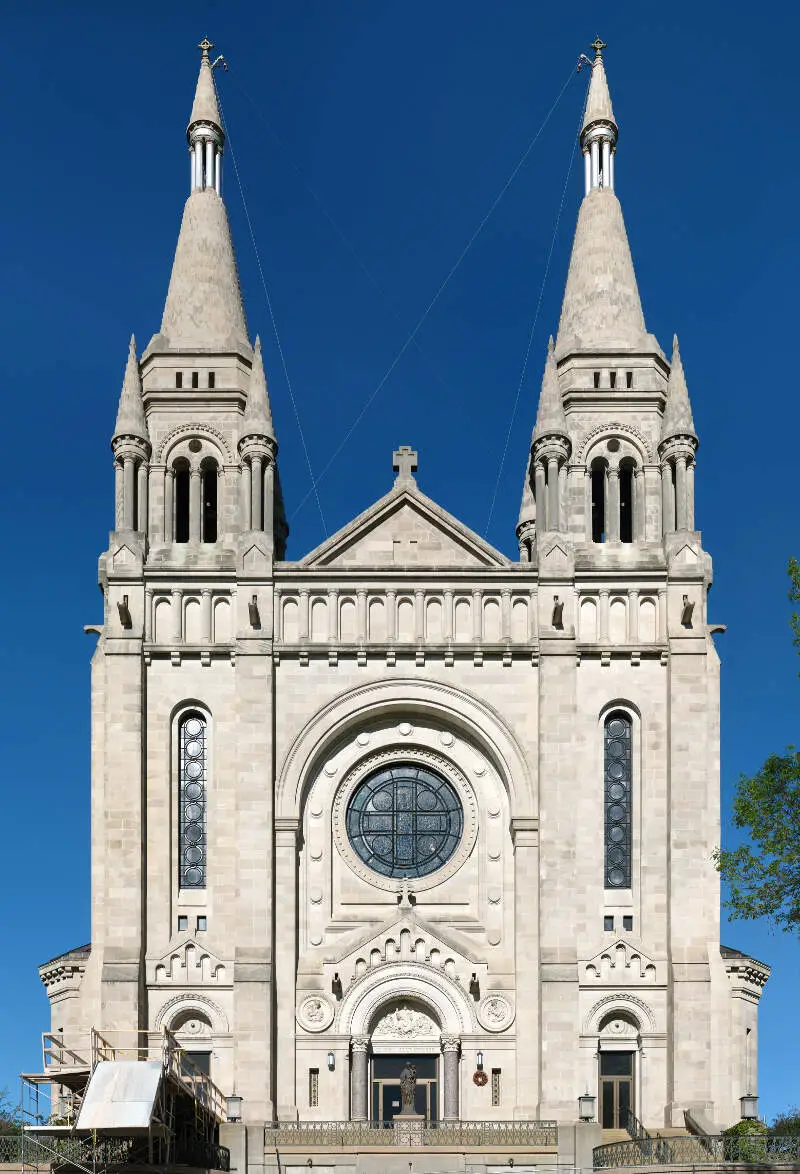 Out of all the places to live in South Dakota, Sioux Falls ranks as the 9th worst -- not something to brag about.
Sioux Falls's unemployment rate stands at 3.0%. While the income levels out here are some of the lowest in the state. Residents earn a combined $59,912 a year in salaries. That's not enough to really get ahead in life.
Additionally, the homes are the 3cheapest in the entire state at $189,800. Again, some people like the cheap cost of living, but housing is priced on demand, and the fact is, there's not a lot of demand to live way out in Sioux Falls. Plus, what do you do for fun here anyway?
Crime is the 4th worst in the state. You have a 1 in 31.3 chance of being robbed here and a 1 in 197 chance of being attacked or raped. Yikes.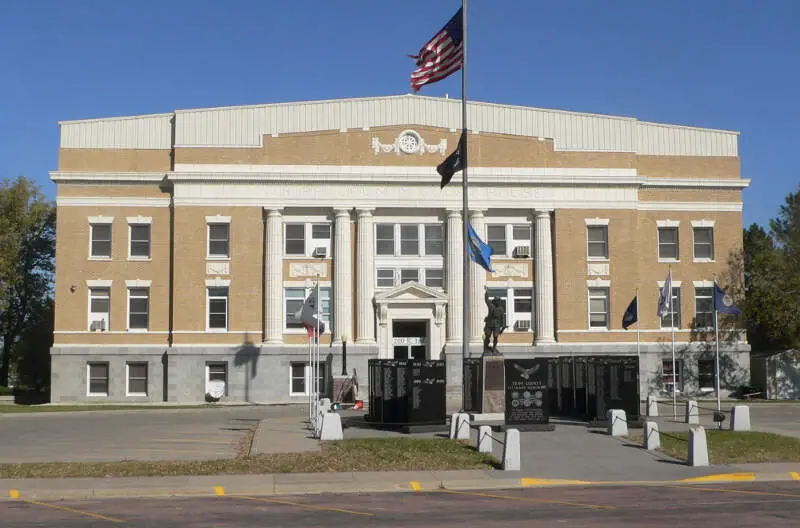 Source: Public domain
Depending on how you look at it, homeowners in Winner are either winners or losers. The cost of a home here is the 6th lowest in South Dakota ($100,700). You can imagine why; its isolated near reservations in the middle of the state.
How far is Wall Drug and Corn Palace from Winner? Really, really far. Maybe they enjoy watching the buffalo roam, instead.
How we determined the worst places to live in South Dakota for 2021
To figure out how bad a place is to live in, we only needed to know what kinds of things people like and then decide what cities have the least amount of those things.
We don't think it's a stretch to assume that people like the following things:
Good education
Lots of jobs
Low crime
Low poverty
Nice homes
High incomes
High population density (Lots of things to do)
Short work commutes
Health insurance
The data comes from the Census's most recent American Community Survey and from the FBI Uniform Crime Report.
We broke crime down into violent crime and property crime to give violent crime a larger weight -- if you did a simple calculation of all crimes per capita, property crimes are normally 7x more common and really bias that ranking.
Furthermore, only cities with at least 2,000 people were considered -- leaving 36 cities.
We then ranked each city from 1 to 36 for all the criteria with a #1 ranking being the worst for the particular criteria.
Next, we averaged the rankings into one "Worst Place To Live Score".
Finally, we ranked every city on the "Worst Place To Live Score" with the lowest score being the worst city in South Dakota -- Flandreau. Read on for a detailed look at the 10 worst cities in South Dakota. You can download the data here.
This list is a scientific analysis based on real data and is completely unbiased.
Wrapping Up The Worst In South Dakota
If you're looking at areas in South Dakota with the worst economic situations, where there's higher than average crime, and not a lot to do, this is an accurate list.
And in the end, Flandreau ranks as the worst city to live in South Dakota for 2021.
If you're curious enough, here are the best cities to live in South Dakota:
Tea (Pop. 5,397)
Dell Rapids (Pop. 3,660)
Brandon (Pop. 9,934)
For more South Dakota reading, check out:
Where Are The Worst Places To Live In South Dakota?
| | | |
| --- | --- | --- |
| 1 | Flandreau | 2,458 |
| 2 | Belle Fourche | 5,616 |
| 3 | Milbank | 3,166 |
| 4 | Canton | 3,447 |
| 5 | Huron | 13,282 |
| 6 | Sisseton | 2,468 |
| 7 | Box Elder | 9,683 |
| 8 | Custer | 2,282 |
| 9 | Sioux Falls | 177,117 |
| 10 | Winner | 2,826 |