This article is an opinion based on facts and is meant as infotainment. It is our seventh time ranking the most dangerous places to live in New York and is updated for 2021.
Not only do you have to worry about getting the measles in this state, you have to worry about where to live that's safe. Yes, New York has its fair share of dangerous cities.
And lucky for you, we have the top ten most dangerous cities in New York for 2021 broken down below. One might think that most of the problems are centralized around New York's largest city: New York City. Surprisingly, New York has done a fair job of keeping it's crazy spread evenly across the state.
Some might wonder why we produced this list. Well, one goal is to definitely help people navigate these dangerous cities when trying to make an informed decision on what city they should call home. Let's be real, we're not talking about navigating Times Square during New Year's Eve kind of danger. The type of danger we're talking about gets people on NEWS ten at six. To compile our list, we looked at violent crimes and property crimes in cities with a population of 5,000. That left us with 196 cities. Folks, the cities that made our list have robberies happening in broad daylight, car jackings, and daily shootings. There are neighborhoods in these cities that you shouldn't drive thru, ever, and there are areas that you definitely shouldn't be in after dark.
We're not saying that there aren't little pockets of goodness in these New York cities. There are neighborhoods and shopping centers in these cities that are working hard to make life easier. And it's not entirely New York's fault. They have close to 20 million people. As with most situations, there's bound to be problems with that many people: especially that many New Yorkers in one area.
To see where these New York cities with more issues than the New York Housewives are located, take a look below at our most dangerous cities in The Empire State for 2021.
The 10 Most Dangerous Places To Live In New York For 2021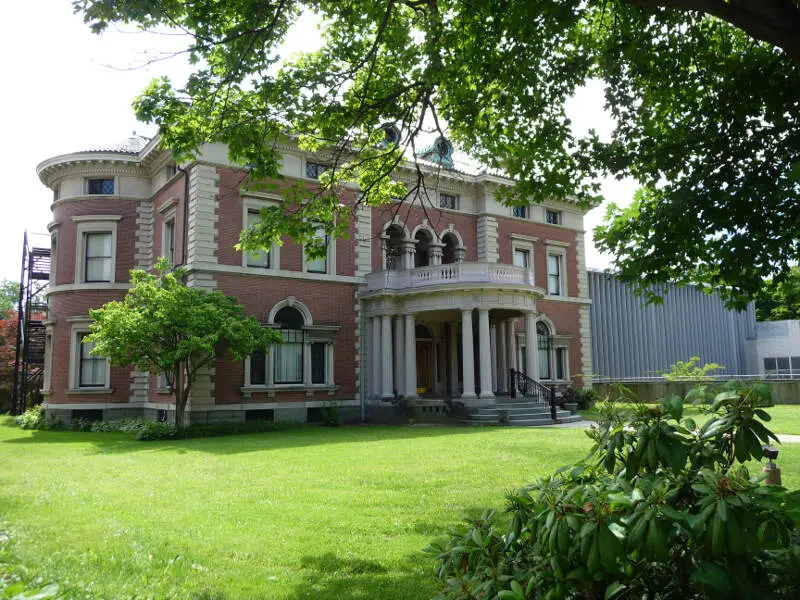 When people think about the mean streets of New York, they're usually imagining New York City, not Binghamton. But it turns out there's nowhere in The Empire State with meaner streets than Binghamton, where the overall crime rate is nearly twice as high as the national average.
How bad is it in Binghamton? Well, the city averages one violent crime each day and had the highest burglary rate in the whole state for 2019. In other words, you can enjoy a day out at
Otsiningo Park, but you'd best be on your way home when the sun starts setting.
Binghamton is located just north of the Pennsylvania border, at the junction of I-81, I-86, and I-88.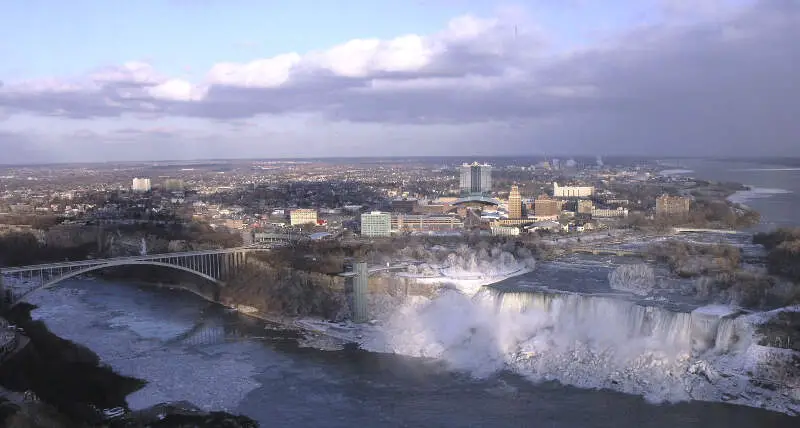 If you thought being on the Canadian border would make Niagara Falls any friendlier or safer, think again. It turns out going over the Falls in a barrel might be the safest thing you do here.
Niagara Falls had the sixth highest property crime rate and third highest violent crime rate in the state, so it's not doing great in either category.
To be fair though, millions of people come through Niagara Falls each year, so a good chunk of this crime rate could be attributed to a population that's usually much higher than the official count.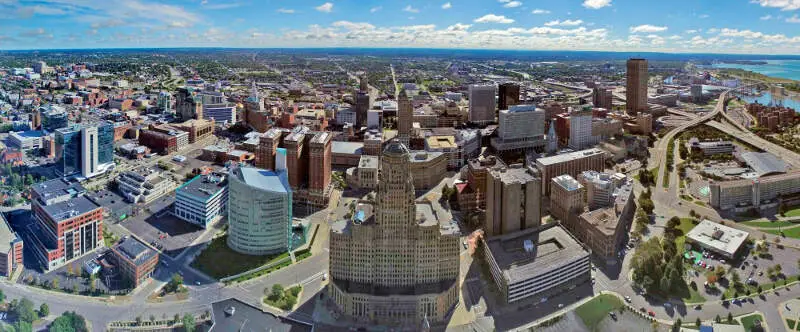 The Bills may have never won a Super Bowl, but at least Buffalo gets the third place medal for…being extremely dangerous. Congratulations?
New York's second-biggest city is especially bad when it comes to violent crime, with the second highest rate statewide. That translates into about 1 in 100 chance of being the victim of violence over the course of a year — not great.
Besides having the second highest murder rate in New York, Buffalo also shines in property crime, with the fourth highest burglary rate. It's going to take a lot of Buffalo wings to get over these numbers.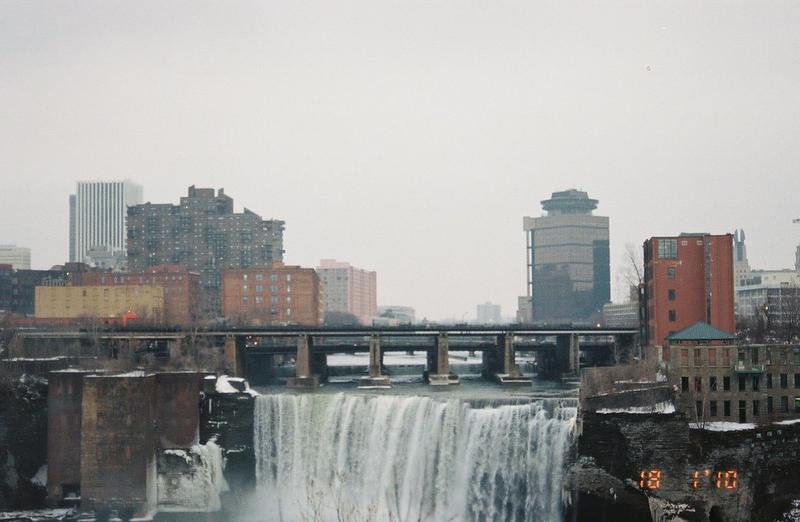 We continue the Upstate New York trend with Rochester, New York's 3rd biggest city. With 7,142 property crimes in 2019, residents of Rochester face a whopping 1 in 7,142 chance of having their stuff stolen or damaged.
On top of that, Rochester averages four violent crimes each day. That includes the state's third highest murder rate.
At least residents can stop and smell the lilacs at Highland Park to, you know, get their minds off all the murder going on.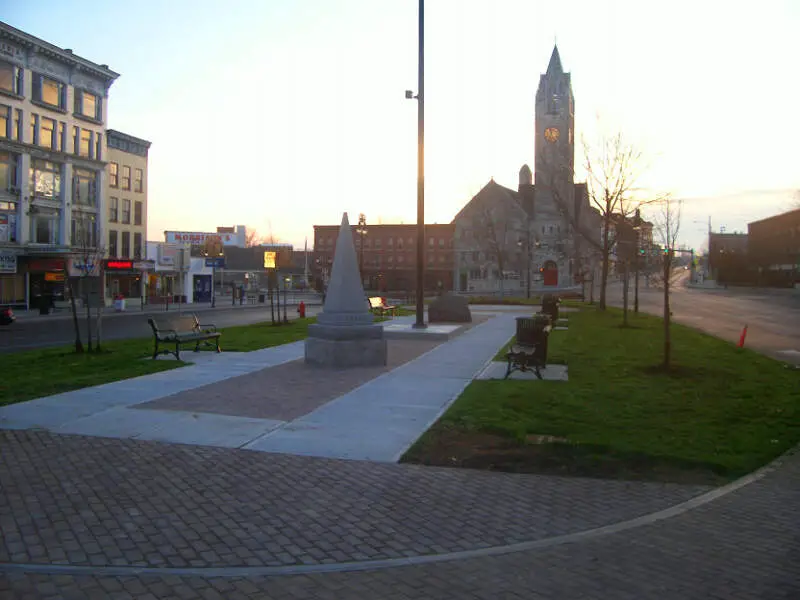 Source: Public domain
Located just 25 miles south of The Thousand Islands in Upstate New York, Watertown ranks as the fifth most dangerous city the state has to offer.
On the bright side, Watertown experienced zero murders in 2019. On the definitely not-bright side, the city also had the second highest rate of rape in New York.
Watertown residents also had a 1 in 28 chance of being the victim of a property crime, so you'll want to watch out for porch pirates here.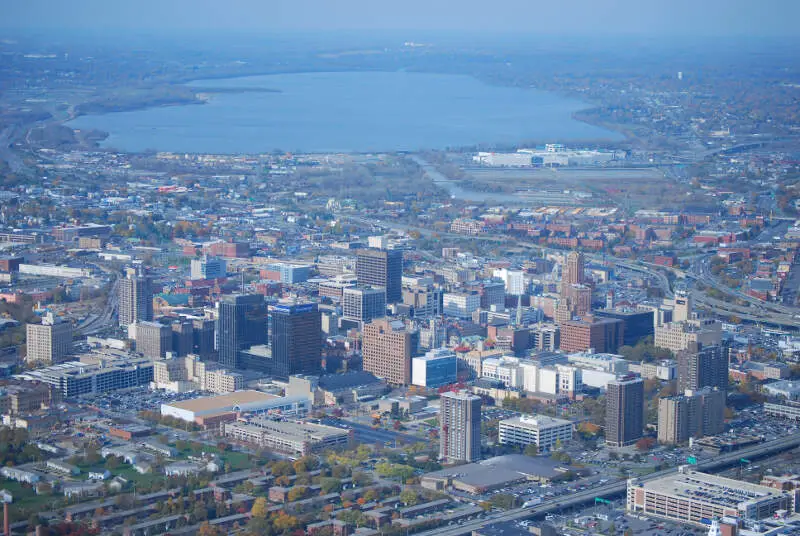 Syracuse is home to The Great New York State Fair, but it's also home to a whole lot of crime. Syracuse had the sixth highest violent crime rate in New York, with 19 murders in 2019.
On top of that, Syracuse experienced the seventh highest burglary rate in the state, so property crime is quite prevalent as well.
That being said, Syracuse is one of New York's biggest cities, so if you stick to one of Syracuse's safest neighborhoods, you should have nothing to worry about.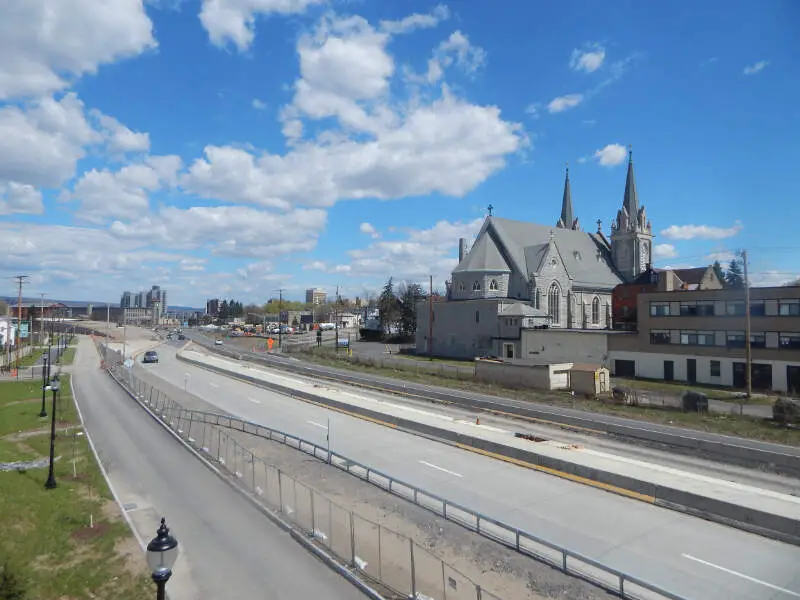 Coming in as the seventh most dangerous place to call home in New York is Utica. In 2019, the data reporting year, there were 374 violent crimes recorded, about one each day on average.
On top of that, residents of Utica had a 1 in 30 chance of having their belongings stolen or damaged. In other words, it's a good idea to make sure you've still got all your valuables on you after passing through Union Station.
Altogether, Utica's overall crime rate is more than twice as high as your typical town or city in New York.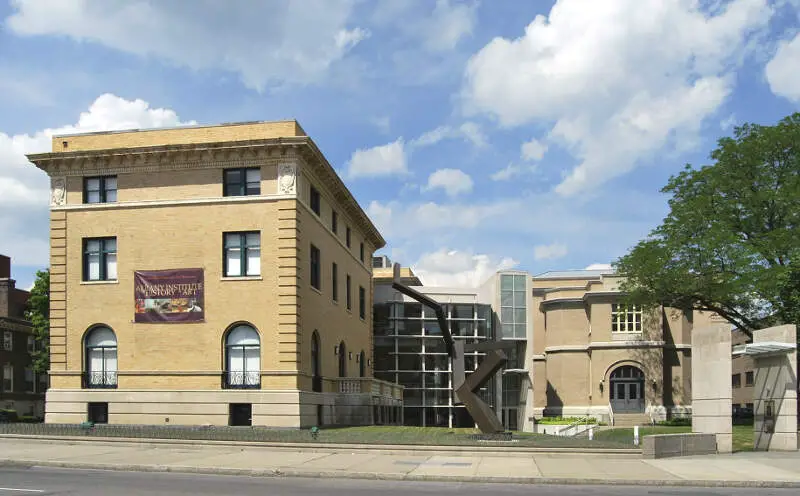 The capital of New York, Albany, ranks as the state's eighth most dangerous place to live for 2019. Albany experienced 2,919 property crimes over the year, with more than one burglary every day and a car theft every other day, on average.
Additionally, Albany has the eighth highest violent crime rate in the state,with residents facing a 1 in 132 chance of being attacked in 2019. So make sure you buddy up if you're going for a jog at Washington Park.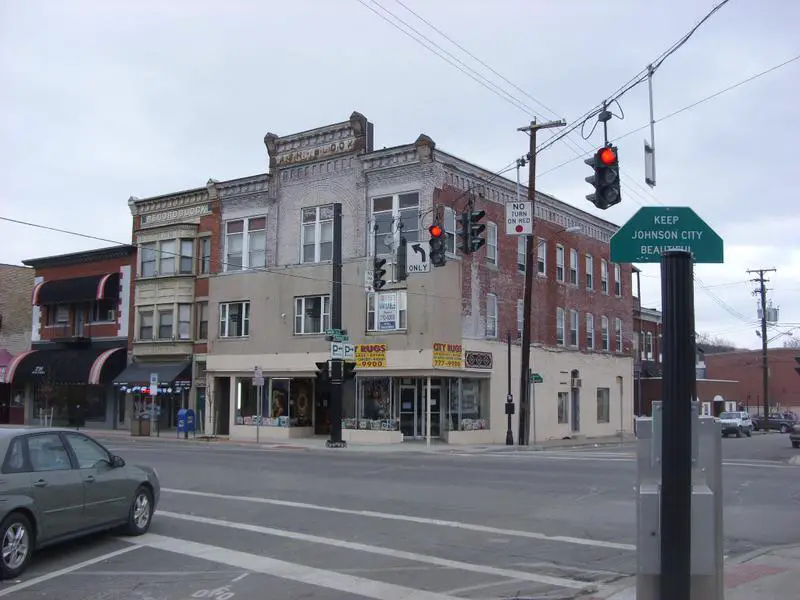 The smallest place to make our list, Johnston City Village didn't earn its #9 spot with a lot of violent crime. In fact, it's the least violent place on this list.
However, Johnston City Village has the highest property crime rate in New York, with residents facing a staggering 1 in 18 chance of having their stuff stolen or damaged throughout 2019.
That level of property crime actually means that the overall crime rate in Johnston City Village ranks as the highest statewide.
Johnston City Village is just outside Binghamton, a place you'll remember from the top of this list.

Situated between Lake Erie to the north and the Allegheny National Forest to the south, Jamestown is the largest population center in Chautauqua County. While Jamestown has the lowest overall crime rate on this list, it still has some problem areas.
For instance, the burglary rate in Jamestown is the second highest in New York. Definitely not the type of place where you can leave your doors unlocked. On the bright side, Jamestown didn't experience a single murder in 2019.
And if you're feeling blue about the high crime rate in Jamestown, you can always get some laughs at the National Comedy Center.
Graphing The Most Dangerous And Safest Places In New York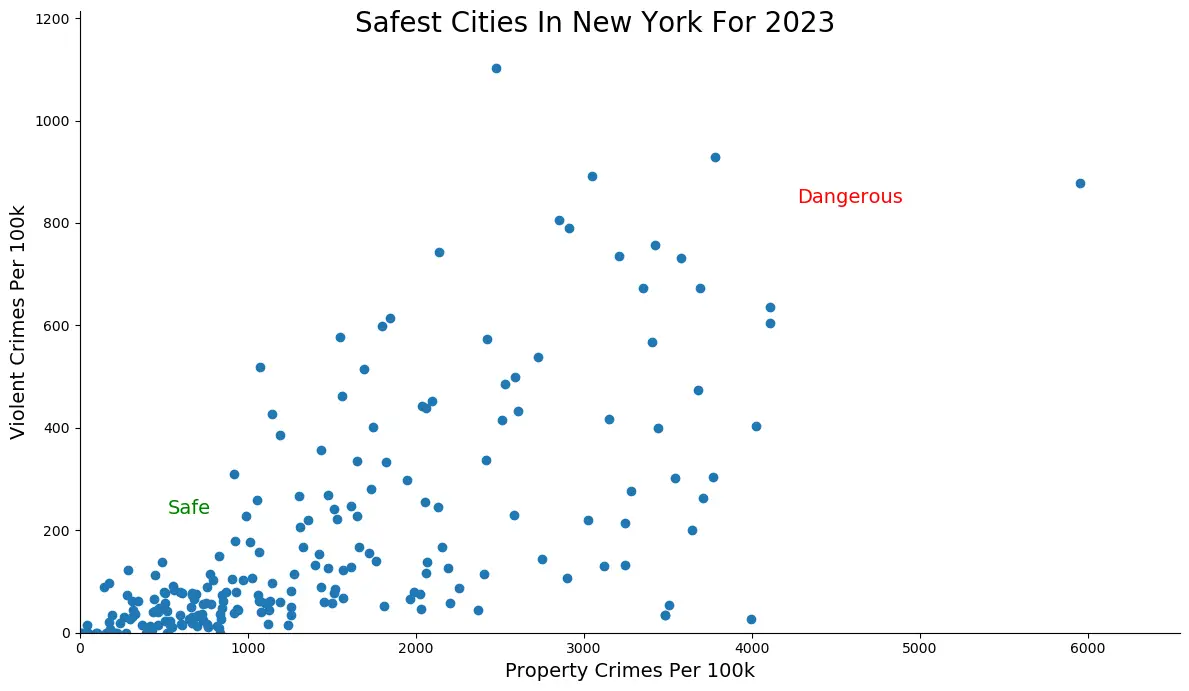 Click To Enlarge
How we determined the most dangerous cities in New York for 2021?
Every year the FBI release two crime datasets, a preliminary dataset limited to the biggest cities in the country, followed by a more detailed release at the end of the year.
For our analysis, we focused on the JUST released 2019 data, specifically the 2019 Crime In The United States Report. We will update the results when data becomes available in September 2021.
So what criteria did we use? Have a look:
Violent Crimes Per Capita
Property Crimes Per Capita
In order to make the analysis as apples to apples as possible, we only considered New York cities over 5,000 in population. That left us with 196 cities in New York.
We then ranked each city from 1 to 196 for the two criteria with a #1 ranking being the most dangerous for the particular criteria.
Next, we averaged the two rankings into one "Dangerous Index".
Finally, we ranked every city on the "Dangerous Index" with the lowest index being the most dangerous in New York — Binghamton. Any ties went to the smaller city. You can download the data here.
Read on for a detailed look at the 10 most dangerous cities in New York.
Locking It All Up In New York
So what is the most dangerous city in New York? After analyzing 196 cities in New York, Binghamton takes the top spot as the most dangerous city in New York based on the most recently reported FBI data — 2019.
The latest FBI crime data shows that Binghamton ranks as the most dangerous city in New York for 2021.
We want to point out again that there's still safes places in Binghamton and that this isn't a comment on the people that live there. So please don't beat us up.
What are the circumstances that make these New York cities this way? Maybe not enough jobs, low wages, drugs, bad weather; and in New York's case, their mediocre NFL teams?
We're not entirely sure. But one thing we are sure about is that the number one most dangerous city in New York for 2021 is Binghamton.
So, if you don't really leave your house, a dangerous city should mean nothing to you. Maybe you should consider holing up in one of our top ten most dangerous cities in New York for 2021.
To make an educated choice, take a look at the list below. If you don't see a winner, head to the bottom, there's more.
Learn more about the safest places in New York.
If you're looking for something more national, check out the most dangerous cities in America or the most dangerous states in America.
Here are the safest cities in New York:
New Castle Town (Pop. 17,896)
Mount Hope Town (Pop. 6,624)
Whitestown Town (Pop. 9,096)
Rye (Pop. 15,756)
Northport Village (Pop. 7,288)
Highlands Town (Pop. 8,444)
Kirkland Town (Pop. 8,329)
Elmira Town (Pop. 5,589)
Sleepy Hollow Village (Pop. 10,080)
Lewisboro Town (Pop. 12,582)
For more New York reading, check out:
The Most Dangerous Cities In New York
| Rank | City | Population |
| --- | --- | --- |
| 1 | Binghamton | 44,475 |
| 2 | Niagara Falls | 47,900 |
| 3 | Buffalo | 255,686 |
| 4 | Rochester | 205,769 |
| 5 | Watertown | 25,102 |
| 6 | Syracuse | 142,438 |
| 7 | Utica | 59,842 |
| 8 | Albany | 97,221 |
| 9 | Johnson City Village | 14,196 |
| 10 | Jamestown | 29,102 |
| 11 | Schenectady | 65,504 |
| 12 | Troy | 49,286 |
| 13 | Oneida | 10,864 |
| 14 | Herkimer Village | 7,291 |
| 15 | Ellicott Town | 5,014 |
| 16 | Newburgh | 28,070 |
| 17 | Norwich | 6,581 |
| 18 | Gloversville | 14,738 |
| 19 | Oswego City | 17,239 |
| 20 | Elmira | 26,958 |
| 21 | Ogdensburg | 10,484 |
| 22 | Ilion Village | 7,685 |
| 23 | Lackawanna | 17,724 |
| 24 | Newark Village | 8,799 |
| 25 | Poughkeepsie | 30,422 |
| 26 | Cheektowaga Town | 76,821 |
| 27 | Watervliet | 9,954 |
| 28 | Albion Village | 5,802 |
| 29 | Olean | 13,499 |
| 30 | Canandaigua | 10,217 |
| 31 | Monticello Village | 6,392 |
| 32 | Kingston | 22,844 |
| 33 | Gates Town | 28,366 |
| 34 | New York | 8,379,043 |
| 35 | Port Jervis | 8,523 |
| 36 | Poughkeepsie Town | 38,889 |
| 37 | Cortland | 18,655 |
| 38 | Malone Village | 5,581 |
| 39 | Mount Vernon | 67,619 |
| 40 | Ithaca | 31,122 |
| 41 | Pelham Manor Village | 5,567 |
| 42 | Spring Valley Village | 32,367 |
| 43 | DeWitt Town | 25,000 |
| 44 | Greece Town | 95,777 |
| 45 | Dunkirk | 11,712 |
| 46 | New Hartford Town and Village | 20,294 |
| 47 | Saratoga Springs | 28,186 |
| 48 | Medina Village | 5,631 |
| 49 | Hempstead Village | 55,404 |
| 50 | Lakewood-Busti | 7,193 |