This article is an opinion based on facts and is meant as infotainment. It is our seventh time ranking the most dangerous places to live in New Hampshire and is updated for 2021.
New Hampshire may have some of the most friendly people and be one of the most laid back states in the country, but living in the Granite State does come with a set of risks.
That's right, New Hampshire has some pretty dangerous places and RoadSnacks is here to tell you just where those places are located: we've created a list of the most dangerous places in New Hampshire for 2021.
How'd we do it? We consulted the numbers. In total, we analyzed 67 cities. We looked at the FBI's latest crime report for violent crime and property crime statistics for every place with over 5,000 residents. We discovered that New Hampshire's overall violent and property crime numbers, while above the national average, the numbers in the state's most dangerous places could be better.
If you asked most New Hampsherites, they would say that their little corner of this New England state is the best, but that's not the case for the people who live in New Hampshire's most dangerous places. The residents in these places are not only witnessing high crime, they are dealing with unemployment, low wages, and lack of rehabilitation programs. This is shocking because New Hampshire is the wealthiest state in the country. Do we think that the state needs to reevaluate their income and sales tax break so that they can start to take care of their problems? We're not entirely sure, but one thing we know is that the trickle down effect must be stopping after New Hampshire's best cities are compensated.
Have we piqued your interest? Want to know where the places with high crime are located in New Hampshire? Keep reading.
The 10 Most Dangerous Places To Live In New Hampshire For 2021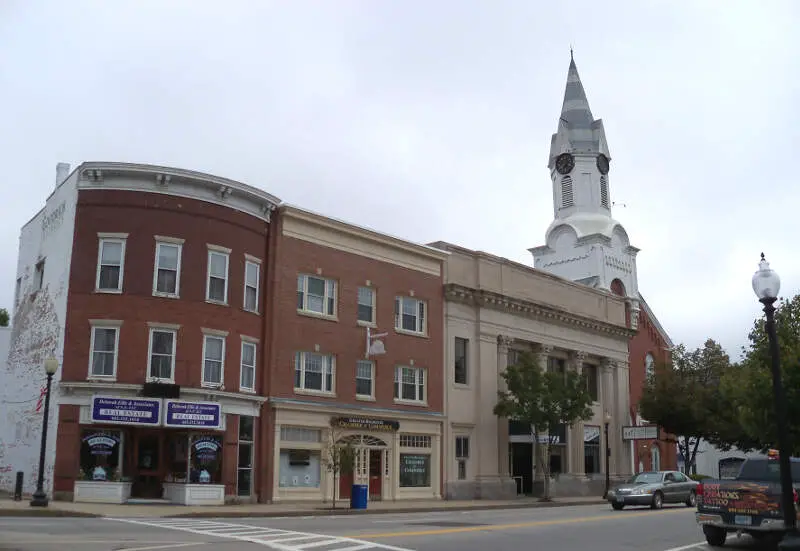 Rochester is the first dangerous city in New Hampshire. Although its overall murder rate is low, it has a significant number of property crimes, violent crimes and aggravated assaults. You have a 1 in 29 chance of being involved in a violent or property crime here.
It is so dangerous that it outranks both larger cities and smaller towns in its overall crime rate. In reporting year 2019, Rochester had 94 crimes and 976 crimes in. Not all of this crime is centered downtown.
Located in the southeast part of the state, the Lilac City is one of the largest in New Hampshire. It is located close to the White Mountains.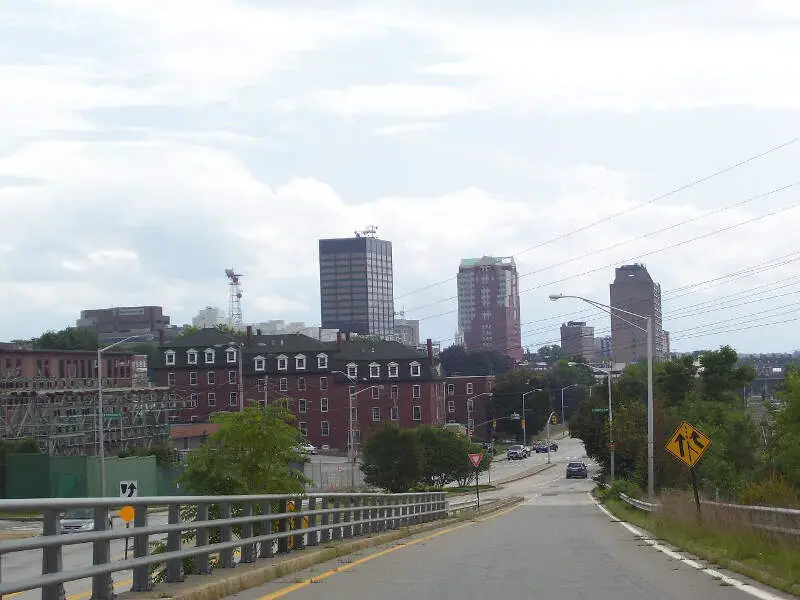 Source: Public domain
Compared to the other safe cities in New Hampshire, Manchester is the second most dangerous. It is one of the most populous cities in the state, with 112,895 current residents. In 2019, there were 2,225 cases and 2,678, making it a place where your residence or stuff are in danger.
In the state of New Hampshire, Manchester is highest in violent crimes. Its central location along the Merrimack River puts it within an hour or so of Boston, Massachusetts. While it might also have a reputation for small business and successes with new retailers in downtown, its nickname of Queen City underplays the danger of living there.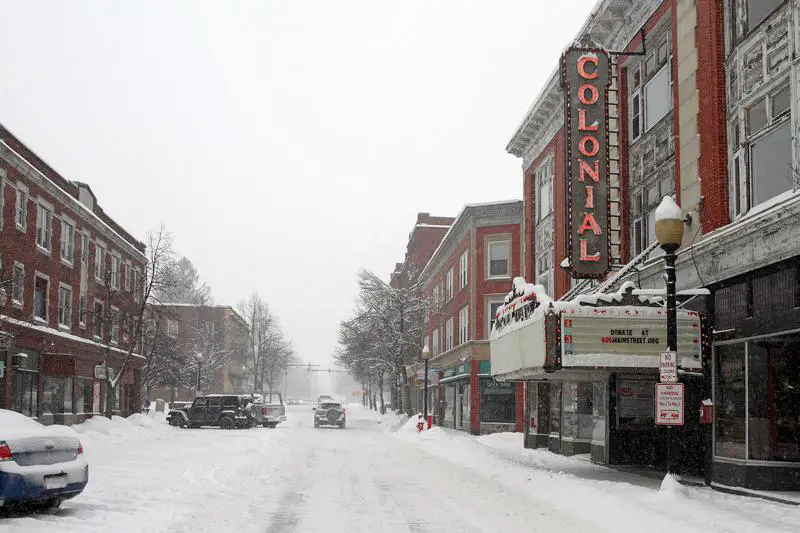 Located near lakes and mountains, the picturesque beauty of Laconia, New Hampshire hides the fact that it is the third most dangerous city in the state. With a whopping 535 per year, there is a very large number of property crimes for its relatively small population of 16,534. This makes Laconia #1 in property crimes and #1 in overall crimes for 2021.
While most of the crime is centered in the downtown area and its surroundings, this doesn't make the other parts of town particularly safe. The town continues to try to clean up its crime rate but it hasn't been successful. Combined with an overall lack of employment opportunities, you probably won't find Laconia on our best places to live in New Hampshire list.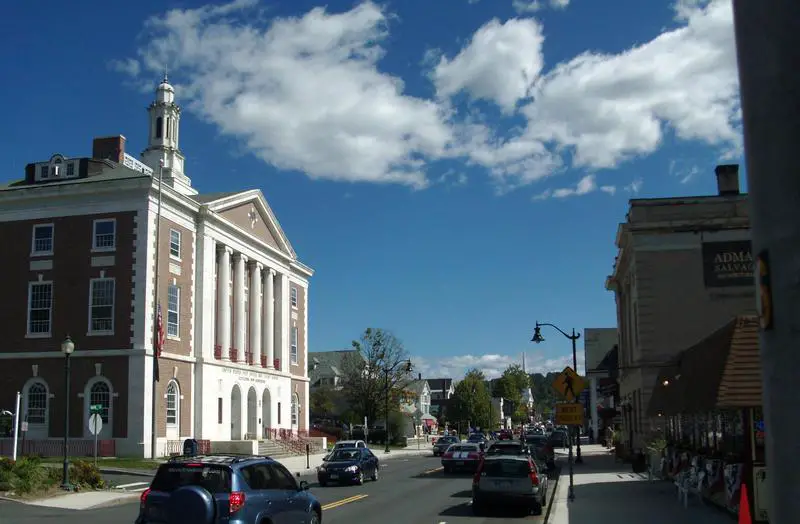 Source: Public domain
While Littleton, New Hampshire has a population of just 5,889, it is ranked number 3 for murders and 3 for violent crimes. It continues to be in our fourth spot with little hope of becoming a safer place to live. In fact, it has more murders each year than cities three times its size.
It is a popular travel destination for outdoor enthusiasts that want to ski, hike, or bike. But if you want to visit Littleton's historic Opera House or the world's longest candy counter, it might be safest to do so during the day while traveling through town on your way to a safer destination in New Hampshire.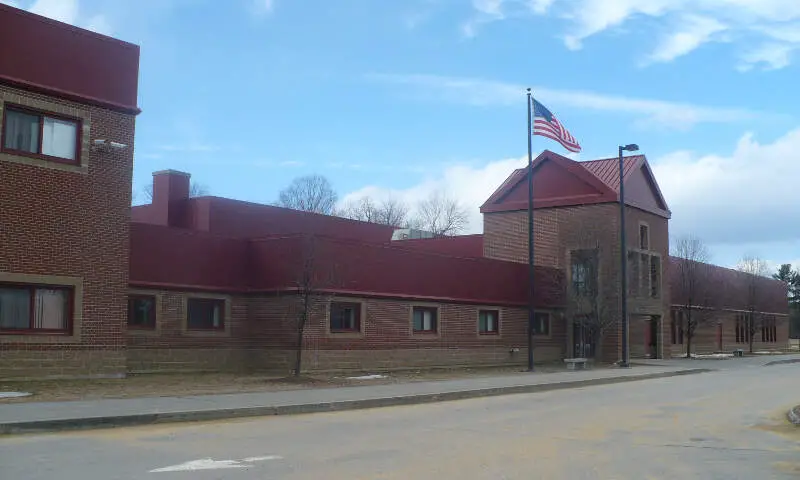 Source: Public domain
In the Lakes Region in southern New Hampshire lies Belmont, a small town of 7,293 with a history as a small mill community. Despite feeling like a quiet community, it ranks fourth highest in violent crimes and number 6 in burglaries. In Belmont, you have a 1 in 49 chance of being involved in a crime.
The situation in Belmont does not appear to be getting any better, as both violent and property crimes have consistently increased since 2016. Prior to this, Belmont actually had a lower rate of crime than in many other parts of New Hampshire. Its crime rate is still lower than the national average.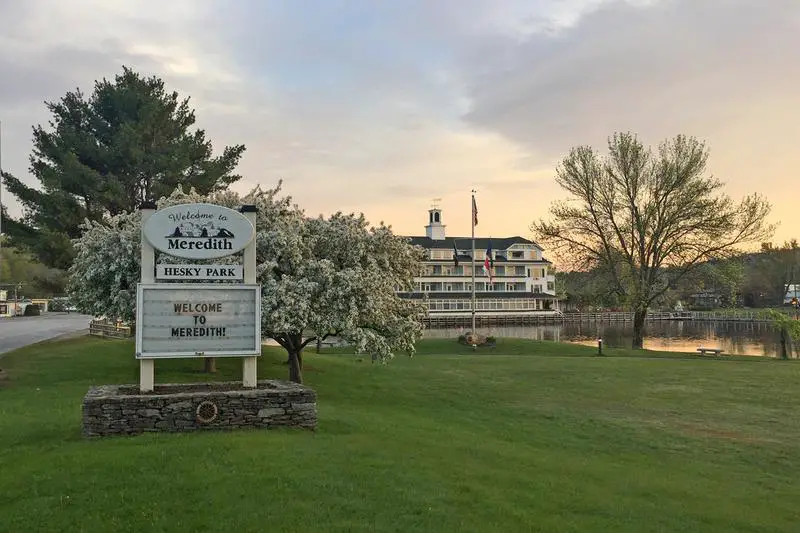 Better known as Palmer's Town, Meredith, New Hampshire once was a mill town and a place of commercial enterprises. Today, it is a much more dangerous place to live than most of the other places in the state. It currently ranks second highest in rape and second highest in burglaries. This is a growing challenge for the town with a small population of just 6,424.
It's a shame because generally New Hampshire is considered one of the safest places to live. However, Meredith defies this trend with 8 rapes and 16 violent crimes reported in 2019. While this may not seem like a lot, it equates to 1,914/100k people total crimes per 100k people, which is a lot for a small town of this size.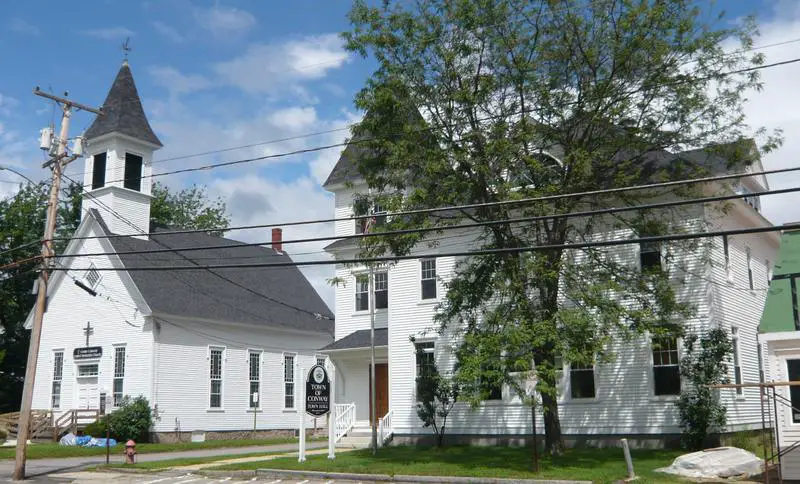 Source: Public domain
Despite New Hampshire's reputation for being a safe place to live with your family, Conway might be an exception. Its large tourism industry and seasonal resident population contribute to its growing crime rate, as many of the crimes are committed against out of town visitors. In 2019, Conway ranked number 1 for rapes, 6 for property crimes, and as fifth highest for overall crimes.
It is the most populous community in Carroll County, with around 20% of the county's population living there. It is located near the White Mountain National Forest and the popular Echo Lake State Park. Visiting climbers like to visit Cathedral Ledge.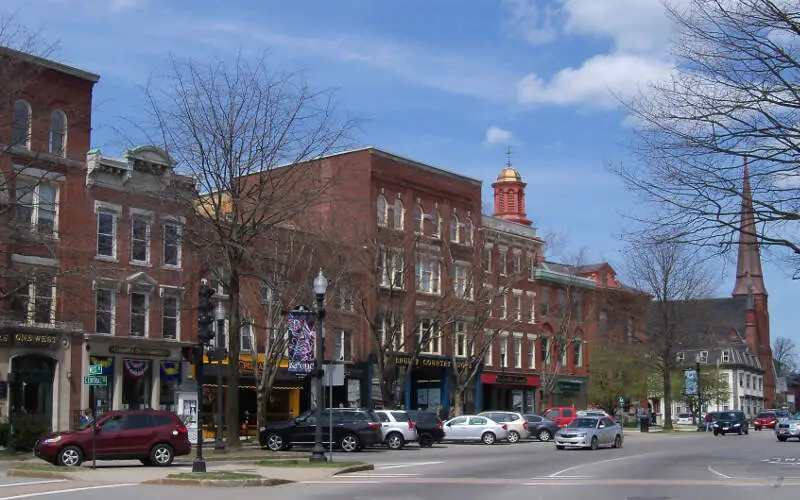 Keene, New Hampshire is known for repeating its world record for setting the most jack o lanterns on display at once during New Hampshire's annual pumpkin festival. However, the city is also known as one of the most dangerous. At the time of this writing, Keene ranks seventh highest for total crime in all of New Hampshire.
Overall, Keene is more dangerous than most of the other cities in New Hampshire, although not that dangerous for the country overall. This college town will still feel safe for the students of the two colleges located there: Keene State College and Antioch University New England. Despite the relative safety risk, there are a lot of things to do in Keene that keep tourists visiting the area, such as Mount Monadnock and the unique Hannah Grimes Marketplace.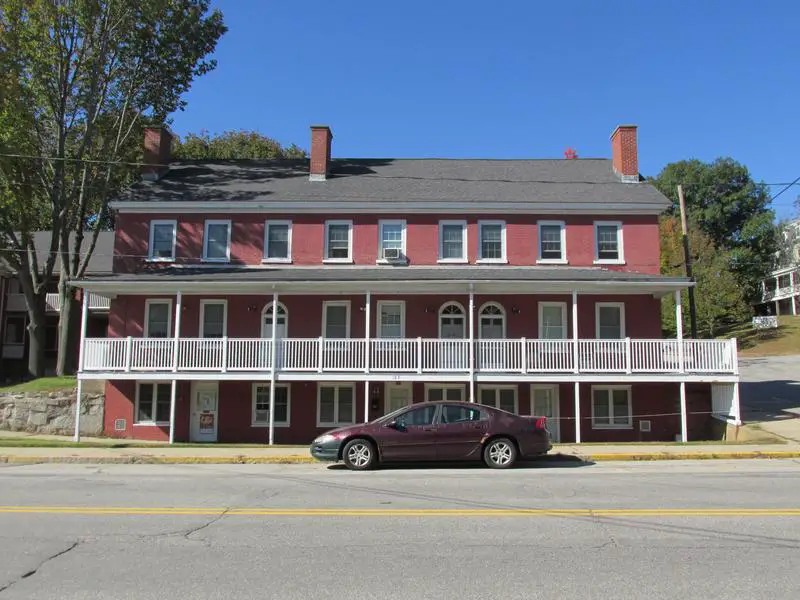 In Somersworth, New Hampshire, you are more likely to be the victim of property crime or larceny than to get struck by lightning or to face a tax audit. In data year 2019, the residents of Somersworth suffered from 353 property crimes and 317 cases of larceny. For a population of 11,979 residents, this makes Somersworth third highest for total crime.
While it is not the safest place to live, it is one of the most affordable places to live. This might explain some of the crimes against property that are prevalent in this area.
It is conveniently located about an hour north of Boston and within close proximity to historic Portsmouth. It shares a border with Maine along the Salmon Falls River.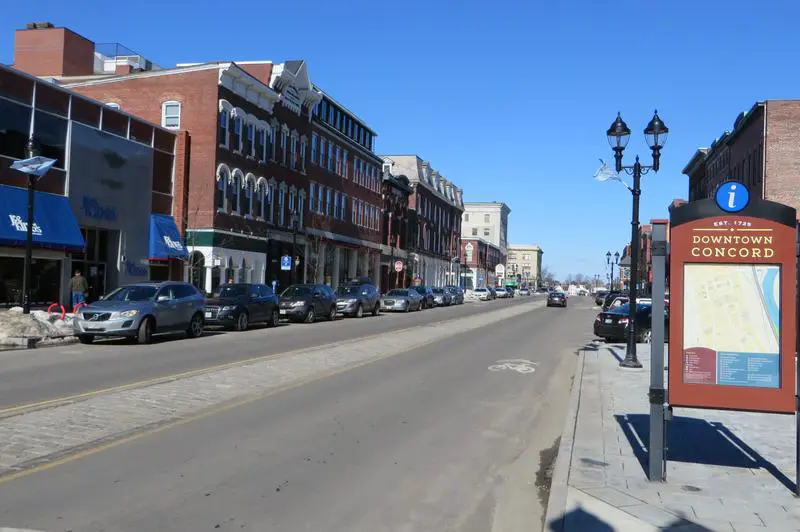 Concord ranks 3rd in population and tenth highest in total crime, which makes it one of the most dangerous cities in the state of New Hampshire. In the last ranking, it was sixth lowest. The local government and law enforcement professionals have worked to reduce the amount of crime in the city.
Residents love to shop on Loudon Road and downtown, where the crime levels might be slightly higher. Most of the crimes in the area are property crimes and larceny, with 805 property crimes and 710 instances of larceny in 2019.
Concord is the capital city of New Hampshire and the location of the University of New Hampshire School of Law.
Graphing The Most Dangerous And Safest Places In New Hampshire
Click To Enlarge
How we determined the most dangerous cities in New Hampshire for 2021?
Every year the FBI release two crime datasets, a preliminary dataset limited to the biggest cities in the country, followed by a more detailed release at the end of the year.
For our analysis, we focused on the JUST released 2019 data, specifically the 2019 Crime In The United States Report. We will update the results when data becomes available in September 2021.
So what criteria did we use? Have a look:
Violent Crimes Per Capita
Property Crimes Per Capita
In order to make the analysis as apples to apples as possible, we only considered New Hampshire cities over 5,000 in population. That left us with 67 cities in New Hampshire.
We then ranked each city from 1 to 67 for the two criteria with a #1 ranking being the most dangerous for the particular criteria.
Next, we averaged the two rankings into one "Dangerous Index".
Finally, we ranked every city on the "Dangerous Index" with the lowest index being the most dangerous in New Hampshire — Rochester. Any ties went to the smaller city. You can download the data here.
Read on for a detailed look at the 10 most dangerous cities in New Hampshire.
Locking It All Up In New Hampshire
So what is the most dangerous city in New Hampshire? After analyzing 67 cities in New Hampshire, Rochester takes the top spot as the most dangerous city in New Hampshire based on the most recently reported FBI data — 2019.
The latest FBI crime data shows that Rochester ranks as the most dangerous city in New Hampshire for 2021.
We want to point out again that there's still safes places in Rochester and that this isn't a comment on the people that live there. So please don't beat us up.
People always ask why we produce lists of the most dangerous places in each state. Well, we do it to show the public how to navigate the places that most people don't want to visit, but still want to know the gossip. And, unfortunately, there always has to be a number one.
So, what city is the number one most dangerous place to live in New Hampshire for 2021? Well according to the FBI data we crunched, Rochester is the most dangerous place to live in the Granite State.
So, if you want to know where the most dangerous places in New Hampshire are located, take a look at the list below. And if you don't find what you're looking for there, head to the bottom.
Learn more about the safest places in New Hampshire.
If you're looking for something more national, check out the most dangerous cities in America or the most dangerous states in America.
Here are the safest cities in New Hampshire:
Windham (Pop. 14,876)
Nottingham (Pop. 5,149)
Weare (Pop. 9,111)
Litchfield (Pop. 8,660)
Atkinson (Pop. 7,037)
Durham (Pop. 16,810)
Brookline (Pop. 5,461)
New Boston (Pop. 5,856)
Sandown (Pop. 6,501)
Hopkinton (Pop. 5,759)
For more New Hampshire reading, check out:
The Most Dangerous Cities In New Hampshire
| Rank | City | Population |
| --- | --- | --- |
| 1 | Rochester | 31,527 |
| 2 | Manchester | 112,895 |
| 3 | Laconia | 16,534 |
| 4 | Littleton | 5,889 |
| 5 | Belmont | 7,293 |
| 6 | Meredith | 6,424 |
| 7 | Conway | 10,287 |
| 8 | Keene | 22,999 |
| 9 | Somersworth | 11,979 |
| 10 | Concord | 43,509 |
| 11 | Lebanon | 13,661 |
| 12 | Berlin | 10,230 |
| 13 | Henniker | 5,009 |
| 14 | Portsmouth | 21,951 |
| 15 | Hillsborough | 5,990 |
| 16 | Rindge | 6,308 |
| 17 | Nashua | 89,586 |
| 18 | Plymouth | 6,755 |
| 19 | Hampton | 15,616 |
| 20 | Farmington | 6,932 |
| 21 | Raymond | 10,475 |
| 22 | Newport | 6,348 |
| 23 | Salem | 29,612 |
| 24 | Pembroke | 7,240 |
| 25 | Wakefield | 5,789 |
| 26 | Hooksett | 14,554 |
| 27 | Gilford | 7,197 |
| 28 | Alton | 5,339 |
| 29 | Peterborough | 6,669 |
| 30 | Exeter | 15,425 |
| 31 | Dover | 31,950 |
| 32 | Derry | 33,672 |
| 33 | Seabrook | 8,880 |
| 34 | Chester | 5,295 |
| 35 | Plaistow | 7,734 |
| 36 | Hudson | 25,695 |
| 37 | Goffstown | 18,163 |
| 38 | Loudon | 5,660 |
| 39 | Epping | 7,117 |
| 40 | Hanover | 11,531 |
| 41 | Londonderry | 26,567 |
| 42 | Pelham | 14,198 |
| 43 | Hampstead | 8,662 |
| 44 | Newmarket | 9,161 |
| 45 | Bedford | 22,887 |
| 46 | Amherst | 11,344 |
| 47 | Milford | 16,121 |
| 48 | Wolfeboro | 6,403 |
| 49 | Auburn | 5,608 |
| 50 | Barrington | 9,263 |