This article is an opinion based on facts and is meant as infotainment. It is our seventh time ranking the most dangerous places to live in Vermont and is updated for 2021.
Ben & Jerry's Rocky Road-ish isn't the only thing that's rocky in Vermont, the state has its fair share of some pretty rocky situations in the form of dangerous places to live.
Do you live in one of the most dangerous cities in Vermont? If you're not sure, then you should definitely look below at RoadSnacks list of the top ten most dangerous places in Vermont for 2021 before it's too late. How'd we do it? We consulted the numbers. In total, we analyzed 22 cities. We looked at the FBI's latest crime report for violent crime and property crime statistics for every place with over 5,000 residents. We discovered that Vermont's overall violent and property crime numbers, while above the national average, the numbers in the state's most dangerous places could be better.
If you asked most Vermonters, they would say that their little corner of this eastern state is the best, but that's not the case for the people who live in Vermont's most dangerous places. The residents in these places are not only witnessing high crime, they are dealing with unemployment, low wages, and lack of rehabilitation programs. This is shocking because Vermont is one of the wealthiest states in the country. Do we think that the state needs to reevaluate their income and sales tax so that they can take care of their problems? We're not entirely sure, but one thing we know is that the trickle down effect must be stopping after Vermont's best cities are compensated.
Want to know the places in The Green Mountain State where jobs are scarce, wages low, and crime is high? Keep reading.
The 10 Most Dangerous Places To Live In Vermont For 2021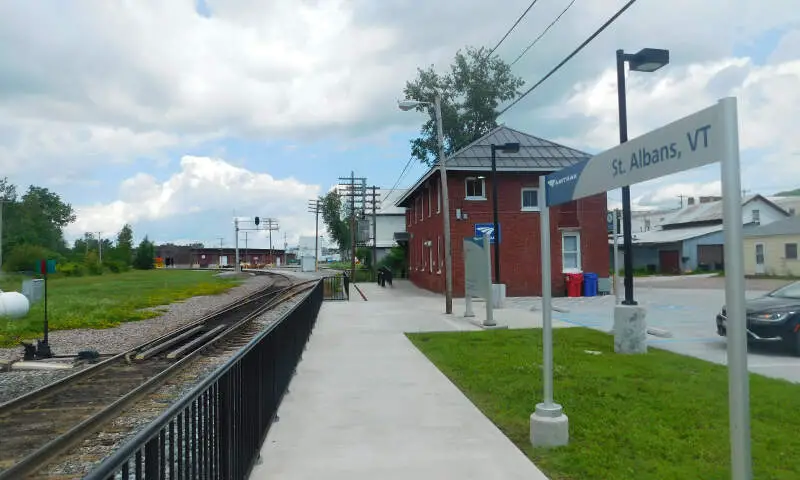 Kicking off our list of the most dangerous places to live in Vermont for 2021 is St. Albans, a city of 6,800 located a half-hour north of Burlington. While the property crime rate in St. Albans fell since last year, violent crime went up by about the same margin.
Overall, St. Albans residents had a 1 in 133 chance of being assaulted, robbed, raped, or murdered over 2019, the highest rate in Vermont.
The property crime rate in St. Albans, while improving, is still the second highest worst statewide. So make sure you keep an eye on your valuables if you're passing through St. Albans for the Vermont Maple Festival.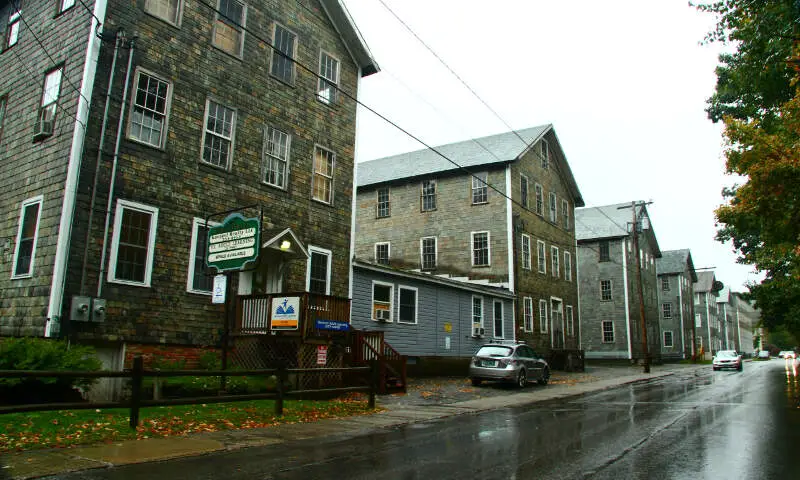 Brattleboro may occupy the #2 spot on this list, but it actually has the highest overall crime rate in Vermont, outstripping the national average by about 70%.
How'd that happen? Well, Brattleboro has the highest property crime rate in Vermont, with residents facing a staggering 1 in 18 chance of having their stuff stolen or vandalized over 2019.
In other words, keep a close guard on your produce after a morning out at the Farmers' Market, or it could get snatched.
Additionally, you should probably invest in a good security system if you're living in Brattleboro because the town had the highest burglary rate in Vermont.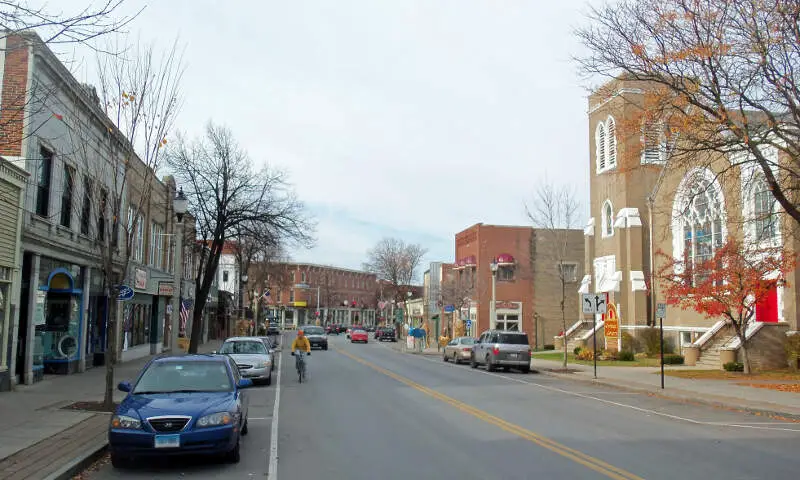 Located in the southwestern corner of the state, Bennington comes in as Vermont's third most dangerous place to call home.
Bennington experienced a spike in property crime and a rise in violent crime over the last year, which explains why it jumped up 2 spots on this list.
The Bennington Battle Monument might honor the past, or be a declaration about the current state of affairs in a town with the fourth highest violent crime rate in Vermont.
Bennington's burglary rate is also the second highest statewide, so definitely lock your doors when you're here.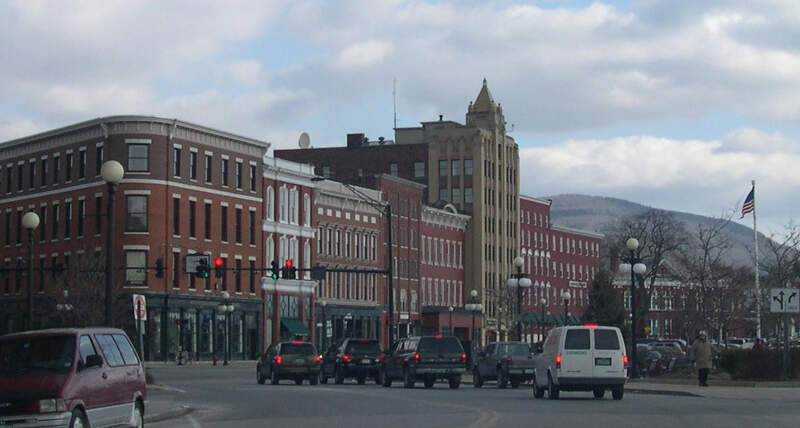 Vermont's third biggest city, Rutland, is also its fourth most dangerous — probably not a surprise for most Vermonters. Rutland's crime numbers have been level over the last year, which isn't great news when you have the third highest violent crime rate in the state.
That works out to a 1 in 226 shot of being violently attacked over the course of a year.
More than one property crime went down in Rutland each day, on average, in 2019. That includes an average of more than one burglary each week. Here's hoping there's enough security at the Norman Rockwell Museum to stop any would-be heisters.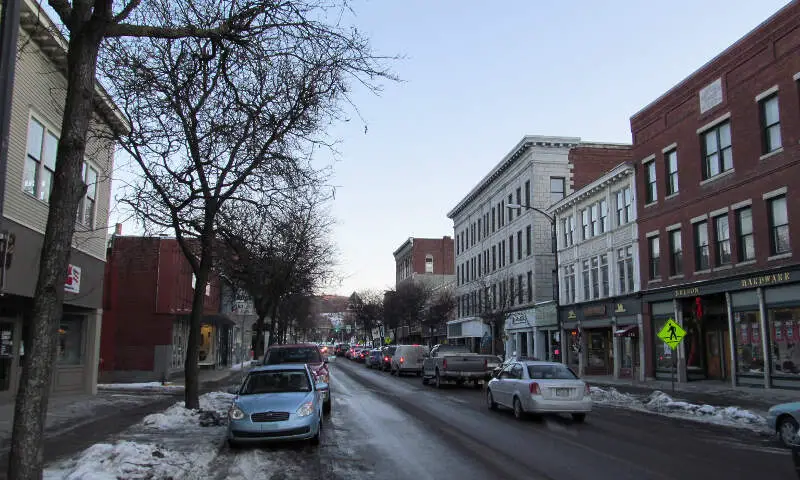 Located about 15 minutes southeast of Montpelier, Barre ranks as Vermont's fifth most dangerous place to live.
While Barre is pretty proud of its granite, we're sure residents wish local leaders took a bit more pride in having safe streets.
Barre had the second highest violent crime rate in Vermont over 2019. That includes the unfortunate distinction of having the highest rate of rape cases in the whole state.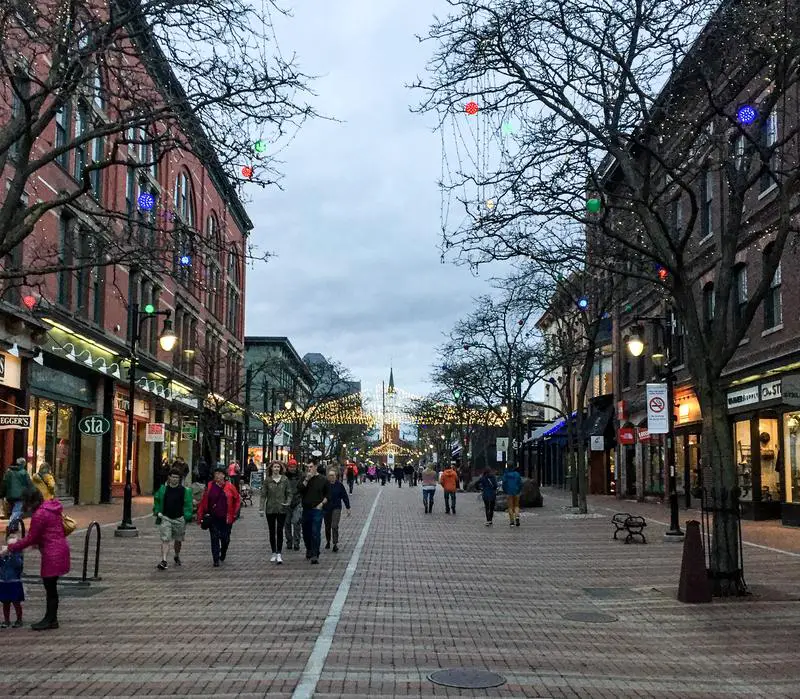 Home to the University of Vermont and the biggest city Vermont has to offer, Burlington clocks in as the state's sixth most dangerous place for 2021.
Burlington saw a rise in property crime and a spike in violent crime over the last year.
That left residents to contend with the fourth highest rape and second highest murder rate in the state.
On top of that, an average of about three property crimes go down each day in Burlington, making it good protocol to keep a close eye on your belongings while you're out shopping on Church Street.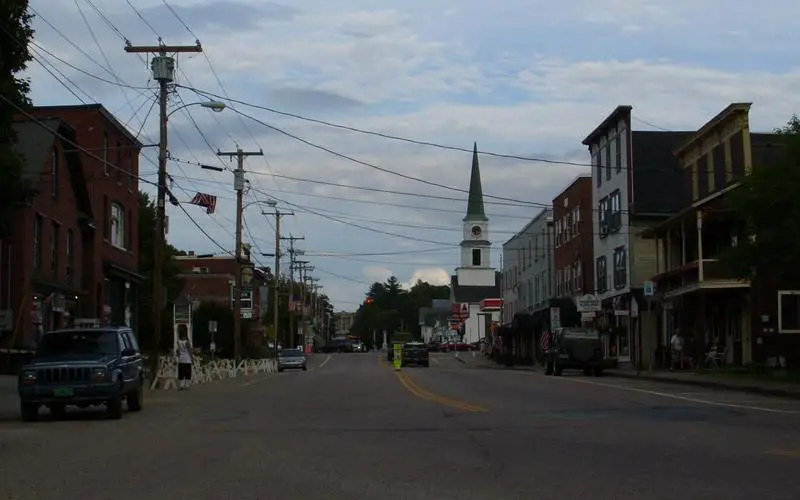 Source: Public domain
Morristown only has 5,465 residents, but the town knows to have both a brewery and a distillery on hand.
Booze sure helps forget about Morristown's dramatic rise in crime recently, which pushed it up 7 spots on this list from last year. A big part of that is the sad fact that Morristown had second highest rate of rape cases statewide over 2019.
Morristown also has an above-average property crime rate, but we're sure residents would care more about fixing the violence problem first.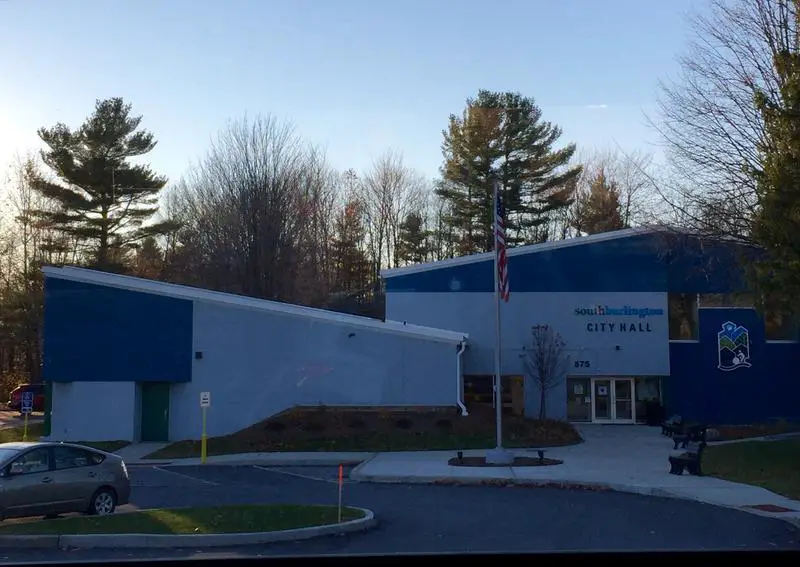 South Burlington might not rank as high on this list as its northern neighbor, but it does have a higher property crime rate. South Burlington residents had a 1 in 28 chance of having their valuables stolen or damaged over 2019.
Now, a lot of that may be down to shoplifting teenagers at Vermont's largest mall. Or it could be criminals trying to steal intel on the newest ice cream flavor from the headquarters of Ben and Jerry's .
On the bright side, South Burlington has the lowest violent crime rate on this list, so if you're not a retailer, you're probably pretty safe here.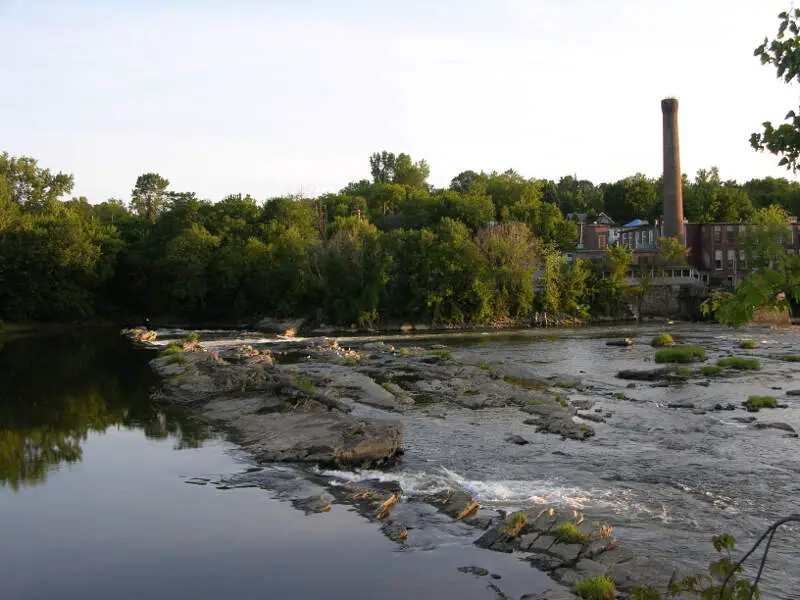 Located just northeast of Burlington, Winooski comes in as Vermont's ninth least safe place to live.
The violent crime rate in Winooski fell from last year and the property crime rate also went down a bit, but the Winooski Police Department still have a lot to deal with.
Like having the highest murder rate and the fifth highest rate of rape cases in Vermont. Residents are also well-advised to lock their homes up tight, considering Winooski had the third highest burglary rate statewide.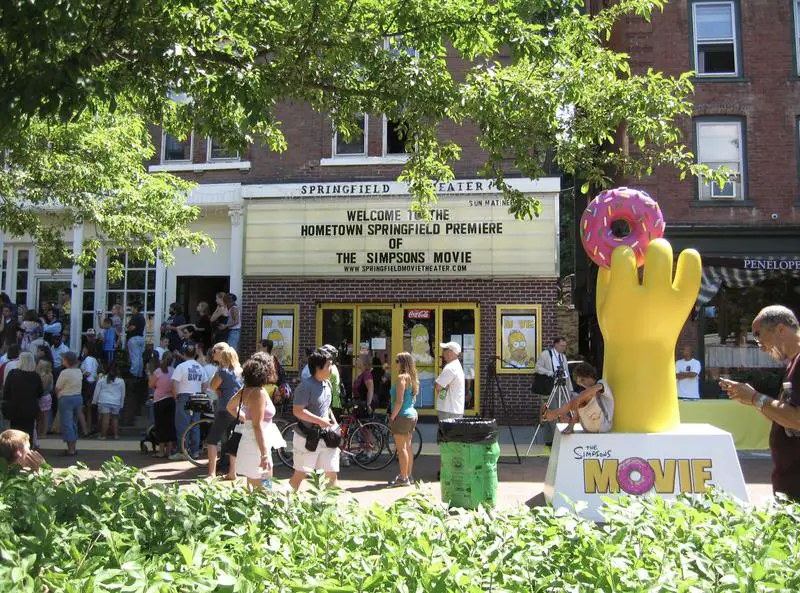 Springfield's property crime rate may have gone down over the last year, but its violent crime rate went up during the same interval, so it's kind of a wash.
Just be careful if you're out alone at one of Springfield's many nature trails, or you might end up the protagonist in a horror movie.
Springfield has an healthy mix of property crime and violent crime to this day — the sixth highest rate of rape cases and seventh highest burglary rate in Vermont are significant factors that land Springfield in the #10 position on this list.
Graphing The Most Dangerous And Safest Places In Vermont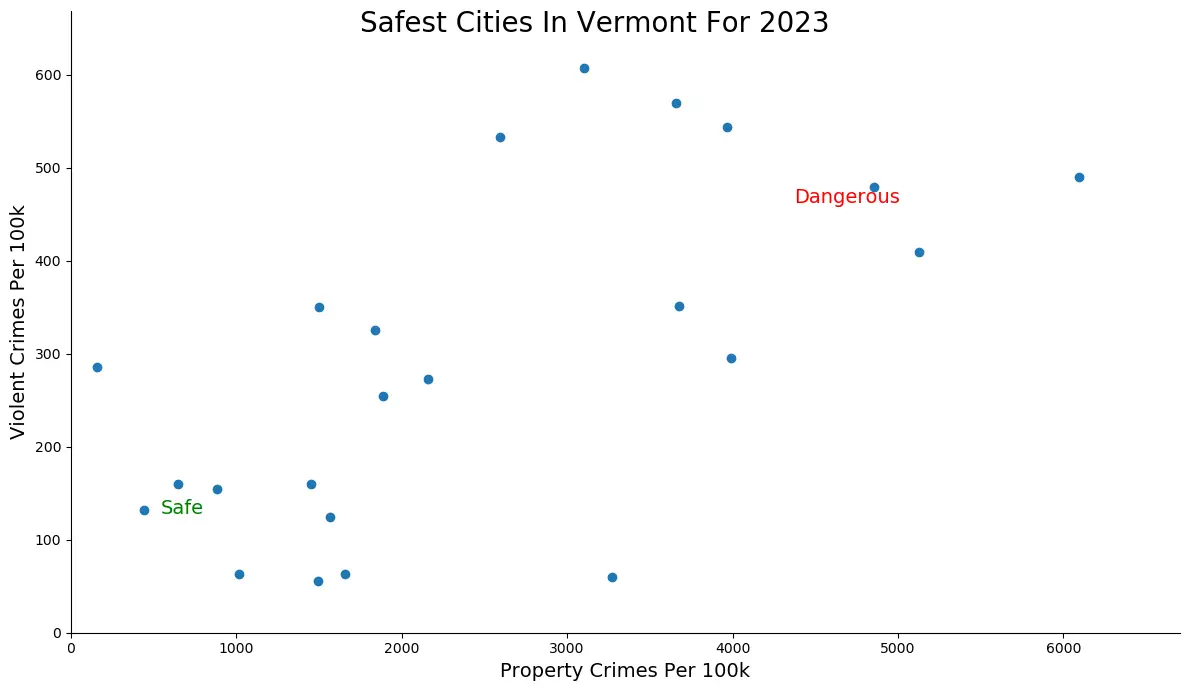 Click To Enlarge
How we determined the most dangerous cities in Vermont for 2021?
Every year the FBI release two crime datasets, a preliminary dataset limited to the biggest cities in the country, followed by a more detailed release at the end of the year.
For our analysis, we focused on the JUST released 2019 data, specifically the 2019 Crime In The United States Report. We will update the results when data becomes available in September 2021.
So what criteria did we use? Have a look:
Violent Crimes Per Capita
Property Crimes Per Capita
In order to make the analysis as apples to apples as possible, we only considered Vermont cities over 5,000 in population. That left us with 22 cities in Vermont.
We then ranked each city from 1 to 22 for the two criteria with a #1 ranking being the most dangerous for the particular criteria.
Next, we averaged the two rankings into one "Dangerous Index".
Finally, we ranked every city on the "Dangerous Index" with the lowest index being the most dangerous in Vermont — St. Albans. Any ties went to the smaller city. You can download the data here.
Read on for a detailed look at the 10 most dangerous cities in Vermont.
Locking It All Up In Vermont
So what is the most dangerous city in Vermont? After analyzing 22 cities in Vermont, St. Albans takes the top spot as the most dangerous city in Vermont based on the most recently reported FBI data — 2019.
The latest FBI crime data shows that St. Albans ranks as the most dangerous city in Vermont for 2021.
We want to point out again that there's still safes places in St. Albans and that this isn't a comment on the people that live there. So please don't beat us up.
On the whole, Vermont's a pretty safe place to chill, ski, snowboard, and drink maple syrup by the gallon. I mean how much crime can there be in a state that's 75% forests? Not much, but that doesn't mean that some cities have a heckuva lot more crime than others.
So, what place in Vermont has won the title "Most Dangerous" for 2021? That would be, St. Albans.
To see how the rest of Vermont's cities faired, take a look at the list below; and if you don't find what you're looking for there, head to the bottom.
Learn more about the safest places in Vermont.
If you're looking for something more national, check out the most dangerous cities in America or the most dangerous states in America.
Here are the safest cities in Vermont:
Montpelier (Pop. 7,386)
Middlebury (Pop. 8,776)
Williston (Pop. 10,026)
Colchester (Pop. 17,548)
Northfield (Pop. 5,990)
Swanton (Pop. 6,595)
Shelburne (Pop. 7,857)
Milton (Pop. 11,064)
Essex (Pop. 22,213)
Barre Town (Pop. 7,679)
For more Vermont reading, check out:
The Most Dangerous Cities In Vermont
| Rank | City | Population |
| --- | --- | --- |
| 1 | St. Albans | 6,800 |
| 2 | Brattleboro | 11,401 |
| 3 | Bennington | 14,912 |
| 4 | Rutland | 15,191 |
| 5 | Barre | 8,551 |
| 6 | Burlington | 42,958 |
| 7 | Morristown | 5,465 |
| 8 | South Burlington | 19,687 |
| 9 | Winooski | 7,346 |
| 10 | Springfield | 8,900 |
| 11 | Hartford | 9,654 |
| 12 | St. Johnsbury | 7,158 |
| 13 | Montpelier | 7,386 |
| 14 | Middlebury | 8,776 |
| 15 | Williston | 10,026 |
| 16 | Colchester | 17,548 |
| 17 | Northfield | 5,990 |
| 18 | Swanton | 6,595 |
| 19 | Shelburne | 7,857 |
| 20 | Milton | 11,064 |
| 21 | Essex | 22,213 |
| 22 | Barre Town | 7,679 |