This article is an opinion based on facts and is meant as infotainment. It is our seventh time ranking the most dangerous places to live in Illinois and is updated for 2021.
We have proof that there's a lot of 'noise' in Illinois in terms of its most dangerous cities.
Gone are the days that parents can let their children run wild until the street lights come on. Heck, parents shouldn't let their kids out of their sight in our most dangerous cities in Illinois for 2021. How does one navigate these dangerous cities when trying to make an informed decision on what city you should call home? We did the work for you. In order to compile our list, we looked at violent crimes and property crimes in cities with a minimum population of 5,000. Folks, the cities that made our list have robberies happening in broad daylight, car jackings, and daily shootings. There are neighborhoods in these cities that you shouldn't drive thru at all and there are areas that you definitely shouldn't be in after dark.
We're not saying that there aren't little pockets of goodness in these cities. The neighborhoods and shopping centers in these Illinois cities are not ALL bad. For example, Chicago isn't nearly as bad as certain people would have you believe. We do recommend that you spend some time studying them before you make a move. If you choose one of these cities, you're going to have to be aware of your surroundings at all times: there are a ton of 'wolves in sheep's clothing' out there.
It's not entirely Illinois' fault. They are the sixth largest state in terms of population. As with most situations, there's bound to be problems with that many people. On a positive note, there are people out there coming together to combat the problems that these Illinois' cities are facing. And, thankfully, some of the programs are actually winning. To see where these Illinois cities with all the problems are located, take a look below at our most dangerous cities in Illinois for 2021.
The 10 Most Dangerous Places To Live In Illinois For 2021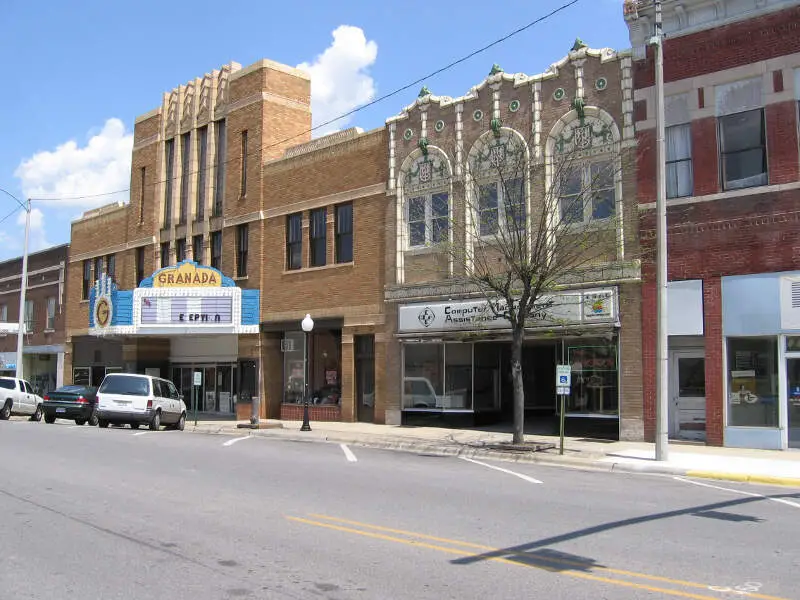 We're making a stop on our tour of the most dangerous places to live in Illinois in Mount Vernon, a city in Jefferson County. Last year, Mount Vernon was also the most dangerous, so King City's stay at the top spot is predictable, but a bit disturbing.
How'd things turn so bad so quick? Well, Mount Vernon has the fourth highest violent crime rate in the state, with residents facing a crazy high 1 in 69 chance of being attacked or killed in 2019.
Property crime also isn't so great in Mount Vernon, which has the 16th highest rate of burglaries in Illinois. Looks like the local police have their work cut out for them.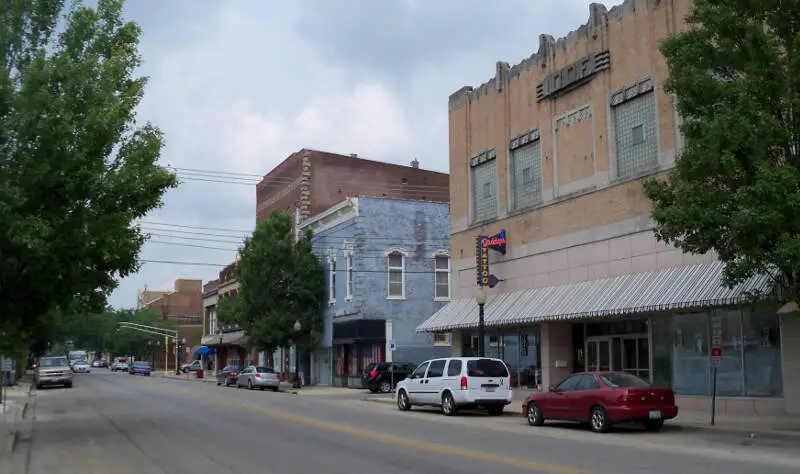 Located 60 miles east of St. Louis, Centralia ranks as the second most dangerous places to live in Illinois for 2021. If you're hanging out in Foundation Park, you might want to bring a buddy and get home before dark, because Centralia is the third most violent place in Illinois.
Centralia also has the unfortunate distinction of having the highest rape cases per capita in the state. You're not even safe at home in Centralia, seeing as the city also has the second highest rate of burglaries in Illinois.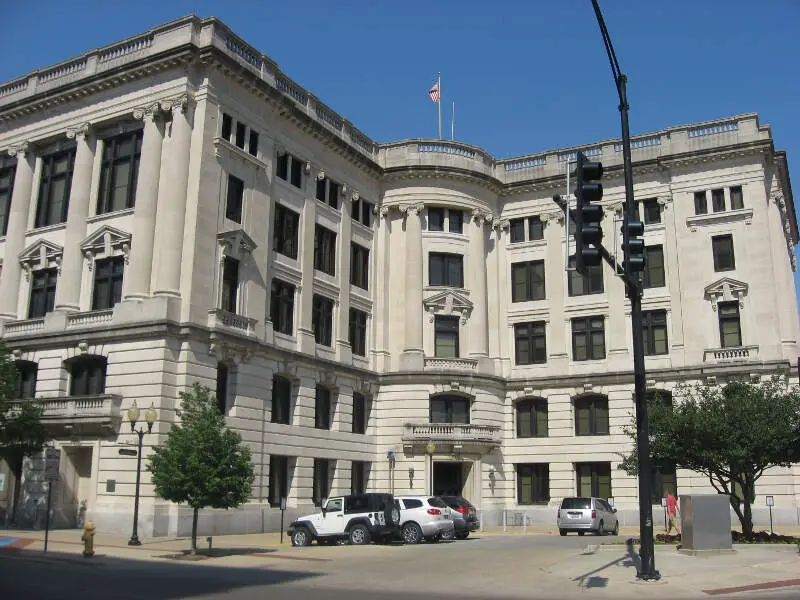 Source: Public domain
While Mount Vernon takes the cake for most dangerous city statewide overall, there's nowhere more violent in Illinois than Danville. Danville averaged a murder each month in 2019, giving the city the sixth highest murder rate in the state. With all that live-action violence going on every day, it's no wonder that the Vermilion County War Museum is one of Danville's biggest attractions.
It's not like Danville doesn't have its fair share of property crime either — each year, residents face a 1 in 22 chance of having their stuff damaged or stolen.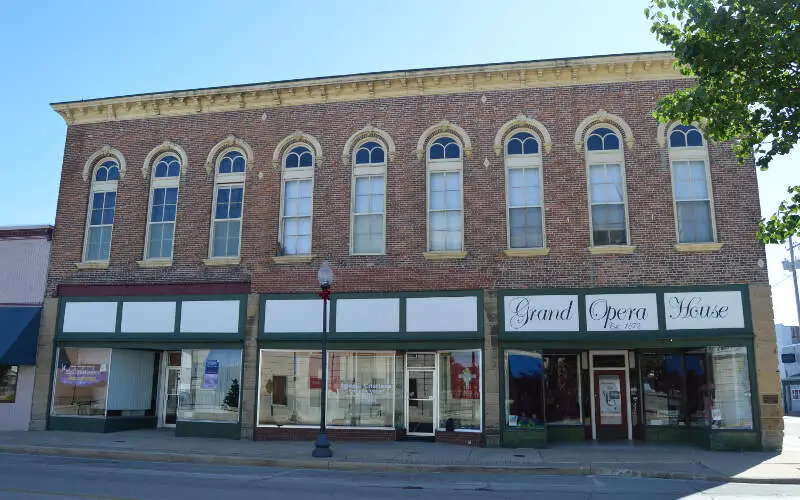 Source: Public domain
With a population of just 5,425, Beardstown is the smallest city to make this list. It's pretty telling that Beardstown's most popular attraction is the Old Lincoln Courtroom — apparently, residents are itching for a chance to have their day in court.
Beardstown had the fifth highest property crime rate in Illinois, with residents facing a 1 in 21 chance of having their stuff stolen or damaged.
On the bright side, Beardstown didn't experience a single murder or robbery recorded in 2019, so the vast majority of crimes here are relatively minor.
Beardstown is located in Cass County, about an hour northwest of Springfield.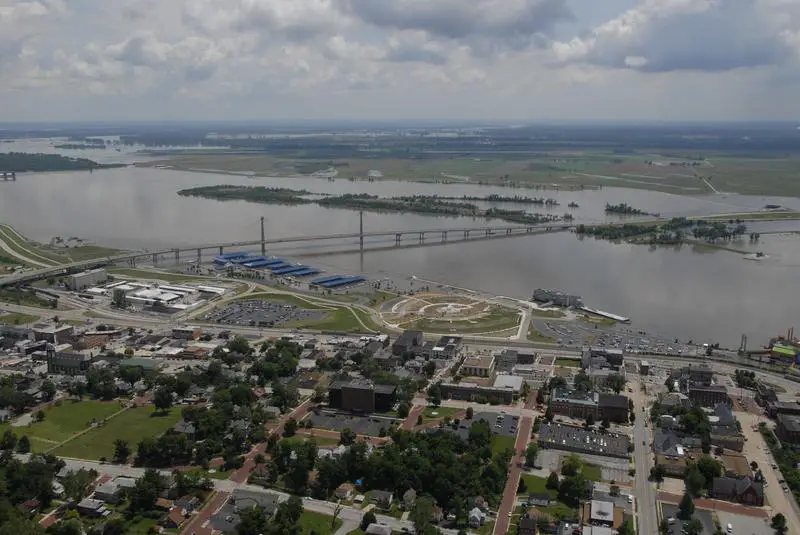 Source: Public domain
Situated about 20 miles north of St. Louis, Alton comes in as Illinois' fifth most dangerous place to call home.
The overall crime rate in Alton is about 70% higher than the national average, and the city has the ninth highest violent crime rate in Illinois.
An aggravated assault occurred in Alton once every other day, on average. Just be glad that the statue of the world's tallest man, Alton's native son, hasn't come to life and started committing crimes. At nearly nine feet tall, that would be truly terrifying.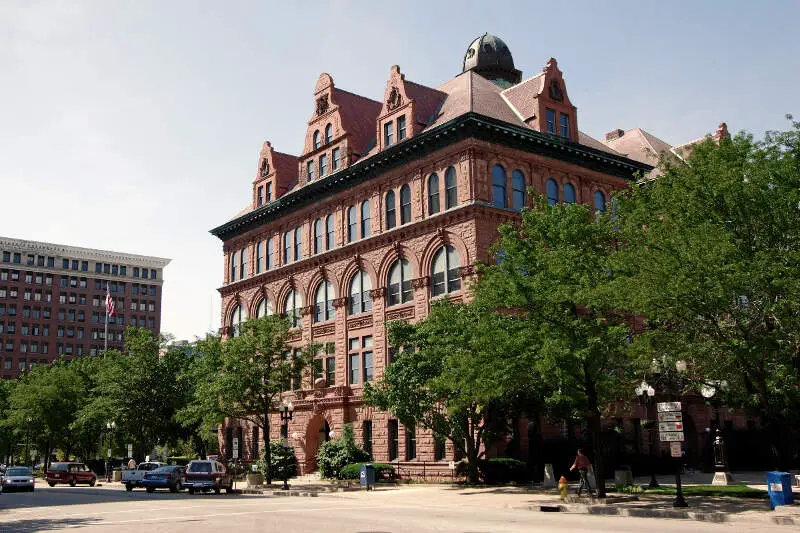 Coming in as the sixth most dangerous place in Illinois is Peoria. Peoria is known for having one of the most scenic roads in the country, Grand View Drive, but with 443 car thefts occurring in 2019, we wonder how many people that got to experience it in 2019 were driving cars they actually owned.
Peoria also ranked as the seventh most violent place in Illinois, with 25 murders taking place and residents facing a 1 in 95 chance of being attacked in 2019.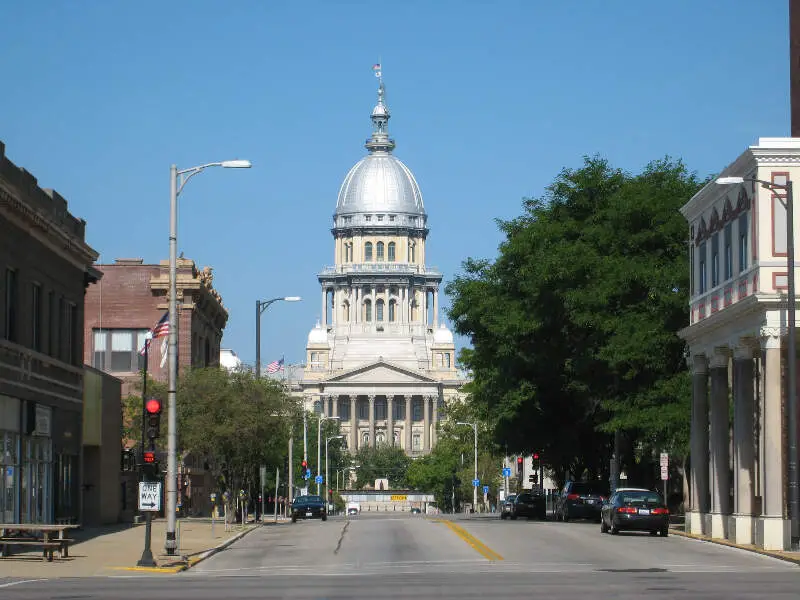 I'm going to go out on a limb here and posit that the Springfield the Simpsons live in isn't in Illinois, based on the fact that the Simpson's hometown only has one bumbling criminal at work. I'm also going to guess that Abraham Lincoln would be pretty disappointed with the state of affairs in Springfield these days.
Both violent crime and property crime rates in Springfield are in the top ten statewide, with 5,080 instances of theft, burglary, and vandalism, and 889 attacks and murders.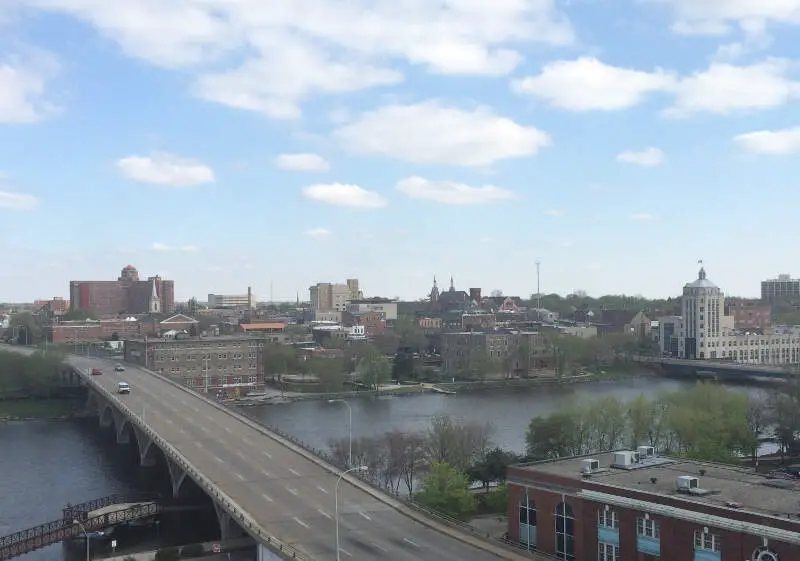 Rockford is the most populous city to make this list and the 4th biggest in Illinois. Having the sixth highest violent crime rate in the state is the big reason Rockford features on this list. With a robbery and five aggravated assaults happening just about every day, it's safe to say that you're not paranoid looking over your shoulder in Rockford.
Overall, residents of Rockford face a 1 in 85 chance of being the victim of a violent crime each year. If you're stressing about the high crime rates in Rockford, you can try to mellow out in Anderson Japanese Gardens – just be sure to tell someone where you're going before you head over.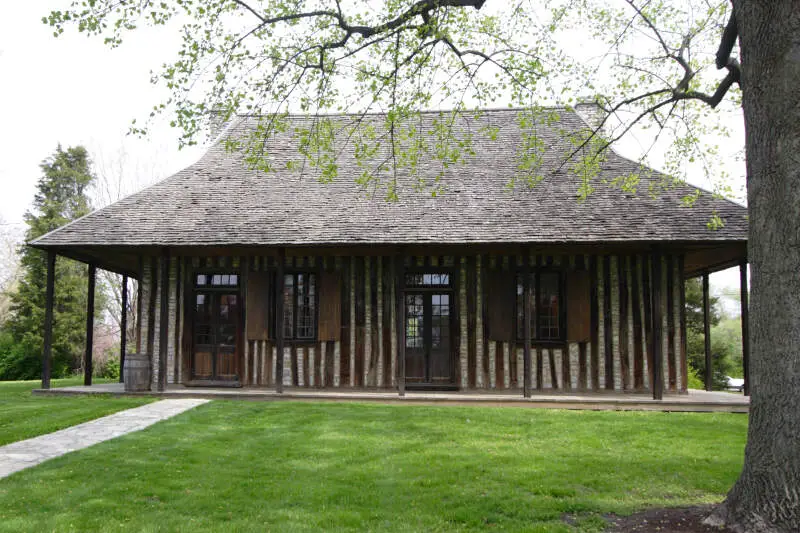 We make our next stop in consideration of Illinois's most dangerous locales in the town of Cahokia, a village located just south of St. Louis. Cahokia is the 27th highest least violent place on our list, so you don't have to worry much about getting attacked at a local park.
At the same time, you probably want to invest in some good home security if you're living in Cahokia, because the village experienced the highest burglary rate in Illinois for 2019, with a burglary happening every other day on average.
This is Cahokia's first time on the top ten most dangerous in Illinois list, so if it can get its property crime rate down to its violent crime levels, the village should have no problem getting back off this list next year.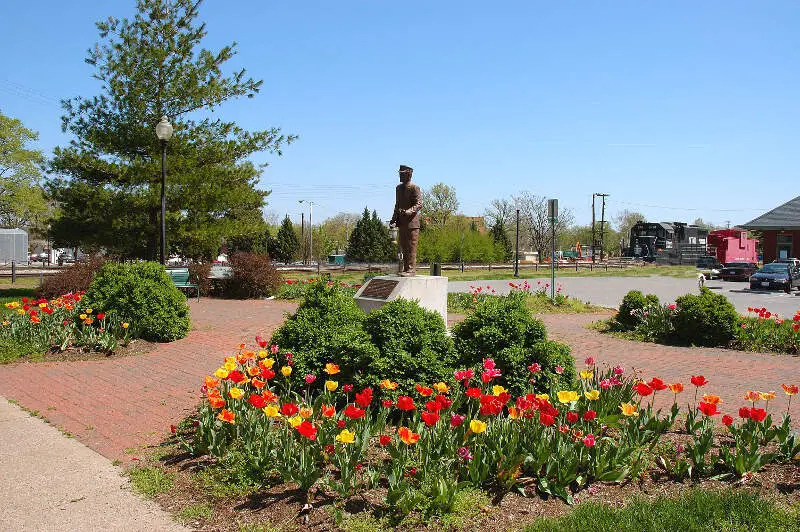 Carbondale wasn't even in the top twenty most dangerous places in Illinois last year, so hopefully, they can get crime back under control and disappear from this list by next year. The city in southern Illinois experienced 932 property crimes in 2019.
Additionally, Carbondale had the sixth highest rate of rape cases in Illinois, with one occurring just about every week, on average. The city also averaged about two aggravated assault cases a week.
So while the statues of mythical creatures at Boo Castle Park might be scary, you have a lot more to fear from the criminal elements of Carbondale.
Graphing The Most Dangerous And Safest Places In Illinois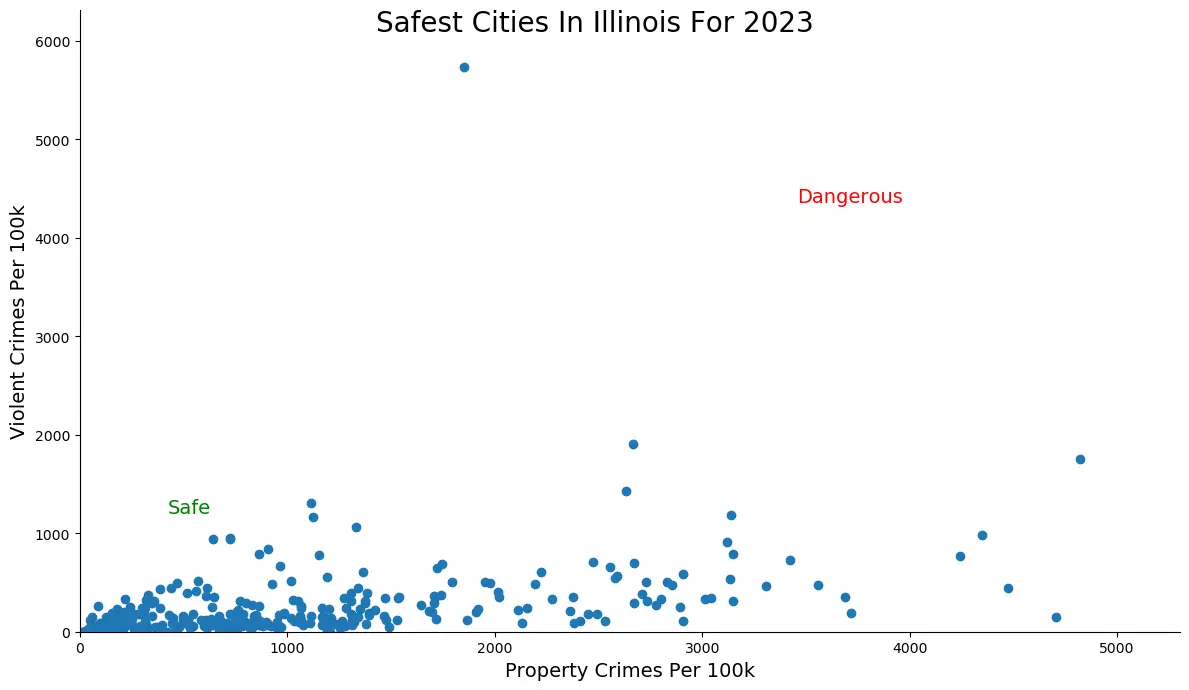 Click To Enlarge
How we determined the most dangerous cities in Illinois for 2021?
Every year the FBI release two crime datasets, a preliminary dataset limited to the biggest cities in the country, followed by a more detailed release at the end of the year.
For our analysis, we focused on the JUST released 2019 data, specifically the 2019 Crime In The United States Report. We will update the results when data becomes available in September 2021.
So what criteria did we use? Have a look:
Violent Crimes Per Capita
Property Crimes Per Capita
In order to make the analysis as apples to apples as possible, we only considered Illinois cities over 5,000 in population. That left us with 290 cities in Illinois.
We then ranked each city from 1 to 290 for the two criteria with a #1 ranking being the most dangerous for the particular criteria.
Next, we averaged the two rankings into one "Dangerous Index".
Finally, we ranked every city on the "Dangerous Index" with the lowest index being the most dangerous in Illinois — Mount Vernon. Any ties went to the smaller city. You can download the data here.
Read on for a detailed look at the 10 most dangerous cities in Illinois.
Locking It All Up In Illinois
So what is the most dangerous city in Illinois? After analyzing 290 cities in Illinois, Mount Vernon takes the top spot as the most dangerous city in Illinois based on the most recently reported FBI data — 2019.
The latest FBI crime data shows that Mount Vernon ranks as the most dangerous city in Illinois for 2021.
We want to point out again that there's still safes places in Mount Vernon and that this isn't a comment on the people that live there. So please don't beat us up.
What are the circumstances that make these Illinois cities this way? Maybe not enough jobs, low wages, people just don't want to work, prisons, drugs, gangs, close to larger cities that push their problems onto surrounding cities?
We're not entirely sure. But one thing we are sure about is our number one most dangerous city in Illinois is Mount Vernon.
The Illinois cities on our most dangerous list could definitely use some TLC. If you're looking to be that diamond in the rough, or you're just curious to see if your city made the list, take a look at our list below. And if you don't see your city there, head to the bottom.
Learn more about the safest places in Illinois.
If you're looking for something more national, check out the most dangerous cities in America or the most dangerous states in America.
Here are the safest cities in Illinois:
Justice (Pop. 12,682)
Manhattan (Pop. 8,121)
Lindenhurst (Pop. 14,296)
Huntley (Pop. 27,849)
Gilberts (Pop. 8,259)
Hawthorn Woods (Pop. 8,651)
Elburn (Pop. 5,967)
Orland Hills (Pop. 7,066)
Inverness (Pop. 7,442)
Campton Hills (Pop. 11,202)
For more Illinois reading, check out:
The Most Dangerous Cities In Illinois
| Rank | City | Population |
| --- | --- | --- |
| 1 | Mount Vernon | 14,802 |
| 2 | Centralia | 12,288 |
| 3 | Danville | 30,642 |
| 4 | Beardstown | 5,425 |
| 5 | Alton | 26,360 |
| 6 | Peoria | 110,955 |
| 7 | Springfield | 114,393 |
| 8 | Rockford | 145,719 |
| 9 | Cahokia | 13,864 |
| 10 | Carbondale | 25,242 |
| 11 | Kankakee | 25,872 |
| 12 | Metropolis | 5,986 |
| 13 | Chicago | 2,707,064 |
| 14 | Matteson | 19,517 |
| 15 | Hoopeston | 5,046 |
| 16 | Riverdale | 13,161 |
| 17 | Galesburg | 30,220 |
| 18 | Quincy | 39,954 |
| 19 | Forest Park | 13,761 |
| 20 | Kewanee | 12,338 |
| 21 | Lansing | 27,570 |
| 22 | DeKalb | 42,428 |
| 23 | Champaign | 88,891 |
| 24 | Hazel Crest | 13,654 |
| 25 | Harrisburg | 8,621 |
| 26 | Sauk Village | 10,319 |
| 27 | Carlinville | 5,498 |
| 28 | Calumet City | 36,128 |
| 29 | Zion | 23,617 |
| 30 | Granite City | 28,315 |
| 31 | Belleville | 40,930 |
| 32 | Decatur | 70,710 |
| 33 | Salem | 7,053 |
| 34 | Jacksonville | 18,667 |
| 35 | Evergreen Park | 19,260 |
| 36 | Effingham | 12,662 |
| 37 | Bellwood | 18,811 |
| 38 | Silvis | 7,538 |
| 39 | Moline | 41,701 |
| 40 | Broadview | 7,664 |
| 41 | Chicago Heights | 29,471 |
| 42 | Bartonville | 6,137 |
| 43 | Paris | 8,288 |
| 44 | Maywood | 23,277 |
| 45 | Oak Park | 52,311 |
| 46 | Steger | 9,301 |
| 47 | South Holland | 21,438 |
| 48 | Richton Park | 13,375 |
| 49 | Hillside | 7,932 |
| 50 | Bradley | 15,205 |