Editor's Note: This article is an opinion based on facts and is meant as infotainment. Don't freak out we updated this article for 2021. This is our seventh time ranking the worst places to live in Illinois.
Article Table Of Contents   
(Skip to section)
Illinois. America's heartland. The Land of Lincoln. Green summers, cold winters. Farmers and gangsters. And everything in between.
It's not a flyover state. In fact, when you consider Chicago is possibly the best city in America, Illinois can make a case that it's the most important state in the entire midwest.
Where you've got corn fields, corn hole, and some of the hardest-working, down-to-earth people in the country.
But is it all roses in Illinois? Of course not. Just like every other state, Illinois has its issues. The sore spots, if you will. The purpose of this post is to use science and data to determine which Illinois cities need a little tender loving care.
After analyzing 329 of the Prairie State's most populous cities, we came up with this list as the 10 places that could use a hug right about now:
The 10 Worst Places To Live In Illinois For 2021
What? Where are these places you wonder? And before you get all riled up and say we're picking on small town America, that's not the case.
We understand there's a lot of good in every place.
However, according to data (which doesn't measure things like beauty and 'friendly people'), there are far better options in the state for making a place home. And the worst place to live in Illinois? That would be Harvey.
Read on below to see how we crunched the numbers and see how your city fared in 2021.
If you're looking for something more national, check out the worst cities in America or the worst states in America.
For more Illinois reading, check out:
The 10 Worst Places To Live In Illinois For 2021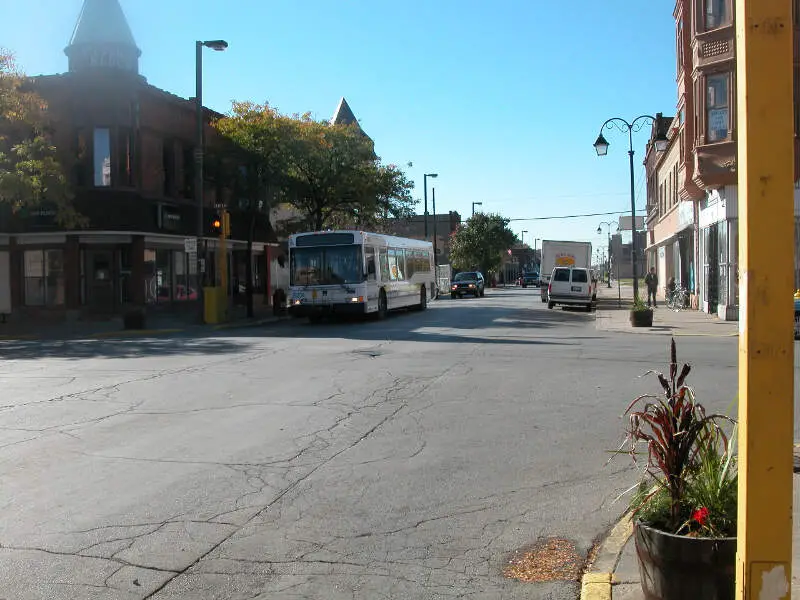 Part of a web of suburbs just south of Chicago, Harvey sits in the northeast part of the state, close to the Indiana border. The area is known for its severe problems with poverty and crime, making it one of the worst places to live in Illinois.
The 24,386 residents of Harvey suffer with a 15.1% unemployment rate and a median income of $30,306. Even the city itself is poor. In 2018, the city had its revenue garnished to make sure it paid pension liabilities.
Not everything in Harvey is bleak, though. Residents can head to the Kickapoo Meadows forest preserve on the north end of town, a spot famous for model airplane flying.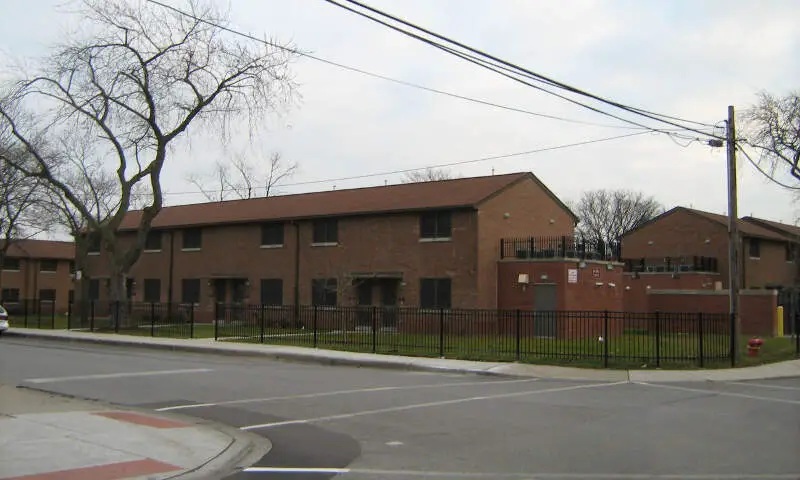 Riverdale is another example of a group of rough suburbs located south of Chicago. Its 12,793 residents struggle with crushing unemployment, high crime, and an uninspiring education system. As a result, the town rate as the number 2 least appealing location in Illinois.
The economy is the main problem in the area. The unemployment runs a frightening 20.1%. The median income comes in at $35,711. These financial limitation lead to other challenges. The crime rate hovers more than 40% above the national average, and the local schools top out at a 5/10 on Great Schools.
Locals can find sanctuary in the outdoors, however. For such an urban location, Riverdale has a significant amount of green space, being bordered on three sides by forest preserves, including the Whistler Woods Forest Preserve to the north.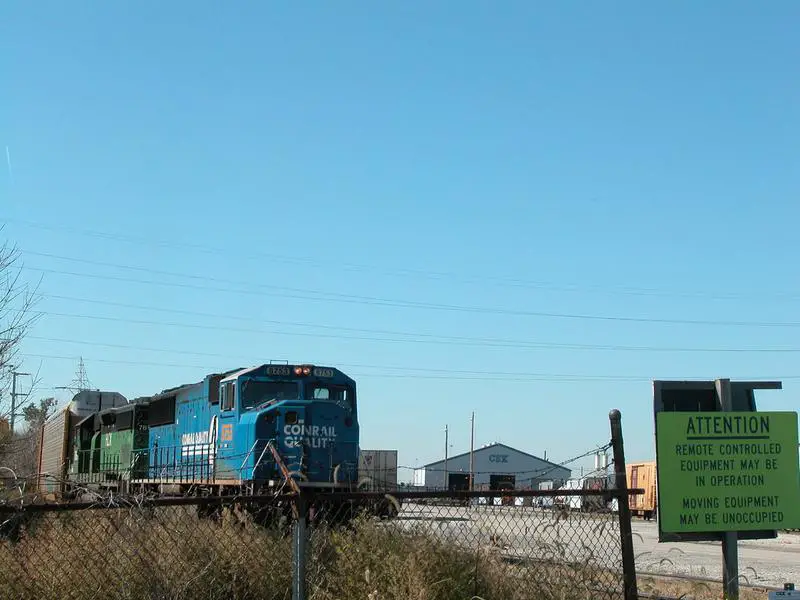 For a town of just 22,737 people, Dolton has produced more than its fair share of famous people. Former NFL quarterback Donovan McNabb, prominent movie reviewer Richard Roeper, and Glee star Jane Lynch all hail from the area. No wonder they left: Dolton stands as the number 3 least attractive location in Illinois to put down roots.
Dolton sits just south of Chicago, one of a number of economically challenged suburbs in the area. Locals face a 17.6% unemployment rate and a median income of $46,614. With such a limited tax base, the education system suffers. The top school in town only grabs a 4/10 on Great Schools.
Early settlers knew the area around Markham as an important crossroads. That continues to be true today, as two major highways (I-57 and I-294) intersect near town. Unfortunately, you probably wouldn't want to do much more than pass through the area. It counts as the number 4 worst location in the state.
Markham, located just south of Chicago has problems with high unemployment (15.6%) and low wages (median income: $43,011).
Still, the 12,493 residents of Markham have significant town pride. Take the story of the Lone Pine Tree. A German settler planted pine trees from Germany's Black Forest in town in 1860. While the last of the original pines died in the 1980s, the town has planted a replacement. The Lone Pine now serves as the town's symbol.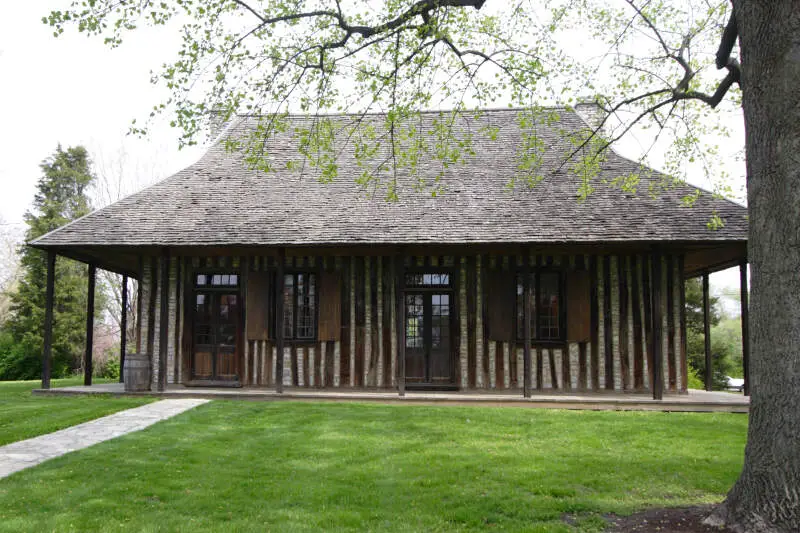 Cahokia is built on the eastern bank of the Mississippi River, across the water from St. Louis, Missouri. It was originally founded in the late 1600s - the town's Church of the Holy Family is the oldest church on the western side of the Allegheny Mountains. These days, though, the town faces tough times. In fact, it serves as the number 5 worst spot to live in Illinois.
The 14,162 residents of the area face multiple problems. First, there's the economy. The unemployment rate hangs at 13.4% and the median income comes in at $35,663. Second, there's the town's crime problem. The crime rate sits 170% above the U.S. norm. Along with these, Cahokia also suffers housing and education issues.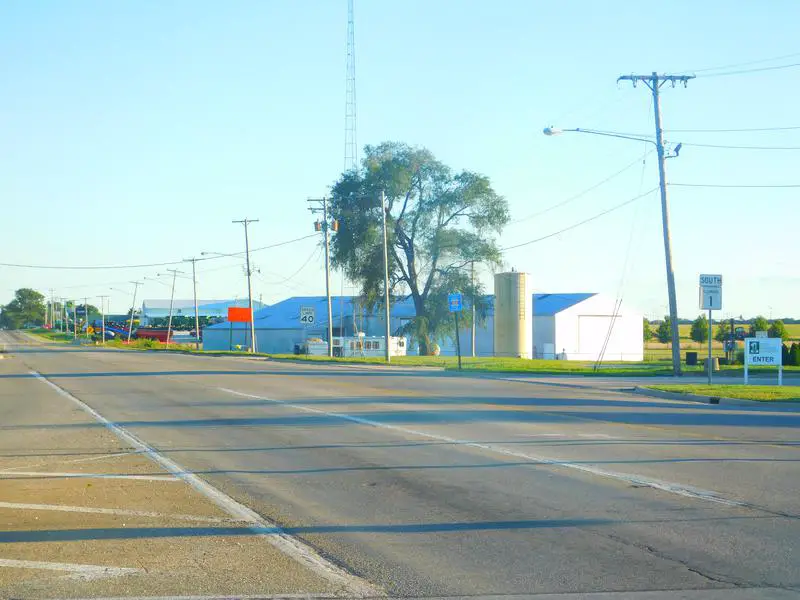 If you've ever taken the backroads to or from Chicago, you might have passed through Hoopeston on Route 1. It seems to be a relatively quiet, clean place.
Here's what science says about why Hoopeston needs some love: The unemployment rate is nearly 8.8%, residents earn about $43,914 a year, and home prices are just over $62,500. Across the board, those are in the bottom 10% in the state. Not absolutely horrible, but not desirable, either.
And there simply isn't anything to do in Hoopeston. Don't believe me? The city's events calendar is...blank.
Maybe people in Hoopeston just need some friends. They don't even have a Facebook page for their city. #FacebookforHoopeston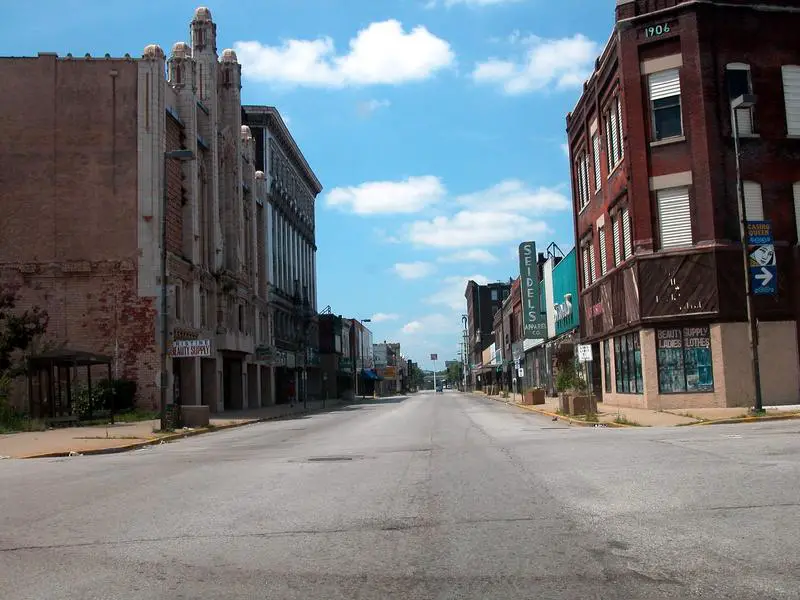 East St. Louis is clearly on this list. It's a St. Louis suburb. You've heard of it if you live in Illinois. It was once 83,000 people. Now, it's a third that size. And dropping by the month. This is the 328th poorest place in the state, and the 15th most violent, though it had the highest murder rate per capita in the nation at one point, and overall, a crime rate 18 times higher than the rest of the country. Crime used to be worse here, but as you can see, lots of the really bad areas were just knocked to the ground. So there's less rundown areas in which to commit crimes these days.
What was once an all american city began its decline in the early 1970s when the middle class moved out of the area, and the resulting failed tax base meant basic city services, including police and fire departments, had trouble operating.
Much of the land outside of the city remains undeveloped, bypassed by folks who chose more affluent suburban areas. What's left in city limits proper are widely scattered "inner city" neighborhoods, truck stops, adult venues, liquor stores and other blighted sections of town.
Most folks make about $24,343 a year on average.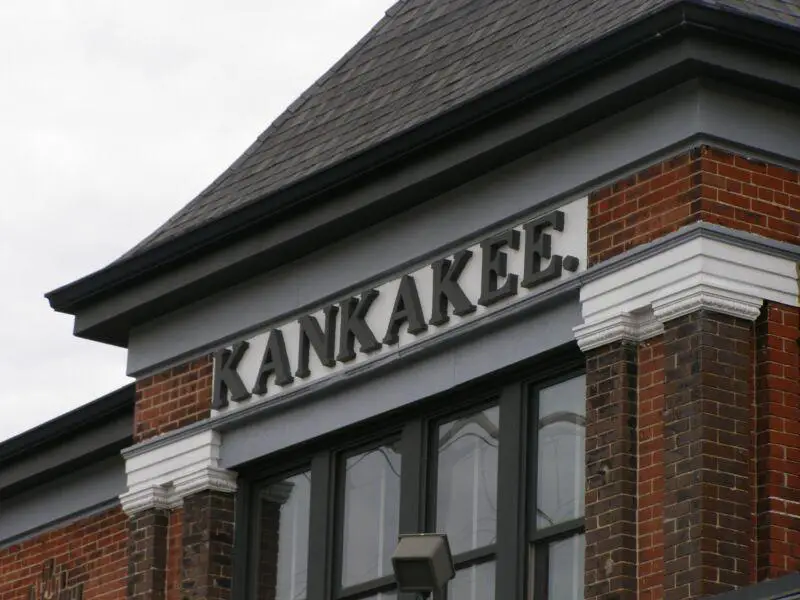 Our 8th stop of the worst places in Illinois is in Kankakee, a little city of 25,830 people about a half hour south of the Chicago metro area along I-57.
A few years ago, Places Rated Almanac ranked Kankakee as the 354th best place to live in the country...out of 354 places. David Letterman heard that and made fun of the place, saying Kankakee put the Ill in Illinois, and the annoy in Illinois. He also said, "You'll come for our payphone, and you'll stay because your car's been stolen." But back in 1997, Readers Digest said this was one of the BEST places to live. So what happened? Like many of the cities we'll talk about it was a loss of factory jobs beginning in the late 70s.
Even the Bears left from nearby Bourbonnais, where they had held training camp for like ever.
Today, 1 in 5 homes here is a single woman with kids and no father present. It's also the 23rd most violent place in the state, too, because gangs are coming down here from Chicago's south side. It's also a relatively poor place. Kankakee ranks 284th for poverty, where about 30% of the community gets food stamps.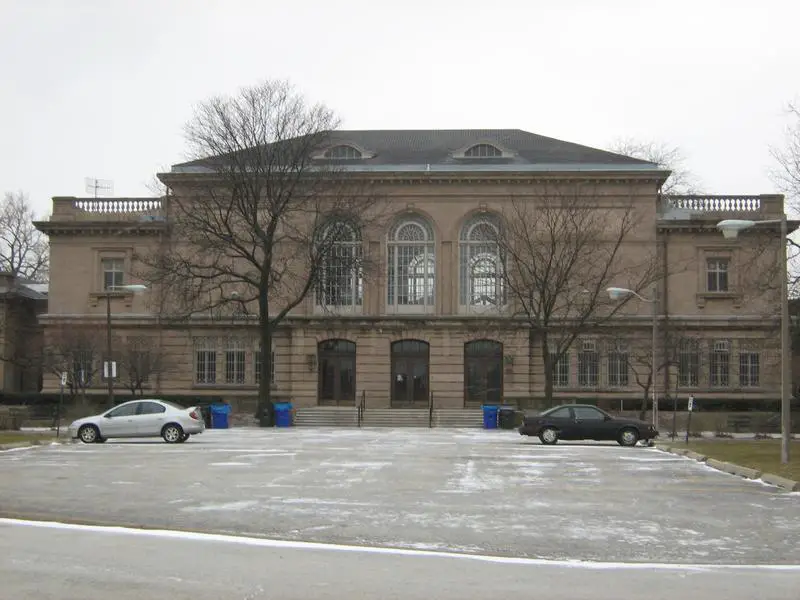 Another example of the uninviting suburbs that surround the South Side of Chicago, Calumet Park confers a significant number of challenges to its 8,208 residents. Jobs are hard to find, while housing and education are mediocre at best. As a result, Calumet Park ranks among the worst places to live in Illinois.
Locals struggle to find paying gigs. The unemployment rate stands at 11.8%, while 17.3% of people in the area make due with poverty wages. This, in turn, leads to a lackluster education, with schools in town reaching just a 5/10 on Great Schools.
Residents of Calumet Park due enjoy good access to amenities, however. Besides easy access to one of the country's largest urban centers, the town sits just north of Whistler Woods Forest Preserve.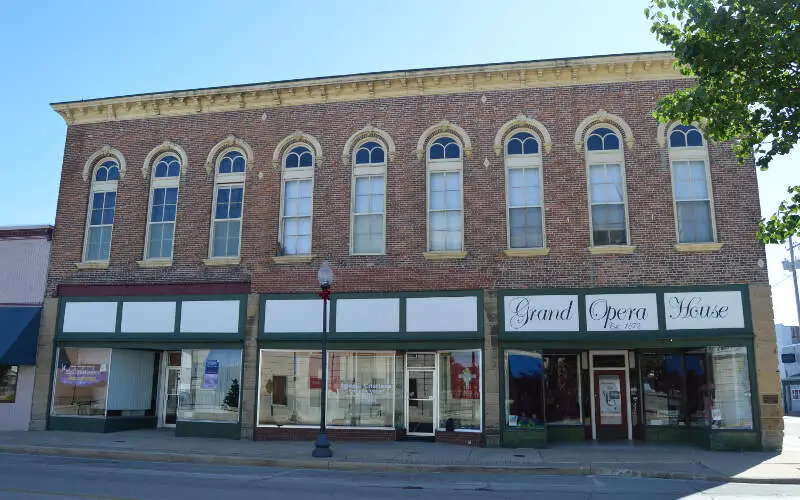 Source: Public domain
Situated in east-central Illinois, Beardstown has historically provided an economic hub for a largely rural area. Built along the Illinois River, it provided a key transportation center in the days before modern transportation. At one time, Abraham Lincoln served as a lawyer in a local murder trial.
These days, Beardstown has a different distinction. Now, it stands as the number 10 most unappealing place to put down roots in Illinois.
The local unemployment rate equals 8.8%, with 24.3% of the population toiling below the poverty line. Education and safety are also issues, with crime rate 120% above the U.S. norm.
How we determined the worst places to live in Illinois for 2021
To figure out how bad a place is to live in, we only needed to know what kinds of things people like and then decide what cities have the least amount of those things.
We don't think it's a stretch to assume that people like the following things:
Good education
Lots of jobs
Low crime
Low poverty
Nice homes
High incomes
High population density (Lots of things to do)
Short work commutes
Health insurance
The data comes from the Census's most recent American Community Survey and from the FBI Uniform Crime Report.
We broke crime down into violent crime and property crime to give violent crime a larger weight -- if you did a simple calculation of all crimes per capita, property crimes are normally 7x more common and really bias that ranking.
Furthermore, only cities with at least 5,000 people were considered -- leaving 329 cities.
We then ranked each city from 1 to 329 for all the criteria with a #1 ranking being the worst for the particular criteria.
Next, we averaged the rankings into one "Worst Place To Live Score".
Finally, we ranked every city on the "Worst Place To Live Score" with the lowest score being the worst city in Illinois -- Harvey. Read on for a detailed look at the 10 worst cities in Illinois. You can download the data here.
This list is a scientific analysis based on real data and is completely unbiased.
Wrapping Up The Worst In Illinois
If you're looking at areas in Illinois with the worst economic situations, where there's higher than average crime, and not a lot to do, this is an accurate list.
And in the end, Harvey ranks as the worst city to live in Illinois for 2021.
If you're curious enough, here are the best cities to live in Illinois:
Chatham (Pop. 13,072)
Western Springs (Pop. 13,272)
Deerfield (Pop. 19,006)
For more Illinois reading, check out:
Where Are The Worst Places To Live In Illinois?
| Rank | City | Population |
| --- | --- | --- |
| 1 | Harvey | 24,386 |
| 2 | Riverdale | 12,793 |
| 3 | Dolton | 22,737 |
| 4 | Markham | 12,493 |
| 5 | Cahokia | 14,162 |
| 6 | Hoopeston | 5,102 |
| 7 | East St. Louis | 26,543 |
| 8 | Kankakee | 25,830 |
| 9 | Calumet Park | 8,208 |
| 10 | Beardstown | 5,682 |