This article is an opinion based on facts and is meant as infotainment. It is our seventh time ranking the most dangerous places to live in Michigan and is updated for 2021.
Michigan would like to think that the only things dangerous in their state is the Detroit lions' defensive line and driving over the Mackinac Bridge during a snowstorm; but sadly, that's not the case.
There is danger lurking in every corner of the mitten in our top ten most dangerous cities in Michigan for 2021 list. Let's be real, we're not talking about driving 5 mph over the speed limit kind of danger. The type of danger we're talking about will gets people on the news. How does one navigate these dangerous cities when trying to make an informed decision on what city you should call home? We can answer that.
To compile our list, we looked at violent crimes and property crimes in cities with a population of 5,000. Folks, the cities that made our list have robberies happening in broad daylight, car jackings, and daily shootings. There are neighborhoods in these cities that you shouldn't drive thru, ever, and there are areas that you definitely shouldn't be in after dark. We're not saying that there aren't little pockets of goodness in these cities. The neighborhoods and shopping centers in these Michigan cities are not ALL bad. We do recommend that you spend some time studying them before you make a move. And If do you choose one of these cities, you're going to have to be aware of your surroundings at all times.
It's not entirely Michigan's fault. They are the sixth largest state in terms of population. As with most situations, there's bound to be problems with that many people. To see where these Michigan cities with more issues than a newspaper are located, take a look below at our most dangerous cities in The Great Lakes State for 2021.
The 10 Most Dangerous Places To Live In Michigan For 2021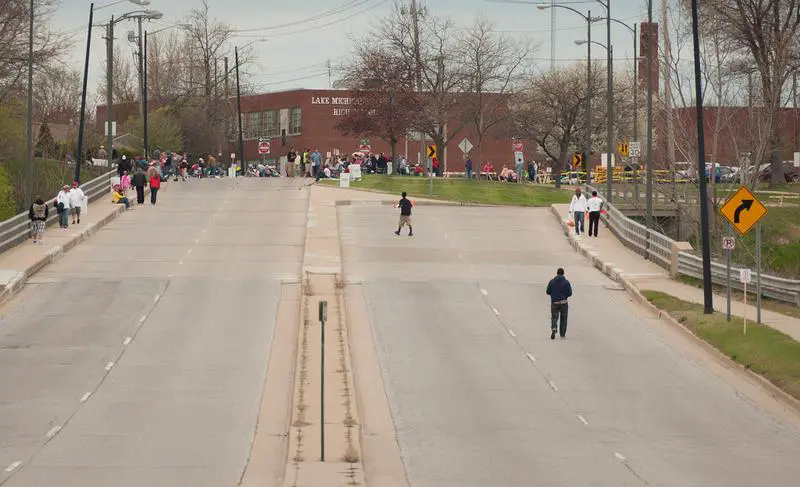 When it comes to Michigan's most dangerous places, it's hard to top Benton Township.
The township had the highest property crime rate in Michigan for 2019, with residents facing a 1 in 17 chance of having their property stolen or damaged. In other words, make sure you still have all your valuables after a day out at Silver Beach.
Benton Township doesn't exactly get a pass on violent crime either — in fact, the rate of rape cases here is third highest in Michigan.
Benton Township is located on Lake Michigan in southwestern part of the state.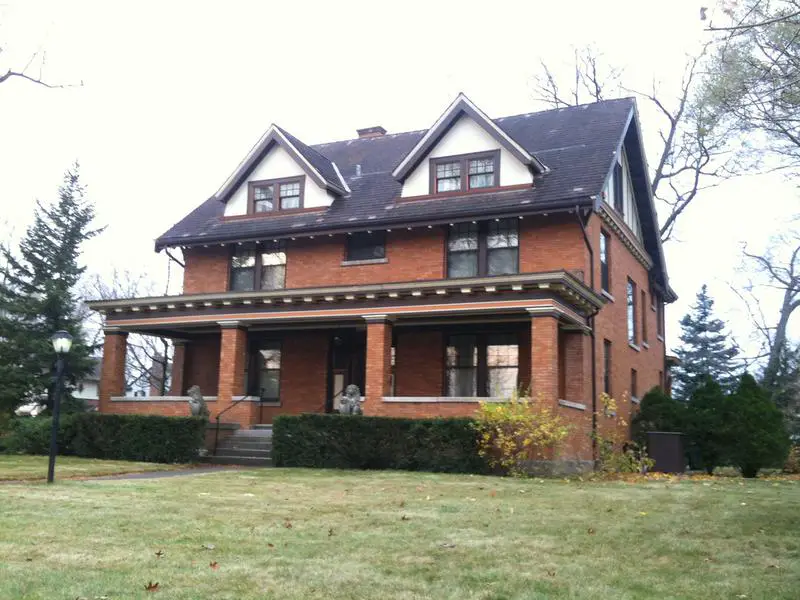 Muskegon Heights had the #1.0 spot on this list last year, so getting to the #2 spot represents a bit of progress in the crime department. Still, Muskegon Heights is the most violent place in Michigan, according to the FBI data, and total crime rate was nearly four times higher than the statewide average.
The murder rate in Muskegon Heights was the highest in Michigan for 2019 and residents had a 1 in 46 chance of being the victim of an attack. All the more reason to hurry home from P.J. Hoffmaster State Park before the sun goes down.
You also want to make sure you're religious about locking your doors here because Muskegon Heights also has the highest burglary rate in Michigan.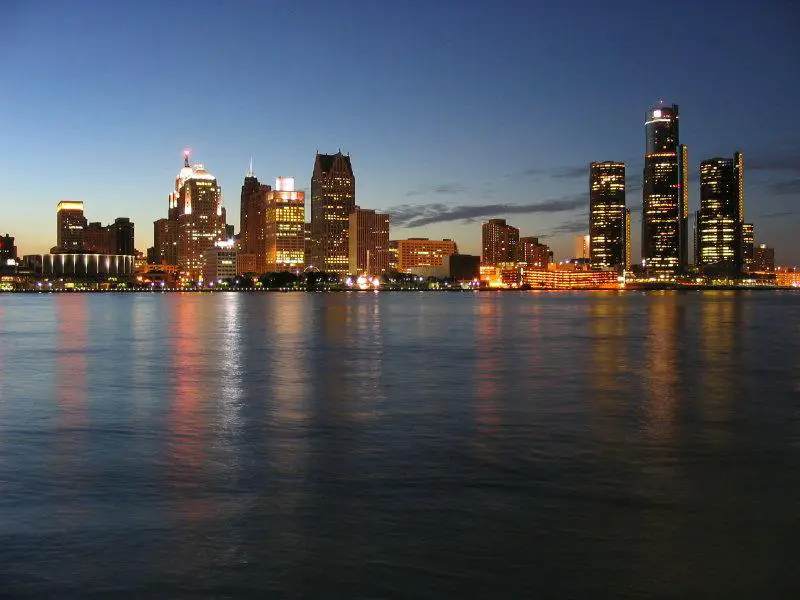 Between bankruptcy, a staggering 36% poverty rate, and an unemployment rate nearly five times higher than the national average, it's no secret that Detroit has had its share of struggles. It's also no wonder 10% of the population has fled the city in the past decade.
And with all those frustrations, it's no surprise that crime is also a big issue in Detroit. Motown had the second highest murder rate and second highest burglary rate in Michigan, for starters. On top of that, Detroit recorded 6,886 car thefts in 2019, so you want to be very picky about where you leave your car in the Motor City.
All that being said, Detroit is still a big city, so if you stick to Detroit's safest neighborhoods, like the area around the Detroit Riverfront, you should be all right.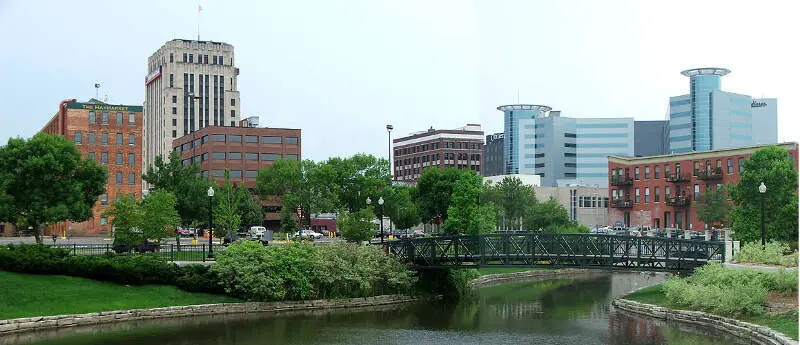 Source: Public domain
The fourth most dangerous place in Michigan goes to Kalamazoo, a city of 76,827 in the southwestern part of the state.
Folks in Kalamazoo had a 1 in 21 chance of being the victim of a property crime in 2019, so you'll want to be wary about your belongings here.
We just hope they have enough security at the Kalamazoo Valley Museum to stop a heist, seeing as Kalamazoo had the third highest burglary rate in Michigan.
On top of that, 949 people in Kalamazoo were attacked, murdered, or raped in 2019.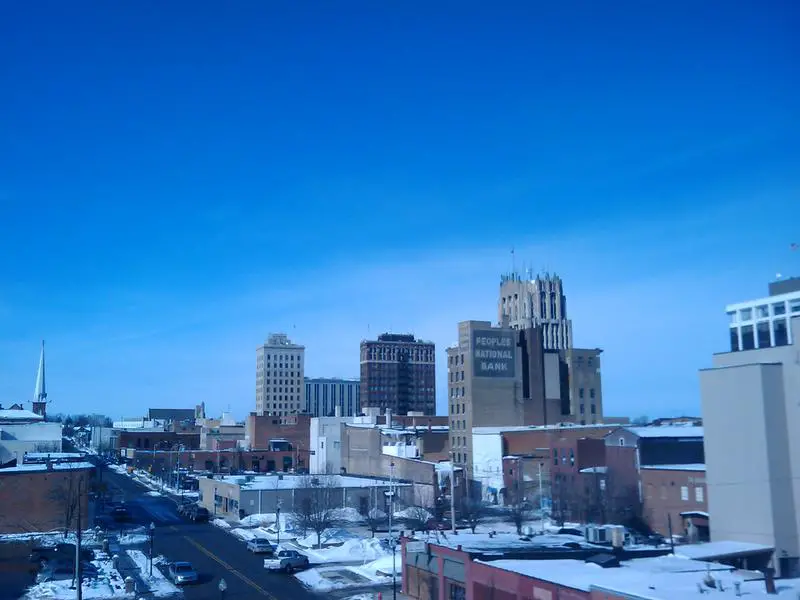 Located 40 miles west of Ann Arbor and 35 miles south of Lansing, Jackson is a bit of an outlier on our list — one of the few places not near Lake Michigan or Detroit.
Apparently, too many of Jackson's residents became enamored with the local Cell Block 7 museum and decided they'd like to become permanent residents.
Seriously, though, Jackson averaged about one violent crime a day, nearly four property crimes a day, and one rape a week in 2019, so it's not a good place to let your guard down.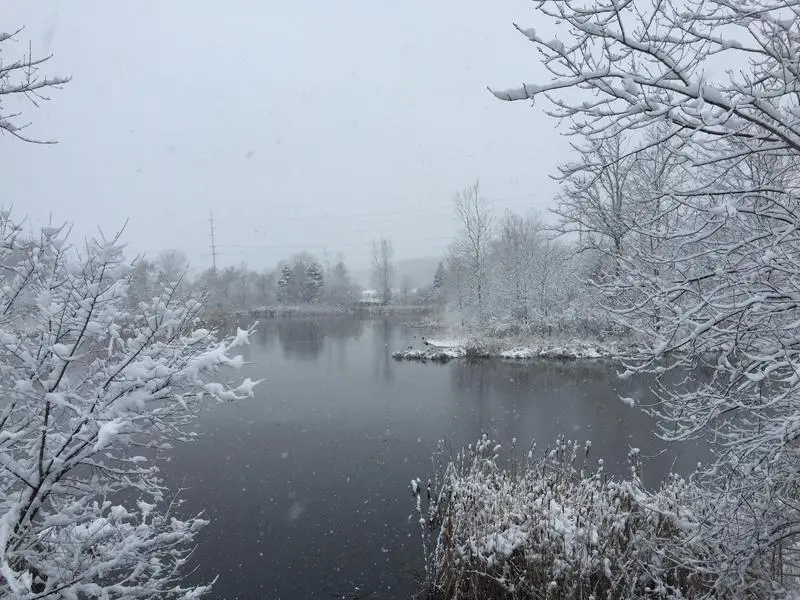 Lansing Township is made up of five non-contiguous areas that surround Lansing's east and west sides. That must make it a bit harder for local police to get their jobs done.
It's hard to say whether the east or west side is contributing the most to the township's high crime rate, but there's no denying that it has the second highest property crime rate in Michigan.
Residents had a 1 in 18 chance of having their belongings stolen or damaged in 2019
On the bright side, Lansing Township is the least violent place on this list.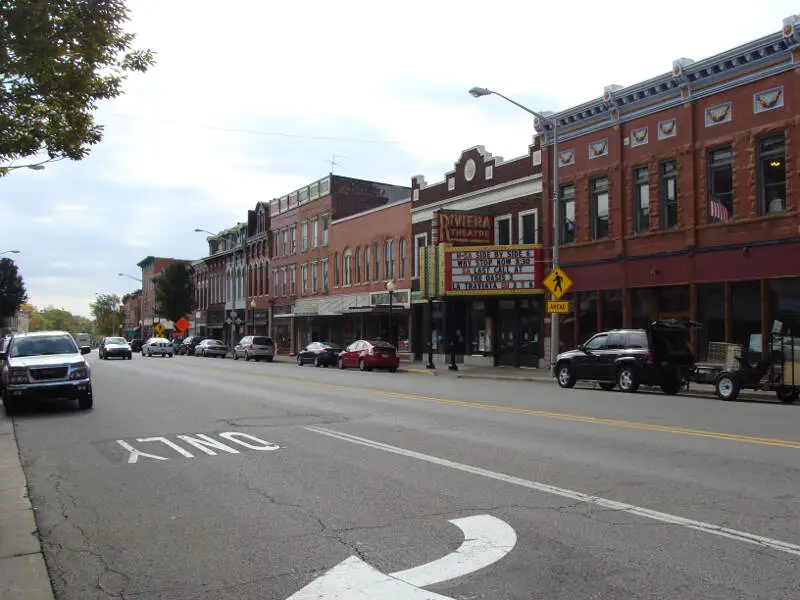 Three Rivers sounds like a peaceful name for this small city, but it's far from peaceful in Michigan's seventh most dangerous place. Three Rivers had the fourth highest rate of rape cases in the state in 2019.
But Three Rivers has Michigan's sixth highest overall crime rate mostly because of the prevalence of property crime. There was a property crime committed every day, on average, to give you an idea.
At least you can find a relaxing space at Hidden Mash Sanctuary; just don't stay out too late.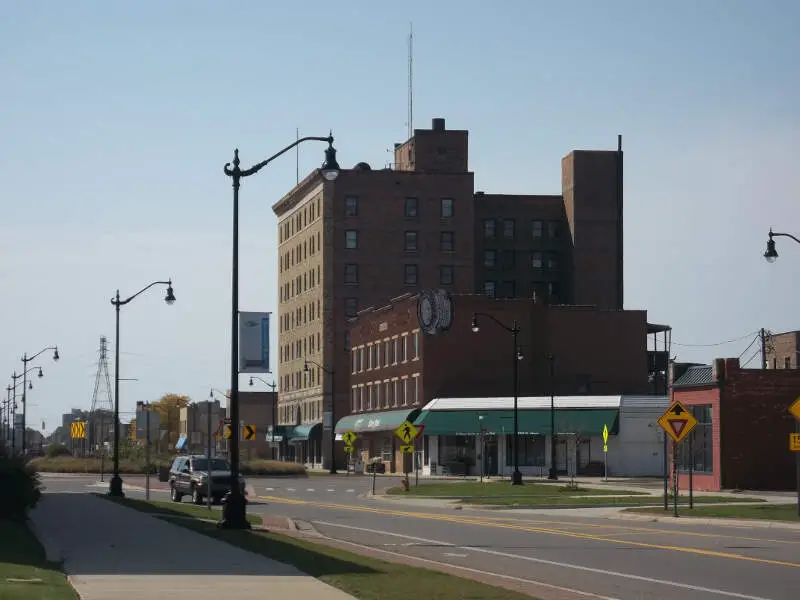 A neighbor of Benton Township, Benton Harbor comes in as the eighth most dangerous place to call home in the Wolverine State.
Benton Harbor is in the top ten statewide for all the wrong reasons – murder, rape, and burglary rates, not to mention unemployment. And with the median household income barely above the poverty line, it's safe to say there's a lot of work to be done in Benton Harbor.
But hey, at least the Silver Beach Carousel has a 5/5 rating.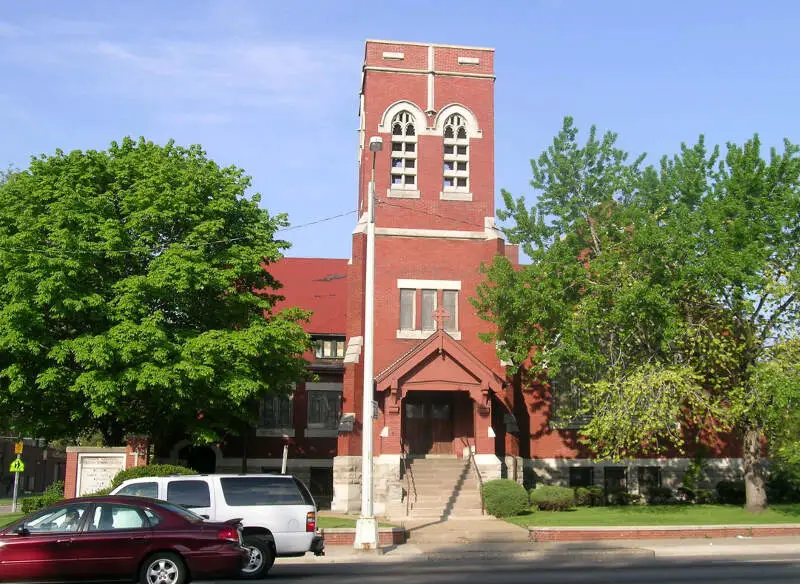 Highland Park has been featured at the top of our list of the worst places in Michigan for a couple of years running now, and a big reason why is crime.
Of course, with a poverty rate of over 45% and the highest unemployment rate in Michigan, it isn't hard to imagine why criminal activity is so prevalent here. All we're saying is that if folks had slightly better odds than 1 in 48 of being attacked over
a year, we'd give a more favorable review.
Highland Park is surrounded by Detroit, but things are so bad here that the larger city doesn't want to absorb it.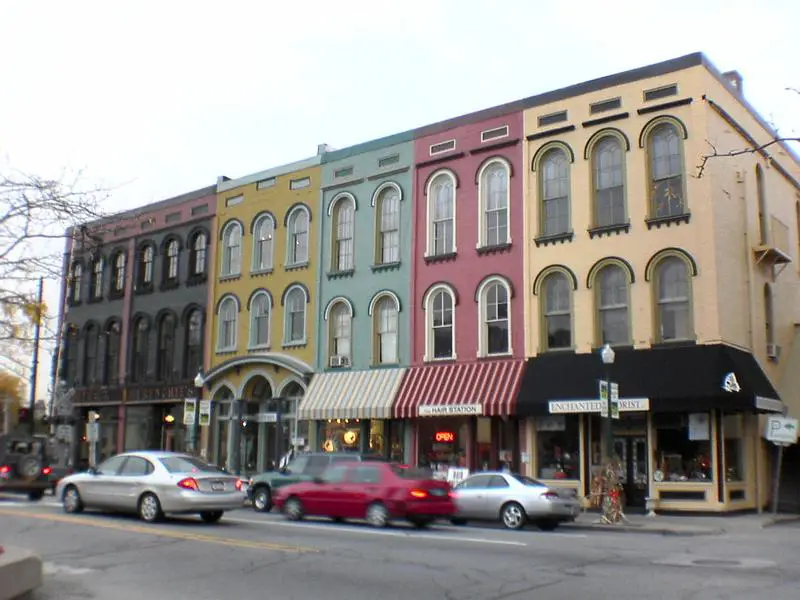 Located some 10 miles southeast of Ann Arbor, Ypsilanti comes in as Michigan's tenth most dangerous place.
We're not sure if college kids are totally to blame for Ypsilanti's above-average crime numbers, but Eastern Michigan University does have around 20,000 students, which has to inflate the stats in a city of 21,178.
That being said, Ypsilanti does have the 12th highest total crime rate in the state, thanks to a good mix of both property and violent crime.
Graphing The Most Dangerous And Safest Places In Michigan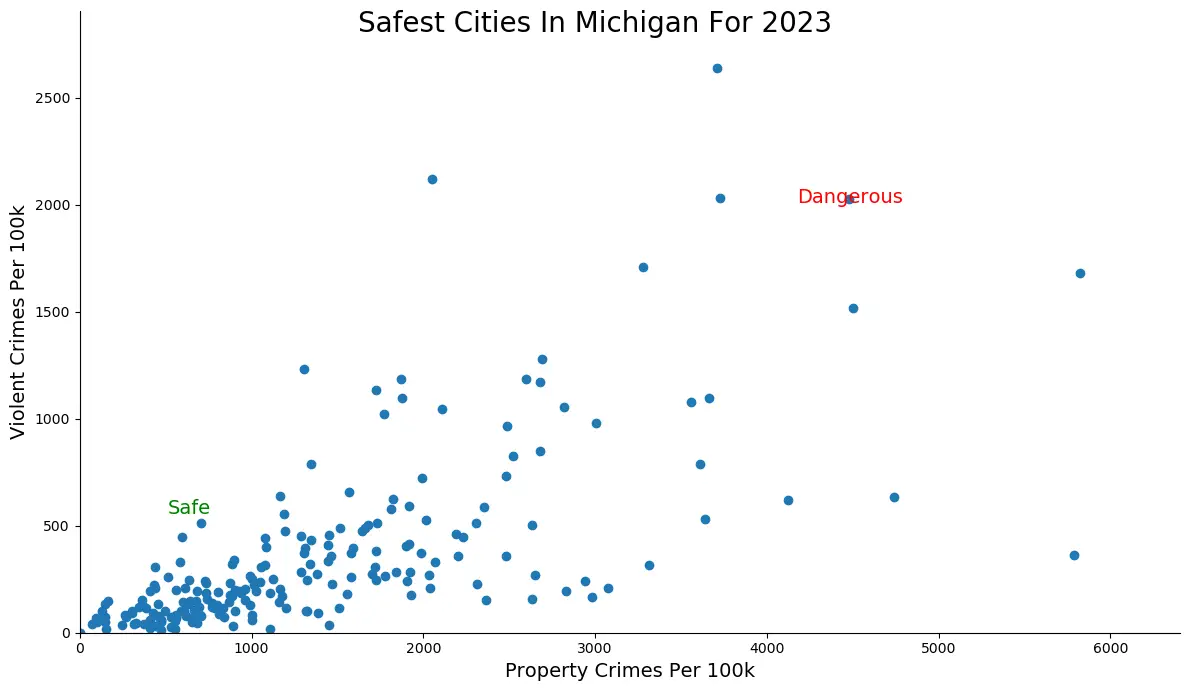 Click To Enlarge
How we determined the most dangerous cities in Michigan for 2021?
Every year the FBI release two crime datasets, a preliminary dataset limited to the biggest cities in the country, followed by a more detailed release at the end of the year.
For our analysis, we focused on the JUST released 2019 data, specifically the 2019 Crime In The United States Report. We will update the results when data becomes available in September 2021.
So what criteria did we use? Have a look:
Violent Crimes Per Capita
Property Crimes Per Capita
In order to make the analysis as apples to apples as possible, we only considered Michigan cities over 5,000 in population. That left us with 220 cities in Michigan.
We then ranked each city from 1 to 220 for the two criteria with a #1 ranking being the most dangerous for the particular criteria.
Next, we averaged the two rankings into one "Dangerous Index".
Finally, we ranked every city on the "Dangerous Index" with the lowest index being the most dangerous in Michigan — Benton Township. Any ties went to the smaller city. You can download the data here.
Read on for a detailed look at the 10 most dangerous cities in Michigan.
Locking It All Up In Michigan
So what is the most dangerous city in Michigan? After analyzing 220 cities in Michigan, Benton Township takes the top spot as the most dangerous city in Michigan based on the most recently reported FBI data — 2019.
The latest FBI crime data shows that Benton Township ranks as the most dangerous city in Michigan for 2021.
We want to point out again that there's still safes places in Benton Township and that this isn't a comment on the people that live there. So please don't beat us up.
What are the circumstances that make these Michigan cities this way? Maybe not enough jobs, low wages, drugs, gangs, close to larger cities that push their problems onto surrounding cities; and in Michigan's case, freezing temperatures and boatloads of snow?
We're not entirely sure. But one thing we are sure about is our number one most dangerous city in Michigan is Benton Township.
The Michigan cities on our most dangerous list could definitely use some some TLC. If you're looking to be that diamond in the ruff, or you're just curious to see if your city made the list, take a look at our list below. And if you don't see your city there, head to the bottom.
Learn more about the safest places in Michigan.
If you're looking for something more national, check out the most dangerous cities in America or the most dangerous states in America.
Here are the safest cities in Michigan:
Gaines Township (Pop. 6,080)
Adrian Township (Pop. 6,239)
Springfield Township (Pop. 14,554)
Huntington Woods (Pop. 6,321)
Hamburg Township (Pop. 21,755)
Oakland Township (Pop. 19,649)
Lapeer Township (Pop. 5,032)
Spring Arbor Township (Pop. 8,009)
Grosse Ile Township (Pop. 10,135)
Thetford Township (Pop. 6,689)
For more Michigan reading, check out:
The Most Dangerous Cities In Michigan
| Rank | City | Population |
| --- | --- | --- |
| 1 | Benton Township | 14,372 |
| 2 | Muskegon Heights | 10,717 |
| 3 | Detroit | 663,502 |
| 4 | Kalamazoo | 76,827 |
| 5 | Jackson | 32,503 |
| 6 | Lansing Township | 8,294 |
| 7 | Three Rivers | 7,643 |
| 8 | Benton Harbor | 9,801 |
| 9 | Highland Park | 10,703 |
| 10 | Ypsilanti | 21,178 |
| 11 | Harper Woods | 13,746 |
| 12 | Albion | 8,462 |
| 13 | Muskegon | 37,178 |
| 14 | Battle Creek | 60,607 |
| 15 | Lansing | 118,953 |
| 16 | Dowagiac | 5,719 |
| 17 | Romulus | 23,507 |
| 18 | Niles | 11,106 |
| 19 | Inkster | 24,268 |
| 20 | Pontiac | 59,791 |
| 21 | Flint | 95,212 |
| 22 | Buena Vista Township | 8,095 |
| 23 | Cadillac | 10,466 |
| 24 | River Rouge | 7,404 |
| 25 | Eastpointe | 32,340 |
| 26 | Emmett Township | 11,668 |
| 27 | Port Huron | 28,783 |
| 28 | Adrian | 20,334 |
| 29 | Greenville | 8,447 |
| 30 | Lapeer | 8,597 |
| 31 | Taylor | 60,923 |
| 32 | Sturgis | 10,779 |
| 33 | Lincoln Park | 36,336 |
| 34 | Bay City | 32,793 |
| 35 | Melvindale | 10,264 |
| 36 | Roseville | 47,381 |
| 37 | Kalamazoo Township | 24,613 |
| 38 | Hamtramck | 21,633 |
| 39 | Redford Township | 46,742 |
| 40 | Coldwater | 12,098 |
| 41 | Saginaw | 47,954 |
| 42 | Grand Rapids | 201,799 |
| 43 | Portage | 49,583 |
| 44 | Grandville | 16,021 |
| 45 | Wayne | 16,816 |
| 46 | Dearborn | 93,902 |
| 47 | Auburn Hills | 24,393 |
| 48 | Escanaba | 12,129 |
| 49 | Mount Morris Township | 20,274 |
| 50 | Warren | 134,653 |