Thrillist just ranked Michigan as the best state in the nation, which should really come as no surprise to anyone. With its four legitimate seasons, natural wonders, regional diversity and seemingly endless waterfront, it's no wonder that Michigan would top all 49 of the lesser states on any list you might want to throw together.
All the same, anyone familiar with Michigan knows there are places that need some real TLC right now. And it's not just Detroit. In fact, there are cities that might need a hug even more than Detroit. Here are the 10 cities in the Great Lakes State who have it a little rough right now.
The 10 Worst Places To Live In Michigan For 2023
Where are these places, you wonder? And before you get all riled up and say we're picking on small towns in Michigan, that's not the case.
We understand there's a lot of good in every place. For example, the best place to live in Michigan is Huntington Woods.
However, according to data (which doesn't measure things like beauty and 'friendly people'), the state has far better options for making a place home. And the worst place to live in Michigan? The worst place to live in Michigan is Dowagiac.
Read below to see how we crunched the numbers and how your city fared in 2023.
If you're looking for something more national, check out the worst cities in America or the worst states in America.
For more Michigan reading, check out:
---
Table Of Contents: Top Ten | Methodology | Summary | Table
---
The 10 Worst Places To Live In Michigan For 2023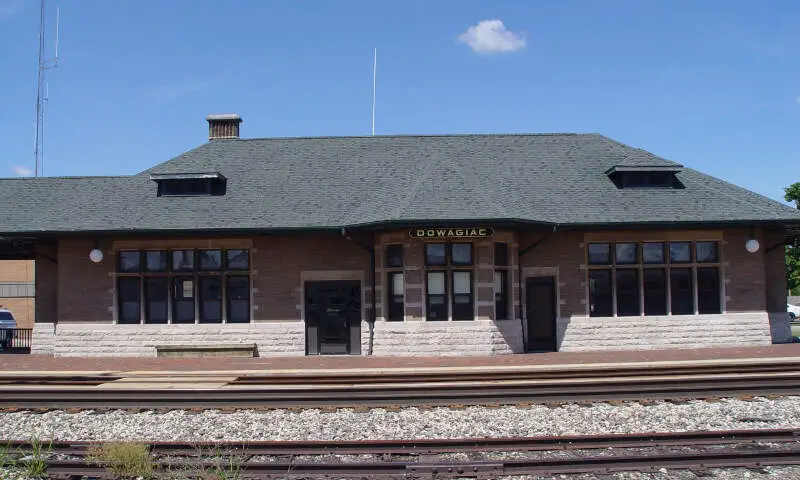 Source: Public domain
Located in the southwest portion of the state, Dowagiac serves as the key community for the Pokagon Band of Potawatomi Indians. Times are tough for the 5,731 residents of the community. A rough economy and weak schools make it one of the least appealing places in Michigan to put down roots.
Poverty runs rampant in town. In fact, 30.4% of the population has to struggle below the poverty line. This comes along with a 12.3% unemployment rate and a median income sits of $42,371.
Given the lack of funds, it's not surprising that the educational system suffers. Schools in the area top out at 6/10 on Great Schools.
Still, Dowagiac holds much cultural significance. Check out the town's Heddon Museum or its Dowagiac Area History Museum for examples.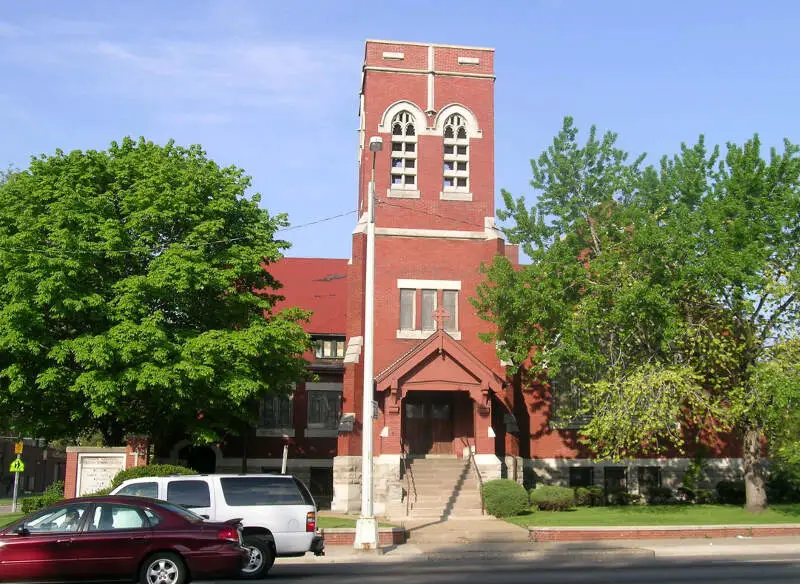 Highland Park is entirely surrounded by Detroit, and it is so bad that Detroit's government won't even consider absorbing Highland Park into the larger city due to the fact that all of Detroit's unflattering crime and unemployment statistics would instantly be made worse. If you live in Detroit and you're passing through Highland Park, give a friendly wave and a smile. You need each other's support right about now.
Highland Park ranks 1st in all of Michigan in unemployment, 2nd in overall crime, 10th from the bottom in adult drop out rates, and it has the 4th worst average income level in the state. In fact, the only thing saving Highland Park is a middle of the road population density, so there's at least something to do while you look for a job.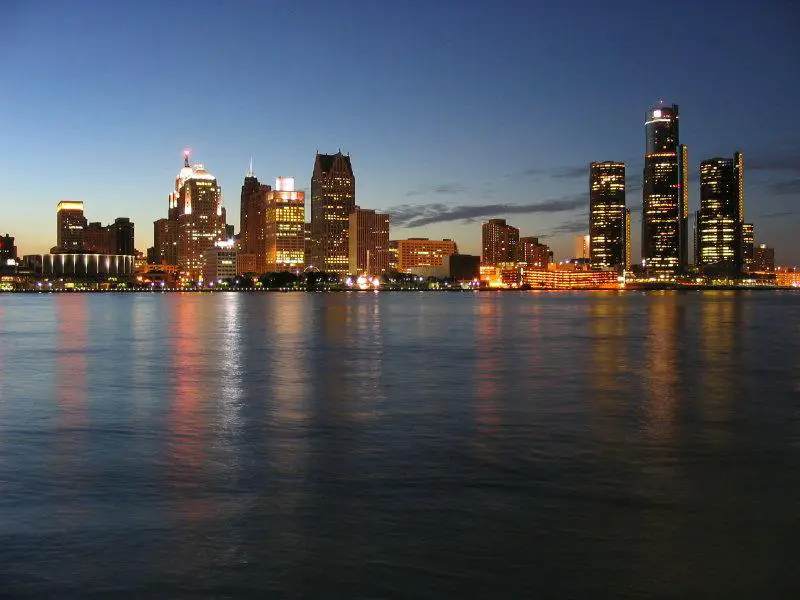 Blame the unions. Blame free trade. Blame innovation. Whoever you want to pin the blame on for Detroit's demise, you'd probably be correct.
Entire areas of Detroit have been demolished and turned back to nature. Crime is deplorable. Half of the murders in the whole state are within Detroit's city limits. And the covid thing and the blm protests have made murders spike here even higher.
We know how bad the crime here is and how poor a lot of people are. It's top five in the nation for both. And we hear about a Detroit renaissance happening. But man…
Here's an interesting note: It's estimated that up to 70% of the murders in Detroit are drug related. Okay, so that's refreshing. Stay out of trouble, and your chances of dying here drop drastically.
BUT: Thank you to the people of Detroit for all of the work you did in building our first cars and other vehicles. Thanks to the people of this state for the huge part you played in World War 2! Much of our nation's innovation and growth was due to the hard working people in the metro Detroit area a long time ago.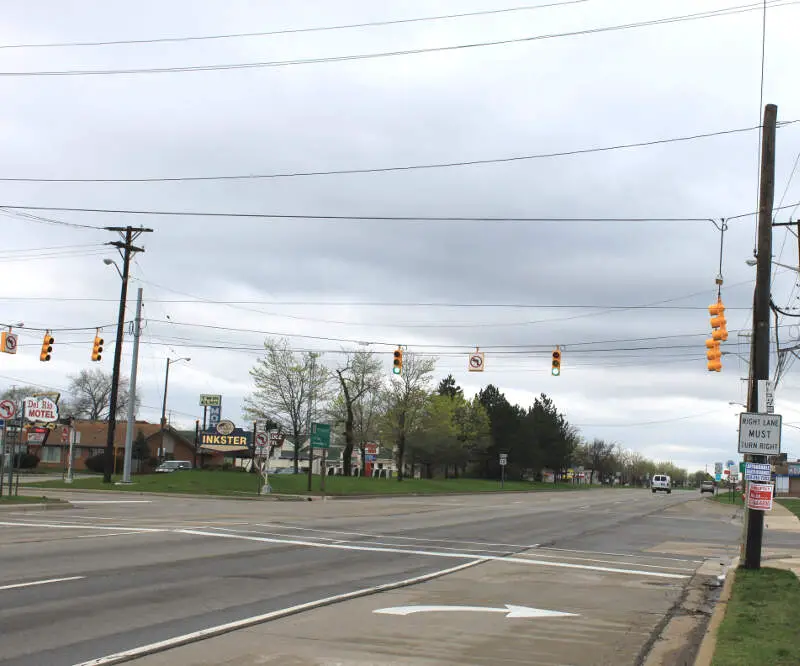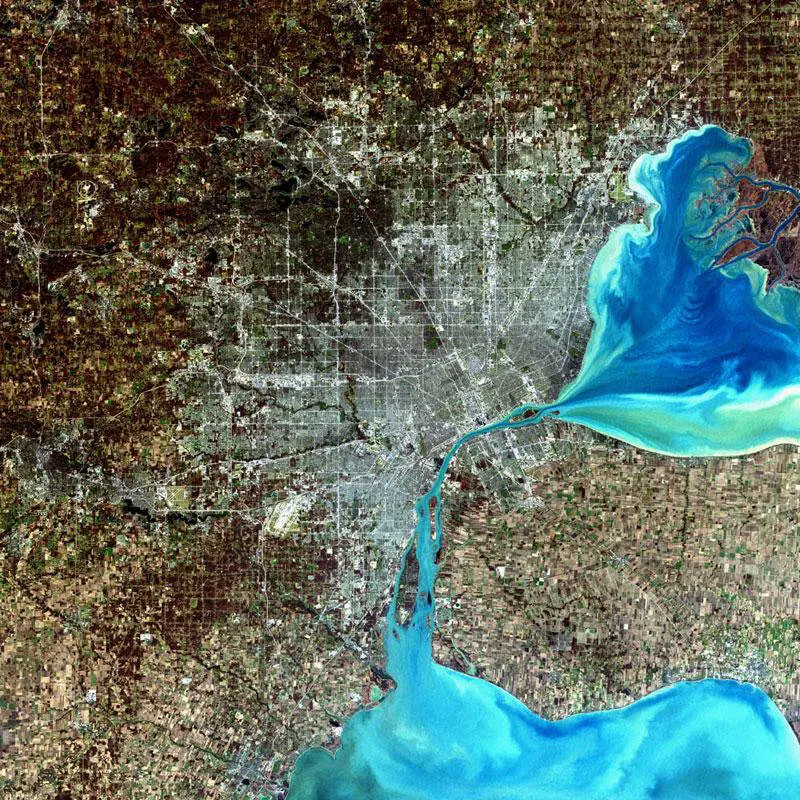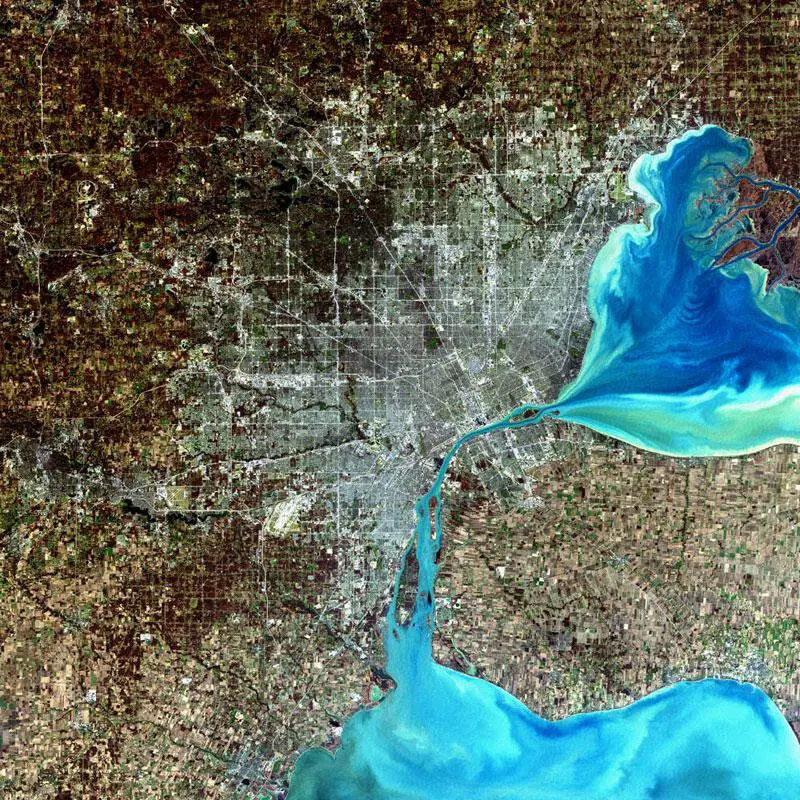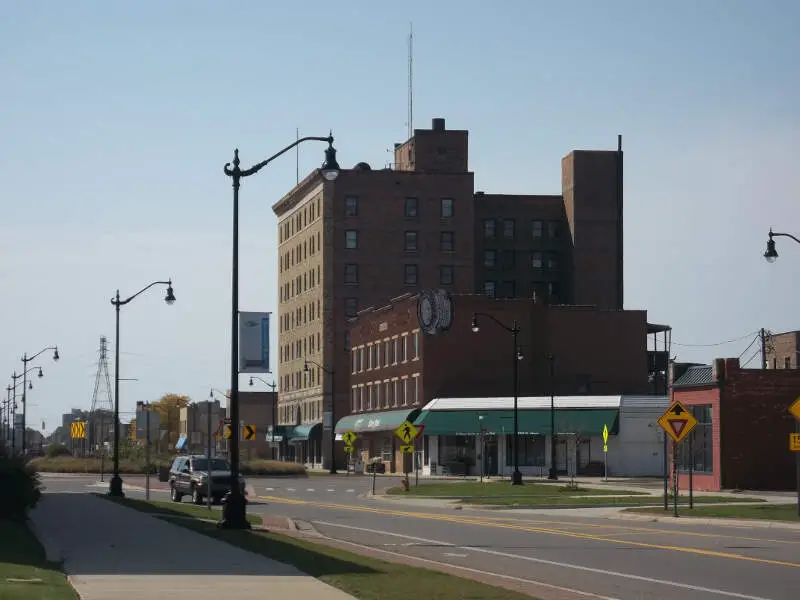 Who is our 7th worst city in Michigan?
Benton Harlem.
Benton Harlem?
That's what everyone there calls it.
I think that's really insensitive. Why is Benton HarBOR so bad? Things are not good here. This little inner city along the Lake Michigan shoreline has the 2nd highest unemployment rate and the 5th highest dropout rate. It's also the 5th highest in the state for crime.
The unemployment rate here is insane and so many people are on welfare. There were riots here in 2003, and parts of this community still haven't recovered. But they are making a comeback – they've cleaned up downtown, built a championship PGA golf course, some new trendy restaurants and breweries, shops, marinas and hotels.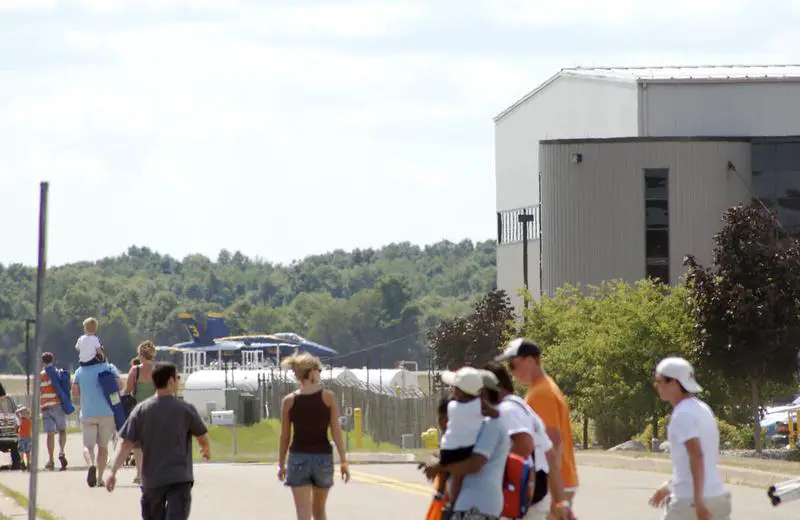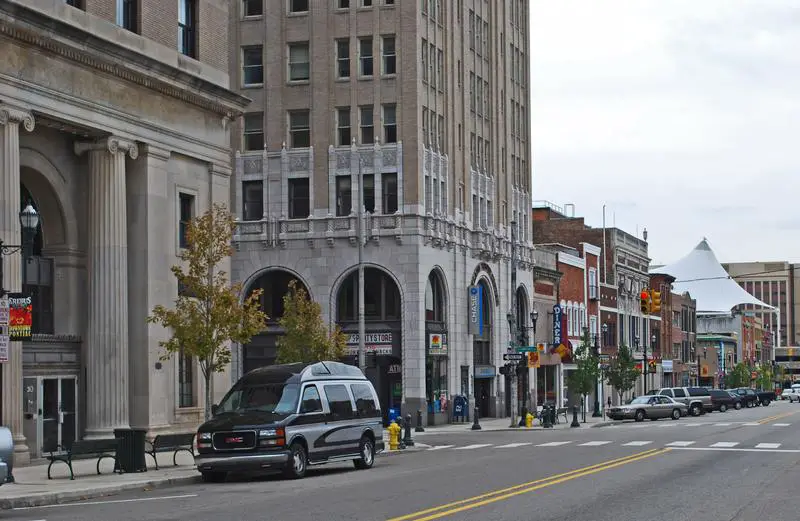 There would be a temptation to put Pontiac on this list simply because the Silverdome, with its deflated roof and gutted interior, is one of the biggest eyesores in the state. It's hard to think of it as the site where 93,000 fans once gathered to watch Wrestlemania III.
An eyesore that definitely landed Pontiac on this list of worst cities is the city's unemployment rank, which was second from the bottom, incomes and home values in Michigan's lowest 20 percent, and a crime rate in the top 20 percent. With statistics like that, we couldn't keep Pontiac off this list even if the Silverdome's ruins were made of actual silver.
The people of Pontiac are undoubtedly trying to pull themselves up from their bootstraps and could use a kind thought right about now.
Poor Pontiac – They've been neglected a lot. First, in the 60s, they covered over the Clinton River in concrete. That sucks. Then in 2002 the Lions moved from the Silverdome to downtown. Then the Silverdome got demolished. Then in 2009, Pontiac Motors shut down as did other car makers, leaving 20,000 people out of work. Then in 2011, Pontiac's police department shut down. A year later, the fire department shuttered. Then a lot of the school closed.
I mean how much neglect can one city take my god my god.
They're trying to make a comeback here. There was lots of discussion about how Pontiac is no longer under water financially, and how new businesses and developments are beginning here. So that's fabulous!
Methodology: How we determined the worst places to live in Michigan for 2023
To figure out the worst places to live in Michigan, we only needed to know what kinds of things people like and then decide what cities have the least amount of those things.
We don't think it's a stretch to assume that people like the following things:
Good education
Lots of jobs
Low crime
Low poverty
Nice homes
High incomes
High population density (Lots of things to do)
Short work commutes
Health insurance
The data comes from the Census's most recent American Community Survey and the FBI Uniform Crime Report.
We broke crime down into violent crime and property crime to give violent crime a more significant weight. If you did a simple calculation of all crimes per capita, property crimes are typically 7x more common and bias that ranking.
Furthermore, only cities with at least 5,000 people were considered — leaving 151 cities.
We then ranked each city from 1 to 151 for all the criteria, with a #1 ranking being the worst for the particular criteria.
Next, we averaged the rankings into one "Worst Place To Live Score."
Finally, we ranked every city on the "Worst Place To Live Score," with the lowest score being the worst city in Michigan — Dowagiac. Read on for a detailed look at the ten worst cities in Michigan.
Editor's Note: This article is an opinion based on facts meant as infotainment. We updated this article for 2023. This is our tenth time ranking the worst places to live in Michigan.
Summary: Wrapping Up The Worst In Michigan
If you're looking at areas in Michigan with the worst economic situations, where there's higher than average crime and little to do, this is an accurate list.
And in the end, Dowagiac ranks as the worst city to live in Michigan for 2023.
If you're curious enough, here are the best cities to live in Michigan:
Birmingham (Pop. 21,728)
Berkley (Pop. 15,234)
Huntington Woods (Pop. 6,382)
For more Michigan reading, check out:
Worst Places To Live In Michigan?
| Rank | City | Population |
| --- | --- | --- |
| 1 | Dowagiac | 5,731 |
| 2 | Highland Park | 9,304 |
| 3 | Detroit | 645,658 |
| 4 | Inkster | 25,849 |
| 5 | Ecorse | 9,328 |
| 6 | Melvindale | 12,534 |
| 7 | Benton Harbor | 9,171 |
| 8 | Springfield | 5,268 |
| 9 | Pontiac | 61,498 |
| 10 | Burton | 29,532 |
| 11 | Muskegon Heights | 10,058 |
| 12 | Albion | 8,061 |
| 13 | Three Rivers | 7,946 |
| 14 | Greenville | 9,057 |
| 15 | Romulus | 24,977 |
| 16 | New Haven | 6,035 |
| 17 | Hamtramck | 27,548 |
| 18 | Muskegon | 37,632 |
| 19 | Wayne | 17,624 |
| 20 | Jackson | 31,810 |
| 21 | Niles | 11,929 |
| 22 | Saginaw | 44,796 |
| 23 | Battle Creek | 52,434 |
| 24 | Flint | 83,312 |
| 25 | Lapeer | 8,911 |
| 26 | Eastpointe | 34,148 |
| 27 | Kalamazoo | 74,020 |
| 28 | Belding | 6,070 |
| 29 | Coldwater | 13,764 |
| 30 | Sturgis | 11,067 |
| 31 | Lincoln Park | 39,741 |
| 32 | Lansing | 113,592 |
| 33 | Roseville | 47,692 |
| 34 | Mount Clemens | 15,735 |
| 35 | Adrian | 20,674 |
| 36 | Ypsilanti | 20,448 |
| 37 | Warren | 138,996 |
| 38 | Escanaba | 12,439 |
| 39 | Ironwood | 5,147 |
| 40 | Port Huron | 29,009 |
| 41 | Cadillac | 10,317 |
| 42 | River Rouge | 7,257 |
| 43 | Grand Rapids | 197,858 |
| 44 | Taylor | 63,071 |
| 45 | Harper Woods | 15,287 |
| 46 | Sault Ste. Marie | 13,523 |
| 47 | Dearborn Heights | 62,334 |
| 48 | Utica | 5,188 |
| 49 | Hastings | 7,480 |
| 50 | Ionia | 11,655 |
| 51 | Owosso | 14,708 |
| 52 | Swartz Creek | 5,839 |
| 53 | Menominee | 8,449 |
| 54 | Charlotte | 9,224 |
| 55 | Hazel Park | 15,213 |
| 56 | Alma | 9,426 |
| 57 | Houghton | 7,675 |
| 58 | Alpena | 10,181 |
| 59 | Marshall | 6,832 |
| 60 | Southfield | 76,196 |
| 61 | Westland | 84,961 |
| 62 | Ishpeming | 6,223 |
| 63 | Flat Rock | 10,439 |
| 64 | Monroe | 20,344 |
| 65 | Wyoming | 76,625 |
| 66 | Dearborn | 107,985 |
| 67 | Hillsdale | 8,196 |
| 68 | Auburn Hills | 24,202 |
| 69 | Mount Pleasant | 21,880 |
| 70 | Center Line | 8,515 |
| 71 | Holly | 6,031 |
| 72 | Dundee | 5,252 |
| 73 | Madison Heights | 28,719 |
| 74 | Richmond | 5,871 |
| 75 | Portage | 48,767 |
| 76 | Fenton | 11,949 |
| 77 | St. Clair | 5,489 |
| 78 | Kentwood | 53,884 |
| 79 | Allegan | 5,165 |
| 80 | St. Louis | 7,435 |
| 81 | Sterling Heights | 134,062 |
| 82 | Tecumseh | 8,645 |
| 83 | Fraser | 14,703 |
| 84 | Eaton Rapids | 5,211 |
| 85 | Southgate | 29,990 |
| 86 | Brighton | 7,462 |
| 87 | Davison | 5,103 |
| 88 | Holland | 34,067 |
| 89 | East Lansing | 47,427 |
| 90 | Oak Park | 29,677 |
| 91 | Marysville | 9,925 |
| 92 | Big Rapids | 9,105 |
| 93 | Marquette | 20,561 |
| 94 | Hudsonville | 7,598 |
| 95 | Norton Shores | 25,040 |
| 96 | Grand Haven | 10,935 |
| 97 | Gladstone | 5,210 |
| 98 | Manistee | 6,230 |
| 99 | Wixom | 16,853 |
| 100 | Woodhaven | 12,889 |