This article is an opinion based on facts and is meant as infotainment. It is our seventh time ranking the most dangerous places to live in Wyoming and is updated for 2021.
If you asked most Wyomingites, they'd rather be a rodeo clown during High School Nationals in Gillette than drive thru Wyoming's most dangerous places.
You'd think that the tenth largest state, not to mention the least populated state, would have enough room between its residents to keep everyone happy and virtually crime free. Well, folks, that's not the case for Wyoming's most dangerous places; and lucky for you, RoadSnacks created a list of the most dangerous place in Wyoming for 2021.
That's right. Wyoming has some pretty dangerous places and we wanted to know just how dangerous, so we consulted the numbers. In total, we analyzed 25 cities. We looked at the FBI's latest crime report for violent crime and property crime statistics for every place with over 2,000 residents. We discovered that while Wyoming is much safer than most of the USA in terms of violent crime, it does have a higher rate of property crime. It's not lost on us that many of Wyoming's fastest growing cities are also the state's most dangerous. This is usually how it works. Law enforcement can't keep up with demand these cities and the cowboys and cowgirls in these places are taking notice and taking advantage.
Wyoming's most dangerous places are also facing problems like high unemployment and low wages. People, the cities that made our list have robberies happening in broad daylight; and pork packages in these places, don't have a fighting chance. There are neighborhoods in these cities that you shouldn't drive thru, ever, and there are areas that you definitely shouldn't be in after dark.
We're not saying that there aren't little pockets of goodness in these Wyoming cities. There are neighborhoods and shopping centers in Wyoming's most dangerous cities that are not ALL bad. We do, however, recommend that you take a look at our list below before you make any life changing decisions.
The 10 Most Dangerous Places To Live In Wyoming For 2021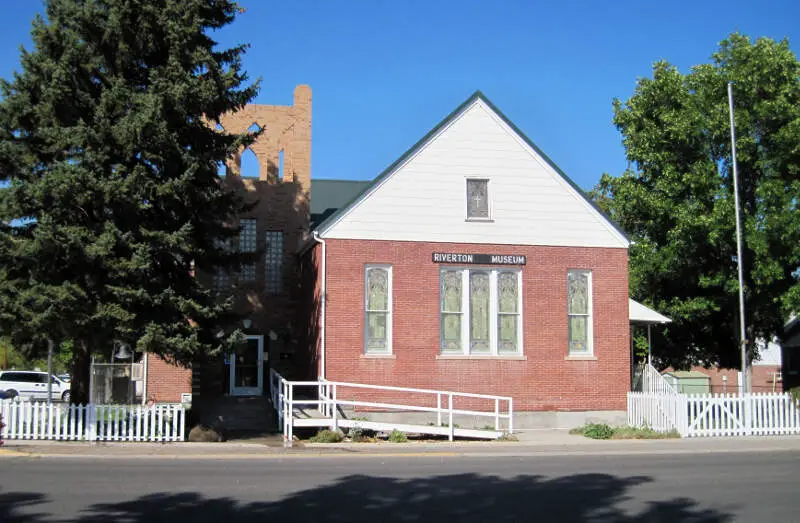 Source: Public domain
Riverton jumped up 3 position on this list from last year to "earn" the #1 spot for most dangerous city in Wyoming. That's because violent crime increased and property crime rose by a similar amount.
While Riverton wasn't the most violent place in Wyoming in 2019, it did have the third highest rate of rape and highest murder rate statewide. So get home before dark if you're visiting the Castle Gardens Petroglyph Site, or you might end up the protagonist of a horror movie.
On top of all the violence in Riverton, residents also had a 1 in 25 chance of being the victim of a property crime over 2019. That's the highest property crime rate in all of Wyoming.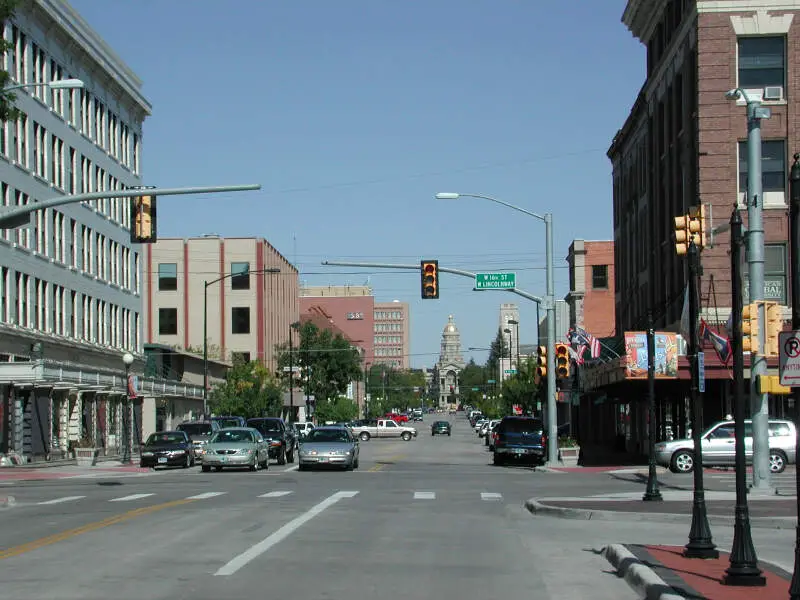 Wyoming's capital and biggest city, Cheyenne, ranks as the state's second most dangerous place to call home. Cheyenne's overall crime rate is more than twice as high as the statewide average.
We hope nobody heists the Wyoming State Museum, because Cheyenne had the state's third highest property crime rate.
It's not just a few broken windows and picked pockets going down in Cheyenne either. The city had the third highest murder rate in Wyoming, so nobody will blame you for keeping your guard up in Cheyenne.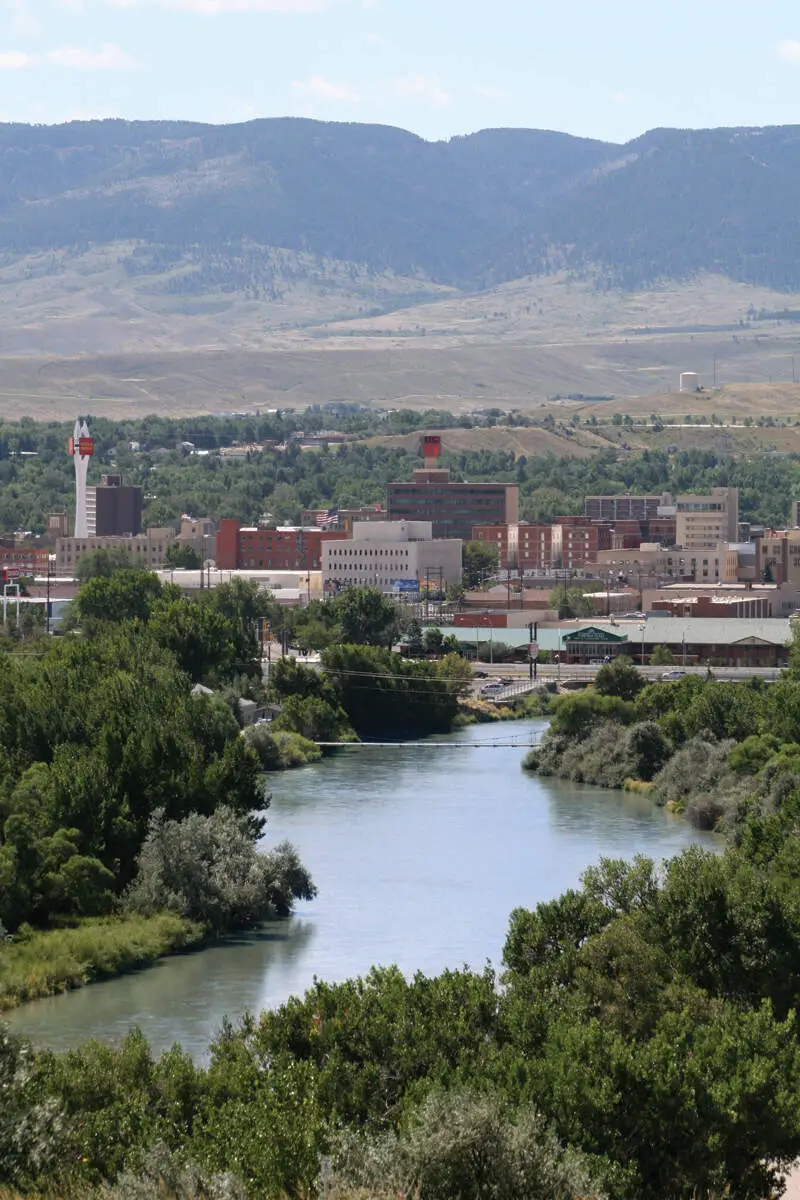 Source: Public domain
Known for its cowboy culture and oil-rich land, Wyoming's second biggest city, Casper, also ranks as the third most dangerous.
Casper had the fourth highest murder rate in Wyoming over 2019, as well as the fifth highest rate of rape cases. Overall, violent crime in Casper ranks as the seventh highest statewide.
Property crime is a whole lot more prevalent, with about five property crimes going down each day in Casper. That includes the third highest burglary rate in Wyoming and 121 car thefts, so invest in good security systems if you're moving to Casper.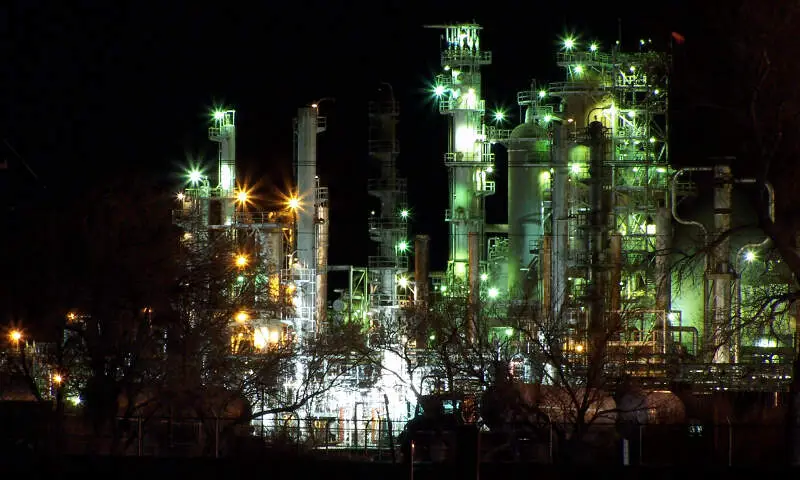 Source: Public domain
A part of the Casper Metro Area, Evansville topped our list of the worst places to live in Wyoming, and crime played a big part in our decision.
Good news, bad news situation in Evansville. Violent crime fell by an impressive amount from the previous reporting year, but property crime went up by a similar amount during the same time frame.
We're sure Evansville residents are pleased they don't have to worry as much about violent attacks on their outings to Edness K. Wilkins State Park. But we're equally sure they'd like local authorities to also address the fifth highest burglary rate in Wyoming.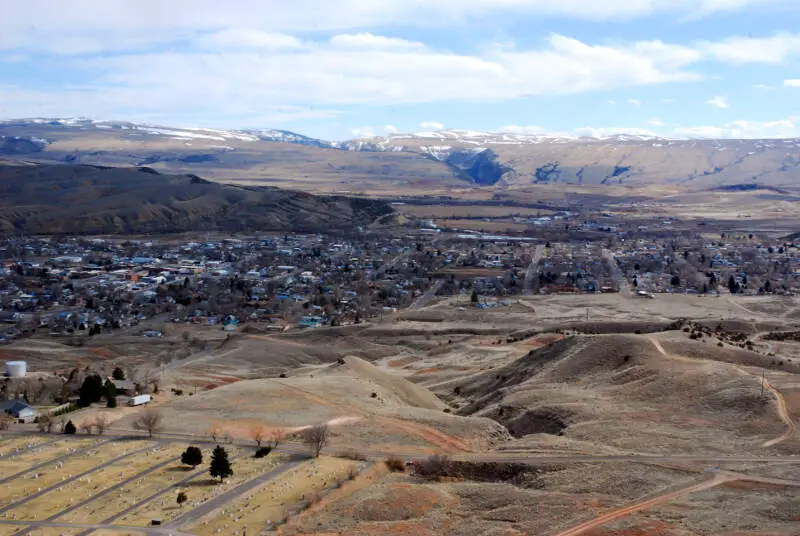 The aptly-named Thermopolis is home to many hot springs, but the temperature is equally high in terms of crime. Especially violent crime, which ranked as the highest statewide.
Overall, residents had a whopping 1 in 217 shot of finding themselves the victim of a robbery, rape, murder, or aggravated assault over 2019 — the reporting year.
Thermopolis's one redeeming quality is that the property crime rate is the lowest you'll see on this list. Still, residents would probably prefer to reduce the number of violent attacks rather than a few stolen phones.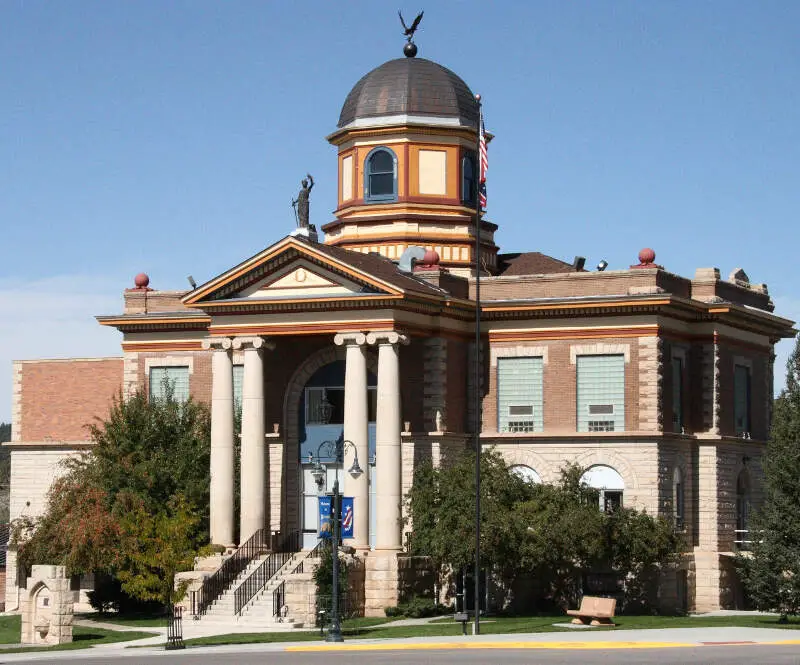 Located in northeastern Wyoming, Newcastle comes in as the state's sixth least safe place to live for 2021. While Newcastle boasts many great walking trails, we advise residents to buddy up if they plan on trying them out.
That's because Newcastle had the sixth highest violent crime rate reported in Wyoming for 2019. That includes having the fourth highest rate of rape cases statewide.
Property crime is also quite common in Newcastle, so do keep an eye on your valuables while you're out in public.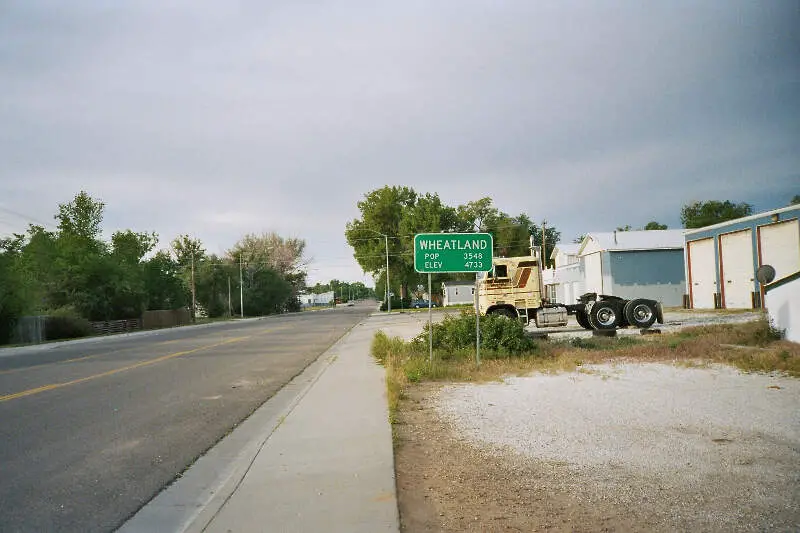 Welcome to Wheatland, a town of 3,544 located about an hour north up I-25 from Cheyenne. Wheatland jumped up 11 spots on this list from last year — the most significant change of any place on this list.
Wheatland had the highest burglary rate in Wyoming over 2019, so it's certainly not the sort of place you can leave your doors unlocked. We just hope the Laramie Peak Museum has enough security to stop a heist of frontier paraphernalia.
On the bright side, Wheatland is the least violent place on this list.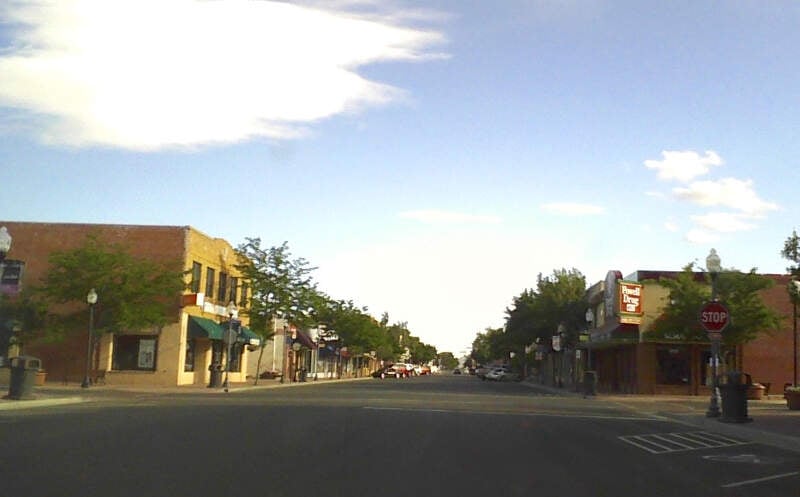 We're taking our first trip to northwestern Wyoming to reach the state's eighth most dangerous city, Powell. Powell had a mixed bag of crime numbers this year — violent crime went up by a chunk, while property crime fell by a bit.
We wonder if the frontier life on display at Homesteader Museum was more or less dangerous than current-day Powell.
It's hard to imagine it was any more dangerous back then, considering residents had a 1 in 286 shot of being the victim of a violent attack over 2019. Overall, Powell had the second highest violent crime rate in Wyoming, including the highest rate of rape cases.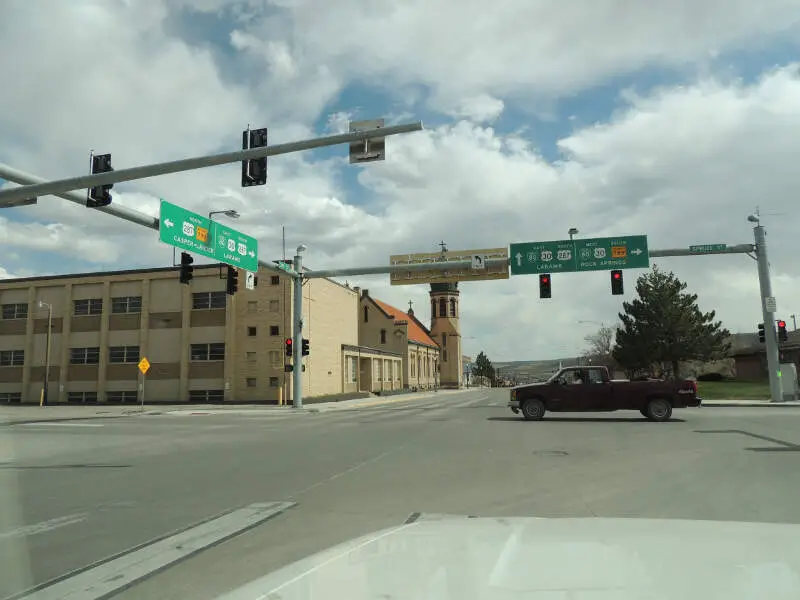 The county seat of Carbon County in south-central Wyoming, Rawlins comes in as the state's ninth most dangerous city. While you can take a tour and even rent a cell in Rawlins's Wyoming Frontier Prison, some residents are angling for a full-time spot in a jail cell.
The violent crime rate in Rawlins is the fifth highest in Wyoming, but the majority of those cases are "just" aggravated assaults.
Burglary is also quite prevalent in Rawlins, with about 2 cases a month on average — that's a lot for a city of just 8,589.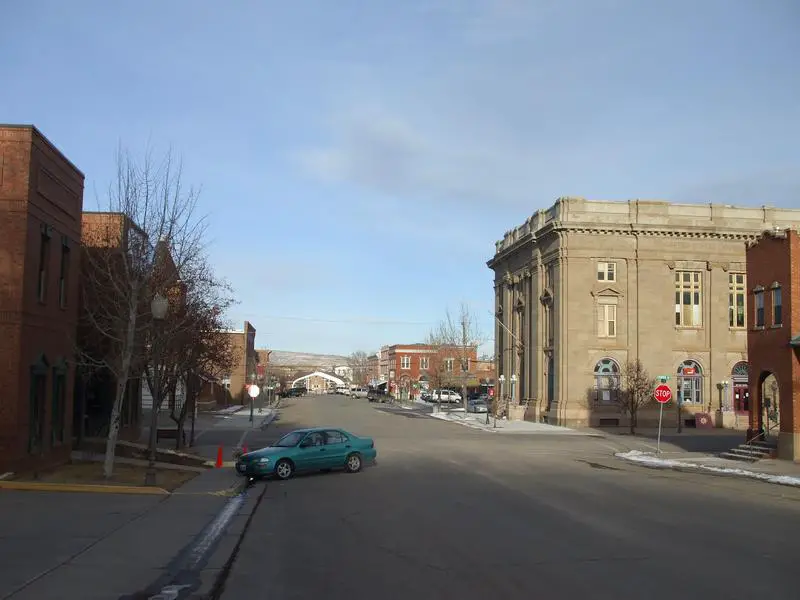 Statistically, you have much more to fear from criminals than any wildlife at Bear River State Park if you're living in Evanston.
While Evanston isn't crazy violent overall, it did have the distinction of having the second highest rate of rape cases in Wyoming. Not exactly something people want to be associated with their hometown.
Property crime in Evanston ranks as the tenth highest in Wyoming. Evanston wasn't even on this list in years past, so with a little luck, it may not be one of Wyoming's most dangerous cities by next year.
Graphing The Most Dangerous And Safest Places In Wyoming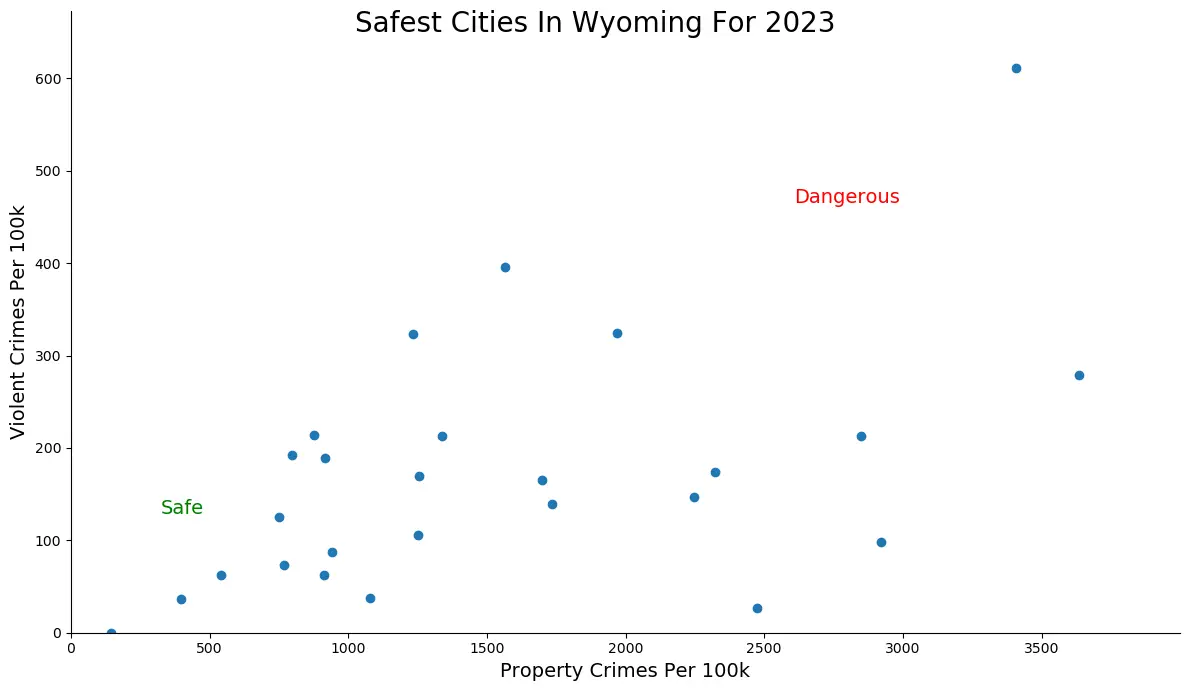 Click To Enlarge
How we determined the most dangerous cities in Wyoming for 2021?
Every year the FBI release two crime datasets, a preliminary dataset limited to the biggest cities in the country, followed by a more detailed release at the end of the year.
For our analysis, we focused on the JUST released 2019 data, specifically the 2019 Crime In The United States Report. We will update the results when data becomes available in September 2021.
So what criteria did we use? Have a look:
Violent Crimes Per Capita
Property Crimes Per Capita
In order to make the analysis as apples to apples as possible, we only considered Wyoming cities over 2,000 in population. That left us with 25 cities in Wyoming.
We then ranked each city from 1 to 25 for the two criteria with a #1 ranking being the most dangerous for the particular criteria.
Next, we averaged the two rankings into one "Dangerous Index".
Finally, we ranked every city on the "Dangerous Index" with the lowest index being the most dangerous in Wyoming — Riverton. Any ties went to the smaller city. You can download the data here.
Read on for a detailed look at the 10 most dangerous cities in Wyoming.
Locking It All Up In Wyoming
So what is the most dangerous city in Wyoming? After analyzing 25 cities in Wyoming, Riverton takes the top spot as the most dangerous city in Wyoming based on the most recently reported FBI data — 2019.
The latest FBI crime data shows that Riverton ranks as the most dangerous city in Wyoming for 2021.
We want to point out again that there's still safes places in Riverton and that this isn't a comment on the people that live there. So please don't beat us up.
Many people ask why we make these lists. We produce lists like these to help protect the people who already live in Wyoming and the people thinking about moving to the Equality State. Heck, Wyoming's 1,691 officers can't be everywhere, so cities suffer.
And the place in Wyoming that is suffering the most? That would be, Riverton.
If you want to know where the rest of the most dangerous places in Wyoming are located, take a look at the list below; and if you don't find what you're looking for there, head to the bottom.
Learn more about the safest places in Wyoming.
If you're looking for something more national, check out the most dangerous cities in America or the most dangerous states in America.
Here are the safest cities in Wyoming:
Buffalo (Pop. 4,571)
Douglas (Pop. 6,294)
Green River (Pop. 11,927)
Laramie (Pop. 32,669)
Torrington (Pop. 6,709)
Cody (Pop. 9,865)
Worland (Pop. 5,026)
Glenrock (Pop. 2,544)
Kemmerer (Pop. 2,745)
Afton (Pop. 2,017)
For more Wyoming reading, check out:
The Most Dangerous Cities In Wyoming
| Rank | City | Population |
| --- | --- | --- |
| 1 | Riverton | 11,004 |
| 2 | Cheyenne | 64,501 |
| 3 | Casper | 57,752 |
| 4 | Evansville | 2,977 |
| 5 | Thermopolis | 2,830 |
| 6 | Newcastle | 3,386 |
| 7 | Wheatland | 3,544 |
| 8 | Powell | 6,310 |
| 9 | Rawlins | 8,589 |
| 10 | Evanston | 11,624 |
| 11 | Rock Springs | 23,092 |
| 12 | Gillette | 31,960 |
| 13 | Lander | 7,489 |
| 14 | Sheridan | 17,895 |
| 15 | Mills | 3,975 |
| 16 | Buffalo | 4,571 |
| 17 | Douglas | 6,294 |
| 18 | Green River | 11,927 |
| 19 | Laramie | 32,669 |
| 20 | Torrington | 6,709 |
| 21 | Cody | 9,865 |
| 22 | Worland | 5,026 |
| 23 | Glenrock | 2,544 |
| 24 | Kemmerer | 2,745 |
| 25 | Afton | 2,017 |