This article is an opinion based on facts and is meant as infotainment. It is our seventh time ranking the most dangerous places to live in Iowa and is updated for 2021.
If you've ever read Iowa City's Press-Citizen's Crime and Courts page, then you know what many Iowans already know: this Midwest state has some pretty dangerous places, too.
Do we think it's because the flatlanders are bored? Jobs are scarce? Low wages? Yes, all three and then some. So, it would be in your best interest to take a look below at RoadSnacks' list of the most dangerous places in Iowa for 2021 before you make any life changing decisions.
How'd we determine the most dangerous places in corn country? We consulted the numbers. In total, we analyzed 64 cities. We looked at the FBI's latest crime report for violent crime and property crime statistics for every place with over 5,000 residents. We discovered that Iowa has some pretty interesting statistics when it comes to violent and property crime compared to the national average. Iowa is winning the arson game, but losing in murder and aggravated assault. And, shockingly, the city with the most assaults and murders in the state has less than 26,000 residents.
Now, it's not all crazy scary in Iowa. The state's good angel is definitely looking out for the state's safest cities. The ying to that yang, however, is that Iowa has its fair share of dangerous cities too; and folks, they're pretty dangerous. And if you think that most of Iowa's problems are centered around the state's largest cities, you're partially right. Surprisingly, however, the most dangerous city in Iowa has only 11,000 residents.
While Iowa was not in the top ten most dangerous states in the country, Des Moines and Davenport are two of the most dangerous cities in the country. Maybe these cities need more police presence? We're not entirely sure. But one thing we do know is that you should check out Iowa's most dangerous places below: there may be some surprises.
The 10 Most Dangerous Places To Live In Iowa For 2021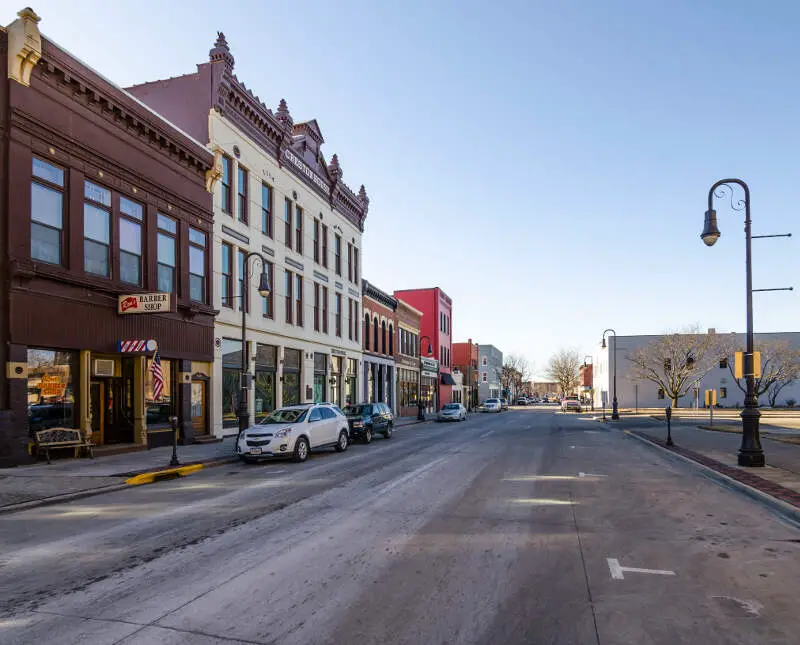 Back when Amelia Bloomer, the famous suffragist credited with popularizing the Bloomer costume, decided to move to Council Bluffs, it was probably a much quieter place than it is now. If she were alive today, the city might not be her first choice. Life in this suburb seems to be going in the wrong direction since it landed the number 1 spot on this list.
That rank among the most dangerous cities in Iowa is just the beginning of the woes for Council Bluffs. You might want to brush up on your self-defense skills if you are going to spend time here. The area is highest in the state for violent crime and third highest for murder.
Sadly, your possessions are in nearly as much danger as you are in this city. Council Bluffs also ranks highest for property crime in Iowa. People reported 3,649 incidents of it in 2019.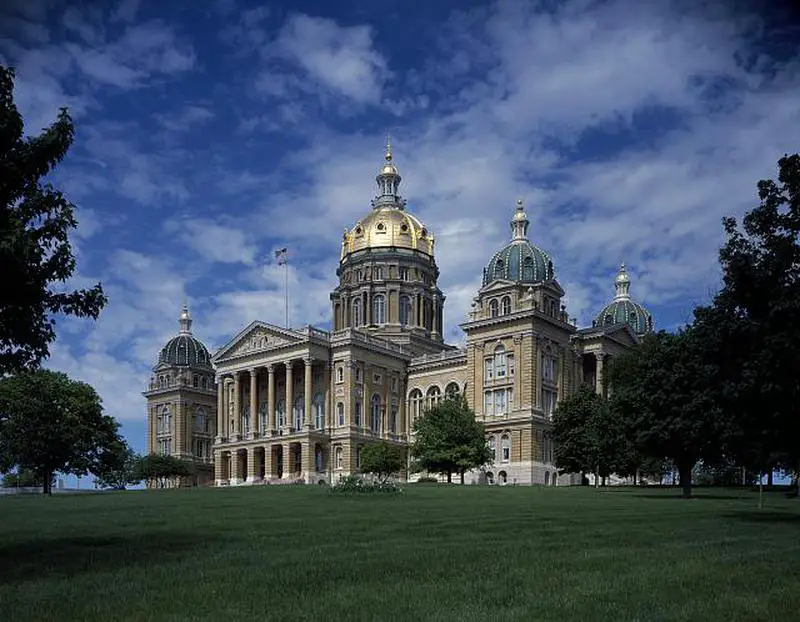 Source: Public domain
Des Moines ranks as the second most dangerous city in Iowa for 2021.
A large population tends to mean higher crime numbers and Des Moines is no exception. When it comes to the criminal activities you should watch out for in this community, theft ranks high. The city had 5,336 larcenies in 2019. So, you better keep an eye on your valuables while you are out and about in the state capital.
No matter how tired you are after a day of activities in the area, try not to let your guard down once you return home or to your hotel room. Burglary can be a problem here too. In fact, Des Moines is highest in the state for it.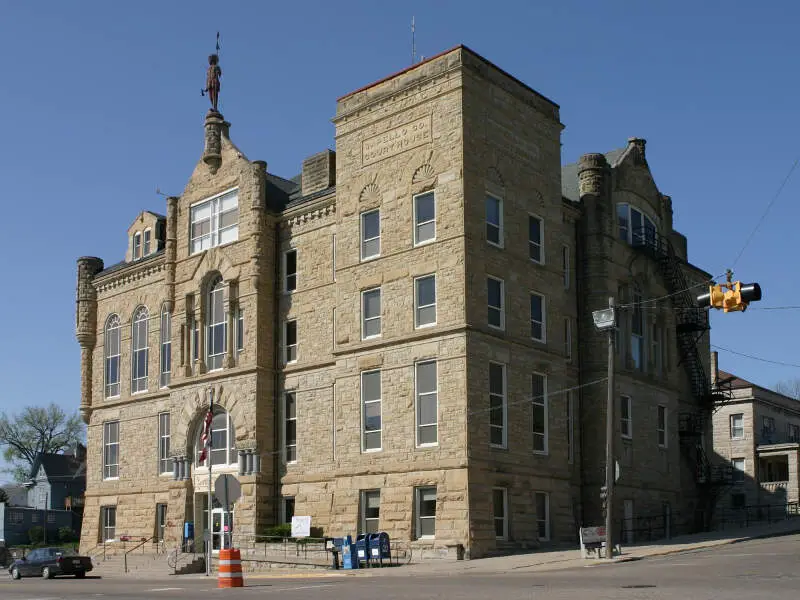 Call up a security company and consider getting a guard dog if you plan to live in Ottumwa. You may need all the help you can get considering that you have a one in 24 chance of being a victim of a property crime here in 2021.
You are actually lucky if you can make it home safely at all in this southern Iowa city. One of the lesser populated places on this list, Ottumwa had its fair share of violent crime in reporting year 2019. To be exact, 134 were reported in the community of 24,488.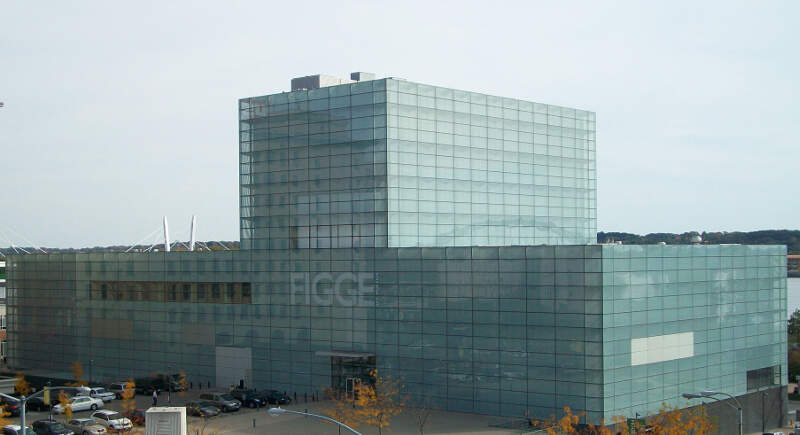 As one of the Quad Cities, Davenport has its bright spots, including its location along the Mississippi River and gigantic St. Patrick's Day parade. Beyond those riverfront views however, there is a darker side to life here.
Personal safety is a serious concern in Davenport. A staggering 399 aggravated assaults took place in the city in 2019. As if that were not enough to rattle you, there were also 84 reports of rape in the area. The Davenport Police Department certainly has its hands full. Let us hope its team of men and women can turn things around soon before crime here gets any worse.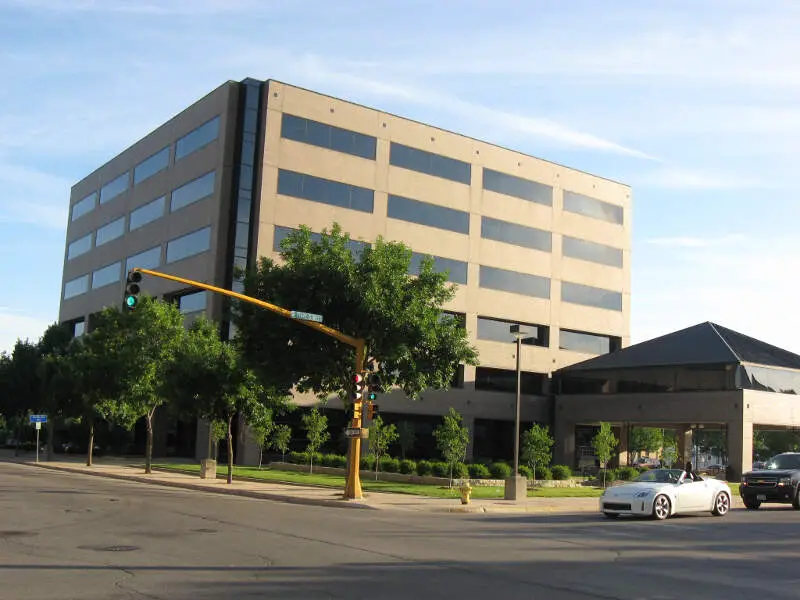 Source: Public domain
Located in northern Iowa, Mason City is a place where things are going from bad to worse. The community's population seems to be dwindling and criminal activity in the area is not making life any better for those who choose to stay behind.
It is safe to assume some of the people that have stuck around are not the most law-abiding citizens. There is a reason the county seat of Cerro Gordo County ranks eighth highest for total crime in the state. The bad news continues for residents and visitors, unfortunately. Mason City is also sixth highest in Iowa for violent crime.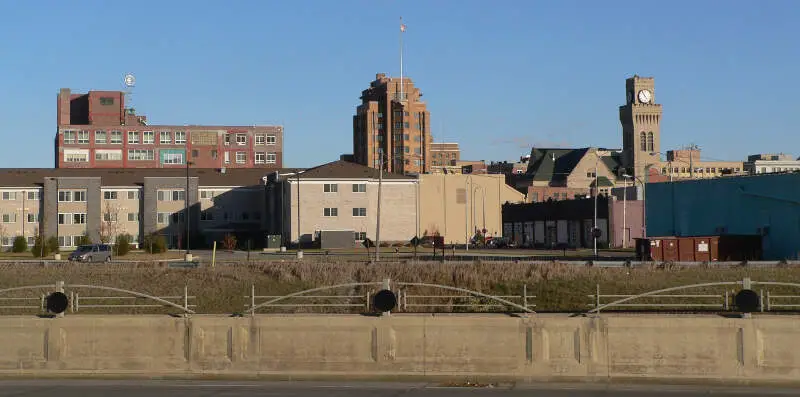 Source: Public domain
Sioux City is the kind of place that makes you want to double check the locks on your doors. Criminals apparently love to make their way into the homes of others and take what does not belong to them. All those sticky fingers caused the city to rank third highest in the state for burglary.
If you manage to avoid a break-in and the disappearance of items from your home, it might be your car that goes missing. Thieves stole 248 of them in 2019. That stat combined with the 2,310 larcenies and 15 incidents of arson make it easy to see why Sioux City is also ranked fourth highest for property crime.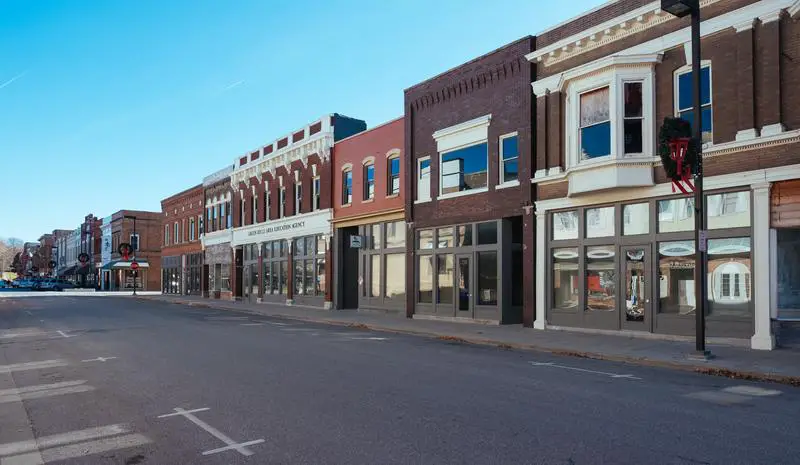 When you picture a place in Iowa with a population of 5,287, you might think it is one of the safest cities in the state. Think again. Criminal activity is not only alive and well in Red Oak, it is so bad the area landed a spot on this list.
The crime numbers for Red Oak may be lower than those of other areas, but they are still concerning. Especially when you consider that 7 of the 33 violent crimes that occurred here in 2019 were rape. Oh, and the area just so happens to rank third highest in the state for that offense.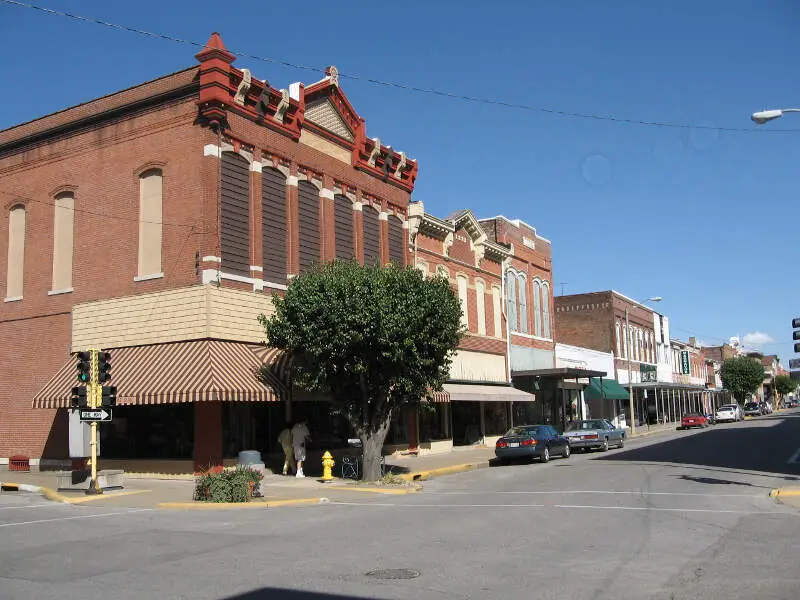 Source: Public domain
The people of Fort Madison need to work on their conflict resolution skills. Fort Madison ranks as the eighth most dangerous city in Iowa for 2021.
A few lessons on how to talk through issues instead of resorting to violence may have been able to prevent the 61 aggravated assaults that took place in 2019.
Residents would also benefit from a reminder that you cannot take something that belongs to someone else, no matter how badly you want it. That concept is one the victims of the 152 larcenies, 38 burglaries, and 15 car thefts would surely like reiterated. Hopefully, the criminals that committed those acts will turn their lives around. If not, they could end up as inmates at the Iowa State Penitentiary, which is conveniently located in Fort Madison.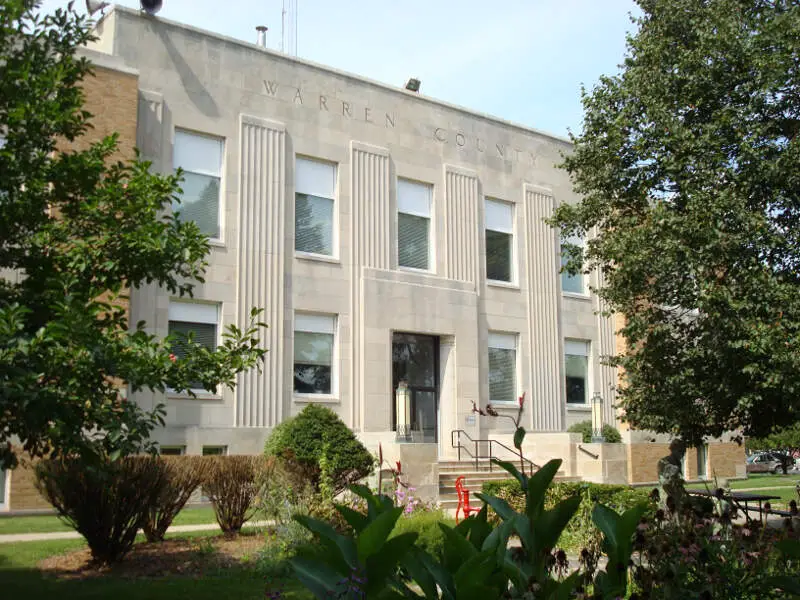 Source: Public domain
Head a little south of Des Moines and you will find Indianola. Famous for its National Balloon Classic, this area tends to attract people who are passionate about hot air balloons. Unfortunately, some questionable characters have made their way to it too.
Violent crime in particular seems to be what the bad seeds of this city like to participate in. That is probably why Indianola ranks third highest in the state for it. And if you needed one more reason to watch your back when you are here, consider the fact that it also ranks second highest for rape.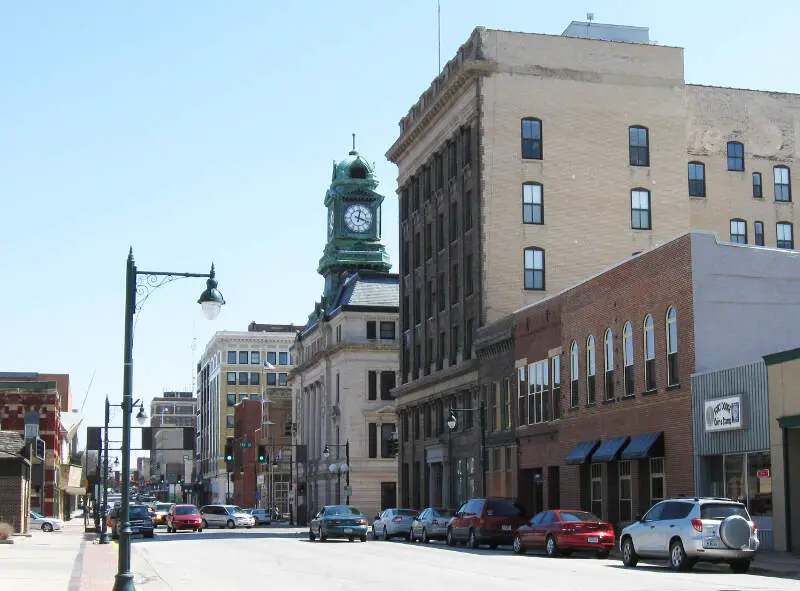 Next out our list of the most dangerous cities in Iowa is Fort Dodge. A community of 23,973 with a long history of gypsum mining.
Residents are probably prouder of that industry than they are of the amount of disregard for the law that happens in the area. Property crime is just one issue Fort Dodge has. People reported 724 incidents of it in 2019. Burglary, larceny, and the like are just the tip of the iceberg for criminal activity here. What really helped the city earn a spot on this list is the fact that it ranks fourth highest in the state for murder.
Graphing The Most Dangerous And Safest Places In Iowa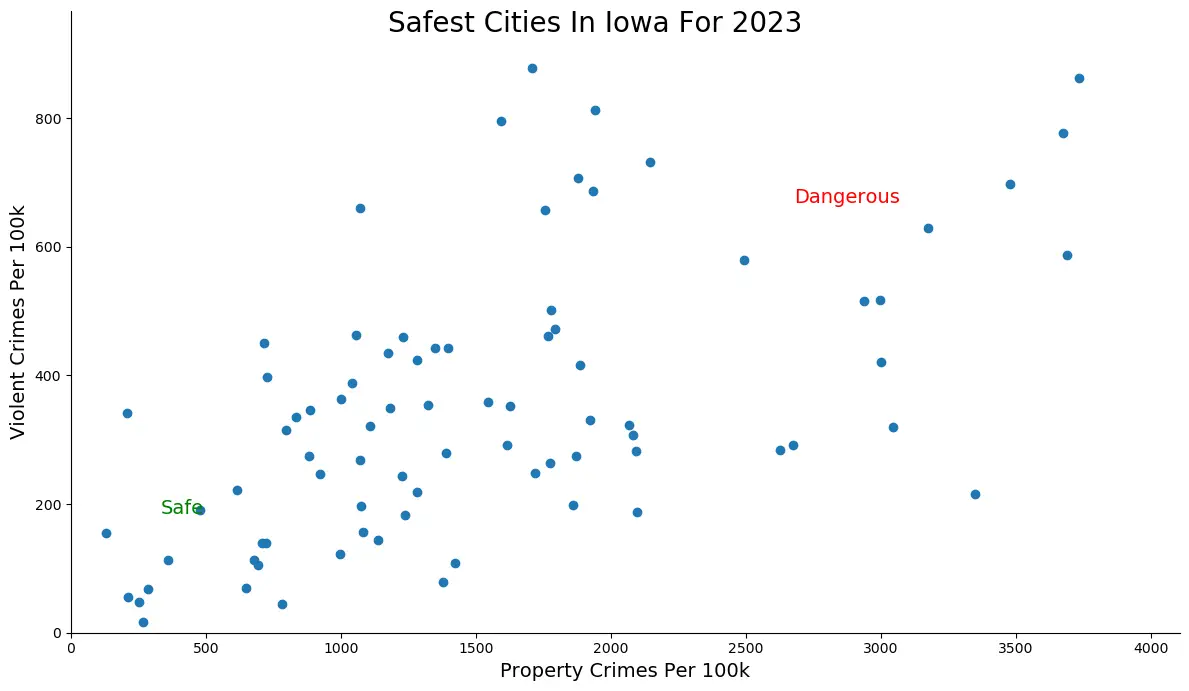 Click To Enlarge
How we determined the most dangerous cities in Iowa for 2021?
Every year the FBI release two crime datasets, a preliminary dataset limited to the biggest cities in the country, followed by a more detailed release at the end of the year.
For our analysis, we focused on the JUST released 2019 data, specifically the 2019 Crime In The United States Report. We will update the results when data becomes available in September 2021.
So what criteria did we use? Have a look:
Violent Crimes Per Capita
Property Crimes Per Capita
In order to make the analysis as apples to apples as possible, we only considered Iowa cities over 5,000 in population. That left us with 64 cities in Iowa.
We then ranked each city from 1 to 64 for the two criteria with a #1 ranking being the most dangerous for the particular criteria.
Next, we averaged the two rankings into one "Dangerous Index".
Finally, we ranked every city on the "Dangerous Index" with the lowest index being the most dangerous in Iowa — Council Bluffs. Any ties went to the smaller city. You can download the data here.
Read on for a detailed look at the 10 most dangerous cities in Iowa.
Locking It All Up In Iowa
So what is the most dangerous city in Iowa? After analyzing 64 cities in Iowa, Council Bluffs takes the top spot as the most dangerous city in Iowa based on the most recently reported FBI data — 2019.
The latest FBI crime data shows that Council Bluffs ranks as the most dangerous city in Iowa for 2021.
We want to point out again that there's still safes places in Council Bluffs and that this isn't a comment on the people that live there. So please don't beat us up.
Note that Iowa did not provide new data for the most recent year, so this ranking is based on the most recently available data in Iowa.
This is not a list that any city in any state wants to see their name. You probably won't see a sign entering the most dangerous place in a state that reads "number one most dangerous city in Iowa": it's not something to brag about. But, people need to know.
So, without further adieu, the most dangerous place in Iowa is Council Bluffs.
Take a look at the list below to see the rest of Iowa's most dangerous places; and if you don't see what you're looking for there, head to the bottom.
Learn more about the safest places in Iowa.
If you're looking for something more national, check out the most dangerous cities in America or the most dangerous states in America.
Here are the safest cities in Iowa:
Decorah (Pop. 7,529)
Charles City (Pop. 7,334)
Urbandale (Pop. 44,541)
Estherville (Pop. 5,609)
Waukee (Pop. 24,255)
Clive (Pop. 17,305)
Norwalk (Pop. 11,871)
Eldridge (Pop. 6,972)
Sioux Center (Pop. 7,688)
Polk City (Pop. 5,013)
For more Iowa reading, check out:
The Most Dangerous Cities In Iowa
| Rank | City | Population |
| --- | --- | --- |
| 1 | Council Bluffs | 62,427 |
| 2 | Des Moines | 218,384 |
| 3 | Ottumwa | 24,488 |
| 4 | Davenport | 102,392 |
| 5 | Mason City | 26,976 |
| 6 | Sioux City | 82,339 |
| 7 | Red Oak | 5,287 |
| 8 | Fort Madison | 10,392 |
| 9 | Indianola | 16,235 |
| 10 | Fort Dodge | 23,973 |
| 11 | Osceola | 5,224 |
| 12 | Waterloo | 67,723 |
| 13 | Washington | 7,315 |
| 14 | Marshalltown | 27,002 |
| 15 | Clinton | 24,982 |
| 16 | Oskaloosa | 11,415 |
| 17 | Coralville | 22,035 |
| 18 | Atlantic | 6,514 |
| 19 | Cedar Rapids | 134,007 |
| 20 | Grinnell | 9,333 |
| 21 | Spirit Lake | 5,097 |
| 22 | Creston | 7,784 |
| 23 | Clear Lake | 7,555 |
| 24 | Clarinda | 5,352 |
| 25 | Centerville | 5,459 |
| 26 | Maquoketa | 5,972 |
| 27 | Storm Lake | 10,430 |
| 28 | Glenwood | 5,321 |
| 29 | Adel | 5,136 |
| 30 | Hiawatha | 7,441 |
| 31 | Nevada | 6,744 |
| 32 | Independence | 6,086 |
| 33 | DeWitt | 5,153 |
| 34 | Oelwein | 5,886 |
| 35 | Webster City | 7,684 |
| 36 | Le Mars | 10,018 |
| 37 | Iowa Falls | 5,006 |
| 38 | Ames | 68,237 |
| 39 | Iowa City | 77,390 |
| 40 | Mount Pleasant | 8,749 |
| 41 | Dubuque | 57,973 |
| 42 | Perry | 7,421 |
| 43 | Carroll | 9,775 |
| 44 | Boone | 12,448 |
| 45 | Muscatine | 23,823 |
| 46 | Algona | 5,413 |
| 47 | North Liberty | 20,086 |
| 48 | Spencer | 11,008 |
| 49 | Marion | 40,612 |
| 50 | Bettendorf | 36,972 |