This article is an opinion based on facts and is meant as infotainment. It is our seventh time ranking the most dangerous places to live in Pennsylvania and is updated for 2021.
You would think that being the third oldest state in the country, you should've had plenty of time to work out your kinks. Well, that's not the case in Pennsylvania. The Keystone State has its fair share of dangerous cities.
And lucky for you, we have the top ten most dangerous cities in Pennsylvania for 2021 broken down below. One might think that most of the problems are centralized around Pennsylvania's two largest cities: Pittsburgh and Philadelphia. Surprisingly, Pennsylvania has done a fair job of keeping it's crazy spread evenly across the state. Some might wonder why we produced this list. Well, one goal is to definitely help people navigate these dangerous cities when trying to make an informed decision on what city they should call home.
Let's be real, we're not talking about crossing a street before the pedestrian sign comes on kind of danger. The type of danger we're talking about gets people on WTAE at six. To compile our list, we looked at violent crimes and property crimes in cities with a population of 5,000. That left us with 121 cities. Folks, the cities that made our list have robberies happening in broad daylight, car jackings, and daily shootings. There are neighborhoods in these cities that you shouldn't drive thru, ever, and there are areas that you definitely shouldn't be in after dark.
We're not saying that there aren't little pockets of goodness in these Pennsylvania cities. There are neighborhoods and shopping centers in these cities that are working hard to make life easier. And it's not entirely Pennsylvania's fault. They have the 6th highest population per capita. As with most situations, there's bound to be problems with that many people: especially that many Pennsylvanians in one area.
To see where these Pennsylvania cities with more issues than Michael Scott and Dwight Schrute are located, take a look below at our most dangerous cities in The Quaker State for 2021.
The 10 Most Dangerous Places To Live In Pennsylvania For 2021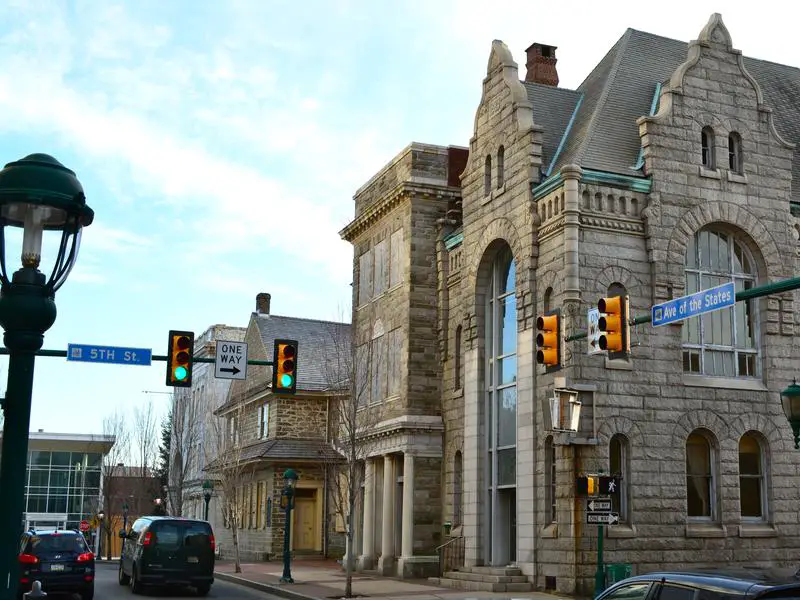 Source: Public domain
We turn to the greater Philadelphia area to reach Pennsylvania's most dangerous city, Chester. Chester is also the oldest city in Pennsylvania, so you'd think they'd have figured out how to keep crime down by now.
On the contrary, Chester had the second highest rate of burglaries in the state, with about one taking place each day over a year; quite a staggering rate for a city of just 33,905. Perhaps these thieves are trying to recoup their losses after a day out at the local casino and racetrack.
That doesn't explain Chester's second highest place ranking in murders per capita statewide, though, or Chester's status as the third most violent spot in PA.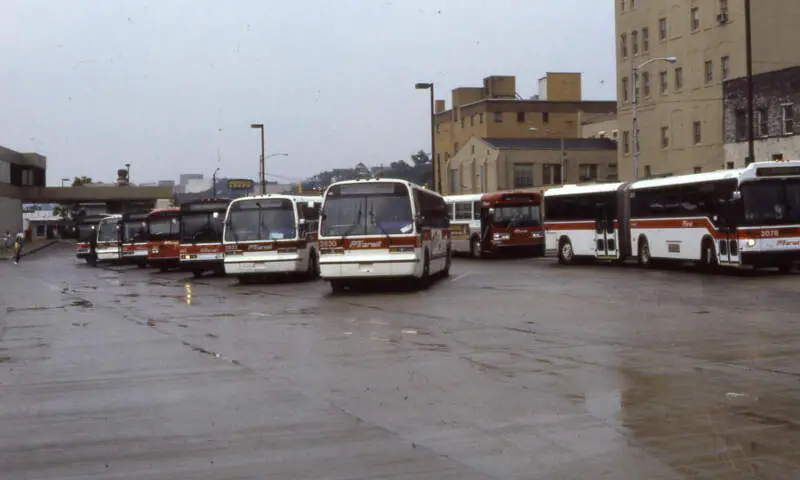 Located a half-hour southeast of Pittsburgh, McKeesport ranks as the second most dangerous place to call home in Pennsylvania.The overall crime rate in McKeesport is 150% higher than the national average, and more than 250% higher than the statewide average.
McKeesport had the second highest violent crime rate in Pennsylvania, with 7 murders in 2019. That's enough for anyone to seek sanctuary at the nearby Renziehausen Park Rose Garden.
McKeesport isn't exactly low on property crime either. To give you an idea, McKeesport had the highest rate of burglaries in the state, so it's not the sort of place where it's okay to leave your door unlocked.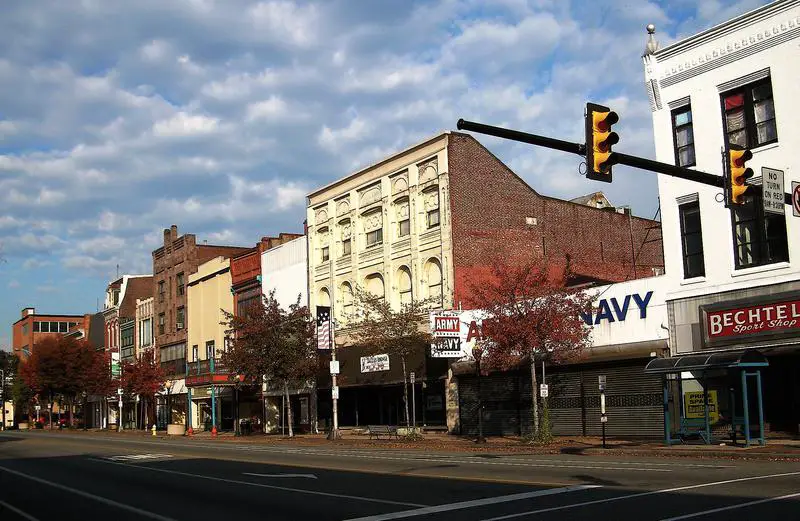 Coming in as Pennsylvania's third most dangerous city is Pottstown. While Pottstown had the least violent crime per capita of cities in the top five, it does have one troubling statistic — the second highest rate of rape cases in the state. That's about three cases per month, which, for a borough of just 22,705, is all too common.
Pottstown also had the third highest property crime rate in the state. Maybe the local Steel River Playhouse should stage a production of Crime and Punishment to educate residents on the perils of a criminal life.
Pottstown is located about 40 miles northwest of Philadelphia.
Source: Public domain
The Wilkinsburg Police Department have their work cut out for them. That's because the borough has the highest murder rate in PA, with 11 murders occurring over 2019 — crazy high for a place with only 15,389 people.
On top of that, Wilkinsburg averaged more than one property crime each day of the year and had the third highest burglary rate in Pennsylvania. Those numbers are enough to put both Wilkinsburg's violent and property crime rates in the top ten statewide.
Wilkinsburg is located less than 10 miles east of Pittsburgh.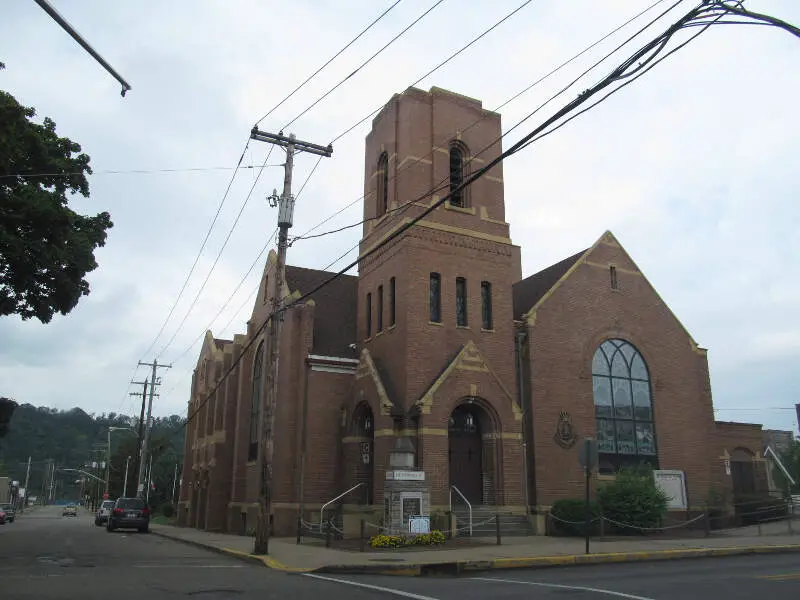 Situated on the Allegheny River just northeast of Pittsburgh, New Kensington ranks as the fifth most dangerous place in Pennsylvania.
Folks in New Ken had a 1 in 37 chance of being the victim of a property crime in 2019, so it's a city where you have to be on guard for porch pirates.
New Kensington also reported 65 violent crimes, so just about every week, one unlucky resident found themselves the victim of an attack.

Harrisburg, Pennsylvania's capital city, may have a lower overall crime rate than Philadelphia, but it's staggering amount of violent crime lands it on this list.
Harrisburg had the eighth highest rate of rape cases in the state for 2019. Additionally, there's a murder in Harrisburg just about every month, giving the city the fifth highest murder rate in Pennsylvania. All good reasons to hurry home from Riverfront Park once the sun starts going down.
And Harrisburg doesn't exactly redeem itself with infrequent property crime — the city had the sixth highest burglary rate statewide.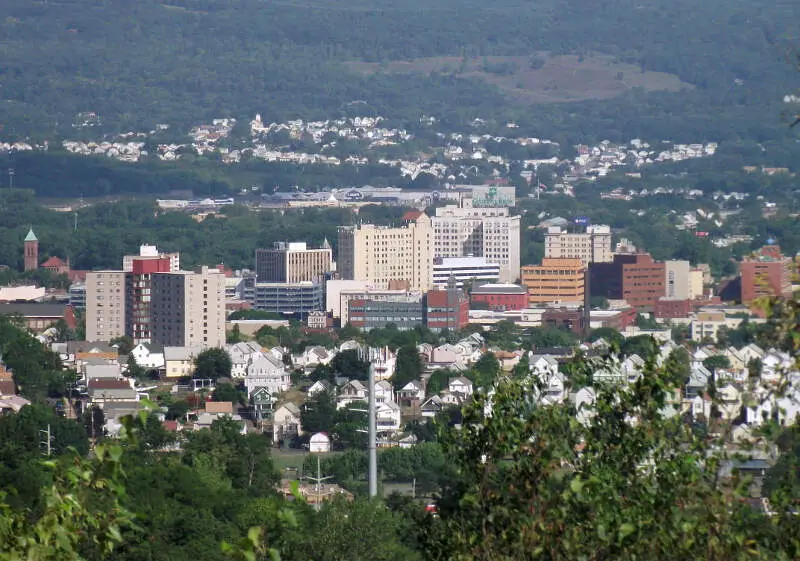 Located about a half hour southwest of Scranton, Wilkes-Barre ranks as the seventh least safe to live in Pennsylvania.
There were 616 cases of larceny in Wilkes-Barre in 2019, so you'd be well-advised to keep your winning streak quiet after a big night at Mohegan Sun Pocono. Wilkes-Barre also had the fourth highest burglary rate in Pennsylvania, so it's not a bad idea to invest in extra security for your home here.
Wilkes-Barre also had the unfortunate distinction of having the tenth highest rate of rape cases in the state.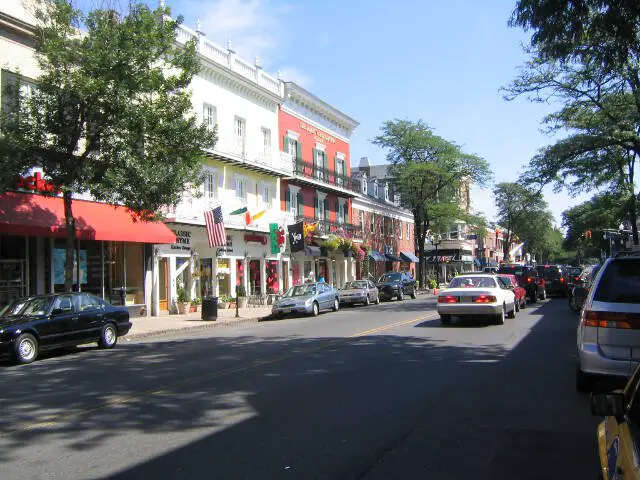 Source: Public Domain
Swatara Township is the least violent place to feature on this list, but when it comes to property crime, I don't envy the workload of the Swatara Township Police Department.
Swatara Township experienced the fifth highest rate of property crime in Pennsylvania for 2019, with more than two property crimes happening each day, on average. The vast majority of those cases were larceny, so keep an eye on your valuables when you're going about your business in Swatara Township.
Swatara Township is located a short drive east of Harrisburg.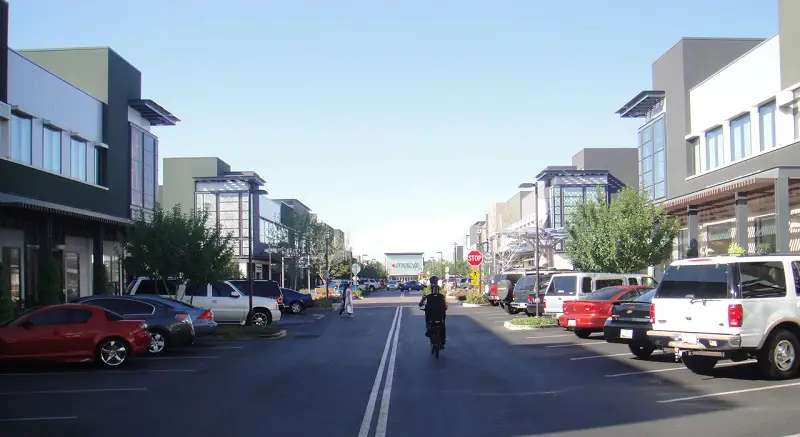 Source: Public Domain
Situated southwest of Philadelphia's downtown, Darby Township comes in as the ninth most dangerous spot in Pennsylvania. Darby Township wasn't even in the top 100 most dangerous places to live statewide last year, so 2019 might just be a fluke. Either that or residents became so enamored with their tours of Eastern State Penitentiary that they decided to move into a prison full-time.
Seriously, though, Darby Township had the seventh highest murder rate and 46th highest rate of rape cases in Pennsylvania for 2019. That's partly because Darby Township is the smallest place on this list, but that's not going to make residents feel much better about living in the seventh most violent place in the whole state.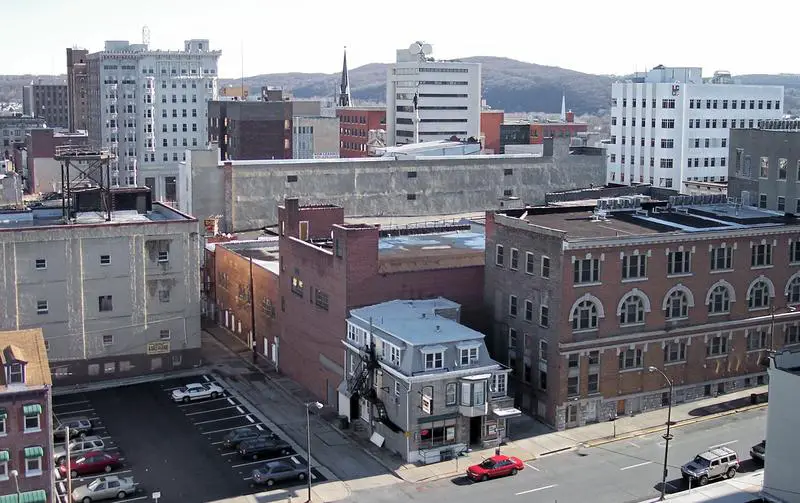 Pennsylvania's third-biggest city, Allentown, comes in as the state's tenth least safe place to live.
At least, between the baseball at Coca Cola Park and all the events at the PPL Center, Allentown residents have a lot of entertainment options to take their mind off the city's high crime rate.
Allentown had the seventh highest burglary rate in Pennsylvania and residents had a 1 in 43 shot of being the victim of any property crime in 2019. On the bright side, Allentown is among the least violent places on this list, with the lowest murder rate.
Still, you might consider moving to one of Allentown's best suburbs instead of living in the dangerous city itself.
Graphing The Most Dangerous And Safest Places In Pennsylvania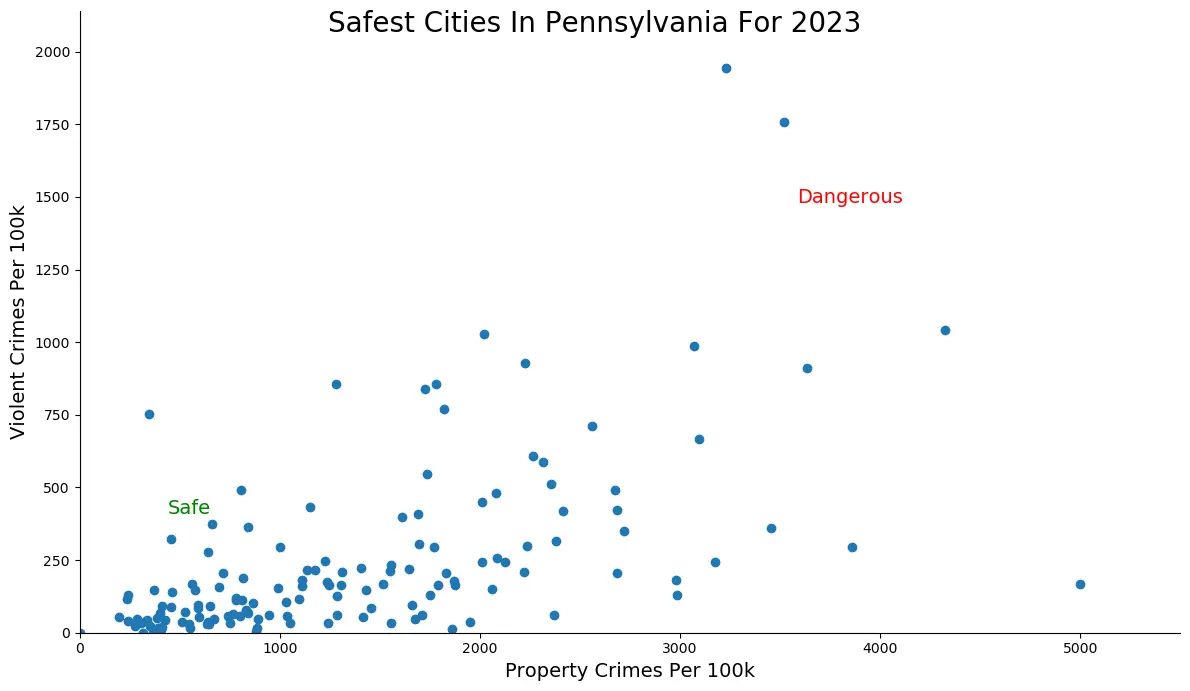 Click To Enlarge
How we determined the most dangerous cities in Pennsylvania for 2021?
Every year the FBI release two crime datasets, a preliminary dataset limited to the biggest cities in the country, followed by a more detailed release at the end of the year.
For our analysis, we focused on the JUST released 2019 data, specifically the 2019 Crime In The United States Report. We will update the results when data becomes available in September 2021.
So what criteria did we use? Have a look:
Violent Crimes Per Capita
Property Crimes Per Capita
In order to make the analysis as apples to apples as possible, we only considered Pennsylvania cities over 5,000 in population. That left us with 121 cities in Pennsylvania.
We then ranked each city from 1 to 121 for the two criteria with a #1 ranking being the most dangerous for the particular criteria.
Next, we averaged the two rankings into one "Dangerous Index".
Finally, we ranked every city on the "Dangerous Index" with the lowest index being the most dangerous in Pennsylvania — Chester. Any ties went to the smaller city. You can download the data here.
Read on for a detailed look at the 10 most dangerous cities in Pennsylvania.
Locking It All Up In Pennsylvania
So what is the most dangerous city in Pennsylvania? After analyzing 121 cities in Pennsylvania, Chester takes the top spot as the most dangerous city in Pennsylvania based on the most recently reported FBI data — 2019.
The latest FBI crime data shows that Chester ranks as the most dangerous city in Pennsylvania for 2021.
We want to point out again that there's still safes places in Chester and that this isn't a comment on the people that live there. So please don't beat us up.
What are the circumstances that make these Pennsylvania cities this way? Maybe not enough jobs, low wages, drugs, gangs; and in PA's case, the war between Steeler and Eagles fans?
We're not entirely sure. But one thing we are sure about is that our number one most dangerous city in Pennsylvania is Chester.
These dangerous Pennsylvania cities could definitely use a hug. So, if you're into the whole hugging thing, or you're just curious to see if your city made the list, take a look at our list below. And if you don't see your city there, head to the bottom.
Learn more about the safest places in Pennsylvania.
If you're looking for something more national, check out the most dangerous cities in America or the most dangerous states in America.
Here are the safest cities in Pennsylvania:
East Brandywine Township (Pop. 9,123)
West Vincent Township (Pop. 5,887)
Collegeville (Pop. 5,115)
Dallas Township (Pop. 9,354)
Northampton Township (Pop. 39,171)
Upper Providence Township, Delaware County (Pop. 10,437)
Lower Salford Township (Pop. 15,534)
Millcreek Township, Lebanon County (Pop. 5,783)
Buckingham Township (Pop. 20,279)
Luzerne Township (Pop. 5,896)
For more Pennsylvania reading, check out:
The Most Dangerous Cities In Pennsylvania
| Rank | City | Population |
| --- | --- | --- |
| 1 | Chester | 33,905 |
| 2 | McKeesport | 20,765 |
| 3 | Pottstown | 22,705 |
| 4 | Wilkinsburg | 15,389 |
| 5 | New Kensington | 12,273 |
| 6 | Harrisburg | 49,195 |
| 7 | Wilkes-Barre | 40,722 |
| 8 | Swatara Township | 26,643 |
| 9 | Darby Township | 9,256 |
| 10 | Allentown | 121,855 |
| 11 | Carnegie | 7,828 |
| 12 | Scranton | 77,323 |
| 13 | Athens Township | 5,077 |
| 14 | Chambersburg | 21,131 |
| 15 | Stowe Township | 6,141 |
| 16 | Penn Hills | 40,809 |
| 17 | Erie | 95,834 |
| 18 | Selinsgrove | 5,962 |
| 19 | Crafton | 6,178 |
| 20 | Lebanon | 25,959 |
| 21 | Butler | 12,901 |
| 22 | Altoona | 43,429 |
| 23 | Allegheny Township, Blair County | 6,512 |
| 24 | Norristown | 34,430 |
| 25 | Warren | 9,054 |
| 26 | Plymouth | 5,780 |
| 27 | South Strabane Township | 9,464 |
| 28 | Wilson | 7,822 |
| 29 | Hanover | 15,707 |
| 30 | Lansdowne | 10,621 |
| 31 | Lehighton | 5,309 |
| 32 | West Manchester Township | 18,860 |
| 33 | Indiana | 12,974 |
| 34 | Catasauqua | 6,619 |
| 35 | Caln Township | 14,363 |
| 36 | Swissvale | 8,652 |
| 37 | Wyomissing | 10,504 |
| 38 | Sandy Township | 10,445 |
| 39 | Springettsbury Township | 26,888 |
| 40 | West Norriton Township | 15,650 |
| 41 | Robinson Township, Allegheny County | 13,711 |
| 42 | Susquehanna Township, Dauphin County | 25,238 |
| 43 | Lancaster Township, Lancaster County | 17,176 |
| 44 | Palmyra | 7,609 |
| 45 | Mechanicsburg | 8,994 |
| 46 | Upper Chichester Township | 16,925 |
| 47 | Rostraver Township | 11,005 |
| 48 | Bristol Township | 53,508 |
| 49 | Tyrone | 5,160 |
| 50 | Newberry Township | 15,885 |