Article Table Of Contents   
(Skip to section)
It's not all peace, love, and harmony in the City of Brotherly Love, Philadelphia has its fair share of sketch neighborhoods, too.
Just how bad are these neighborhoods? Well, you're going to have to take a look below at RoadSnacks' list of the worst neighborhoods in Philadelphia for 2022 to see where the crime is high, the average income is low, and the locals are in constant survival mode. We call this the perfect 'thunder'-storm.
But in order to determine Philadelphia's worst neighborhoods, we had to give each neighborhood an actual concrete score: We call this a neighborhood's overall 'SnackAbility'. To get this score, we looked at the latest census data on income levels, unemployment rates, crime, and home prices for 56 Philadelphia neighborhoods with over 2,000 residents. Incidentally, this is our ninth time ranking Philly's worst neighborhoods, so trust us when we say that these are the worst of the worst.
Folks, the kind of places that we are talking about are the kind of places that you'll want to invest in a security system or a guard dog. And in all honesty, if you find that one of Philadelphia's worst neighborhoods is all that you can afford, you might want to think about renting: Save yourself the headache.
And because the glass is always half full here a RoadSnacks, we think that if you do get stuck in one of Philly's worst neighborhoods, it might not be all bad. Heck, you could find yourself front and center to a real life Live PD episode in Frankford and if you choose Elmwood the pure entertainment of people watching is not only free, it's five star!
So, want to know where Philadelphia's worst neighborhoods are located? Keep reading.
The Worst Neighborhoods In Philadelphia For 2022
It's definitely not lost on us that many of Philadelphia's worst neighborhoods are also some of the city's cheapest. Philadelphia's worst neighborhoods house many locals without jobs; and for most of these people, government subsidized housing is the only option. As a result, places like Strawberry Mansion that were once coveted are now starting to see the negative effects.
So, what's the worst neighborhood in Philadelphia for 2022? The worst neighborhood in Philadelphia would be Tioga-Nicetown according to the most recent data.
To see how the rest of Philadelphia's neighborhoods faired, take a look at the list below; and if you don't see what you're looking for there, head to the bottom.
For more Pennsylvania reading, check out:
The 10 Worst Neighborhoods In Philadelphia For 2022
Third on our list is the neighborhood of Nicetown-Tioga. But it's not very nice here.
You know things are bad when you Google the name of the neighborhood and the first results are shooting, crime, crime rate.
Just south of Hunting Park and near the Upper North Philadelphia section of town, this is a rough part of town.
It's been a rollercoaster here. During World War II, this place was jammin. Then, like other communities in the area, deindustrialization meant white flight, and soon, joblessness and poverty crept in. Then, there was a little blip of hope when gentrification boosted home prices to roughly $42,000. Then, the economy crashed, and home prices dropped to $22,000.
This part of town also used to have parades, but no longer.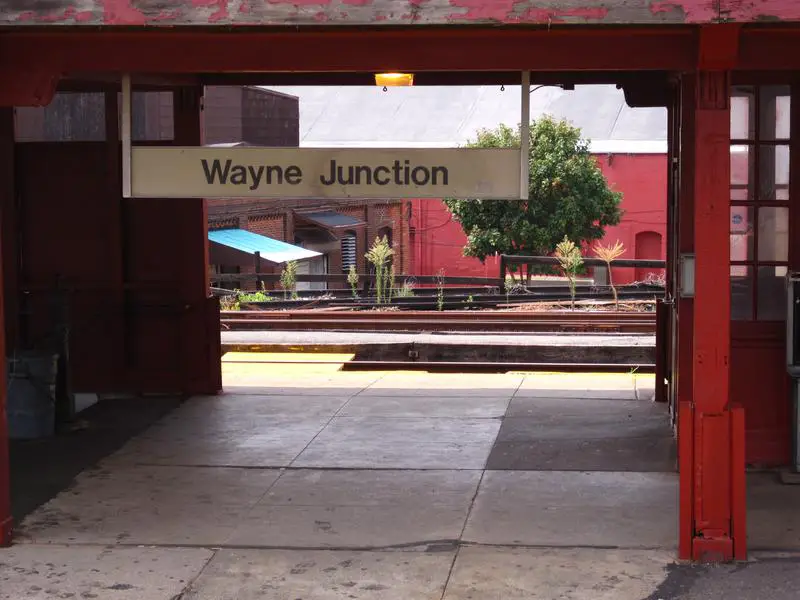 Source: Public domain
As we ponder that, it's time to move onto our next worst neighborhood in Philadelphia - Hunting Park. This not so charming section of town is also in north Philly - just south of Roosevelt Blvd.
There's a lot of gang activity here, boy. Although much of the area's crime stems from local neighborhood-based street gangs and the drug trade, larger, more organized gangs also operate in the area, including the Black Mafia, Latin Kings, and various motorcycle gangs.
One commenter in north Philly once told the Philadelphia Weekly: For generations, Hunting Park served as the heart of the community. Then, about 25 years ago, it became its noose.
Just three days ago a young father was gunned down while driving his car through this neighborhood. Apparently he had just won $10,000 at a local casino and people followed him home.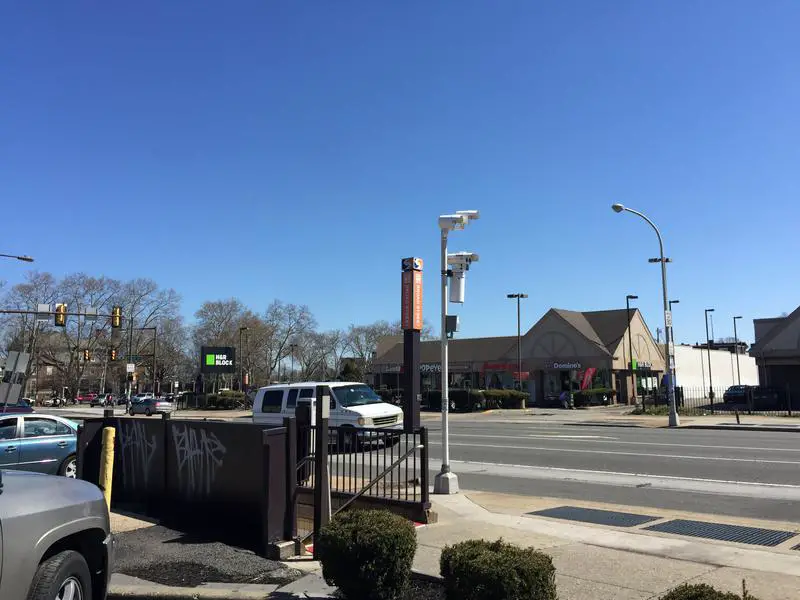 Our next worst neighborhood in Philly is Strawberry Mansion.
That sounds delicious.
It's not.
This north Philly neighborhood has the reputation as one of the most dangerous hoods in the city. And up until 2013, Strawberry Mansion was also home to one of the "most dangerous" schools in the United States - Strawberry Mansion High - which was so bad that it was profiled by ABC News. The school had almost 100 security cameras and metal detectors at every door, and teachers were attacked, and riots broke out at lunch here.
Things are so bad now that there are only 170 students who now attend the school - but it's supposed to have 2,100 kids.
Look at this school's enrollment as compared to the rest of schools in the surrounding area. That's incredible.
However, it seems this neighborhood might actually be improving a bit, as its west and south side have been gentrified a little bit. As it stands, homes here now cost an absurdly low $48,000 in the middle of a major metro area. A far cry from what was once home to some of the wealthiest residents in Philadelphia.
I mean can you imagine - $48,000 for a home. For comparison, in our most expensive city to buy a home in the USA - San Francisco - there are only two homes listed that are under $250000 - more than 5 times higher than the average home price in Strawberry Mansion.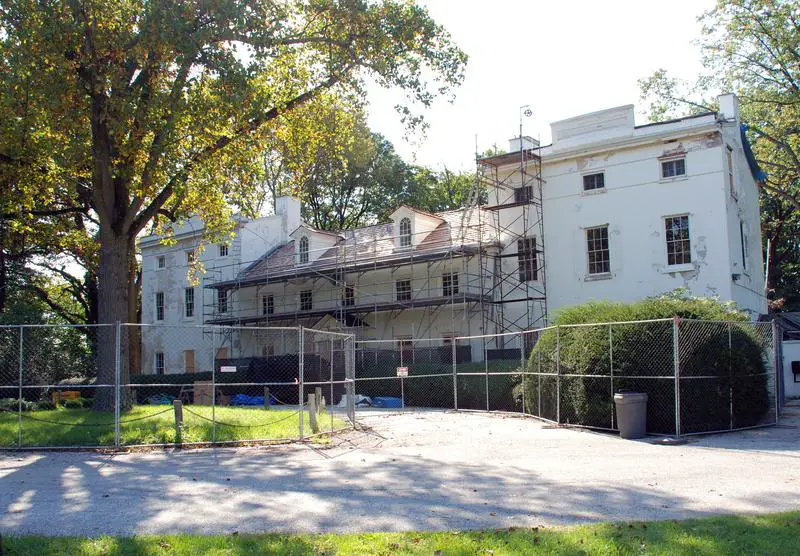 The Fairhill neighborhood of Philadelphia is abundantly bad for crime, poverty and drugs. Located west of Kensington and along Glenwood Avenue, this part of town is known for its expanse of row houses, where only 20% of homes are owner occupied.
Fairhill also serves as the center of the Hispanic community of Philadelphia, and is known for its "El Centro de Oro" commercial strip along North 5th Street. The neighborhood is also the center of the Philadelphia Badlands.
The average incomes here are far under the poverty line - at about $15k a year for a family of four. 61% of people live below poverty. That's five times the national average.
The intersection of 3rd Street and Indiana Avenue here was listed number two in a 2007 list of the city's top ten drug corners.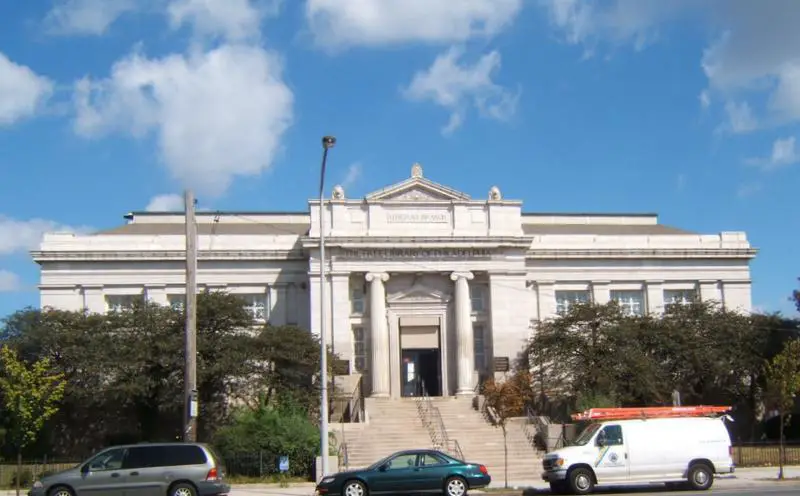 Source: Public domain
Way up here on the north end of town is the neighborhood of Allegheny West.
This is a poor black enclave that has suffered post-industrial decline and disinvestment. Alleghany West has suffered one of the largest population losses of any neighborhood in Philadelphia. Vacant industrial sites are so eye-opening they use the area for movie sets.
Talk about affordable - this neighborhood has the absolute lowest home prices in the entire city - where median home prices sit at just $26,000. That's incredible. To put that into perspective, somebody with decent credit with zero down would expect to pay about $400 a month for their mortgage here, including all taxes and insurance.
Crime, employment schools all get an F. Amenities. A+? What's there to do for amenities that would warrant an A+? They have a Trolley Car Cafe and a Country Cookin. Must be some good cookin.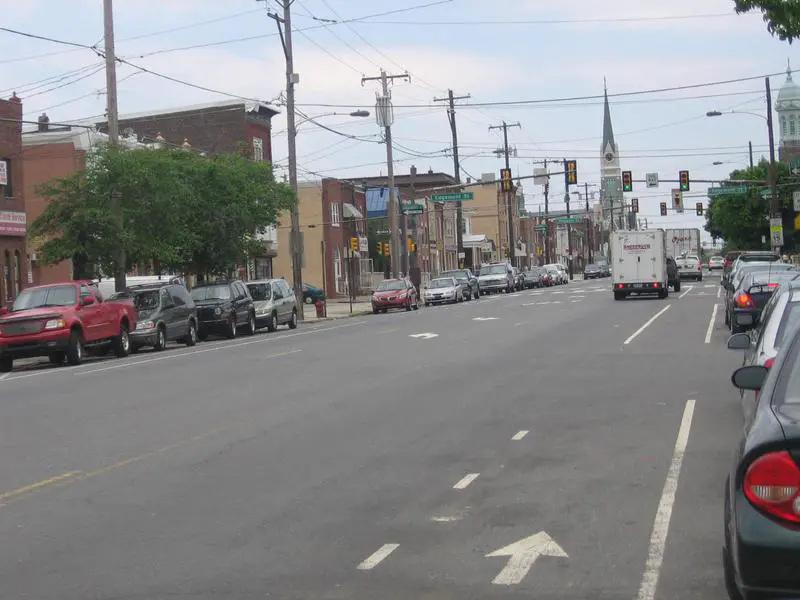 Source: Public domain
Just north of Kensington and west of Port Richmond is the neighborhood of Harrowgate. Some just generally refer to his little part of town as just 'north Philly.' It's kind of an unknown, poor, very blighted part of town largely populated by Puerto Ricans. It's easy to miss. But not hard to recognize when you wind up in it.
Not too long ago, a teenager was caught in a crossfire when 30 shots rang out in this part of town. She was hit and nearly killed. That's not uncommon in Harrowgate.
Painkillers are taking their toll on members of this ravaged neighborhood. Pharmacies in this nook of town were given 26 MILLION pain pills over a 7 year period. And there are only about 65,000 people who live in the greater Harrowgate/Kensington/Port Richmond area.
This part of Philly has been hit hardest by the pain pill crisis. And Philadelphia as a whole is seeing more than just an epidemic. Although the pain pill market has somewhat been reigned in, at one point, in the greater eight-county Philadelphia metro area, more than 1.2 BILLION pain pills were shipped in over a six year period.
That's incredible.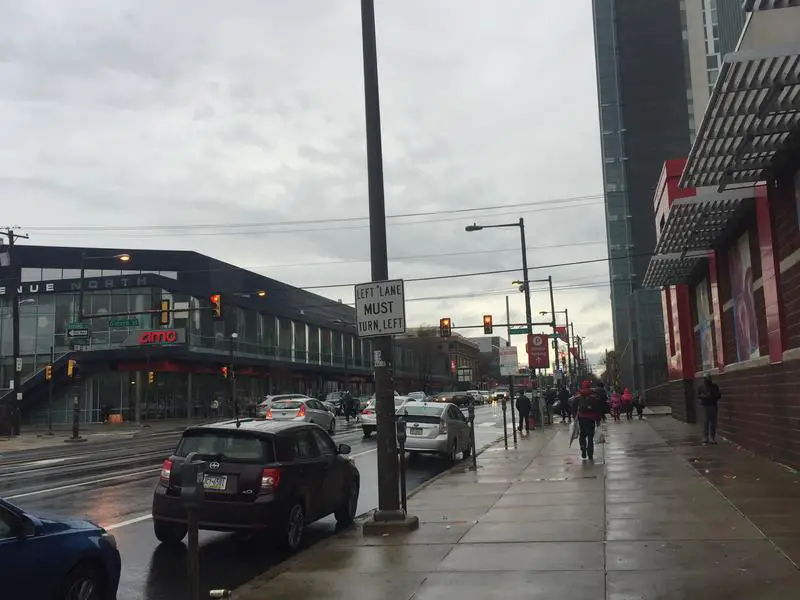 Located in West Philly, Haddington-Carroll Park suffers from serious economic problems. A lack of high-paying jobs leaves this area as one of the least livable parts of the city.
Just look at the numbers: an unemployment rate of 8.9% and a median income of $28,706. A bad reputation has some benefits, however. A lack of competition in the housing market makes it easier to afford homes. The median home value sits at $68,396.
There are plenty of bright spots in Haddington-Carroll Park. You can find a host of amenities around the neighborhood and, for a spot of nature, check out the namesake Carroll Park.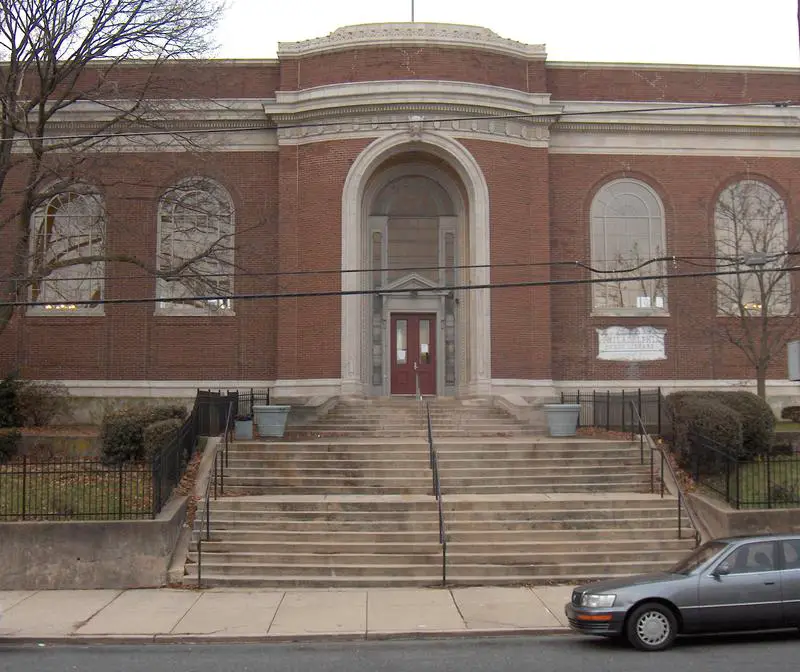 Source: Public domain
Elmwood sits in the southwestern part of the city, relatively close to the airport. It's bound by the Schuylkill River to the east and the huge Mt. Moriah Cemetery to the north.
You'll have trouble finding a job in the area. Elmwood suffers an unemployment rate of 8.0%. At the same time, people with jobs often struggle to pay the bills. The median income sits at just $36,424. Weak schools and concerns about crime also weigh on the neighborhood's 24,891 residents.
Still, you can find benefits to life in the area. Elmwood supports a hopping nightlife and the neighborhood abounds in parks and other activities.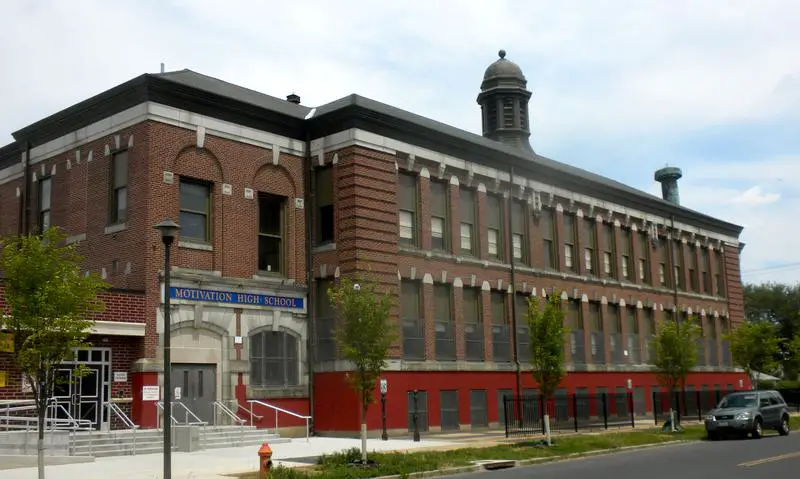 Source: Public domain
We begin in a neighborhood smack dab in the middle of all of the bad neighborhoods of Philly - Frankford. This part of town is northeast of center city, about halfway to the airport from downtown proper.
Back in late 80s this was a scary place, too. There was a murderer called the Frankford Slasher who stalked and killed victims. And one particular intersection at Bridge and Hawthorne was listed as the number six top recreational drug corners in the nation.
It's a pretty diverse neighborhood - home to a variety of ethnic groups. But like many places in America, there's a history of racial tension here. You definitely wouldn't want to live here. Well, you and I wouldn't.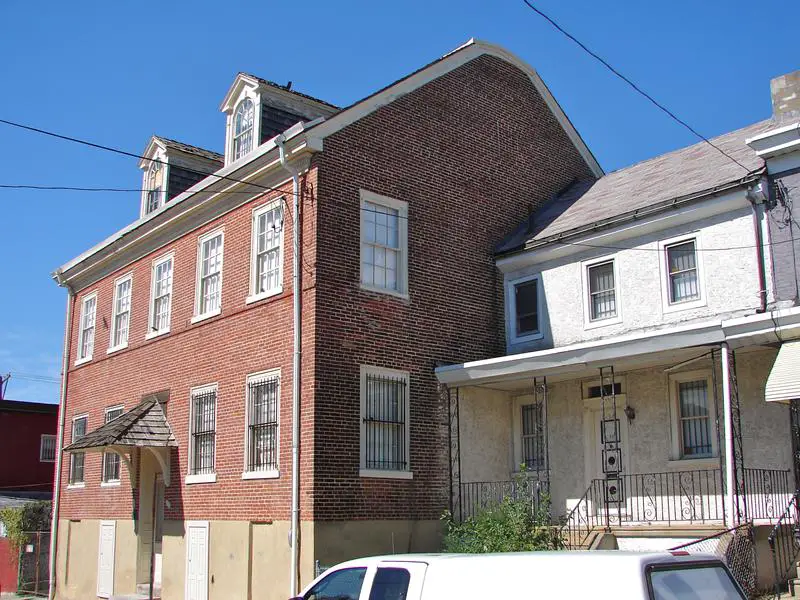 Source: Public domain
You can probably guess where North Central is located within Philly, right? The name says it all.
Despite its inclusion on this list, there are exceptional aspects to the area. Parts of Temple University's campus are located in the neighborhood. And the Girard College prep school sits just across Ridge Ave., just outside North Central's southwest edge.
Still, a rough economy lands the neighborhood among the worst in the city. For non-students in the area, prospects aren't bright. They contend with a 7.9% and a $25,297 median income. Ironically, given the famed institutions of learning nearby, the local public schools often struggle. Housing and crime are worries as well.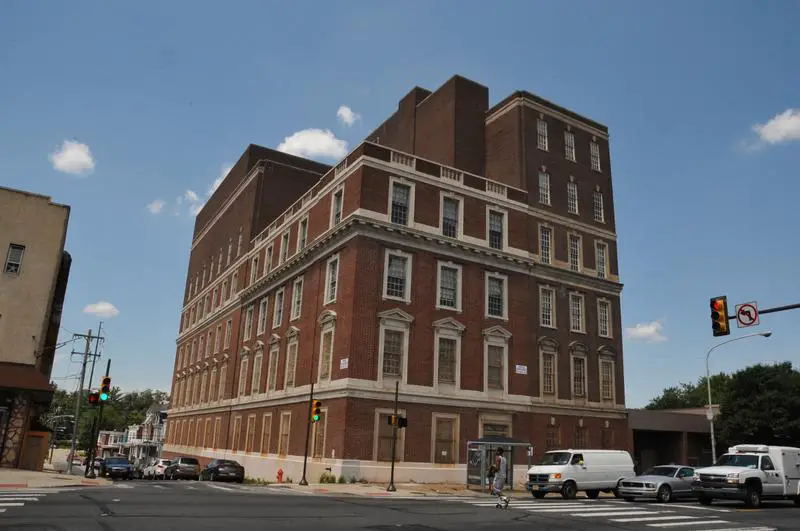 Methodology: How we determined the worst Philadelphia neighborhoods in 2022
To figure out how bad a place is to live in, we only needed to know what kinds of things people like and then decide what places have the least amount of those things. We threw the following criteria into this analysis in order to get the best, most complete results possible. We used this set of criteria for each neighborhood in Philadelphia:
High unemployment (Less jobs)
Low median income (Less pay)
Low population density (No things to do)
Low home values (No one's willing to pay to live here)
High crime (Estimated)
Then, we ranked each neighborhood in Philadelphia, Pennsylvania for each of these criteria from worst to best.
Next, we averaged the individual rankings for each criteria into a "Worst Score".
The neighborhood with the lowest "Worst Score" ranks as the worst neighborhood of Philadelphia.
Read on below to learn more about these terrible places around Philadelphia to live. Or skip to the end to see the list of all 56 neighborhoods ranked from worst to best.
This list is a scientific analysis based on real data and is completely unbiased. Hold on to your pants.

Summary: The Worst Neighborhoods Around Philadelphia
Well there you have it -- the worst of the neighborhoods in Philadelphia with Tioga-Nicetown landing at the bottom of the pack.
As we mentioned earlier, the neighborhoods in Philadelphia aren't all bad. Manayunk takes the cake as the best place to live in Philadelphia.
We ranked the neighborhoods from worst to best in the chart below.
For more Pennsylvania reading, check out:
Where Are The Worst Neighborhoods To Live In Philadelphia For 2022?
| Rank | Neighborhood | Population |
| --- | --- | --- |
| 1 | Tioga-Nicetown | 17,382 |
| 2 | Hunting Park | 22,735 |
| 3 | Strawberry Mansion | 19,690 |
| 4 | Fairhill | 27,298 |
| 5 | Alleghany West | 18,676 |
| 6 | Harrowgate | 17,456 |
| 7 | Haddington-Carroll Park | 35,068 |
| 8 | Elmwood | 24,891 |
| 9 | Frankford | 39,792 |
| 10 | North Central | 21,880 |
| 11 | Hartranft | 13,891 |
| 12 | Germantown | 66,915 |
| 13 | Logan-Fern Rock | 23,813 |
| 14 | Richmond | 43,954 |
| 15 | Belmont | 33,995 |
| 16 | Grays Ferry | 15,779 |
| 17 | Eastwick | 10,284 |
| 18 | Kensington | 24,869 |
| 19 | Wynnefield | 29,641 |
| 20 | Juniata Park-Feltonville | 34,014 |
| 21 | Poplar-Ludlow-Yorktowne | 18,907 |
| 22 | Brewerytown | 10,658 |
| 23 | Summerdale | 43,627 |
| 24 | Olney | 37,133 |
| 25 | Wissanoning | 27,190 |
| 26 | Morris Park | 26,860 |
| 27 | Mayfield | 32,474 |
| 28 | Cobbs Creek | 79,231 |
| 29 | Marconi Plaza-Packer Park | 5,804 |
| 30 | Oak Lane | 42,412 |
| 31 | Point Breeze | 22,832 |
| 32 | Pennsport-Whitman-Queen | 31,306 |
| 33 | Cedar Brook | 26,401 |
| 34 | Holmesburry-Torresdale | 25,247 |
| 35 | Oxford Circle | 61,090 |
| 36 | East Falls | 9,728 |
| 37 | Mount Airy | 32,467 |
| 38 | Riverfront | 2,325 |
| 39 | Fishtown | 18,272 |
| 40 | Rhawnhurst | 30,805 |
| 41 | Girard Estates | 22,301 |
| 42 | Fox Chase | 23,450 |
| 43 | Torresdale | 30,358 |
| 44 | Byberry | 16,442 |
| 45 | South Philadelphia | 24,829 |
| 46 | Somerton | 30,102 |
| 47 | Roxborough | 31,063 |
| 48 | Academy Gardens | 27,044 |
| 49 | Bustleton | 31,993 |
| 50 | City Center East | 26,784 |
| 51 | Chestnut Hill | 11,011 |
| 52 | Schuylkill Southwest | 13,322 |
| 53 | City Center West | 32,463 |
| 54 | Fairmount-Spring Garden | 23,809 |
| 55 | Wharton-Hawthorne-Bella Vista | 29,357 |
| 56 | Manayunk | 12,005 |
Editor's Note: This article is an opinion based on facts and is meant as infotainment. Don't freak out we updated this article for 2022. This is our time ranking the worst neighborhoods to live in Philadelphia.