This article is an opinion based on facts and is meant as infotainment. It is our seventh time ranking the most dangerous places to live in Tennessee and is updated for 2021.
Off key country singers in Nashville, and crazy squirrel hunters in Knoxville are just a few of the dangerous things that Tennesseans have to deal with on a regular basis; unfortunately, however, not the most dangerous.
That's right folks, the people who live in Tennessee's most dangerous places know danger. They are after all the fifth most dangerous state in the country. So, RoadSnacks thought it would be a good idea to produce a list of the most dangerous places in Tennessee for 2021 so people are well informed before making any life changing decisions.
How'd we do it? We consulted the numbers. In total, we analyzed 91 cities. We looked at the FBI's latest crime report for violent crime and property crime statistics for every place with over 5,000 residents.
We discovered that although the state has 375 law enforcement agencies employing close to 16,000 police officers, they just can't be everywhere. So, bigger cities like Chattanooga and Memphis are starting to feel the effects.
We're not talking speeding through Jackson or hopping the fence at Graceland people, we're talking about the crime that gets you put in jail. So, whether you're looking to move to Tennessee or already live in Tennessee and need a new scene, we strongly suggest you take a look at this list. There may be some that surprise you.
Want to know what places in The Volunteer State have more issues than The Newport Plain Talk? Read on.
The 10 Most Dangerous Places To Live In Tennessee For 2021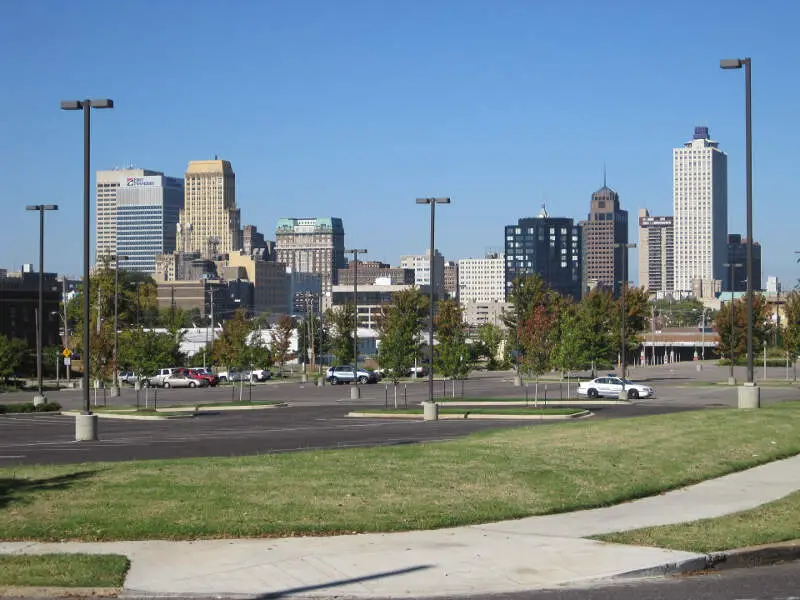 Memphis is Tennessee's 2nd biggest city, but in terms of crime, it takes the #1 spot. The violent crime rate is especially bad in Memphis, outstripping the national average by over 400% and ranking as the highest in the state.
Elvis Presley is probably rolling over in his grave at the state of things in Memphis. The city had 190 murders in 2019, the highest murder rate statewide. Overall, residents had a 1 in 52 chance of being the victim of a property crime.
And the bad news keeps on coming — Memphis had the third highest burglary rate in Tennessee and experienced 4,046 car thefts over 2019. Overall, the city averaged over ten property crimes per day.
Not to mention that Memphis had the highest rate of arson cases on this list by a very wide margin, averaging almost one per day.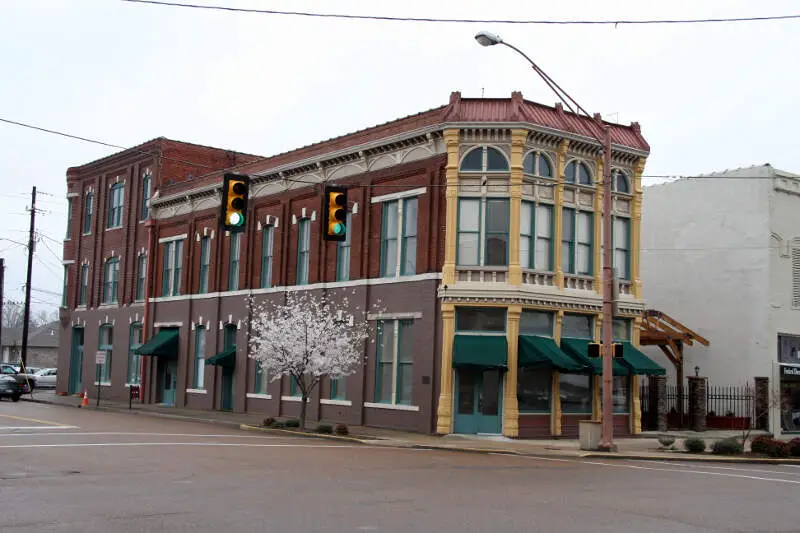 Source: Public domain
Dyersburg motto is the Gateway to Everywhere, but unfortunately, that includes being the gateway to staggeringly high crime rates.
It's a good idea to triple check that you've locked your doors if you're heading to one of Dyersburg city parks, seeing as the city had the highest burglary rates in Tennessee.
And it's not just property crime going down in Dyersburg, either. The city had the fifth highest violent crime rate in the state, including the sixth highest murder rate.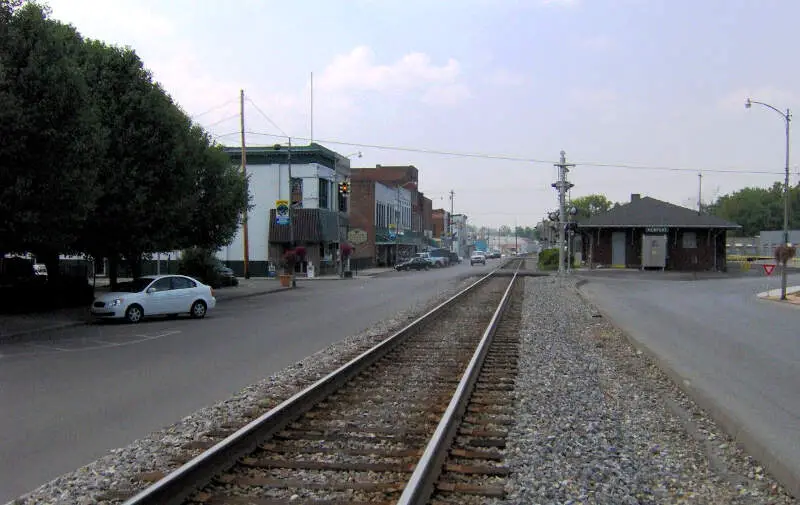 We're moving away from the western part of the state to Tennessee's far east to reach Newport. In terms of property crime, it's hard to out-do Newport. Residents of Newport had a 1 in 11 chance of having their belongings stolen or damaged in 2019, the highest rate in Tennessee.
That includes more than one car theft per week, on average. We just hope nobody steals a racecar from the Newport Speedway, because they might be hard to catch.
The prevalence of property crime in Newport is such that the city actually has the highest overall crime rate in Tennessee — more than three times higher than the national average.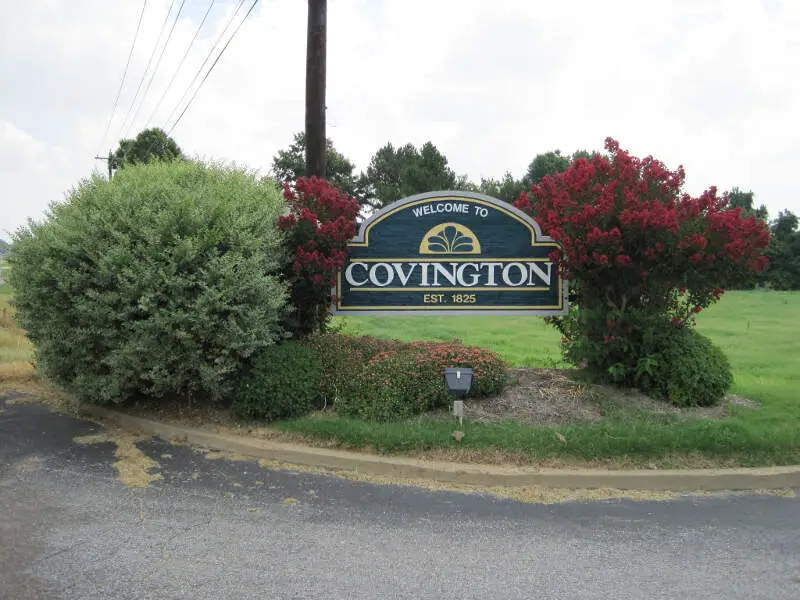 Covington is a city of 8,755 located in western Tennessee that struggles with both high property and violent crime rates.
We don't envy the Covington Police Department, who had to handle 126 violent crimes and 479 property crimes over 2019.
On the bright side, there were no murders in Covington over the year. On the not-so-bright side, a car was robbed, and a home was broken into more than once per week, on average.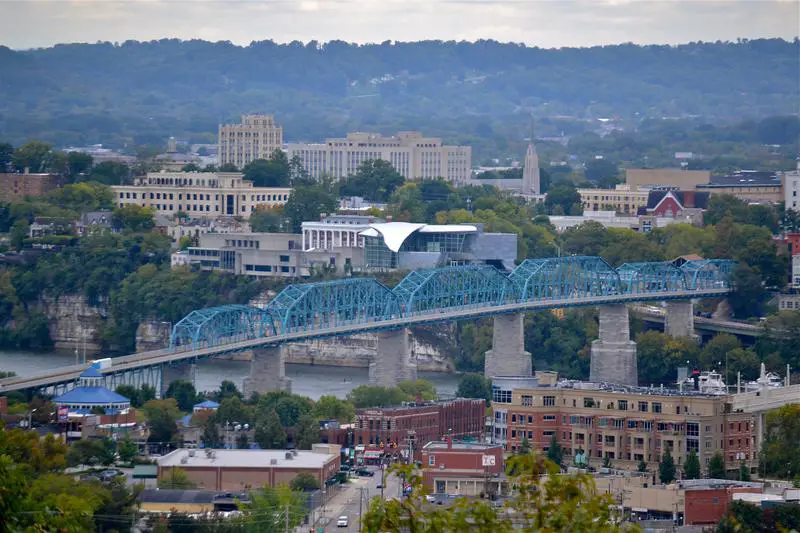 Chattanooga might look like a peaceful city from the vistas afforded at Lookout Mountain, but down on the streets, crime is all too common.
Violent crime is pretty bad across the board, with Chattanooga reporting 161 rapes and 33 murders in 2019, the tenth highest and ninth highest rates statewide, respectively.
You'll also want to make sure you lock your car doors wherever you go in Chattanooga because with 1,314 car thefts recorded over the year, stolen cars are more common here than in the bigger cities of Memphis and Nashville.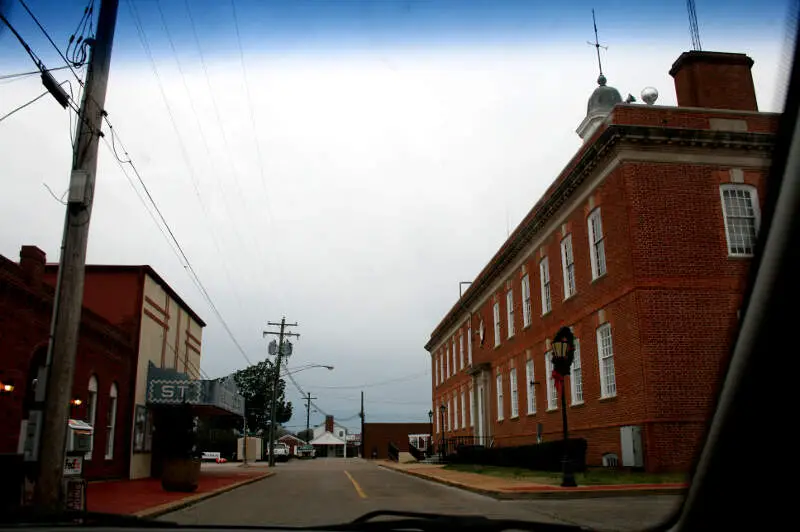 Located along the east side of the Tennessee River, Savanna went down 4 spots on this list from last year, so progress is being made on the crime front.
However, overall crime and property crime still rank as the fourth highest in the state. That includes the fourth highest burglary rate.
While Savannah has the Horse Creek Wildlife Sanctuary, humans of Savannah are on their own for finding sanctuary. Which can be tough in a city with the ninth highest rate of violent crime in Tennessee.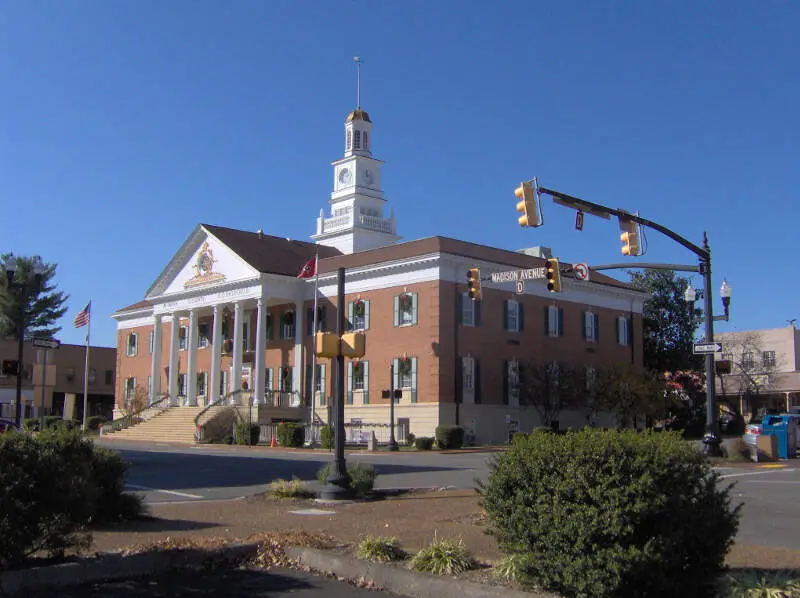 The county seat of McMinn County in eastern Tennessee, Athens' nickname of "The Friendly City" is belied by the crime situation.
Folks in Athens faced a 1 in 15 shot being the victim of a property crime in 2019, representing the second highest rate in Tennessee.
In fact, Athens' property crime rate is more than three times higher than the national average. We just hope nobody's planning a heist on the local Living Heritage Museum.
On the bright side, Athens is the least violent place on this list and didn't have a single murder in 2019.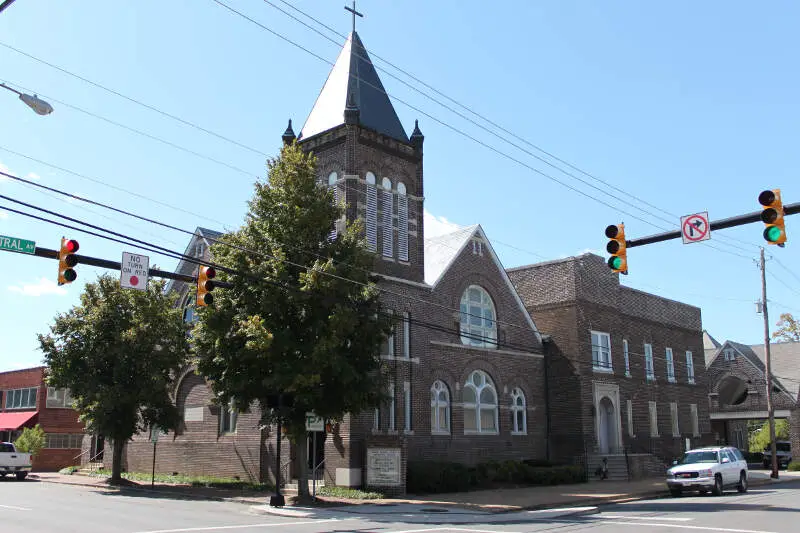 Situated about 45 minutes northeast of Chattanooga, Cleveland ranks as Tennessee's eighth most dangerous city.
You'll want to keep a close eye on your belongings when you're out for a hike at Red Clay State Historic Park, because Cleveland reported 1,845 larcenies in 2019. There was also one burglary each day and a car theft every other day, on average.
Additionally, Cleveland had 464 violent crimes over the year.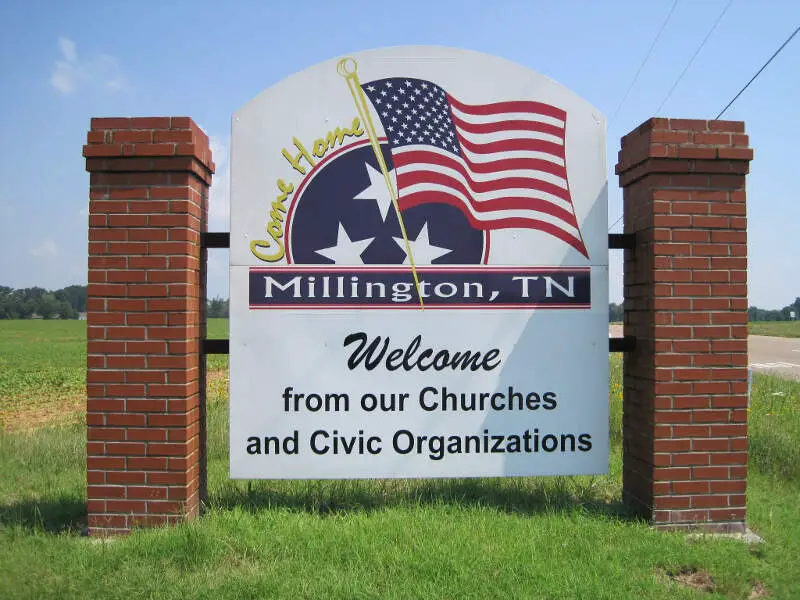 A part of the Memphis metro area, Millington ranks as the ninth least safe in Tennessee.
The violent crime rate is above average as a whole, but a fourth highest place ranking in murder rate is the really spooky part about Millington. Be sure to buddy up for walks in Meeman-Shelby Forest, or you might become the protagonist of a horror movie.
Regardless of where you're going, lock your doors in Millington because the city had the fifth highest burglary rate in Tennessee in 2019.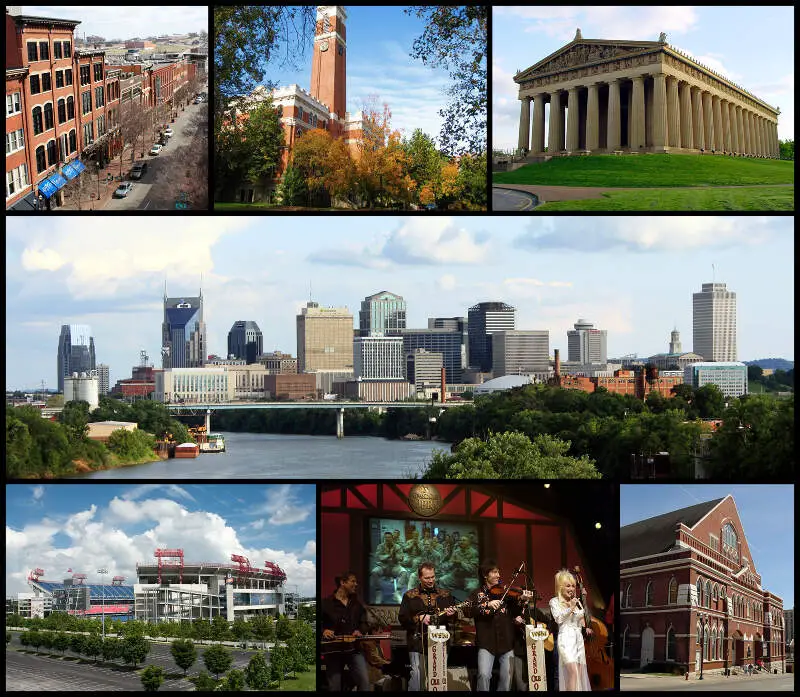 Source: Public domain
We're wrapping up our tour of Tennessee's most dangerous places with its capital and biggest city, Nashville.
People come from far and wide to check out the Country Music Hall of Fame or see a show at the Grand Ole Opry, but tourists would be well-advised to keep their guard up in Nashville.
That's because folks faced a 1 in 93 shot at being the victim of an assault, robbery, rape, or murder in 2019.
The silver lining is that property crime in Nashville is far lower than most places on the list, but try telling that to one of the 2,748 people who had their cars stolen in Nashville last year.
Graphing The Most Dangerous And Safest Places In Tennessee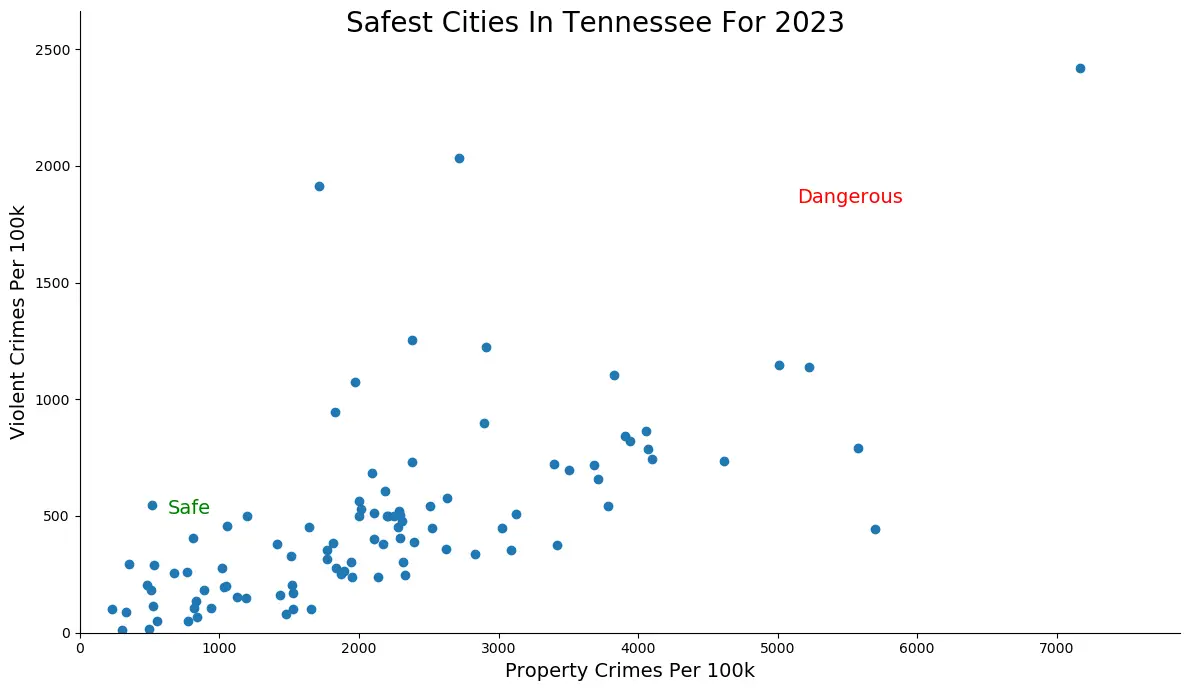 Click To Enlarge
How we determined the most dangerous cities in Tennessee for 2021?
Every year the FBI release two crime datasets, a preliminary dataset limited to the biggest cities in the country, followed by a more detailed release at the end of the year.
For our analysis, we focused on the JUST released 2019 data, specifically the 2019 Crime In The United States Report. We will update the results when data becomes available in September 2021.
So what criteria did we use? Have a look:
Violent Crimes Per Capita
Property Crimes Per Capita
In order to make the analysis as apples to apples as possible, we only considered Tennessee cities over 5,000 in population. That left us with 91 cities in Tennessee.
We then ranked each city from 1 to 91 for the two criteria with a #1 ranking being the most dangerous for the particular criteria.
Next, we averaged the two rankings into one "Dangerous Index".
Finally, we ranked every city on the "Dangerous Index" with the lowest index being the most dangerous in Tennessee — Memphis. Any ties went to the smaller city. You can download the data here.
Read on for a detailed look at the 10 most dangerous cities in Tennessee.
Locking It All Up In Tennessee
So what is the most dangerous city in Tennessee? After analyzing 91 cities in Tennessee, Memphis takes the top spot as the most dangerous city in Tennessee based on the most recently reported FBI data — 2019.
The latest FBI crime data shows that Memphis ranks as the most dangerous city in Tennessee for 2021.
We want to point out again that there's still safes places in Memphis and that this isn't a comment on the people that live there. So please don't beat us up.
Sadly, this is not a list that any city in any state wants to make. You probably won't see a sign entering the most dangerous place in a state that reads "number one most dangerous city in Tennessee": it's not something to brag about. But, people need to know.
So, what's the most dangerous city in Tennessee for 2021? That would be, Memphis.
Take a look at the list below to see the rest of Tennessee's most dangerous places.
Learn more about the safest places in Tennessee.
If you're looking for something more national, check out the most dangerous cities in America or the most dangerous states in America.
Here are the safest cities in Tennessee:
Germantown (Pop. 39,127)
Kingston (Pop. 5,809)
Spring Hill (Pop. 43,303)
Loudon (Pop. 5,869)
Atoka (Pop. 9,510)
Brentwood (Pop. 43,217)
Oakland (Pop. 8,323)
Mount Carmel (Pop. 5,295)
Signal Mountain (Pop. 8,605)
Church Hill (Pop. 6,671)
For more Tennessee reading, check out:
The Most Dangerous Cities In Tennessee
| Rank | City | Population |
| --- | --- | --- |
| 1 | Memphis | 650,410 |
| 2 | Dyersburg | 16,300 |
| 3 | Newport | 6,786 |
| 4 | Covington | 8,755 |
| 5 | Chattanooga | 181,848 |
| 6 | Savannah | 6,941 |
| 7 | Athens | 13,879 |
| 8 | Cleveland | 45,453 |
| 9 | Millington | 10,669 |
| 10 | Nashville | 687,361 |
| 11 | Ripley | 7,818 |
| 12 | Union City | 10,340 |
| 13 | Pigeon Forge | 6,383 |
| 14 | La Follette | 6,651 |
| 15 | Brownsville | 9,336 |
| 16 | Morristown | 30,044 |
| 17 | Jackson | 66,915 |
| 18 | Alcoa | 10,798 |
| 19 | Rockwood | 5,439 |
| 20 | Kingsport | 54,218 |
| 21 | Pulaski | 7,628 |
| 22 | McMinnville | 13,696 |
| 23 | Sevierville | 16,760 |
| 24 | Dickson | 15,703 |
| 25 | Knoxville | 188,666 |
| 26 | Elizabethton | 13,409 |
| 27 | Humboldt | 8,165 |
| 28 | Sweetwater | 5,875 |
| 29 | Fayetteville | 7,047 |
| 30 | Tullahoma | 19,468 |
| 31 | Shelbyville | 22,062 |
| 32 | Manchester | 11,020 |
| 33 | Lawrenceburg | 10,877 |
| 34 | Lexington | 7,723 |
| 35 | Columbia | 40,001 |
| 36 | Winchester | 8,733 |
| 37 | Johnson City | 67,197 |
| 38 | Crossville | 11,643 |
| 39 | East Ridge | 21,027 |
| 40 | Clinton | 10,062 |
| 41 | Bristol | 26,900 |
| 42 | Springfield | 17,022 |
| 43 | Clarksville | 159,996 |
| 44 | Harriman | 6,121 |
| 45 | Lafayette | 5,309 |
| 46 | Greeneville | 14,881 |
| 47 | Dunlap | 5,155 |
| 48 | Milan | 7,613 |
| 49 | Henderson | 6,314 |
| 50 | Murfreesboro | 145,929 |