This article is an opinion based on facts and is meant as infotainment. It is our seventh time ranking the most dangerous places to live in Oregon and is updated for 2021.
No, it's not all peace, love, and harmony in The Beaver State. RoadSnacks knows of 281 violent crimes and 2,968 property crimes that says so.
Do you think that you live in one of the most dangerous cities in Oregon? Now, before you lock your doors and grab your taser, we suggest you take a look at RoadSnacks' list of the most dangerous places in Oregon for 2021, there might be some that surprise you.
How'd we do it? We consulted the numbers. In total, we analyzed 58 cities. We looked at the FBI's latest crime report for violent crime and property crime statistics for every place with over 5,000 residents. We discovered that Oregon's violent and property crime numbers, while not the worst in the country, could be better.
If you asked most Oregonians, they would say that their little corner of this Pacific Northwest state is the best, but that's not the case for the people who live in Oregon's most dangerous places. The residents in these places are not only witnessing high crime, they are dealing with unemployment, low wages, and lack of rehabilitation programs.
And while Oregon might not be one of the top ten most dangerous states in the country, the state's most dangerous places do need some work. Maybe more police? Security cameras? Drug programs? We're not entirely sure. One thing that we are sure about, however, is that you should take a look below at the list of Oregon's most dangerous places before you make any life changing decisions.
The 10 Most Dangerous Places To Live In Oregon For 2021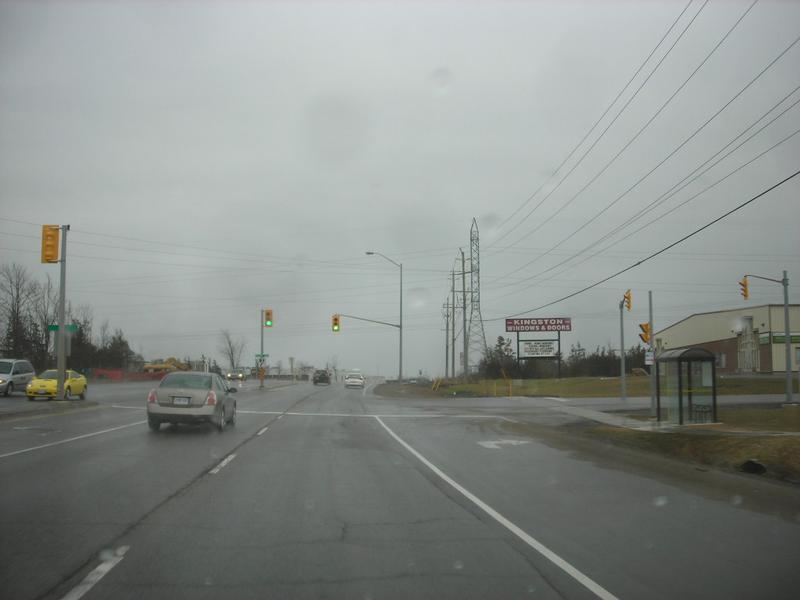 Located along Snake River on the border of Idaho, Ontario ranks as the most dangerous city in Oregon.
Ontario saw a increase in violent crime and a increase in property crime for last couple of years, which explains why it moved several spots on the list for 2021.
Ontario residents had a 1 in 134 chance of being the victim of a violent crime and a 1 in 16 chance of having their stuff stolen or vandalized over 2019.
Included in those numbers is the highest murder rate, second highest rate of rape cases, and second highest rate of burglaries in Oregon.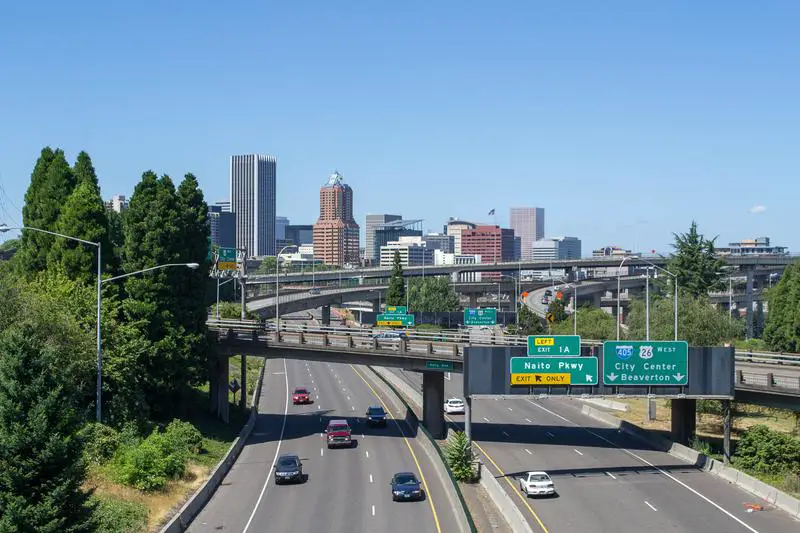 We all know Portland has a lot of avant-garde hipsters and various disciples of American counter-culture, but the biggest city in Oregon also has the second worst crime numbers in the state.
With all the gardens and parks around, you might think Portland's a peaceful place, but anyone who watches the news knows otherwise.
Portland is the third most violent place in Oregon, with about ten violent crimes going down each day, on average. Property crime isn't much better, considering the 6,432 stolen cars and 4,200 burglaries recorded in 2019.
All of which is definitely not cool.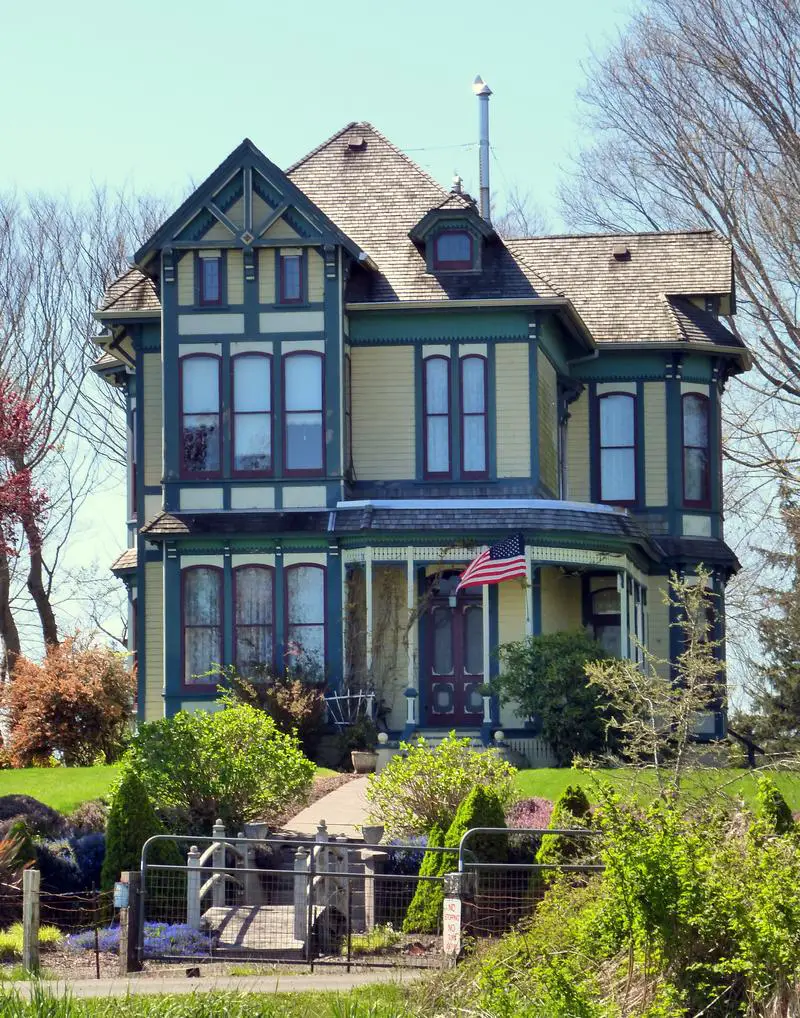 A coastal city located in the northwestern part of Oregon, Warrenton comes in as the state's third least safe place.
Warrenton jumped up a few spots on this list from last year, and that's mostly because of a recent rise in property crime. Warrenton had the highest property crime rate in Oregon, with residents facing a 1 in 14 chance of having their stuff stolen or damaged over 2019.
This means you should probably always lock your car, even if you're just parked next to your campsite at Fort Stevens State Park.
On the bright side, Warrenton's violent crime numbers fell slightly, so there's hope for change here.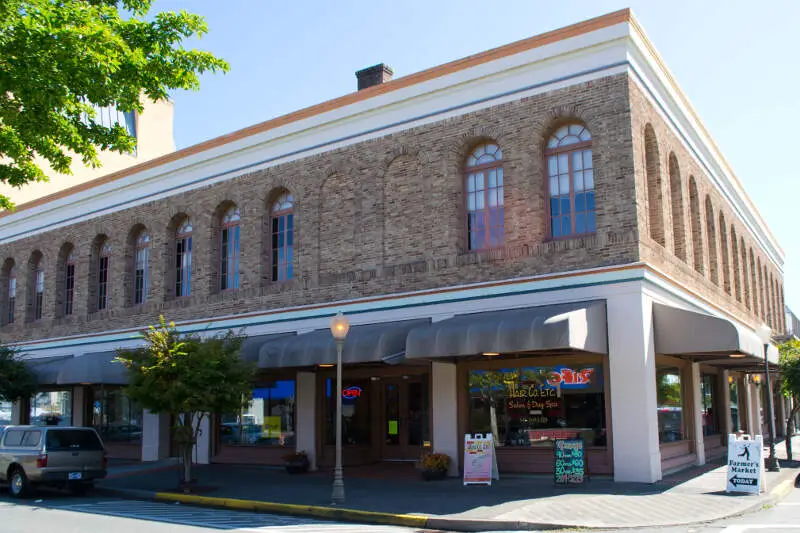 Another coastal city, Coos Bay also saw a spike in crime over the past year. The city ranked as the fifth highest worst in both violent and property crime rates, with some alarming numbers in each category.
Like having the highest rate of rape cases in Oregon by a pretty significant margin. And recording a burglary about every other day, on average, which is enough for the highest burglary rate statewide as well.
At least residents can find a bit of sanctuary at Shore Acres State Park — just bring a friend if you think you'll be out after dark.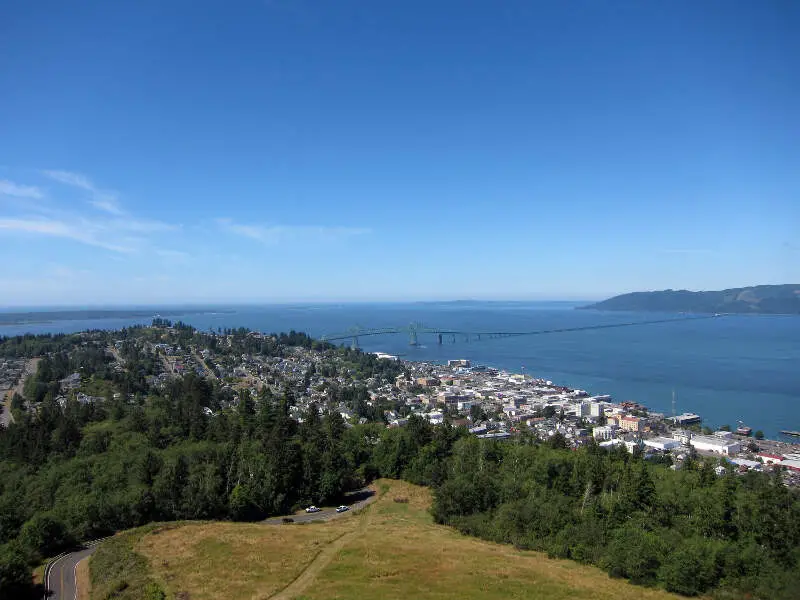 Welcome to Astoria, Oregon's hub of violent crime. A port city located just east of Warrenton, Astoria recorded the highest violent crime rate in Oregon for data year 2019.
Residents had a 1 in 133 shot of being the victim of a violent attack. So look out for criminals when you're moseying down the Astoria Riverwalk, or you could join that unfortunate group.
Astoria also had the third highest rate of rape cases and third highest burglary rate statewide — not statistics you want to be associated with your city.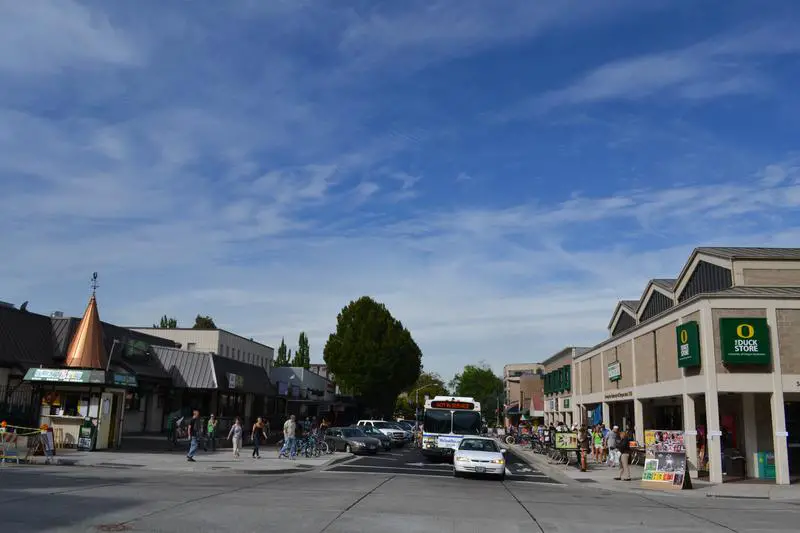 Eugene has the highest number of homeless people per capita in America, so it's not exactly shocking that the city has to deal with high crime rates as well.
It's just good protocol to keep a close eye on your stuff when you're walking along the Willamette River Trail, or you might join the 6,184 victims of property crime Eugene had in 2019.
Additionally, Eugene averaged one aggravated assault each day, so if you're not trying to get some free boxing lessons, do your best to avoid rowdy pugilists here.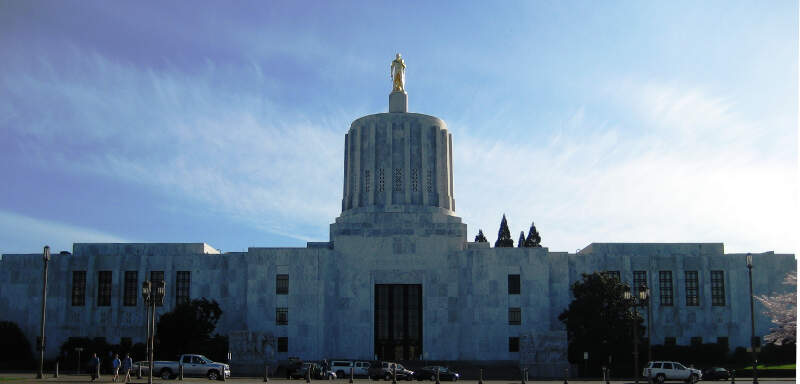 Source: Public domain
Turns out that Oregon's capital city is also the seventh most dangerous place in the state.
Salem might be one place where wearing a wallet chain is actually a good idea, seeing as there were 4,966 larcenies in 2019. And while violent crime has been decreasing in Salem, property crime went up from last year.
Still, watch your back in any poorly lit areas of Salem's parks of night — it's still the eighth most violent place in Oregon, after all.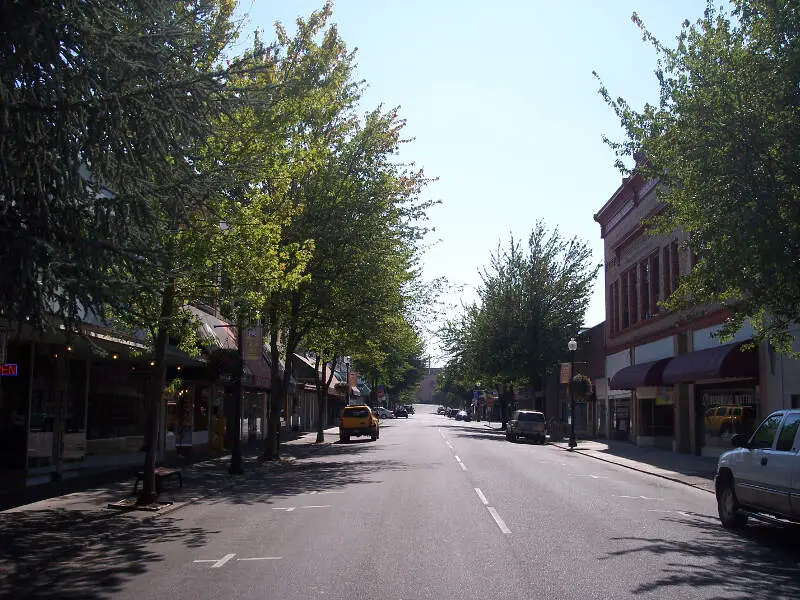 Located about an hour south of Eugene, Roseburg ranks as Oregon's eighth most dangerous place to call home. Despite Roseburg's #8 position on this list, it actually has the third highest overall crime rate in Oregon.
How's that happen? Well, when property crime is such that 1 in 17 residents is the victim of a theft or vandalization over the course of a year, it inflates your overall crime numbers.
And it's not like it's just a few picked pockets and broken windows going down in Roseburg either. The city also reported the fifth highest rate of rape cases in Oregon.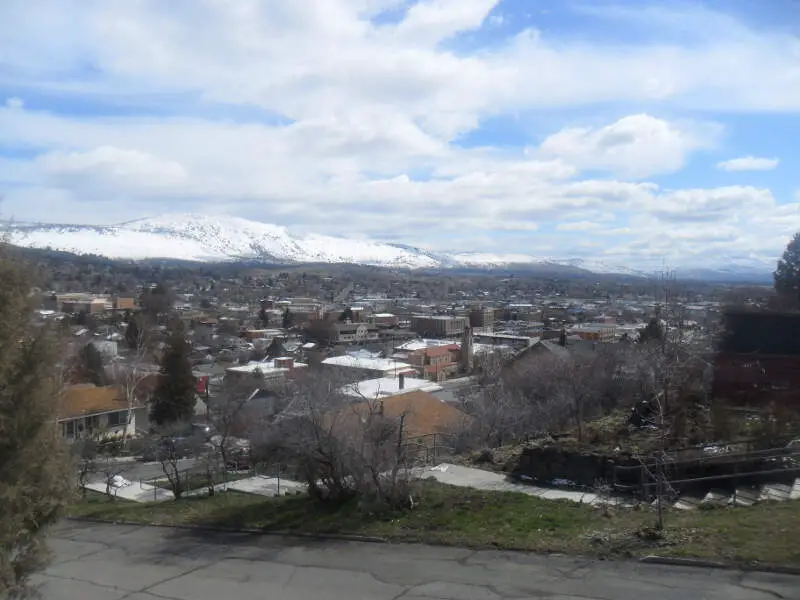 We're taking our first trip down to south-central Oregon to reach its ninth most dangerous city, Klamath Falls.
Klamath Falls had the seventh highest burglary rate in Oregon for 2019. At least nobody has tried to pull a heist on the Klamath County Museum yet.
Violent crime is the bigger problem in Klamath Falls, though. Residents had a 1 in 213 chance of being attacked over the year. That includes the second highest murder rate and fourth highest rate of rape cases in Oregon.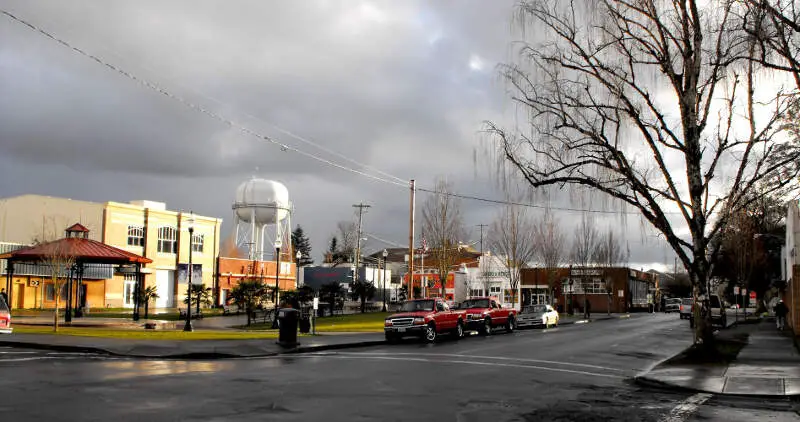 Source: Public domain
Located between Portland and Salem, Woodburn is slightly safer than either of the big cities. While property crime in Woodburn stayed steady from last year, violent crime fell a bit. At this rate, Woodburn may be off this list by next year.
Still, folks had a 1 in 28 chance of being the victim of a property crime over 2019, so that's not great.
At least Woodburn residents get to enjoy the local Tulip Festival every year. Just be careful nobody snatches your flowers.
Graphing The Most Dangerous And Safest Places In Oregon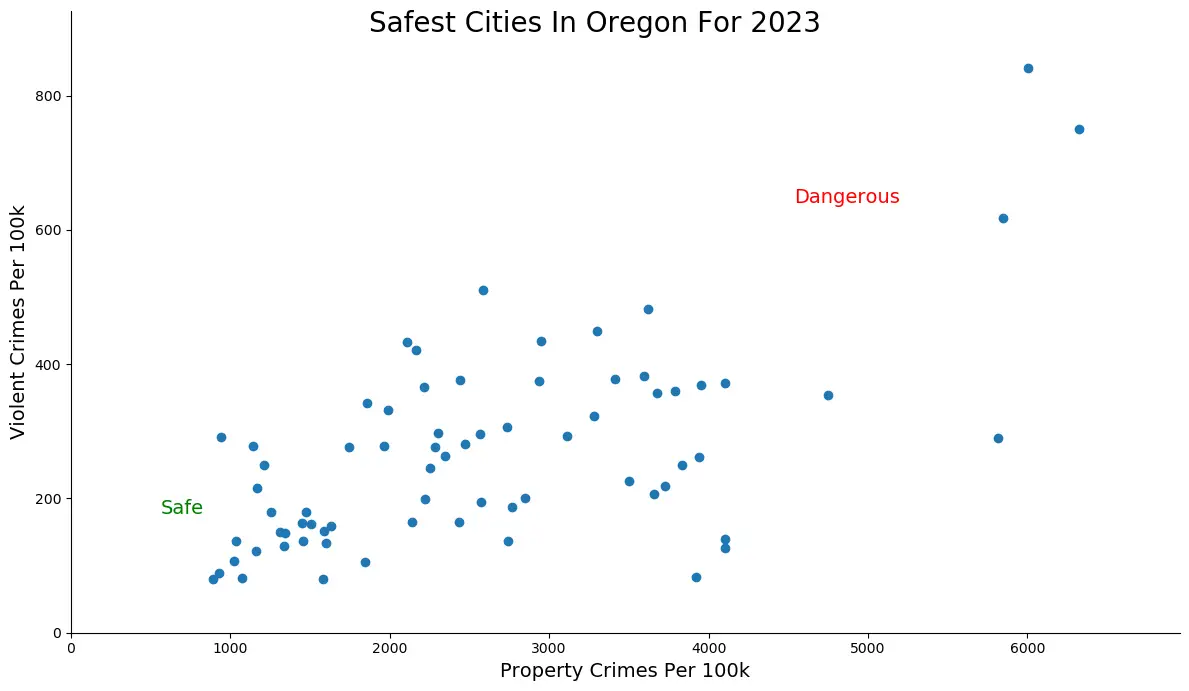 Click To Enlarge
How we determined the most dangerous cities in Oregon for 2021?
Every year the FBI release two crime datasets, a preliminary dataset limited to the biggest cities in the country, followed by a more detailed release at the end of the year.
For our analysis, we focused on the JUST released 2019 data, specifically the 2019 Crime In The United States Report. We will update the results when data becomes available in September 2021.
So what criteria did we use? Have a look:
Violent Crimes Per Capita
Property Crimes Per Capita
In order to make the analysis as apples to apples as possible, we only considered Oregon cities over 5,000 in population. That left us with 58 cities in Oregon.
We then ranked each city from 1 to 58 for the two criteria with a #1 ranking being the most dangerous for the particular criteria.
Next, we averaged the two rankings into one "Dangerous Index".
Finally, we ranked every city on the "Dangerous Index" with the lowest index being the most dangerous in Oregon — Ontario. Any ties went to the smaller city. You can download the data here.
Read on for a detailed look at the 10 most dangerous cities in Oregon.
Locking It All Up In Oregon
So what is the most dangerous city in Oregon? After analyzing 58 cities in Oregon, Ontario takes the top spot as the most dangerous city in Oregon based on the most recently reported FBI data — 2019.
The latest FBI crime data shows that Ontario ranks as the most dangerous city in Oregon for 2021.
We want to point out again that there's still safes places in Ontario and that this isn't a comment on the people that live there. So please don't beat us up.
If you guessed that most of the state's problems are centralized around most of Oregon's largest cities, Portland and Salem, you guessed right. Oregon's biggest cities can't catch a break. Surprisingly, however, the most dangerous place in Oregon doesn't even have 10,000 residents.
So, where is Oregon's most dangerous place? The most dangerous place in Oregon would be, Ontario.
To see how your city faired, take a look at the list below; and if you don't find what you're looking for there, head to the bottom.
Learn more about the safest places in Oregon.
If you're looking for something more national, check out the most dangerous cities in America or the most dangerous states in America.
Here are the safest cities in Oregon:
Canby (Pop. 17,962)
Keizer (Pop. 40,109)
Monmouth (Pop. 10,630)
Newberg-Dundee (Pop. 27,378)
Umatilla (Pop. 7,202)
Scappoose (Pop. 7,592)
Lake Oswego (Pop. 39,888)
Sherwood (Pop. 19,865)
West Linn (Pop. 26,962)
Molalla (Pop. 9,328)
For more Oregon reading, check out:
The Most Dangerous Cities In Oregon
| Rank | City | Population |
| --- | --- | --- |
| 1 | Ontario | 11,044 |
| 2 | Portland | 662,114 |
| 3 | Warrenton | 5,772 |
| 4 | Coos Bay | 16,471 |
| 5 | Astoria | 10,040 |
| 6 | Eugene | 173,183 |
| 7 | Salem | 175,867 |
| 8 | Roseburg | 23,447 |
| 9 | Klamath Falls | 22,447 |
| 10 | Woodburn | 26,338 |
| 11 | Gresham | 110,692 |
| 12 | Madras | 7,028 |
| 13 | Grants Pass | 38,475 |
| 14 | Springfield | 63,438 |
| 15 | Pendleton | 16,796 |
| 16 | Redmond | 31,558 |
| 17 | Newport | 10,772 |
| 18 | Baker City | 9,750 |
| 19 | Sutherlin | 8,136 |
| 20 | Hermiston | 17,780 |
| 21 | Prineville | 10,479 |
| 22 | Tualatin | 27,788 |
| 23 | North Bend | 9,775 |
| 24 | Stayton | 8,318 |
| 25 | The Dalles | 15,752 |
| 26 | Tigard | 55,621 |
| 27 | Cornelius | 12,827 |
| 28 | Winston | 5,515 |
| 29 | Hood River | 7,876 |
| 30 | Milton-Freewater | 7,051 |
| 31 | Florence | 9,183 |
| 32 | Dallas | 16,983 |
| 33 | Hillsboro | 110,549 |
| 34 | McMinnville | 34,935 |
| 35 | Oregon City | 37,723 |
| 36 | Beaverton | 100,130 |
| 37 | Eagle Point | 9,530 |
| 38 | Gladstone | 12,340 |
| 39 | St. Helens | 13,900 |
| 40 | Forest Grove | 25,063 |
| 41 | Lebanon | 17,304 |
| 42 | Albany | 54,993 |
| 43 | Talent | 6,604 |
| 44 | Independence | 10,367 |
| 45 | Silverton | 10,831 |
| 46 | Central Point | 18,753 |
| 47 | La Grande | 13,294 |
| 48 | Bend | 100,588 |
| 49 | Canby | 17,962 |
| 50 | Keizer | 40,109 |