This article is an opinion based on facts and is meant as infotainment. It is our seventh time ranking the most dangerous places to live in Colorado and is updated for 2021.
The Rocky Mountains aren't the only things that are super rocky in Colorado, the state has its fair share of some pretty rocky situations in the form of dangerous places to live.
Do you live in one of the most dangerous cities in Colorado? If you're not sure, then you should definitely look below at RoadSnacks list of the top ten most dangerous places in Colorado for 2021 before it's too late.
We all watch the news and see the Facebook feeds that come across detailing the latest crimes that are happening in our home towns. While a major crime just blocks away from your house can make you feel really uneasy, in the big picture, most likely, where you live is relatively safe. Unless you live in The Centennial State's most dangerous places. Yes, that's right. Colorado is the 19th most dangerous state in the country; and sadly, Colorado is one of the only states to have three of the most dangerous cities in the country.
Thinking of Colorado conjures up images of intense snowy mountains and peaceful forests. Danger isn't something people think of when they consider Colorado, except maybe in a skiing accident. And while Colorado may be one of the safer states, it still has some cities where you've gotta watch your back. Coincidentally, Colorado is also the 25th most populous state in the country and many of Colorado's fastest growing cities are also the states most dangerous. This is usually how it works. Law enforcement can't keep up with the demands of large influxes of people, and people start to take advantage of each other and the system. And cities like Denver can't catch a break.
Instead of relying on speculation, we dug into the FBI crime data in order to identify the most dangerous places in Colorado.
The 10 Most Dangerous Places To Live In Colorado For 2021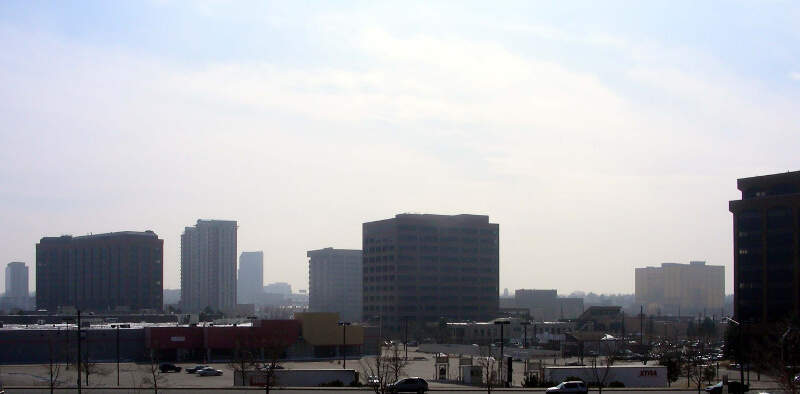 Glendale held onto its title of most dangerous place in Colorado for another year. An enclave of Denver, Glendale took the top spots for both violent and property crime rates yet again.
Glendale residents had a 1 in 105 chance of being the victim of a violent crime over 2019. That includes the second highest murder rate in the state. So while you may think the rugby players at Infinity Park are rough, it's nothing compared to Glendale's streets.
Oh, and Glendale's property crime rate is more than twice as high as the second worst city in Colorado, with folks facing a whopping 1 in 5 shot of having their stuff stolen or damaged. That includes 81 stolen cars, a crazy number for a city with a population of just 5,289.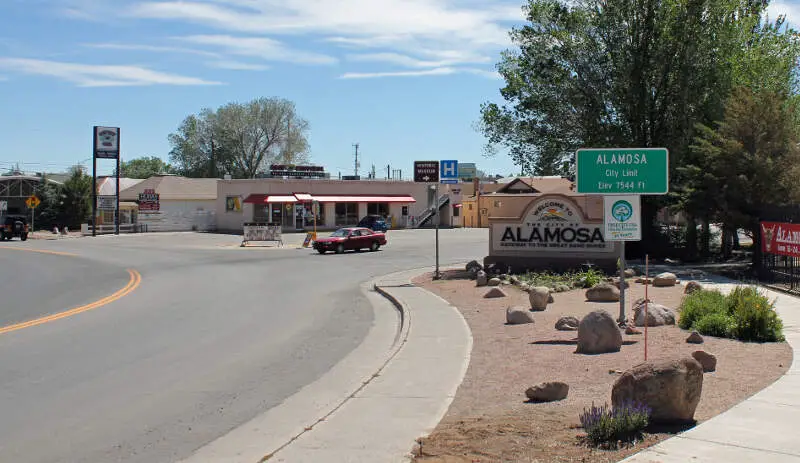 Located in south-central Colorado, Alamosa comes in as the state's second least safe place. However, as a popular tourist destination with loads to do year-round and an annual music festival, Summerfest on the Rio, Alamosa's crime numbers might be slightly inflated.
Still, there's no arguing that the city had the second highest burglary rate in Colorado, which definitely means that residents were victimized, not tourists.
On top of that, Alamosa averaged more than one rape case per month in 2019, which is a big part of why it ranks as the fifth most violent place in Colorado overall.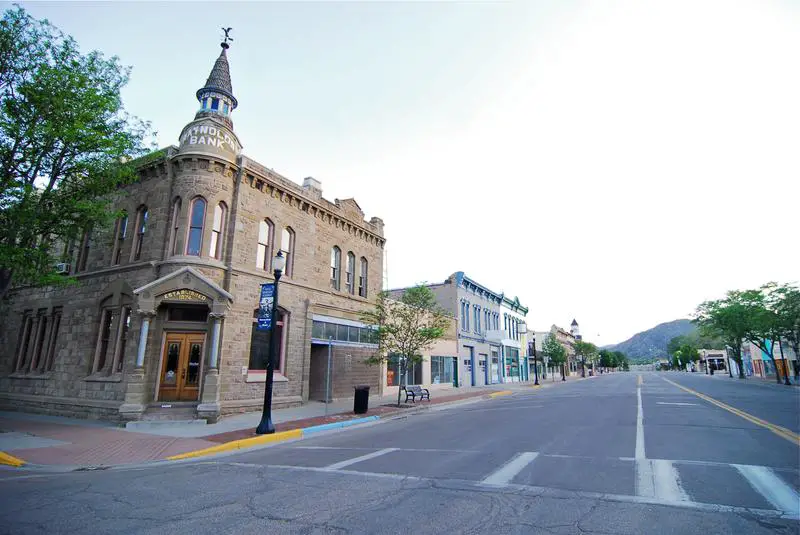 Another popular tourist destination, Canon City is home to breathtaking drives, an insane suspension bridge, and some of the best rock climbing and whitewater rafting in a state known for both.
Drawing in thrill-seekers has some downsides, though, and Canon City has been creeping up this list for the past few years. The city had the second highest rape and fourth highest murder rate in Colorado in 2019, its worst numbers yet in recent years.
While violent crime is far more severe, it's worth noting the Canon City also managed to have the fourth highest burglary rate in Colorado.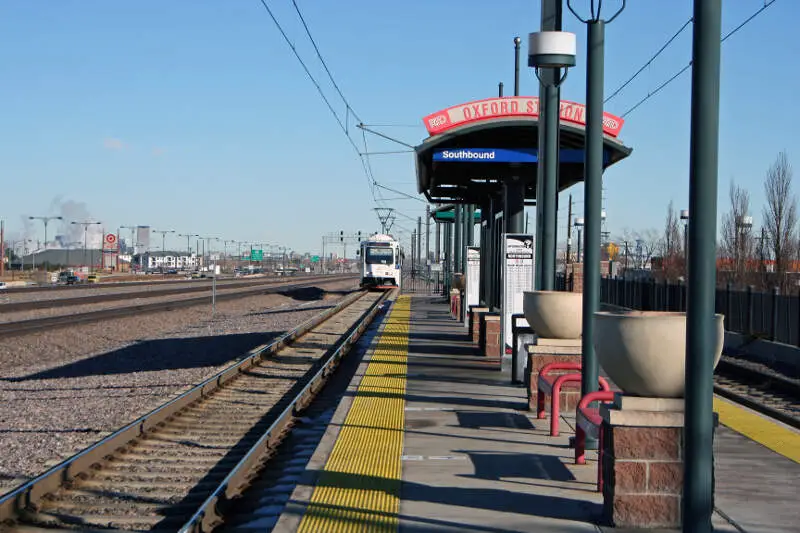 Good news, bad news situation for Sheridan, a city that already ranked as one of Denver's worst suburbs due to its high crime rates.
The good news is that the violent crime rate in Sheridan was nearly cut in half in 2019. That's a significant achievement, and we're sure residents are happy they can walk in the park without worrying about being attacked.
The bad news is that high rates of property crime persist. Residents had a 1 in 13 chance of being the victim of a property crime over 2019.
That's also enough to give Sheridan the second highest total crime rate in Colorado — nearly quadruple the national average.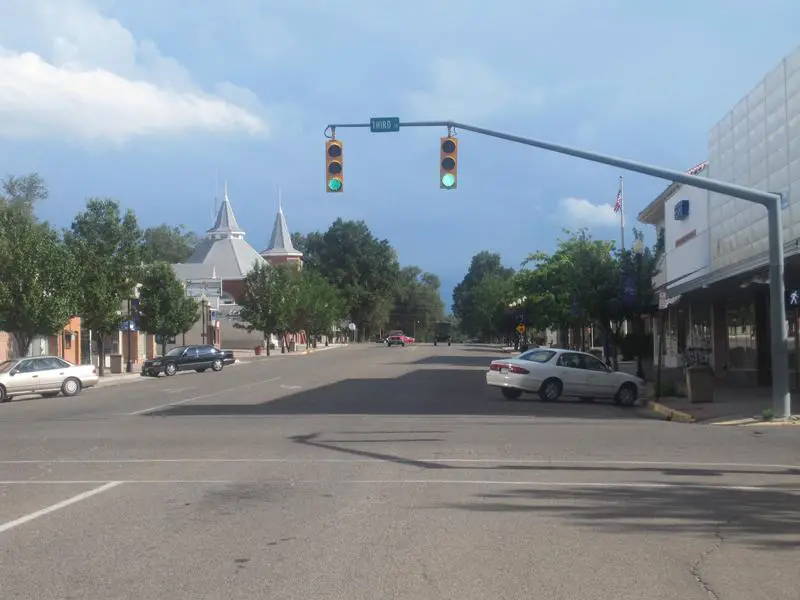 If you thought having a giant fort around would be enough to keep crime at bay, consider La Junta. The small municipality makes this list mostly due to its property crime rate, which ranks as the fifth highest in Colorado.
That's mostly because La Junta had the highest burglary rate statewide for 2019. Not to mention an average of two stolen cars a month — pretty high for such a small place.
And it's not all broken windows and stolen vehicles, either. La Junta also had the third highest rate of rape cases in Colorado.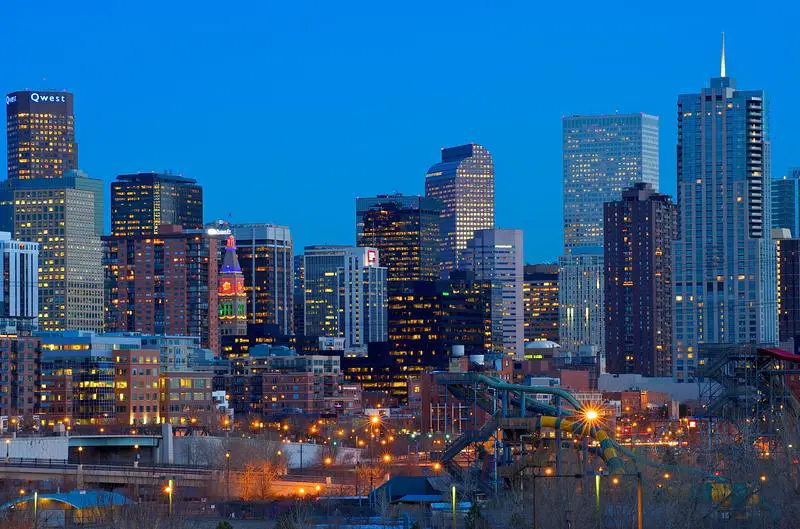 The Mile High City has some work to do when it comes to crime. Particularly violent crime, which ranked as the third highest in Colorado, with residents facing a 1 in 133 shot of being violently attacked over 2019.
That's a bit higher than in Los Angeles, for reference. Still, Denver's best neighborhoods have signifcantly less crime than the worst.
In other words, you're still good to go for a jog at City Park. Still, Denver had 5,294 car thefts in 2021. Which is confusing, considering you can't walk five steps without passing an electric scooter in Denver.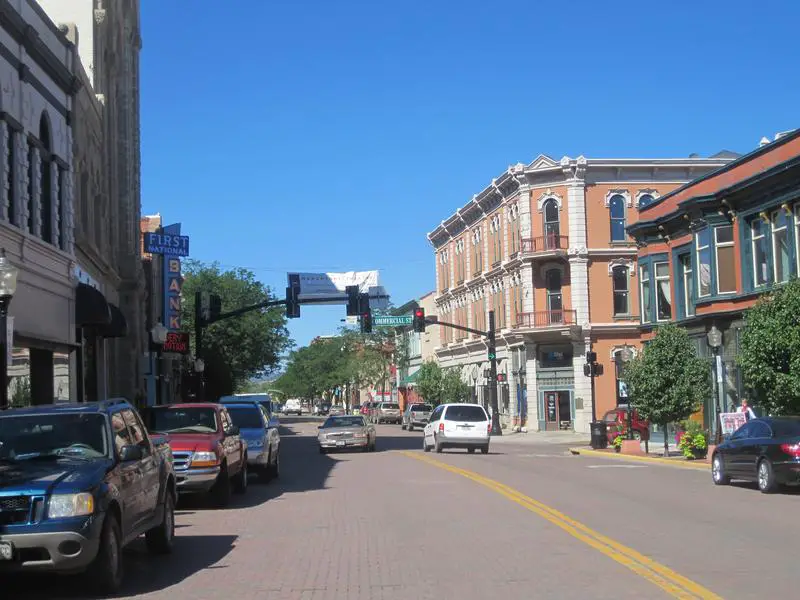 Once home to trappers and early ranchers, Trinidad has kept its rough and tumble image. Unfortunately, that comes with a bit of crime.
To be fair, Trinidad is one of few places on this list without a murder, and the only one without a rape, recorded in 2019.
On the other hand, Trinidad recorded 67 burglaries over the year. In a town of 8,116, that works out to the third highest burglary rate in Colorado.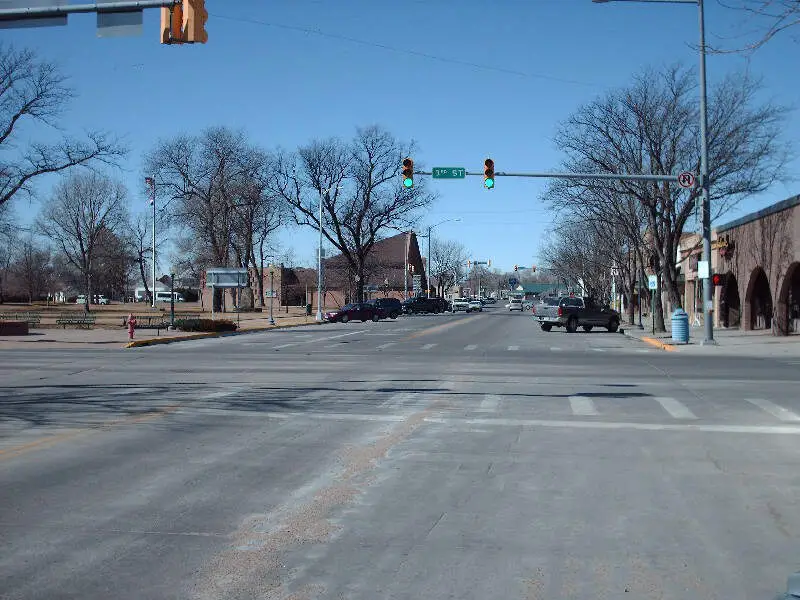 Source: Public domain
At 13,573 people, you might not think Sterling's very big, but it's the largest city in northeastern Colorado. As with any major economic hub, Sterling struggles with above-average crime rates. However, while Sterling did record 99 burglaries in 2019, property crime isn't as significant a problem as violent crime.
You'll want to be careful staying out late at North Sterling State Park, because Sterling had the second highest crime rate in Colorado. And violent crime has been largely unchanged since the year before.
Another depressing statistic? Sterling had the highest rate of rape cases statewide, reporting about three per month, on average.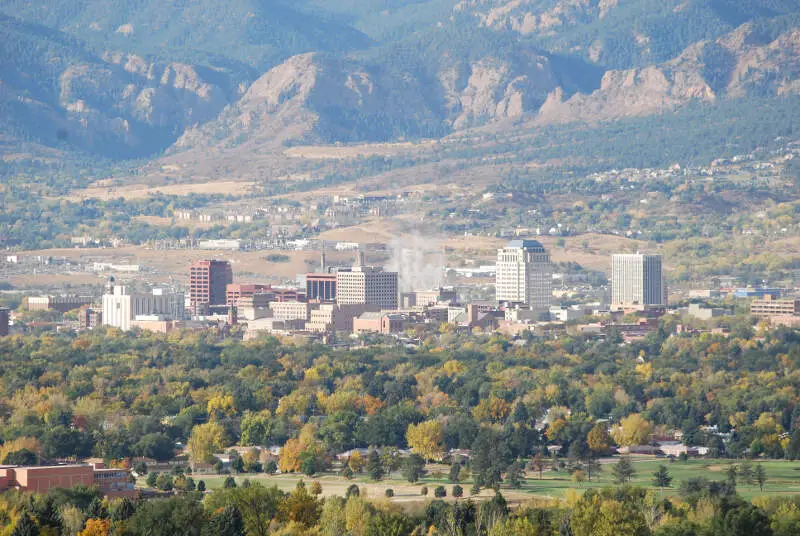 Outdoorsmen and women come from far and wide to visit Colorado Springs, home to Garden of the Gods and Red Rock Canyon.
But Colorado's second-biggest city also has above-average crime rates. About eight cars are stolen each day, and the city averages two arson cases a week.
And while violent crime in Colorado Springs isn't as bad as Denver, it still ranks as the seventh highest in the state.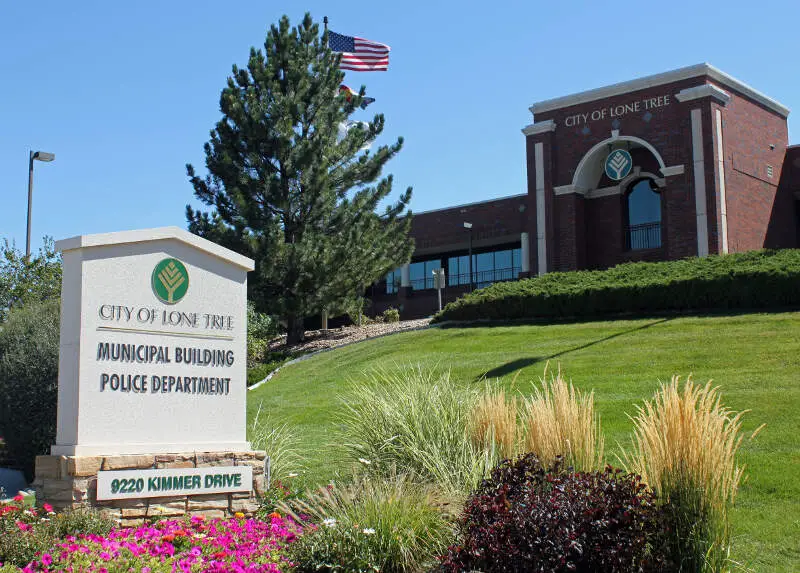 We actually ranked Lone Tree as one ofDenver's best suburbs, and we stand by that call.
You see, Lone Tree is home to the Park Meadows Mall. And while the money and jobs that it brings the community are certainly good, malls tend to significantly inflate a city's property crime rate.
So while Lone Tree's property crime rate ranks as the third highest in Colorado, it really isn't so bad when you realize that 90%+ of that crime comes from shoplifting teenagers, not violent criminals.
Graphing The Most Dangerous And Safest Places In Colorado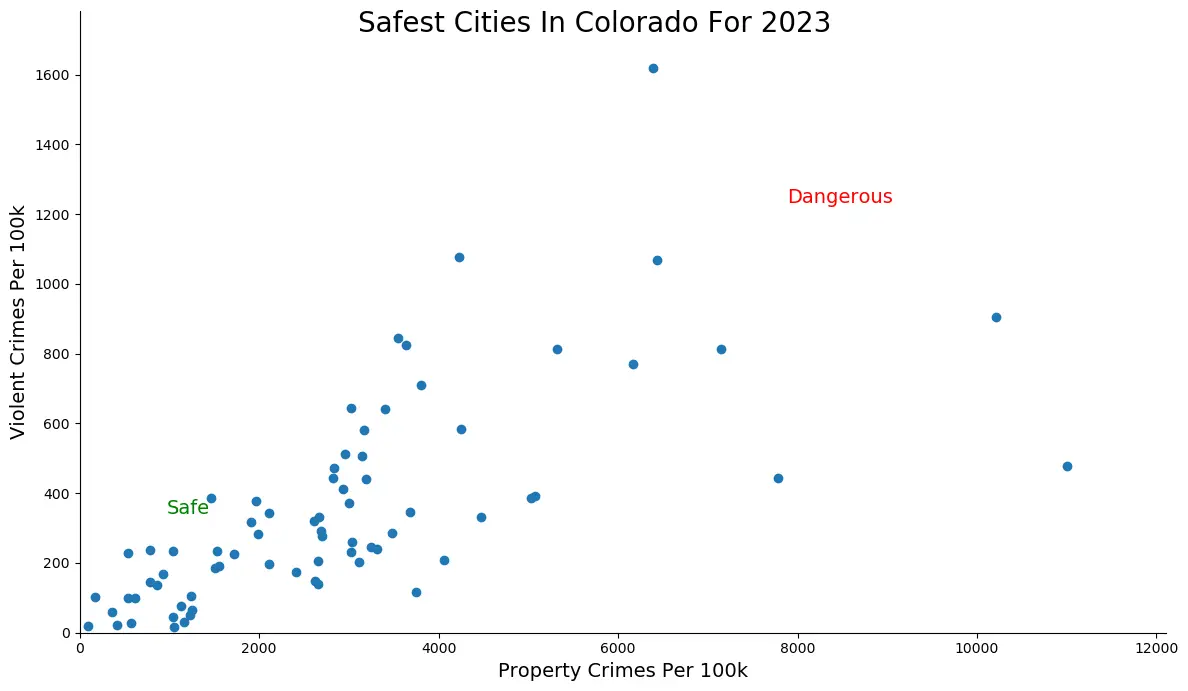 Click To Enlarge
How we determined the most dangerous cities in Colorado for 2021?
Every year the FBI release two crime datasets, a preliminary dataset limited to the biggest cities in the country, followed by a more detailed release at the end of the year.
For our analysis, we focused on the JUST released 2019 data, specifically the 2019 Crime In The United States Report. We will update the results when data becomes available in September 2021.
So what criteria did we use? Have a look:
Violent Crimes Per Capita
Property Crimes Per Capita
In order to make the analysis as apples to apples as possible, we only considered Colorado cities over 5,000 in population. That left us with 63 cities in Colorado.
We then ranked each city from 1 to 63 for the two criteria with a #1 ranking being the most dangerous for the particular criteria.
Next, we averaged the two rankings into one "Dangerous Index".
Finally, we ranked every city on the "Dangerous Index" with the lowest index being the most dangerous in Colorado — Glendale. Any ties went to the smaller city. You can download the data here.
Read on for a detailed look at the 10 most dangerous cities in Colorado.
Locking It All Up In Colorado
So what is the most dangerous city in Colorado? After analyzing 63 cities in Colorado, Glendale takes the top spot as the most dangerous city in Colorado based on the most recently reported FBI data — 2019.
The latest FBI crime data shows that Glendale ranks as the most dangerous city in Colorado for 2021.
We want to point out again that there's still safes places in Glendale and that this isn't a comment on the people that live there. So please don't beat us up.
What are the circumstances that make these Colorado places this way? Maybe not enough jobs, low wages, drugs, gangs, and in Denver's case, their mediocre NFL team?
So, with that in mind, what is the most dangerous place to live in Colorado? The most dangerous place in Colorado is Glendale according to the most recent FBI data.
If you already live in Colorado and want to make a move, or if you're thinking about moving to Colorado for the first time, we recommend that you take a look at our list below.
Learn more about the safest places in Colorado.
If you're looking for something more national, check out the most dangerous cities in America or the most dangerous states in America.
Here are the safest cities in Colorado:
Dacono (Pop. 6,074)
Erie (Pop. 26,523)
New Castle (Pop. 5,095)
Cherry Hills Village (Pop. 6,734)
Eaton (Pop. 5,690)
Lamar (Pop. 7,619)
Firestone (Pop. 15,558)
Severance (Pop. 5,362)
Milliken (Pop. 7,978)
Frederick (Pop. 14,238)
For more Colorado reading, check out:
The Most Dangerous Cities In Colorado
| Rank | City | Population |
| --- | --- | --- |
| 1 | Glendale | 5,289 |
| 2 | Alamosa | 10,086 |
| 3 | Canon City | 16,793 |
| 4 | Sheridan | 6,233 |
| 5 | La Junta | 6,983 |
| 6 | Denver | 728,941 |
| 7 | Trinidad | 8,116 |
| 8 | Sterling | 13,573 |
| 9 | Colorado Springs | 479,648 |
| 10 | Lone Tree | 15,129 |
| 11 | Cortez | 8,748 |
| 12 | Grand Junction | 63,949 |
| 13 | Aurora | 380,600 |
| 14 | Northglenn | 39,420 |
| 15 | Commerce City | 60,198 |
| 16 | Breckenridge | 5,079 |
| 17 | Glenwood Springs | 10,027 |
| 18 | Durango | 19,271 |
| 19 | Edgewater | 5,363 |
| 20 | Englewood | 35,273 |
| 21 | Westminster | 114,392 |
| 22 | Longmont | 97,928 |
| 23 | Montrose | 19,564 |
| 24 | Thornton | 142,168 |
| 25 | Fort Morgan | 11,355 |
| 26 | Brighton | 42,267 |
| 27 | Rifle | 9,782 |
| 28 | Fountain | 31,041 |
| 29 | Boulder | 108,519 |
| 30 | Delta | 8,929 |
| 31 | Greeley | 109,255 |
| 32 | Arvada | 122,312 |
| 33 | Aspen | 7,461 |
| 34 | Loveland | 78,856 |
| 35 | Lafayette | 29,522 |
| 36 | Craig | 8,886 |
| 37 | Fort Collins | 170,889 |
| 38 | Evans | 21,585 |
| 39 | Gunnison | 6,689 |
| 40 | Salida | 6,061 |
| 41 | Broomfield | 70,798 |
| 42 | Fruita | 13,504 |
| 43 | Littleton | 48,831 |
| 44 | Avon | 6,496 |
| 45 | Johnstown | 15,547 |
| 46 | Woodland Park | 7,863 |
| 47 | Parker | 57,050 |
| 48 | Estes Park | 6,406 |
| 49 | Carbondale | 6,941 |
| 50 | Timnath | 5,027 |