This article is an opinion based on facts and is meant as infotainment. It is our seventh time ranking the most dangerous places to live in Massachusetts and is updated for 2021.
If you're from Massachusetts then you know that you have to watch out for more than just Old World ghosts in Boston, scary Witches in Salem, and grumpy New Englanders in Worcester: The Bay State has some pretty dangerous places, too.
It's not all bougie Harvard graduates and snobby Celtics fans, either. Massachusetts has some pretty scary criminals, and they can be found in the state's most dangerous cities. Lucky for you, RoadSnacks has created a list of the most dangerous places in Massachusetts for 2021 and we think that you should definitely check it out before you make any major moves.
How'd we determine the most dangerous places in Red Sox country? We consulted the numbers. In total, we analyzed 239 cities. We looked at the FBI's latest crime report for violent crime and property crime statistics for every place with over 5,000 residents. We discovered that Massachusetts has some pretty interesting statistics when it comes to violent and property crime compared to the national average. The state is winning the arson game, but losing in murder and aggravated assault. And, shockingly, the city with the most assaults and murders in the state only has 13,000 residents.
While Massachusetts was not in the top ten most dangerous states in the country, Springfield is one of the most dangerous cities in the country. And if we were handing out the "Most Dangerous New England State" award, word on the street is that Massachusetts would be number one. Maybe Massachusetts' just needs a hug? Or, maybe the state's most dangerous cities need more police presence. We're not entirely sure; but one thing we do know is that you should check out Massachusetts' most dangerous places below: there may be some surprises.
The 10 Most Dangerous Places To Live In Massachusetts For 2021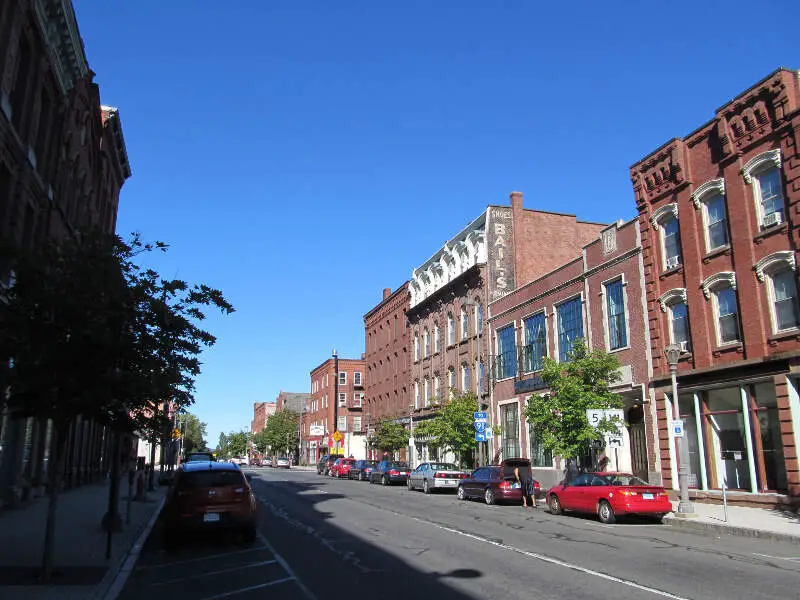 For the third year running, Holyoke takes the top spot on our list of Massachusetts' most dangerous cities. Situated just north of Springfield, between the Connecticut River and the Mount Tom Range, Holyoke seems to be in a nice area.
But don't let that fool you because the total crime rate in Holyoke is three times higher than the statewide average.
Folks in Holyoke had a 1 in 26 chance of being the victim of a property crime in 2019, so keeping your doors locked and your eye on your valuables is paramount here.
On top of that, Holyoake averaged just under one violent crime per day, with the ninth highest rate of rape cases and sixth highest murder rate in Massachusetts.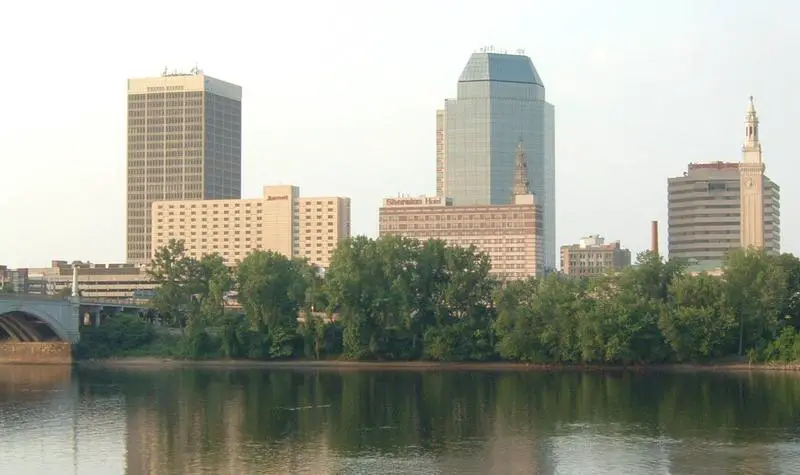 Source: Public domain
Springfield is home to both America's largest handgun producer, Smith & Wesson, and beloved children's book author and illustrator Dr. Seuss.
Ultimately, the Smith & Wesson side of Springfield shines brighter, considering the city had the highest violent crime rate in Massachusetts. Springfield had the third highest murder rate statewide, reporting 20 murders in 2019.
Overall, Springfield residents had a 1 in 110 chance of being the victim of a violent crime over the year, so nobody will blame you for being a bit guarded here.
You'll also want to lock your doors in Massachusetts' 2nd biggest city because Springfield also had the fifth highest burglary rate in the state.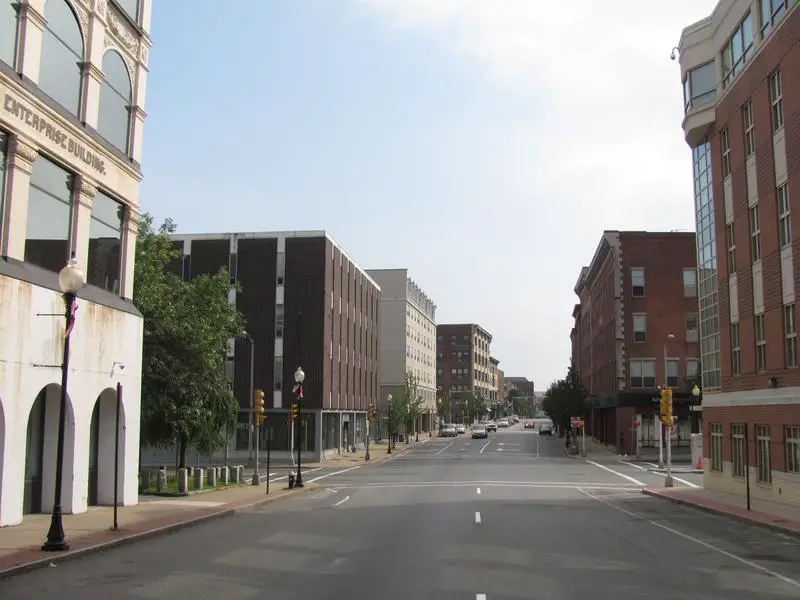 Situated about 25 miles south of Boston, Brockton comes in as the third most dangerous place to call home in Massachusetts.
Brockton had the fourth highest violent crime rate in the state, recording 782 such crimes over 2019.
While property crime in Brockton didn't rank in the top ten this year, the city still had a high rate of car thefts, reporting 288 cars stolen over the year. All the more reason to lock your car in secluded areas, like when you're going for a walk at Ames Nowell State Park.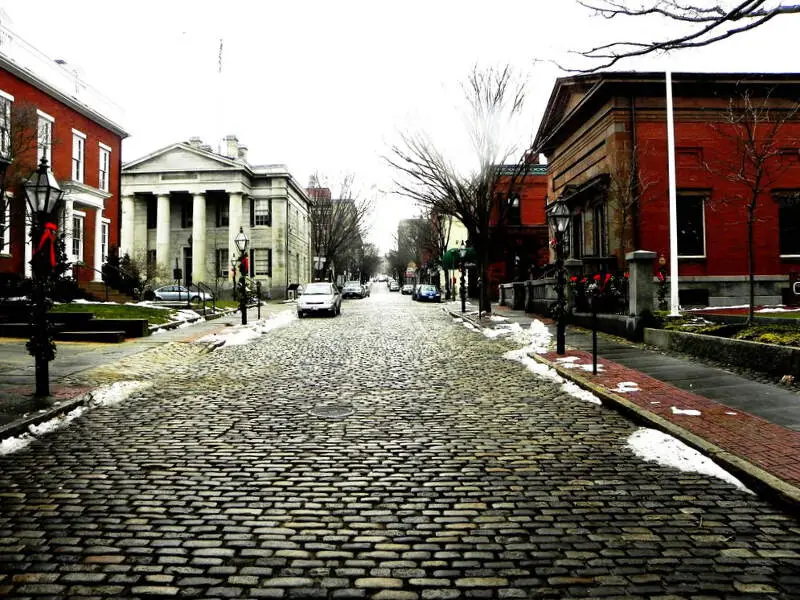 New Bedford is known as The Whaling City, but now that slaughtering whales is kind of frowned upon, residents have had to find new outlets for savagery.
That's where high crime rates come in. New Bedford experienced 383 aggravated assaults in 2019, just about one for every day of the year, on average.
Additionally, it would be best if you always double-checked that your home is adequately secured in New Bedford because the city had the fourth highest burglary rate in Massachusetts.
New Bedford is located in Bristol County in the South Coast region of Massachusetts.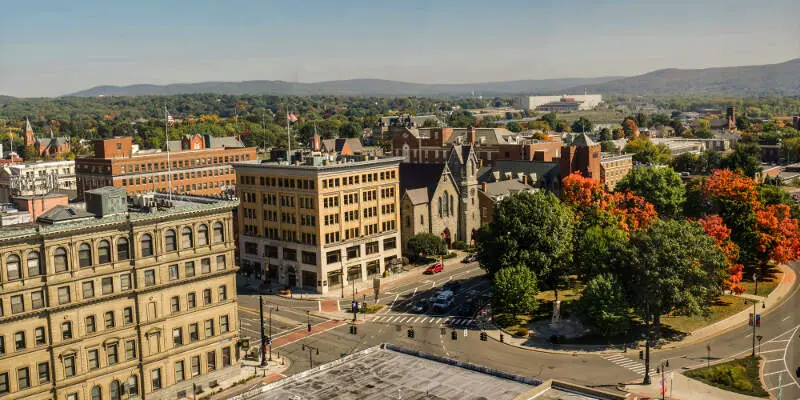 Pittsfield is the largest city and county seat of Berkshire County and the fifth most dangerous place in Mass.
Pittsfield had about five burglaries per week in 2019, giving the city of 42,268 the second highest burglary rate in the state. We just hope nobody tries to pull a heist on the local Berkshire Museum.
Violent crime in Pittsfield is an even bigger problem. Throughout 2019, residents had a 1 in 140 shot of being robbed, raped, assaulted, or murdered.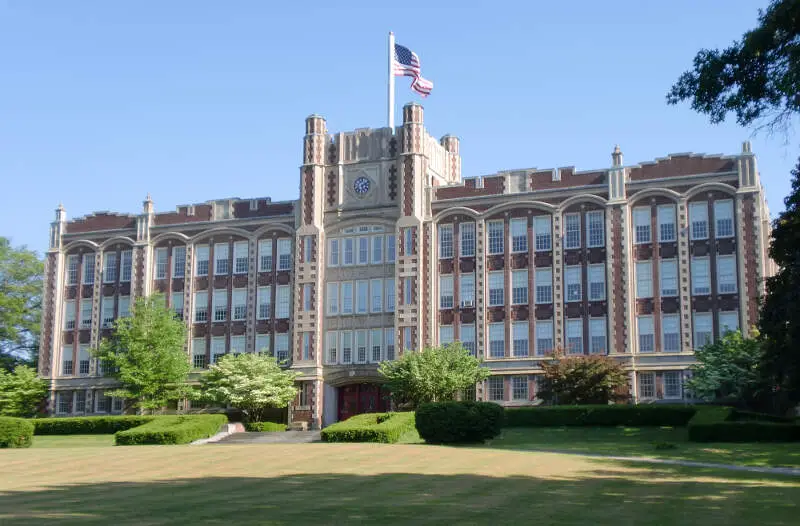 Located smack dab in the middle of Holyoke and Springfield, Chicopee location doesn't do it any favors, vis a vis crime. When it comes to violent crime, Chicopee isn't nearly as bad as the cities it borders, but the property crime rate is almost as high.
Chicopee had 971 larceny cases in 2019, so it's good practice to make sure you still have all your valuables after a picnic at Chicopee Memorial State Park.
And while violent crime isn't as bad as some other cities you'll see here, Chicopee still averaged just about one violent crime per day in 2019.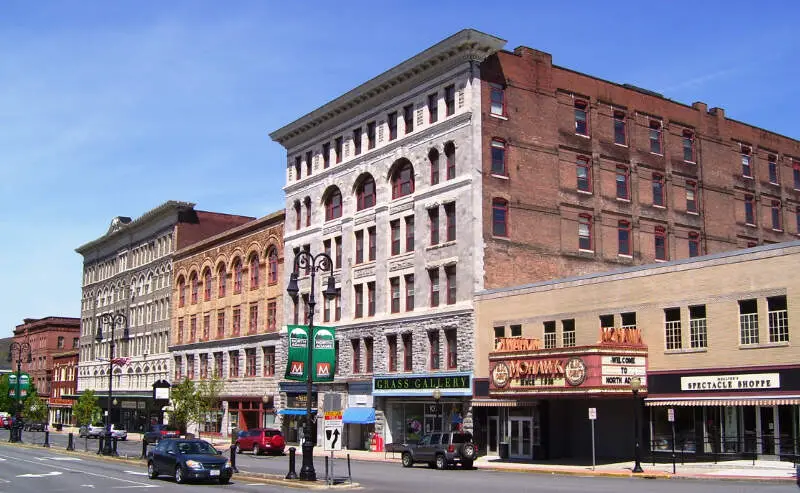 North Adams is a city of 12,800 in Berkshire County in western Massachusetts. Known as a center for tourism, culture, and recreation, North Adams is also starting to be recognized as quite a dangerous place.
For example, North Adams had the highest burglary rate in the state, recording 88 break-ins in 2019. We can only pray they have enough security at the Massachusetts Museum of Contemporary Art, the largest museum of its class in the country.
While violent crime as a whole is relatively low in North Adams, the city did have the unfortunate distinction of having the seventh highest rate of rape cases in the state.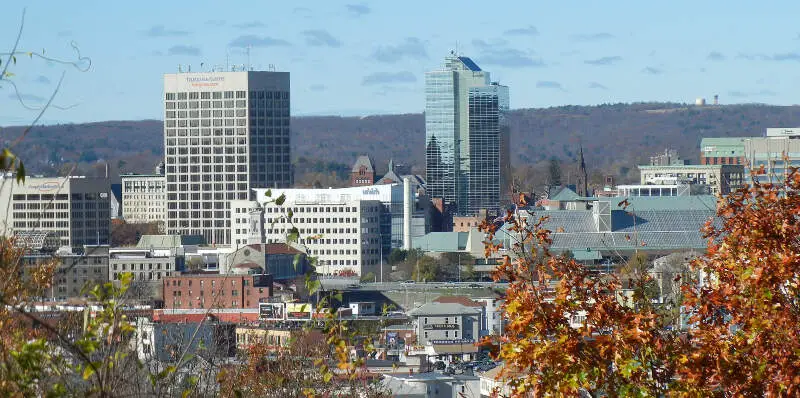 Known as the "Heart of the Commonwealth" for its central-Massachusetts location, Worcester is the second biggest city in New England and the state's eighth most dangerous city.
Worcester had about one murder per month in 2019, giving it the 12th highest murder rate statewide. And that represents just a small portion of the 1,165 violent crimes reported over the year.
On top of that, Worcester averaged about ten property crimes per day in 2019, so you'll want to double-check your pockets and purses after a day out at Green Hill Park.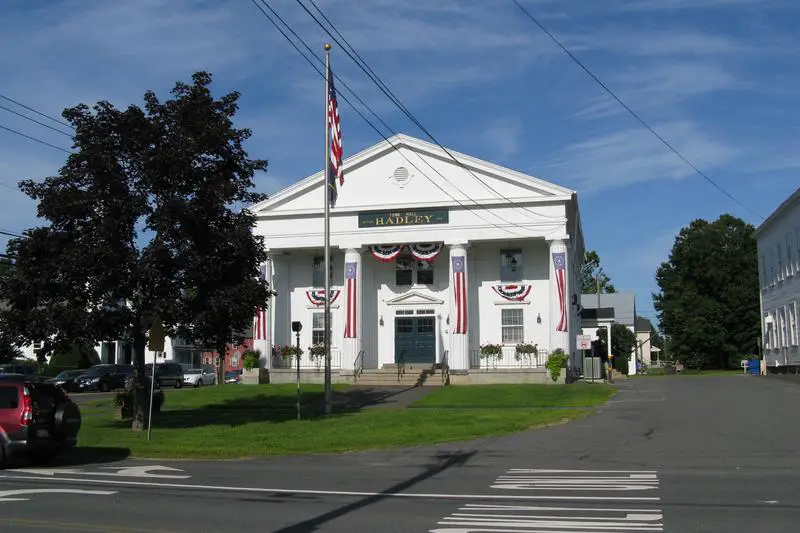 Located some 20 miles north of Springfield, Hadley is Massachusetts' ninth most dangerous place.
Hadley is a town of 5,358, making it the smallest spot on this list. But if you thought small towns were automatically safer, think again.
Hadley had the highest rate of rape cases in the state, accounting for 25% of all violent crimes committed over the year.
Add to that the third highest property crime rate in Mass, and you've got a recipe for a busy workload for the Hadley Police Department.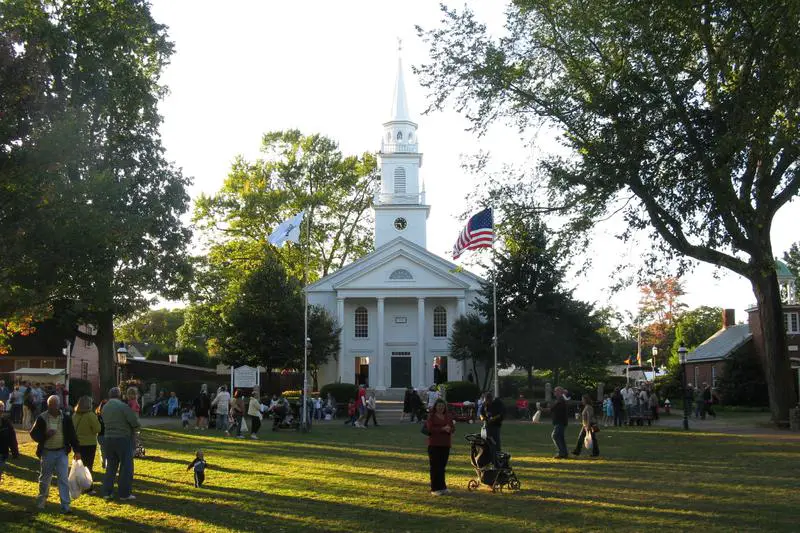 Located across the Connecticut River from Springfield, West Springfield ranks as the tenth most dangerous city in Massachusetts.
While the violent crime rate in West Springfield doesn't hold a candle to Springfield, property crime is nearly as bad here. In fact, with the second highest property crime rate, West Springfield's overall crime rate ranks as the second highest in Massachusetts.
That includes 814 larceny cases and 54 car thefts, or just about one per week. Someone needs to stage a production of "Crime and Punishment" at the Majestic Theater, so the city can begin its path to redemption.
Graphing The Most Dangerous And Safest Places In Massachusetts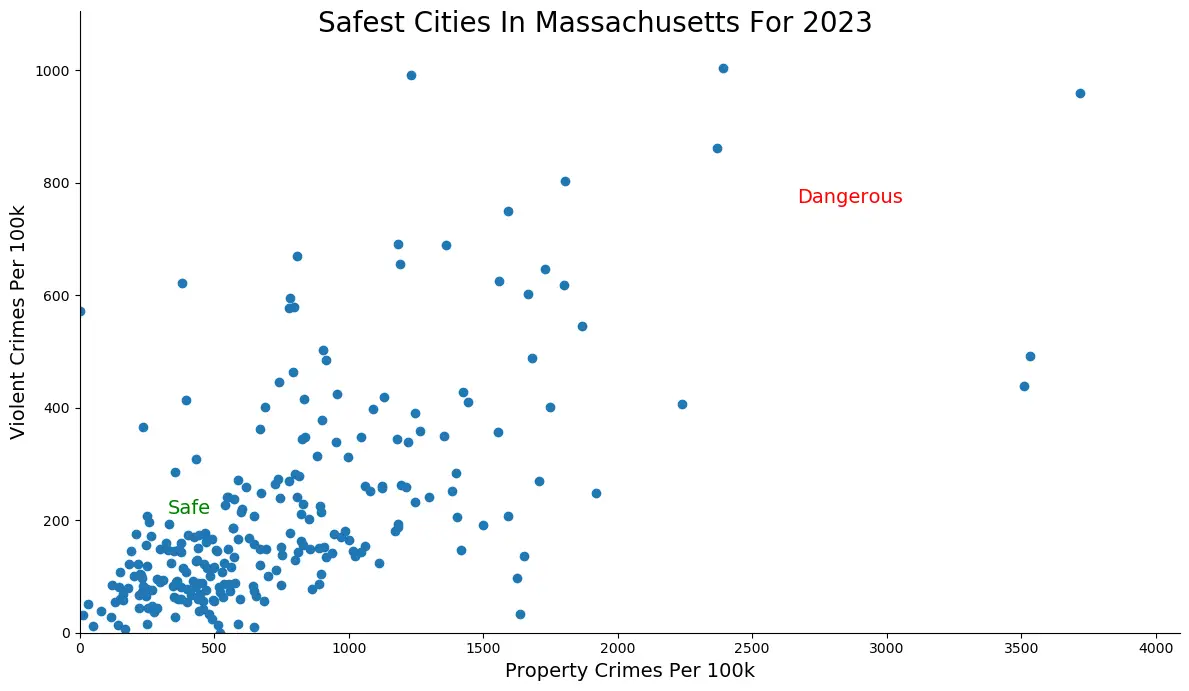 Click To Enlarge
How we determined the most dangerous cities in Massachusetts for 2021?
Every year the FBI release two crime datasets, a preliminary dataset limited to the biggest cities in the country, followed by a more detailed release at the end of the year.
For our analysis, we focused on the JUST released 2019 data, specifically the 2019 Crime In The United States Report. We will update the results when data becomes available in September 2021.
So what criteria did we use? Have a look:
Violent Crimes Per Capita
Property Crimes Per Capita
In order to make the analysis as apples to apples as possible, we only considered Massachusetts cities over 5,000 in population. That left us with 239 cities in Massachusetts.
We then ranked each city from 1 to 239 for the two criteria with a #1 ranking being the most dangerous for the particular criteria.
Next, we averaged the two rankings into one "Dangerous Index".
Finally, we ranked every city on the "Dangerous Index" with the lowest index being the most dangerous in Massachusetts — Holyoke. Any ties went to the smaller city. You can download the data here.
Read on for a detailed look at the 10 most dangerous cities in Massachusetts.
Locking It All Up In Massachusetts
So what is the most dangerous city in Massachusetts? After analyzing 239 cities in Massachusetts, Holyoke takes the top spot as the most dangerous city in Massachusetts based on the most recently reported FBI data — 2019.
The latest FBI crime data shows that Holyoke ranks as the most dangerous city in Massachusetts for 2021.
We want to point out again that there's still safes places in Holyoke and that this isn't a comment on the people that live there. So please don't beat us up.
If you guessed that most of Massachusetts' problems are centered around many of the state's biggest cities, you guessed right. Surprisingly, however, the state's most dangerous city is not one of the state's most populated.
So, where is the most dangerous place in The Baked Bean State? The most dangerous place in Massachusetts would be Holyoke.
If you want to know where the rest of Massachusetts' most dangerous cities are located, take a look below. And if you don't find what you're looking for there, head to the bottom.
Learn more about the safest places in Massachusetts.
If you're looking for something more national, check out the most dangerous cities in America or the most dangerous states in America.
Here are the safest cities in Massachusetts:
Merrimac (Pop. 7,001)
Groveland (Pop. 6,846)
Dover (Pop. 6,118)
Clinton (Pop. 13,964)
Norfolk (Pop. 11,992)
Hopkinton (Pop. 18,585)
Boxford (Pop. 8,352)
Wenham (Pop. 5,295)
Franklin (Pop. 33,149)
Wayland (Pop. 13,891)
For more Massachusetts reading, check out:
The Most Dangerous Cities In Massachusetts
| Rank | City | Population |
| --- | --- | --- |
| 1 | Holyoke | 40,178 |
| 2 | Springfield | 154,306 |
| 3 | Brockton | 95,287 |
| 4 | New Bedford | 94,613 |
| 5 | Pittsfield | 42,268 |
| 6 | Chicopee | 55,293 |
| 7 | North Adams | 12,800 |
| 8 | Worcester | 184,945 |
| 9 | Hadley | 5,358 |
| 10 | West Springfield | 28,628 |
| 11 | Chelsea | 40,496 |
| 12 | Greenfield | 17,464 |
| 13 | Wareham | 22,592 |
| 14 | Leominster | 41,631 |
| 15 | Dennis | 13,738 |
| 16 | Northampton | 28,735 |
| 17 | Webster | 16,925 |
| 18 | Fall River | 89,066 |
| 19 | Lynn | 94,449 |
| 20 | Fitchburg | 40,621 |
| 21 | Everett | 47,195 |
| 22 | Haverhill | 63,935 |
| 23 | Southbridge | 16,826 |
| 24 | Lawrence | 80,243 |
| 25 | Lowell | 111,423 |
| 26 | Gardner | 20,628 |
| 27 | Cambridge | 119,908 |
| 28 | Marlborough | 39,673 |
| 29 | Fairhaven | 15,996 |
| 30 | Quincy | 94,113 |
| 31 | Salem | 43,443 |
| 32 | Montague | 8,298 |
| 33 | Revere | 53,654 |
| 34 | Leicester | 11,368 |
| 35 | Agawam | 28,736 |
| 36 | Framingham | 73,127 |
| 37 | Falmouth | 30,717 |
| 38 | Dartmouth | 34,035 |
| 39 | Adams | 8,028 |
| 40 | Orange | 7,643 |
| 41 | Holbrook | 10,990 |
| 42 | Yarmouth | 23,076 |
| 43 | Nantucket | 11,393 |
| 44 | Saugus | 28,378 |
| 45 | Barnstable | 44,032 |
| 46 | Malden | 60,746 |
| 47 | Palmer | 12,258 |
| 48 | Attleboro | 44,959 |
| 49 | Raynham | 14,322 |
| 50 | Ware | 9,804 |