Massachusetts is, by all accounts, a very special place in this country. You've got a ton of history and culture. Its residents are proud Americans with a rich sense of passion and purpose. Avid sports fans, and true-blood, die-hard folks, without whom, this nation wouldn't be the same.
Boston just might be America's finest city.
And then you have places like Brockton and Taunton. Some real pits.
Like all states, Massachusetts has its share of issues. We're not here to get into a debate with Massholes in terms of which city you think is best. We'll leave that to the comments. Instead, we'll approach this from another standpoint.
We're going to use science to tell us where the really bad places in the Bay State are to live. Because, data never lies, does it?
After analyzing the 39 most populous cities, we came up with this list as the 10 worst places in Massachusetts:
The 10 Worst Places To Live In Massachusetts For 2021
What? Where are these places you wonder? And before you get all riled up and say we're picking on small town America, that's not the case.
We understand there's a lot of good in every place.
However, according to data (which doesn't measure things like beauty and 'friendly people'), there are far better options in the state for making a place home. And the worst place to live in Massachusetts? That would be Brockton.
Read on below to see how we crunched the numbers and see how your city fared in 2021.
If you're looking for something more national, check out the worst cities in America or the worst states in America.
For more Massachusetts reading, check out:
The 10 Worst Places To Live In Massachusetts For 2021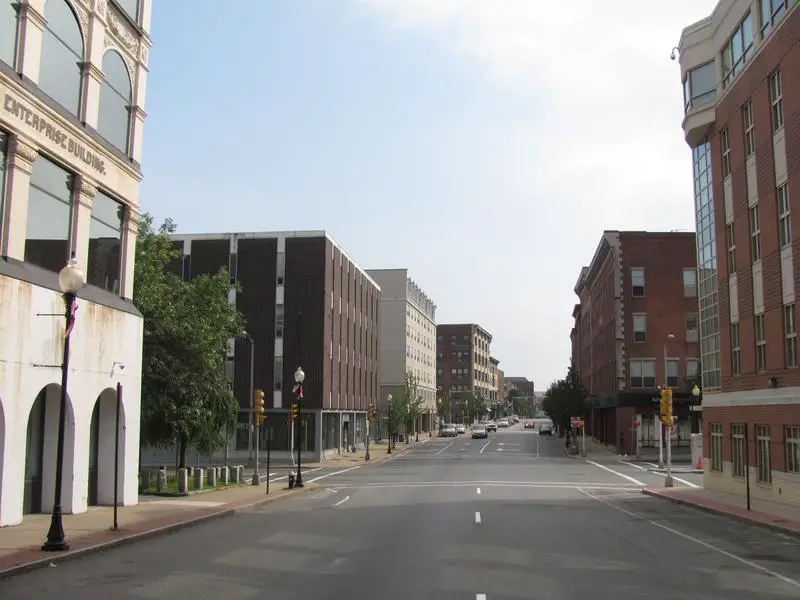 Brockton gets credit for introducing the first department store Santa in the U.S., when a local store owner dressed up in 1890. So you have Brockton to blame for those long lines and crying kids in the mall every Christmas season.
There's more to cry about in Brockton these days than holiday anxiety. The city, located about a half hour south of Boston, ranks among the worst hometowns in Massachusetts.
This dubious distinction comes about as a result of several serious problems. The town suffers from a sluggish economy, an elevated crime rates, a questionable schools, and a high cost of living.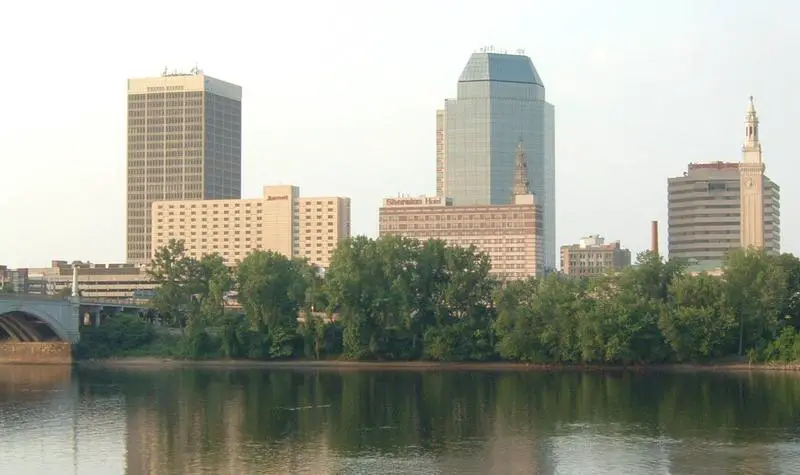 Source: Public domain
Every state has to have its Springfield, right? Well, this was the original one. The town, located in the southwestern part of the state, was first settled in 1636, becoming the first Springfield in the new world.
In fact, the town advertises itself as the "City of Firsts," with a number of important innovations coming out of the town. This includes the sport of basketball, which was invented in town by James Naismith in 1891.
This long and rich history doesn't do much for the 154,139 current residents of town. They struggle with an atrocious economy that leaves 26.9% of them below the poverty line. Even with these financial woes, the cost of living tracks 10% above the national average.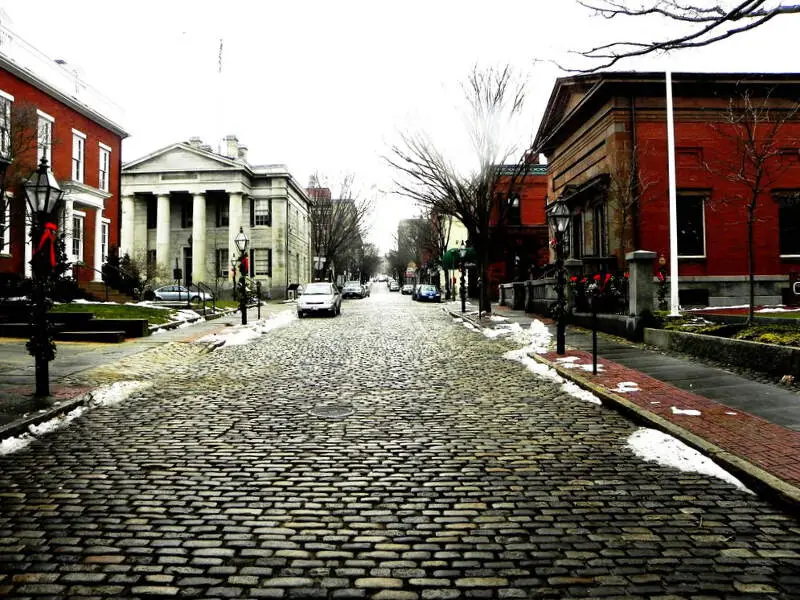 According to science, New Bedford is by far the worst place to live in the state of Massachusetts.
The unemployment rank is the third-highest in the state and residents here earn the sixth-lowest salaries in Massachusetts.
Plus, the big black eye for New Bedford: Crime. There are only three other cities in the state with a higher crime rate (Holyoke has the worst crime).
If you live in New Bedford, you can brag to your buddies at the bah that you have it rough, and they should buy you a bucket of Sam Adams.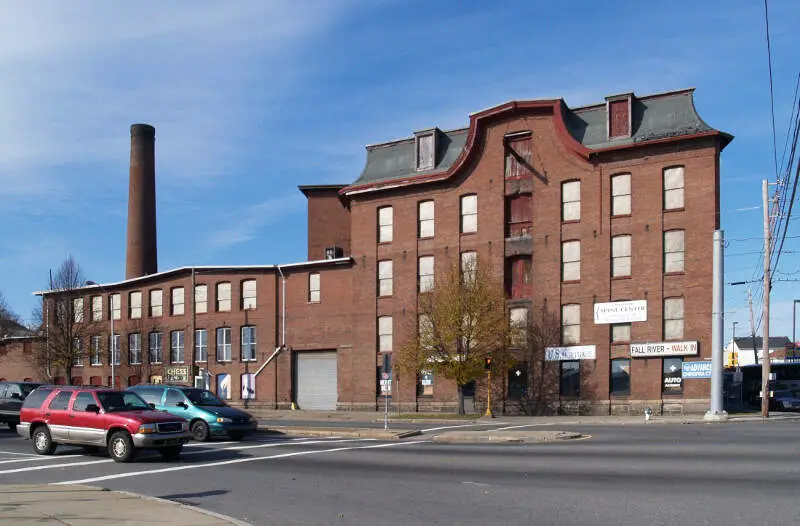 Source: Public domain
A coastal city located in the southern part of the state, Fall River ranks among the biggest cities in Massachusetts. The town's official motto is "We'll Try." Well, maybe they need to try harder.
Nearly a fifth of the city's 89,388 residents lives below the poverty line. At the same time, an underperforming education system and a high cost of living create additional challenges.
You do a get a lot of history in Fall River. For example, check out the Lizzie Borden Bed and Breakfast Museum to learn more about the town's most famous murder case.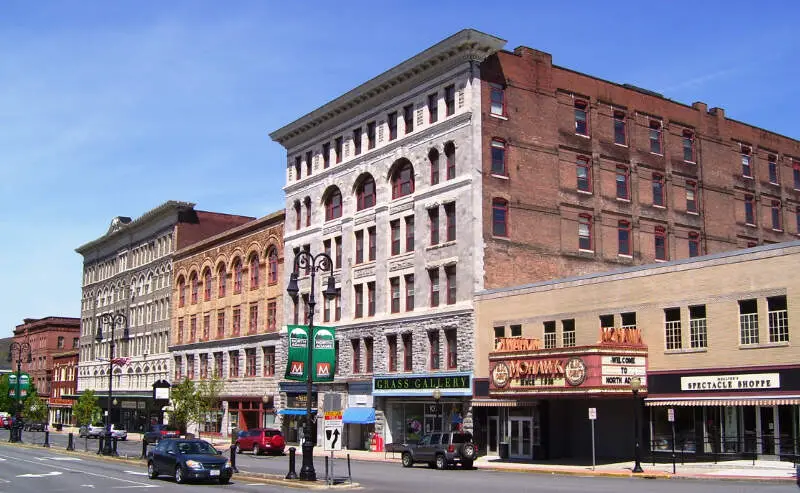 For a small town, North Adams has a large cultural imprint. Located in the far northwest part of the state, less than 10 minutes from Vermont's Green Mountain National Forest, the town might seem like a rural outpost. But it also contains the Massachusetts Museum of Contemporary Art, the biggest contemporary art museum in the country.
With these attractions, North Adams might seem like the best of both worlds. Unfortunately, it comes at a cost. A sluggish local economy keeps median incomes at $41,471 and leads to a poverty rate of 19.4%. Meanwhile, the town also has a high crime rate and a weak school system.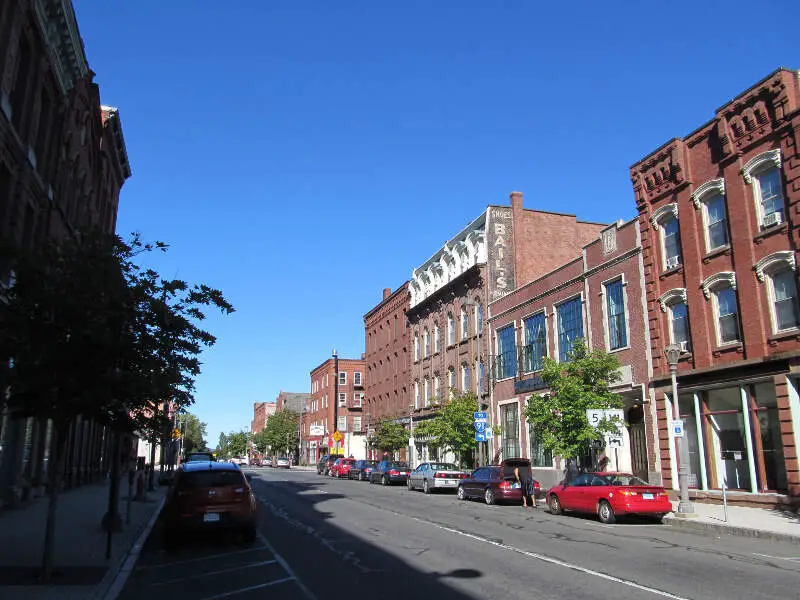 Are you way into volleyball? Want to check out the International Volleyball Hall of Fame? Well, then, you'll love a visit to Holyoke. You just won't want to stay very long.
Poverty ranks among the biggest problems for Holyoke's 40,241 residents. Nearly 30% of the locals scrape by below the poverty line, a fact that isn't helped by the area's high cost of living. At the same time, crime represents a major problem, with a crime rate more than 80% above the U.S. standard.
If you visit Holyoke, there's more to see than just the volleyball museum. You'll also have a chance to see dinosaur footprints nearby.

Source: Public domain
Chelsea sits along the Mystic River, facing Boston across the water. The nearby metropolis gives the local economy a boost. The community features an unemployment rate of 4.7% and a median income of $56,802.
However, other concerns land Chelsea on this list. Education is a concern, with most schools falling below a 5/10 score on Great Schools. The cost of living also makes it difficult for locals to pay their bills. Expenses run about 30% above the national average. The area sports a median home price of $350,800.
Besides access to Boston, the 39,992 residents of Chelsea get other benefits. The charming Bellingham Square Historic District provides a sample of the area's appeal.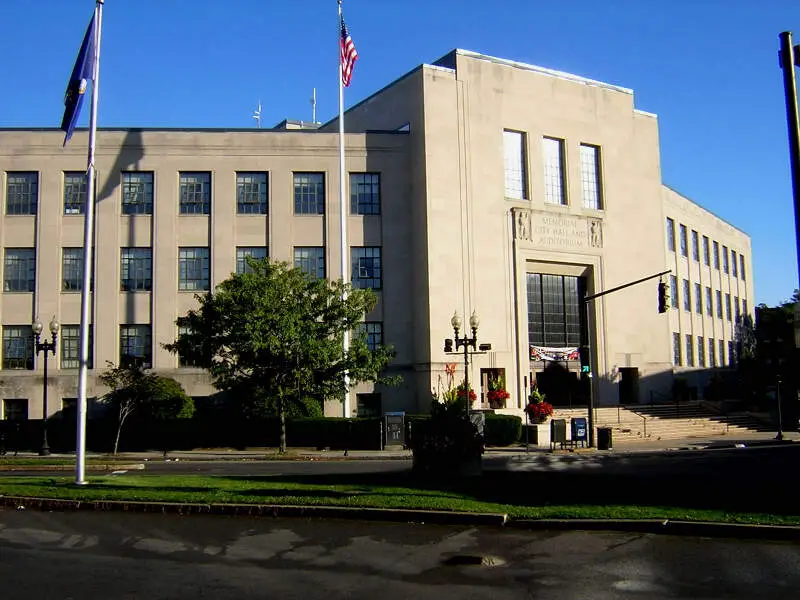 Lynn is a 20-minute train ride from Boston. Still, it represents more than a suburb. With 93,743 residents, it ranks among the most populous cities in the state all on its own.
While this provides locals with loads of amenities, it comes with big-city problems as well. For instance, competition for housing has pushed the median home price to $323,100. This is difficult to afford in an area with a median income of $56,181.
The good points of Lynn? Well, built along the coast, the town features excellent beachfront amenities, such as Nahant Beach. In town, you can get a taste of history at the Grand Army of the Republic Hall and Museum.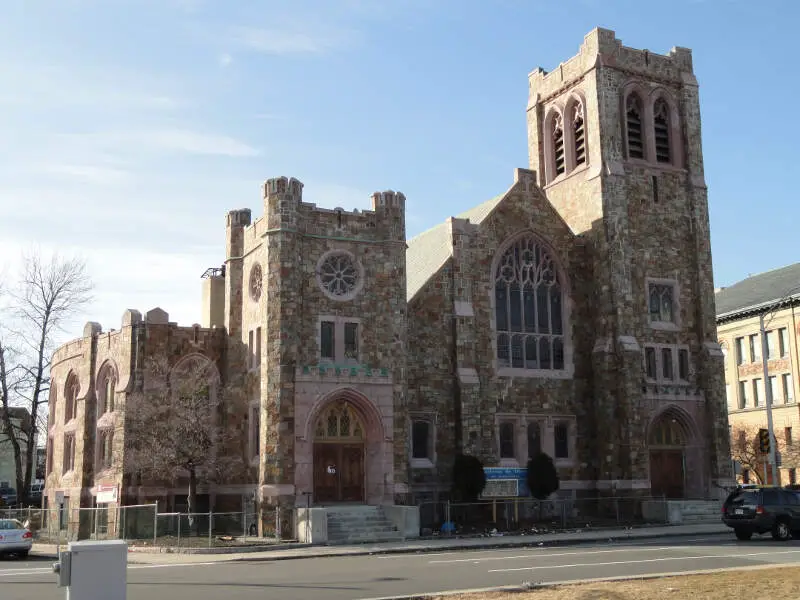 Source: Public domain
Lawrence is built along the Merrimack River in the northeastern part of the state, near the New Hampshire border. A couple hundred years ago, the area rose to prominence as an early manufacturing center. Those economic glory days are far in the past at this point. Now, a weak job market leaves Lawrence as one of the least appealing cities in Massachusetts.
With an unemployment rate of 9.3%, it's not surprising that more than one fifth of the town's residents live below the poverty line. Even with these hardships, the area remains expensive. The median home value in the region hovers at $271,100, compared to a median income of $44,613.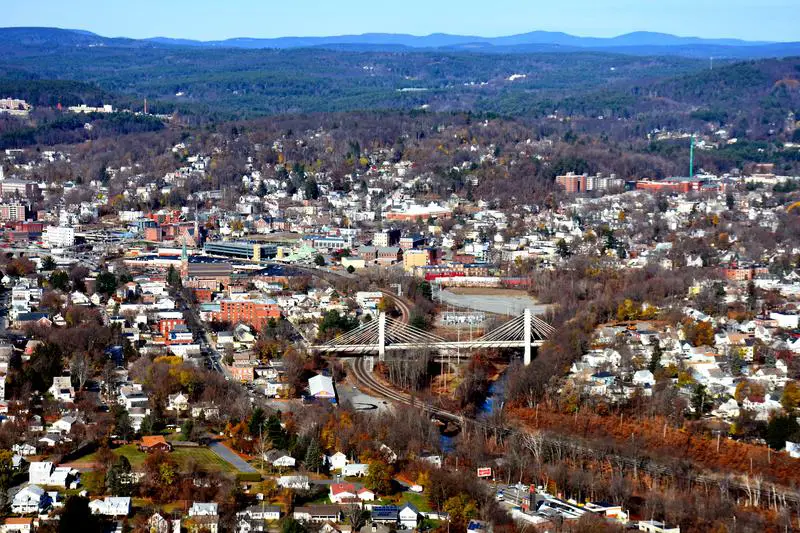 Located in a more rural part of the state, just south of the New Hampshire border, Fitchburg counts as a major population center in the region. As such, it exists as a local commercial and cultural center, with draws such as the Fitchburg Art Museum.
Still, you may want to think twice about moving to Fitchburg. The economy is sluggish, with an unemployment rate of 8.3%. At the same time, the cost of living runs 10% above the U.S. norm. The town's schools fall short of expectations as well, with none scoring better than a 6/10 on Great Schools.
How we determined the worst places to live in Massachusetts for 2021
To figure out how bad a place is to live in, we only needed to know what kinds of things people like and then decide what cities have the least amount of those things.
We don't think it's a stretch to assume that people like the following things:
Good education
Lots of jobs
Low crime
Low poverty
Nice homes
High incomes
High population density (Lots of things to do)
Short work commutes
Health insurance
The data comes from the Census's most recent American Community Survey and from the FBI Uniform Crime Report.
We broke crime down into violent crime and property crime to give violent crime a larger weight — if you did a simple calculation of all crimes per capita, property crimes are normally 7x more common and really bias that ranking.
Furthermore, only cities with at least 12,000 people were considered — leaving 39 cities.
We then ranked each city from 1 to 39 for all the criteria with a #1 ranking being the worst for the particular criteria.
Next, we averaged the rankings into one "Worst Place To Live Score".
Finally, we ranked every city on the "Worst Place To Live Score" with the lowest score being the worst city in Massachusetts — Brockton. Read on for a detailed look at the 10 worst cities in Massachusetts. You can download the data here.
This list is a scientific analysis based on real data and is completely unbiased.
Wrapping Up The Worst In Massachusetts
If you're looking at areas in Massachusetts with the worst economic situations, where there's higher than average crime, and not a lot to do, this is an accurate list.
And in the end, Brockton ranks as the worst city to live in Massachusetts for 2021.
If you're curious enough, here are the best cities to live in Massachusetts:
Woburn (Pop. 40,304)
Melrose (Pop. 28,113)
Newton (Pop. 88,593)
For more Massachusetts reading, check out:
Where Are The Worst Places To Live In Massachusetts?
| Rank | City | Population |
| --- | --- | --- |
| 1 | Brockton | 95,594 |
| 2 | Springfield | 154,139 |
| 3 | New Bedford | 95,239 |
| 4 | Fall River | 89,388 |
| 5 | North Adams | 12,959 |
| 6 | Holyoke | 40,241 |
| 7 | Chelsea | 39,992 |
| 8 | Lynn | 93,743 |
| 9 | Lawrence | 79,942 |
| 10 | Fitchburg | 40,702 |
| 11 | Leominster | 41,606 |
| 12 | Everett | 46,118 |
| 13 | Chicopee | 55,421 |
| 14 | Pittsfield | 42,766 |
| 15 | Worcester | 185,143 |
| 16 | Lowell | 111,306 |
| 17 | Revere | 53,692 |
| 18 | Boston | 684,379 |
| 19 | Taunton | 57,124 |
| 20 | Gardner | 20,610 |
| 21 | Haverhill | 63,533 |
| 22 | Marlborough | 39,736 |
| 23 | Malden | 60,984 |
| 24 | Quincy | 94,207 |
| 25 | Attleboro | 44,789 |
| 26 | Northampton | 28,516 |
| 27 | Salem | 43,252 |
| 28 | Westfield | 41,449 |
| 29 | Gloucester | 30,162 |
| 30 | Peabody | 52,906 |
| 31 | Somerville | 80,906 |
| 32 | Cambridge | 116,632 |
| 33 | Waltham | 62,777 |
| 34 | Medford | 57,637 |
| 35 | Newburyport | 18,077 |
| 36 | Beverly | 41,885 |
| 37 | Woburn | 40,304 |
| 38 | Melrose | 28,113 |
| 39 | Newton | 88,593 |
Editor's Note: This article is an opinion based on facts and is meant as infotainment. Don't freak out we updated this article for 2021. This is our seventh time ranking the worst places to live in Massachusetts.