This article is an opinion based on facts and is meant as infotainment. It is our seventh time ranking the most dangerous places to live in Washington and is updated for 2021.
Apparently there are more dangerous things in Washington than taking an elevator to the top of the Space Needle and/or getting caught on the Puget Sound during a storm: there are dangerous cities.
Yes, we have broken down the top ten most dangerous cities in Washington for 2021 and you can view them below.
Why did we produce this list? Well, we're trying to help one navigate these dangerous cities when trying to make an informed decision on what city they should call home. To compile our list, we looked at violent crimes and property crimes in cities with a population of 5,000. That left us with 110 cities. The type of danger we're talking about gets people on KOMO 4 at six. Folks, the cities that made our list have robberies happening in broad daylight, car jackings, and daily shootings. There are neighborhoods in these cities that you shouldn't drive thru, ever, and there are areas that you definitely shouldn't be in after dark.
We're not saying that there aren't little pockets of goodness in these Washington cities. There are neighborhoods and shopping centers in these cities that are working hard to make life easier. And it's not entirely Washington's fault that they have questionable cities. They are the 13th largest state in terms of population. As with most situations, there's bound to be problems with that many people.
To see where these Washington cities with more issues than The Olympian are located, take a look below at our most dangerous cities in The Evergreen State for 2021.
The 10 Most Dangerous Places To Live In Washington For 2021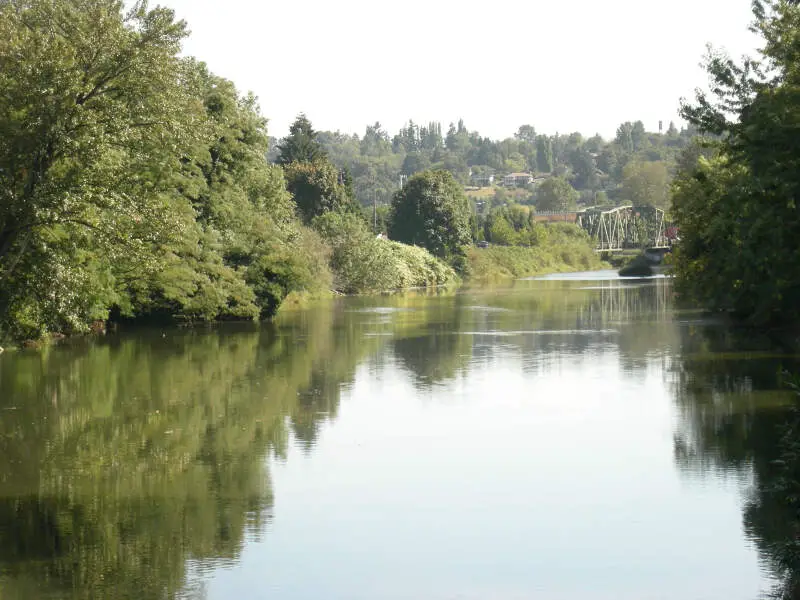 For the second year running, Tukwila sees itself our list of Washington's most dangerous places to live. It's not hard to see why, either; Tukwila had an overall crime rate nearly seven times higher than the national average — yikes.
Residents of Tukwila had a 1 in 6 chance of being the victim of a property crime in 2019. That includes a whopping 480 car thefts and 189 burglaries.
Violent crime isn't much better in Tukwila, the city with the fourth highest rate of rape cases in Washington. So while you can enjoy a day out at Crystal Springs Park, you'd be well-advised to bring a buddy and get home before dark.
With such high crime numbers, it's no wonder that Tukwila also topped our list of Seattle's worst suburbs.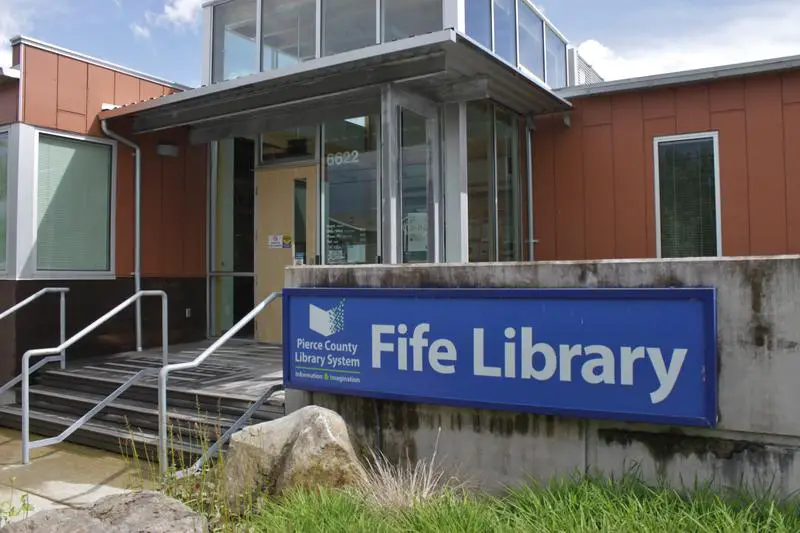 Up now is the city of Fife, a Tacoma suburb with a hefty crime problem. You'll have to guard your winnings closely after a big night at the local casino because Fife had the fourth highest property crime rate in Washington.
On top of all the burglaries and larcenies going down in Fife, there's also a lot of violent crime. The city of 10,324 experienced 1 murders in 2019, reflecting the seventh highest murder rate statewide.
In other words, if you're looking to move to one of Tacoma's best suburbs, steer clear of Fife.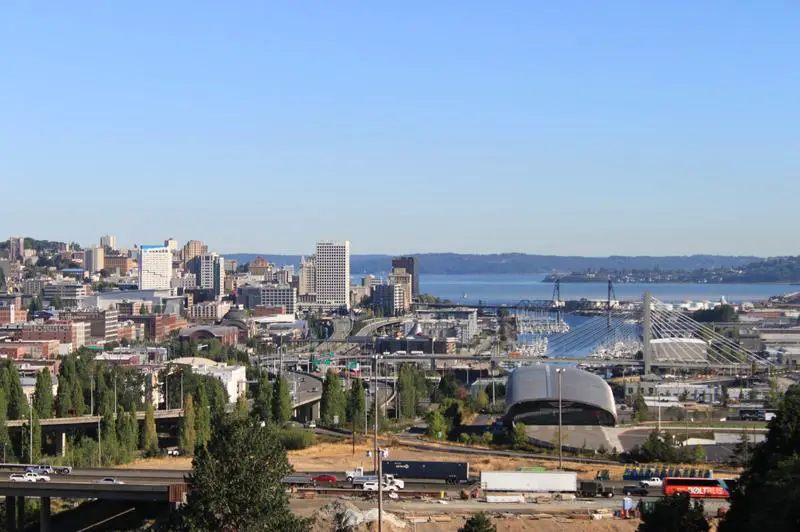 Tacoma was rated as one of the country's "most walkable cities" in 2006, but we think the local population might disagree, given all the crime that goes down here. In fact, you'd have to be downright defiant to go walking by yourself at Point Defiance Park.
That's because Tacoma had the highest violent crime rate in Washington, with residents facing 1 in 118 shot of being the victim of an attack in 2019. Violent crime is nearly three times as high in Tacoma as the rest of the country.
So keep your guard up in the City of Destiny, or you might be destined for a violent encounter.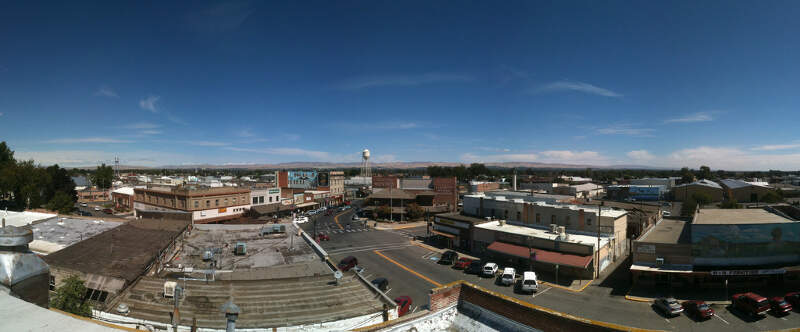 Located within the Yakama Indian Reservation, Toppenish comes in as Washington's fourth most dangerous place to call home.
Toppenish's low population inflates the impact of each crime, so much so that having just 1 murder in 2019 was enough to give the city the fourth highest murder rate in the state.
The burglary rate in Toppenish was also the second highest in Washington. Other types of property crime are also prevalent, but if you see buildings with spray paint on them, it's probably not graffiti — Toppenish is the City of Murals, after all.

Washington's 2nd most populous city, Spokane, is also its fifth most dangerous. To be fair, Spokane is a big city with plenty of safe neighborhoods, it's just that some areas still have a lot of work to do.
Residents of Spokane had a 1 in 16 chance of having their belongings stolen or damaged in 2019, so it's a good idea to check you still have all your valuables after a day out at Riverfront Park.
There were also 1,520 violent crimes reported for the year, so do keep your guard up in Spokane. On the bright side, Spokane fell a few positions on this list from last year, so hopefully, things continue to improve.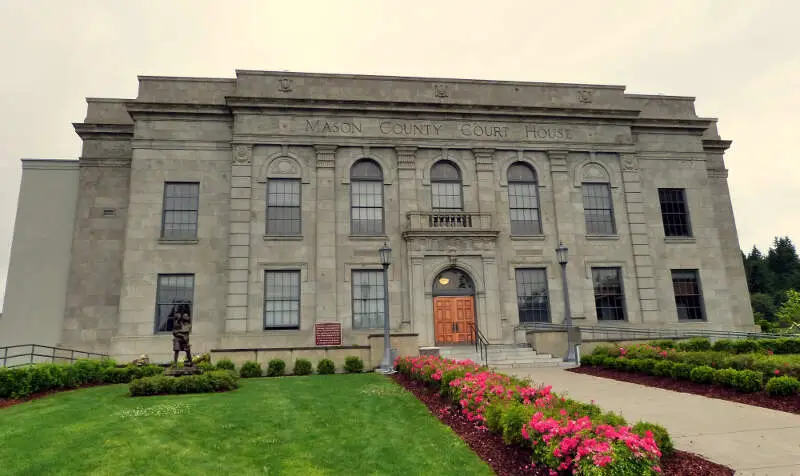 The westernmost city on Puget Sound, an healthy mix of property crime and violent crime contribute to Shelton's position on this list.
We already ranked Shelton among the worst places to live in Washington for things like high unemployment and poverty rates, but crime was the real deciding factor.
Shelton had the highest rate of rape cases in Washington in 2019 and experienced 583 count property crimes — quite high for a city of just 10,432.
If you're trying to get away from the mean streets of Shelton, at least you can go camping at nearby Jarrell Cove State Park. Bears are probably easier to deal with than Shelton's criminals anyway.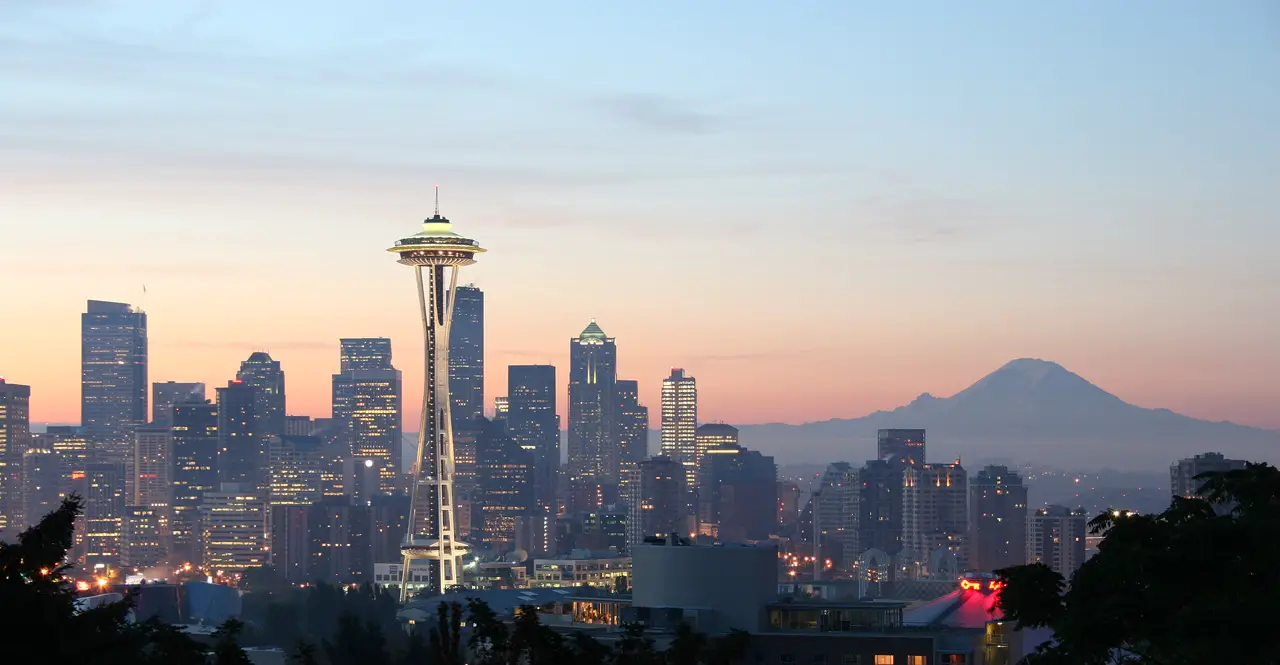 Source: Public domain
From the top of Seattle's Space Needle, the city might look quite peaceful, but there's a whole lot of crime going down in Washington's biggest city.
Seattle's not the sort of place you want to leave your home's doors unlocked, considering it had the fourth highest burglary rate in Washington. Same goes for your car, what with the 3,645 car thefts recorded in 2019.
On top of that, violent crime ranked as the seventh highest statewide, with one rape, four robberies, and seven aggravated assaults a day, on average. Oh, and two murders a month, for good measure.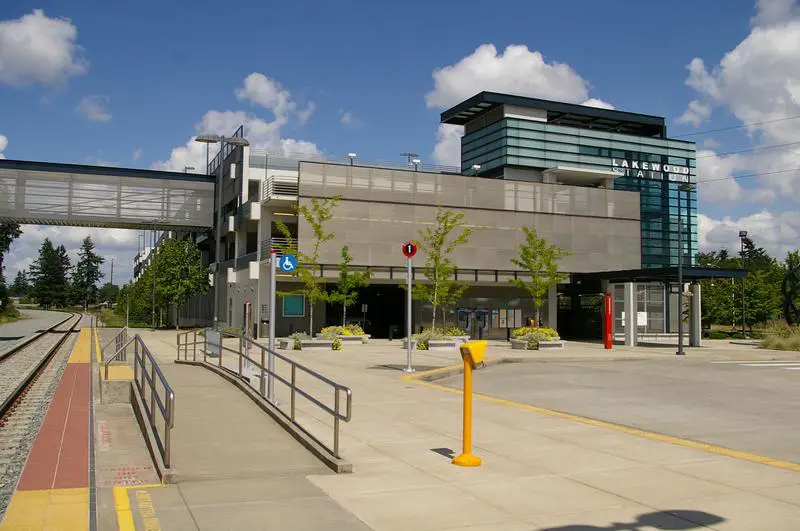 Located on the southwestern edge of Tacoma, Lakewood comes in as Washington's eighth most dangerous city.
There were 304 car thefts in Lakewood over the year, one of the higher rates on this list. We just hope nobody tries to pull a grand theft auto at America's Car Museum.
Violent crime is the bigger problem in Lakewood, though. Residents had a 1 in 132 chance of being the victim of an assault, murder, rape, or robbery in 2019.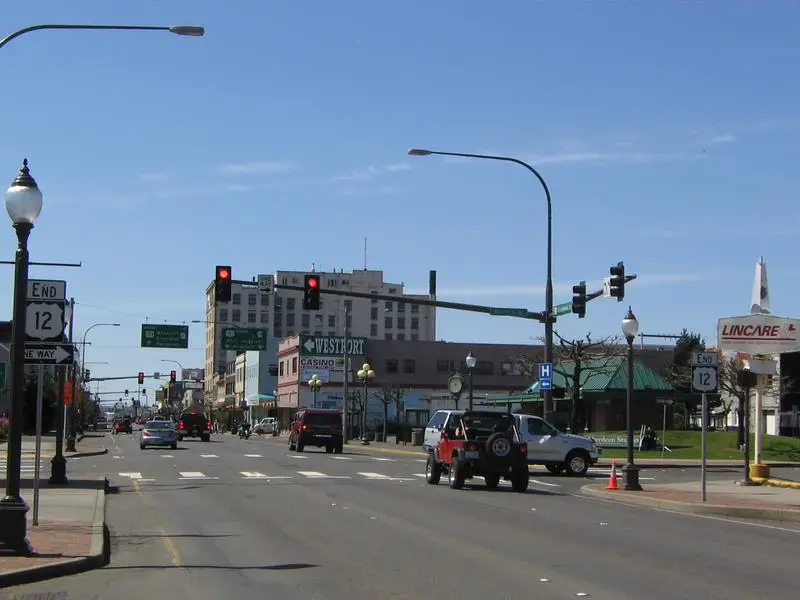 The economic hub of Grays Harbor County, Aberdeen's motto is "Come as You Are." I'd bet the city wishes people would stop coming as criminals, though.
Seriously, though, the city that raised Kurt Cobain has a lot to work on. Like having the third highest rate of rape cases in Washington. And the tenth highest burglary rate.
So while we don't know if Aberdeen smells like teen spirit, it certainly reeks of criminal spirit.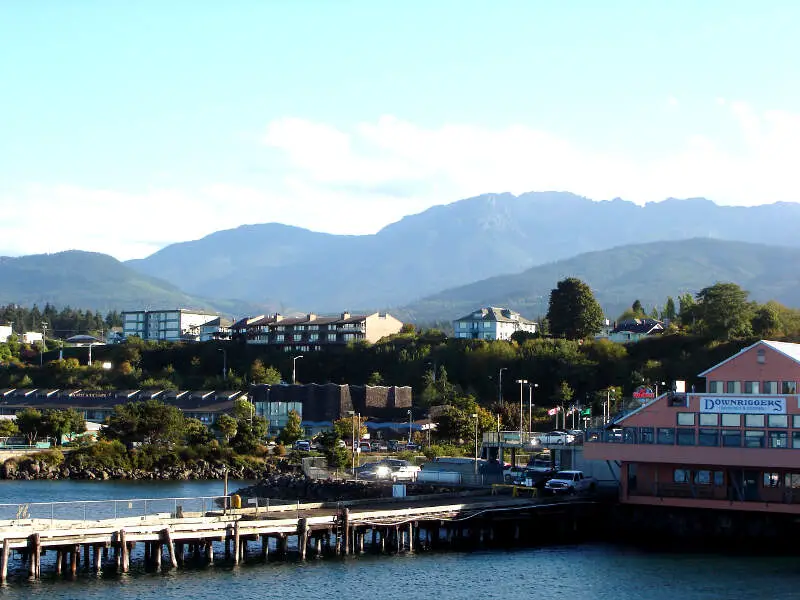 Located on the Olympic Peninsula, Port Angeles is a great city for outdoorsmen and women who want to live close to Olympia National Park.
As long as they're all right with higher than average crime numbers. Like the second highest rate of rape cases in Washington and a violent crime rate that ranks as the eighth highest statewide.
At least property crime isn't super prevalent here…relative to the other cities on this list, at least.
Graphing The Most Dangerous And Safest Places In Washington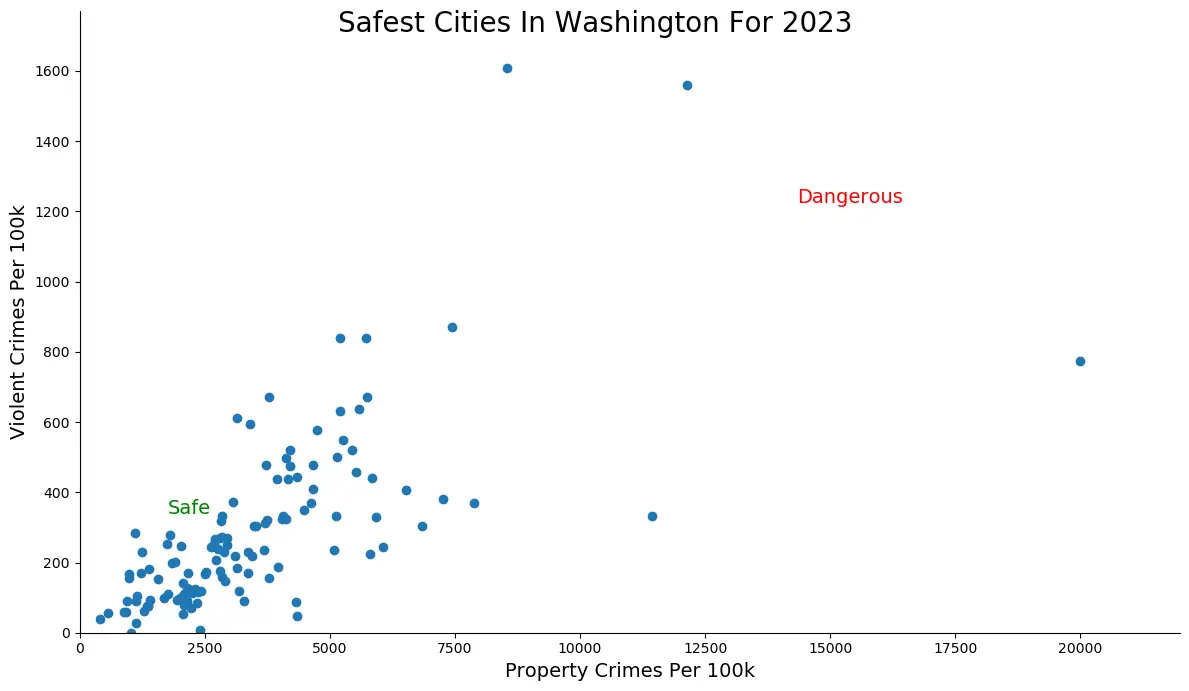 Click To Enlarge
How we determined the most dangerous cities in Washington for 2021?
Every year the FBI release two crime datasets, a preliminary dataset limited to the biggest cities in the country, followed by a more detailed release at the end of the year.
For our analysis, we focused on the JUST released 2019 data, specifically the 2019 Crime In The United States Report. We will update the results when data becomes available in September 2021.
So what criteria did we use? Have a look:
Violent Crimes Per Capita
Property Crimes Per Capita
In order to make the analysis as apples to apples as possible, we only considered Washington cities over 5,000 in population. That left us with 110 cities in Washington.
We then ranked each city from 1 to 110 for the two criteria with a #1 ranking being the most dangerous for the particular criteria.
Next, we averaged the two rankings into one "Dangerous Index".
Finally, we ranked every city on the "Dangerous Index" with the lowest index being the most dangerous in Washington — Tukwila. Any ties went to the smaller city. You can download the data here.
Read on for a detailed look at the 10 most dangerous cities in Washington.
Locking It All Up In Washington
So what is the most dangerous city in Washington? After analyzing 110 cities in Washington, Tukwila takes the top spot as the most dangerous city in Washington based on the most recently reported FBI data — 2019.
The latest FBI crime data shows that Tukwila ranks as the most dangerous city in Washington for 2021.
We want to point out again that there's still safes places in Tukwila and that this isn't a comment on the people that live there. So please don't beat us up.
What are the circumstances that make these Washington cities this way? Maybe not enough jobs, low wages, drugs, gangs, and in Washington's case, their mediocre NFL team?
We're not entirely sure. But one thing we are sure about is that the number one most dangerous city in Washington for 2021 is Tukwila.
So, if you don't really leave your house, a dangerous city should mean nothing to you. Maybe you should consider holing up in one of our top ten most dangerous cities in Washington for 2021.
To make the best choice, take a look at the list below. If you don't see a what you're looking for there, head to the bottom.
Learn more about the safest places in Washington.
If you're looking for something more national, check out the most dangerous cities in America or the most dangerous states in America.
Here are the safest cities in Washington:
East Wenatchee (Pop. 14,293)
Lake Forest Park (Pop. 13,690)
Mercer Island (Pop. 26,408)
Maple Valley (Pop. 27,705)
Snoqualmie (Pop. 14,183)
Camas (Pop. 24,388)
Bainbridge Island (Pop. 25,080)
Brier (Pop. 7,070)
Duvall (Pop. 8,244)
Sammamish (Pop. 66,820)
For more Washington reading, check out:
The Most Dangerous Cities In Washington
| Rank | City | Population |
| --- | --- | --- |
| 1 | Tukwila | 20,439 |
| 2 | Fife | 10,324 |
| 3 | Tacoma | 218,650 |
| 4 | Toppenish | 8,886 |
| 5 | Spokane | 220,432 |
| 6 | Shelton | 10,432 |
| 7 | Seattle | 763,706 |
| 8 | Lakewood | 60,916 |
| 9 | Aberdeen | 16,627 |
| 10 | Port Angeles | 20,207 |
| 11 | Puyallup | 42,509 |
| 12 | Sumner | 10,270 |
| 13 | SeaTac | 29,533 |
| 14 | Federal Way | 98,025 |
| 15 | Olympia | 53,286 |
| 16 | Kent | 131,003 |
| 17 | Port Orchard | 14,684 |
| 18 | Spokane Valley | 100,983 |
| 19 | Union Gap | 6,162 |
| 20 | Vancouver | 185,034 |
| 21 | Chehalis | 7,682 |
| 22 | Lynnwood | 38,847 |
| 23 | Centralia | 17,603 |
| 24 | Yelm | 9,741 |
| 25 | Renton | 103,452 |
| 26 | Burlington | 9,219 |
| 27 | Bremerton | 41,675 |
| 28 | Airway Heights | 9,545 |
| 29 | Burien | 52,388 |
| 30 | Walla Walla | 33,047 |
| 31 | Yakima | 94,168 |
| 32 | Everett | 112,302 |
| 33 | Ephrata | 8,253 |
| 34 | Sequim | 7,599 |
| 35 | Milton | 8,381 |
| 36 | Arlington | 20,043 |
| 37 | Kennewick | 84,072 |
| 38 | Kelso | 12,354 |
| 39 | Monroe | 19,630 |
| 40 | Des Moines | 32,708 |
| 41 | Bellingham | 91,906 |
| 42 | Tumwater | 24,167 |
| 43 | Longview | 38,282 |
| 44 | Ellensburg | 21,324 |
| 45 | Port Townsend | 9,780 |
| 46 | Gig Harbor | 10,931 |
| 47 | Woodland | 6,469 |
| 48 | Lacey | 51,816 |
| 49 | Sunnyside | 16,839 |
| 50 | Mount Vernon | 36,274 |