When you think of Washington, you normally think of Seattle, rain, and beautiful mountains.
What you don't normally think about are the potential stink holes that are around the mountains.
So we dug in and did the dirty work for you to figure out where the worst places to live are in the Evergreen State.
The following are the worst, not so evergreen places in Washington:
Where are these places, you wonder? And before you get all riled up and say we're picking on small towns in Washington, that's not the case.
We understand there's a lot of good in every place. For example, the best place to live in Washington is Mercer Island.
However, according to data (which doesn't measure things like beauty and 'friendly people'), the state has far better options for making a place home. And the worst place to live in Washington? The worst place to live in Washington is Shelton.
Read below to see how we crunched the numbers and how your city fared in 2023.
If you're looking for something more national, check out the worst cities in America or the worst states in America.
For more Washington reading, check out:
---
Table Of Contents: Top Ten | Methodology | Summary | Table
---
The 10 Worst Places To Live In Washington For 2023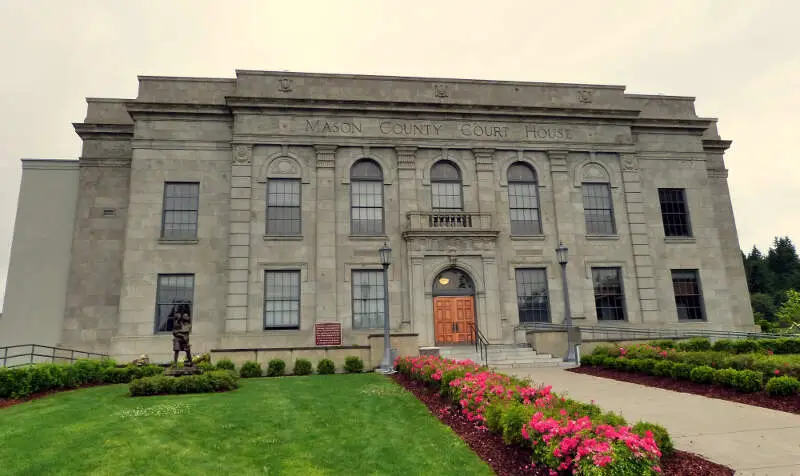 Built along Oakland Bay in the northwest portion of the state, Shelton sits on the same interconnected waterway as Tacoma and Seattle. However, the geography of the area leaves the town somewhat isolated, with an hour and a half drive necessary to travel to state's biggest metropolis.
The result? An economically limited community located in an otherwise picturesque part of the region. Sure, a quick ride will get you to the Olympic National Forest. That makes for a nice day trip…but day-to-day life stays a struggle.
As proof, just look at the poverty rate. Stats show that 24.5% of the town's 10,288 residents scrape by below the poverty line. Safety, education, and affordability present problems as well.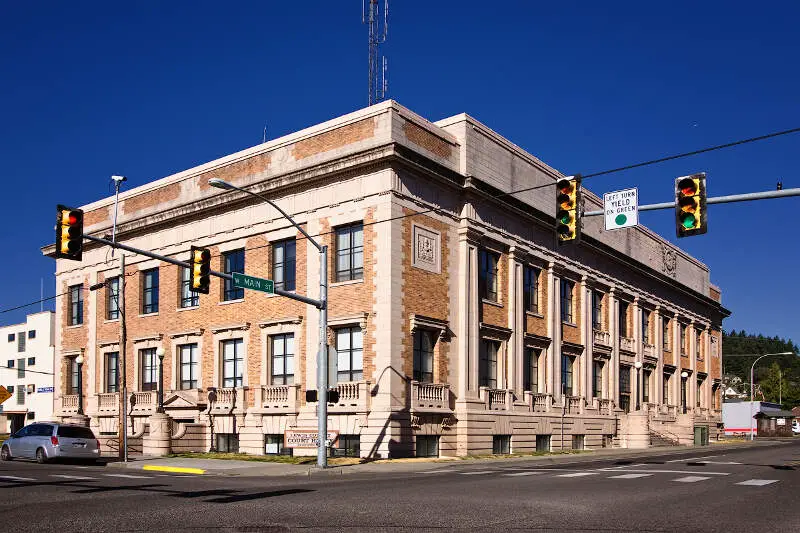 Chehalis started life as a railroad town. Now, it straddles I-5, on the road between Portland, Oregon, and the state capital of Olympia. That makes it a good spot to pump some gas and maybe grab a little fast food on your way out of town. But you might not want to stay very long.
The problem? Well, the economy in Chehalis leaves a lot to be desired, with an unemployment rate of 9.8%. At the same time, the crime rate tracks at more than double the U.S. standard.
There are some things to do in Chehalis. Head over to the Chehalis-Centralia Railroad & Museum to get a glimpse of those original railroad days.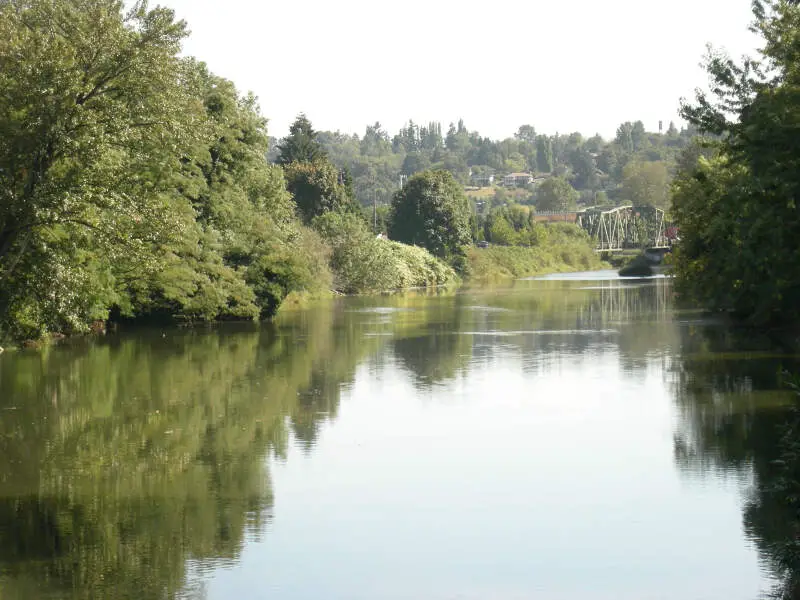 A sluggish economy and high housing costs haunt this southern suburb of Seattle. Despite the nearby city (a 15-minute drive takes you to the heart of the action), opportunities remain spotty in Tukwila. As a result, the unemployment rate sits at 7.1%.
This lack of jobs hasn't stopped financial pressures from Seattle from impacting real estate prices. The median home price in Tukwila comes to $373,200, a difficult mortgage to cover when the median income runs a level of $71,688.
Still, Tukwila has a lot to offer. Check out the Museum of Flight to get a hint at the attractions in town.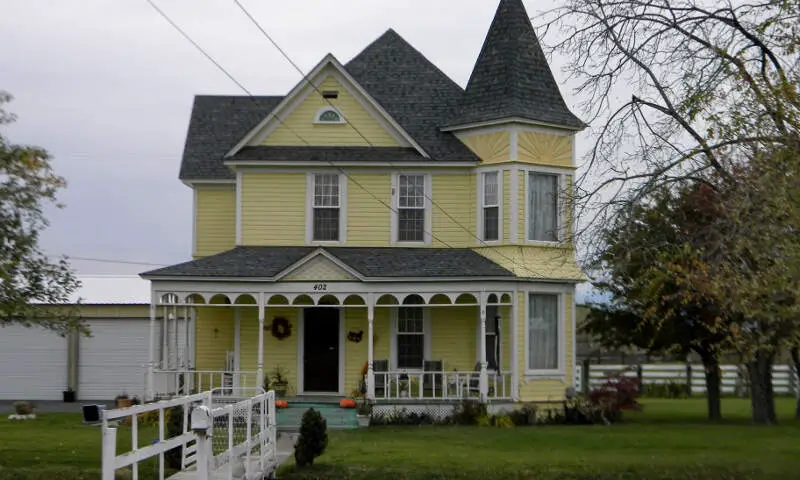 Sitting along I-82 in the south-central part of the state, Union Gap sits near the Yakima Indian Reservation. This makes it a key travel stopover, as well as a local cultural center, with attractions like the Central Washington Agricultural Museum.
Unfortunately, Union Gap is also the site of crippling poverty. About a quarter of the town's 6,499 residents get by below the poverty line. As you might guess, this limited tax base also impacts civil services. Crime runs almost 300% above the national averages and the local schools can't score better than a 6/10 on Great Schools.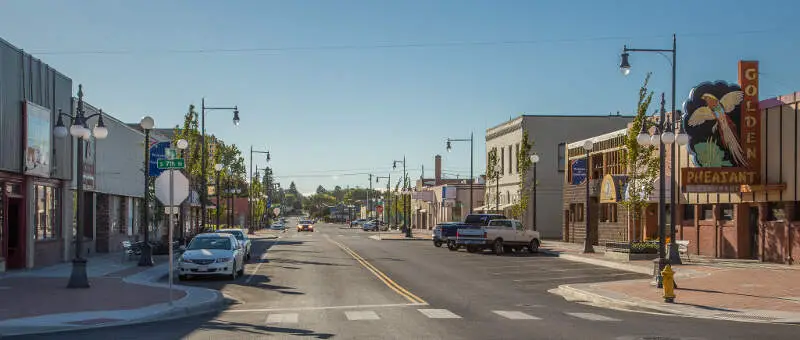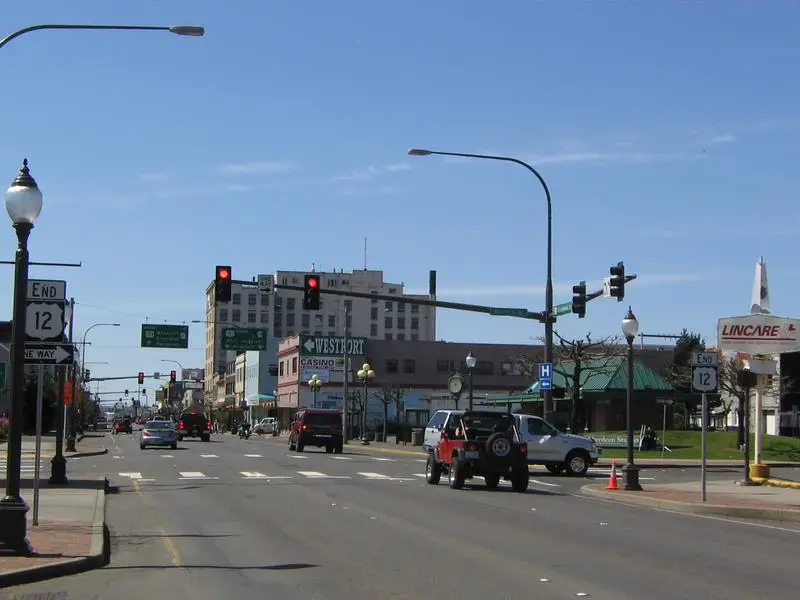 Aberdeen served as the birthplace of tragic rock star Kurt Cobain. Now that you know that bit of trivia, is it surprising that the place gets a little depressing?
Dependant on the timber and fishing industries, this coastal town in the northwest part of the state supports a lackluster economy. An elevated unemployment rate and a sluggish median income leaves nearly a quarter of the population below the poverty line. There are also issues related to high crime rates and underperforming schools.
Still, not everything in town calls for a Nirvana soundtrack. There are lots of parks, lovely waterfront scenary, and the Aberdeen Art Center. And, yes, you can head over to the Kurt Cobain Under the Bridge Memorial.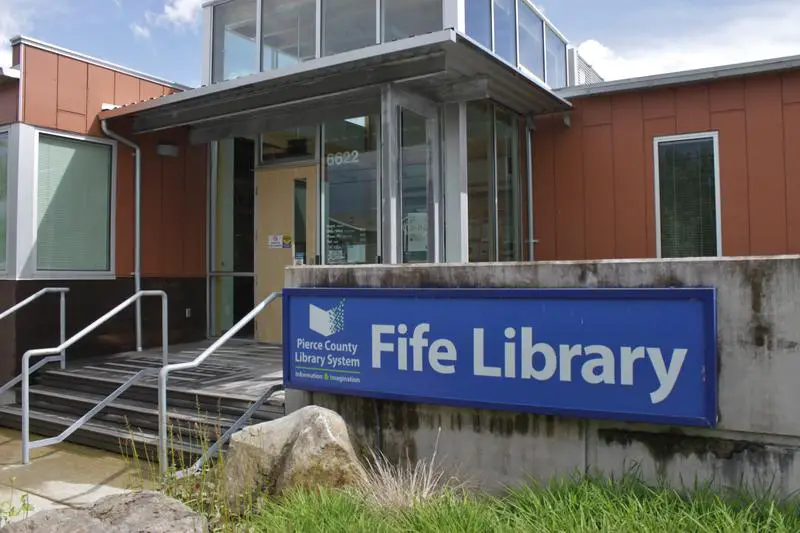 This suburb of Tacoma is located within the Puyallup Indian Reservation. Bucking the trend of most of the towns on this list, Fife actually supports a strong economy, with an unemployment rate of just 4.9% and a respectable $75,557 in median income.
So how did this thriving community end up as one of the worst locations in Washington? Two words: crime and affordability. The cost of living in the area runs 30% above the U.S. norm. Services, groceries and health care are all significantly more expensive than other parts of the state. The median home price comes in at $337,200.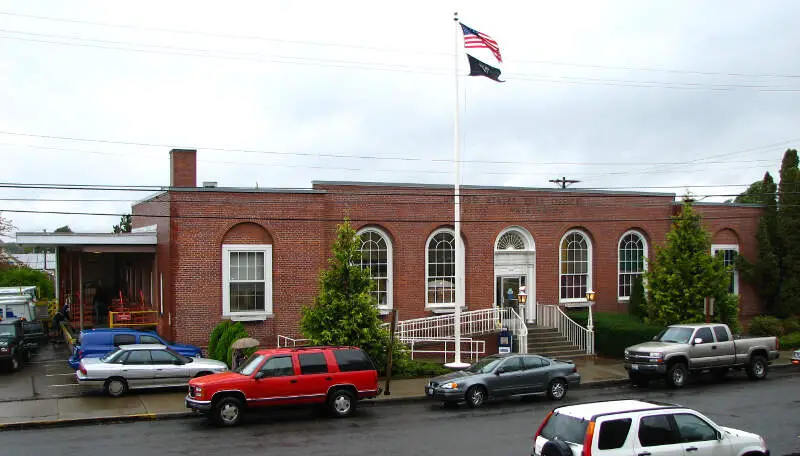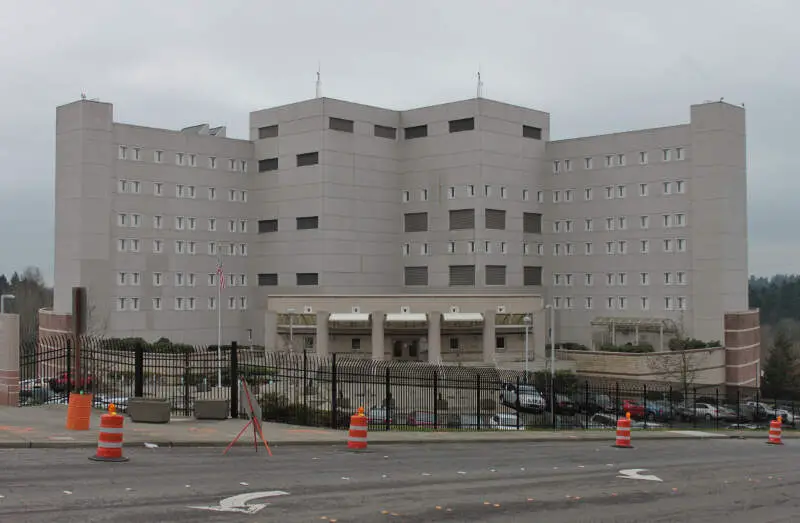 Methodology: How we determined the worst places to live in Washington for 2023
To figure out the worst places to live in Washington, we only needed to know what kinds of things people like and then decide what cities have the least amount of those things.
We don't think it's a stretch to assume that people like the following things:
Good education
Lots of jobs
Low crime
Low poverty
Nice homes
High incomes
High population density (Lots of things to do)
Short work commutes
Health insurance
The data comes from the Census's most recent American Community Survey and the FBI Uniform Crime Report.
We broke crime down into violent crime and property crime to give violent crime a more significant weight. If you did a simple calculation of all crimes per capita, property crimes are typically 7x more common and bias that ranking.
Furthermore, only cities with at least 5,000 people were considered — leaving 120 cities.
We then ranked each city from 1 to 120 for all the criteria, with a #1 ranking being the worst for the particular criteria.
Next, we averaged the rankings into one "Worst Place To Live Score."
Finally, we ranked every city on the "Worst Place To Live Score," with the lowest score being the worst city in Washington — Shelton. Read on for a detailed look at the ten worst cities in Washington.
Editor's Note: This article is an opinion based on facts meant as infotainment. We updated this article for 2023. This is our tenth time ranking the worst places to live in Washington.
Summary: Wrapping Up The Worst In Washington
If you're looking at areas in Washington with the worst economic situations, where there's higher than average crime and little to do, this is an accurate list.
And in the end, Shelton ranks as the worst city to live in Washington for 2023.
If you're curious enough, here are the best cities to live in Washington:
Sammamish (Pop. 66,532)
Lake Forest Park (Pop. 13,529)
Mercer Island (Pop. 25,506)
For more Washington reading, check out:
Worst Places To Live In Washington?
| Rank | City | Population |
| --- | --- | --- |
| 1 | Shelton | 10,288 |
| 2 | Chehalis | 7,427 |
| 3 | Tukwila | 21,545 |
| 4 | Union Gap | 6,499 |
| 5 | Sunnyside | 16,343 |
| 6 | Aberdeen | 16,842 |
| 7 | Fife | 10,869 |
| 8 | Kelso | 12,566 |
| 9 | Airway Heights | 10,108 |
| 10 | SeaTac | 30,867 |
| 11 | Toppenish | 8,843 |
| 12 | Centralia | 17,988 |
| 13 | Lakewood | 62,972 |
| 14 | Woodland | 6,368 |
| 15 | Ephrata | 8,348 |
| 16 | Kent | 134,890 |
| 17 | Auburn | 85,306 |
| 18 | Yakima | 96,266 |
| 19 | Burien | 51,646 |
| 20 | Grandview | 10,894 |
| 21 | Federal Way | 99,792 |
| 22 | Burlington | 9,220 |
| 23 | Tacoma | 217,332 |
| 24 | Sumner | 10,545 |
| 25 | Prosser | 6,061 |
| 26 | Des Moines | 32,631 |
| 27 | Bremerton | 43,345 |
| 28 | Puyallup | 42,366 |
| 29 | Hoquiam | 8,700 |
| 30 | Pasco | 76,398 |
| 31 | Vancouver | 188,331 |
| 32 | Port Angeles | 19,888 |
| 33 | Moses Lake | 24,764 |
| 34 | Sultan | 5,208 |
| 35 | Ocean Shores | 6,637 |
| 36 | Port Orchard | 15,315 |
| 37 | Yelm | 10,205 |
| 38 | Clarkston | 7,164 |
| 39 | Everett | 110,438 |
| 40 | Longview | 37,542 |
| 41 | Mount Vernon | 34,824 |
| 42 | Kennewick | 83,082 |
| 43 | Othello | 8,470 |
| 44 | Lynnwood | 38,812 |
| 45 | Spokane | 225,709 |
| 46 | Ellensburg | 19,215 |
| 47 | Sedro-Woolley | 12,266 |
| 48 | Walla Walla | 33,765 |
| 49 | Spokane Valley | 102,178 |
| 50 | Cheney | 12,743 |
| 51 | Sequim | 7,896 |
| 52 | Olympia | 54,579 |
| 53 | Renton | 105,313 |
| 54 | Snohomish | 10,091 |
| 55 | Arlington | 19,832 |
| 56 | Blaine | 5,773 |
| 57 | Pacific | 7,130 |
| 58 | Quincy | 7,630 |
| 59 | Bellingham | 90,545 |
| 60 | Milton | 8,501 |
| 61 | Tumwater | 24,855 |
| 62 | DuPont | 9,974 |
| 63 | Lacey | 52,572 |
| 64 | Richland | 59,718 |
| 65 | North Bend | 7,393 |
| 66 | College Place | 9,739 |
| 67 | Orting | 8,781 |
| 68 | Washougal | 16,664 |
| 69 | Seattle | 726,054 |
| 70 | Wenatchee | 35,086 |
| 71 | Monroe | 19,879 |
| 72 | Lynden | 15,410 |
| 73 | Ferndale | 14,777 |
| 74 | Bonney Lake | 22,229 |
| 75 | Buckley | 5,098 |
| 76 | Covington | 20,608 |
| 77 | Selah | 8,081 |
| 78 | Port Townsend | 10,002 |
| 79 | Mountlake Terrace | 21,210 |
| 80 | East Wenatchee | 14,113 |
| 81 | Enumclaw | 12,544 |
| 82 | Marysville | 69,957 |
| 83 | Battle Ground | 20,536 |
| 84 | Ridgefield | 10,432 |
| 85 | Oak Harbor | 24,267 |
| 86 | Gig Harbor | 11,505 |
| 87 | Poulsbo | 11,652 |
| 88 | Liberty Lake | 11,647 |
| 89 | Edmonds | 42,622 |
| 90 | Anacortes | 17,437 |
| 91 | Edgewood | 12,132 |
| 92 | Lake Stevens | 35,135 |
| 93 | Pullman | 32,968 |
| 94 | Stanwood | 7,776 |
| 95 | West Richland | 15,988 |
| 96 | Fircrest | 7,109 |
| 97 | Bothell | 47,355 |
| 98 | Shoreline | 58,213 |
| 99 | University Place | 34,565 |
| 100 | Woodinville | 13,247 |