Is there anything wrong with being called the drunkest city in your state?
Here's what's interesting about South Carolina: It is right in the middle of the pack when it comes to alcohol consumption per capita, DUI arrests, and divorce rate in the nation. Residents average 26 beers each a year, but they're pretty responsible about their actions.
Bravo, South Carolina.
But, while hundreds of thousands of people don't drink a drop, the cities below more than make up for it.
How do you decide how much a place drinks? By the number of available places to buy booze, and by how often people are talking about drinking, that's how.
Plus, we thought why not add in a stereotype? Studies have indicated that when one or both partners in a marriage are alcoholics, that couple is three times more likely to divorce.
After analyzing all cities with a decent amount of people in them, we came up with this list as The Drunkest Places in South Carolina:
The 10 Drunkest Cities In South Carolina
Hilton Head
Read on below to see how your city might have fared.
For more reading on South Carolina, check out:
What drunken criteria did we use?
Number of bars and pubs per capita
Number of wineries per capita
Number of liquor stores per capita
Each city's drunk related tweets within the last week
Each city's divorce rate
For geo-located tweets, we measured the following raw number of tweets that came from within a city's general area: #Drunk, #Party, #Beer, #Wine and #Cocktails
Note: For the sake of getting reliable numbers, we counted places within a city's border, as well as within a short driving distance.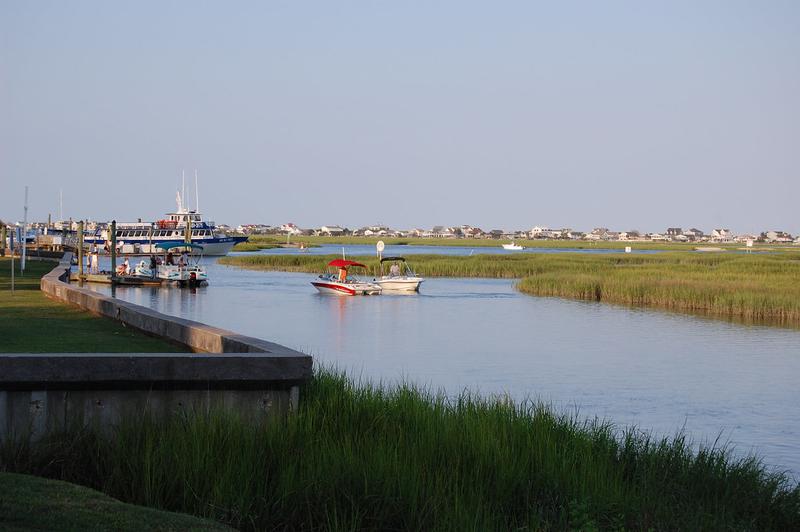 Source:
Flickr User The Mitchell Group International
|
CC BY 2.0
Population: 7,641
Divorce rate: 14.3%
Bars per capita: 2nd
Liquor stores per capita: 8th
They call Murrells Inlet a tiny drinking village with a fishing problem. We could just stop there.
There are quite a number of cities along the coast in South Carolina where there's plenty of ways to get sideways. And then there's Murrells Inlet. This place has a ton of bars and restaurants. Yeah, it might be a touristy spot for half the year, but all that means is that it goes from buzzed to wasted when the beachcombers get into town.
For such a sparsely populated place, it's got it made if you like your cocktails.
And, the divorce rate is nothing to bat an eye at, either. Nearly 1 in 7 people has decided marriage isn't for them. You can bet booze was a factor in many of them.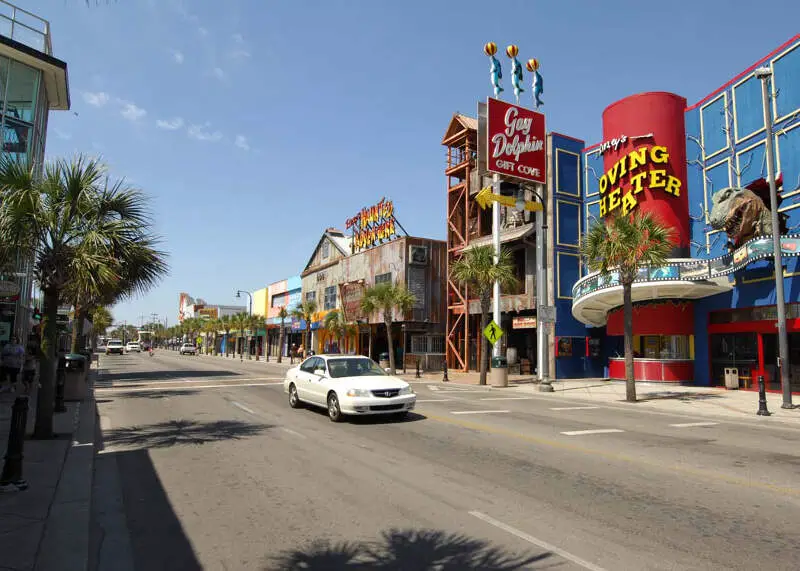 Source: Public domain
Population: 27,433
Divorce rate: 12.1%
Bars per capita: 1st
Liquor stores per capita: 1st
Not to be outdone is the city of Myrtle Beach, which has more liquor stores and bars per capita than anywhere else in the state, and a few breweries to boot. It was close. Murrels Inlet has a much higher divorce rate, but Myrtle Beach pretty much crushed everyone in the drunk Tweet category.
You can pretty much trip and fall into a bar on every corner along N Ocean Blvd. here. We're sure many people do just that, actually. And with the explosion of tourists and drunken college kids, it's a place where dreams are made, for sure.
They're so close, each city should have a drinking competition to see who wins.
Or better yet, we'll let you guys decide in the comments.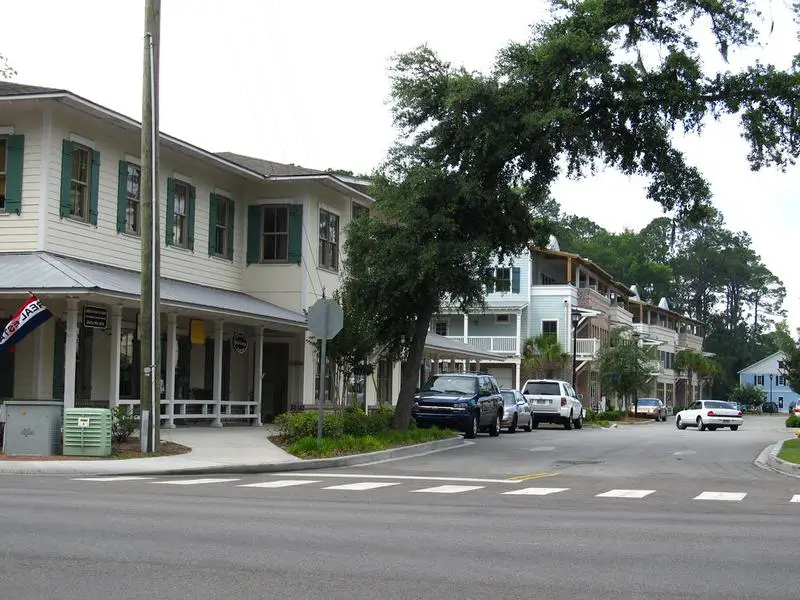 Source:
Flickr User Ken Lund
|
CC BY-SA 2.0
Population: 12,185
Divorce rate: 14%
Bars per capita: 6th
Liquor stores per capita: 3rd
If you're not familiar with the South Carolina coast, Bluffton is an upper middle class city about 2 beers inland of Hilton Head Island. We're pretty sure the people in Bluffton have the back roads to Hilton Head memorized..
Bluffton has lots of places to get drunk, plain and simple. And the city's motto is, "A State of Mind." That's interesting, since it's pretty clear that lots of people in Bluffton drink to change their state of mind.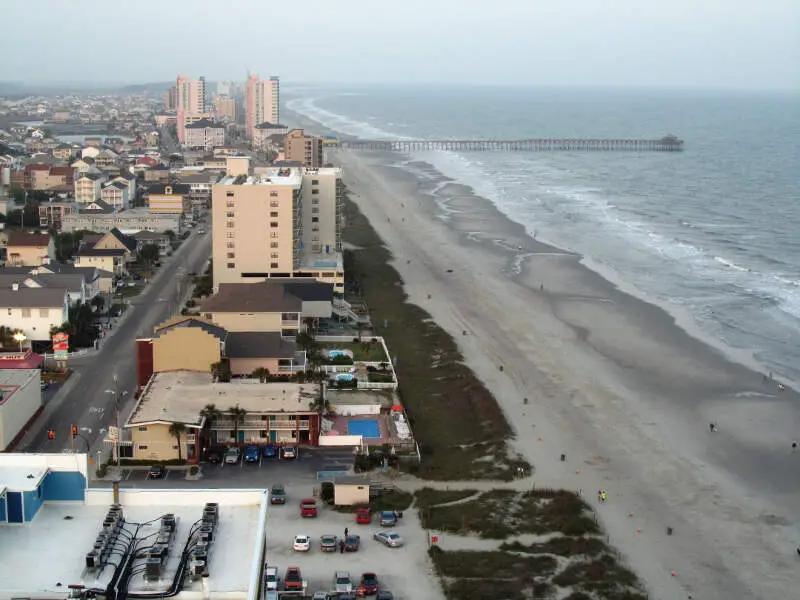 Source:
Wikipedia User Melikamp
|
CC BY-SA 3.0
Population: 13,926
Divorce rate: 13.5%
Bars per capita: 3rd
Liquor stores per capita: 10th
It's beginning to look like the coast of South Carolina is one big party. Maybe that's old news. In any event, North Myrtle Beach, which you might say is the more responsible cousin of Myrtle Beach, has one of the highest number of bar concentrations in South Carolina.
Twitter was relatively quiet here, but several people Tweeted out about a drunk man who drove his SUV into the Atlantic Ocean here a bit ago. Sounds like he's just one of the guys.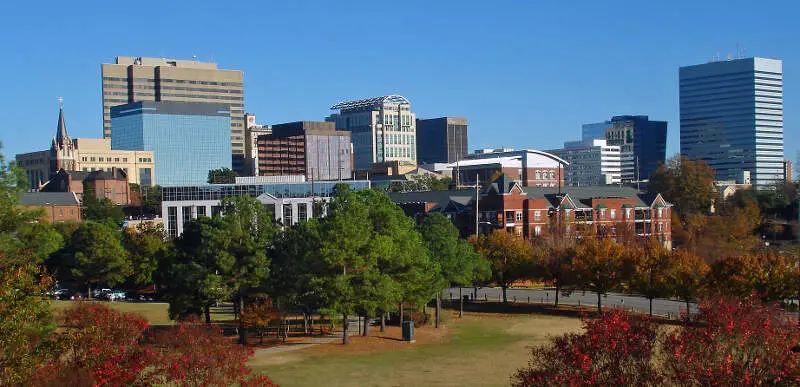 Source:
Wikipedia User Akhenaton06
|
CC BY-SA 3.0
Population: 129,757
Divorce rate: 8.7%
Bars per capita: 12th
Liquor stores per capita: 24th
Okay, so we get it; there are some areas on and near USC that are more wasted than entire states on game weekends. But remember, we're measuring this per capita, meaning that while a few number of people in Columbia is drunk often, based on the number of places to get booze, it's clear that a large number of people in here are content with a quiet night in.
How boring.
Columbia got an A+ from Niche.com for its party scene, with most people saying that there are rarely any house parties here, meaning the co-eds have to go downtown to act like fools.
Population: 9,650
Divorce rate: 15.6%
Bars per capita: 8th
Liquor stores per capita: 12th
Little River is a place right inside the intracoastal waterway from North Myrtle Beach. Depending on your mood, it's either a place to get drunk away from the crowds or a place to pick up vulnerable adults.
See, Little River has one of the highest divorce rates in the state. So head on over and buy her a shot. She's probably looking for someone to go on and on with about her failed marriage.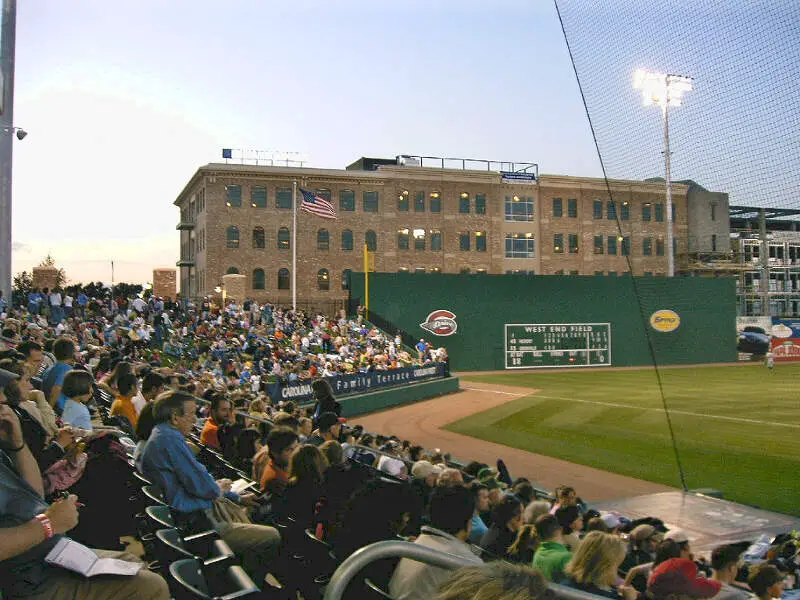 Source:
Wikipedia User JAG from Greenville, SC, USA
|
CC BY 2.0
Population: 59,261
Divorce rate: 12%
Bars per capita: 4th
Liquor stores per capita: 13th
Greenville is a booming, growing city that's been on several reputable' lists such as when Forbes called it one of the best cities in the nation for young professionals. You can see why. There's lots and lots of things to do for young people with some spending money.
It has one of the better craft beer scenes in the state, along with many, many bars and other places to score some booze. There are also lots of colleges and universities here, meaning lots of parties till 5 am.
8. Hilton Head
Population: 37,340
Divorce rate: 8%
Bars per capita: 5th
Liquor stores per capita: 21st
No one is going to deny that Hilton Head is one of the drunkest places in the state. In fact, there's probably lots of people reading this who have some fond memories of getting smashed in Hilton Head a time or 8.
What's interesting about Hilton Head is the low divorce rate. Maybe having lots of money in the bank means it's easier to look the other way when he comes home bleary eyed for the 6th night in a row.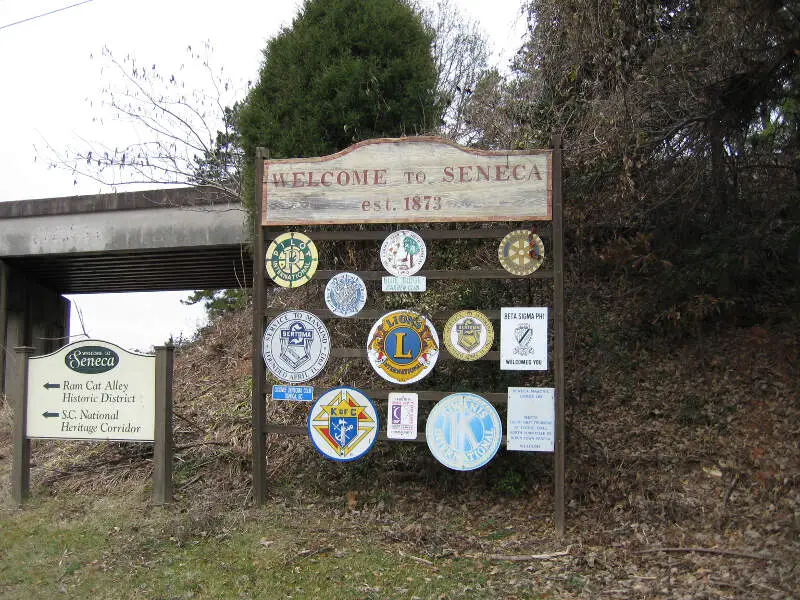 Source: Public domain
Population: 8,092
Divorce rate: 19%
Bars per capita: 20th
Liquor stores per capita: 18th
Holy Matrimony, Seneca! It says, "Till Death Do Us Part" for a reason. Too many late nights burning the candles at both ends must be putting a huge strain on your relationships.
Seneca isn't too far away from Clemson, and one of only three upstate cities in South Carolina to make this list. If you're reading this from Seneca, and you're not hungover, congrats. Now get out there and have a shot on us.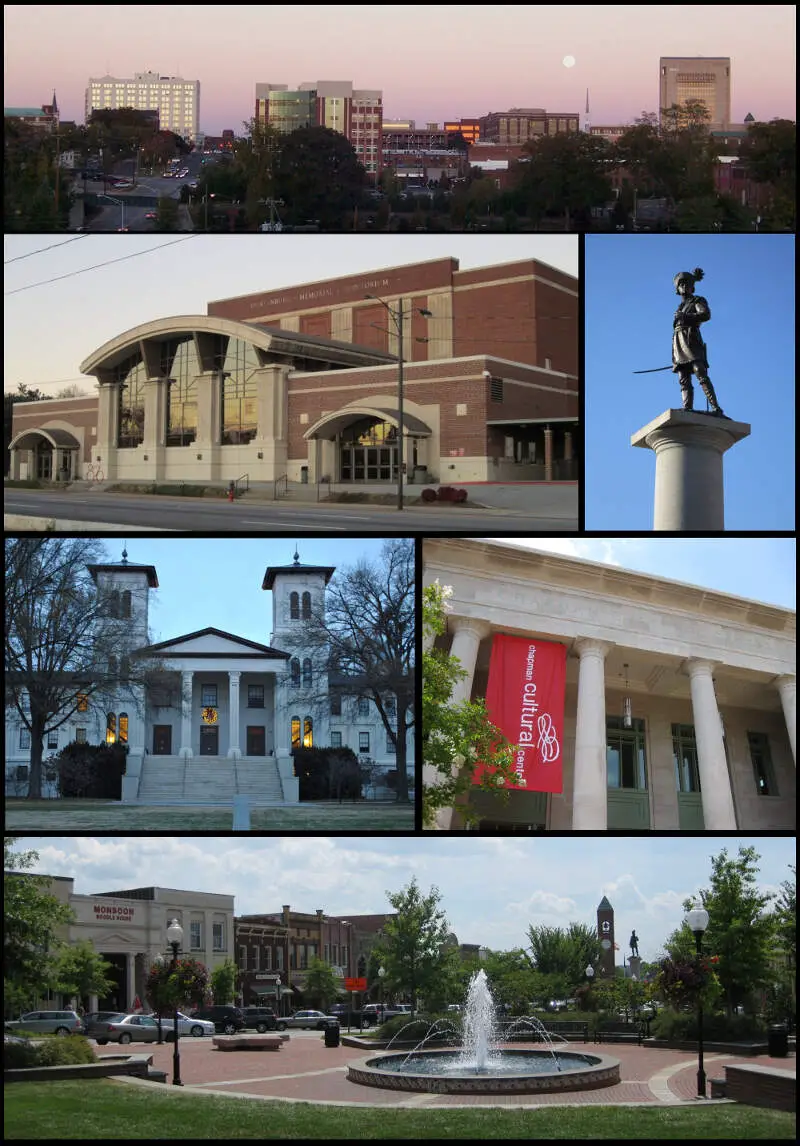 Source:
Wikipedia User PegasusRacer28
|
CC BY-SA 3.0
Population: 37,333
Divorce rate: 11.2%
Bars per capita: 14th
Liquor stores per capita: 15th
Sounds like Spartanburg deserves to make this list. Not just because of the amount of booze per person, but they really get down in this city. The list of festivals and events that takes place here sounds like it's a blast.
And there's a few colleges here too. You know they get after it.
And no, we're not dogging you guys for over-consuming. We're actually a little jealous. It sounds like it's a blast in all of these places.
There You Have It
If you're measuring the locations in South Carolina where there are a high number of divorced people, bars and liquor stores, and where people are talking about drinking the most often, this is an accurate list.
For more reading on South Carolina, check out: