This article is an opinion based on facts and is meant as infotainment. Don't freak out.
Swipe left for slideshow. Article continues below.
There are lots of people who throw the term 'ghetto' around. But which of Indiana's largest cities are the most ghetto of all?
How do you decide if a place is ghetto or not? You ask the internet. According to the Urban Dictionary, a ghetto is defined as:
"urban; of or relating to (inner) city life" and "poor; of or relating to the poor life."
Using that criteria, it's not hard to scrape the internet, run some scientific data on where ghettos might exist in a state and then put out a list.
After analyzing the 100 largest cities in the Hoosier State, we came up with this list as the most ghetto places in Indiana:
In case you're wondering, Zionsville is the least ghetto city of all we measured.
Read on below to see where your hometown ranked and why.
For more Indiana reading, check out:
What ghetto criteria did we use?
In order to rank the most ghetto places in Indiana, we had to determine what criteria defines a ghetto city or neighborhood.
Since a ghetto is defined as a poor area, we used income levels, crime and education levels as a guide to determine where the most broke citizens of a state live.
Additionally, the staples of inner city life include cheap and discounted retail outlets.
We started by making a list of the largest cities in Indiana based on the 2013 American Community Survey. That left us with 100 places in the Hoosier State.
We threw a lot of criteria at this one in order to get the best, most complete results possible. Using Yelp and Area Vibes, this is the criteria we used:
Household income levels
High school graduation rates
Number of convenience stores
Number of drug stores
Number of discount stores
Crime
Twitter mentions of #ghetto
Note: For the sake of getting reliable numbers, we counted places within a city's border, as well as within a short driving distance.
All of these results are listed in a per capita basis. Meaning number of stores per person in a state. Additionally, high school graduation rates are determined by looking at the total number of people who live in a city, not the current graduation rate of an area's high schools.
For geo-located Tweets, we measured all mentions coming from a city with #ghetto
1. East Chicago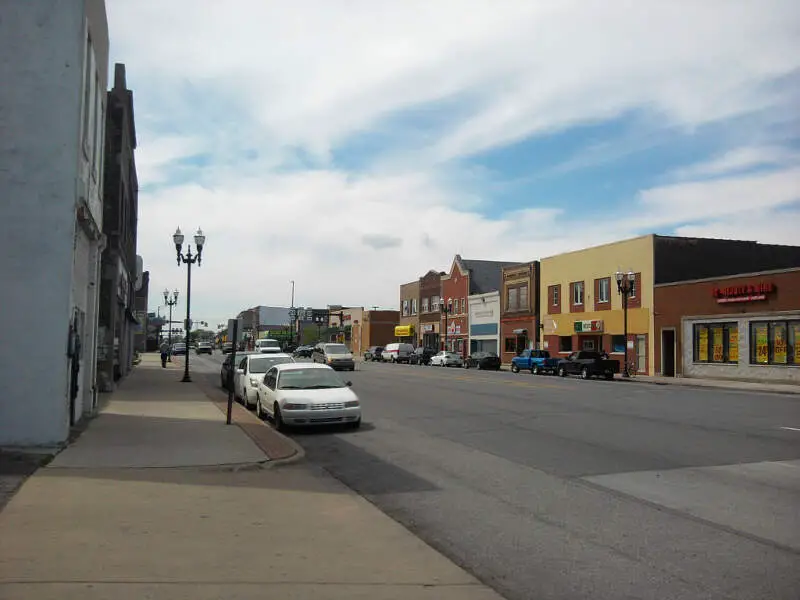 Income: $25,910
Drop out rate: 35%
Crime: 2nd highest
If East Chicago didn't rank on top, there would most likely be a flaw with the data. Anyone who has been there knows this is one of the worst ghettos in the entire midwest. There are a lot of people who haven't even been to Indiana who have heard of this place.
Most of the people in East Chicago struggle to make ends meet, which isn't a surprise, considering that more than 1 in 3 people here dropped out of high school.
Crime is just about as high as you can get in the state. There were 10 murders here in 2013, which is the last year the FBI had data available. Residents have a 1 in 20 chance of being robbed for every year they spend in East Chicago city limits.
2. Gary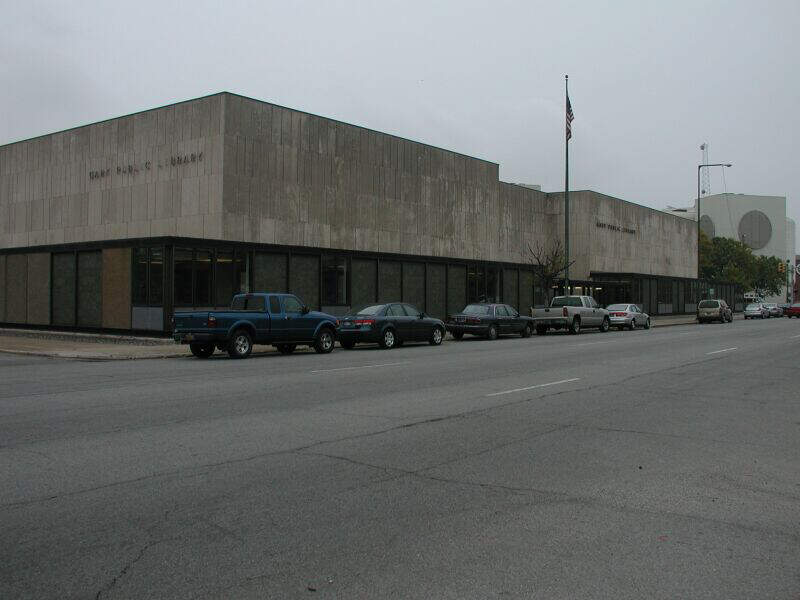 Income: $27,758
Drop out rate: 23%
Crime: Worst in the state
You won't find a more dangerous place in Indiana than in Gary, a Chicago suburb, which is right next to East Chicago. You might actually have a hard time telling them apart if you ever drive through this area along Lake Michigan.
Gary saw 54 murders in 2013, which is off-the-charts high for any city of less than 80,000 people. That means that 1 in 1,500 people in Gary was killed. Just wow.
Gary's unemployment rate is 10% and more than 1 in 5 residents is a drop out, which explains the very low income levels here.
3. Terre Haute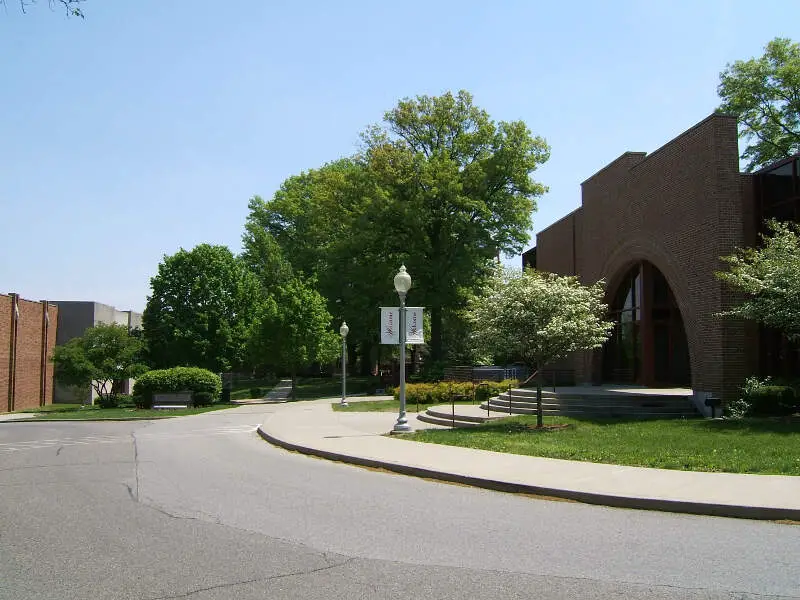 Income: $25,534
Crime: 9th highest
Drug stores: 10th most per capita
If you're from Terre Haute, this might not be a surprise.
The government establishes the poverty line at $25,000 for a family of four. In Terre Haute, families average that number. 17% of kids live in poverty here.
Terre Haute has finished high on a couple of 'best' community in Indiana lists in the past, but the only justification we could find was their future community revitalization plan as part of the judging process. We hope they continue to work towards improvement here.
Crime is really high in Terre Haute, and there are a large number of discount shopping experiences, which sociologists have indicated are a staple of inner city life.
4. Michigan City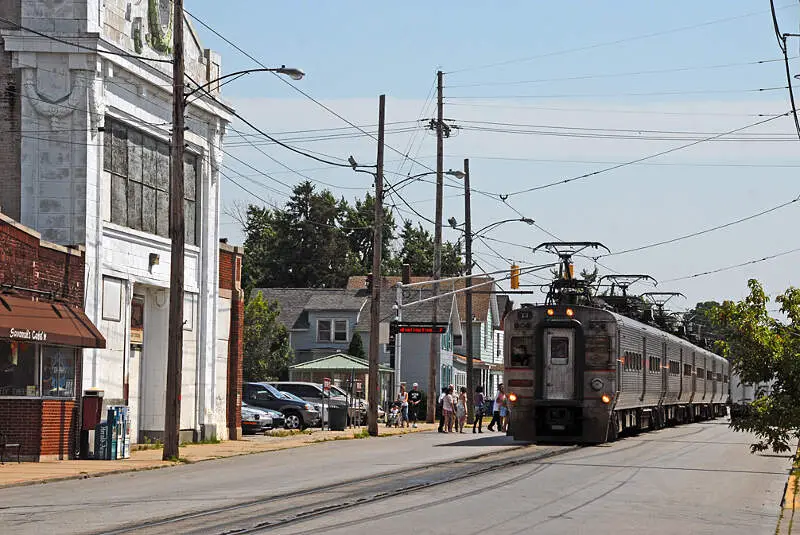 Income: $29,845
Drop out rate: 25%
Discount stores: 5th most
It's beginning to look like most of the area around Lake Michigan is a really ghetto stretch when you look at the data.
Michigan City meets all of the criteria above. 11% of the residents here are out of work, which is the highest number in Indiana. There are a number of other poor economic factors at play here as well.
Twitter totally agreed. Michigan City was 5th in ghetto Tweets like this: "Nothing like ghetto Michigan City, where they steal equipment from a fire station."
5. Hammond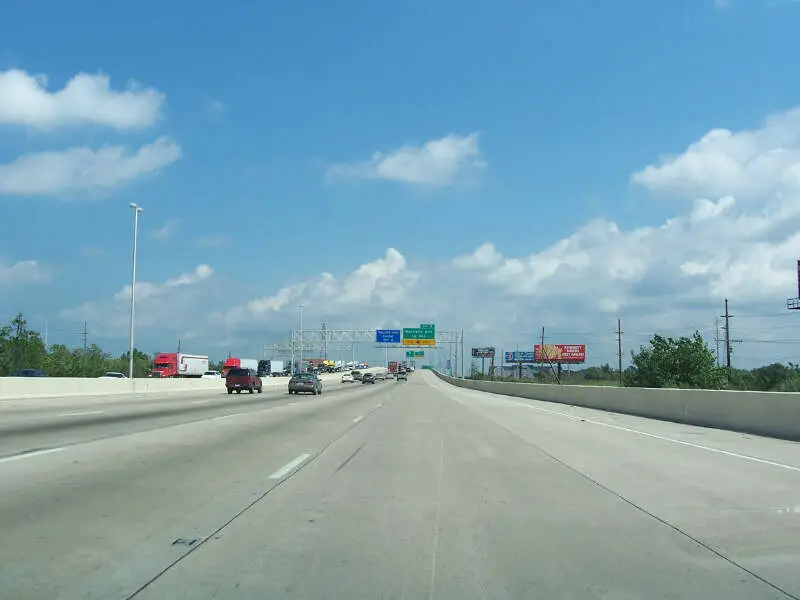 Income: $32,579
Drop out rate: 26%
Crime: 3rd worst
Hammond is right next to East Chicago and Gary. Residents earn a tad more in terms of income levels, but most are still struggling in a ghetto environment for sure.
Hammond was 3rd for ghetto Tweets. Lots and lots of residents were complaining about how ghetto Hammond is, or were talking about how glad they were to not be in Hammond any longer.
"Don't wanna live in Hammond anymore. Love the campus but the people are so ghetto. Chicago outskirts are spreading."
6. Marion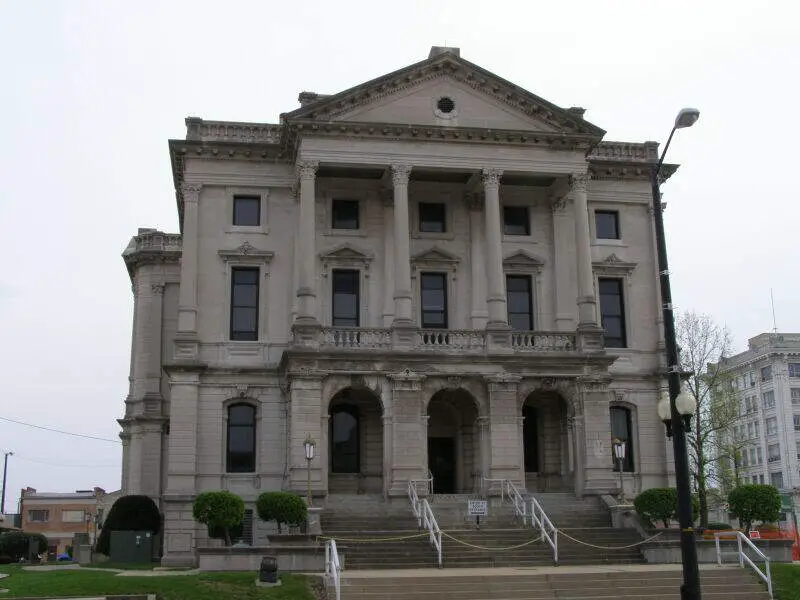 Income: $27,454
Drop out rate: 27%
Crime: 22nd worst
Outside of Terre Haute, little Marion is the only city so far outside of the greater Chicago area to be ranked as one of the most ghetto cities in Indiana.
This small place about an hour north of Indianapolis is pretty isolated, which might explain the high unemployment rate and very low income levels. Crime is in the top 20% in Marion, which saw 4 murders in 2013. You have a 1 in 26 chance of being the victim of a property crime for every year you spend within its city limits.
7. Anderson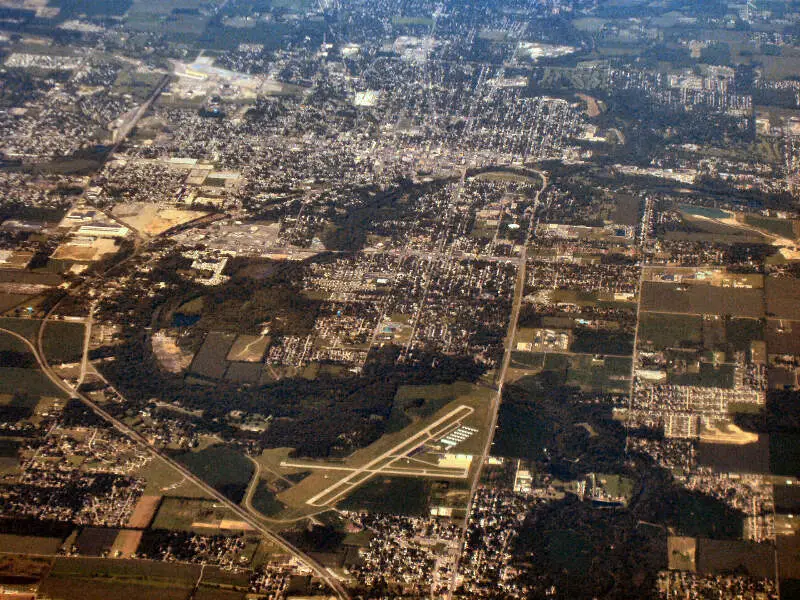 Income: $22,940
Drop out rate: 23%
Crime: 13th highest
If you Google Anderson, Indiana, the auto-suggest includes "Anderson Indiana obituaries," "Anderson Indiana crime" and "Anderson Indiana casino".
That's not a good sign.
Plus, there isn't a place within 100 miles that's poorer than Anderson. Residents simply struggle to make ends meet here on a daily basis, as this place never recovered from GM's plant closing. 1 in 5 kids lives in poverty in this city of 56,000 just outside the northern Indianapolis sprawl.
The Indiana Business Review says long term trends for Anderson are negative, and future business growth looked poor.
8. Elkhart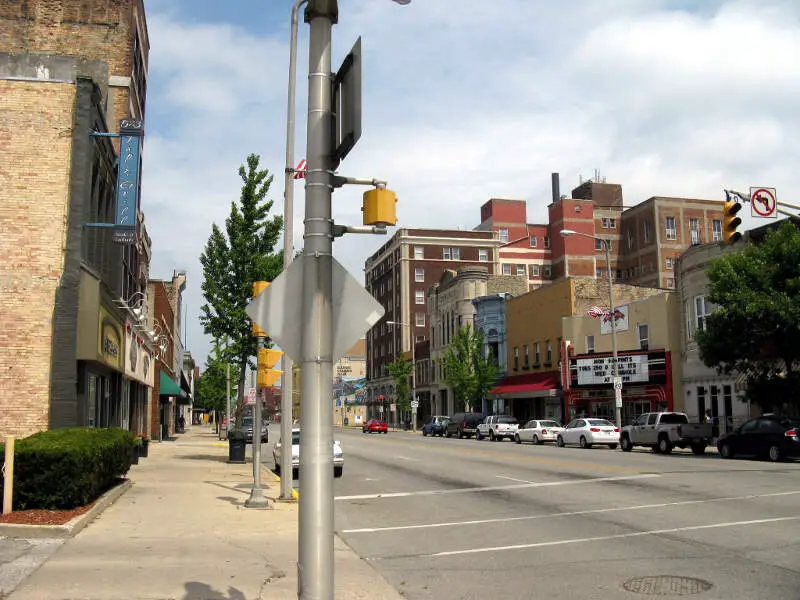 Income: $34,614
Drop out rate: 31%
Convenience stores: 10th most
The "RV Capital of the World" is having a hard time keeping kids in school. Almost 1 in 3 of the city's 50,000 residents is walking around without a high school education.
Not too far from South Bend, Elkhart also ranks in the top 10 in Indiana for the number of convenience stores per person. That's definitely a sign of inner city life.
Elkhart's unemployment rate was so high (19%) in 2009, that ABC News featured it in a story about cities having economic troubles.
9. Indianapolis

Income: $82,394
Drop out rate: 20%
Crime: 15th worst
Here's what's interesting about Indy: Sure, there are a number of areas of this city that are booming, and large pockets with very successful people. However, those are outweighed by the sheer number of ghetto areas in and around this sprawling city.
Indianapolis led the way with ghetto Tweets per capita as well. This was the very first one we read: "Indianapolis used to be a very nice city but it's straight up ghetto from one end to the other these days"
As you might expect, there are a huge number of discount shopping experience in Indianapolis, too.
10. Lake Station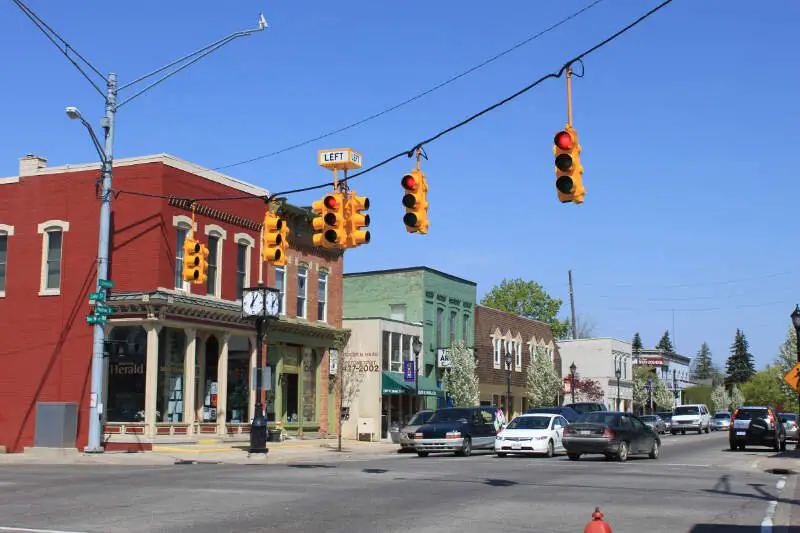 Source: Public Domain
Income: $31,860
Drop out rate: 30%
Discount stores: 10th
We started this list in the greater Chicago area, and we'll end it up there, too.
The small city of Lake Station is very poor and uneducated. The unemployment rate is climbing towards 8%, and there aren't a lot of high-end job opportunities on the horizon for this very blue collar community.
There You Have It
If you're measuring the locations in Indiana where there are a high number of poor and uneducated residents, and where there are a high number of discounted shopping stores, this is an accurate list.
Additionally, here are the least ghetto places in Indiana: Zionsville, Yorktown, Danville, Mooresville, Bargersville.
We also wrote about the 10 Most Redneck Cities In Indiana if you didn't happen to see it.
Desktop users, below is a ghetto ranking chart of all large cities in Indiana, along with their crime numbers:
westfield 61.2 83 jasper 42.2 87 brownsburg 63.9 88 fishers 36.8 89 new whiteland 81.5 90 nappanee 54.3 91 granger 22.9 92 boonville 83.7 93 bargersville 78.8 94 mooresville 69.8 94 lakes of the four seasons 27.8 96 danville 46.7 96 yorktown 60.8 98 zionsville 43.3 99 bright 43 100 hidden valley 25.8 101