Editor's Note: This article is an opinion based on facts and is meant as infotainment. Don't freak out we updated this article for 2021. This is our seventh time ranking the worst places to live in Indiana.
Article Table Of Contents   
(Skip to section)
The Hoosier State. A state that's about 90% farms and one large city, with small places sprinkled between long stretches of corn and beans. A place with a rich history, great colleges, and some of the friendliest people in the midwest. There are some really nice places in Indiana.
But is it all great there? Of course not. Just like every other state, Indiana has its trouble spots. The purpose of this post is to use science and data to determine which cities in the Hoosier State have some serious issues, at least on paper.
After analyzing 109 of the state's most populous cities, we came up with this list as the 10 worst places to live in Indiana:
The 10 Worst Places To Live In Indiana For 2021
What? Where are these places you wonder? And before you get all riled up and say we're picking on small town America, that's not the case.
We understand there's a lot of good in every place.
However, according to data (which doesn't measure things like beauty and 'friendly people'), there are far better options in the state for making a place home. And the worst place to live in Indiana? That would be East Chicago.
Read on below to see how we crunched the numbers and see how your city fared in 2021.
If you're looking for something more national, check out the worst cities in America or the worst states in America.
For more Indiana reading, check out:
The 10 Worst Places To Live In Indiana For 2021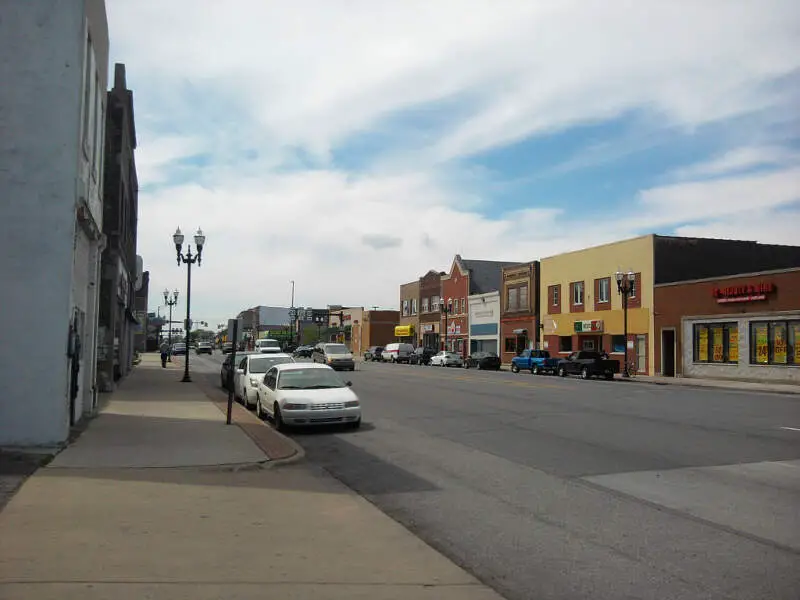 Since the southside of Chicago is one of the worst areas for crime in the nation, you can sure expect that East Chicago is going to be pretty rough. It is. In fact, East Chicago has the 10th-highest crime rate in the state. Probably no surprises there.
There were 201 violent crimes here in 2021, and residents have a 1 in 25.8 chance of being the victim of a property crime. That means, most likely, if you live in East Chicago, either you or someone on your block had their home or car broken into last year.
You can also imagine that the economy here is in the pits. It is. The only thing saving East Chicago from being higher on the list is that the public schools are well funded. They may not be safe, but at least the kids are getting as much attention as they want.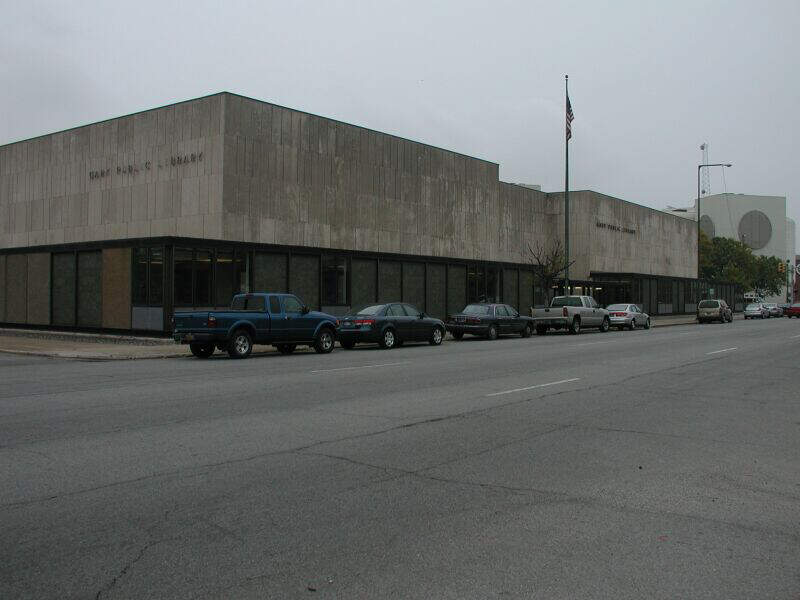 There's probably not a single person in the state that would be surprised that Gary tops this list. In fact, if Gary wasn't atop this list, most people would start to wonder if our data was accurate.
Here are the statistics. Gary has the 2worst crime rate in Indiana. No surprises there. How dangerous is it though? There were almost 414 violent crimes in Gary in 2021. Residents here had a 1 in 183 chance of being killed, raped or attacked. Just wow.
The home values in Gary are the 2nd cheapest in the state ($66,100), the unemployment rate is the highest (12.4%), and the annual household income is lowest in Indiana, at $31,936. That's basically at the poverty level for a family of four.
If there's one bright side to Gary, it's that the education is ranked above average. Meaning the kids at Gary public schools are getting as much attention and support as possible. Hopefully, that has an impact on the next generation that grows up here.
It's pretty much Gary, and then everyone else on this list.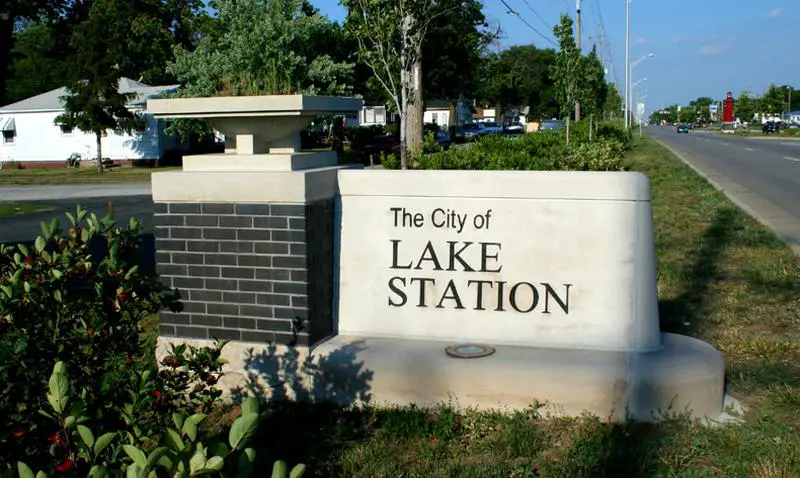 Source: Public domain
The "lake" part of Lake Station comes from its position near the southern coast of Lake Michigan. "Station" is there because the town once served as the endpoint for a key railroad. These days, Lake Station still has a transportation connection, as it sits along I-90, one of the country's main east-west arteries.
Unfortunately, while you might pass through Lake Station, you wouldn't want to stop very long. It stands as the number 3 worst spot in Indiana.
Crime and the economy are the main problems in the area. The crime rate is 20% above normal and the poverty rate sits at 24.7%.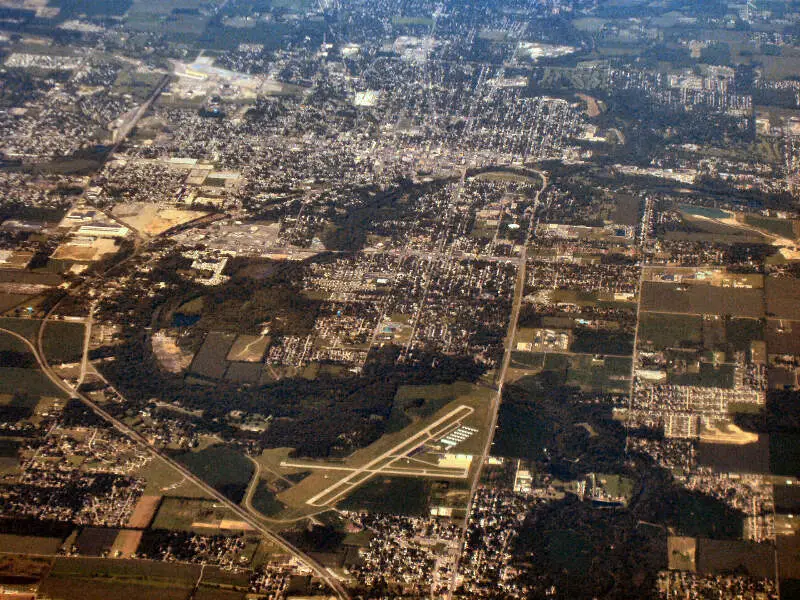 Source: Public domain
Anderson is the first of a few cities near Indianapolis to make this list. When you're comparing things to Gary, things look a lot better here, but they still have some issues, according to science.
Anderson is the 14th most dangerous place in Indiana, according to FBI statistics. And the residents here have a hard time keeping a job -- at least in comparison to the rest of the state. The unemployment rate is 7.8% -- not horrible -- but worse than the state average.
Home values are really low ($72,900), and residents earn just $37,038 a year.
Plus, it's an hour drive into downtown Indy, so your entertainment options are fairly limited.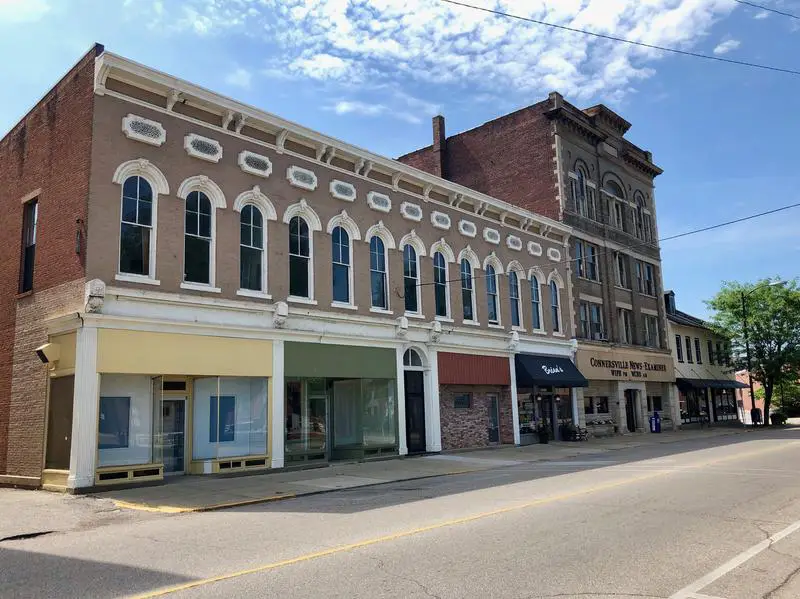 Source: Public domain
There's absolutely nothing to do in Connersville. Located out in the boonies toward the Ohio state line, the residents are most likely bored, and probably wouldn't have much disposable income to do much even if there was some form of entertainment. At least they can spend their Sundays with Andrew Luck.
The unemployment rate is the 23rd highest in the state (6.6%), the income levels and home prices are both in the bottom five in Indiana as well.
However, the public kids get just about as much attention and support than in any other region.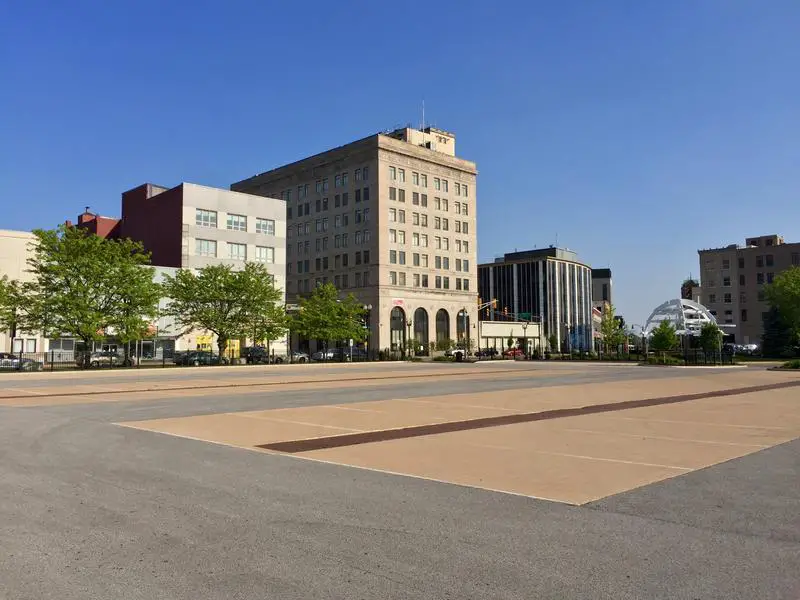 Hammond is located in the northwest part of the state, right along the Illinois border. It's basically a suburb of Chicago, with a 40-minute drive taking you into the Loop. Unfortunately, a prime location isn't enough to make a town an attractive place to live.
Hammond suffers from high crime, a weak economy, and a bad educational system. The crime rate stands about 66% above the national average. The poverty rate hovers at 22.1%. Meanwhile, the best school in the area only gets a score of 5/10 from Great Schools.
The 76,547 inhabitants of Hammond have some nice things, however. With a northern border along Lake Michigan, the town boasts the Hammond Lakefront Park and Bird Sanctuary.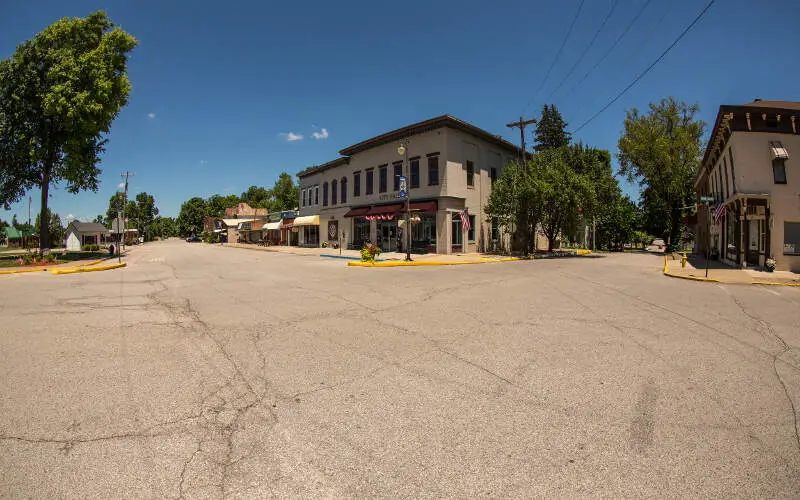 Charlestown went through a boom period during the 1940s. The opening of an ammunition factory caused the population to jump by more than four times. The economy in the region still chugs along, but weak educational opportunities and a sluggish housing market hold the community back. As it results, the town ranks as the number 7 least inviting place to live in Indiana.
The schools in Charlestown are mediocre at best, topping out at 6/10 on Great Schools. Of the 8,199 residents, 16.7% live below the poverty line. Still, there are economic bright spots. The unemployment rate sits at 2.2%, though the median income comes in at a modest $45,278.

College football fans will know South Bend as the home of the Notre Dame Fighting Irish. Unfortunately, it turns out the town might not be a very good home after all. The community ranks as the number 8 least attractive place to put down roots in Indiana.
Safety is a massive concern in the area. In fact, the crime rate runs more than 120% above the U.S. norm. A sluggish economy also poses a major challenge. The poverty rate hovers at a worrisome 23.6%, while the median income sits at $40,265.
Still, life in South Bend has its advantages. Being a college town, you get all the benefits the university.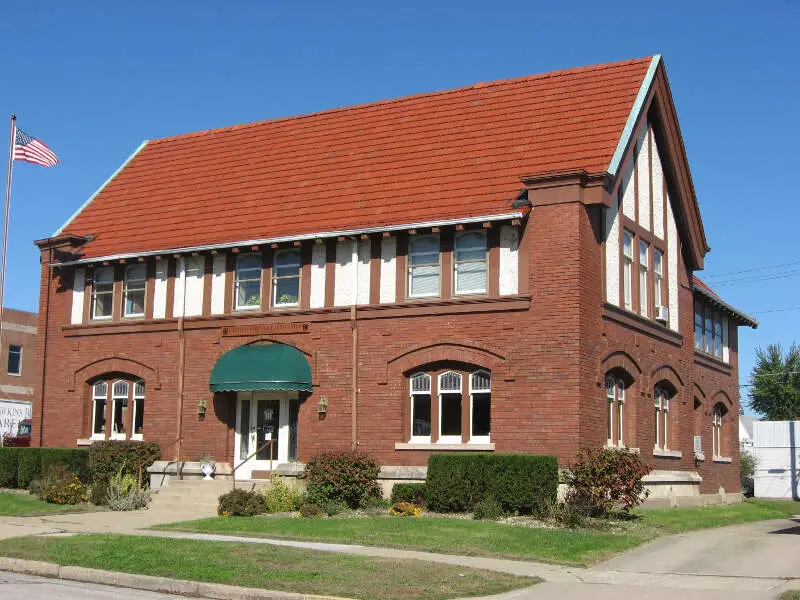 Source: Public domain
Linton is located in western Indiana, in a mostly rural region about two hours southwest of Indianpolis. The town suffers from a weak economy and bad school system. These factors make it one of the worst places to live in Indiana.
It's tough to make ends meet for the town's 5,244 inhabitants. The median income is a skimpy $34,842, meaning that 21.9% of the residents have to scrape by below the poverty line. Without much of a tax base, the educational system in the area suffers. Linton's schools top out at 6/10 on Great Schools.
Still, the people of Linton have plenty of ways to find their joy. One attraction: the Greene Sullivan State Forest is just a 10-minute drive outside of town.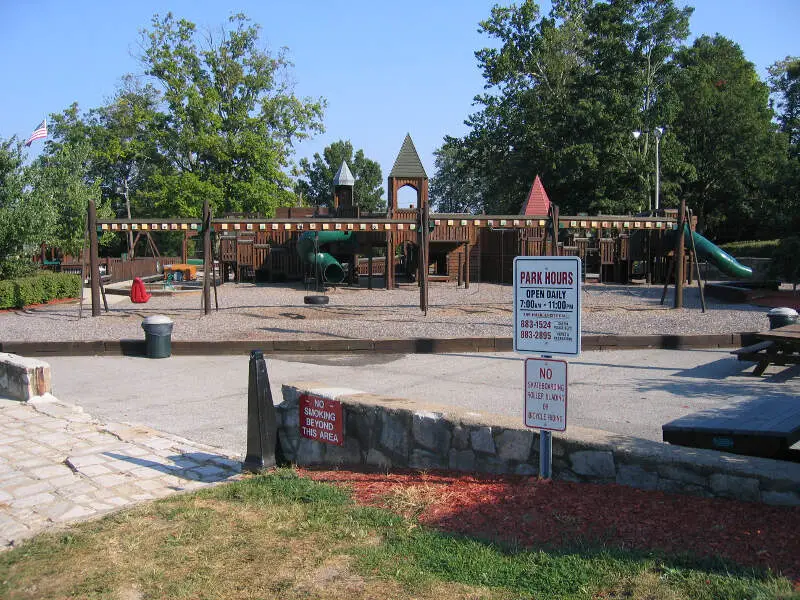 Source: Public domain
At least the people of this Salem never conducted a witch trial. Still, the town has troubles all its own. It stands at number 10 on the list of terrible places to live in Indiana.
A weak economy holds the community back. Residents have to make due with a median income of $36,339. No wonder 19.7% of them get by on the wrong side of the poverty line. Meanwhile, with rare exceptions, the schools in town are mediocre at best.
It's not all bleak in Salem, however. You can check out Old Settlers' Days at the John Hay Center, a group of historical buildings located in town.
How we determined the worst places to live in Indiana for 2021
To figure out how bad a place is to live in, we only needed to know what kinds of things people like and then decide what cities have the least amount of those things.
We don't think it's a stretch to assume that people like the following things:
Good education
Lots of jobs
Low crime
Low poverty
Nice homes
High incomes
High population density (Lots of things to do)
Short work commutes
Health insurance
The data comes from the Census's most recent American Community Survey and from the FBI Uniform Crime Report.
We broke crime down into violent crime and property crime to give violent crime a larger weight -- if you did a simple calculation of all crimes per capita, property crimes are normally 7x more common and really bias that ranking.
Furthermore, only cities with at least 5,000 people were considered -- leaving 109 cities.
We then ranked each city from 1 to 109 for all the criteria with a #1 ranking being the worst for the particular criteria.
Next, we averaged the rankings into one "Worst Place To Live Score".
Finally, we ranked every city on the "Worst Place To Live Score" with the lowest score being the worst city in Indiana -- East Chicago. Read on for a detailed look at the 10 worst cities in Indiana. You can download the data here.
This list is a scientific analysis based on real data and is completely unbiased.
Wrapping Up The Worst In Indiana
If you're looking at areas in Indiana with the worst economic situations, where there's higher than average crime, and not a lot to do, this is an accurate list.
And in the end, East Chicago ranks as the worst city to live in Indiana for 2021.
If you're curious enough, here are the best cities to live in Indiana:
Westfield (Pop. 39,610)
New Whiteland (Pop. 6,051)
Carmel (Pop. 97,464)
For more Indiana reading, check out:
Where Are The Worst Places To Live In Indiana?
| Rank | City | Population |
| --- | --- | --- |
| 1 | East Chicago | 28,201 |
| 2 | Gary | 76,010 |
| 3 | Lake Station | 12,002 |
| 4 | Anderson | 54,513 |
| 5 | Connersville | 13,165 |
| 6 | Hammond | 76,547 |
| 7 | Charlestown | 8,199 |
| 8 | South Bend | 102,037 |
| 9 | Linton | 5,244 |
| 10 | Salem | 6,172 |