This article is an opinion based on facts and is meant as infotainment. Don't freak out.
Swipe left for slideshow. Article continues below.
There are lots of people who throw the term 'ghetto' around. But which of Iowa's largest cities are the most ghetto of all?
How do you decide if a place is ghetto or not? You ask the internet. According to the Urban Dictionary, a ghetto is defined as:
"urban; of or relating to (inner) city life" and "poor; of or relating to the poor life."
Using that criteria, it's not hard to scrape the internet, run some scientific data on where ghettos might exist in a state and then put out a list.
After analyzing the largest cities in the Hawkeye State, we came up with this list as the most ghetto places in Iowa:
In case you're wondering, Urbandale is the least ghetto city of all we measured.
Read on below to see where your hometown ranked and why.
For more Iowa reading, check out:
What ghetto criteria did we use?
In order to rank the most ghetto places in Iowa, we had to determine what criteria defines a ghetto city or neighborhood.
Since a ghetto is defined as a poor area, we used income levels, crime and education levels as a guide to determine where the most broke citizens of a state live.
Additionally, the staples of inner city life include cheap and discounted retail outlets.
We started by making a list of the largest cities in Iowa based on the 2013 American Community Survey. That left us with 80 places in the Hawkeye State.
We threw a lot of criteria at this one in order to get the best, most complete results possible. Using Yelp and Area Vibes, this is the criteria we used:
Household income levels
High school graduation rates
Number of convenience stores
Number of drug stores
Number of discount stores
Crime
Twitter mentions of #ghetto
Note: For the sake of getting reliable numbers, we counted places within a city's border, as well as within a short driving distance.
All of these results are listed in a per capita basis. Meaning number of stores per person in a state. Additionally, high school graduation rates are determined by looking at the total number of people who live in a city, not the current graduation rate of an area's high schools.
For geo-located Tweets, we measured all mentions coming from a city with #ghetto
1. Storm Lake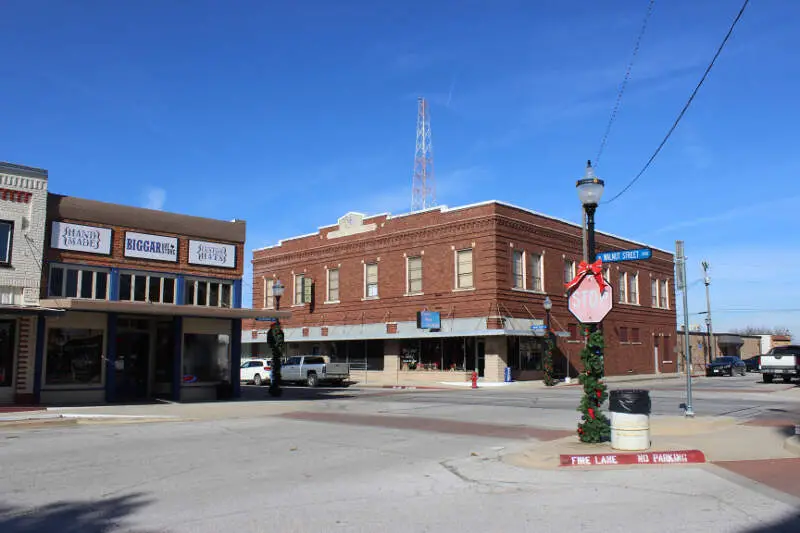 Source: Public Domain
Income: $45,208
Drop out rate: 38%
Discount stores: 4th
We should put things into perspective first. Sure, we're aware that most of the cities on this list would not be considered ghetto in other states. But, if we're measuring the numbers in each state, someone has to 'win', right?
Storm Lake is off the charts when it comes to dropouts. Nearly 4 in 10 residents here is uneducated, which is impacting the economy as a whole. Believe it or not, Denison Iowa (40%) actually has a higher dropout rate than Storm Lake does.
Storm Lake suffers from far higher than average crime as well, and it has one of the highest concentrations of discount stores in Iowa. Sociologists indicate that discount outlets indicate a ghetto-type lifestyle.
2. Waterloo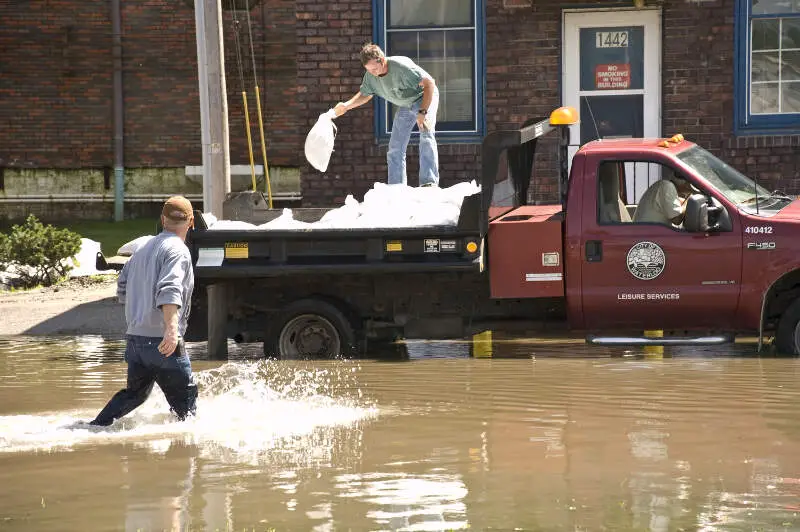 Income: $41,275
Drop out rate: 20%
Crime: 7th highest
Waterloo is one of the poorer areas in Iowa, where crime is one of the highest in the Hawkeye State. No wonder the population here is shrinking; 1 in 5 kids below the age of 18 lives below the poverty line.
The fact that serial killer John Wayne Gacy lived here at one point in his life puts an even deeper stain on Waterloo.
3. Maquoketa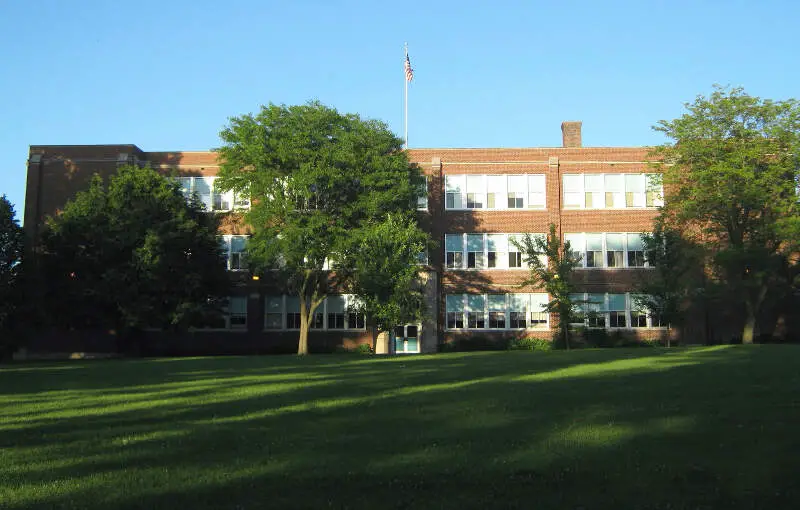 Income: $30,745
Drop out rate: 19%
Crime: 14th worst in Iowa
You won't find a poorer place in the state of Iowa than Maquoketa, a small place halfway between Dubuque and Davenport. Families here average about $30K a year in combined incomes. The government says a family of 4 needs about $25,000 a year to live above the poverty line.
Having the state's 7th highest unemployment rate (5.3%) certainly doesn't help matters. Nor does a 1 in 5 dropout rate for current residents. Being so isolated is apparently having a toll on the economy here.
4. Keokuk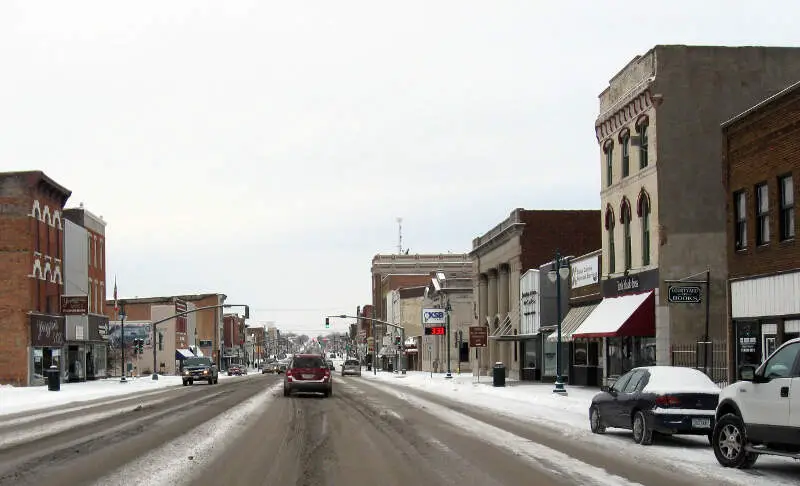 Income: $35,230
Crime: 2nd highest
Dropout rate: 22%
Keokuk actually ranked pretty high in the number of ghetto Tweets for such a small place (10,000 residents).
Here are two examples:
"Keokuk is the ghetto of Southeast Iowa."
"Keokuk is the most ghetto town in Southeast Iowa. #fact"
Crime and poverty are the main reasons Keokuk is a ghetto city. It's actually the 2nd most dangerous place in the state, right after Council Bluffs. For every year you spend in Keokuk, you have a 1 in 20 chance of being the victim of a property crime.
And, 1 in 100 people was the victim of a violent attack in 2013. That's insane for Iowa.
5. Fort Dodge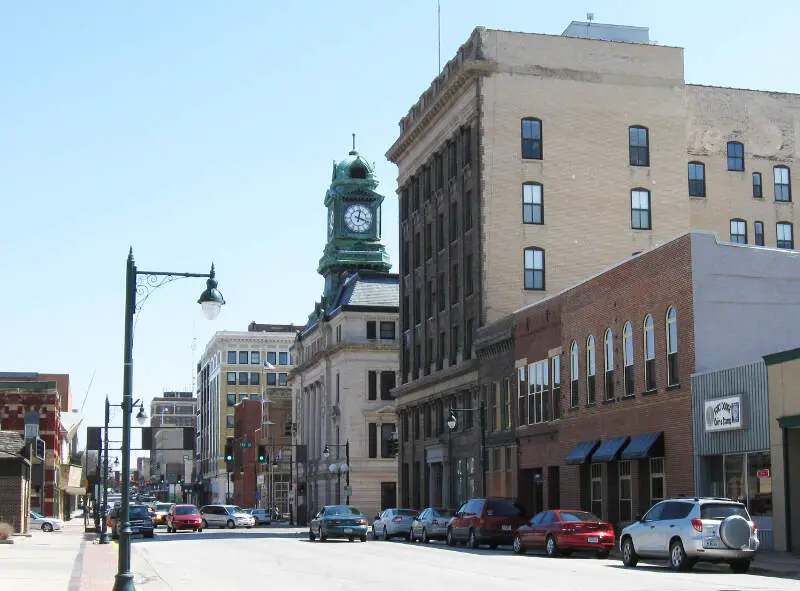 Income: $38,292
Drop out rate: 20%
Crime: 10th worst
Fort Dodge is a very blue collar city in North Central Iowa where you have a 1 in 24 chance of being the victim of a property crime every year you spend within city limits, and where people are relatively broke in comparison to most other Iowa communities.
Like many of the cities above, 1 in 5 residents is walking around without a high school degree.
Lots of people agreed on Twitter, pushing Fort Dodge even higher up the list.
Example: ' 'The Flats' in Fort Dodge, Iowa has got to be the most ghetto place I've ever been to"
6. Ottumwa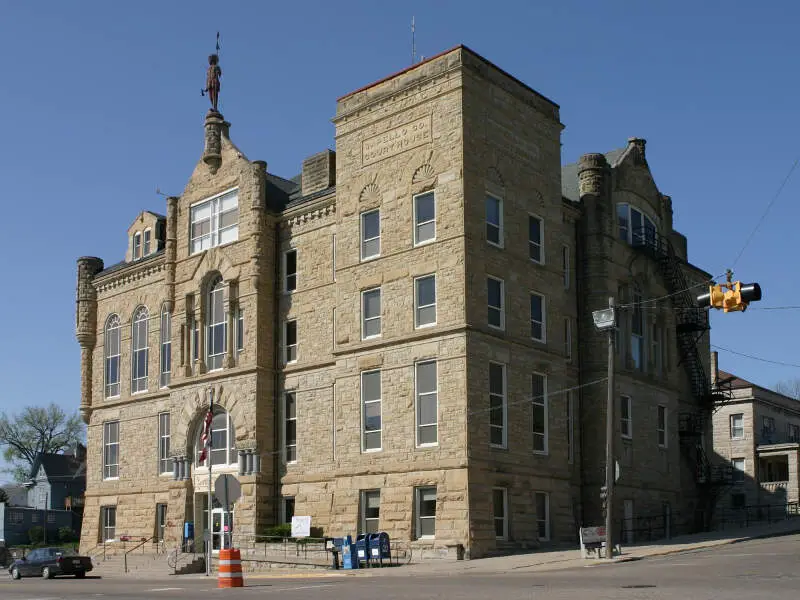 Income: $37,494
Drop out rate: 24%
Convenience stores: 3rd most
When you can purchase a home for about $70,000, that's a sign that your city is either in the sticks, or pretty ghetto. Well, Ottumwa is a little bit of both.
Nearly 1 in 4 residents is a high school dropout, and the number of property crimes is just about as high as you'll see in Iowa. Perhaps that's partially due to the low incomes and high unemployment rate.
Additionally, Ottumwa has just about the most convenience stores per person in Iowa. Sociologists have indicated discount shopping locations are a staple of inner city life.
7. Des Moines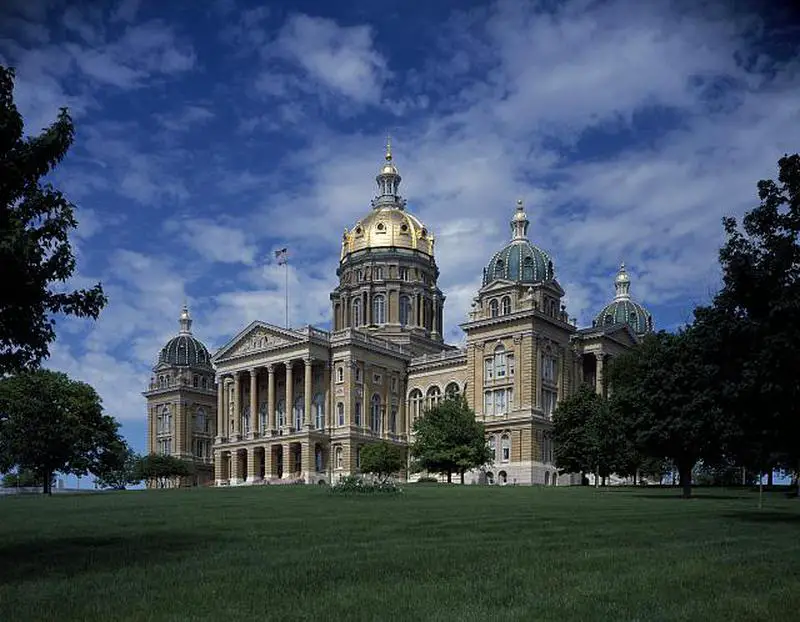 Income: $44,862
Drop out rate: 19%
Crime: 4th highest
This may or may not come as a surprise to many, but when you look at the data, the largest city in Iowa is also one of its most ghetto cities.
Crime is the 4th highest in Iowa. There were 11 murders here in 2013, which is one of the highest counts in the state, by far. Like almost all large cities, there are nice parts of Des Moines, and there are the ghetto parts. The ghetto areas of Des Moines are the size of small cities in other parts of the state.
Twitter had lots to say on the matter:
"Des Moines is turning ghetto out of no where. wtf man"
"At this point every single time I drive to Des Moines is a 'lost in the ghetto' moment :/"
"Des Moines is actually super ghetto minus downtown. Sketch."
8. Burlington
Income: $39,522
Drop out rate: 16%
Crime: 6th highest
Burlington's dropout rate isn't nearly as high as other cities on this list (especially Storm Lake, below). However, the crime here is 6th highest in Iowa, and income levels are in the bottom 15% as well.
About 30% of people under the age of 18 and over the age of 65 live in poverty. For Iowa, that's really high.
Over the last several years, several large businesses have relocated from Burlington, including battery maker Exide, CAT and Lehigh-Leopold. This has meant job losses and abandoned manufacturing plants in the area. At one point, Burlington's unemployment rate was twice the state average.
9. Fort Madison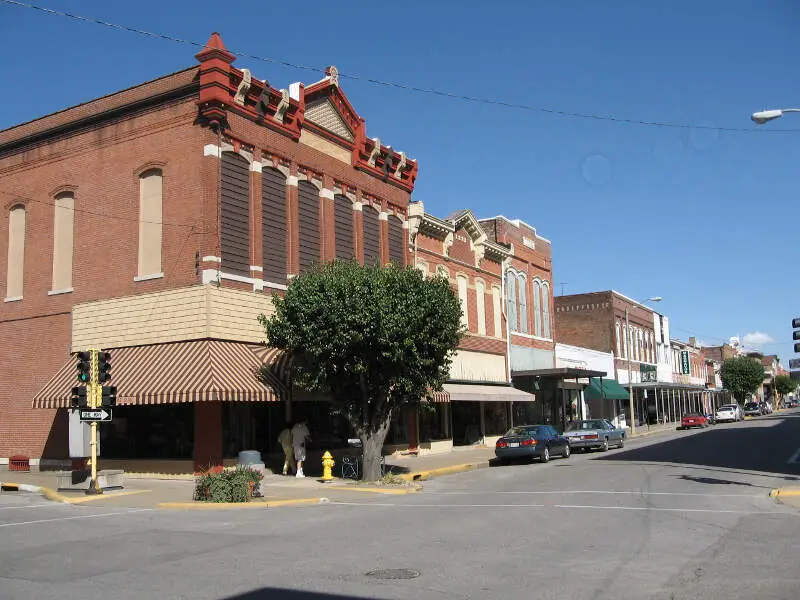 Income: $39,621
Drop out rate: 18%
Crime: 11th highest
Along the Mississippi in the southeastern part of the state is Fort Madison, where income levels, dropout rates and crime are all in the 'bad' 10% of Iowa.
It's pretty clear at this point that this part of Iowa is the most ghetto part of the state.
10. Clarinda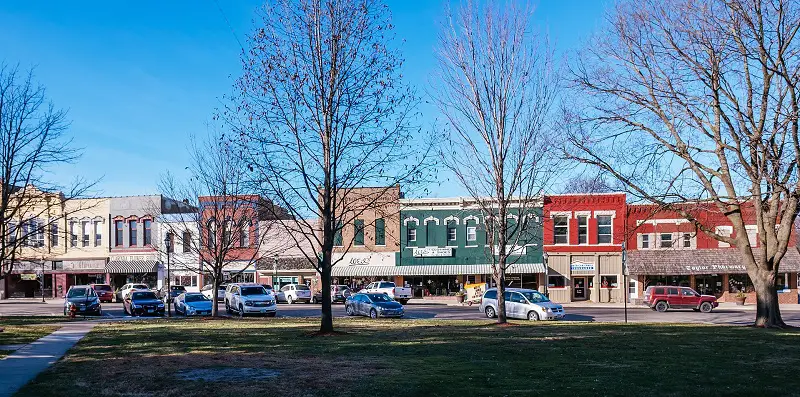 Income: $40,236
Drop out rate: 23%
Convenience stores: 10th highest
Clarinda is a ghetto little town in the southwestern part of the state.
The population in this isolated town has dropped over the last 12 years, and doesn't show any sign of improving. When you look at the numbers, you can tell why.
There were lots of geo-located Tweets coming from this location as well, which is surprising for such a small place.
Example: "It's weird to think about how ghetto Clarinda is sometimes, like you wouldn't think their would be drug abuse in a small midwest town
"
There You Have It
If you're measuring the locations in Iowa where there are a high number of poor and uneducated residents, and where there are a high number of discounted shopping stores, this is an accurate list.
Additionally, here are the least ghetto places in Iowa: Norwalk, Grimes, Eldridge, Waukee, Waverly.
We also wrote about the 10 Most Redneck Cities In Iowa if you didn't happen to see it.
Desktop users, below is a ghetto ranking chart of all large cities in Iowa, along with their crime numbers: