This article is an opinion based on facts and is meant as infotainment. Don't freak out.
Swipe left for slideshow. Article continues below.
Advertisement
[adrotate banner='4′]
There are lots of people who throw the term 'ghetto' around. But which of the largest cities in Mississippi are the most ghetto of all?
How do you decide if a place is ghetto or not? You ask the internet. According to the Urban Dictionary, a ghetto is defined as:
"urban; of or relating to (inner) city life" and "poor; of or relating to the poor life."
Using that criteria, it's not hard to scrape the internet, run some scientific data on where ghettos might exist in a state, and then put out a list.
After analyzing the largest cities here, we came up with this list as the most ghetto places to live in Mississippi:
In case you're wondering, Madison is the least ghetto city of all we measured.
Read on below to see where your hometown ranked and why.
For more Mississippi reading, check out:
Advertisement
[adrotate banner='5′]
What ghetto criteria did we use?
In order to rank the most ghetto places in Mississippi, we had to determine what criteria defines a ghetto city or neighborhood.
Since a ghetto is defined as a poor area, we used income levels, crime and education levels as a guide to determine where the most broke citizens of a state live.
Additionally, the staples of inner city life include cheap and discounted retail outlets.
We started by making a list of cities with populations over 5,000 based on the 2013 American Community Survey. That left us with 41 cities in Mississippi to measure.
We threw a lot of criteria at this one in order to get the best, most complete results possible. Using Yelp and Area Vibes, this is the criteria we used:
Household income levels
High school graduation rates
Number of convenience stores
Number of drug stores
Number of discount stores
Crime
Twitter mentions of #ghetto
Note: For the sake of getting reliable numbers, we counted places within a city's border, as well as within a short driving distance.
All of these results are listed in a per capita basis. Meaning number of stores per person in a state. Additionally, high school graduation rates are determined by looking at the total number of people who live in a city, not the current graduation rate of an area's high schools.
For geo-located Tweets, we measured all mentions coming from a city with #ghetto
Advertisement
[adrotate banner='7′]
1. Holly Springs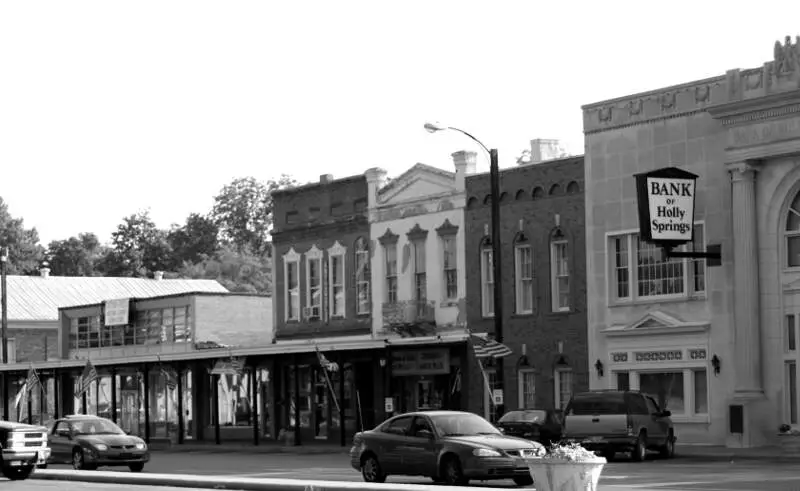 Income: $22,808
Drop out rate: 39%
Crime: 6th worst
When you look at the data, little Holly Springs, located about an hour south of Memphis, is the most ghetto city in Mississippi.
First off, this is by far the poorest city in Mississippi, and one of the poorest cities in the nation. Residents here average far below the poverty line, and simply struggle on a daily basis.
Part of that struggle is due to the astronomically high dropout rate – nearly 4 in 10 adults over 25 never got a high school diploma.
Crime is really bad here, too.
2. Clarksdale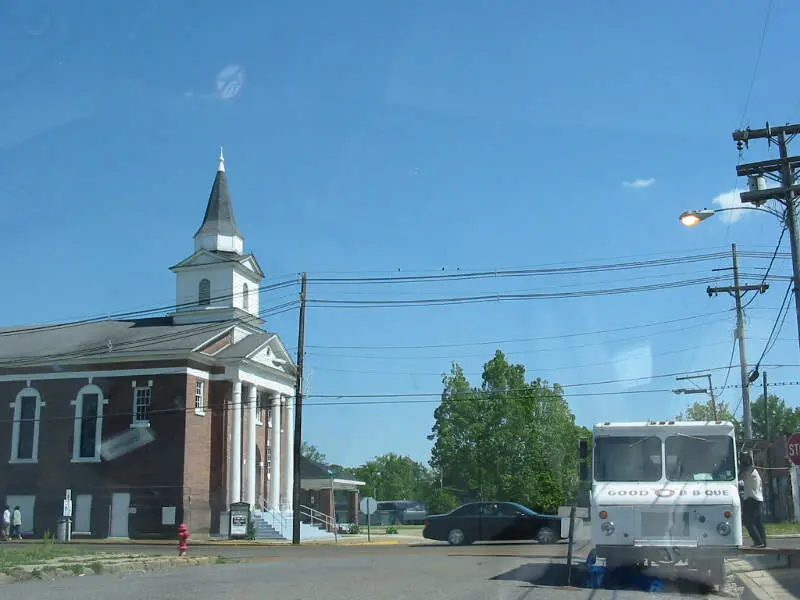 Income: $24,918
Drop out rate: 31%
Crime: 3rd worst
This small city on the western half of the state is home to strong musical roots. Unfortunately, it's also strongly ghetto, when you look at the data, especially when you consider the crime that takes place here.
Not only are the residents here broke, lots of them are out of work. More than 10% of the folks in Clarksdale were considered unemployed, according to the latest 2013 data. 3 in 10 people never got a diploma.
About 5 people Tweeted something similar to this:
"I'm from Clarksdale, Mississippi. The intersection of ghetto and country."
3. Indianola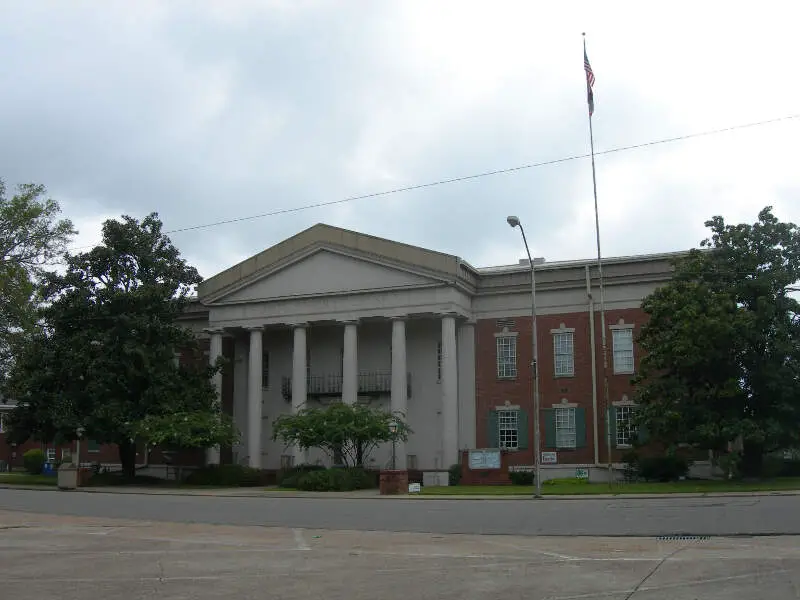 Income: $25,776
Drop out rate: 29%
Crime: 10th worst
About halfway between Memphis and Jackson is the small city of Indianola. Understandably, the residents here are very poor and uneducated. After all, this is rural Mississippi where jobs aren't necessarily widely available.
Almost 6 in 10 kids and the elderly live below the poverty line, and among far higher than average crime. There were 9 violent crimes per 1,000 residents here, and you have a 1 in 12 chance of being the victim of a crime if you lived here for a year.
This is the former home town of legendary musician B.B. King.
4. Greenwood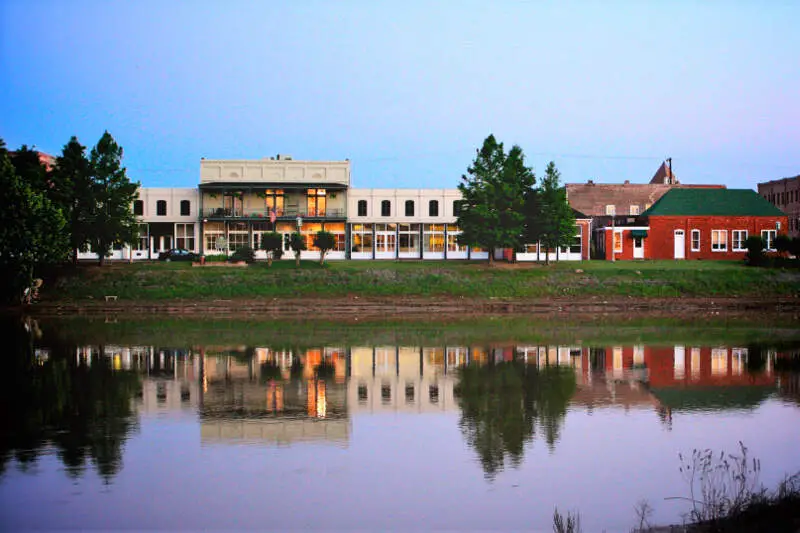 Income: $28,232
Crime: 9th worst
Dropout rate: 36%
At one point, Greenwood was known as the cotton capital of the world. Currently, it's known as one of the most ghetto cities in Mississippi.
This mid-sized city along the western half of the state saw 4 murders in 2013 – which is really high for a city of barely more than 16,000. Additionally, you'd have about a 1 in 18 chance of being the victim of a robbery if you spent a year here.
5. Canton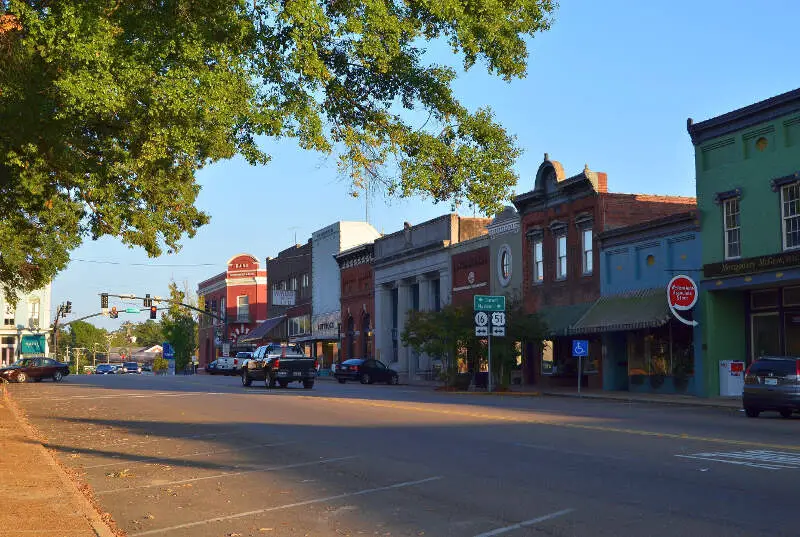 Income: $35,064
Drop out rate: 34%
Crime: 4th worst
Here's how bad things are in Mississippi economically: Canton's average family income levels are higher than $35,000, which is considered really high for this list.
What really plagues Canton is crime and lack of education. Plus, there are a very high number of discount type outlets in this medium sized city. Sociologists have indicated that retail outlets like drug stores and convenience stores are a staple of inner city life.
6. Laurel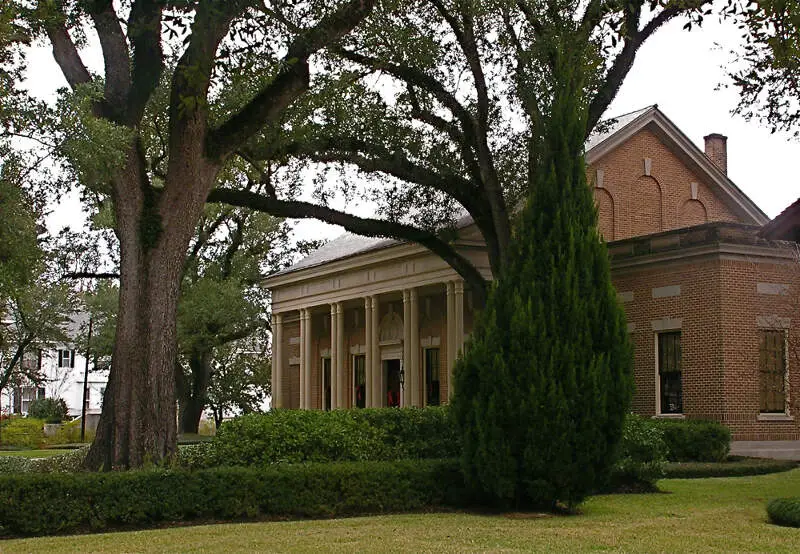 Income: $29,152
Drop out rate: 32%
Convenience stores: 6th most in MS
Two people were killed in this small city in 2013 alone. For a place of just over 18,000, that's some scary stuff. Additionally, there were almost 1,000 property crimes here. So there's a really good chance that if you weren't robbed, your neighbor was.
Almost 40% of the kids here live in poverty and based on the recent history here, it looks like many of them will continue living poorly, since the graduation rate here is really low.
Lance Bass of NSYNC fame grew up here.
7. Aberdeen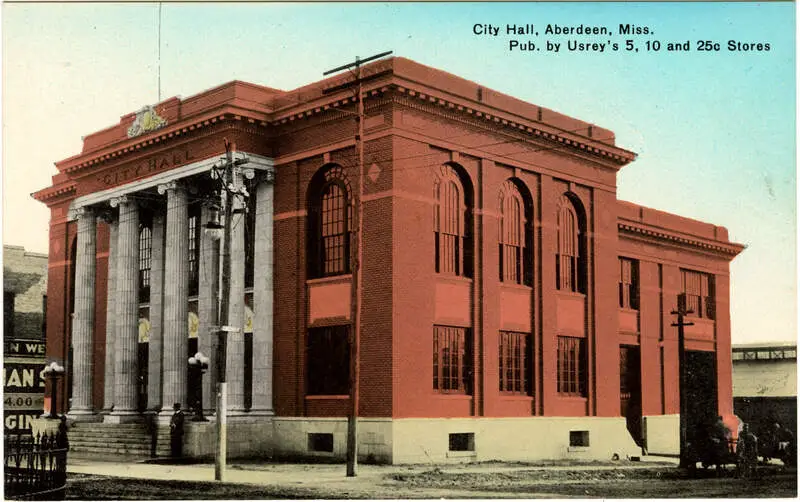 Income: $26,910
Dropout rate: 28%
Drug stores: 5th in MS
Aberdeen isn't necessarily that dangerous – it's about average for the state. However, it's a very poor place, where about 10% of the adults are out of work and highly uneducated.
The population here is 5,600, which is far below from where it was even 10 years ago. There are also just about more drug stores per person here than anywhere else in Mississippi.
8. Greenville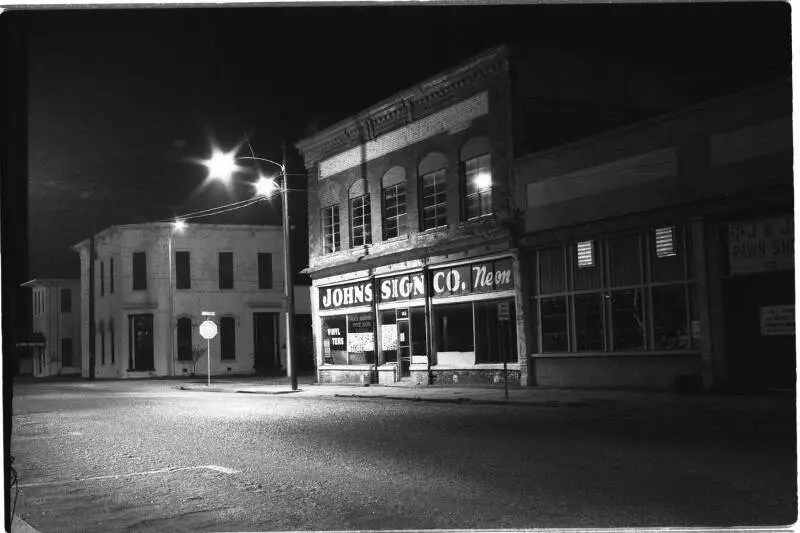 Income: $28,743
Drop out rate: 30%
Crime: 15th worst
There were a whopping 7 murders in Greenville in 2013 alone. That's off the charts for a city of just 33,000 people. And residents here had a 1 in 14 chance of being robbed for every year they spent in city limits.
The population here has plummeted almost 17% since the year 2000. That's what will happen when people have to worry about making ends meet, while dodging crime on a daily basis.
On City Data, residents are skeptical of if Greenville will make a comeback. Some claim the nearby casinos along the Mississippi River are a drain on the poor.
9. Jackson

Income: $33,434
Drop out rate: 22%
Crime: Worst in MS
The internet disagrees with Jackson being so low on this list. In fact, most people say Jackson should be the 9th most ghetto city in the nation, not just in Mississippi.
However, when you look at the numbers, Jackson isn't as bad as some of the smaller places. At least overall. Sure, we'll admit that some of the more ghetto areas of Jackson are larger than these entire cities listed above.
But we're measuring an entire city here.
As you can imagine, there were dozens of #ghetto Tweets coming from Jackson.
"Jackson is so ghetto, it's sad."
10. Columbus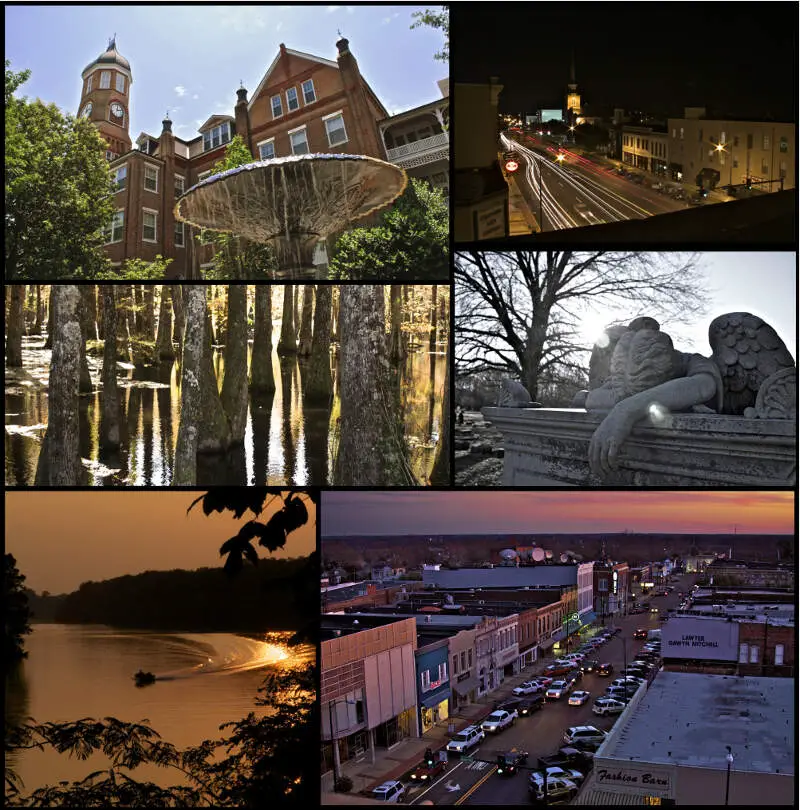 Income: $29,825
Drop out rate: 28%
Convenience stores: 2nd most
This medium sized city isn't too far east from Starkville. It has one of the highest unemployment rates in the state – where nearly 13% of residents are out of work.
When nearly 3 in 10 people is uneducated, and there's a far higher than average crime rate, that's an expected outcome.
There You Have It
If you're measuring the locations in Mississippi where there are a high number of poor and uneducated residents, and where there are a high number of discounted shopping stores, this is an accurate list.
Additionally, here are the least ghetto places in MS: Madison, Diamondhead, Brandon, Gulf Park Estates, Hernando.
We also wrote about the 10 Most Redneck Cities in Mississippi if you didn't happen to see it.
Desktop users, below is a chart of all the cities, from most ghetto to least: