Mississippi is one of the nation's most beautiful states. Home to some of the most hospitable and friendly people in the United States, the Magnolia State is certainly one of the nation's gems.
However, is it all roses in Mississippi? Not at all. With every great place there, there's another one that's not so awesome. The purpose of this post is to find out, once and for all, which places in Mississippi are truly the worst. And we used scientific data to figure it all out.
Meaning, no arguing here. This is all based on science and it's unbiased.
After analyzing all 62 of the state's most populous cities, we came up with this list as the 10 worst places in Mississippi:
The 10 Worst Places To Live In Mississippi For 2023
Where are these places, you wonder? And before you get all riled up and say we're picking on small towns in Mississippi, that's not the case.
We understand there's a lot of good in every place. For example, the best place to live in Mississippi is Madison.
However, according to data (which doesn't measure things like beauty and 'friendly people'), the state has far better options for making a place home. And the worst place to live in Mississippi? The worst place to live in Mississippi is Forest.
Read below to see how we crunched the numbers and how your city fared in 2023.
If you're looking for something more national, check out the worst cities in America or the worst states in America.
For more Mississippi reading, check out:
---
Table Of Contents: Top Ten | Methodology | Summary | Table
---
The 10 Worst Places To Live In Mississippi For 2023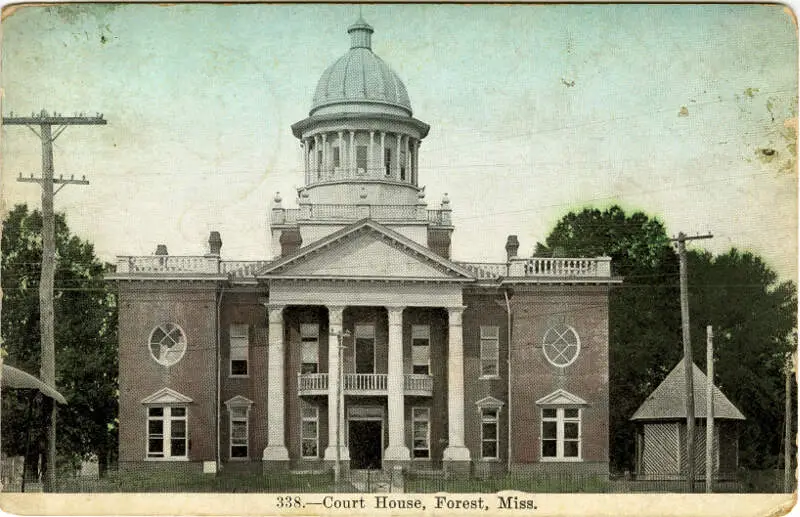 Source: Public domain
Located about 45 minutes east of Jackson, Forest lives up to its name. It's located inside the Bienville National Forest, making the area a draw for tourists and giving its 5,464 residents access to plenty of outdoor fun.
There are downsides, though. Given its remote location, the area suffers from a lack of housing and a difficult job market. A weak education system and a scarcity of amenities also causes problems.
The unemployment rate in the region comes in at 8.4%. Meanwhile, the median income equals $45,274. Schools in the region are mediocre at best, topping out at a score of 6/10 on Great Schools.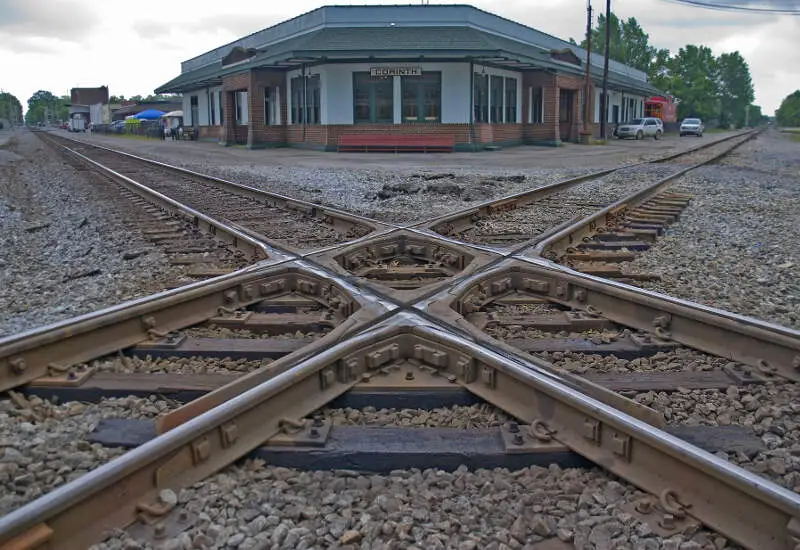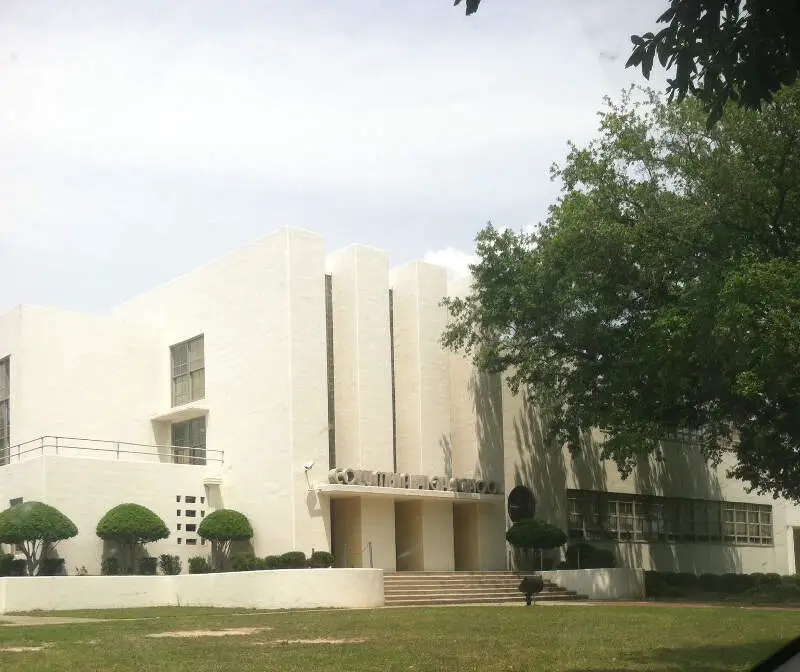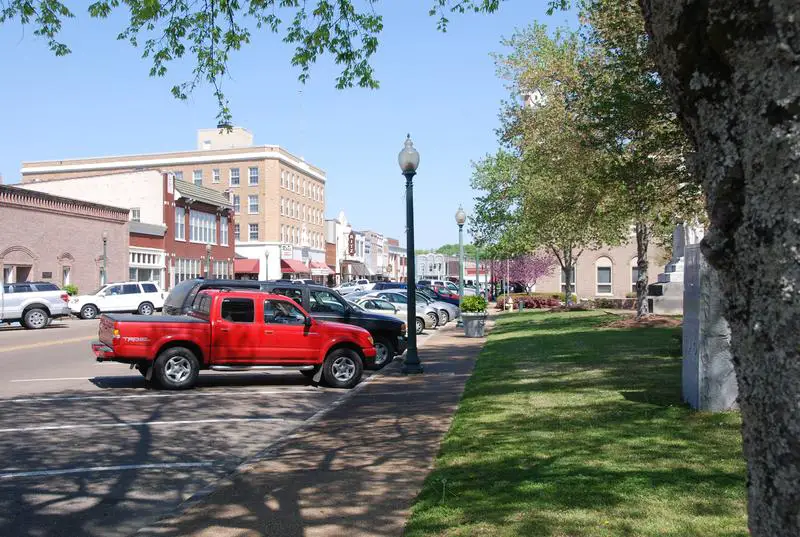 Actually, despite its name, West Point is located in the eastern part of the state. For a town of just 10,148 people, it features a strong cultural history.
However, day-to-day life in West Point can present a struggle. A lack of jobs and a high crime rate create problems. The unemployment rate runs to 11.3% and 31.5% of the residents live below the poverty line. Meanwhile, the crime rate tracks about 30% above the national average.
There are other problems in town as well. Education and housing are also concerns. Even the best local schools only rate a 5/10 on Great Schools.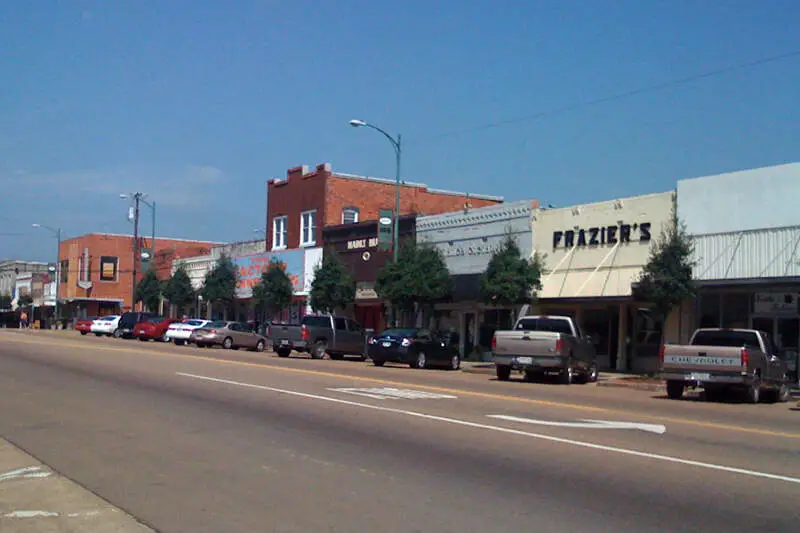 Source: Public domain
Louisville, Kentucky, is one of the main metropolitan areas of that state. Louisville, Mississippi…not so much. In fact, this town of 6,108 residents is located in a rural part of the Magnolia State, more than an hour and a half away from Jackson. This Louisville is also one of the most unappealing locations in all of Mississippi.
What makes Louisville so bad? Well, the area faces challenges related to jobs, housing, and education. The unemployment rate runs 9.7% and the median income sits at $34,654.
Locals do get some benefit from their isolated location. The town is situated just south of the beautiful Tombigbee National Forest.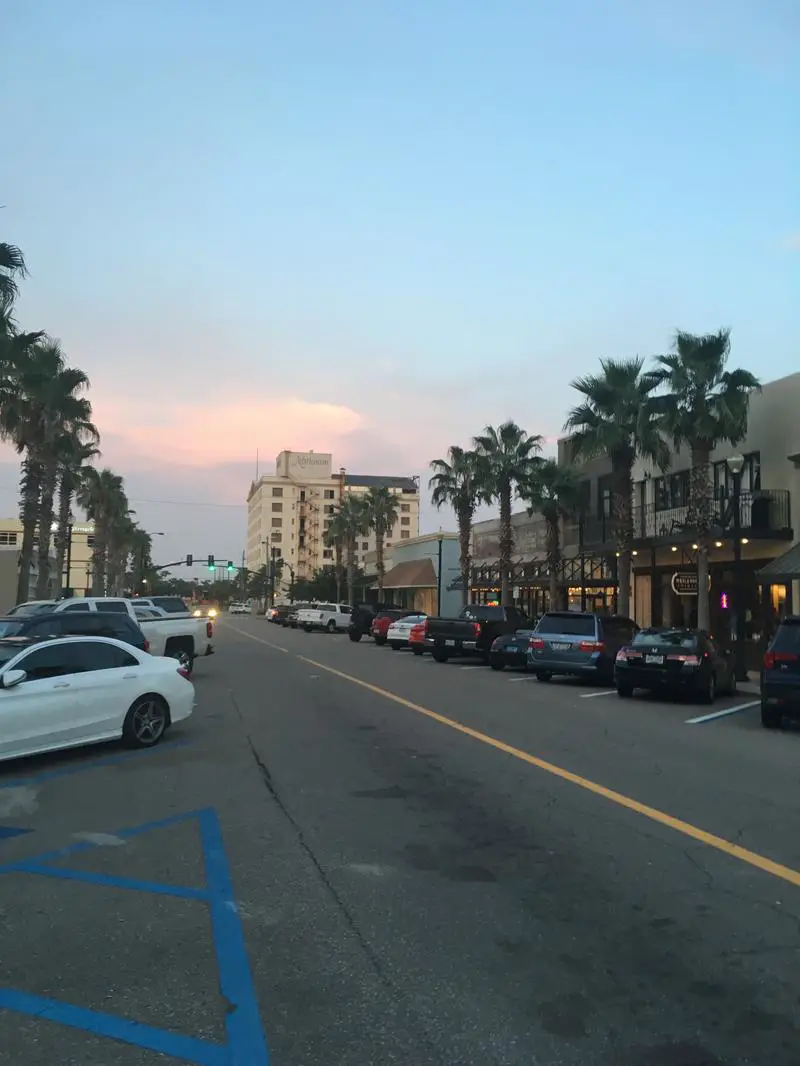 Gulfport has a great location, sitting (as the name implies) along Mississippi's Gulf Coast. It features access to beach and water entertainment, as well as other recreational options. For instance, the Island View Casino Resort is located in town.
As a result of these amenities, Gulfport draws its share of tourists. However, for the locals, it represents a tough place to make a living. These economic woes make the town of 72,468 residents one of the worst places in Mississippi to put down roots.
Despite the attractions for vacationers, there aren't many economic opportunities in town. The unemployment rate sits at 11.6%. At the same time, the local median income hovers at $41,250, and 25.6% of people struggle on the wrong side of the poverty line.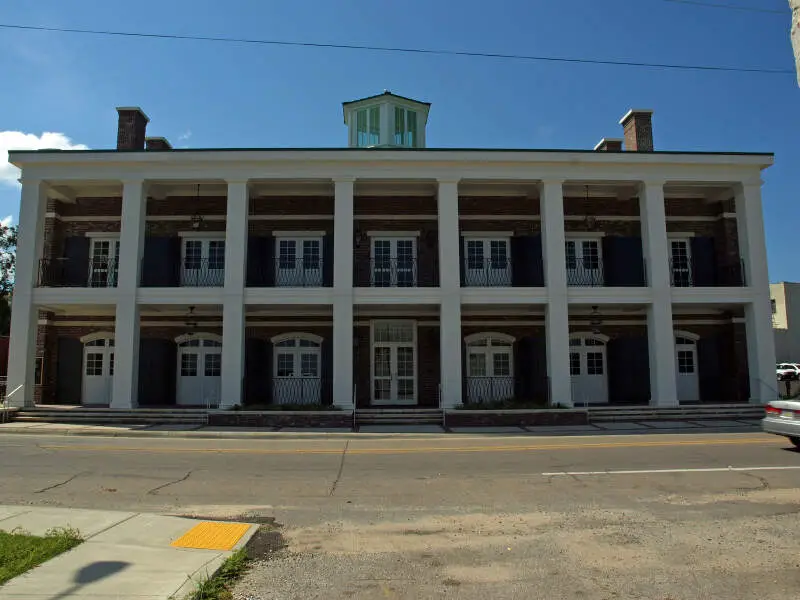 Moss Point sits in the southeast part of the state, just north of Pascagoula, near the Gulf Coast. Biloxi lies about a half hour to the west, while a 40-minute drive east will take you to Mobile, Alabama.
The location does provide great access to the water. The 12,282 residents of the town can head over to the Grand Bay Savanna Coastal Preserve to take in the local national beauty. Unfortunately, a weak economy makes this one of the worst places in Mississippi to put down roots.
A lack of jobs acts as the main cause of concern in the area. The unemployment sits at 9.0%, while the median income hovers at $43,471. Meanwhile, there are also worries related to housing and education.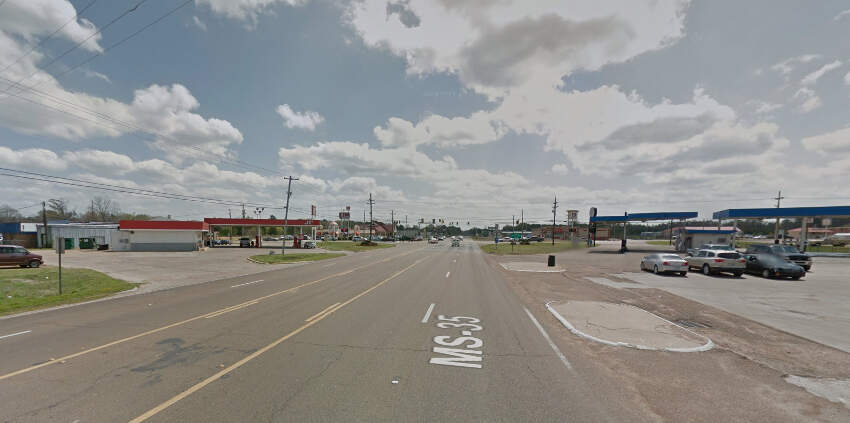 Source: Wikipedia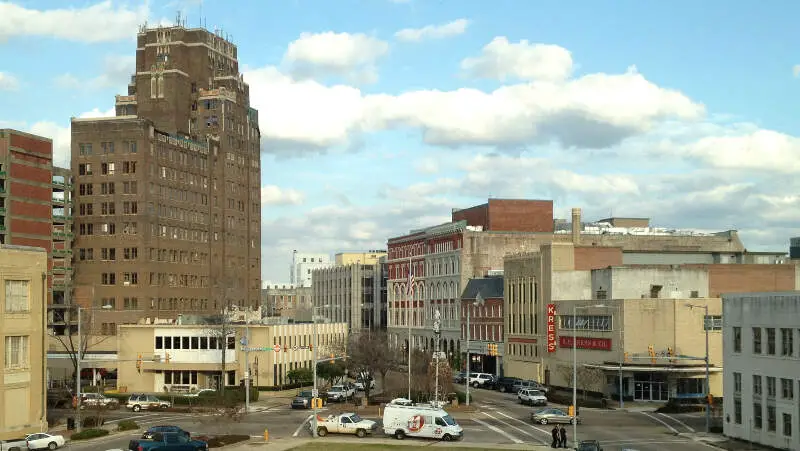 Methodology: How we determined the worst places to live in Mississippi for 2023
To figure out the worst places to live in Mississippi, we only needed to know what kinds of things people like and then decide what cities have the least amount of those things.
We don't think it's a stretch to assume that people like the following things:
Good education
Lots of jobs
Low crime
Low poverty
Nice homes
High incomes
High population density (Lots of things to do)
Short work commutes
Health insurance
The data comes from the Census's most recent American Community Survey and the FBI Uniform Crime Report.
We broke crime down into violent crime and property crime to give violent crime a more significant weight. If you did a simple calculation of all crimes per capita, property crimes are typically 7x more common and bias that ranking.
Furthermore, only cities with at least 5,000 people were considered — leaving 62 cities.
We then ranked each city from 1 to 62 for all the criteria, with a #1 ranking being the worst for the particular criteria.
Next, we averaged the rankings into one "Worst Place To Live Score."
Finally, we ranked every city on the "Worst Place To Live Score," with the lowest score being the worst city in Mississippi — Forest. Read on for a detailed look at the ten worst cities in Mississippi.
Editor's Note: This article is an opinion based on facts meant as infotainment. We updated this article for 2023. This is our tenth time ranking the worst places to live in Mississippi.
Summary: Wrapping Up The Worst In Mississippi
If you're looking at areas in Mississippi with the worst economic situations, where there's higher than average crime and little to do, this is an accurate list.
And in the end, Forest ranks as the worst city to live in Mississippi for 2023.
If you're curious enough, here are the best cities to live in Mississippi:
Ridgeland (Pop. 24,330)
Brandon (Pop. 24,887)
Madison (Pop. 27,459)
For more Mississippi reading, check out:
Worst Places To Live In Mississippi?
| Rank | City | Population |
| --- | --- | --- |
| 1 | Forest | 5,464 |
| 2 | Corinth | 14,545 |
| 3 | Leakesville | 5,598 |
| 4 | Columbia | 5,998 |
| 5 | West Point | 10,148 |
| 6 | Louisville | 6,108 |
| 7 | Gulfport | 72,468 |
| 8 | Moss Point | 12,282 |
| 9 | Carthage | 5,622 |
| 10 | Meridian | 35,625 |
| 11 | Columbus | 23,858 |
| 12 | Vicksburg | 21,748 |
| 13 | Laurel | 17,375 |
| 14 | Natchez | 14,435 |
| 15 | Canton | 10,955 |
| 16 | Brookhaven | 11,855 |
| 17 | Gautier | 18,932 |
| 18 | Greenville | 30,175 |
| 19 | Picayune | 11,777 |
| 20 | Biloxi | 49,061 |
| 21 | Clarksdale | 15,124 |
| 22 | Greenwood | 14,521 |
| 23 | Cleveland | 11,285 |
| 24 | Pascagoula | 22,001 |
| 25 | Batesville | 7,404 |
| 26 | Holly Springs | 6,743 |
| 27 | Waveland | 7,063 |
| 28 | Hattiesburg | 47,074 |
| 29 | Ripley | 5,412 |
| 30 | Amory | 6,665 |
| 31 | Indianola | 9,679 |
| 32 | Richland | 7,126 |
| 33 | Grenada | 12,675 |
| 34 | Philadelphia | 7,107 |
| 35 | Bay St. Louis | 9,568 |
| 36 | Jackson | 156,803 |
| 37 | Kosciusko | 7,128 |
| 38 | New Albany | 7,657 |
| 39 | Senatobia | 8,075 |
| 40 | Pontotoc | 5,621 |
| 41 | D'Iberville | 12,736 |
| 42 | Booneville | 8,702 |
| 43 | Pearl | 27,017 |
| 44 | Tupelo | 37,872 |
| 45 | Pass Christian | 5,655 |
| 46 | Horn Lake | 26,623 |
| 47 | Starkville | 24,578 |
| 48 | McComb | 12,400 |
| 49 | Southaven | 54,141 |
| 50 | Diamondhead | 9,417 |
| 51 | Petal | 11,342 |
| 52 | Flowood | 10,019 |
| 53 | Hernando | 16,730 |
| 54 | Olive Branch | 39,136 |
| 55 | Clinton | 27,830 |
| 56 | Ocean Springs | 18,275 |
| 57 | Byram | 12,591 |
| 58 | Oxford | 25,859 |
| 59 | Long Beach | 16,654 |
| 60 | Ridgeland | 24,330 |
| 61 | Brandon | 24,887 |
| 62 | Madison | 27,459 |