This article is an opinion based on facts and is meant as infotainment. Don't freak out.
Swipe left for slideshow. Article continues below.
Advertisement
[adrotate banner='4′]
There are lots of people who throw the term 'ghetto' around. But where is the actual ghetto in Oklahoma?
How do you decide if a place is ghetto or not? You ask the internet. According to the Urban Dictionary, a ghetto is defined as:
"urban; of or relating to (inner) city life" and "poor; of or relating to the poor life."
Using that criteria, it's not hard to scrape the internet, run some scientific data on where ghettos might exist in a state and then put out a list.
After analyzing all cities with a decent amount of people in them, we came up with this list as the most ghetto places in Oklahoma:
Broken Bow
Bristow
Read on below to see where your home town ranked and why.
Oklahoma City ranks as the 31st most ghetto city (out of 85). On the flip side, Norman, Broken Arrow and Edmond are some of the least ghetto cities in Oklahoma.
For more Oklahoma reading, check out:
Advertisement
[adrotate banner='5′]
What ghetto criteria did we use?
In order to rank the most ghetto places in Oklahoma, we had to determine what criteria defines a ghetto city or neighborhood.
Since a ghetto is defined as a poor area, we used income levels, crime and education levels as a guide to determine where the most broke citizens of a state live.
Additionally, the staples of inner city life include cheap and discounted retail outlets.
We started by making a list of every place in Oklahoma with more than 4,000 people based on the 2013 American Community Survey. That left us with over 85 places in the Sooner State.
We threw a lot of criteria at this one in order to get the best, most complete results possible. Using Yelp and Area Vibes, this is the criteria we used:
Household income levels
High school graduation rates
Number of convenience stores
Number of drug stores
Number of discount stores
Crime
Note: For the sake of getting reliable numbers, we counted places within a city's border, as well as within a short driving distance.
All of these results are listed in a per capita basis. Meaning number of stores per person in a state. Additionally, high school graduation rates are determined by looking at the total number of people who live in a city, not the current graduation rate of an area's high schools.
Advertisement
[adrotate banner='7′]
1. Idabel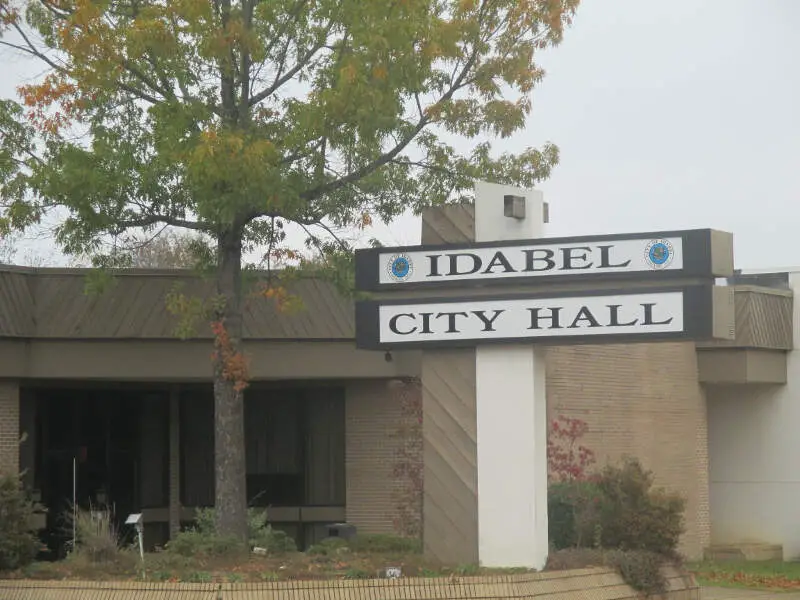 Income: $24,015
Drop out rate: 26.6%
Crime: 23rd highest
If you haven't been through Idabel, know this: It's poor and uneducated. This city in the far southwest corner of the state just might be the most ghetto area in the entire state of Oklahoma.
The government considers $25,000 a year the poverty line for a family of four. In Idabel, the average family earns less than that. In fact, nearly 3 in 10 people here lives below the level of what is considered the bare minimum to survive.
Idabel has the 3rd highest number of drug stores, per person, in the state. Sociologists have determined that drug stores are a staple of inner city life.
2. Broken Bow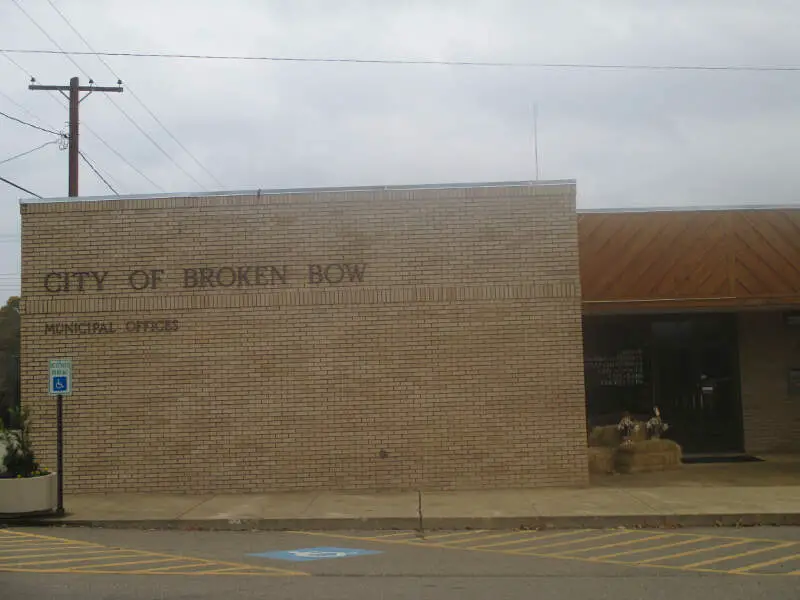 Income: $25,000
Drop out rate: 25.7%
Crime: 7th highest
This probably isn't a surprise to folks in Oklahoma. Broken Bow is a broken city. It's very poor, and the 7th most dangerous place in the state for cities over 5,000 people, according to the FBI.
If you spent a year in Broken Bow city limits, you'd have a 1 in 20 chance of being the victim of a property crime. Most of those were robberies.
It's just about right next door to Idabel.
The real shocker: 47% of the population lives below the poverty line. We've run a lot of data for this site, and that might be the highest we've ever seen.
3. Anadarko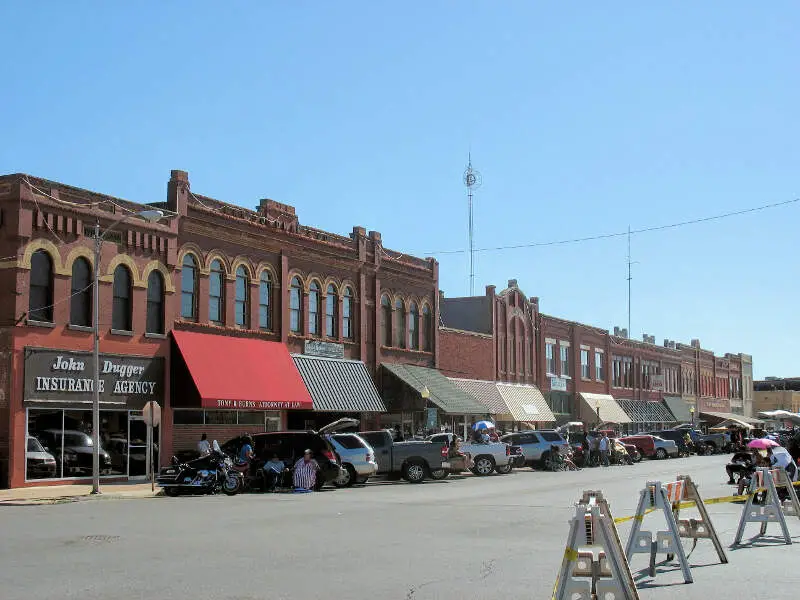 Income: $32,585
Drop out rate: 28.2%
Drug stores: 15th highest
Half of the population of Anadarko is Native American. There are many glaring issues here, like there are in a majority of the American cities with a majority Native American population.
This city, 50 miles southwest of OKC, has a per capita income of $12,060 per resident. That's extraordinarily low.
In addition, 3 in 10 people here never completed high school, and Anadarko was 5th in the state for mentions of the word #ghetto on Twitter.
4. Bristow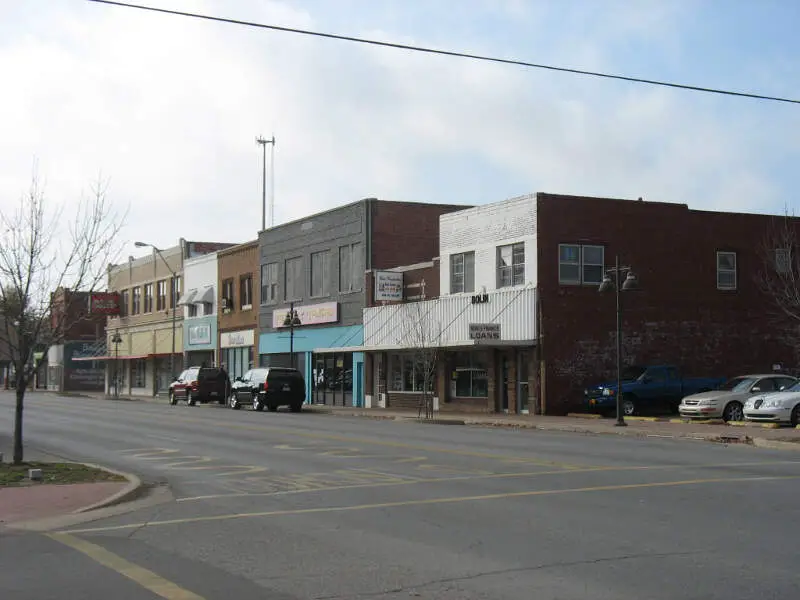 Income: $29,939
Drop out rate: 26%
Crime: 12th highest
Having the 3rd highest number of convenience stores per capita and the 6th lowest income level in the state isn't a good combination. But that's what the current situation is for the small town of Bristow, located about halfway between OKC and Tulsa along I-44.
1 in 5 families lives below the poverty line here, and the median home price is $61,000 as of this writing. That's one of the lowest average home prices you'll ever see in the U.S.
5. Okmulgee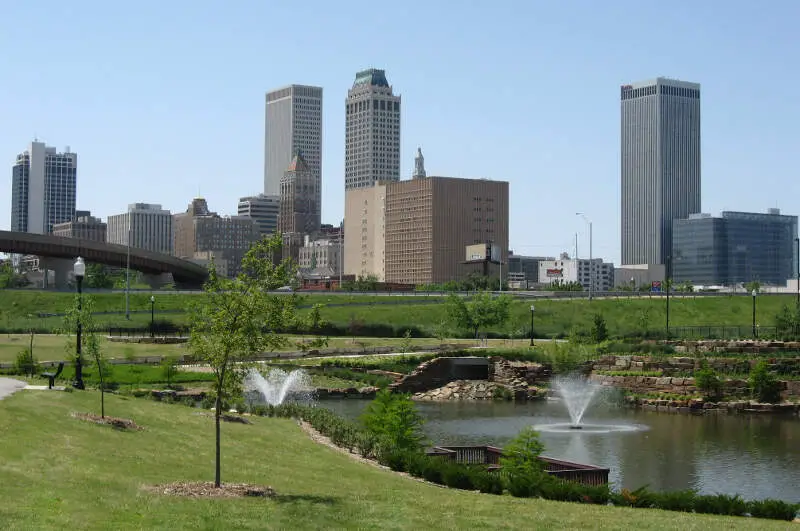 Income: $32,022
Drop out rate: 21.6%
Crime: 11th highest
Outside of a major city, there was more chatter about how ghetto Okmulgee is on Twitter than just about any other place.
Example: "thinking about getting a second job in okmulgee but its so ghetto and what if we get robbed?"
Not only do the economic factors define this city of 12,000 as a true ghetto, but it's about an hour's drive from a major city, making it difficult for those who are struggling to get out of the ghetto and into a better situation.
6. Holdenville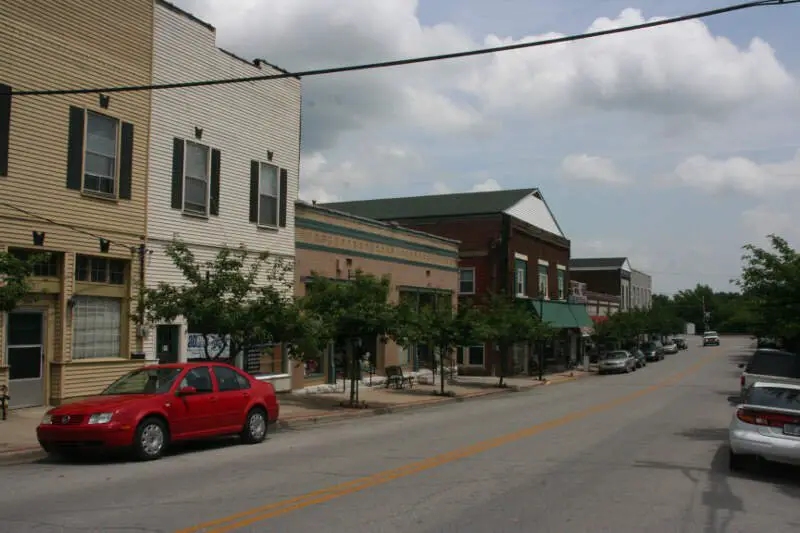 Source: Public Domain
Income: $26,264
Drop out rate: 43.4%
Crime: 42nd
The good news about Holdenville: It's only about average when it comes to overall crime. However, there was a murder here two years ago, which is horrible for a community so small (5,800 people).
The bad news: Holdenville has the highest dropout rate in the state. Almost half of the population never completed high school. Even though 14% are Native American, in this day and age, every American has a chance to excel.
And the fact is, hardly anyone here excels. Holdenville is the 4th poorest and the 4th least employed city in Oklahoma.
7. Seminole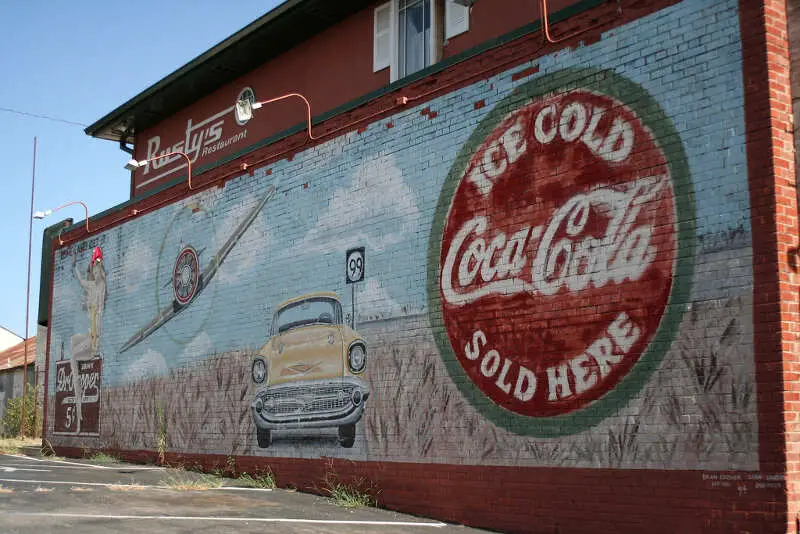 Income: $30,702
Drop out rate: 26%
Crime: 6th highest
Seminole is another smallish town where 1 in 7 residents is Native American. Here, the main issue is crime and poverty. Seminole is statistically the 6th most dangerous place in the state, where most residents have a far higher average to be a victim of crime than most other cities in OK.
1 in 5 members of the community lives below the poverty line, and homes sell for just over $70,000 on average.
Seminole is a bit aways from the greater southeastern Oklahoma City area.
8. Muskogee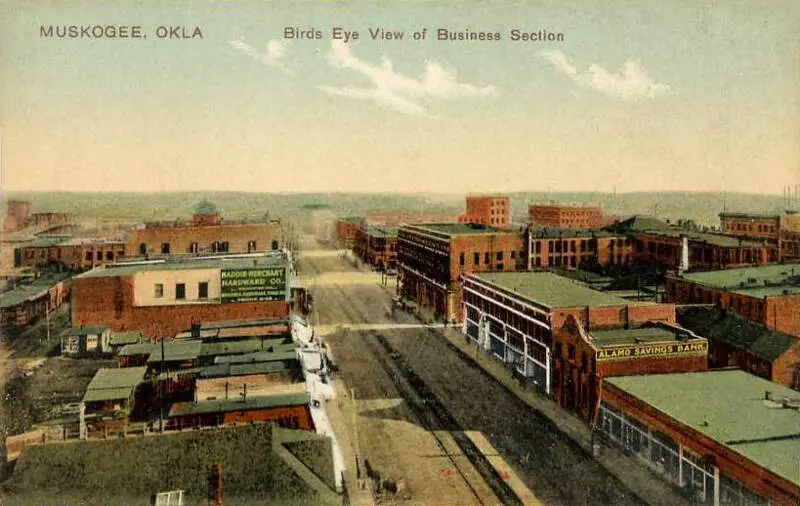 Income: $32,621
Drop out rate: 21%
Crime: 9th highest
Crime is pretty bad in Muskogee, which is the largest city to make this list. There were two murders here in 2013 -which is really high for Oklahoma – and folks have a 1 in 22 chance of being robbed (car or home).
According to Wikipedia, the crime rate has risen here by 45% in the last 20 years.
Muskogee is about 45 minutes southeast of Broken Arrow.
There was plenty to say about Muskogee on Twitter. This was a gem:
"Being in the ghetto of Muskogee on July 4th weekend is kinda scary because you have to ask yourself, 'Fireworks or gunshots?'"
9. Ardmore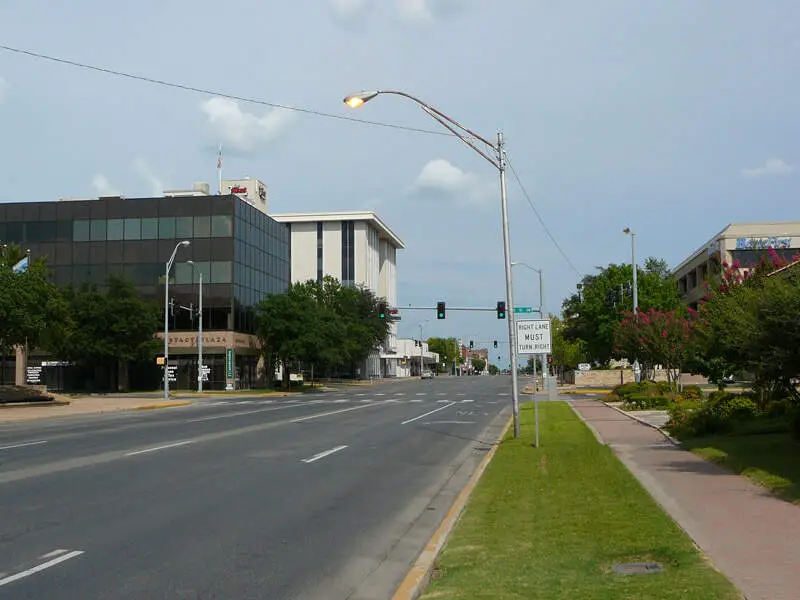 Income: $38,383
Drop out rate: 21.6%
Crime: Highest in OK
And speaking of crime, welcome to the city of Ardmore, population 25,000. Statistically, there isn't another place in the entire state of Oklahoma where you'd have a higher chance of being raped, killed, attacked or robbed than here.
In fact, if you spent a year here, you'd have a 1 in 12 chance of being victimized by some type of crime. That's one of the highest rates we've ever seen in the nation. Most of those crimes are considered larceny, meaning lots of stolen laptops, cell phones and televisions.
Ardmore is down I-35 on your way to Dallas-Fort Worth. That might be part of the reason it's so dangerous here. It might be major highway for transporting drugs.
10. Ada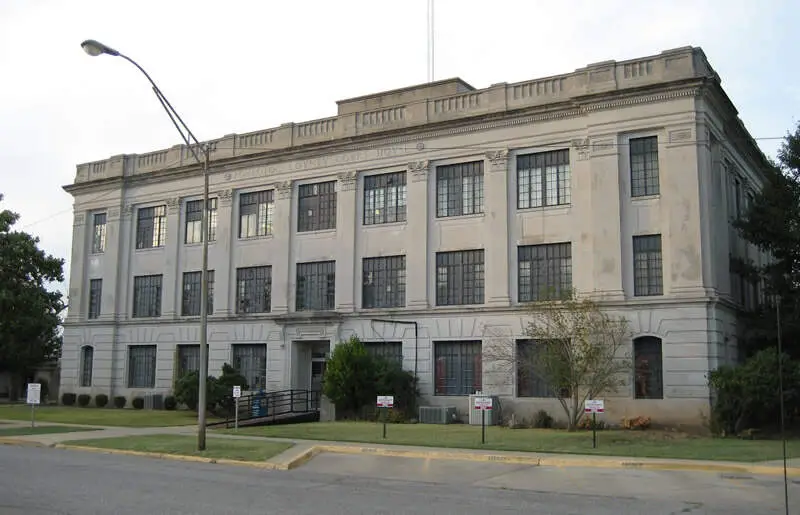 Income: $32,226
Drop out rate: 21.3%
Crime: 14th highest
Ada has one of the highest concentrations of discount and drug stores in the state. That's an indication of inner city life for sure.
Additionally, it's the 14th most dangerous place in the state, and most families here struggle to make ends meet.
Ada is close to an hour south of OKC.
There You Have It
If you're measuring the locations in Oklahoma where there are a high number of poor and uneducated residents, and where there are a high number of discounted shopping stores, this is an accurate list.
Additionally, here are the least ghetto places in Oklahoma:
Piedmont (Pop. 5,783)
Bixby (Pop. 20,964)
Blanchard (Pop. 7,569)
Jenks (Pop. 16,918)
Choctaw (Pop. 11,202)
We also wrote about the 10 Most Redneck Cities In Oklahoma if you didn't happen to see it.
Or, if you're an Oklahoma City Thunder fan, this will give you the goosebumps. Guaranteed.
Desktop users, below is a chart of all large cities in Oklahoma, along with their crime rates: