This article is an opinion based on facts and is meant as infotainment. Don't freak out.
Swipe left for slideshow. Article continues below.
Advertisement
[adrotate banner='4′]
There are lots of people who throw the term 'ghetto' around. But which of the largest cities in Virginia are the most ghetto of all?
How do you decide if a place is ghetto or not? You ask the internet. According to the Urban Dictionary, a ghetto is defined as:
"urban; of or relating to (inner) city life" and "poor; of or relating to the poor life."
Using that criteria, it's not hard to scrape the internet, run some scientific data on where ghettos might exist in a state, and then put out a list.
After analyzing the largest cities here, we came up with this list as the most ghetto places to live in Virginia:
In case you're wondering, Fort Hunt is the least ghetto city of all we measured.
Read on below to see where your hometown ranked and why.
For more Virginia reading, check out:
Advertisement
[adrotate banner='5′]
What ghetto criteria did we use?
In order to rank the most ghetto places in Virginia, we had to determine what criteria defines a ghetto city or neighborhood.
Since a ghetto is defined as a poor area, we used income levels, crime and education levels as a guide to determine where the most broke citizens of a state live.
Additionally, the staples of inner city life include cheap and discounted retail outlets.
We started by making a list of every city in Virginia over 10,000 people based on the 2013 American Community Survey.
We threw a lot of criteria at this one in order to get the best, most complete results possible. Using Yelp and Area Vibes, this is the criteria we used:
Household income levels
High school graduation rates
Number of convenience stores
Number of drug stores
Number of discount stores
Crime
Twitter mentions of #ghetto
Note: For the sake of getting reliable numbers, we counted places within a city's border, as well as within a short driving distance.
All of these results are listed in a per capita basis. Meaning number of stores per person in a state. Additionally, high school graduation rates are determined by looking at the total number of people who live in a city, not the current graduation rate of an area's high schools.
For geo-located Tweets, we measured all mentions coming from a city with #ghetto
Advertisement
[adrotate banner='7′]
1. Petersburg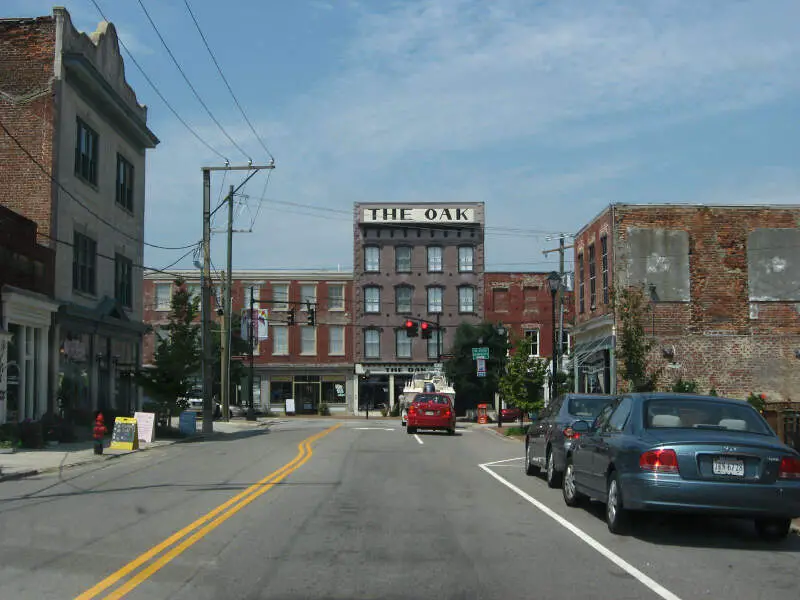 Income: $35,126
Drop out rate: 34%
Crime: 13th worst
When you look at the data, Petersburg is the most ghetto city in Virginia. Let's see why.
First off, there isn't a 'more' uneducated city in the state. A whopping 1 out of 3 residents never completed high school by the age of 25. With that come some long-term problems.
Incomes here are very low. There are only 5 other places in the state where people earn even less than in Petersburg.
And crime is pretty lousy here. There were 7 murders and more than 700 robberies here in just 2013. For a city of 31,000, that's pretty huge.
Petersburg is just south of Richmond on I-95.
2. Danville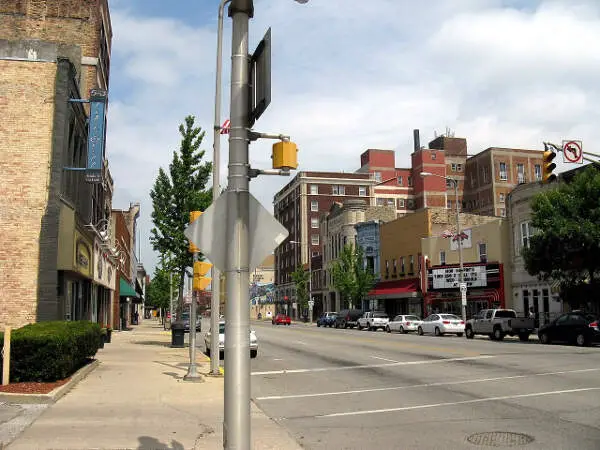 Source: Public Domain
Income: $30,505
Drop out rate: 28%
Crime: 16th highest
The folks in Danville are even poorer than they are in Petersburg. Despite having a slightly better graduation rate, families here are hovering around $30,000 a year total. The government says a family of four needs about $25,000 a year to stay out of poverty.
A forum thread on City Data titled, "Should I run away as fast as I can from Danville, VA?" was met with several responses from current residents. The consensus was yes.
3. Hopewell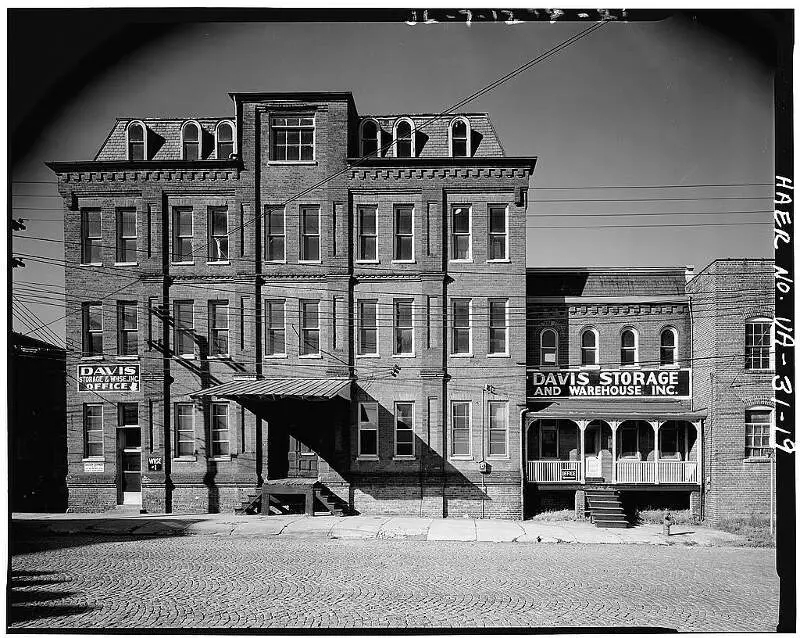 Income: $37,028
Drop out rate: 30%
Crime: 4th worst
Hopewell is a smallish place located along I-295 south of Richmond. It's actually not too far from Petersburg.
You might be surprised to hear that Hopewell is one of the most dangerous cities in Virginia. There were three murders here in 2013, and if you spent a year in Hopewell, you'd have a 1 in 30 chance of being the victim of a crime.
There were actually many mentions of #ghetto from Hopewell residents on Twitter.
Example: "Daniel Radcliffe is filming a movie in Hopewell. Virginia finally gets Harry Potter AND WE SEND HIM TO GHETTO ASS HOPEWELL"
4. Richmond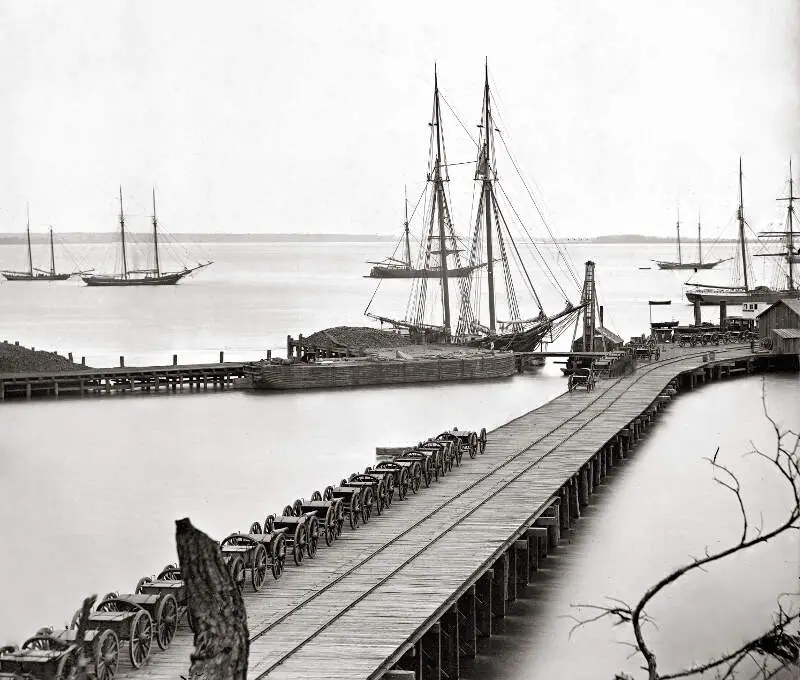 Income: $39,445
Drop out rate: 24%
Crime: 10th worst
As a whole, Richmond is far more dangerous than any of the cities listed above. There were 37 murders, and more than 6,000 robberies here in 2013. But it's a larger city, so statistically, you're actually safer here.
In Richmond, you have nice areas, but the run down areas are RUN DOWN, especially towards the southern side of the city.
What did Twitter have to say? Lots:
"damn, i forgot how ghetto it can be in richmond…."
5. Portsmouth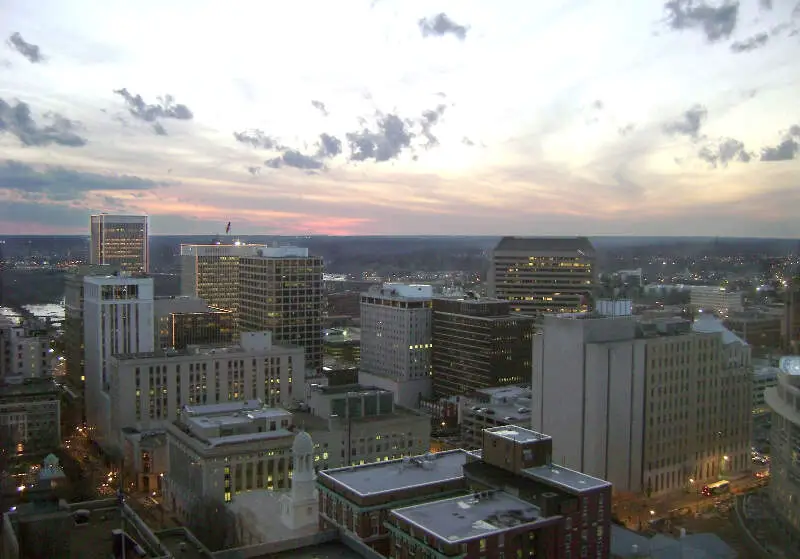 Income: $46,249
Drop out rate: 24%
Crime: 6th worst
It's pretty dangerous in certain areas of Portsmouth, according to the latest crime reports available. There were 12 murders here in 2013, and you have a 1 in 18 chance of being the victim of a crime if you were to live here for a year.
While as a whole, residents certainly aren't the poorest of the cities on this list, but it's pretty clear that a larger than average percentage of the population is uneducated and unemployed.
Here's what one resident said of her hometown:
"There are so many places in Portsmouth I'm 'not allowed to go to' according to my parents because they're too ghetto"
6. Norfolk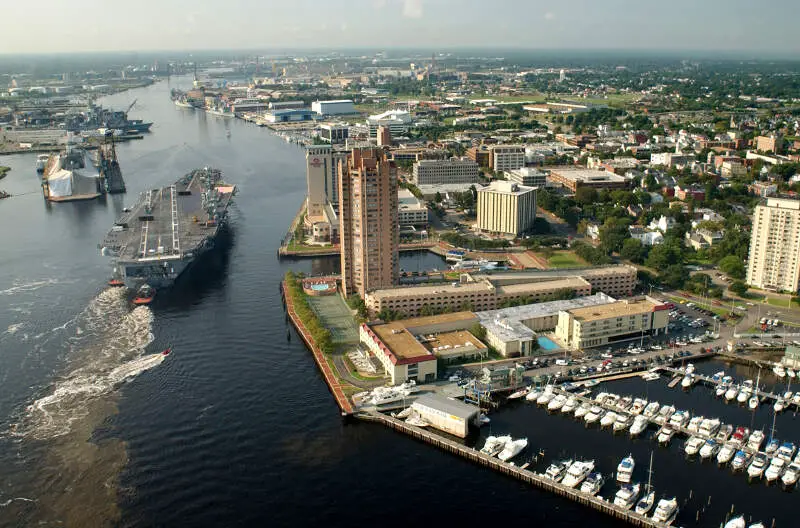 Income: $44,164
Drop out rate: 20%
Crime: 4th worst
There's going to be a lot of conversation about how Norfolk didn't 'win' this ranking. And we agree; there are lots of 'ghetto' areas in Norfolk that are bigger than entire small towns in Virginia. But as a whole, there are enough great spots to keep Norfolk at this position.
The bad: There are areas of Norfolk that are some of the worst in the entire region. Crime is exceptionally high here: 28 murders and 10,000 property crimes is a huge amount. And 40% of kids and the elderly live in poverty here.
Here are a few Tweets:
"90% of Norfolk is ghetto as hell."
"Norfolk is actually a really beautiful city as long as you're not in the ghetto."
"I'm from Norfolk. But I'm not ghetto"
7. Martinsville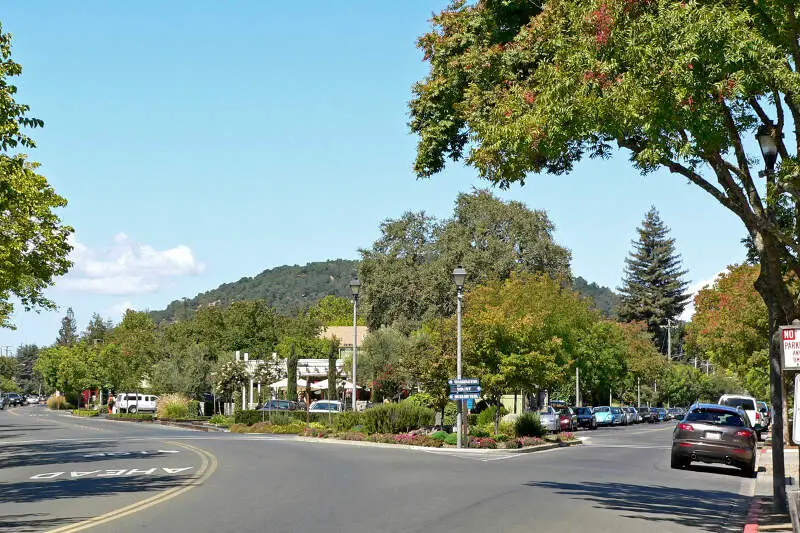 Source: Public Domain
Income: $28,840
Dropout rate: 26%
Crime: 29th worst
Martinsville is by far the poorest place in the state of Virginia. Most of the 13,000 residents here struggle to make ends meet every month. It's clear by the data that a 26% dropout rate and a high number of discount shopping locations such as drug and convenience stores are contributing to this.
Sociologists have indicated that discount stores and similar venues are a staple of inner city life.
8. Bristol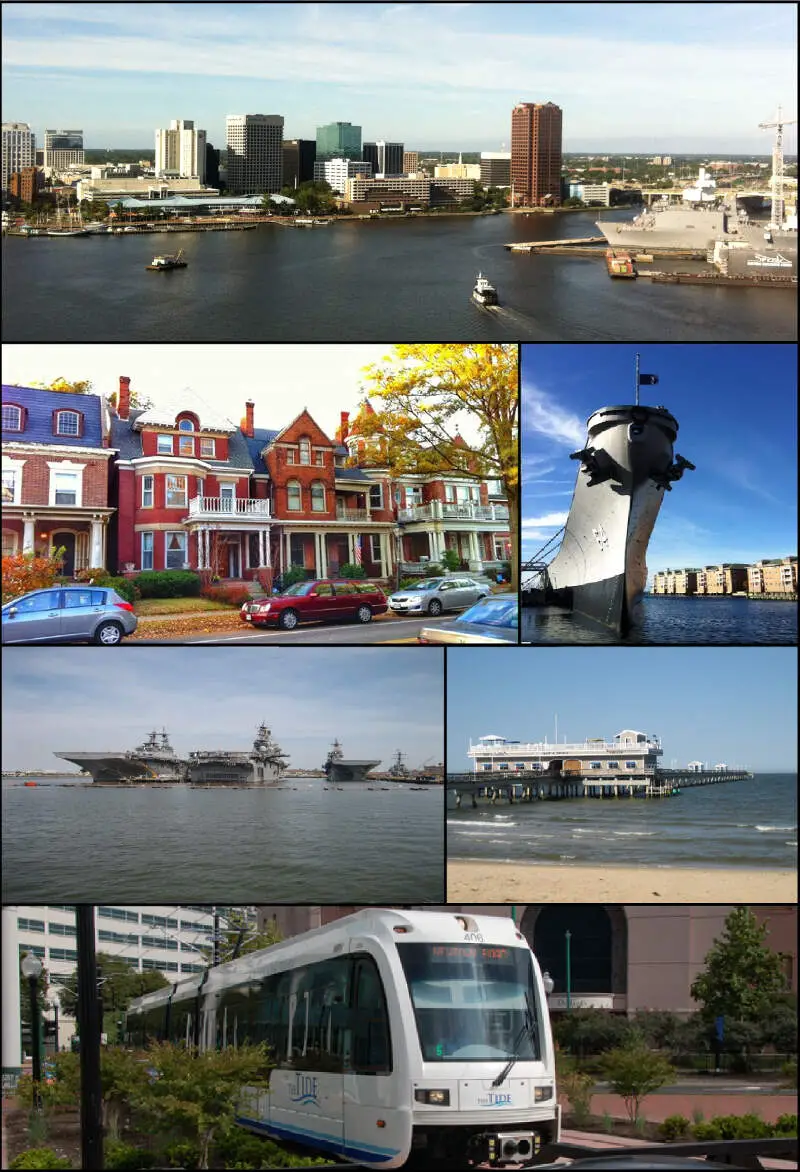 Income: $30,646
Drop out rate: 28%
Crime: 31st worst
Bristol isn't much better off, economically, than Martinsville. And like Martinsville, Bristol's crime numbers aren't deplorable. So even though the people in these cities are flat broke, at least the are a lot safer, overall, than some of the cities listed above.
9. Roanoke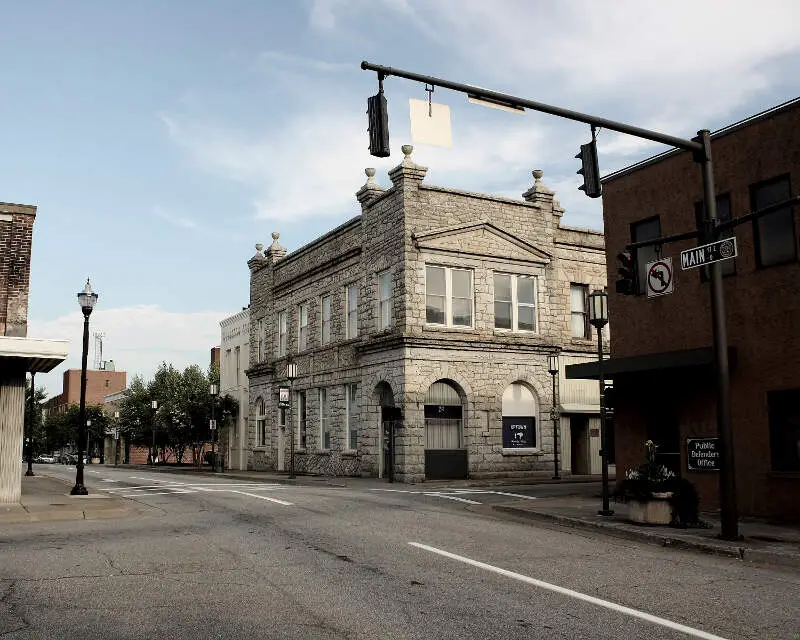 Income: $38,235
Drop out rate: 24%
Crime: 6th worst
More than 25% of kids in Roanoke live in poverty, and as a whole, this city is both the 10th poorest and 10th least educated. No one can disagree that there are large ghetto pockets in Roanoke mixed in with some really nice areas.
In terms of crime, it doesn't get much worse. Nine murders and 4,000 robberies means you have a far higher chance than average of being victimized by a crime the longer you live here.
A lot of people Tweeted about the bad parts of Roanoke:
"Yea this bus thing was not a good idea…currently in the ghetto part of Roanoke"
10. Lynchburg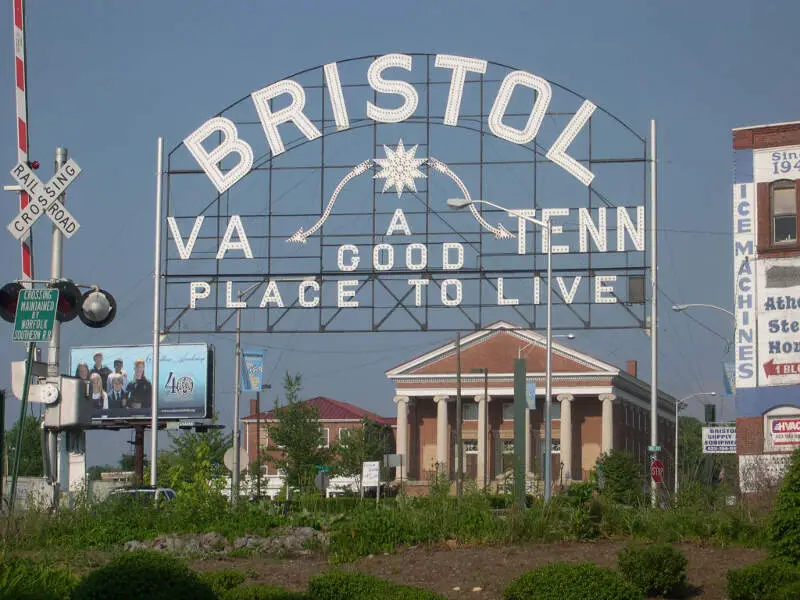 Income: $37,405
Dropout rate: 20%
Crime: 23rd worst
Here in Lynchburg, crime isn't as bad as it is a short drive over in Roanoke. But it's still really high for the state. Perhaps its isolation along Route 29 is a reason for so many property crimes every year.
More than 27% of the children in Lynchburg live in poverty. The state average is 14%.
In terms of Lynchburg's potential, it's a mixed bag discussion when it comes to whether or not future job growth here will continue. While there are plenty of jobs in the area, most are blue collar, and the younger, more educated portion of the population leaves this area on a regular basis.
There You Have It
If you're measuring the locations in Virginia where there are a high number of poor and uneducated residents, and where there are a high number of discounted shopping stores, this is an accurate list.
Additionally, here are the least ghetto places in VA: McLean, Franklin Farm, Great Falls, Fort Hunt, and Dranesville.
We also wrote about the 10 Most Dangerous Places In Virginia if you didn't happen to see it.
Related Articles
The 10 Most Dangerous Places In Virginia
This video of the Washington Redskins will get you fired up about the playoff game this weekend.
The 25 Most Ghetto Cities In Virginia, with crime numbers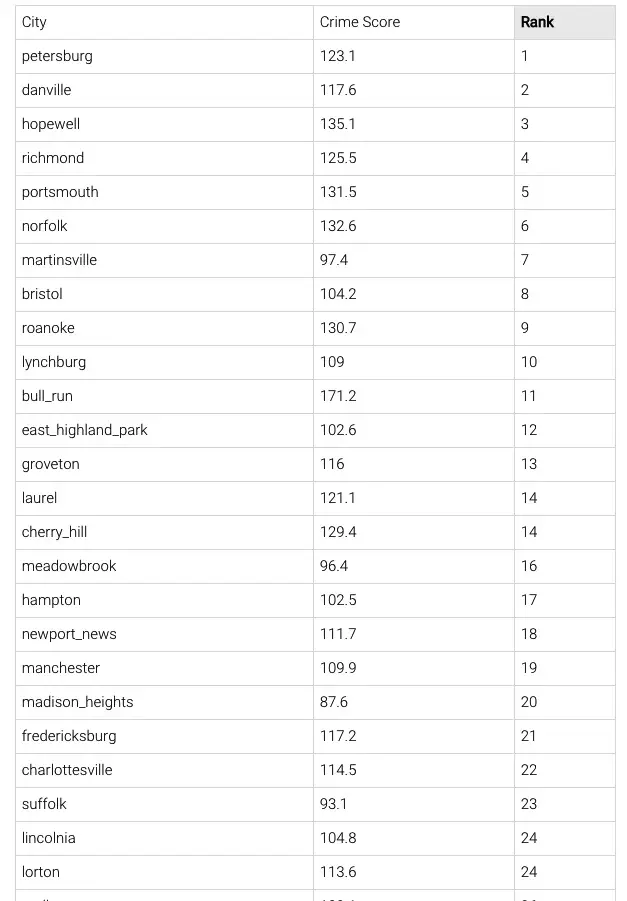 Desktop users, below is a chart of all the cities, from most ghetto to least: