Virginia is a really beautiful place, and it's almost four states in one. On one hand you've got your politically motivated and super rich, and then down the coast, a large swath of middle class Americans. Then, you've got the largest portion, a mix of self-admitted rednecks who still identify with the south.
And then you've got D.C. and its burbs. That's just another story all together.
But is it all great in the "Old Dominion"? Of course not. Just like every other state, Virginia has its trouble spots. The purpose of this post is to use science and data to determine which cities in Virginia are the least desirable to live in.
Of course, you'll most likely disagree if you see your town atop this list. But nonetheless, according to science, these cities are the worst places you could possibly live if you make Virginia your home. These places need a big hug right about now.
After analyzing 61 of the state's most populous cities (over 5,200 people), we came up with this list as the 10 worst places to live in Virginia:
The 10 Worst Places To Live In Virginia For 2021
What? Where are these places you wonder? And before you get all riled up and say we're picking on small town America, that's not the case.
We understand there's a lot of good in every place.
However, according to data (which doesn't measure things like beauty and 'friendly people'), there are far better options in the state for making a place home. And the worst place to live in Virginia? That would be Galax.
Read on below to see how we crunched the numbers and see how your city fared in 2021.
If you're looking for something more national, check out the worst cities in America or the worst states in America.
For more Virginia reading, check out:
The 10 Worst Places To Live In Virginia For 2021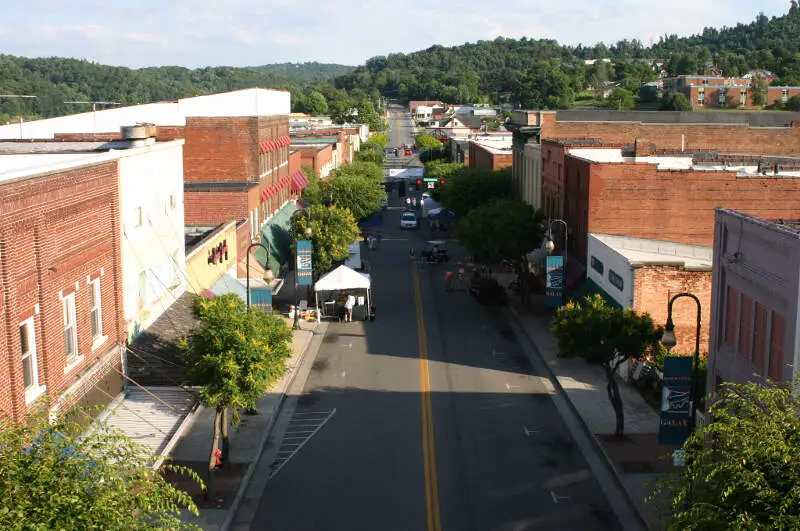 Source: Public domain
Galax is a small town on the North Carolina state line that most refer to as the Appalachian region of the state. Sure, it's in a beautiful area, and there's lots of culture, especially in terms of music. But, if you're measuring desirability, it's the worst in Virginia. Let's see why.
When you're comparing the unemployment rate in Virginia to the rest of the nation, Virginians are pretty hard workers. But when comparing Virginians to other Virginians, you see some big gaps. The unemployment rate in Galax is 7.3%, which is one of the highest levels in the state.
However, the pure economics of Galax are way behind the times. Residents here earn about $33,575 a year, which is below the poverty line for a family of four. It's the 5th lowest income in the state.
Home values are some of the lowest in the state at $96,600. And, crime here is actually above average.
And when you consider the sheer number of things to do for entertainment, if you're not into exploring the outdoors, you've got a long drive for some fun. Keep in mind this part of the state has some pretty lousy weather for half the year as well.
Add it all up and Galax is the worst city in Virginia.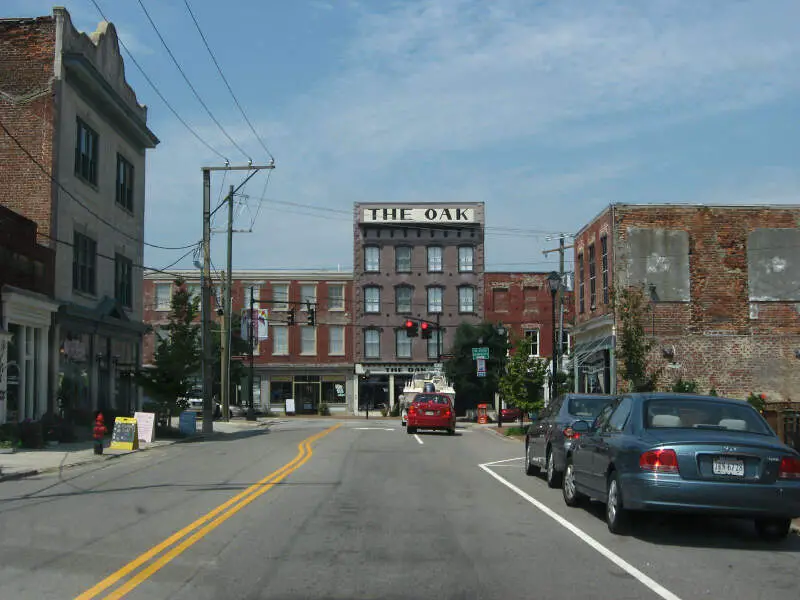 Petersburg was the site of a famous Civil War battle. A siege of the town lasted 9 months and ultimately signaled the last stand of Robert E. Lee's army.
Times were tough in Petersburg during those months. They remain tough today. All these years later, the town represents the number 2 worst spot in Virginia to put down roots. The area suffers from an anemic economy and a crime rate that runs about 60% above the national average. At the same time, housing and education in the area are substandard.
Still, the 31,362 residents of Petersburg are proud of their history. This includes battlefield commemorations and other cultural contributions, like the Pocahontas Island Black History Museum.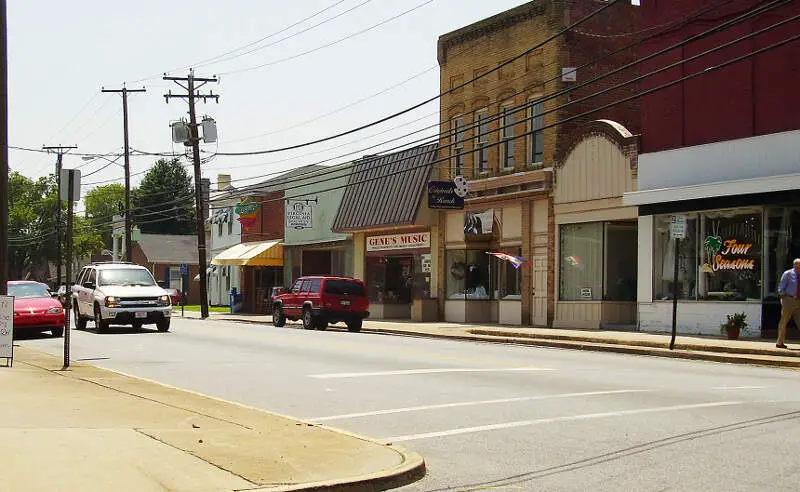 Source: Public domain
Emporia is one of the poorest cities in the state of Virginia. Located on the North Carolina border, this city has 23.4% of its residents out of work, and those who have jobs earn under $27,063 a year.
Small towns can be charming, but not when they are dangerous. Emporia has the 11th highest crime rate in Virginia. While the numbers aren't staggering (Virginia is a relatively safe place when you compare it to the rest of the country), it's still undesirable when you consider that there are far safer (and more stimulating) places to make your home in the Old Dominion.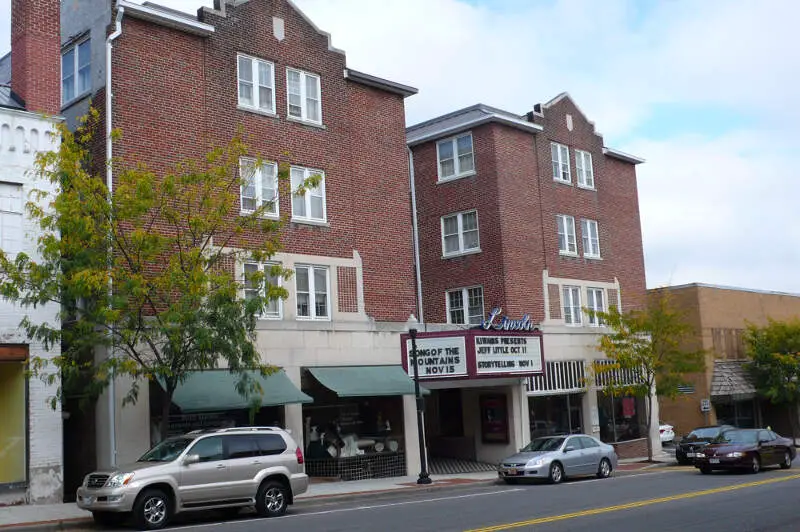 The same problems that affect Galax also surface with Marion. Wedged in the Allegheny Mountains on I-81, Marion has a higher unemployment rate (7.3%) and lower home values ($102,900) than Galaxians do. However, residents here earn slightly higher salaries.
What really makes Marion a real trouble spot is the quality of the schools. Here, students get just about the least amount of attention, per teacher than any other place, and the amount spent per student ($9,500) is far below the national average.
Crime is a tad bit higher in Marion as well.
And, considering that Marion has some of the coldest temperatures in the state, it can be a really undesirable place to live for a lot of the year.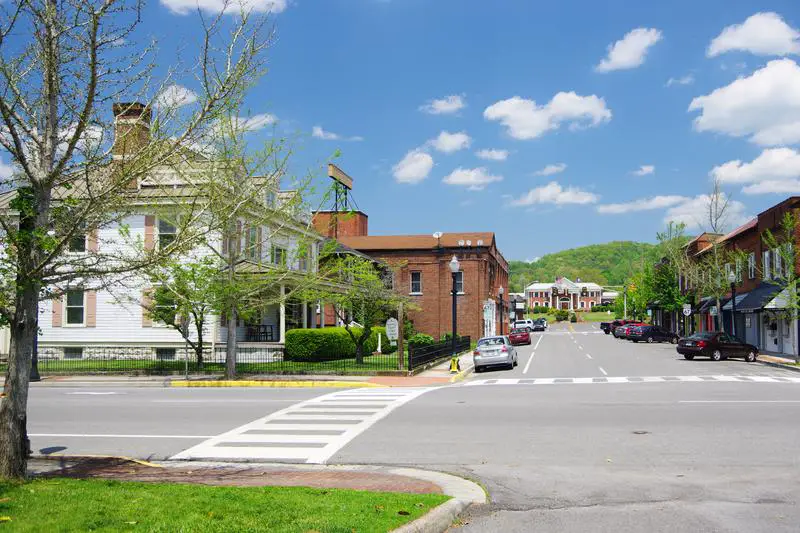 Back out into the mountains we go. Richlands, way out on a very winding Route 460, has some of the same issues we've noted above. In fact, the public schools in Richlands get the least amount of funding in the state. At $8,500 per student, that's almost half of what kids get on average in the rest of the country.
Low incomes and cheap homes make it purely undesirable for most people. When homes are priced at $98,000 each, that means there isn't a lot of demand to live here.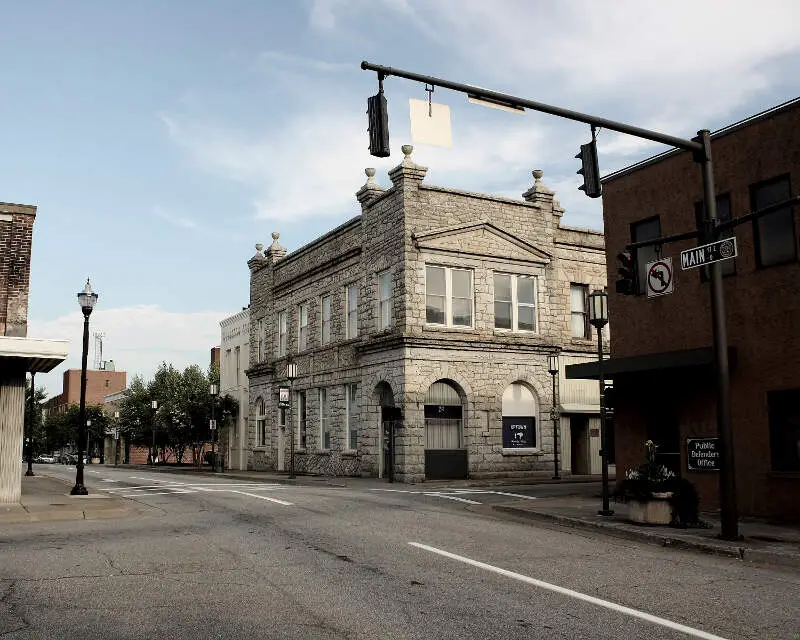 Located in the southwest part of the state, Martinsville represents an important metro area in a largely rural part of the state. Unfortunately, that doesn't mean the town becomes a major draw for people outside the region.
Martinsville lands on this list because of a host of problems. It supports a lackluster economy, with a median income of just $34,371. At the same time, crime runs about 30% above the U.S. norm. Education and housing present issues as well.
Still, there's lots to do in Martinsville. It hosts a NASCAR track and several interesting learning opportunites, such as the Virginia Museum of Natural History.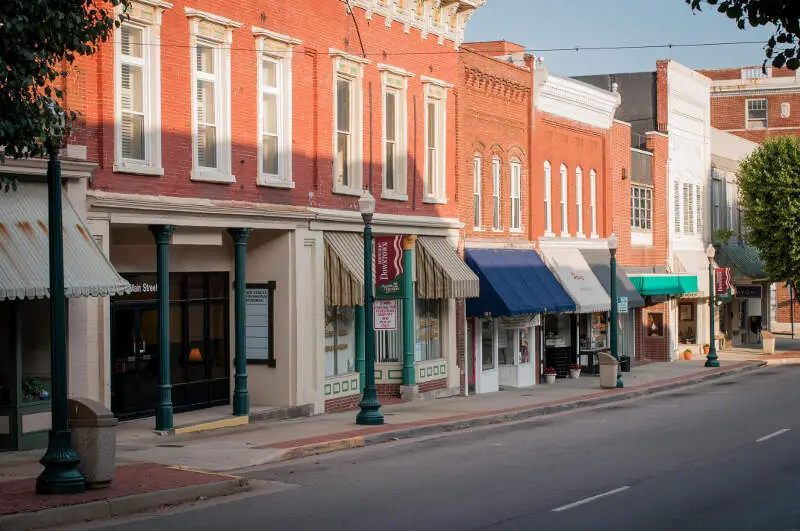 The city of South Boston is east of Danville on Route 58 in Halifax County. In looking at the scientific reasons South Boston ranks so high on this 'worst' list, we see most of the same factors we've seen before. Besides a decent public school system, the economy here is really in the pits.
South Boston has some of the same economic factors that we saw in the Appalachian towns listed above. Except it's not in the sticks.
People on City-Data have said South Boston is 'boring and without culture' and a 'crack head town.' We're not going to assume they speak for everyone, but it wasn't possible to find anyone who had something nice to say about this place on the internet.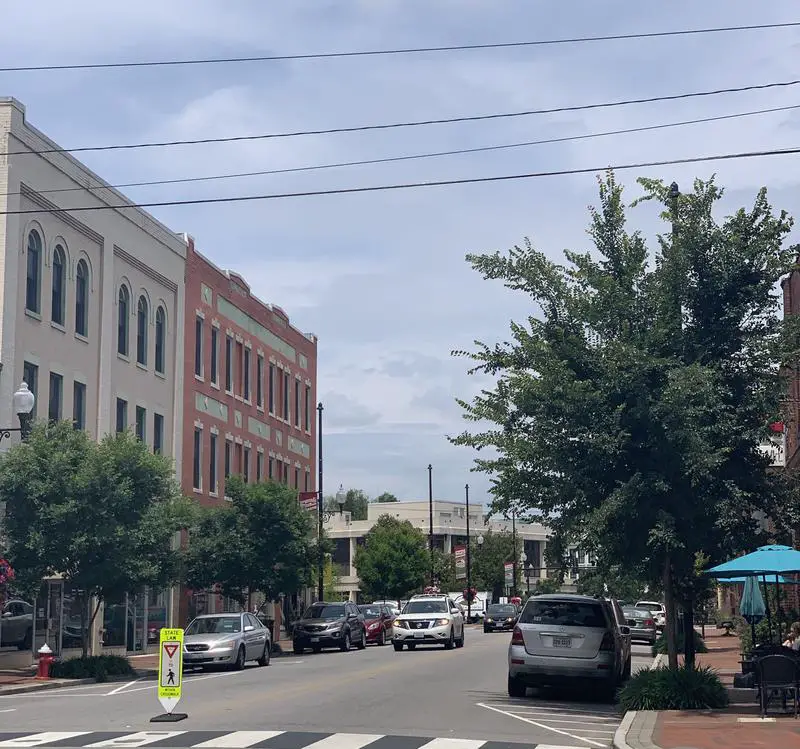 Danville briefly served as the capital of the Confederate States of America at the desperate end of the Civil War. It basically represented a last resort before defeat. These days, the town still has that "last resort" feel, ranking at number 8 on this list of worst places in Virginia to call home.
Located in the south-central part of the state, right along the North Carolina border, Danville faces a host of problems. The local economy only supports a median income of $37,203. At the same time, the crime rate tracks at 60% above the national norm.
Still, the town has its bright spots. History buffs can check out the Danville Museum of Fine Arts and History.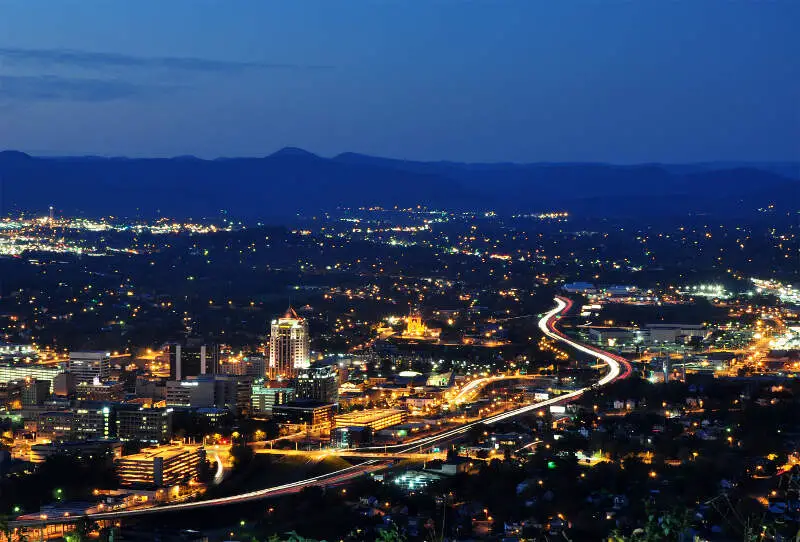 A key hub in an otherwise rural part of the state, Roanoke serves as the biggest urban area in the southwestern section of Virginia. This status comes with its share of problems. A lackluster economy, high crime, and a substandard school system make this one of the least inviting places in Virginia.
Cash can be hard to come by in Roanoke. About a fifth of people make due below the poverty line. At the same time, the local crime rate comes in almost double the U.S. standard.
Still, there are benefits to living in the region's top metro area. The city features attractions like the Virginia Museum of Transportation and the Taubman Museum of Art.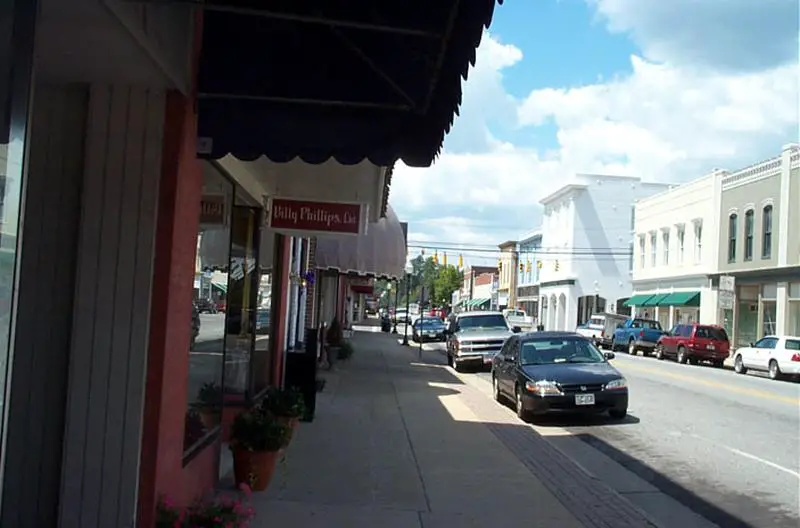 Don't go looking for a job in Franklin. They aren't easy to find. The town's unemployment rate hovers at 13.6%, the main reason why the community lands on this list of the least enticing hometowns in the state.
A lack of jobs isn't the only challenge for Franklin's 8,147 residents. Safety presents a concern as well, with a crime rate nearly 60% above the national average.
Given these problems, it's surprising that real estate in this southern Virginia town prices many locals out of the market. But that's what the stats say. The median home value sits at $164,100, compared to a median income of $40,417.
How we determined the worst places to live in Virginia for 2021
To figure out how bad a place is to live in, we only needed to know what kinds of things people like and then decide what cities have the least amount of those things.
We don't think it's a stretch to assume that people like the following things:
Good education
Lots of jobs
Low crime
Low poverty
Nice homes
High incomes
High population density (Lots of things to do)
Short work commutes
Health insurance
The data comes from the Census's most recent American Community Survey and from the FBI Uniform Crime Report.
We broke crime down into violent crime and property crime to give violent crime a larger weight — if you did a simple calculation of all crimes per capita, property crimes are normally 7x more common and really bias that ranking.
Furthermore, only cities with at least 5,000 people were considered — leaving 61 cities.
We then ranked each city from 1 to 61 for all the criteria with a #1 ranking being the worst for the particular criteria.
Next, we averaged the rankings into one "Worst Place To Live Score".
Finally, we ranked every city on the "Worst Place To Live Score" with the lowest score being the worst city in Virginia — Galax. Read on for a detailed look at the 10 worst cities in Virginia. You can download the data here.
This list is a scientific analysis based on real data and is completely unbiased.
Wrapping Up The Worst In Virginia
If you're looking at areas in Virginia with the worst economic situations, where there's higher than average crime, and not a lot to do, this is an accurate list.
And in the end, Galax ranks as the worst city to live in Virginia for 2021.
If you're curious enough, here are the best cities to live in Virginia:
Vienna (Pop. 16,489)
Falls Church (Pop. 14,128)
Bridgewater (Pop. 6,032)
For more Virginia reading, check out:
Where Are The Worst Places To Live In Virginia?
| Rank | City | Population |
| --- | --- | --- |
| 1 | Galax | 6,517 |
| 2 | Petersburg | 31,362 |
| 3 | Emporia | 5,442 |
| 4 | Marion | 5,706 |
| 5 | Richlands | 5,368 |
| 6 | Martinsville | 12,852 |
| 7 | South Boston | 7,762 |
| 8 | Danville | 41,070 |
| 9 | Roanoke | 99,229 |
| 10 | Franklin | 8,147 |
| 11 | Front Royal | 15,077 |
| 12 | Portsmouth | 95,097 |
| 13 | Hopewell | 22,456 |
| 14 | Richmond | 226,622 |
| 15 | Pulaski | 8,799 |
| 16 | Big Stone Gap | 5,257 |
| 17 | Norfolk | 244,601 |
| 18 | Bristol | 16,912 |
| 19 | Farmville | 8,117 |
| 20 | Colonial Heights | 17,428 |
| 21 | Suffolk | 90,093 |
| 22 | Waynesboro | 22,140 |
| 23 | Newport News | 179,673 |
| 24 | Woodstock | 5,210 |
| 25 | Culpeper | 18,342 |
| 26 | Lynchburg | 80,569 |
| 27 | Fredericksburg | 28,622 |
| 28 | Manassas | 41,174 |
| 29 | Chesapeake | 239,982 |
| 30 | Vinton | 8,083 |
| 31 | Dumfries | 5,373 |
| 32 | Winchester | 27,897 |
| 33 | Smithfield | 8,367 |
| 34 | Hampton | 135,041 |
| 35 | Ashland | 7,750 |
| 36 | Buena Vista | 6,484 |
| 37 | Harrisonburg | 53,273 |
| 38 | Wytheville | 7,957 |
| 39 | Manassas Park | 16,986 |
| 40 | Herndon | 24,532 |
| 41 | Staunton | 24,432 |
| 42 | Covington | 5,598 |
| 43 | Radford | 17,691 |
| 44 | Abingdon | 7,960 |
| 45 | Strasburg | 6,609 |
| 46 | Fairfax | 23,531 |
| 47 | Warrenton | 9,913 |
| 48 | Charlottesville | 47,096 |
| 49 | Salem | 25,317 |
| 50 | Christiansburg | 22,163 |
| 51 | Virginia Beach | 450,201 |
| 52 | Leesburg | 52,994 |
| 53 | Alexandria | 157,613 |
| 54 | Williamsburg | 14,927 |
| 55 | Poquoson | 12,090 |
| 56 | Blacksburg | 44,303 |
| 57 | Purcellville | 9,897 |
| 58 | Lexington | 7,241 |
| 59 | Vienna | 16,489 |
| 60 | Falls Church | 14,128 |
| 61 | Bridgewater | 6,032 |
Editor's Note: This article is an opinion based on facts and is meant as infotainment. Don't freak out we updated this article for 2021. This is our seventh time ranking the worst places to live in Virginia.