This article is an opinion based on facts and is meant as info-tainment. Don't freak out.
Is there anything really wrong with being called an Oklahoma redneck?
It's a part of our culture. Rednecks are hailed as being great in our song lyrics. They're prominently featured in reality television. There are even video games about rednecks.
So, you'd think people who are rednecks would be proud to be called a redneck.
Wait. What is a redneck anyways? Well, according to the official bible of literature, the Merriam-Webster Dictionary, a redneck is:
"A white person who lives in a small town or in the country especially in the southern U.S., who typically has a working-class job, and who is seen by others as being uneducated and having opinions and attitudes that are offensive."
Plus, we thought why not add in a few stereotypes? Cause, you know, rednecks like to hunt, drink, smoke and shoot things. And shop at Walmart.
Using that criteria, it's not hard to scrape the internet, run some scientific data on where rednecks might live in Oklahoma, and then put out a list.
Because, the data never lies, does it?
So, hold our beers and watch this. After analyzing all 87 cities with a decent amount of people in them, we came up with this list as The Most Redneck Cities in Oklahoma:
Broken Bow
Read on below to see how we crunched the numbers and how your town ranked. Hope you're on there if you want to be.
For more Oklahoma reading, check out:
What redneck criteria did we use?
In order to rank the most redneck cities in Oklahoma, we had to determine what criteria makes a redneck.
We threw a lot of criteria at this one in order to get the best, most complete results possible. Using Yelp and Google Maps, this is the criteria we used:
The dictionary definition categories
Small towns
Least amount of high school graduates
Lives in the south or midwest
And the stereotypical categories
Number of dive bars per city
Number of mobile home parks per capita
Number of tobacco stores per city
Number of guns and ammo stores per city
Walmarts, Waffle Houses, Bass Pro Shops, and Dollar Generals nearby
Note: For the sake of getting reliable numbers, we counted places within a city's border, as well as within a short driving distance.
1. Pauls Valley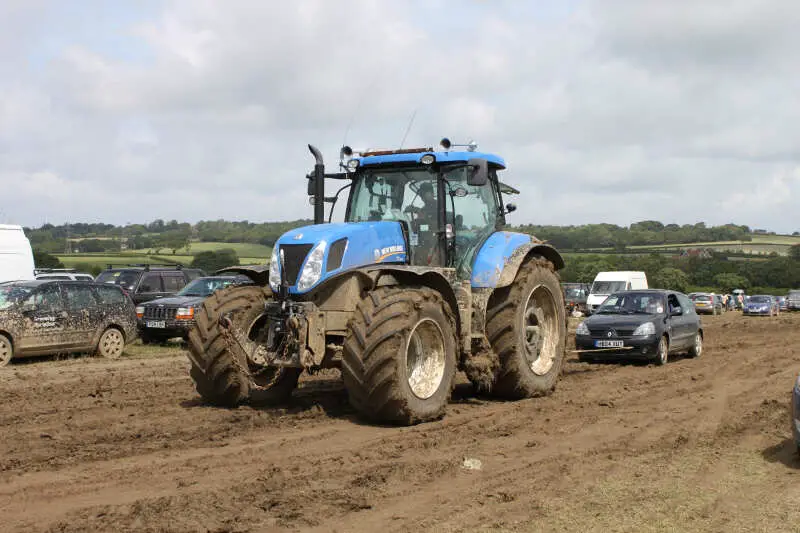 Punkin's BBQ and Catfish, Pauls Valley, OK. From their Facebook page.
Population: 6,156
Tobacco stores per capita: 1st in OK
Fishing/bait shops per capita: 2nd in Oklahoma
Gun stores per capita: 2nd
Dern tootin', Pauls Valley! You have the official bragging rights as being named the most redneck city in the entire state of Oklahoma. You may now brag to your friends and share this endlessly on your Facebook walls.
Lets see why. There are just a lot of rednecky things to do here. In Pauls Valley, you've got the most tobacco stores per capita, and the 2nd highest number of places to get bait, tackle, guns and ammo in the state.
The Washita River meanders right outside of town, and rednecks here have their very own lake, Pauls Valley Lake, which is stocked with crappie, catfish and black bass.
Pauls Valley is south of OKC on I-35. In looking at the numbers, no wonder so many rednecks live here.
You can imagine how many Pauls Valley residents shoot armadillos from their porches.
2. Sallisaw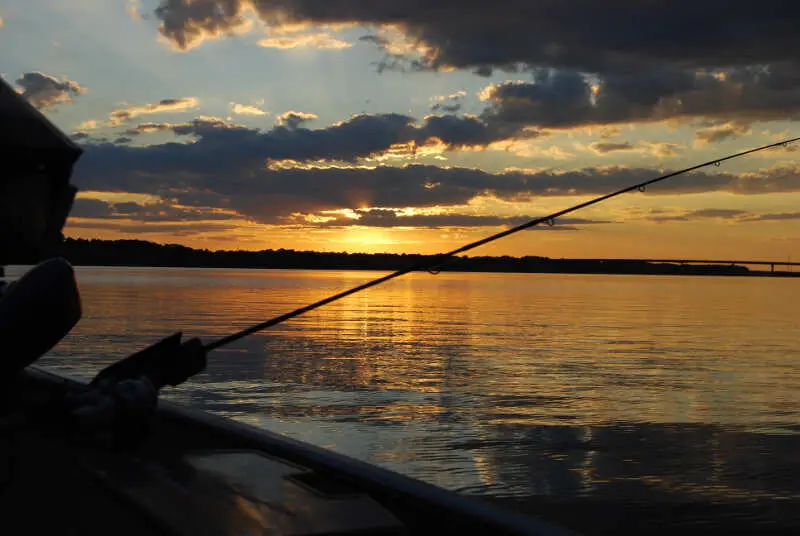 Hunt Club Bar and Grill, Sallisaw, OK. From their Facebook page
Population: 8,779
Mobile home parks per capita: 7th most in Oklahoma
Walmart rank: 3rd
Fishing/bait shops per capita: 8th in the state
If you're a redneck, you love to fish. And in Sallisaw, you've got plenty of fishing nearby. That's the reason there are so many fishing/bait shops in the area.
Nearby is the Arkansas River, which forms the Kerr Reservoir. Here, a redneck can spend all day long trolling for bass while listening to the OU-Texas game on the truck radio.
Of course, every redneck town needs a Walmart. Sallisaw has one, along with two dollar stores, and several sporting goods stores to browse for deals on cheap camo.
3. Broken Bow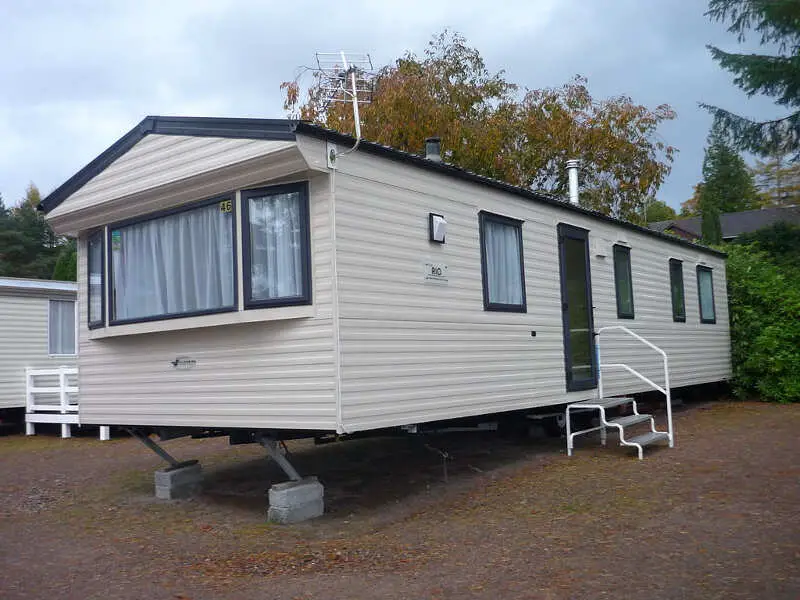 Looking out over Broken Bow Lake. Google Maps.
Population: 4,144
Fishing/bait shops per capita: 1st in Okahoma
Walmart rank: 1st
Waffle House rank: 2nd in the state
Take Route 70 east to the edge of the state, and you've got a little slice of redneck heaven. Broken Bow is smack dab in between several lakes, creeks, an area to hunt, and has a Walmart and Waffle House all to its very own.
Here's a typical redneck's day in Broken Bow: biscuits and gravy at the Waffle House. Walmart for cheap ammo, Busch Light and Mountain Dew. A truck drive up to McCurtain County Game Reserve, to shoot at deer, turkey and quail.
Woo-whee!
4. Guymon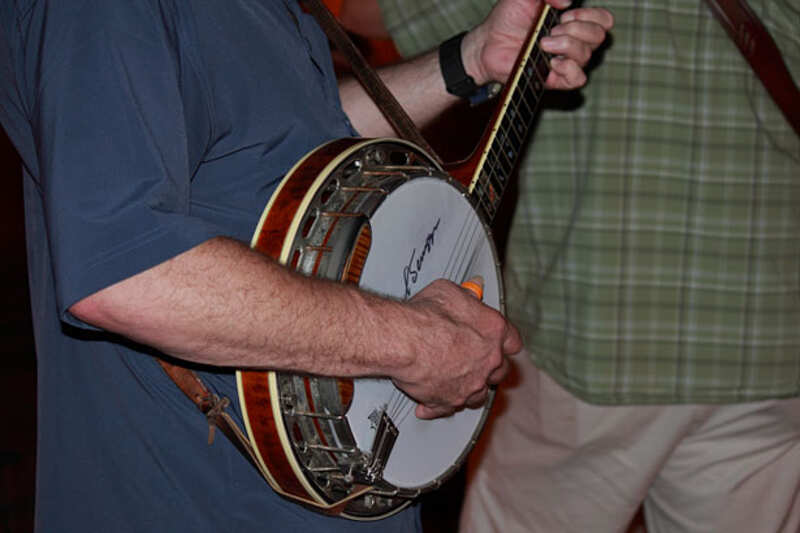 Bob's Cowboy Bar and Rodeo Room, Guymon, OK. Google Maps.
Population: 11,414
Mobile home parks per capita: 3rd in Oklahoma
High school graduation rate: 61%
Hey now, Guymon rednecks. We know what you were doing when people in the town over were in class. You were skipping school. A true redneck knows it's more rewarding to get a truck stuck in the mud on Friday morning than it is learning about math stuff.
It's very blue collar in this area as a result, and the wheat, livestock and dairy industries keep plenty of rednecks working hard. There's also a high number of mobile home/trailer parks in the area, too.
That's so redneck.
Guymon is way out on Route 64 in the panhandle.
5. Warr Acres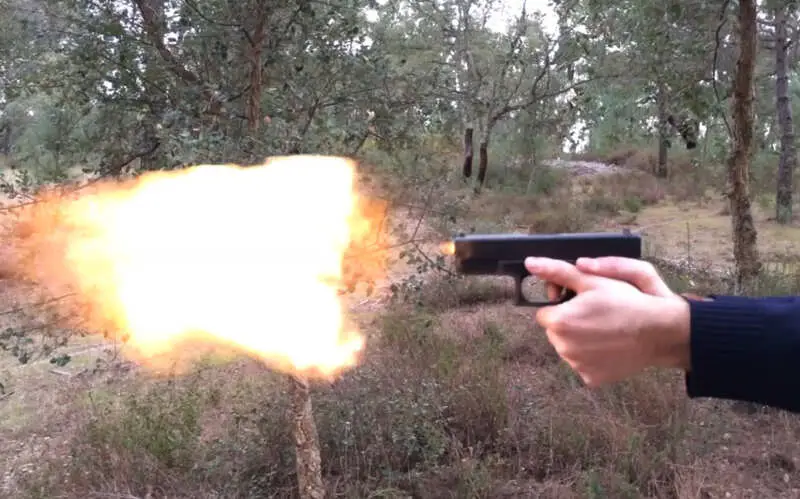 Quick Stop and Tobacco, Warr Acres, OK. Google Maps
Population: 10,080
High school graduation rate: 79%
Tobacco shops per capita rank: 6th
Fishing/bait shops per capita: 4th in OK
You remember that study that came out a couple years ago that named the most redneck cities in America? It placed Oklahoma City at number 3. And it was OKC suburbs like Warr Acres that helped it get there.
There are a really high number of tobacco stores here (we call it the 'chew factor'), and fishing/bait shops are also plentiful. They're there for a reason. There are lots of rednecks who chew and fish. Plain and simple.
And there's two big lakes in town to do just that.
6. Catoosa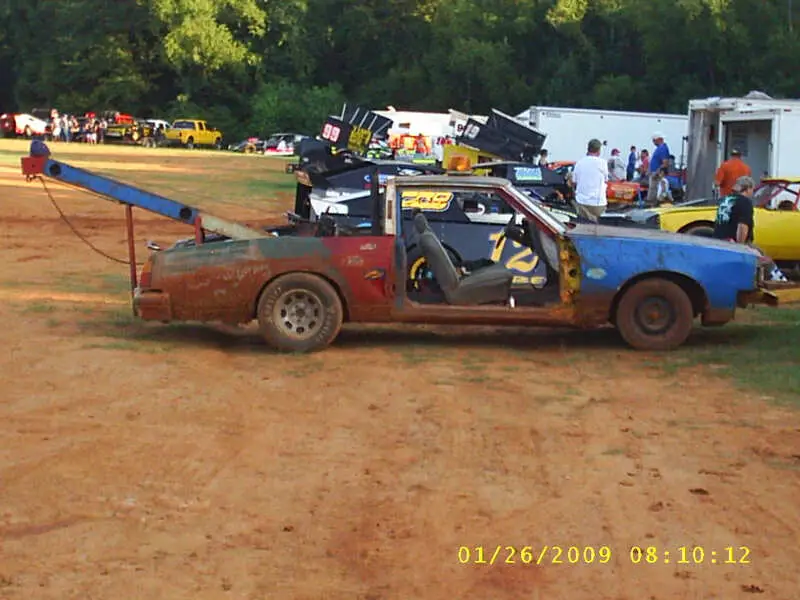 Knuckleheads Bar & Grill, near Catoosa, OK. Google Maps.
Population: 7,074
Waffle House rank: 1st in the state
Fishing/bait shops per capita: 8th
Mobile home parks: 1st in OK
On the outskirts of Tulsa (the number 5 city in that study), you'll find a bunch of mobile home parks surrounding the redneck enclave of Catoosa. In fact, there are more mobile home parks per capita in this area than anywhere else in Oklahoma.
Catoosa rednecks also have five Waffle Houses within a short drive. You know what a grumpy redneck does when there's a line at the Waffle House on a Wednesday morning? He takes the kids to the other one down the road.
7. Grove
Grand Lake Sports Center, Grove, OK. Google Maps.
Population: 6,587
Fishing shops per capita: 5th in Oklahoma
Walmart rank: 2nd
Chew factor: 3
No wonder so many rednecks call Grove home. Have you looked at a map? It's right on the banks of the Neosho River, where you've got more than 40 fish species, including rainbow trout, carpsucker, hog sucker, white sucker, carp, channel cats and more.
And Walmart is literally a short walk away, meaning when the fish ain't bitin', rednecks will just pound that beer, stumble over and get a different bait.
8. Durant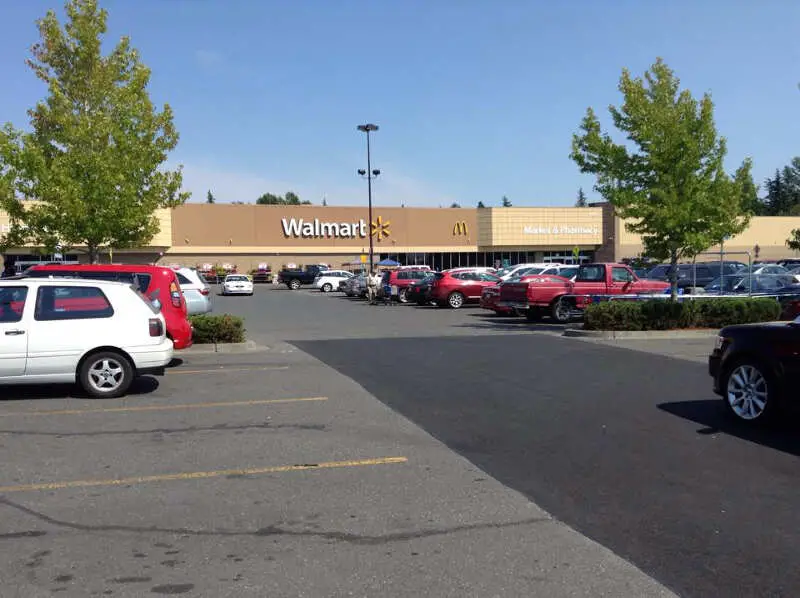 Watr'n Hole, Durant, OK. Google Maps
Population: 16,074
High school graduation rate 76%
Gun stores per capita: 9th in OK
Fishing rank: 7th
Dern it, Durant rednecks. Had you studied just a little less, you would've ranked so much higher! A 76% graduation rate is something the rednecks here can aspire to lower if they just put their mind to it.
But don't force them to go to class. There are more gun stores in this area than just about anywhere else in the state. The armadillos have no chance in hell in Durant. None whatsoever.
Durant is on Route 70 down by Lake Texoma and the Red River.
9. Purcell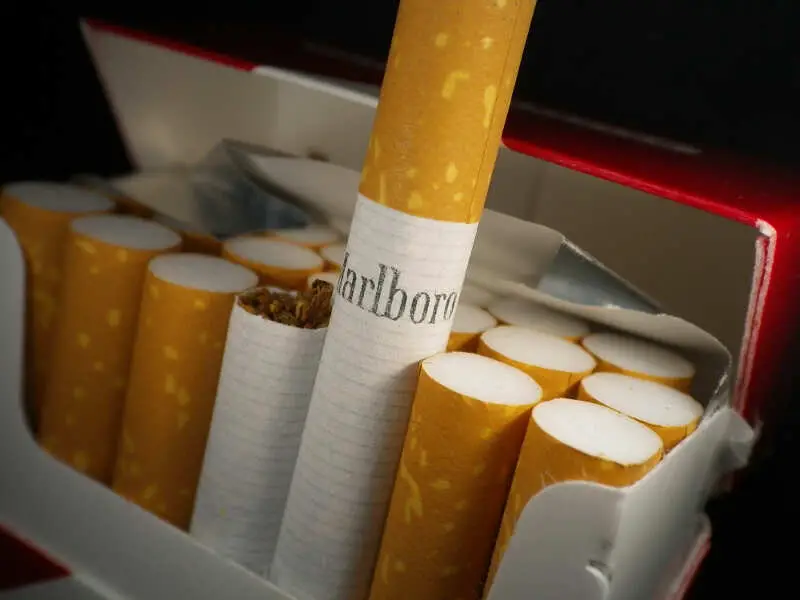 Purcell, OK. Google Maps
Population: 5,885
Mobile home parks per capita: 2nd in Oklahoma
Fishing rank: 4th
Walmart rank: 5
Purcell is a small rednecky town on the banks of the Canadian River, south of Norman. And, Purcell is the home of the nation's first double-wide trailer park with underground utilities, paved roads, greenbelts, and other amenities.
So save up, young rednecks, if you plan on moving to Purcell. Sounds like the trailer parks in this part of the state sure are fancy!
10. Yukon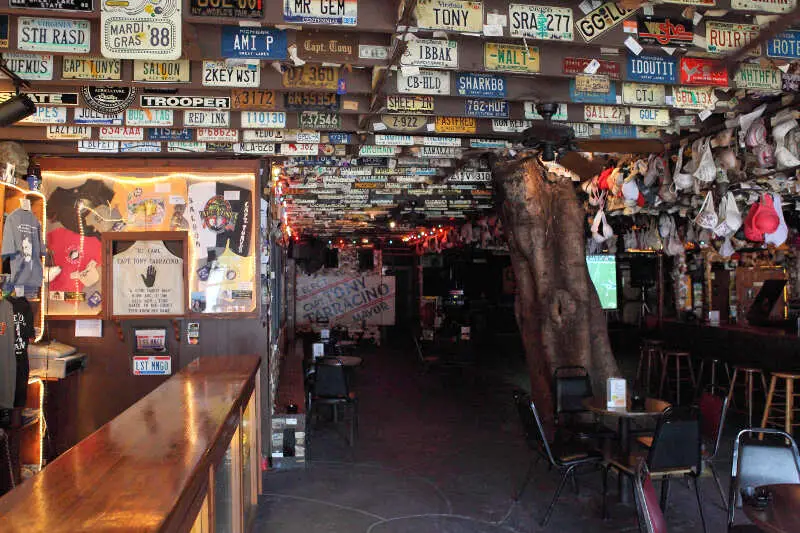 Big Dick's Roadhouse, Yukon, OK. Google Maps
Population: 23,058
Mobile home parks in area: 5th in OK
Waffle House rank: 5
Walmart rank: 8th
You might call the folks who live in Yukon rednecks with paychecks, since they are pretty dern smart. Only 11% of the necks here didn't graduate high school, and their annual incomes are far higher than the other cities on the list.
These are most likely weekend warriors who get the truck gassed up and take their boats out on Friday nights. But, just because they are high earners doesn't mean they still don't like spotting good deals at Walmart.
There You Have It
According to the official dictionary definition of a redneck, and based on stereotypes that the internet says are true, using science to determine the most redneck cities in a state can't be too far off. If you're analyzing smaller cities in Oklahoma with blue collar workers, where people have lots of options for drinking, smoking, hunting and Walmarting, this is an accurate list.
If you're curious enough, here are the least redneck places in Oklahoma
Midwest City (Pop. 54,773)
Blanchard (Pop. 7,659)
Moore (Pop. 55,265)
Piedmont (Pop. 5,783)
Mustang (Pop. 17,543)
We published a story on the 10 worst places to live in Oklahoma that might be more 'stimulating' reading for your day, if you haven't read it already. Click here to read it.